We're an affiliate
We hope you love the products we recommend! Just so you know, we may collect a share of sales or other compensation from the links on this page. Thank you if you use our links, we really appreciate it!
We DIY'd countertops for our camper van conversion using ½" Baltic Birch Plywood with a Formica laminate top. We coated the exposed plywood edges with Polyurethane to protect from moisture, and overall love the cleanability of the laminate top.
We used this faucet for our sink and are super happy with it. It's modern looking and easy to install. It's a faucet that's traditionally for reverse osmosis systems so it only has one hose inlet. This is the easiest for our van where we don't need a hot water hookup for the faucet.
Our first month living in our van was without a soap dispenser. It quickly became first on our list of upgrades, since there was nowhere convenient to put soap while driving. This soap dispenser matches the faucet perfectly, and overhangs into the sink.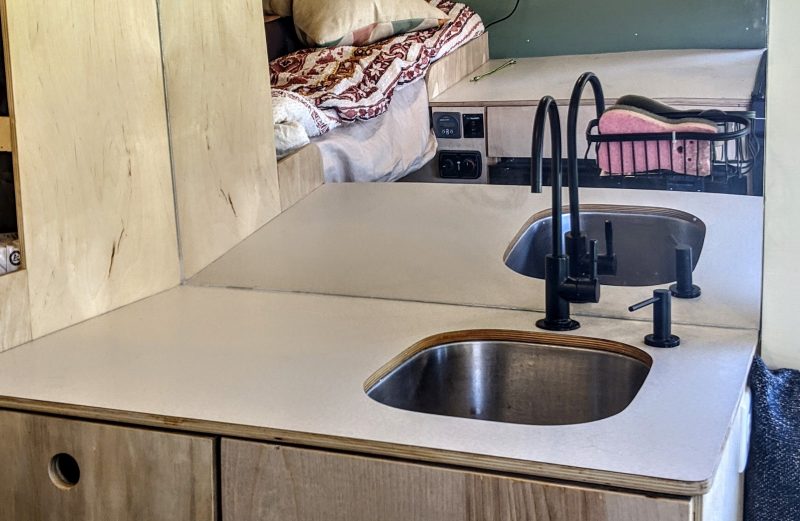 Cutting the Plywood for the Countertop

CNC Machine Sink Countertop Cutout
If you have a top-mount sink, a rough cut with a jigsaw for the sink is adequate. We installed an undermount sink (mounted under the countertop instead of on top of the countertop),which means the cut would be visible so we wanted it perfect.
The best guarantee of a perfect cutout on our countertop was to make use of a CNC machine. This involved creating a computer drawing that the CNC machine would use to create the cut. We were lucky to have Nadia's brother and dad helping to create this file and set up the machine for cutting.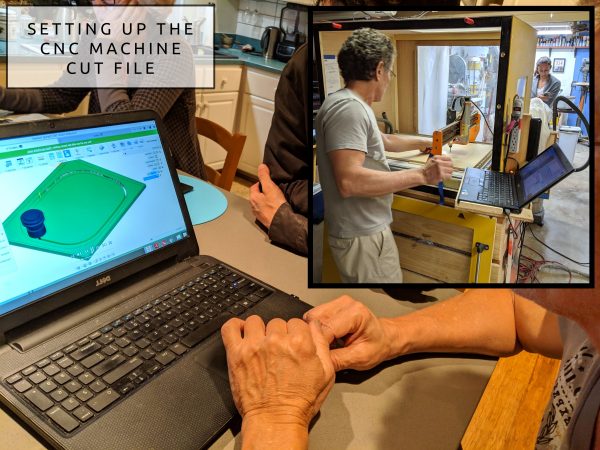 Here is a shot of the CNC machine in action. The spinning bit continues along the computer drawn path until it reaches the other side of the plywood, and we have a cutout:
Attaching the Countertops to the Cabinet Frame
We used 1" corner braces in order to secure the finished countertops to the cabinet frames. In terms of the order of operation, we installed the sink (a 14″ stainless steel sink we found at Goodwill for $10) while the countertop was still loose so that we could easily screw in the sink from the bottom. Be sure to size screws correctly, would hate for a long screw to poke up through the beautiful new countertop!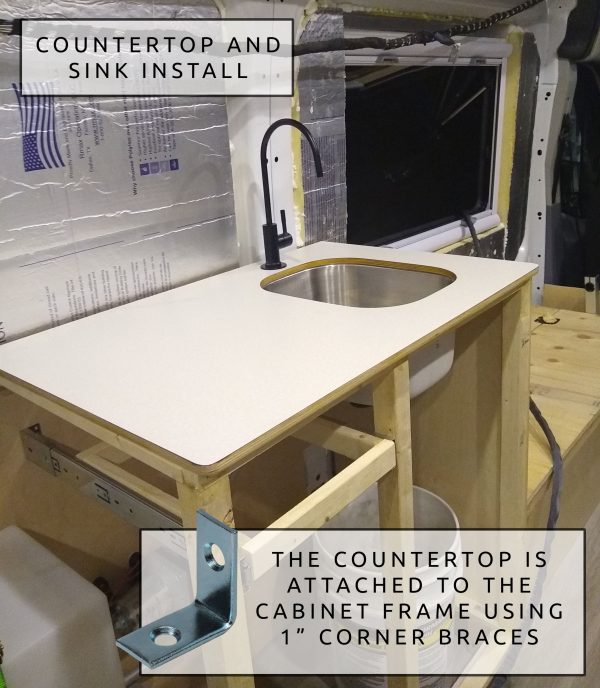 (This picture is after our faucet was installed. After living in the van for a month, we added the soap dispenser).
We sincerely hope this information is helpful on your build journey!
This post contains affiliate links that may earn us a commission if a product is purchased. But, we always strive for the reuse and repurpose of materials – so we encourage searching for a local used option before buying from our links.