We're an affiliate
We hope you love the products we recommend! Just so you know, we may collect a share of sales or other compensation from the links on this page. Thank you if you use our links, we really appreciate it!
For most people who choose #vanlife, getting beyond one's four walls remains the most significant allure of this lifestyle. When these creative nomads finally head inside, an inspiring van ceiling helps maintain the freedom that comes with this way of nontraditional living.
1. Basic Plywood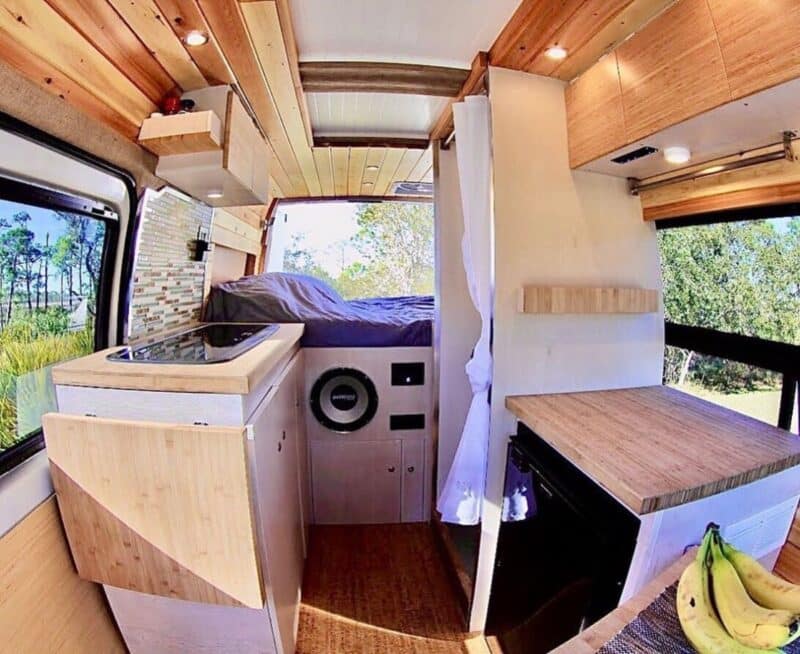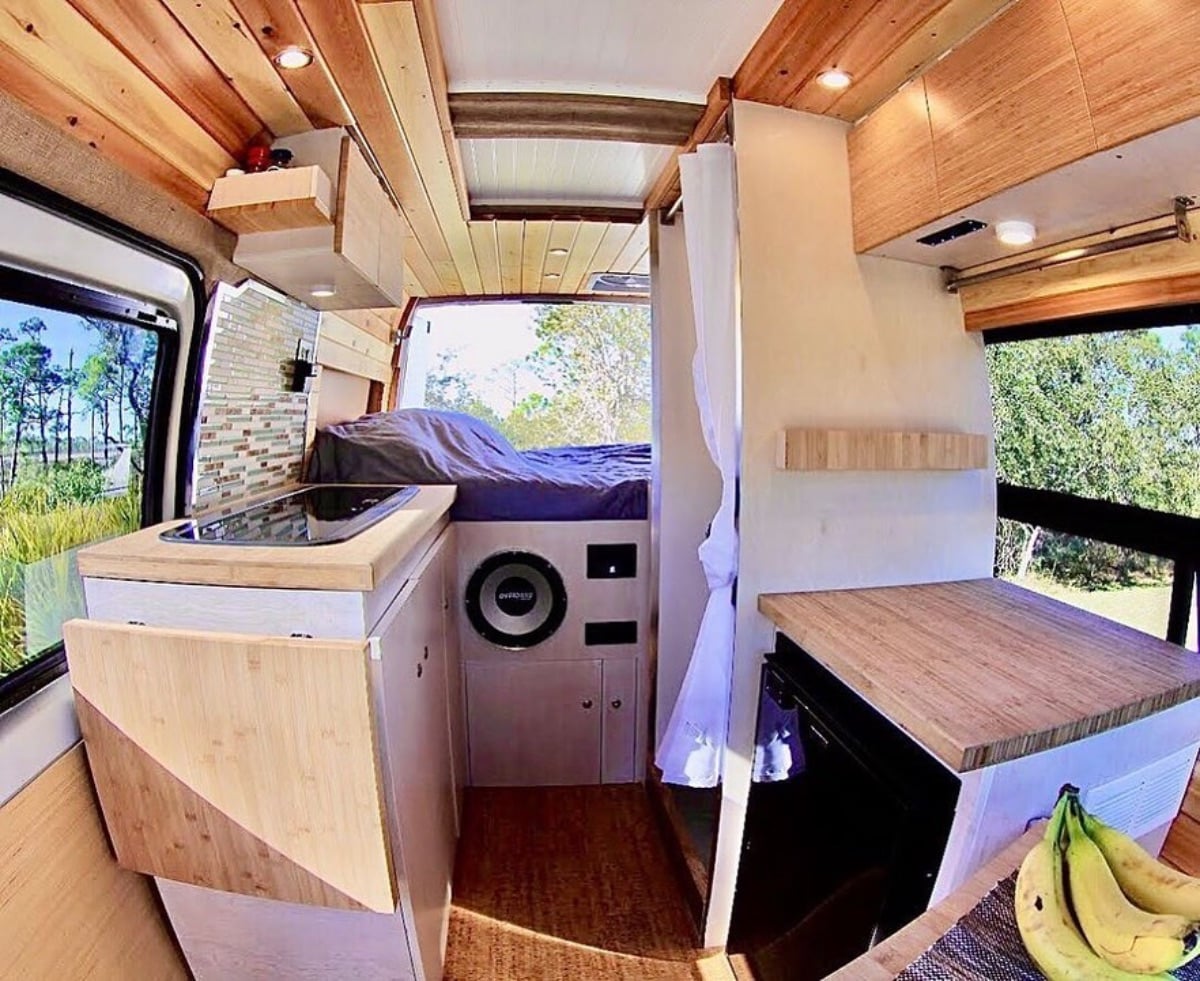 [Image: purebond]
Most campervan renovations include a straightforward plywood ceiling. This provides an affordable, durable, and lightweight ceiling material for a beginner or minimalist van ceiling option. Plywood delivers maximum flexibility for van owners who wish to customize their space or want a straightforward and reliable ceiling choice.
Thin sheets of plywood can be infinitely customized with fabric, paint, tile, or wood. For many of the campervan ceiling ideas to come, they must begin with a foundation of plywood. Some vans may leave the plywood plain, which is also a perfectly fine option.
2. Minimalist Tongue and Groove
[Video: Seven O Savage]
Tongue and groove slats of wood provide a polished and professional look to the space above your head. This option becomes more pricey, not only for the higher-quality materials needed but also for the time-consuming installation process. Tongue and groove slats act far less flexible than plywood. Its rigidity makes it a more complicated but very visually rewarding van ceiling choice.
3. Breezy Skylight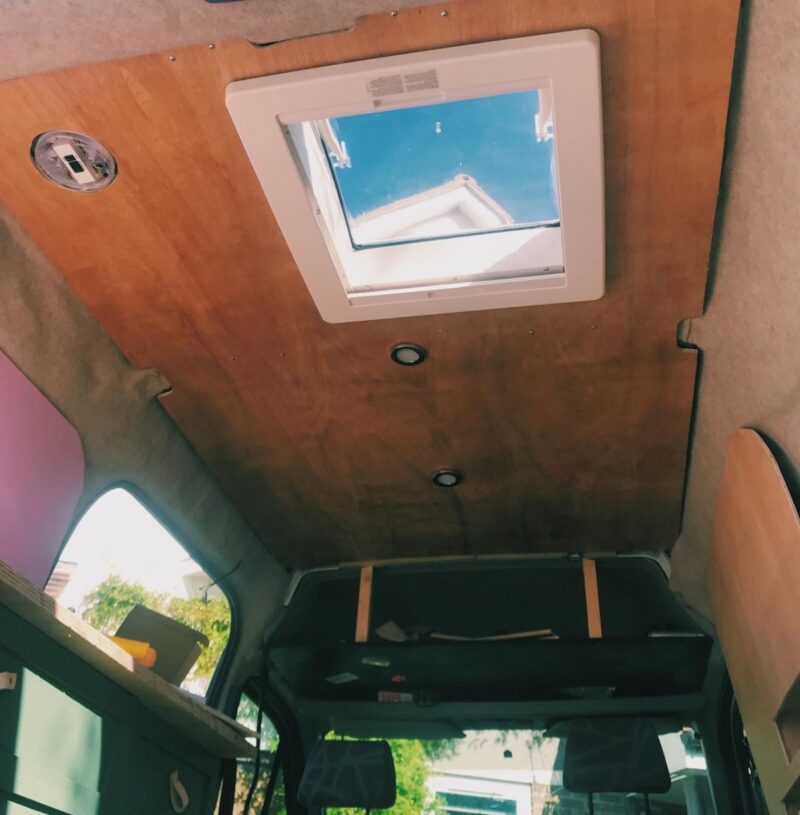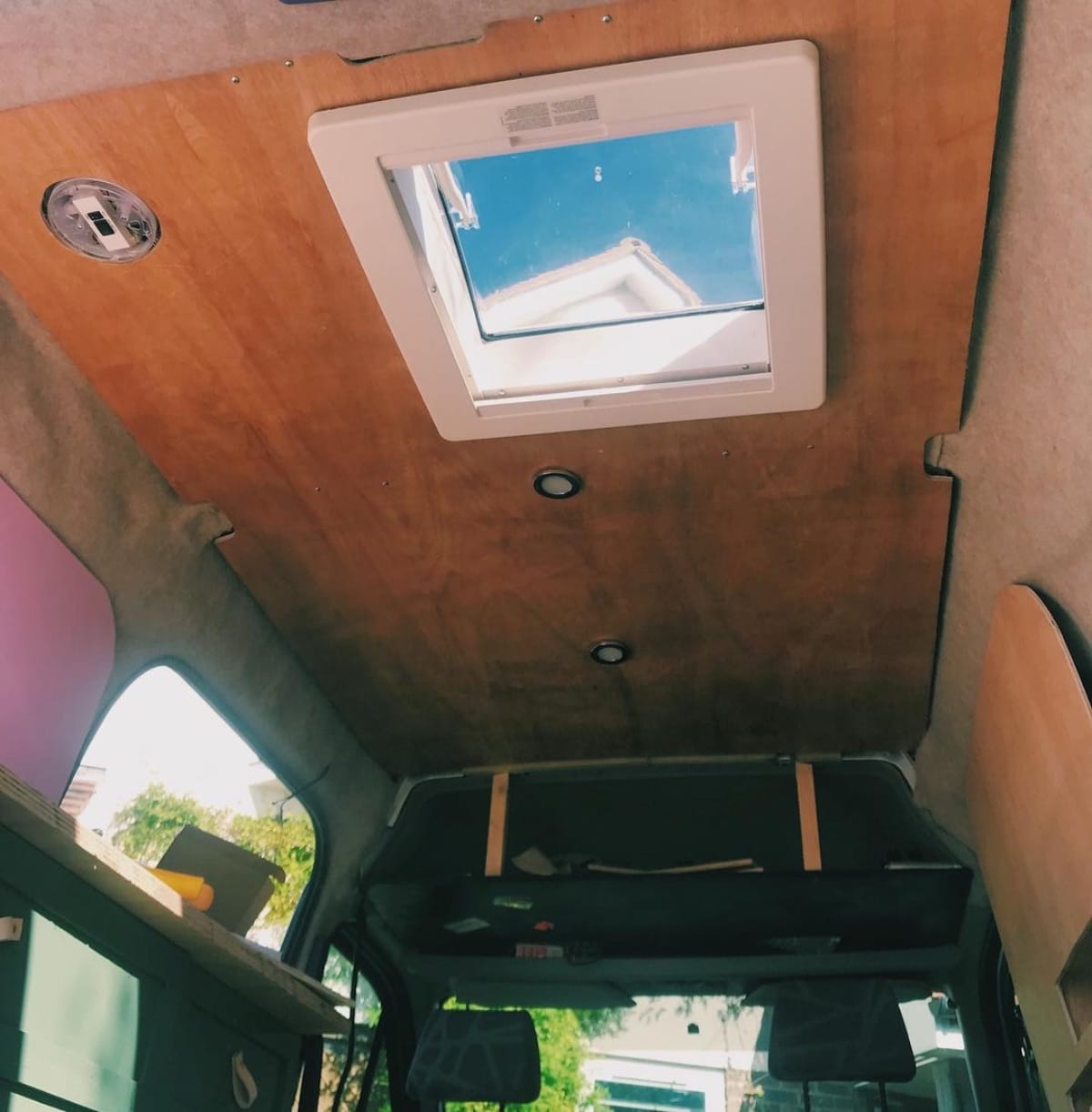 [Image: mistymissions]
Bring even more of the outdoors in with an overhead skylight in your campervan. Skylights provide tons of natural light, which helps expand the feeling of interior space within your van. Be sure to consult a professional for help with effective insulation and sealing of the skylight to avoid air or rainwater leaks.
4. Cozy Carpet
[Video: Lens of James]
Choose a comforting carpet surface over your head for a retro, cozy look. Staple the carpet to a basic sheet of foundational plywood before installing overhead. A thin carpet works best and helps avoid strong odors absorbing into a thicker fabric. Look into the cleaning requirements of the cloth you choose to maintain a clean and sanitary van experience.
5. Trendy Shiplap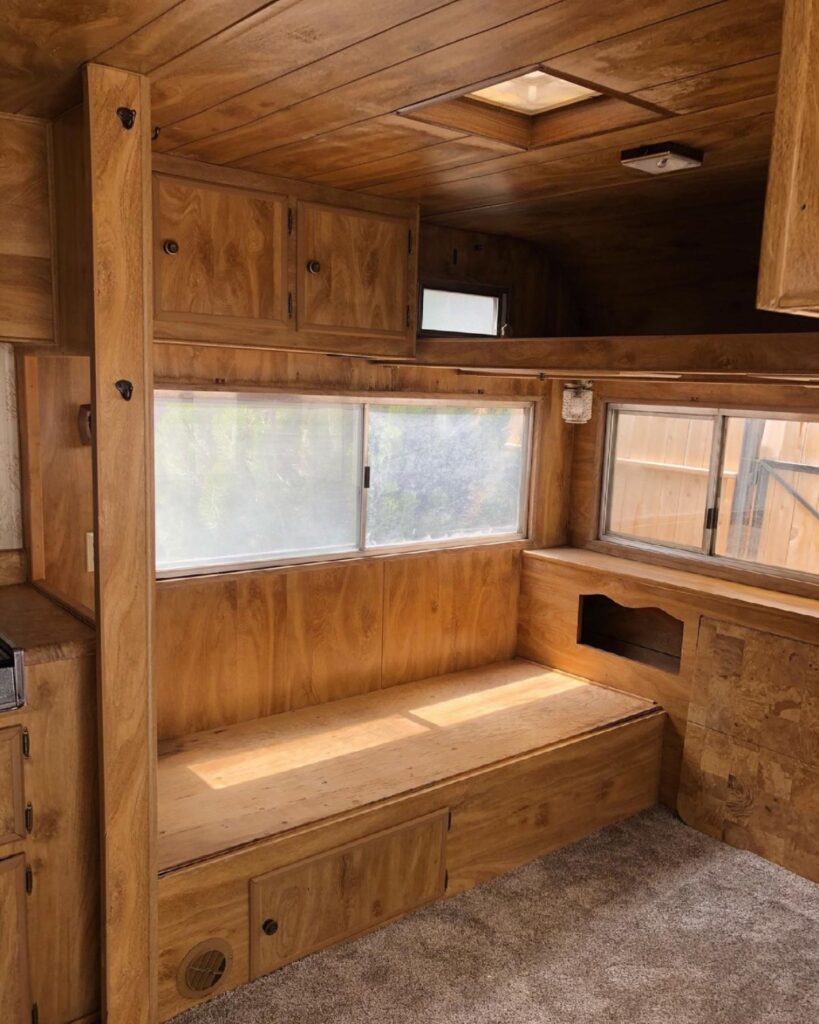 [Image: hootiecutie]
Bring the popular farmhouse aesthetic into your van by installing shiplap into your ceiling. This material acts similarly to tongue and groove but features a much wider plank. Shiplap is also often produced in white or lighter colors. This professional and durable material looks polished but will inevitably cost more than other options.
6. Cabin-Inspired Cedar Planks
[Video: The Endless Adventures]
Cedar planks bring a woodsy aesthetic to the interior of your van home. An added benefit of choosing this inspiring campervan ceiling idea? Cedar holds a hidden superpower as cedar can repel insects and pests with its natural oils.
7. Groovy Tapestry
[Video: The Vegan Travel Show]
A classic van ceiling idea is to attach a psychedelic or intricate tapestry to the space above your head. Begin with a standard plywood sheet ceiling and attach your fabric of choice with a staple gun. Over time the tapestry may show wear and tear but can be easily swapped out for a new design.
8. Creative Wallpaper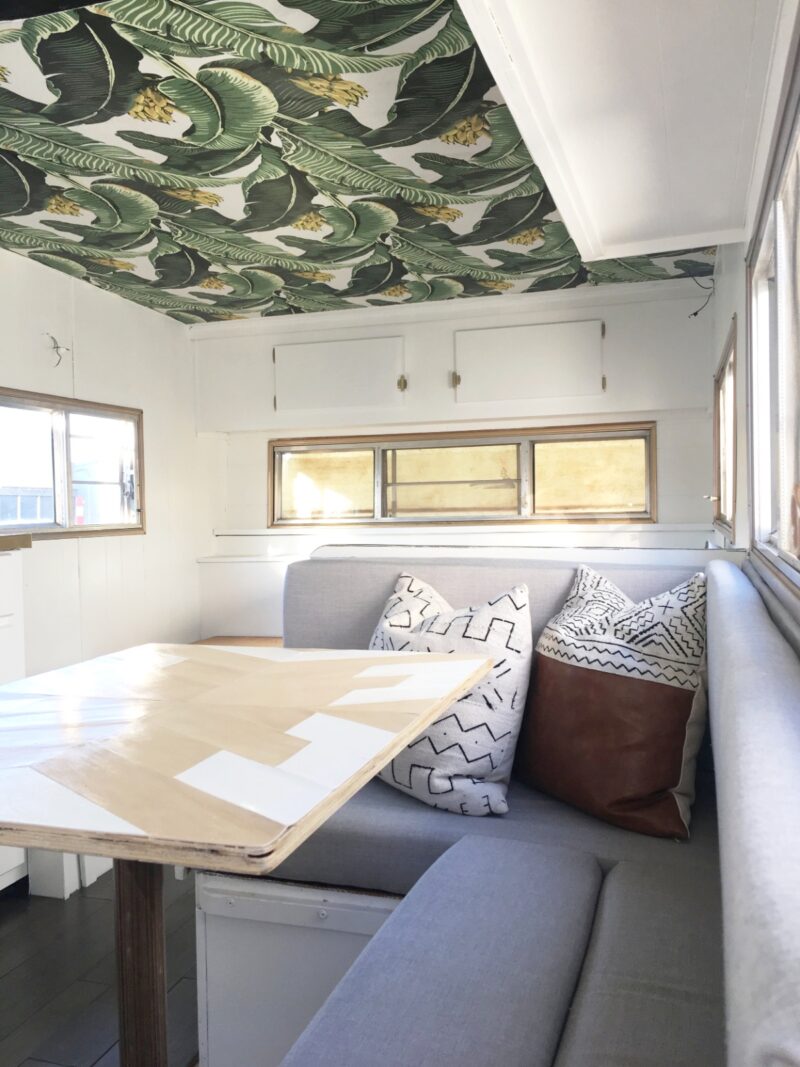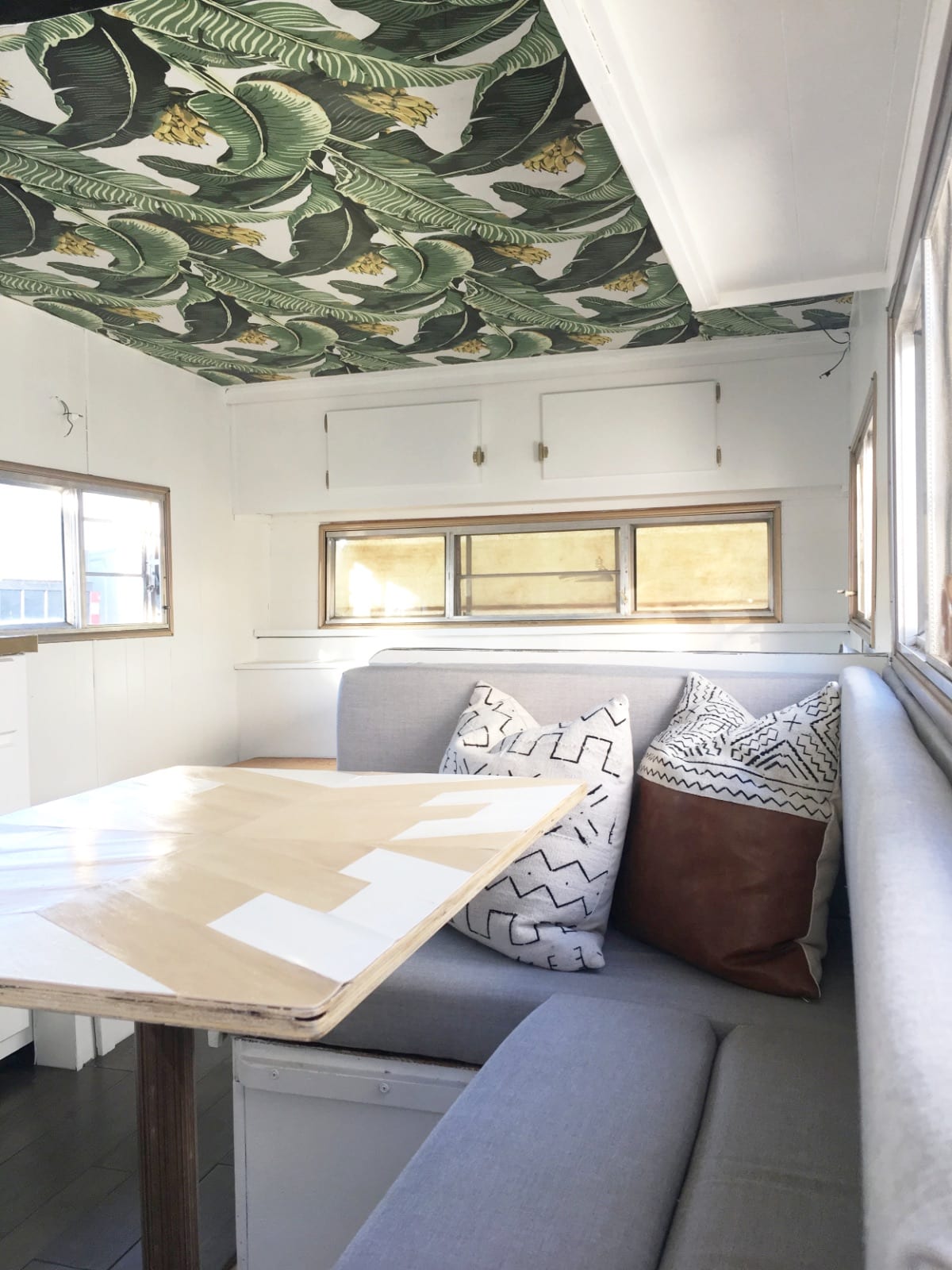 [Image: Mostess]
Adorn a basic plywood ceiling with the abundant varieties of creative wallpapers available today. Designs include florals, geometric patterns, woodsy prints, and more. Choose a self-adhesive wallpaper for a more forgivable and affordable wallpaper product. This type of wallpaper allows you to make a mistake and re-stick the wallpaper.
9. Vibrant Living Ceiling
[Video: Tiny Home Tours]
Another way to obscure or decorate a basic space over your head is by installing a "living" ceiling overflowing with plants. Choose an easy-growing vine plant like a pothos to establish a vibrant jungle on the ceiling. Embellish the vines with battery-operated candles for a romantic glow.
10. Inspiring Mural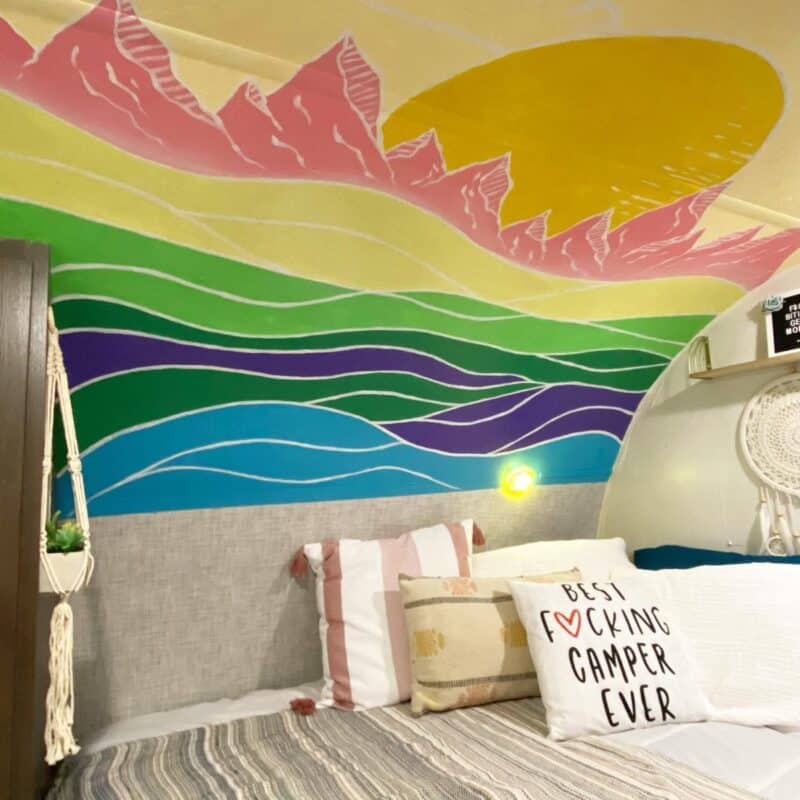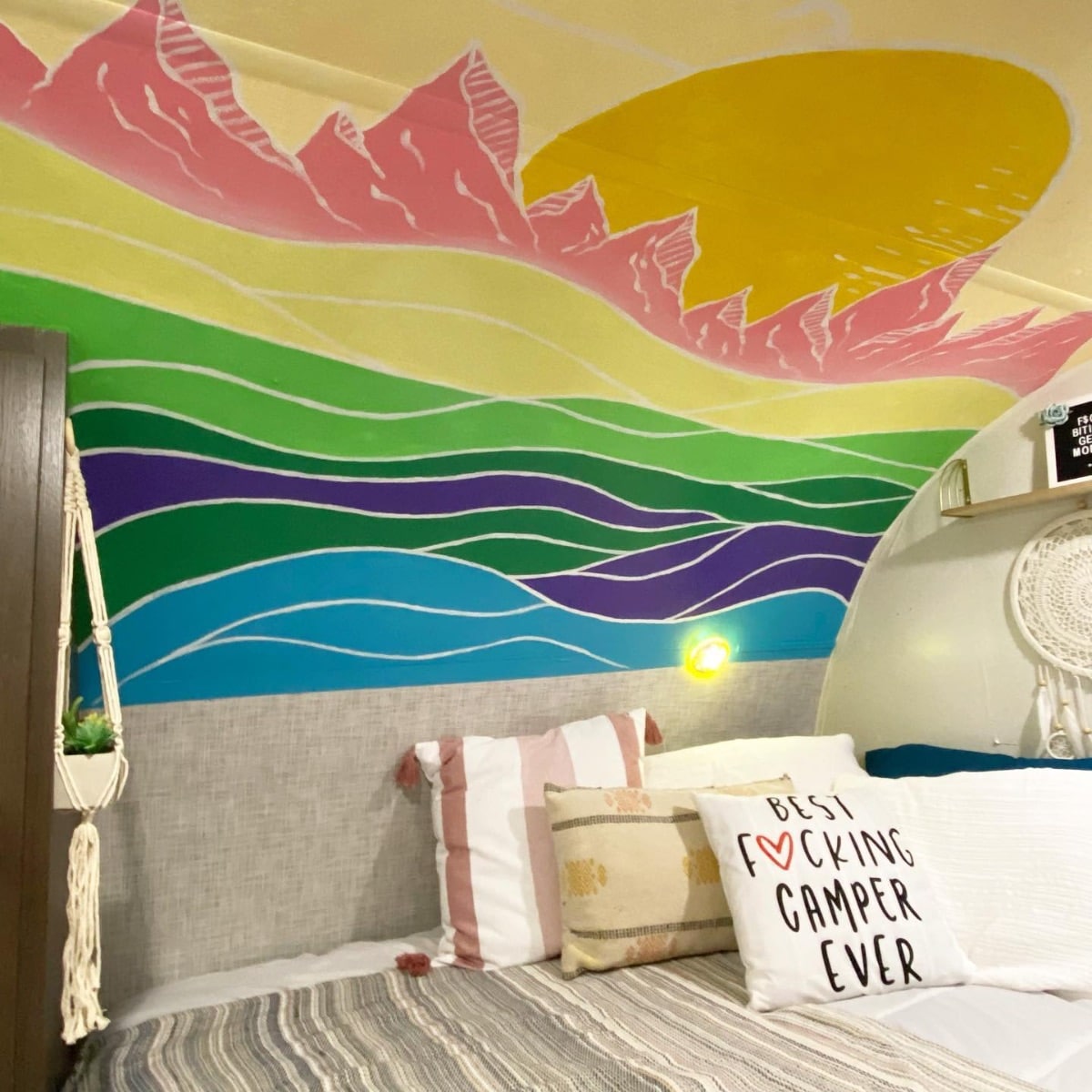 [Image: enjoyartbysara]
For the artistically inclined, consider embellishing a basic plywood ceiling with a meaningful mural made by you or another artist you love. Not only will a mural impart significant personal inspiration, but it is also one of the most economical choices on this list.
11. Tropical Bamboo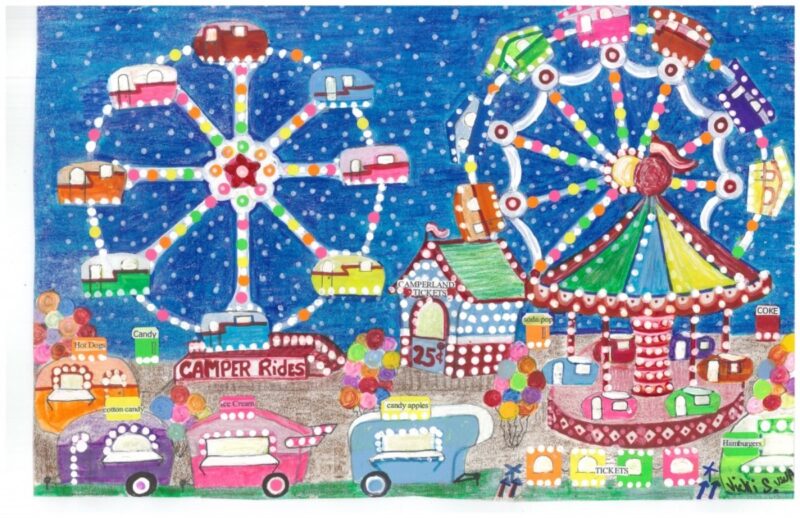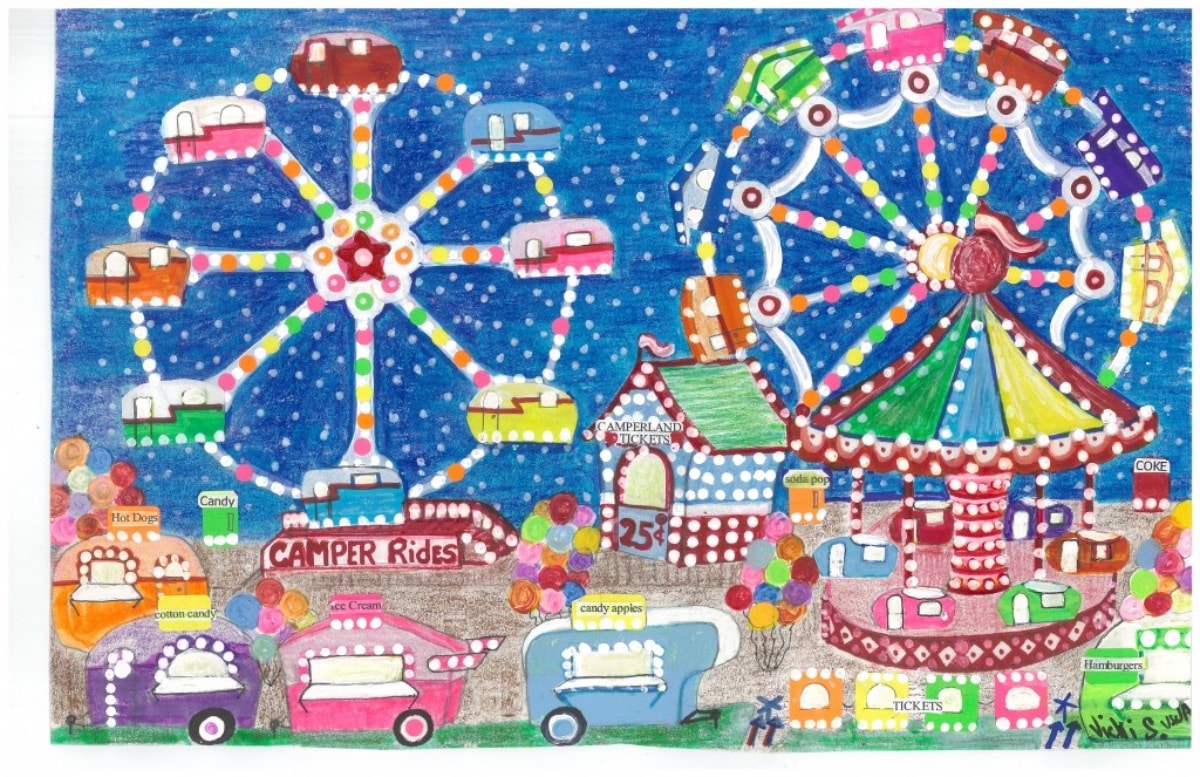 [Image: The Camper Book]
Simple bamboo fencing can add a breezy, tropical flair to the inside of your campervan. These rolls of lightweight bamboo fencing are found at any home improvement store and are very affordable. Staple the bamboo to a plywood base for a simple but effective ceiling idea.
12. No-Nonsense Corrugated Steel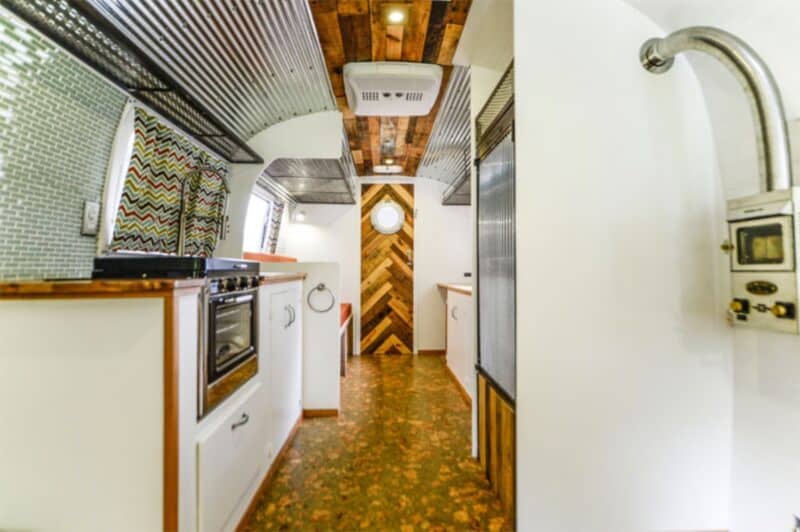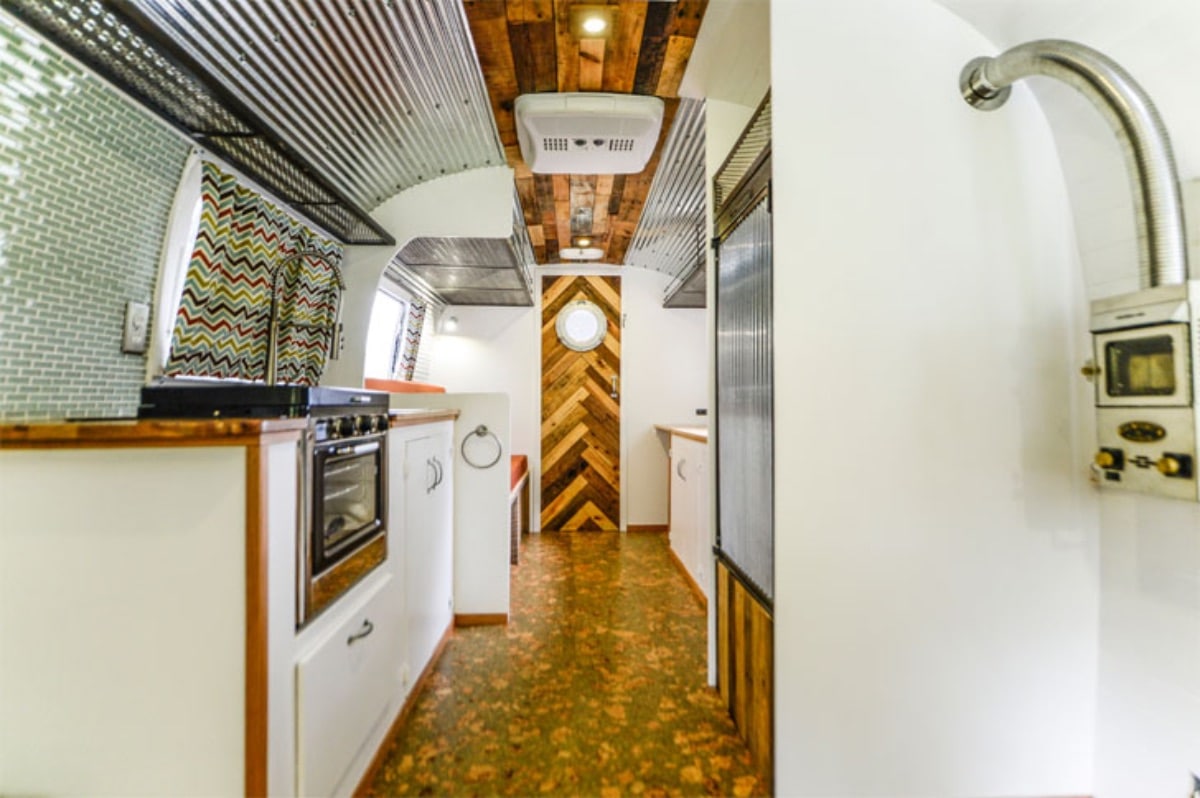 [Image: Do It Yourself RV]
Corrugated steel ranks as one of the most durable materials available on this list of inspiring campervan ceilings. Vanlifers who anticipate spending a lot of time in humid or high precipitation climates may reconsider this idea as this ceiling material can rust.
13. Romantic Canopy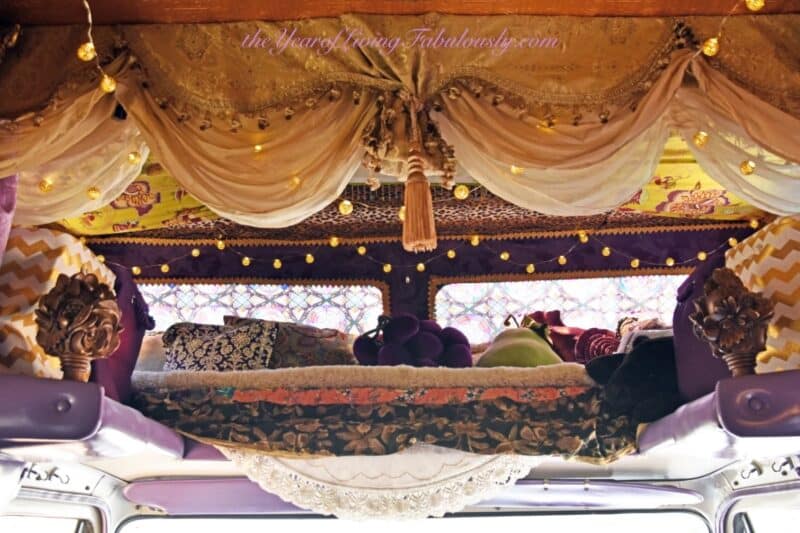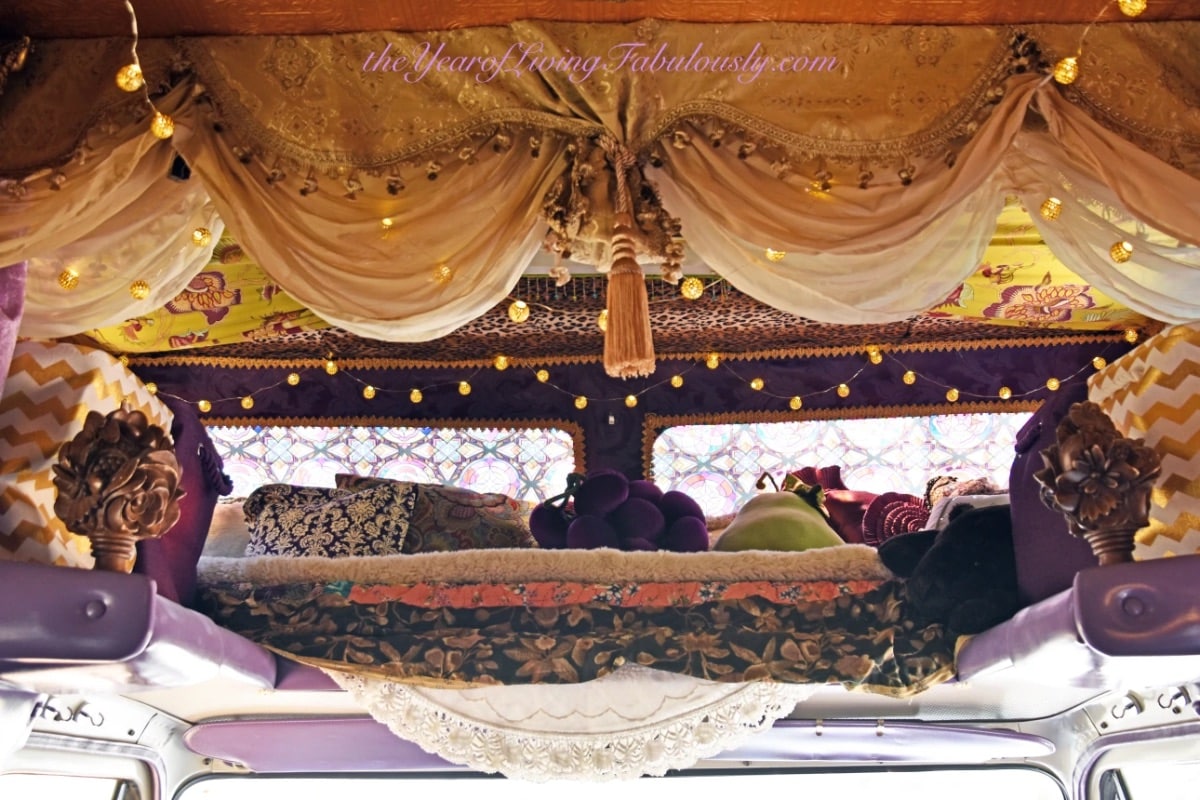 [Image: The Year of Living Fabulously]
Instead of stretching fabric tightly across a plywood base, consider gathering a gauzy fabric into romantic waves. This style looks great in a bedroom space or to add intimacy to a reading nook. If you live with a tall person, they may not be able to navigate a space with a low, sweeping ceiling like this.
14. Art Deco Geometric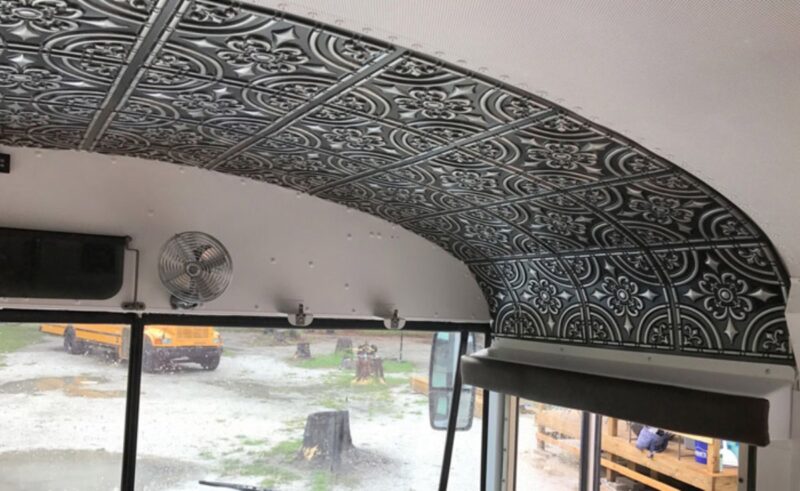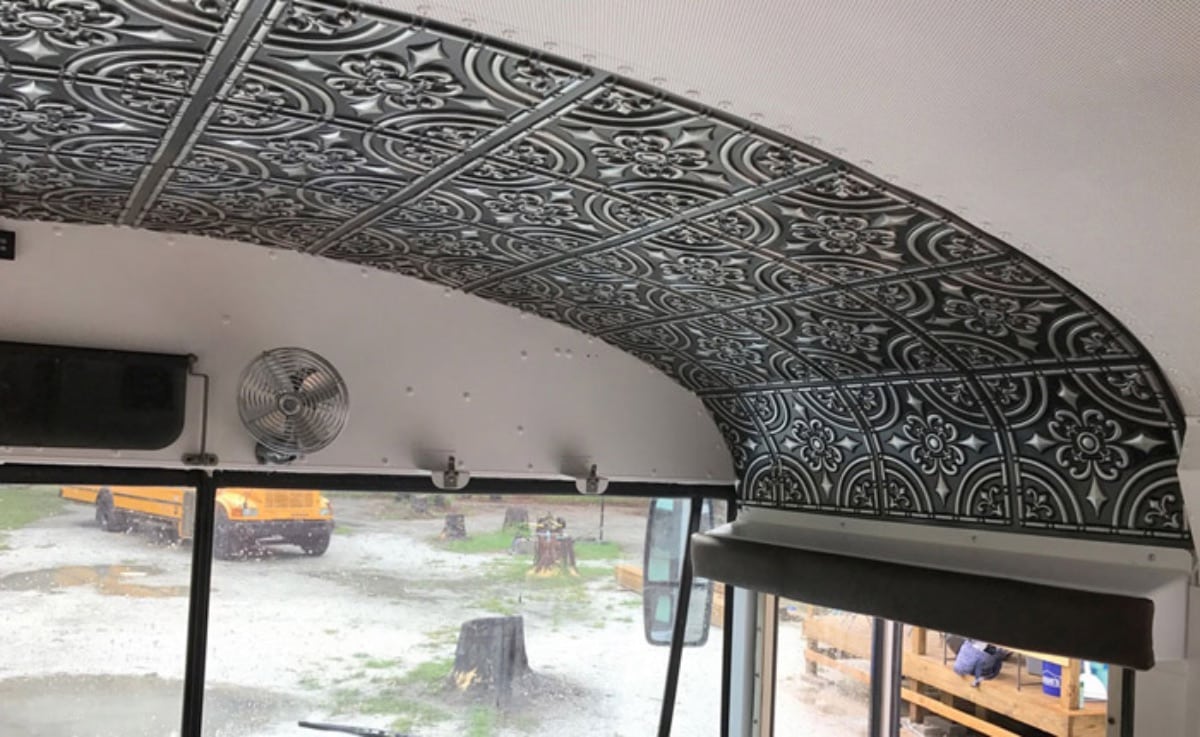 [Image: Decorative Ceiling Tiles]
Perfectionists and puzzle lovers will love geometric designs embellishing the ceiling of a standard campervan. Elaborate starburst patterns and other mosaics made of thin planks of wood or other lightweight materials turn a van's ceiling into a jaw-dropping showpiece.
15. Practical and Beautiful Maps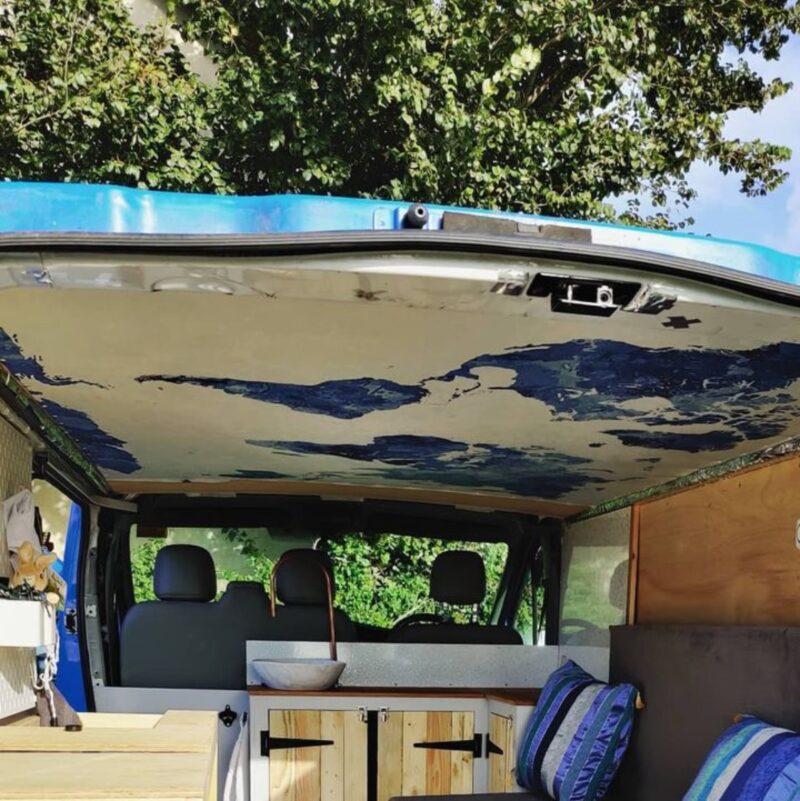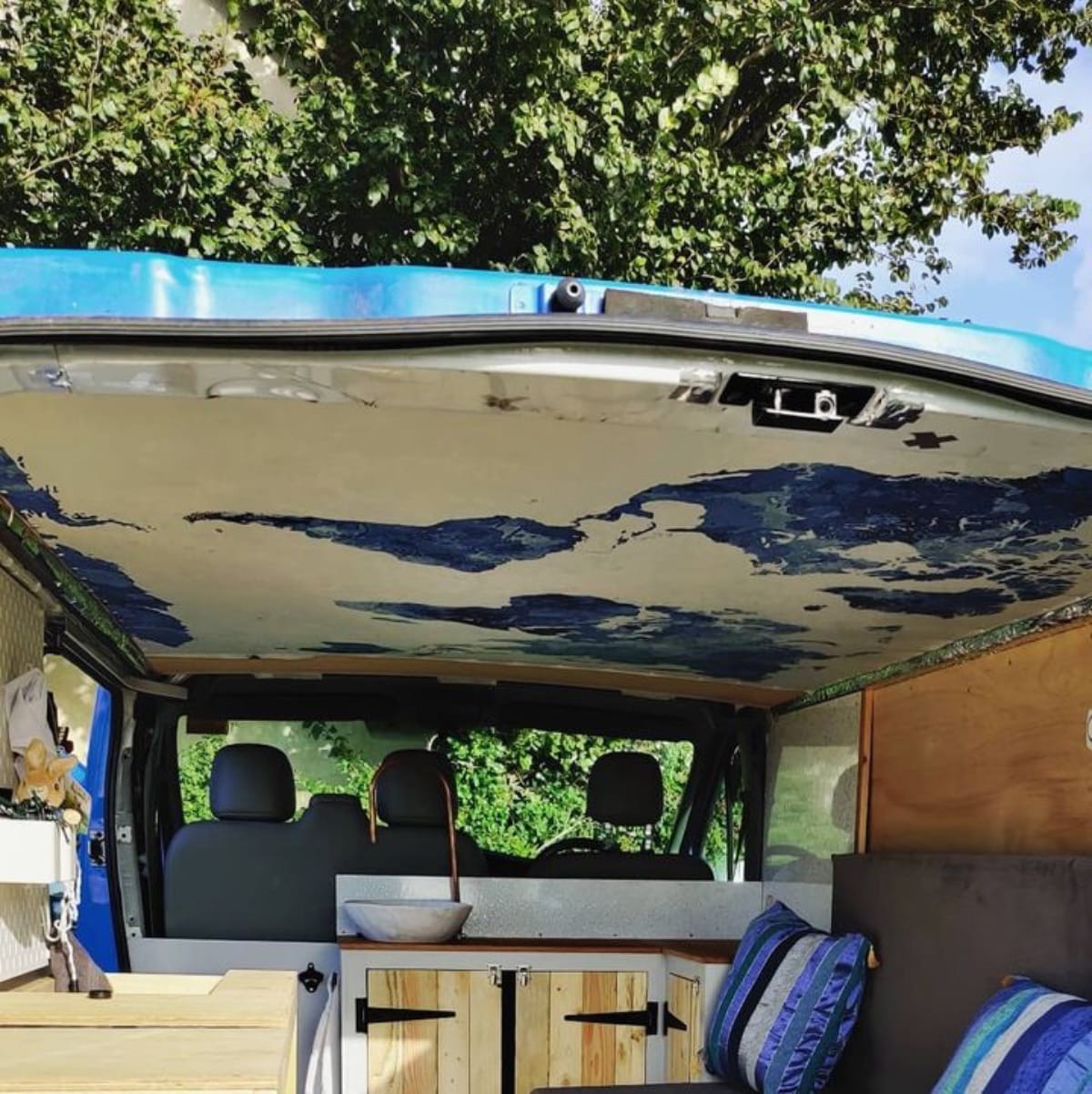 [Image: thatbrightbluevan]
Never lose sight of where you're going when you attach maps to the space overhead. Consider decoupaging everyday maps of your destination to a basic plywood base. Daydream about your next stop simply by lying on your back and tracing your finger along your ceiling.
16. Retro Metal Ceiling Tiles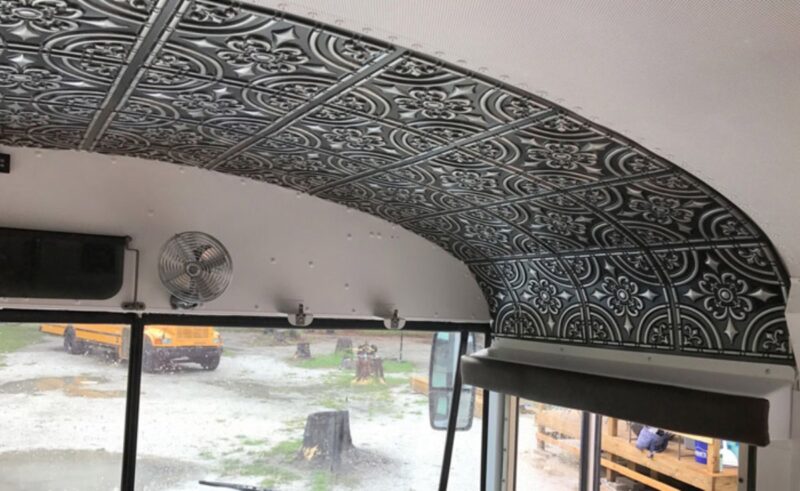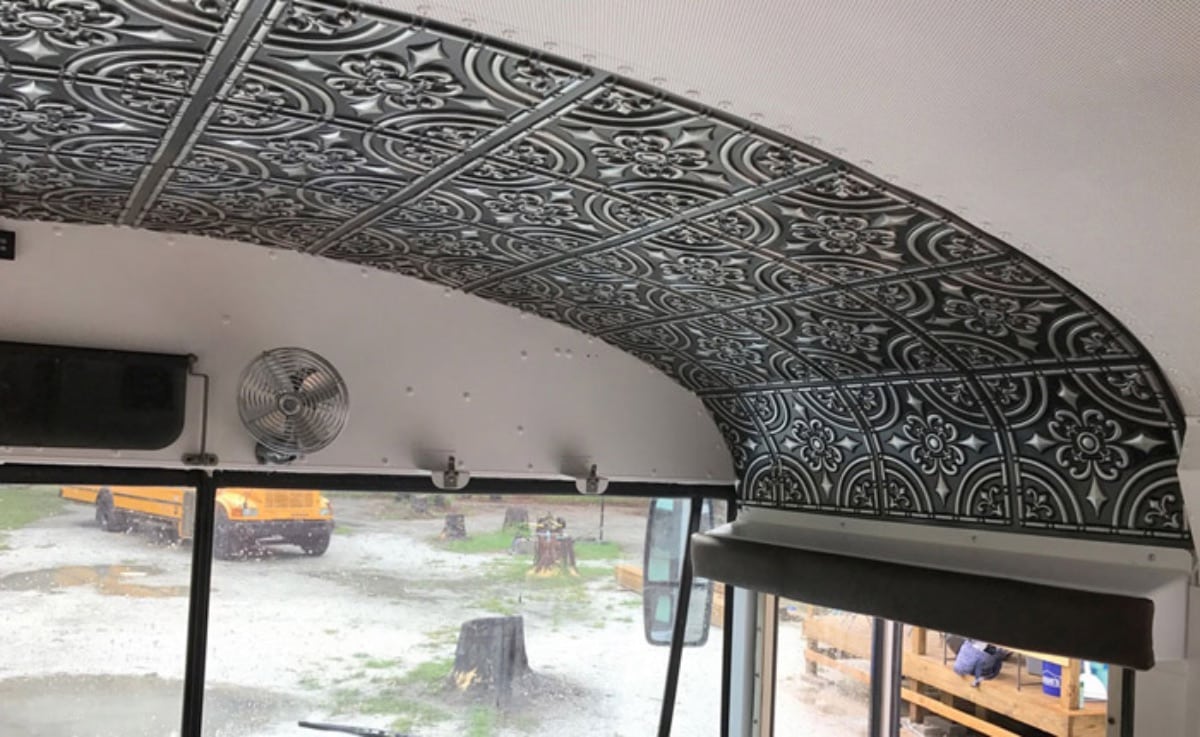 [Image: donniemather]
Transform the inside of your campervan into a retro hotel ballroom with metal ceiling tiles. This lightweight product adds sparkle to the interior of your van, along with a hefty dose of glamor. Watch for rust on this material to maintain a sophisticated look.
17. Twinkle Lights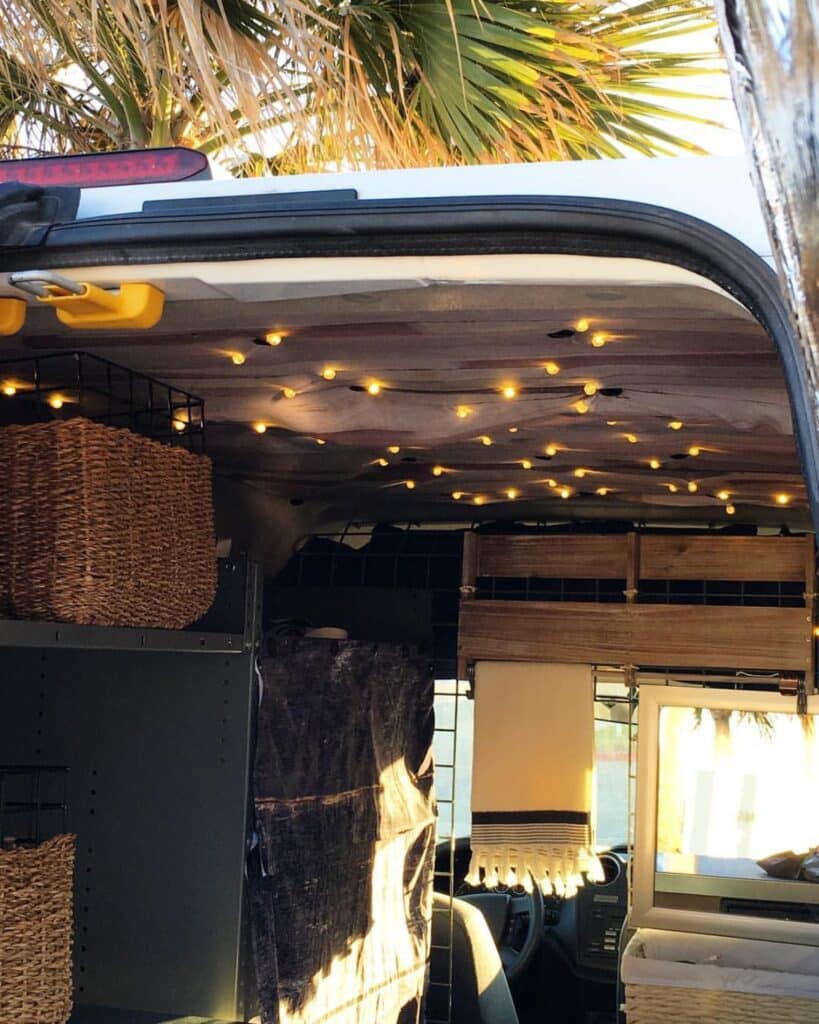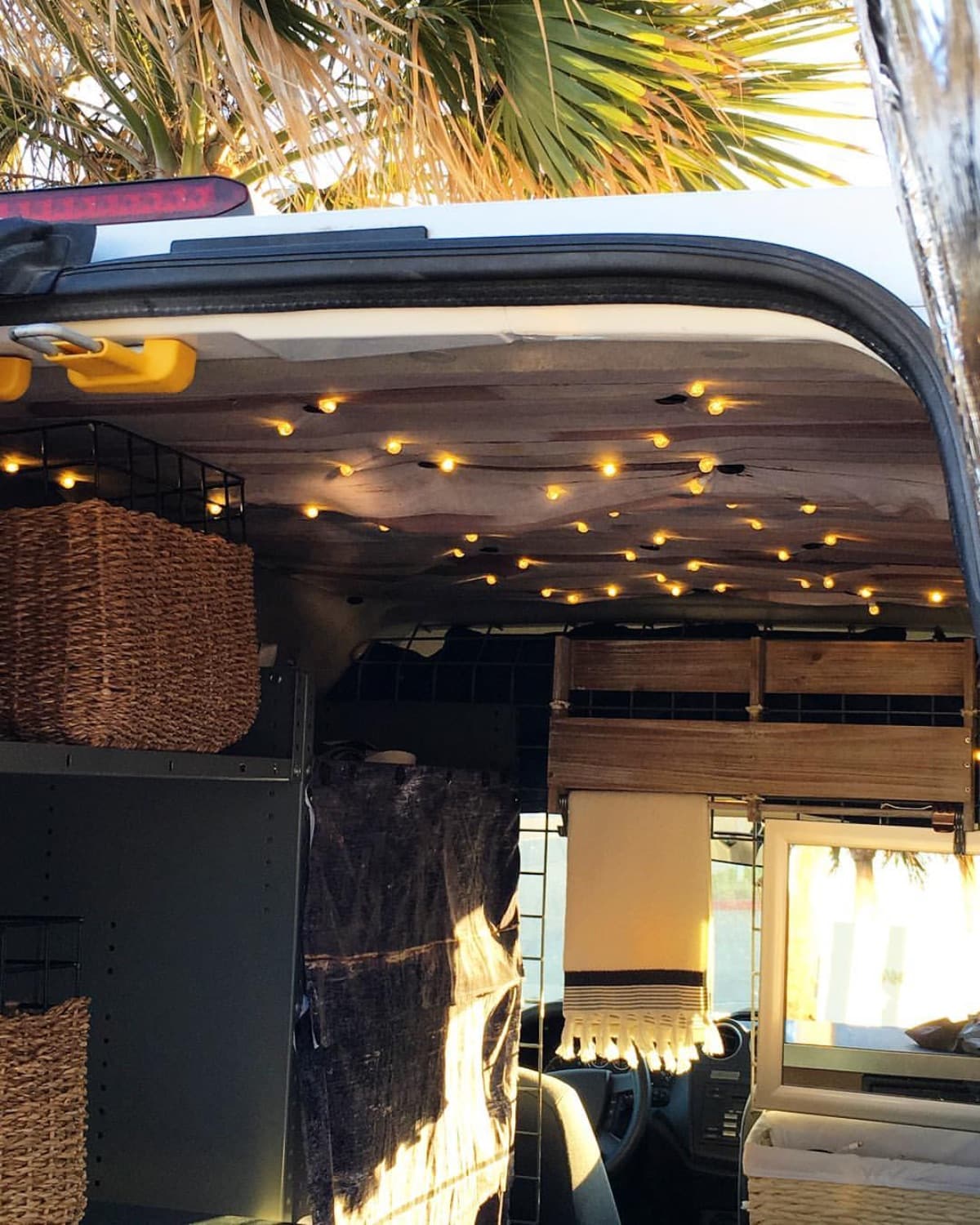 [Image: Tiny Van Travels]
Add a sweet glow to the inside of your van by adding strings of twinkle lights to the interior ceiling of your traveling home. Consider large, round globes or thin holiday bulbs. Each type of light imparts a unique light. Combine several types of bulbs for a fascinating and warm ambiance.
Conclusion
Every inch of your new campervan gives you an opportunity to adorn the small but mighty surroundings of your new life. Invest some time and energy into your ceiling to turn the space above your head into an inspiring atmosphere that will reward you.