We're an affiliate
We hope you love the products we recommend! Just so you know, we may collect a share of sales or other compensation from the links on this page. Thank you if you use our links, we really appreciate it!
Thousands of people live out of their vans daily and need modern amenities, including a camper shower. Installing washing facilities in your camper van can be difficult, but there are dozens of ways to get a working shower in your van without much hassle and challenge.
Consider the many styles of camper van showers you'd like to try. Some can use the vertical space in your van. Others may capitalize on the bathroom space by adding a removable or waterproof toilet.
Read on to learn the different styles and types of van showers you can use to make the best use of your space. These practical and modern styles can help you feel satisfied with your setup and – best of all – stay clean.
1. Under-Counter Showers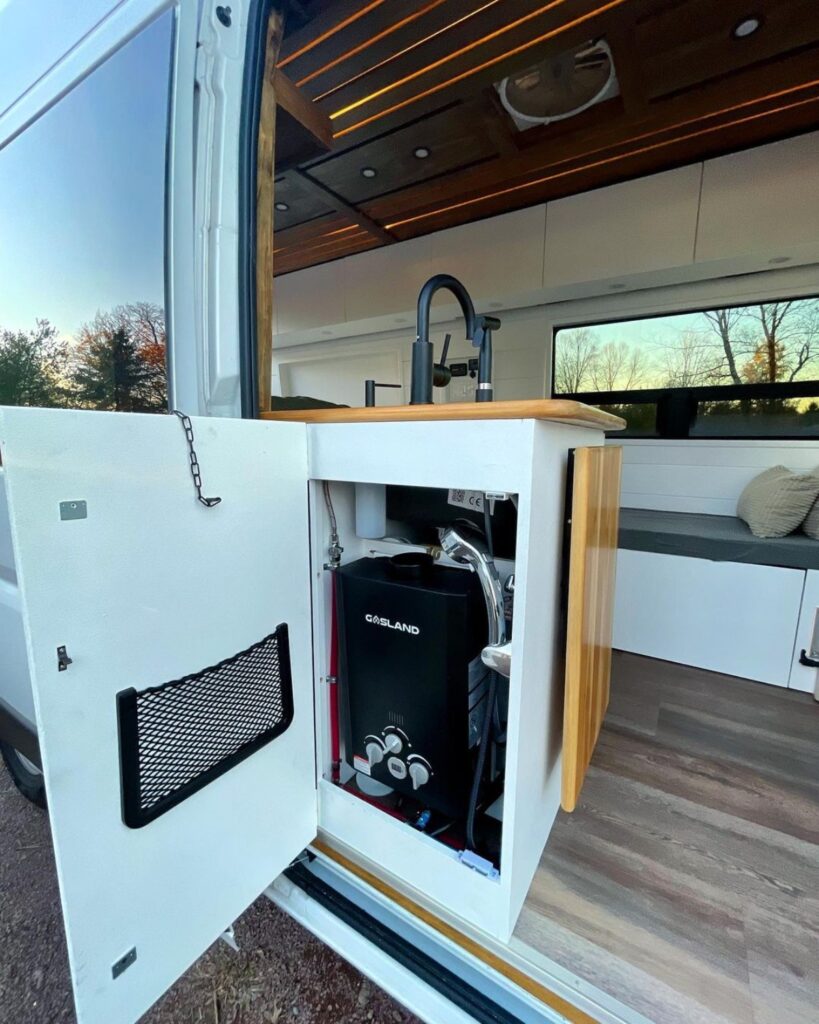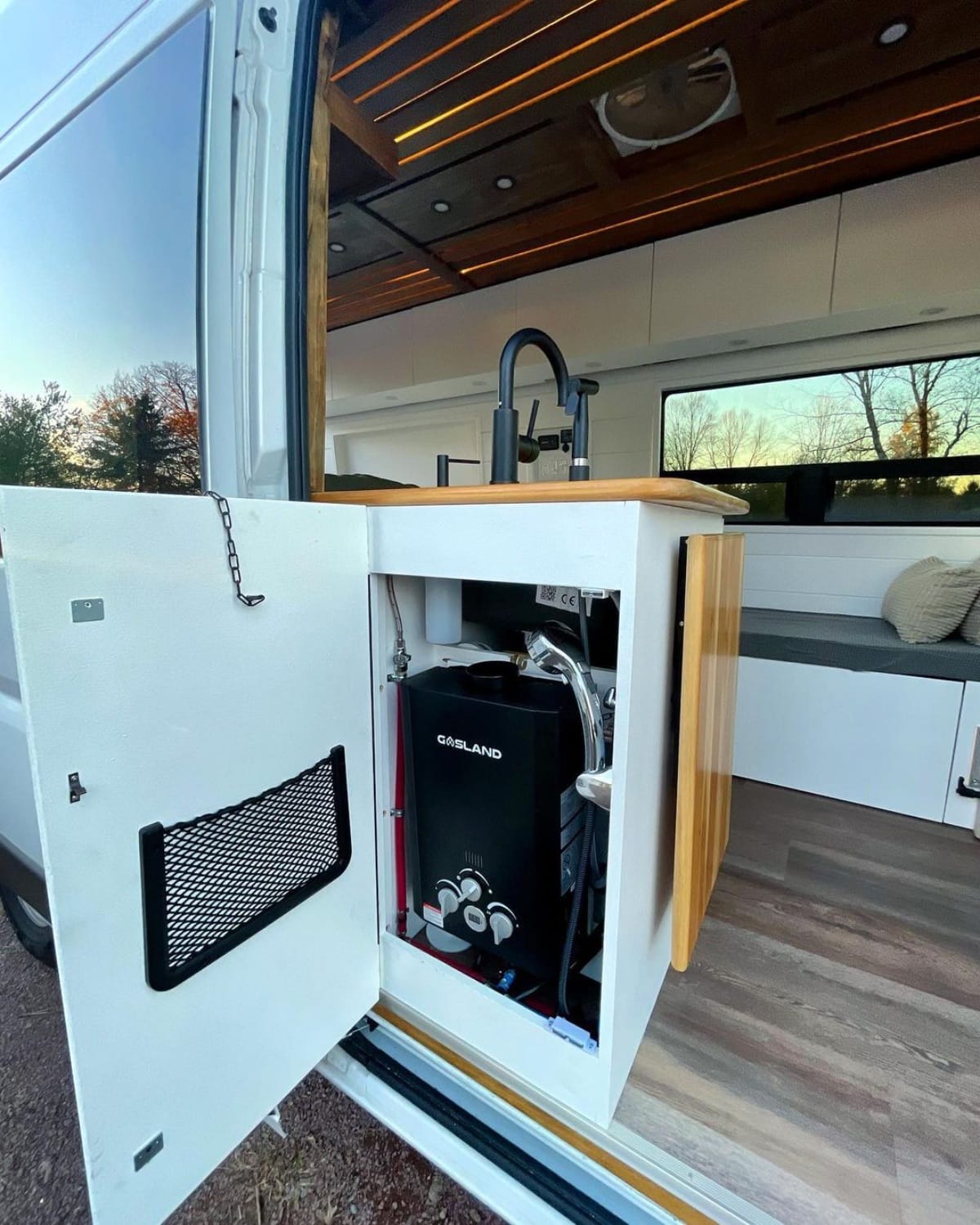 [Image: appalachian_vans]
Under-counter showers are those that can be tucked away under a countertop. These are most common in the kitchen area of your van. Typically, an under-counter shower will open up on both sides to create a small privacy wall and a handheld shower head.
2. Half-Wall Showers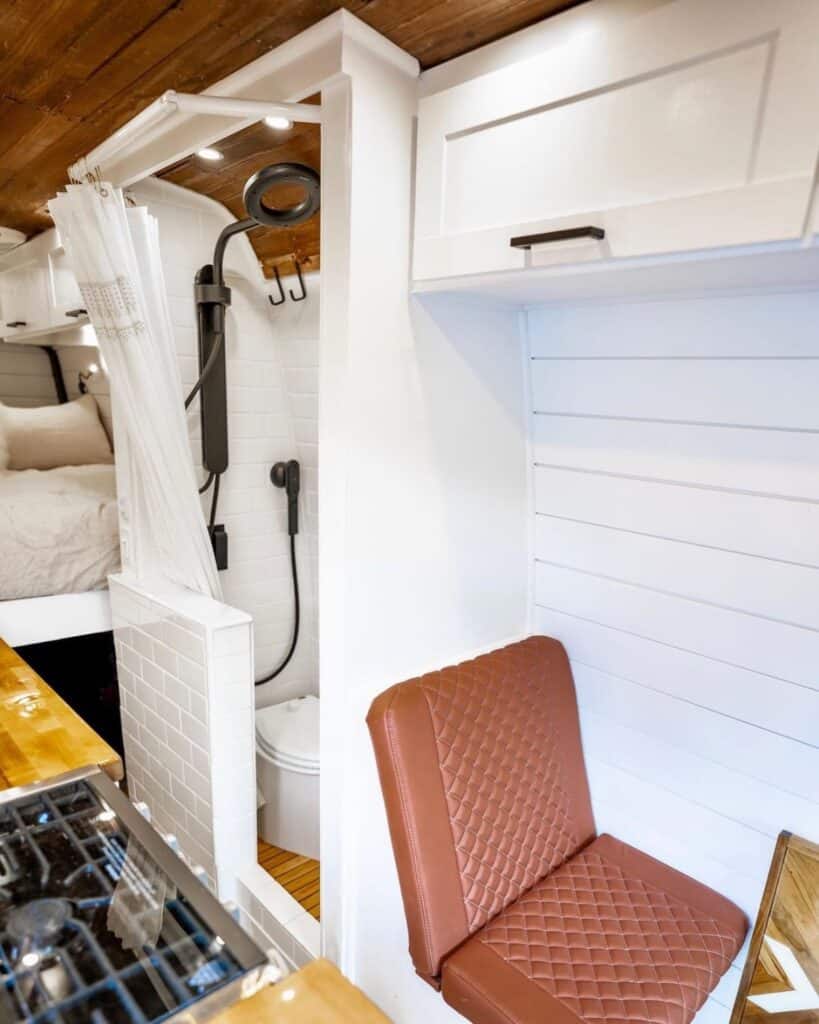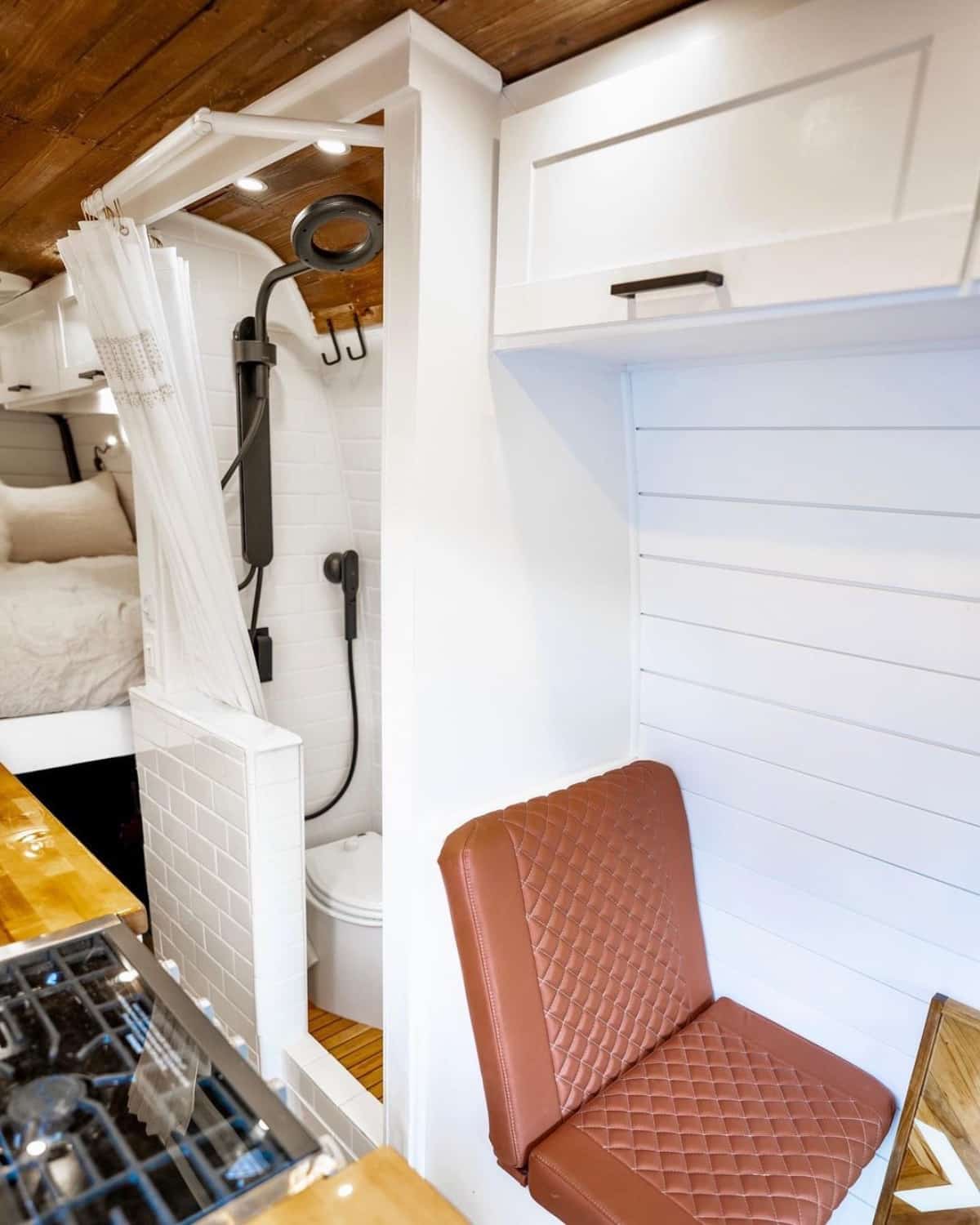 [Image:goandlivefree]
Half-wall showers can be perfect for vans because they won't get in the way and can prevent your camper from getting flooded with water. Additionally, the half-wall will keep your shower curtain inside and trap steam from heated water.
3. Portable Showers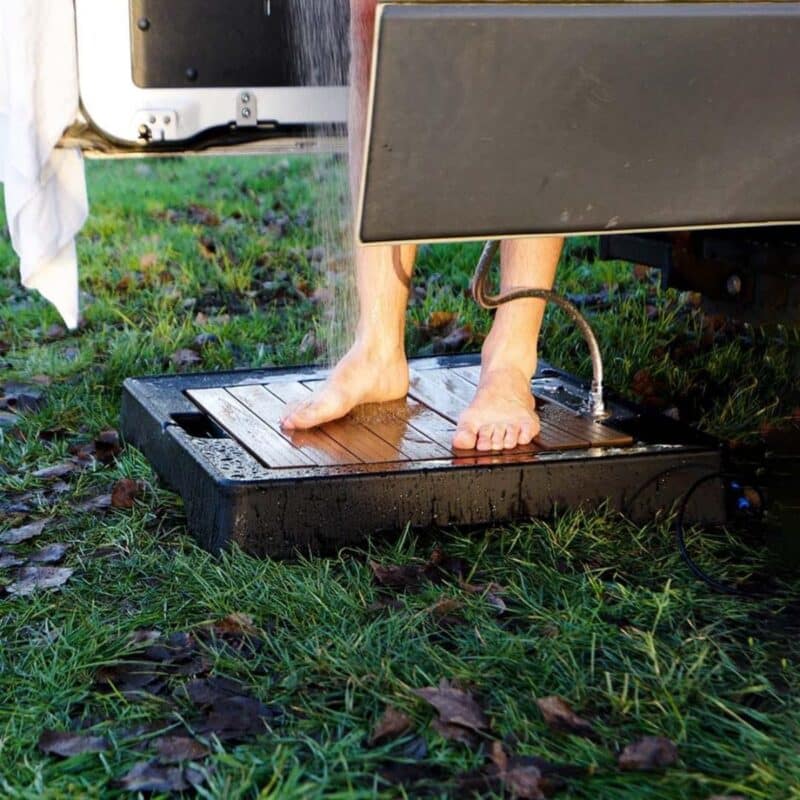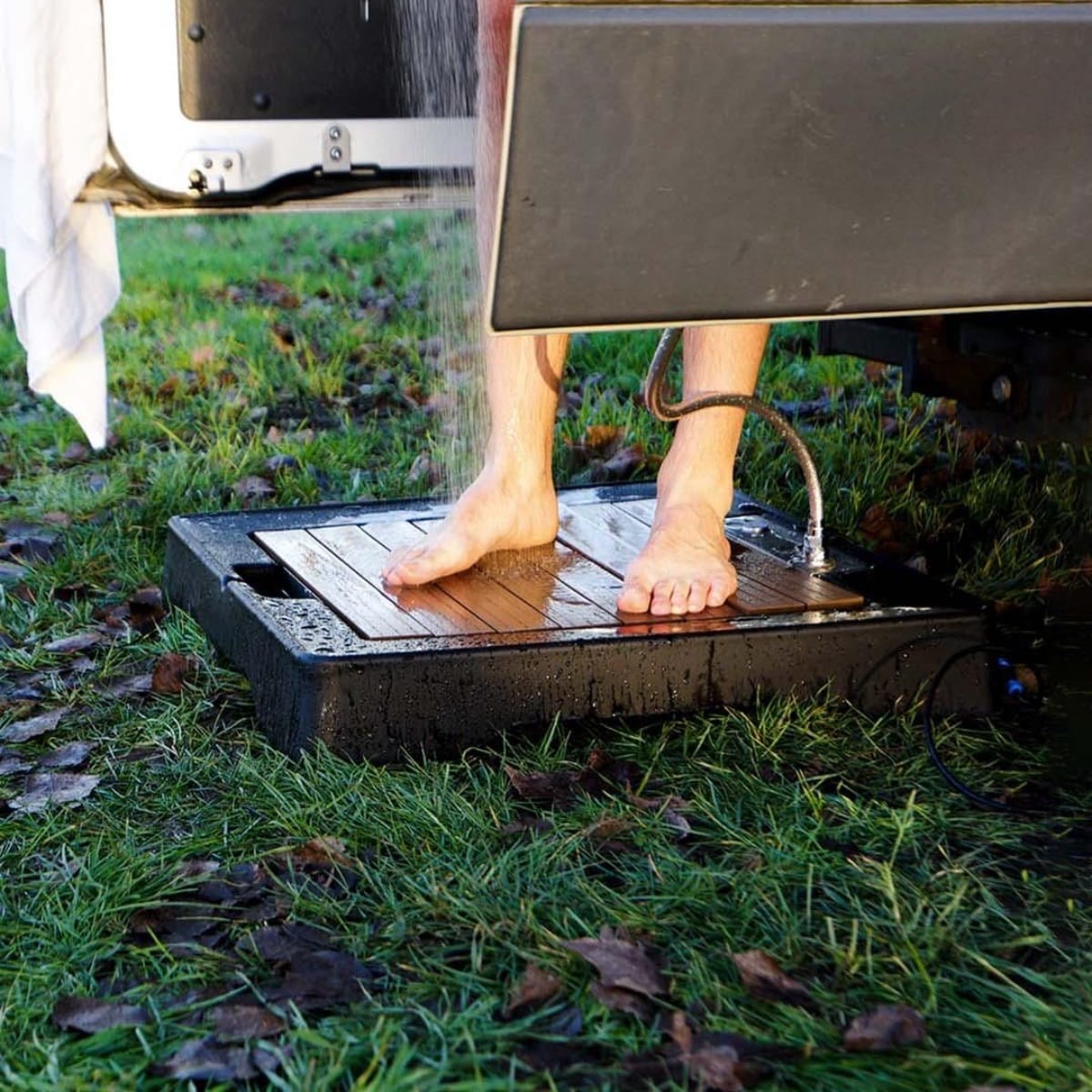 [Image: loopz.shower]
Portable showers are suitable for van lifers who prefer to shower outside using curtains and shades for privacy. A portable shower is often a plastic bag filled with water that hangs on the back door to offer you a steady stream of water.
4. Pull-Out Shower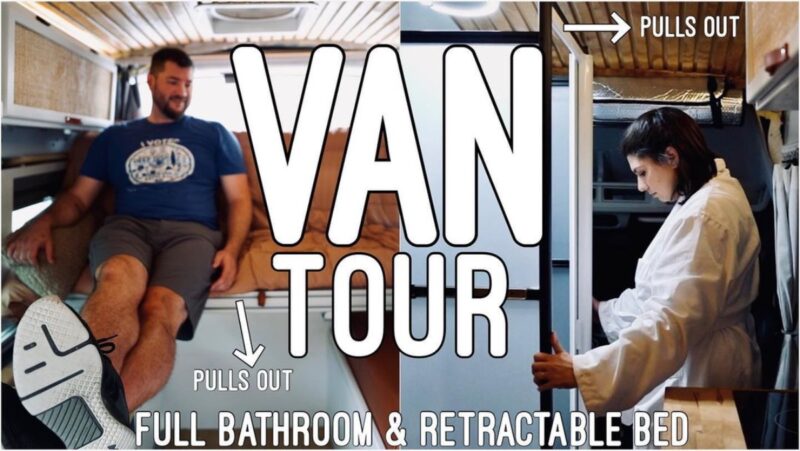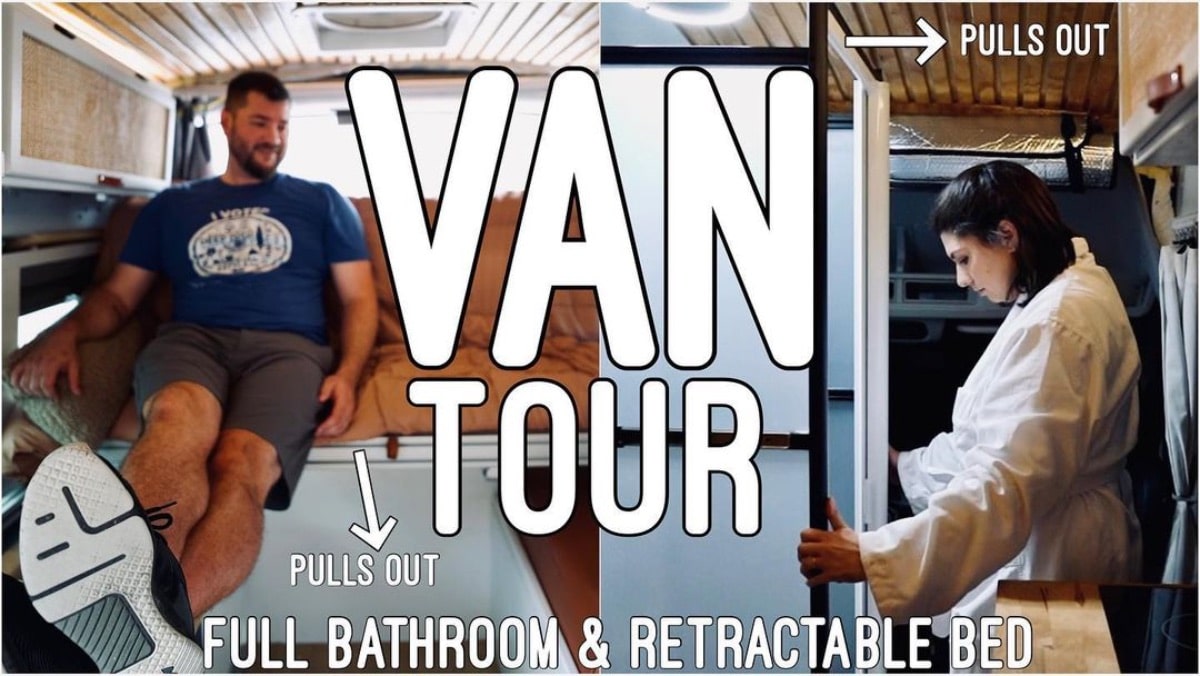 [Image:sir.bradleybean]
Pull-out showers usually have wheeled brackets to pull out from the wall and lock into place in the center of your van. This shower type is also challenging to install, but it can offer your camper a showering facility that doesn't get in the way and can move to offer you the best utility of your space.
5. Full-Size Recessed Shower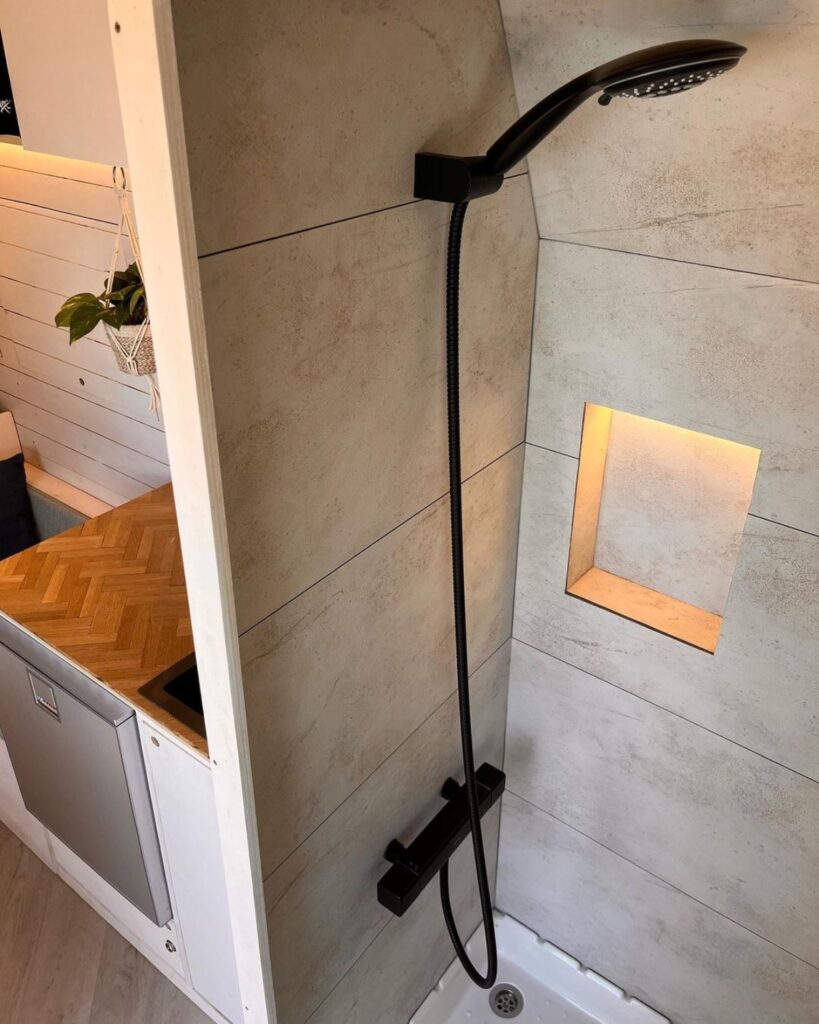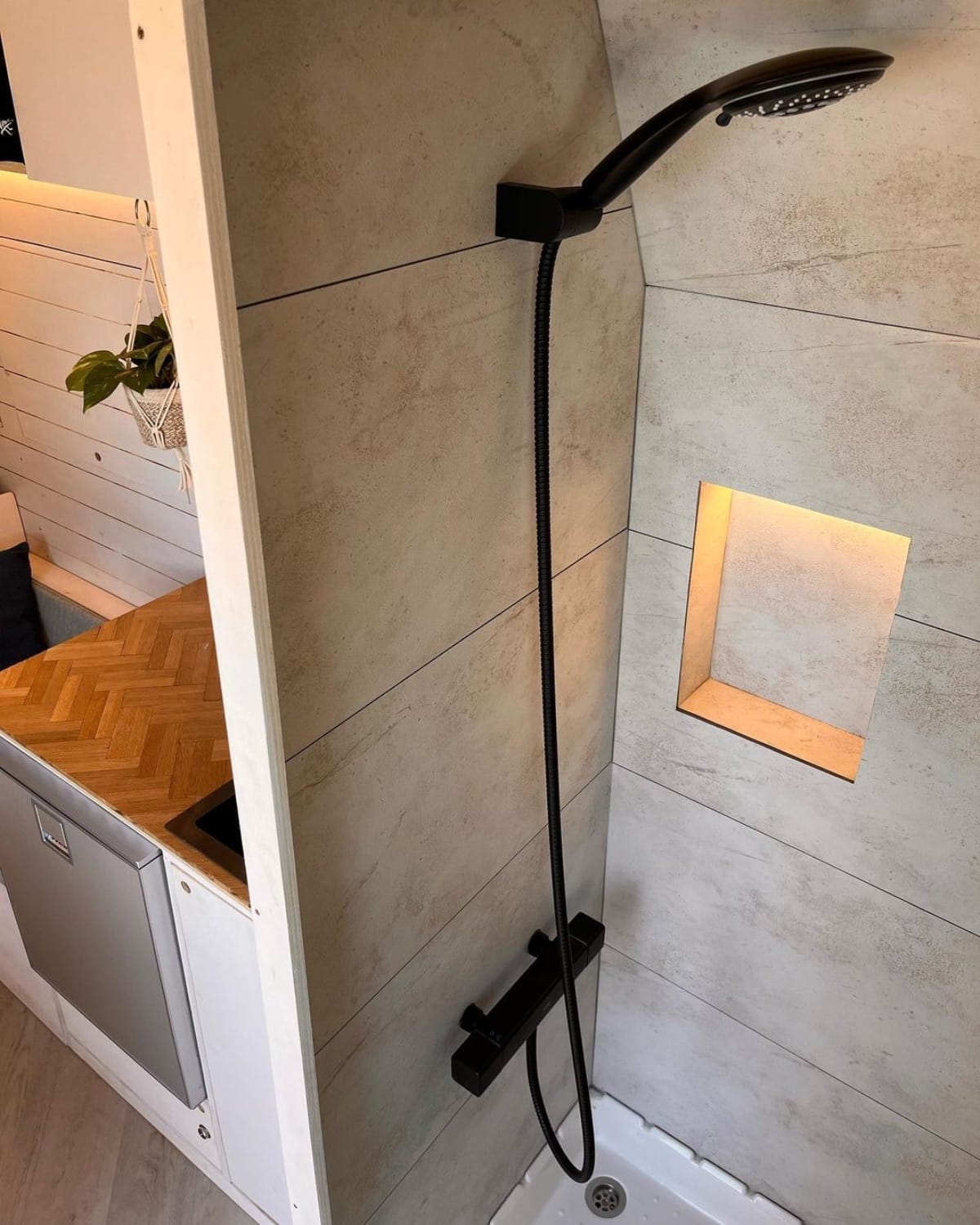 [Image: hsapa_trailaway]
A full-sized recessed shower is difficult to install. However, if your van has enough space, this style is worth the investment and effort needed to install a full-sized recessed shower. This shower can be tucked into a wall against the water source to ensure quick water function.
6. Removable Toilet Seat Shower Setup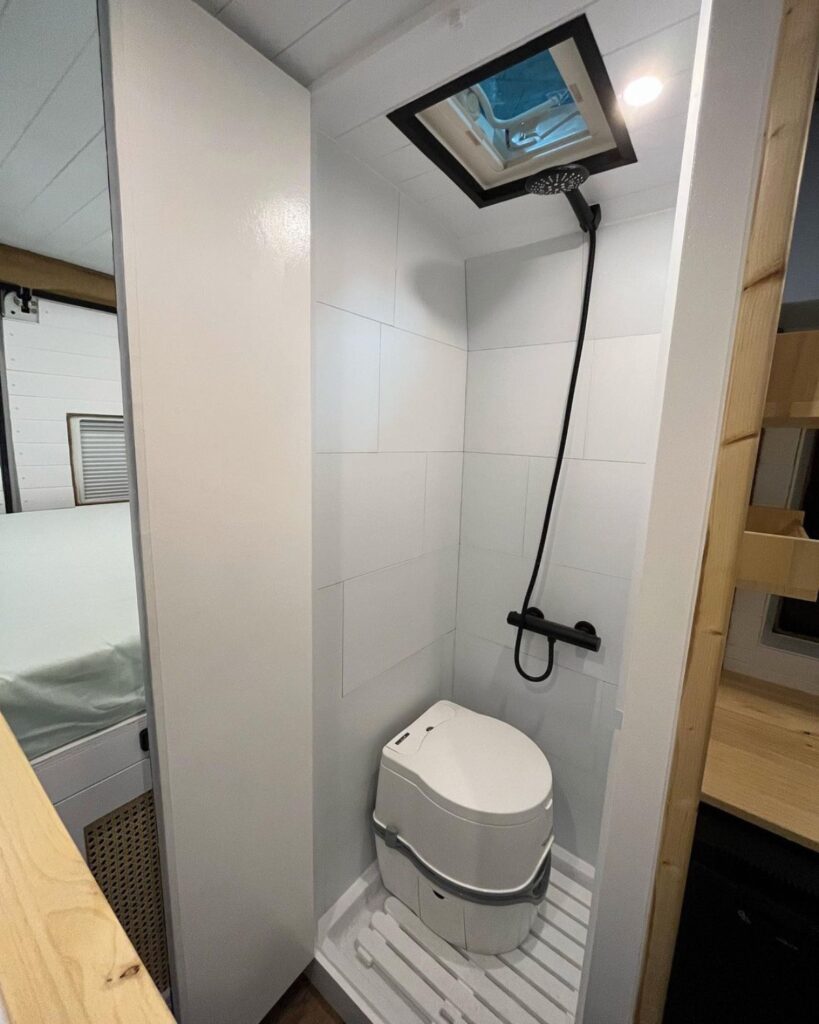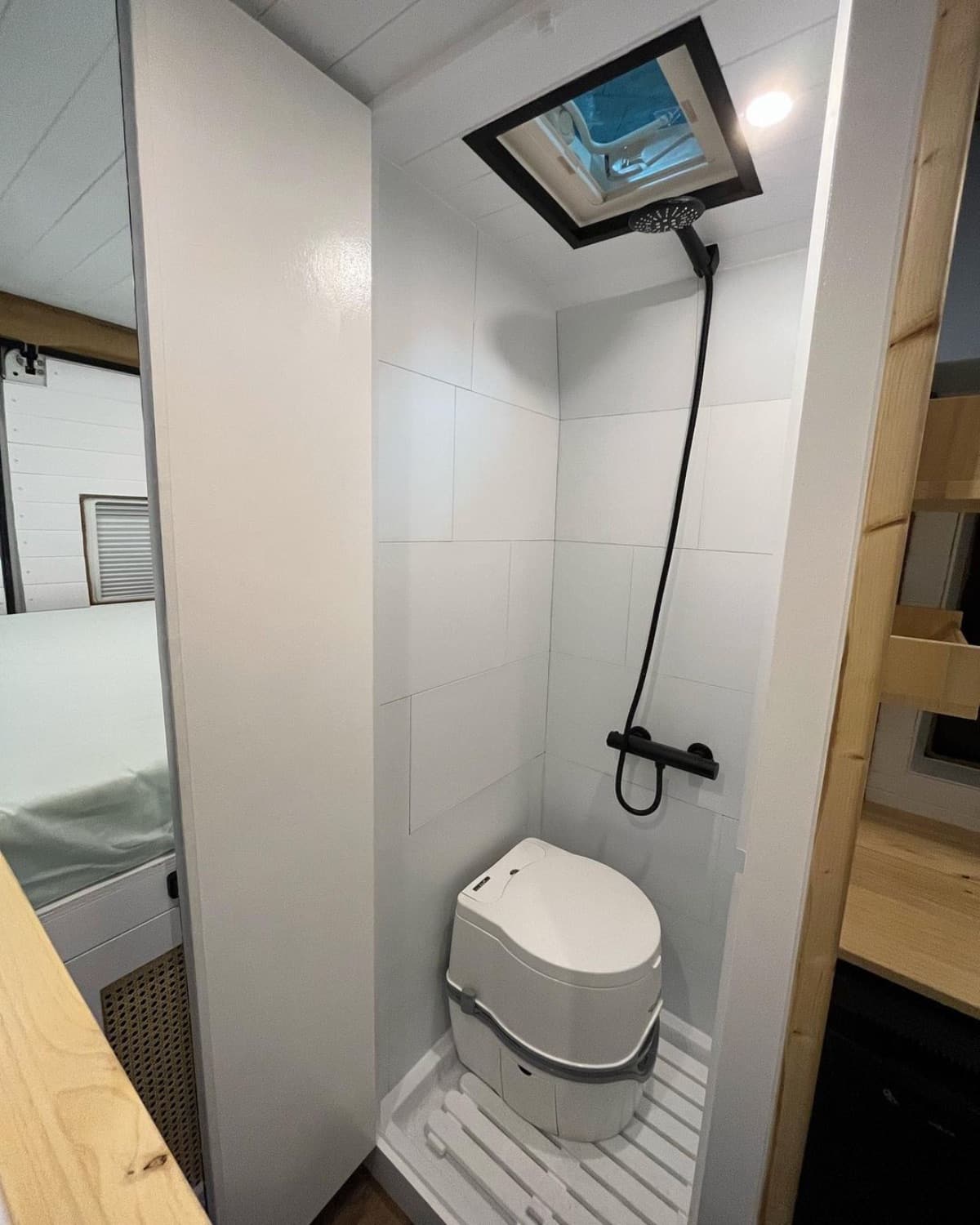 [Image: wildroadcamper]
Some camper shower setups include a removable toilet seat that you can set aside while you shower from the hose above your head. This setup will usually include a drain at your feet that will exit into a tank or directly under your camper.
Some setups with a toilet and shower in the same location can use a waterproof toilet that doubles as a seat and is safe under the constant stream of shower water.
7. Drawer Showers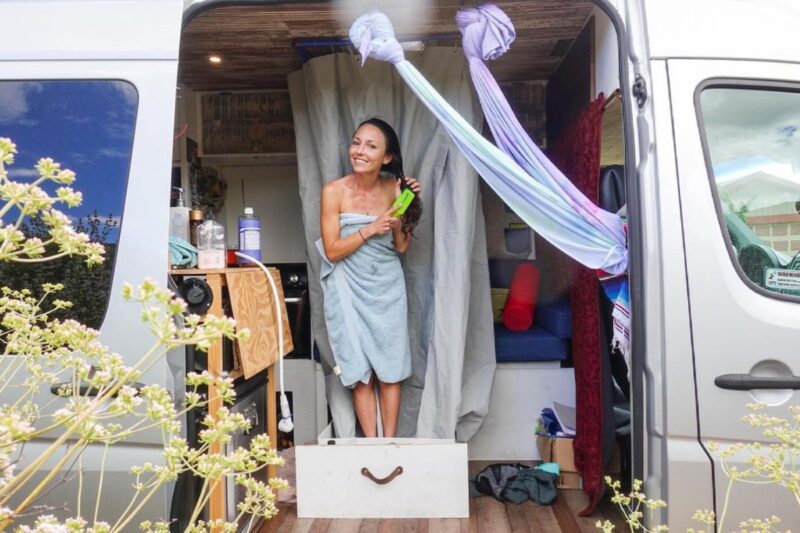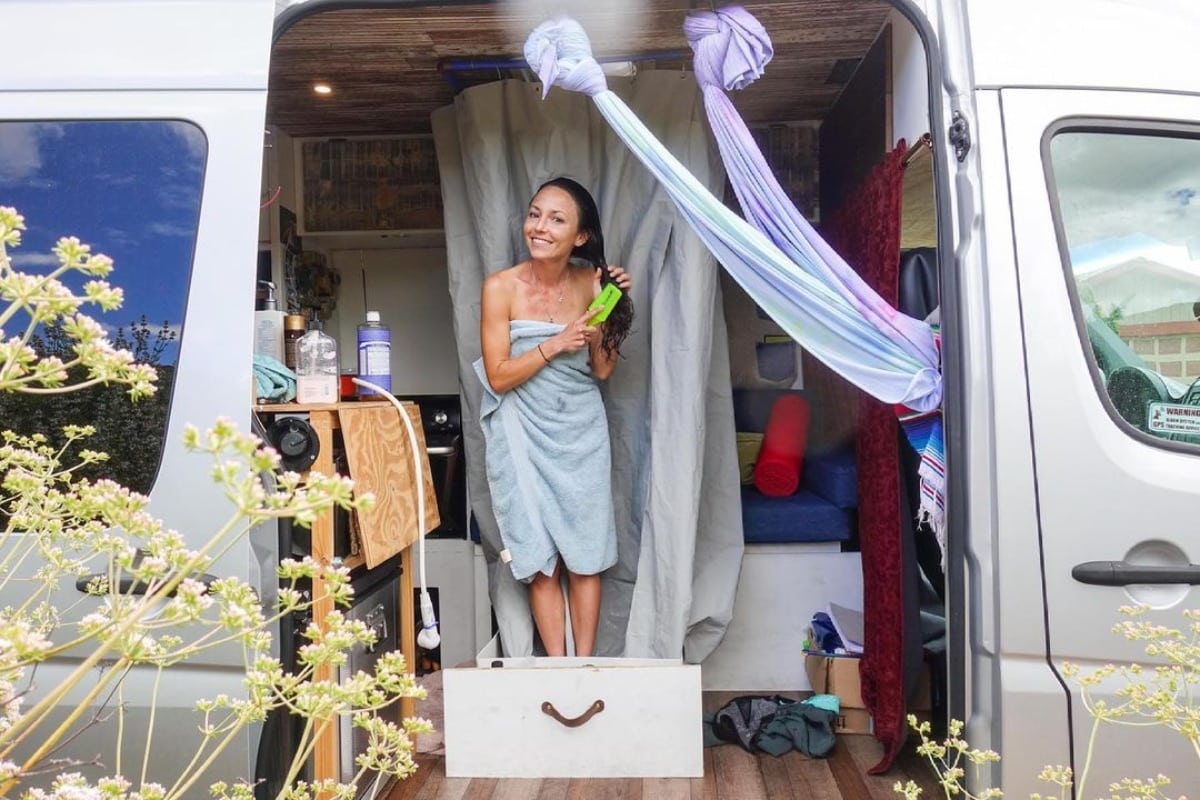 [Image: mrandmrsadventure]
Drawer showers are a great way to shower in your van and are easily tucked away. Drawer showers can be removed and used as a pan to stand in while the shower hose gets attached to a source. When you're done showering, you can tuck all the shower materials back into the drawer and put them away.
8. Ceiling Drop Down Shower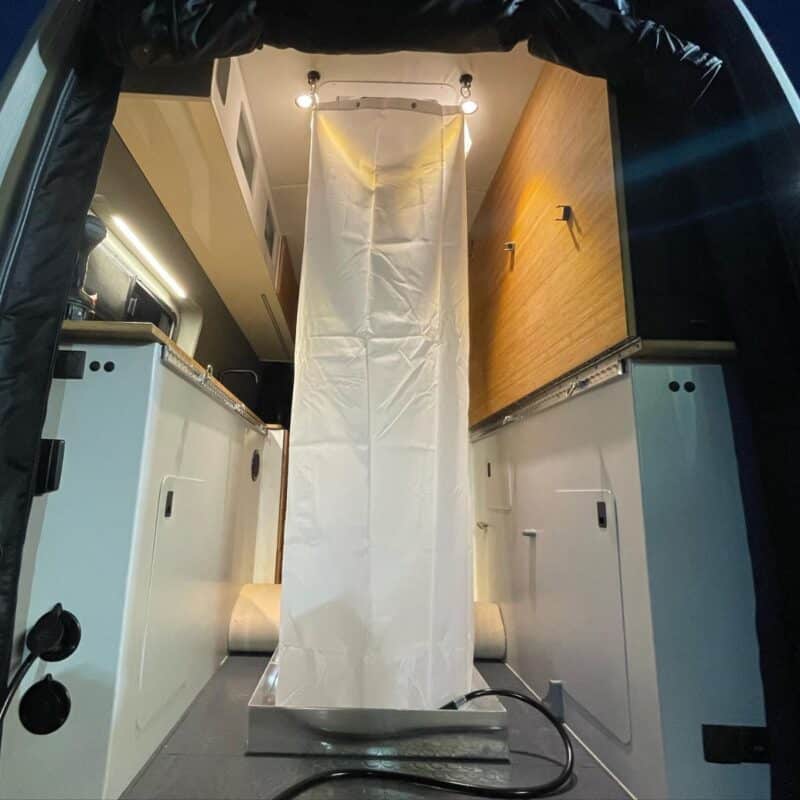 [Image: myoverlandsprinter]
Crafting a shower in the middle of your camper van may sound like a terrible idea, but if it drops from the ceiling and can be tucked away, it can be a perfect use of vertical space. Consider using sturdy mounting and a malleable shower curtain that can be easily rolled up and secured to the rack above.
A ceiling drop-down shower can be placed anywhere in your camper van, and you can modify how you use it. Some van lifers place a pan under the shower to catch water, while others have the shower in a stationary place with a drain below.
9. Kitchen Sink Shower Hybrid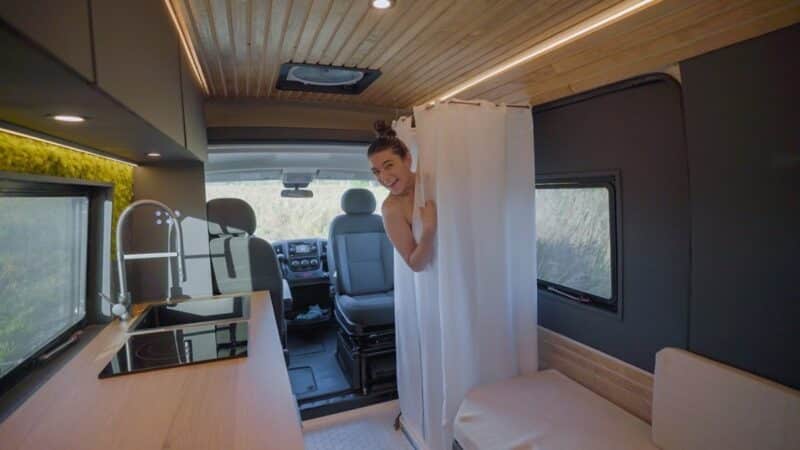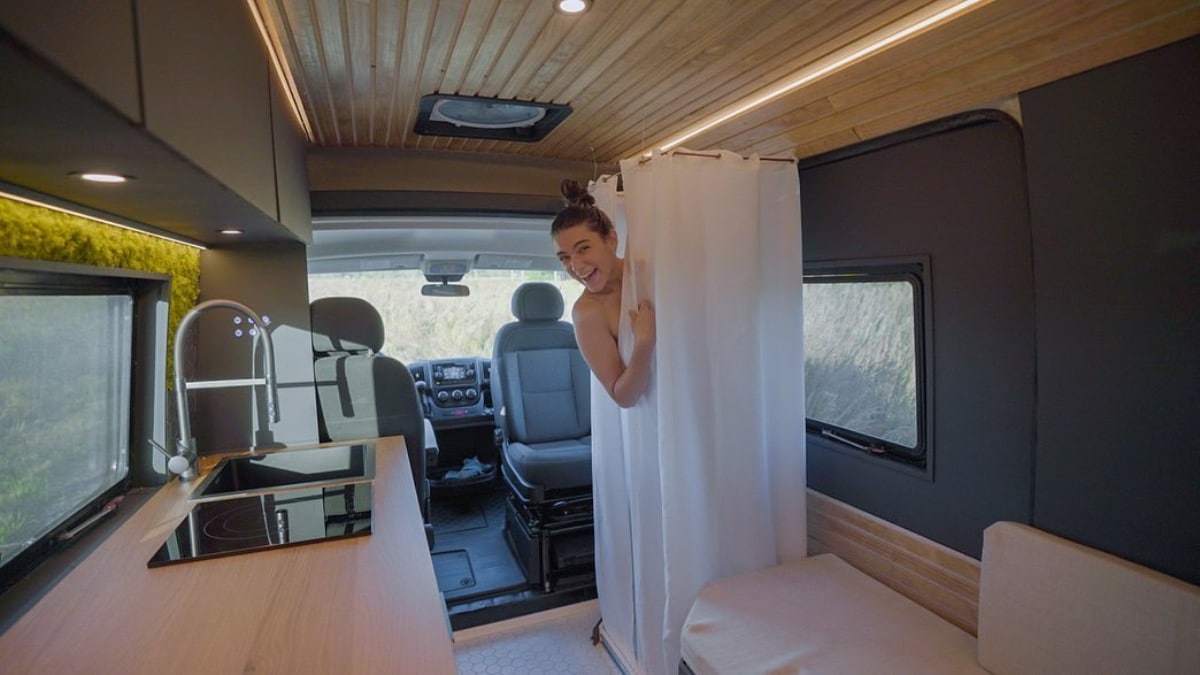 [Image:scarletandseth]
A kitchen sink shower hybrid will work similarly to a drawer shower, but it can be stored anywhere. The shower hose will get attached to the camper sink and can be used to wash. This method is most common with outdoor shower setups.
10. Propane Shower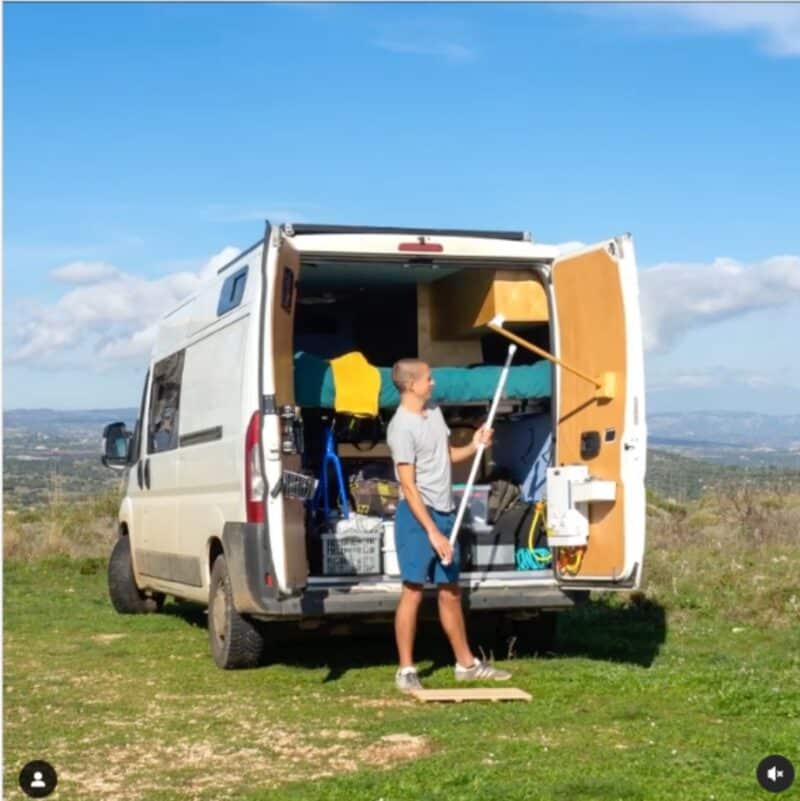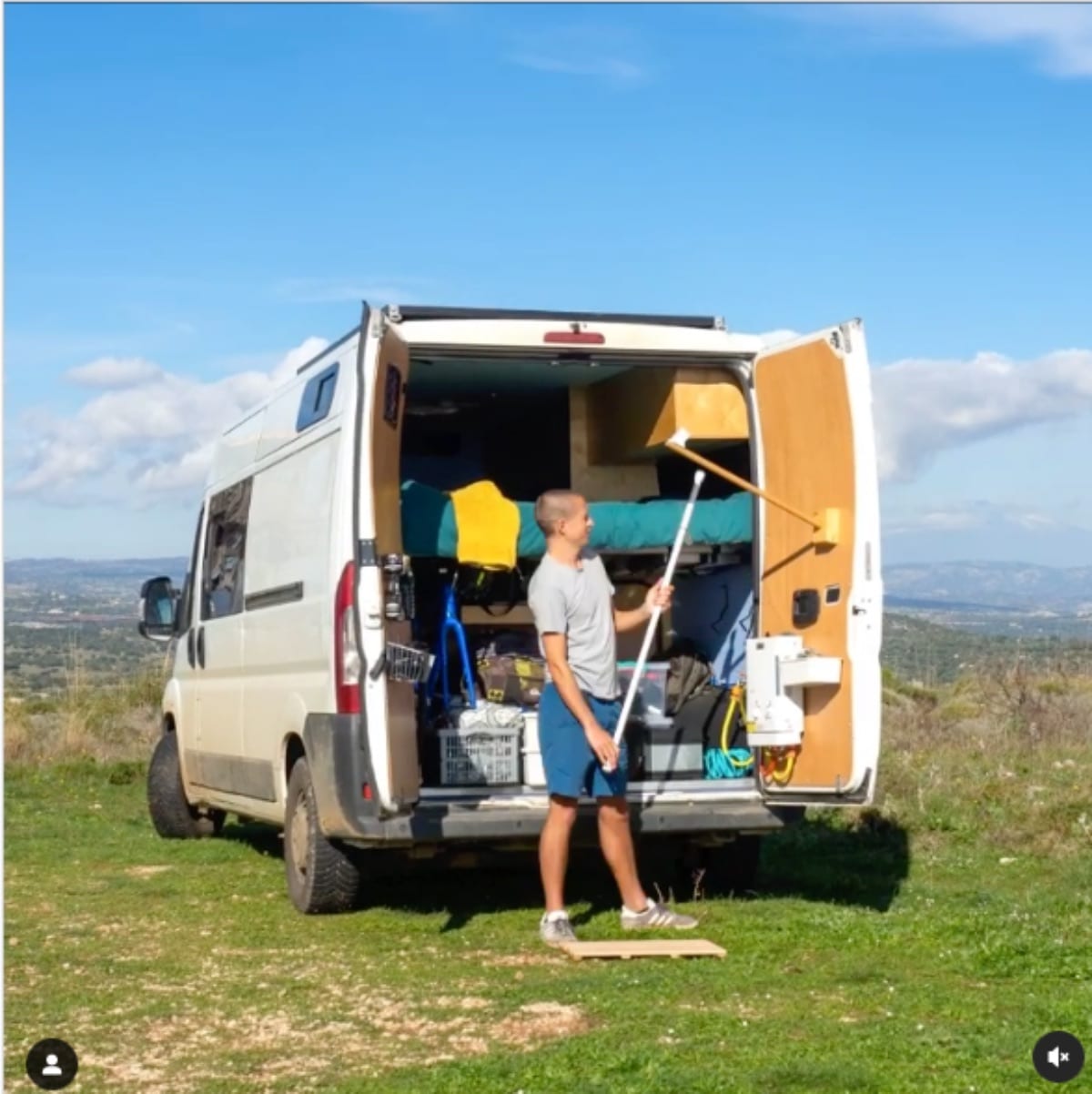 [Image: good.vans]
A propane shower is usually used outside the camper van and uses propane to heat a water source for showering with warm water. A propane shower can be dangerous and should be installed by a professional since the chemical is highly flammable.
11. Bathtub Shower Hybrid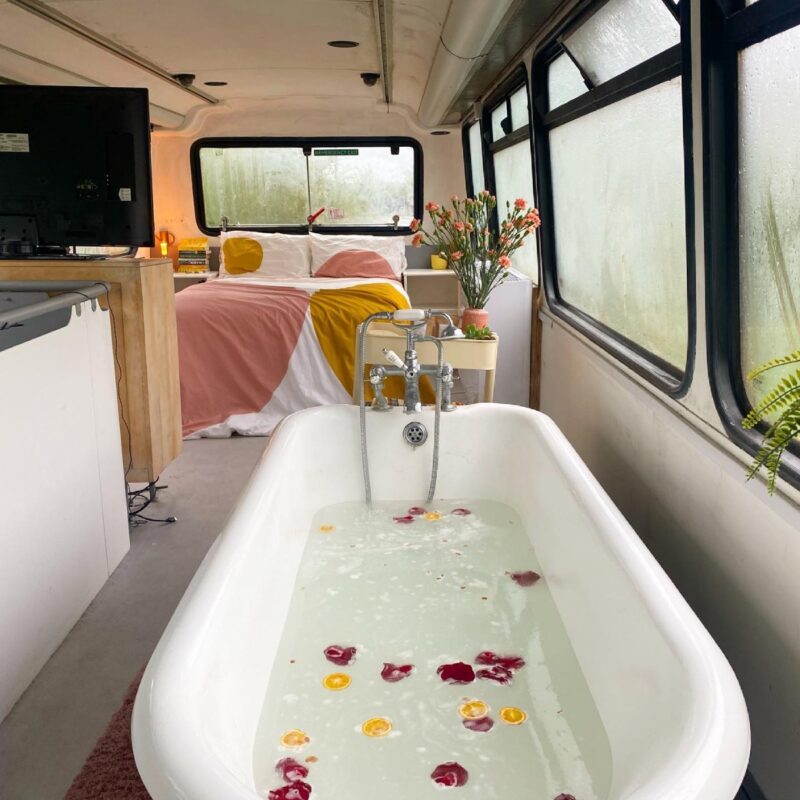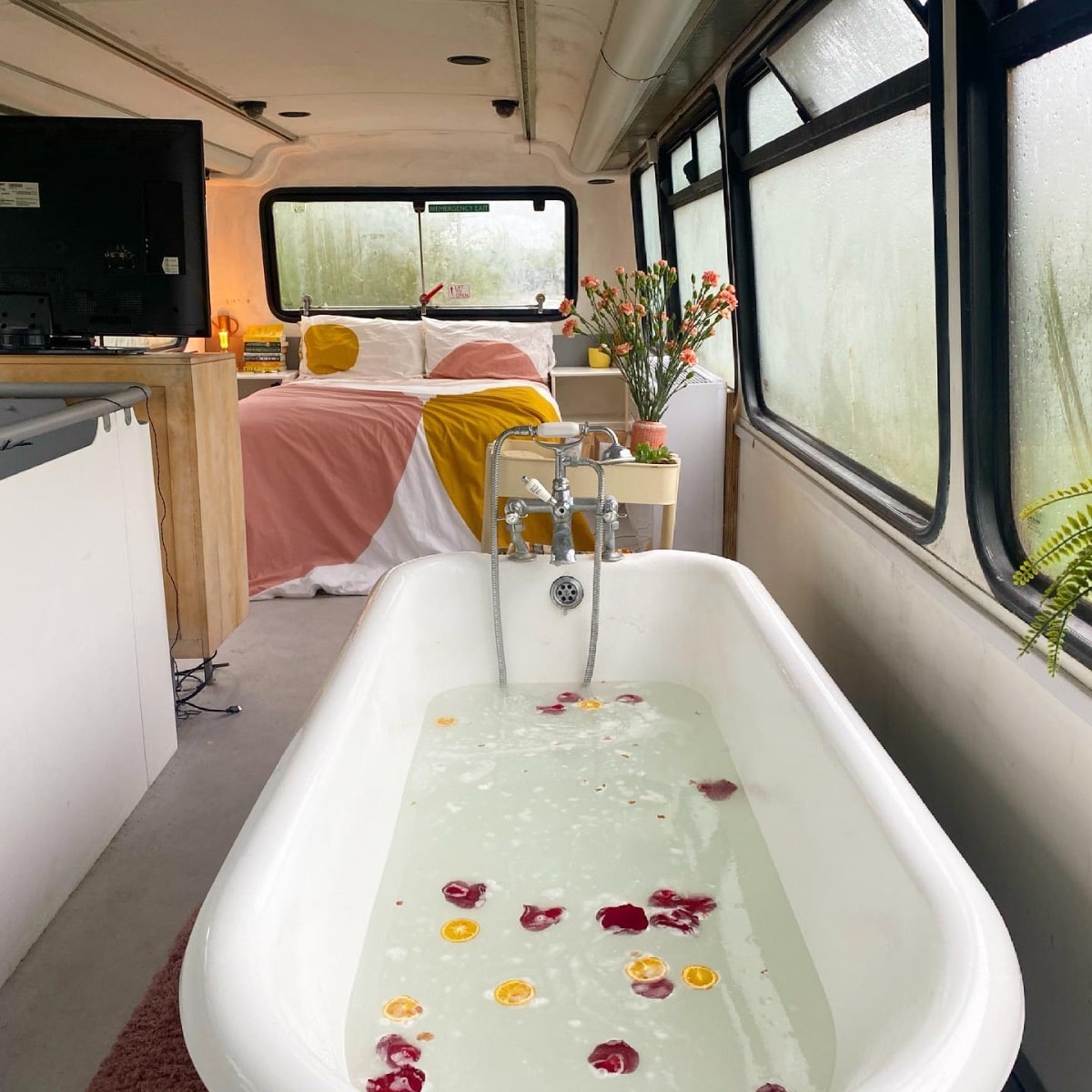 [Image:doubledeckerhome]
A bathtub shower hybrid is a perfect camper shower setup for families who love the van lifestyle. A bathtub hybrid will allow you to take showers or baths, depending on the needs of yourself and your family members.
You'll likely need a stationary place for your bathtub and a flexible shower head.
Frequently Asked Questions
Although installing a camper shower can be tough, these answers can help you decide which option is best for you and your camper van.
How do you shower when you live in a van?
There are dozens of ways to install a working shower in your camper van. However, if you don't have one in your van, you can stop by local RV rest areas and campgrounds to use the restrooms and shower facilities.
Can you put a shower in a van?
You can put a variety of showers inside your van to make yourself and your passengers more comfortable and reduce the need to stop and use public facilities.
How do you get hot water in a van shower?
You can use propane heating or a solar-powered setup on your camper van to get hot water in your van. However, installing these facilities may require professional assistance if you aren't familiar with electrical wiring and propane.
Where do van lifers use the bathroom?
Most van lifers have a bathroom with a septic tank or another setup inside their van. However, some van lifers will stop to use public facilities at stores, campgrounds, or gas stations.
What is the law on sleeping in a van?
In most states, it is legal to sleep in a van. However, check with your local authorities to ensure you aren't breaking laws regarding your parking situation and other activities.
Final Thoughts
Adding a camper shower to your van can help you take full advantage of modern amenities while exploring the world and enjoying all the sights across the country. However, some of these setups may not work well in every van.
Consider how much space you have and which styles will work best for you and any passengers you have in your van. Those who are traveling the world with small children might want to prioritize a camper shower setup that allows for small messes and makes showering easy with little ones.