We're an affiliate
We hope you love the products we recommend! Just so you know, we may collect a share of sales or other compensation from the links on this page. Thank you if you use our links, we really appreciate it!
Van living is at its all-time popularity. Many people have decided to leave the rat race of working a nine-to-five job to pay rent and stay in one place forever. They want to get out and see the world, traveling to all the places they never thought they would see.
Converting a van to a living space is a lot of work. One of the biggest challenges is putting plumbing in a van, and having things like a kitchen sink. We think that the Elkay Dayton 15-inch residential bar sink is the most practical and economical while also being stylish.
Here are some of the best sinks for van life you can install for a cozy setup.
Assess Your Needs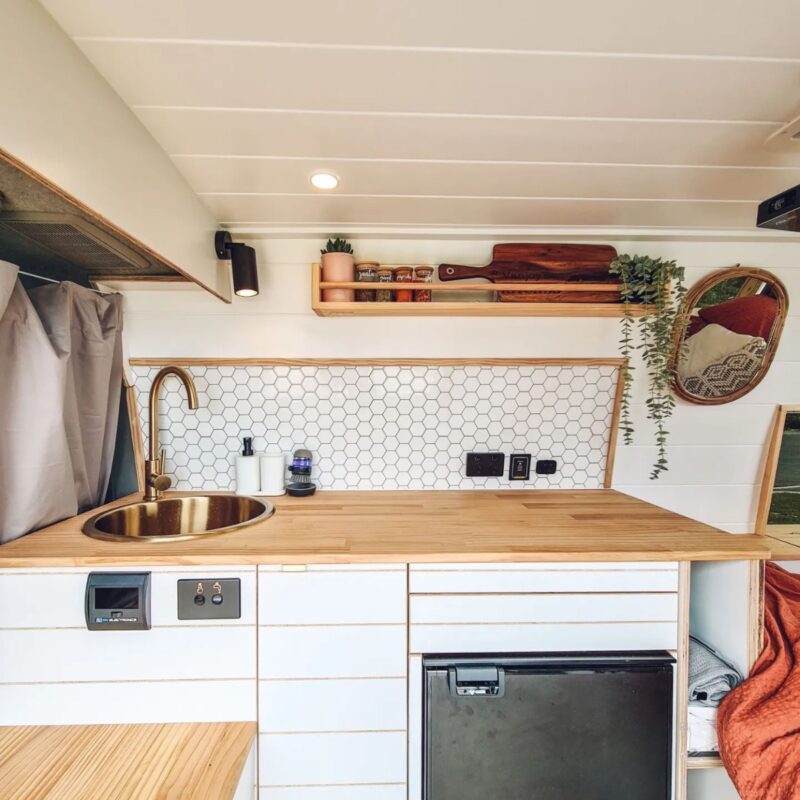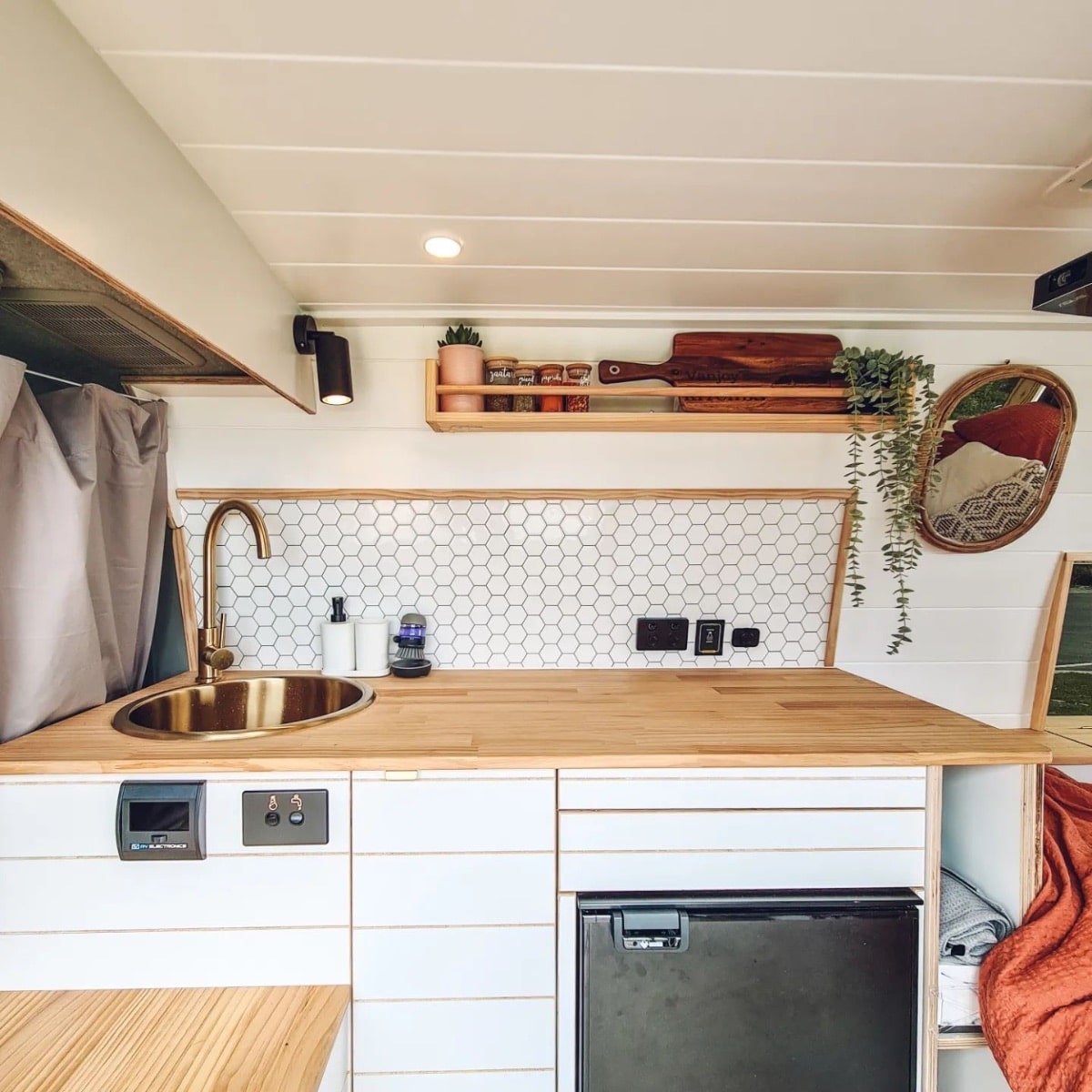 Before deciding what kind of sink you want to put in your van, decide what your needs are. How much water you need to store depends on what you need to do with it. Will you have a shower and toilet in your van? Are you mainly needing water for washing dishes and drinking?
How Many People?
If you are traveling alone, you will not need as much water as if you were in a group of two or four. The smaller you can make your sink, the more room you will have for other things. However, if you want to make your van as homey as possible, you might want a bigger sink.
Be Sure Your Rig is Legal
There is no reason to shortcut regulations for comfort. You can have a cozy setup in your van without rigging up a plumbing system that isn't legal. Van living follows the same laws and regulations as campers and RVs. Be sure you are collecting and dumping water in the right places.
Best Van Kitchen Sinks For Convenience
The secret to van life is finding a way to make things convenient. When you can make something work for more than one purpose, you greatly increase your space. Here are some sink ideas that easily add to the space you have.
1. Elkay Dayton 15 Inch Sink
This basic sink can be the starting point of anything you want it to be. It is deep enough to be used for food prep, dishes, and anything else. It can be a space saver if you have the bare minimum of a hook-up, or you can make it classy with the right countertop and faucet.
2. STARSTAR Workstation Ledge
This sink comes with a colander, a cutting board, and strainers built in. It creates valuable counter space for preparing food. Anything you need to do in your kitchen, other than cooking, can be done there.
3. Dometic 2-Burner Sink/Stove
If you are traveling alone, your cooking and cleaning needs may be a lot simpler. With this camper van sink-stove combo, you have your water and cooking space in one convenient place that can be closed when not in use. The sink does not include a van sink faucet, so you will have to buy that separately.
4. Waeco Sink With Glass Cover
This is a simple sink unit that has the faucet included. After your food prep, you can close the class cover and let your counter double as your kitchen table.
5. Ruvati Workstation RV Sink
This unit has space in mind. This sink is 15 inches square and drops right into your countertop. The wooden lid closes when the sink is not in use, so you can use the counter for eating or as a workspace.
6. iAnomla Workstation Sink
This sink has a removable cutting board that fits easily into the grooves of your counter. You can prep food on the surface and double the area as a workspace for later.
Best Van Kitchen Sinks For Style
Some people care more about sleek lines and an elegant look in their appliances than saving space. For those that choose style over convenience, here are some picks for the best-looking kitchen sinks for your cozy kitchen.
1. Ruvati Undermount Granite Composite Sink
This Italian-made sink is made of midnight black granite and is built to last. It would look great in your van with a granite countertop, giving you a chance to give your kitchen that cabin-like home feel that you will want when out on the road.
2. VOKIM Black Farmhouse Sink
If you want to dress your van in farmhouse decor, you must get this heavy-duty farm sink from VOKIM. It has a large basin, giving you plenty of room for food prep and cleaning, but coated with a durable layer to cut down on noise and to dry quickly.
3. Medium Patina Copper Farmhouse Sink
If you want to add a little color to your kitchen, you will want to get this farm sink made of copper. The metal is hammered by hand, ensuring that no two sinks look the same. Made in India, this sink will give your van a touch of elegance you will love to show off.
4. Black Farmhouse Sink
These sinks answer the call because they are convenient and stylish. A workstation sink can be used for multiple things since it comes with a chopping block and strainer. It is also an elegant-looking farmhouse sink made of matte black stainless steel.
5. Undermount Copper Sink
A large and spacious sink mounts perfectly into your granite or marble countertop. The copper finish will give the kitchen area of your fan a gorgeous rustic look you can be proud of.
Best Bathroom Sinks for Space
Saving space in the bathroom is even more important. If you have a bathroom in your van, your space is at a premium. Here are a few sinks that will give you some functionality in your bathroom without taking up a lot of room.
1. Hand Wash Basin
Your bathroom sink needs to function for you to have a place to wash your hands, brush your teeth, and get ready in the morning. A simple handwash basin like this one does those things and has a lockable glass lid to give you some workspace if you need it.
2. Wall Mounted Folding Sink
If your bathroom space is limited you will like having a sink that folds up and is out of the way when you aren't using it. Every inch of precious space is saved when you can tuck the whole sink away, and they are usually made of stainless steel, which is easy to clean.
3. Bathroom Ceramic Washbasin with Faucet
Finding a sink that has the faucet included is a nice bonus when shopping for your van. A ceramic mini sink like this one is the perfect size for your tiny bathroom. It is also durable and easy to clean.
Best Bathroom Sinks for Style
If you choose style over space, there are plenty of options for your van's bathroom as well. Many of these are choices you can buy yourself if you purchase the material. These sinks are also available to buy as a finished component.
1. Vessel Sink

If you remember the wash basins from days gone by, you will get a little nostalgic for vessel sinks. They may require a little bit of handy work to install them correctly, but they look great once they are. You can make them yourself out of a porcelain vessel if you want a do-it-yourself project, or you can buy them.
2. Glass Basin
Any glass bowl can be a beautiful artistic basin sink for your van. You can buy a lot of nice ones that are ready to install. But with the proper tools, anyone should be able to turn a piece of pottery into a sink.
3. Hammered Metal
Having a sink made of metal that has been hammered by hand ensures that your sink won't be like anyone else's. Some are made of heavy aluminum that can be painted any color you want, while others are made of copper and make a great addition to your bathroom.
Conclusion
When you decide to head out on the open road and see the world from the comfort of your van, you will want to make it as cozy and welcoming as you can.
You can still unwind after a long day of traveling even if you aren't living in a house.
---
Image Credit: create.van.joy