We're an affiliate
We hope you love the products we recommend! Just so you know, we may collect a share of sales or other compensation from the links on this page. Thank you if you use our links, we really appreciate it!
If you spend a lot of time in a fan, you know how challenging it can be to find enough room for all your belongings.
If you happen to live in a plan or intend to make the change, finding creative and storage space can be even more problematic, even if you live minimally.
The good news is that tons of great storage ideas can help keep your small space organized and tidy.
How Do You Organize a Small Van?
Organizing a space as small as a van will take some creative maneuvering.
Before beginning this journey, reducing your number of possessions is essential. You will need to decide what items are essential for daily life and consider making sacrifices in any way possible. Beyond that, investing in adequate storage and examining your van for usable space are the best things you can do to create more room.
Van Organizer Ideas
Below are some of the best van organizer ideas to help you get things in order.
Nets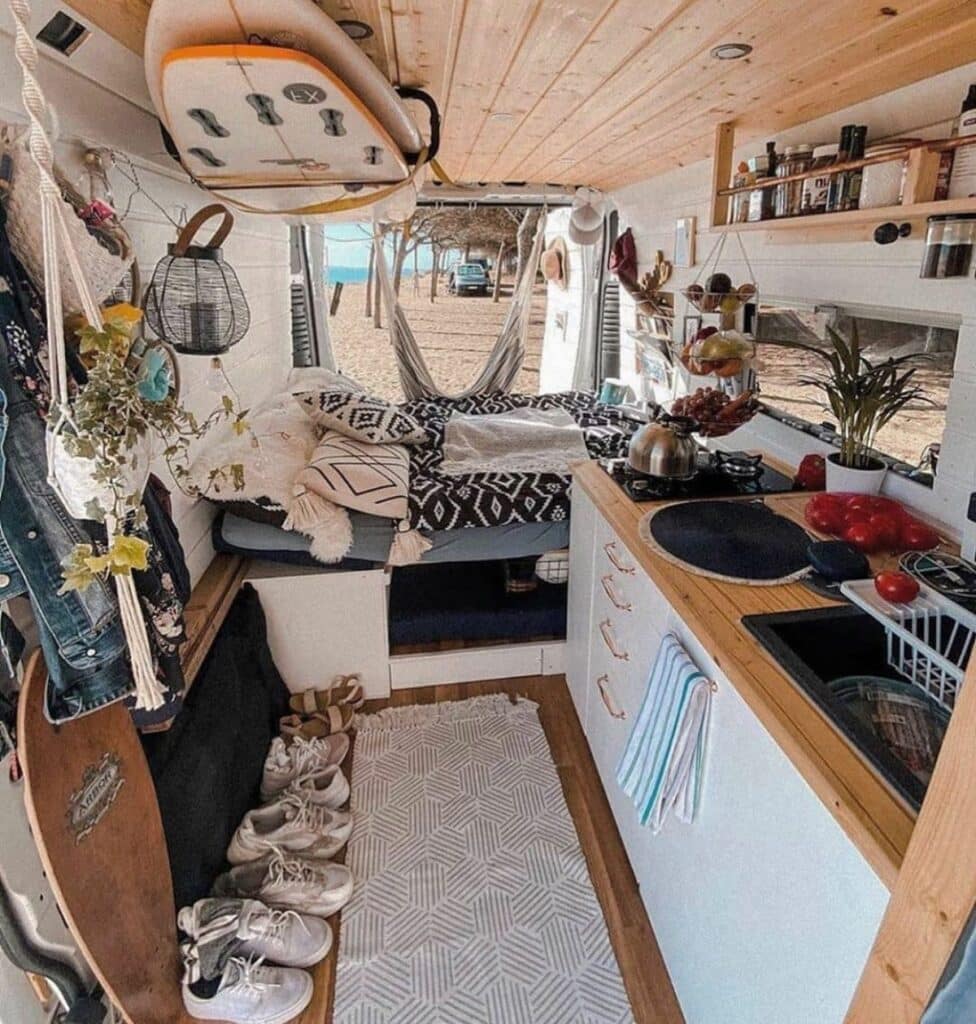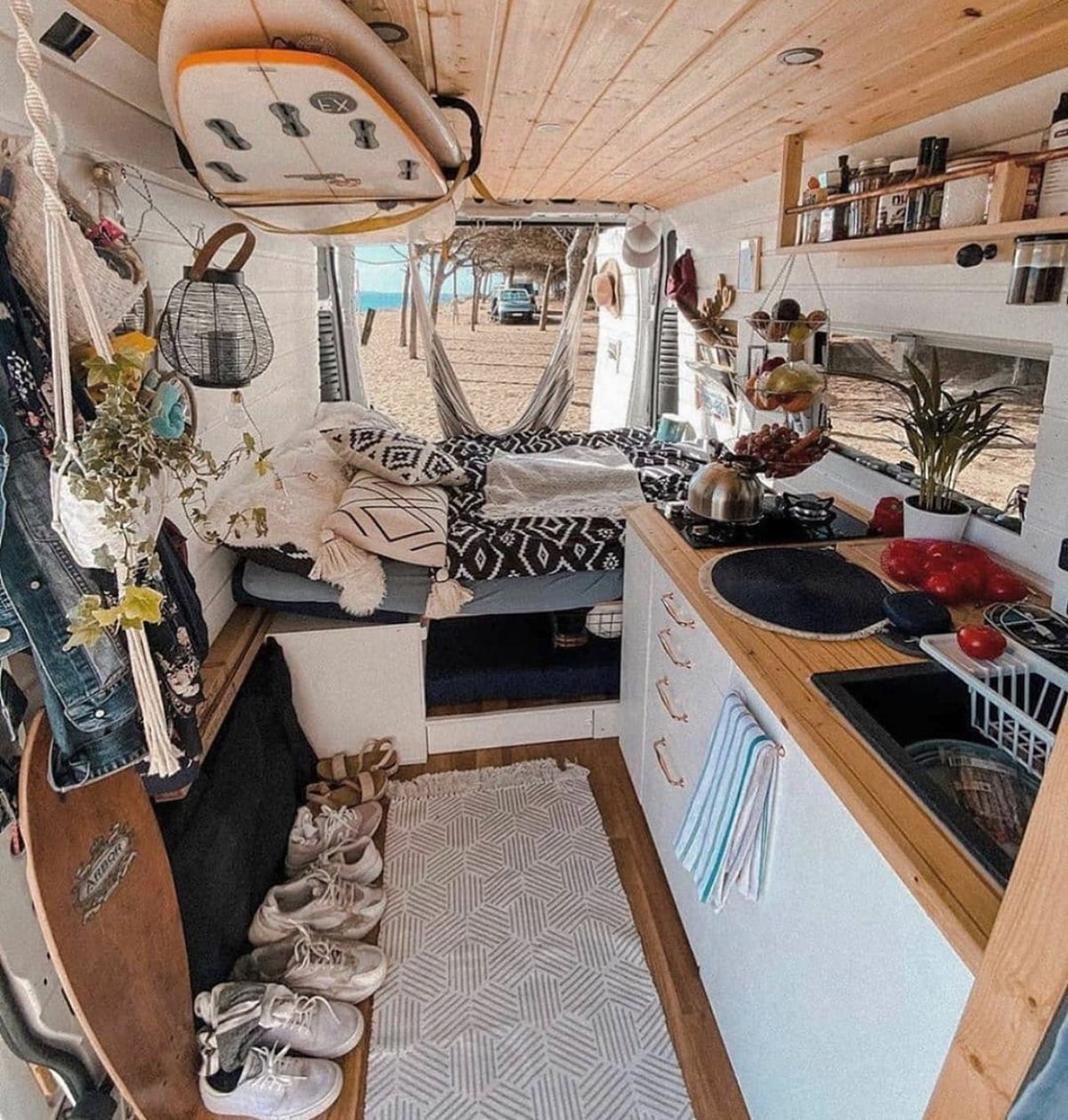 [Image: @makai.the.van]
Vehicles don't generally have much legroom, even if there are a few feet to walk around. Fortunately, what most vehicles lack in floor space, they make up for in headroom. Using a net is a great way to store small, loose items in your vehicle.
Hanging Shoe Holder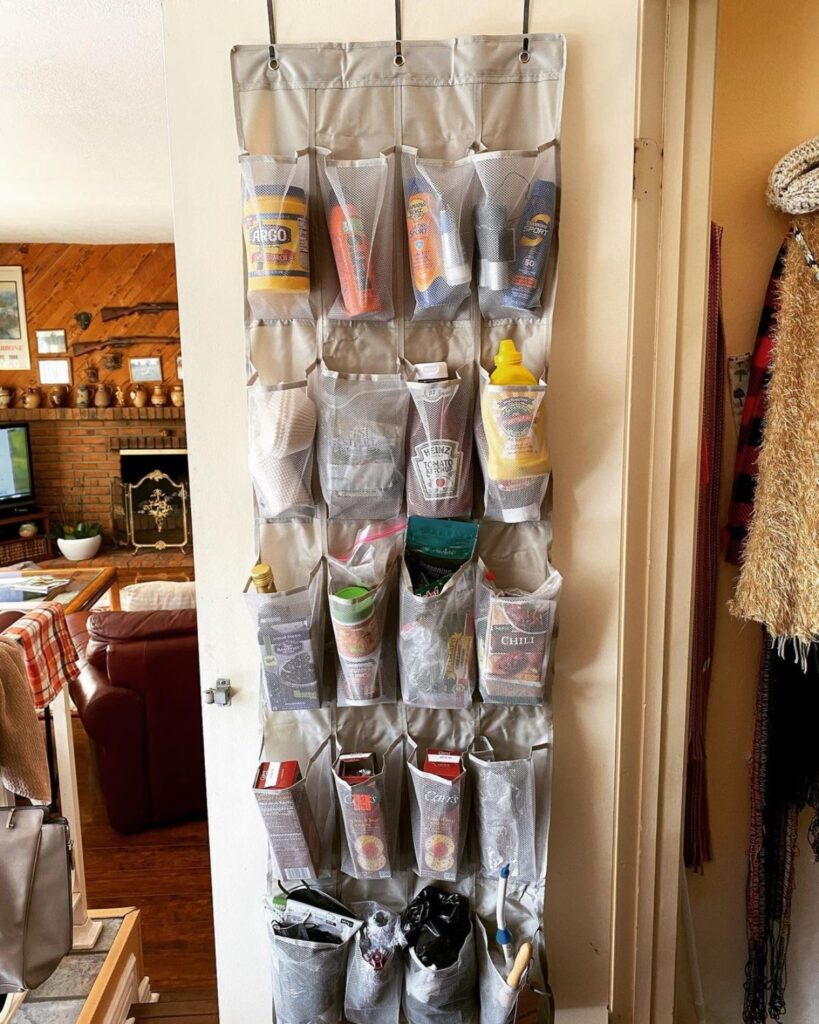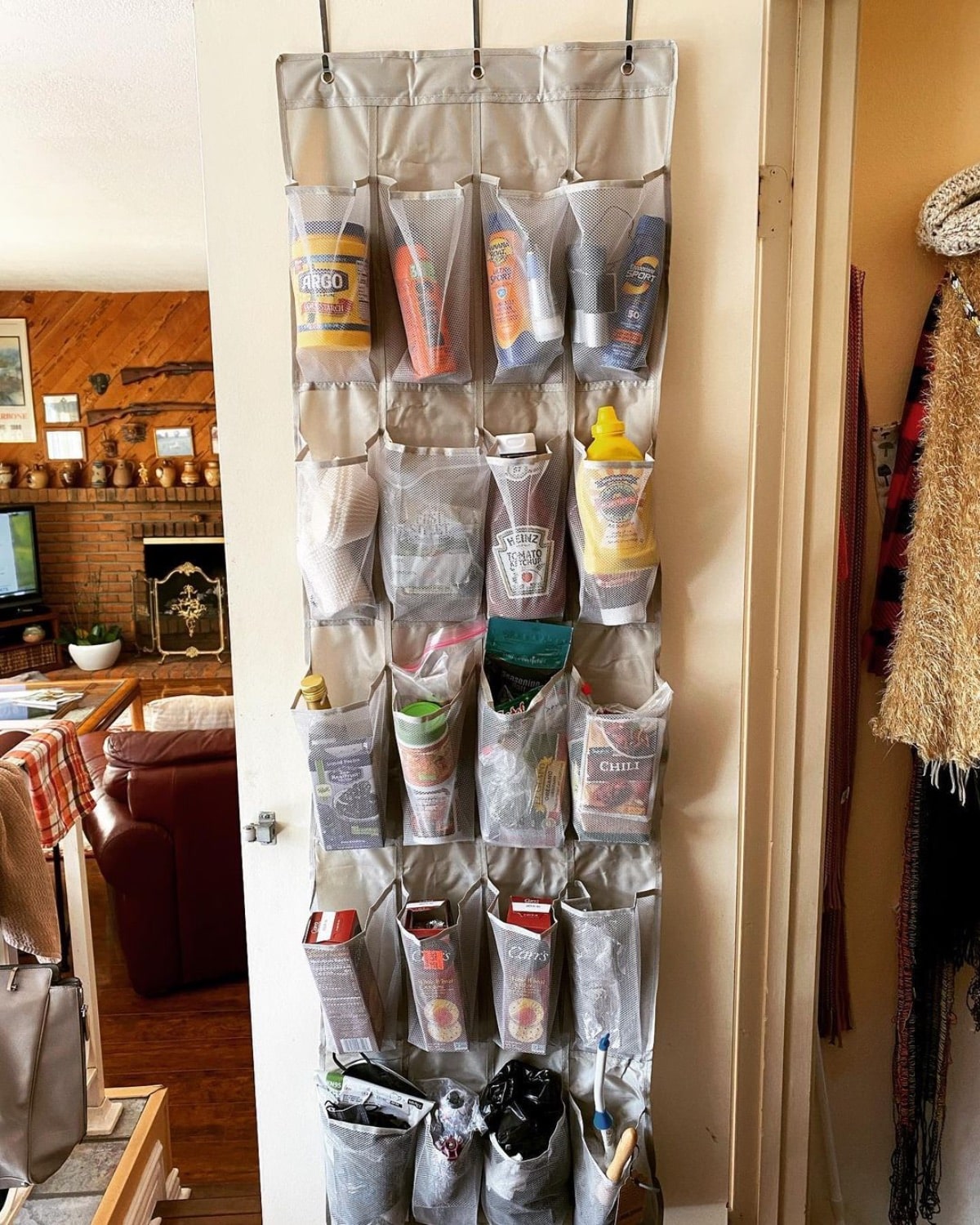 [Image: gardengirl1967/]
Shoes or something that is often forgotten when considering what you will need to store, and they take up a surprising amount of room. Having them hanging vertically is a great alternative to putting them on the floor, plus the shoes aren't the only thing you can store in these handy containers.
Floating Spice Rack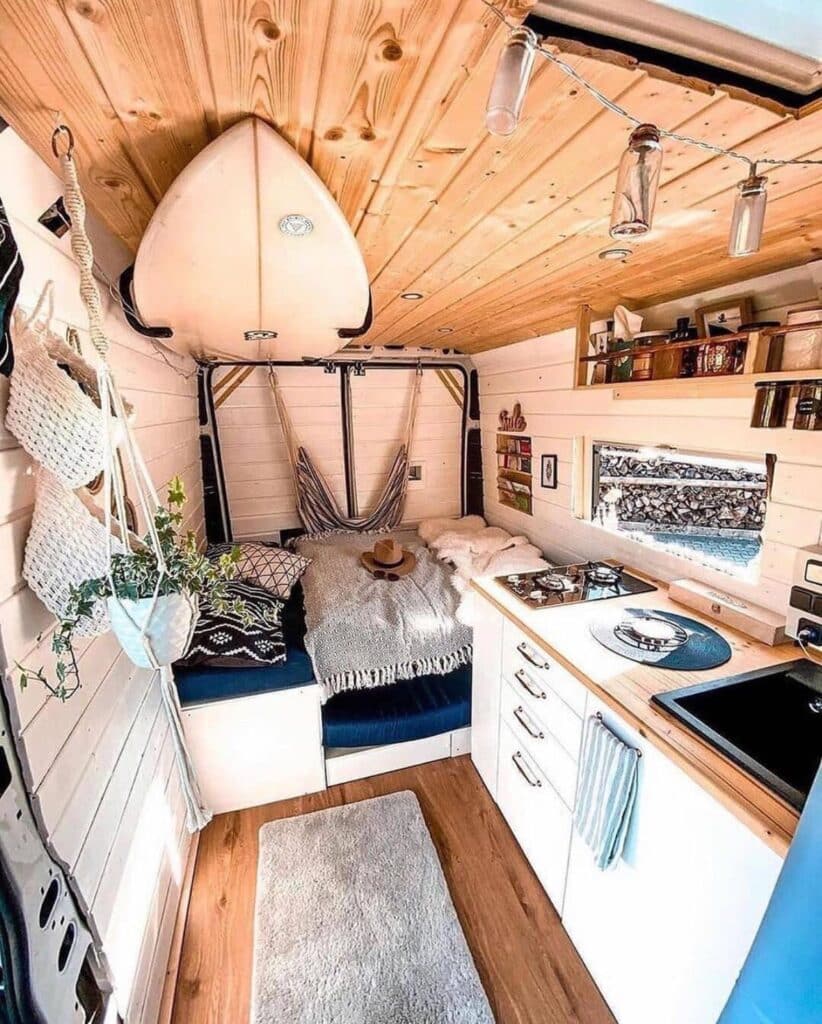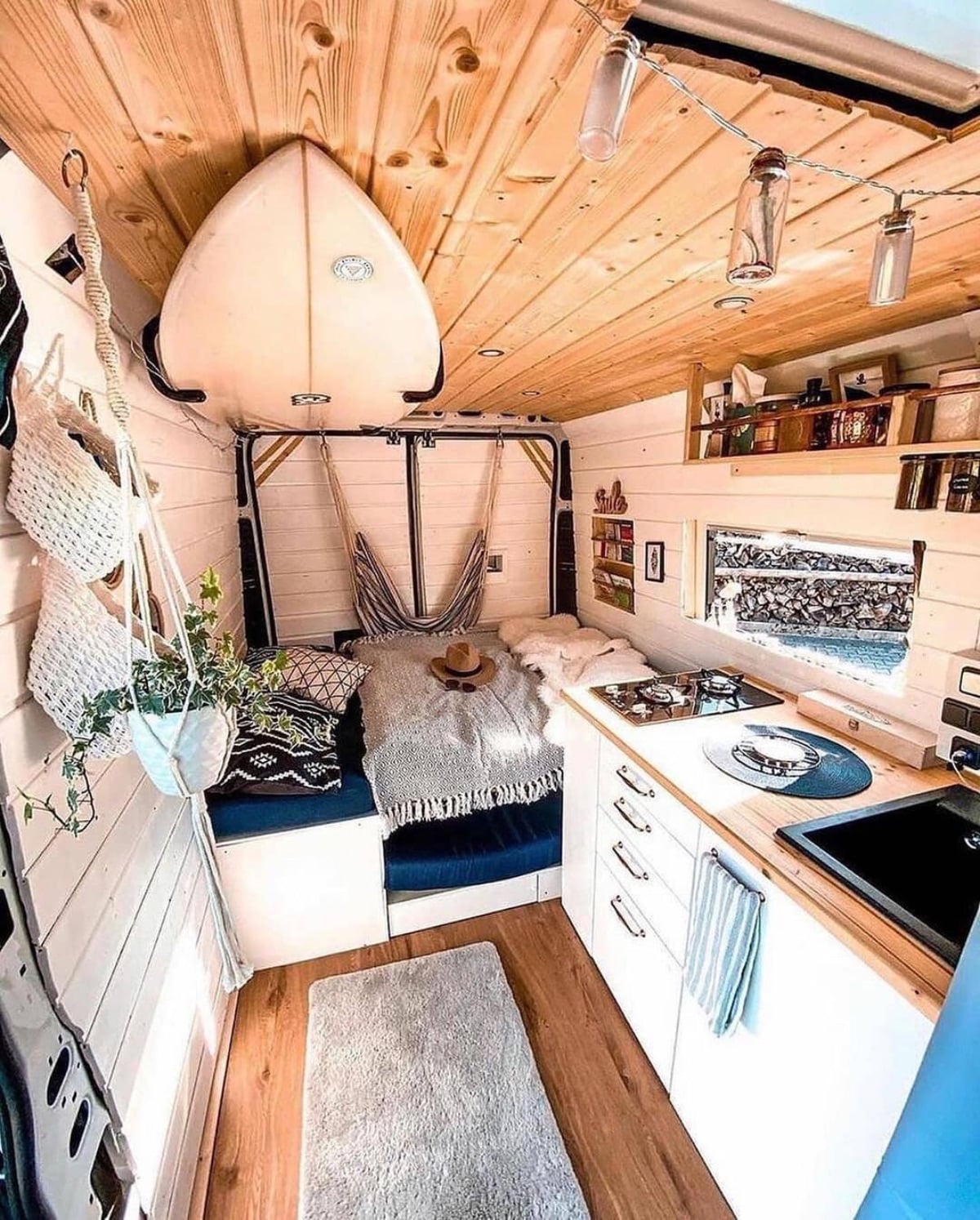 [Image: @makai.the.van ]
Van life means dealing with a very small kitchen, which can make it tough to prepare interesting, flavorful meals. A floating spice rack gets spices off the counter and allows you to create gourmet meals even while on the road.
Narrow Shelves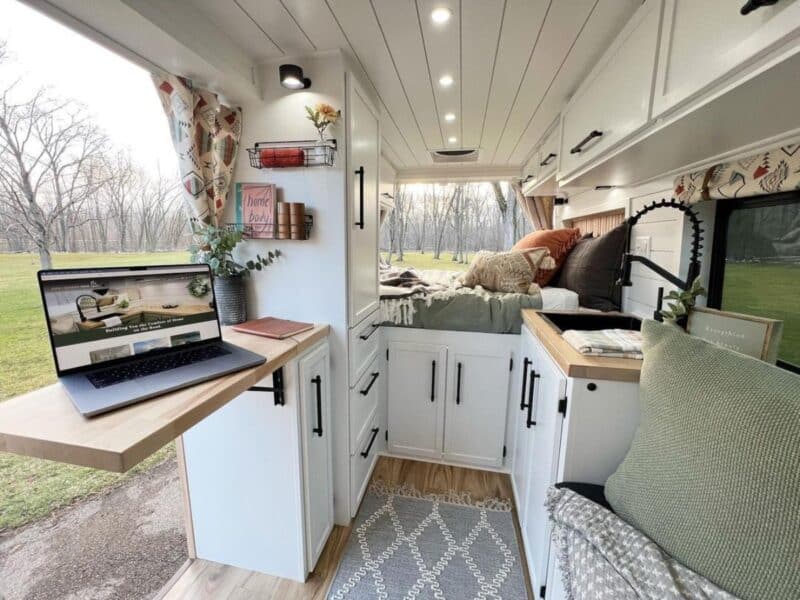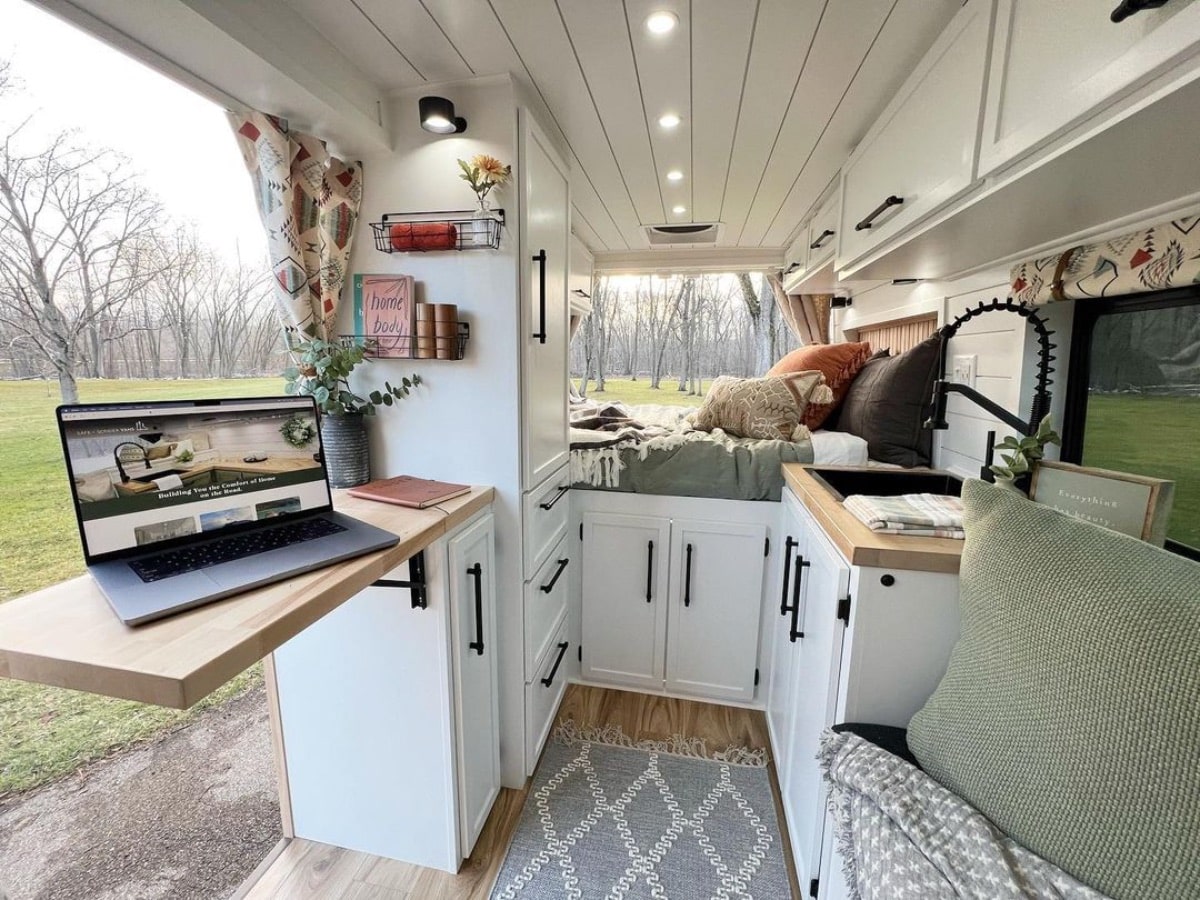 [Image: safe.and.sonder.vans]
Shelves are an essential part of storage in any living space and provide a great vertical area to keep items off the ground and displayed to guests. You don't have to give up shelf space in a van as long as you build narrow shelves that include a railing to help keep things secure.
Pegboard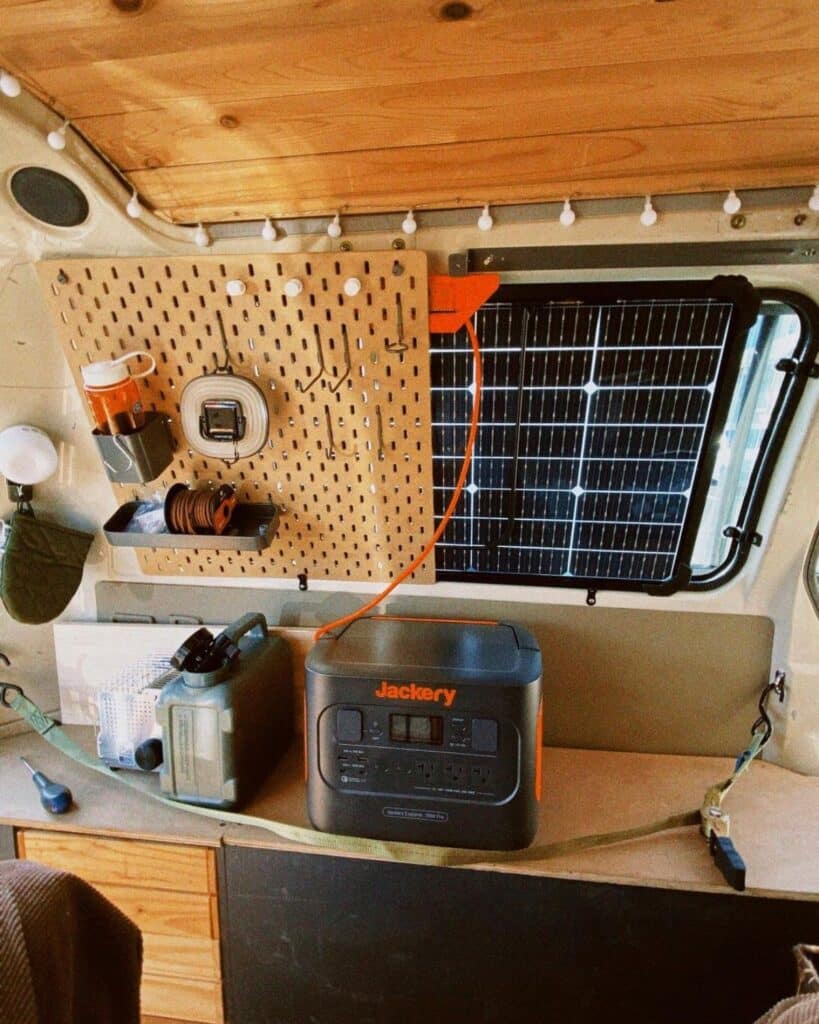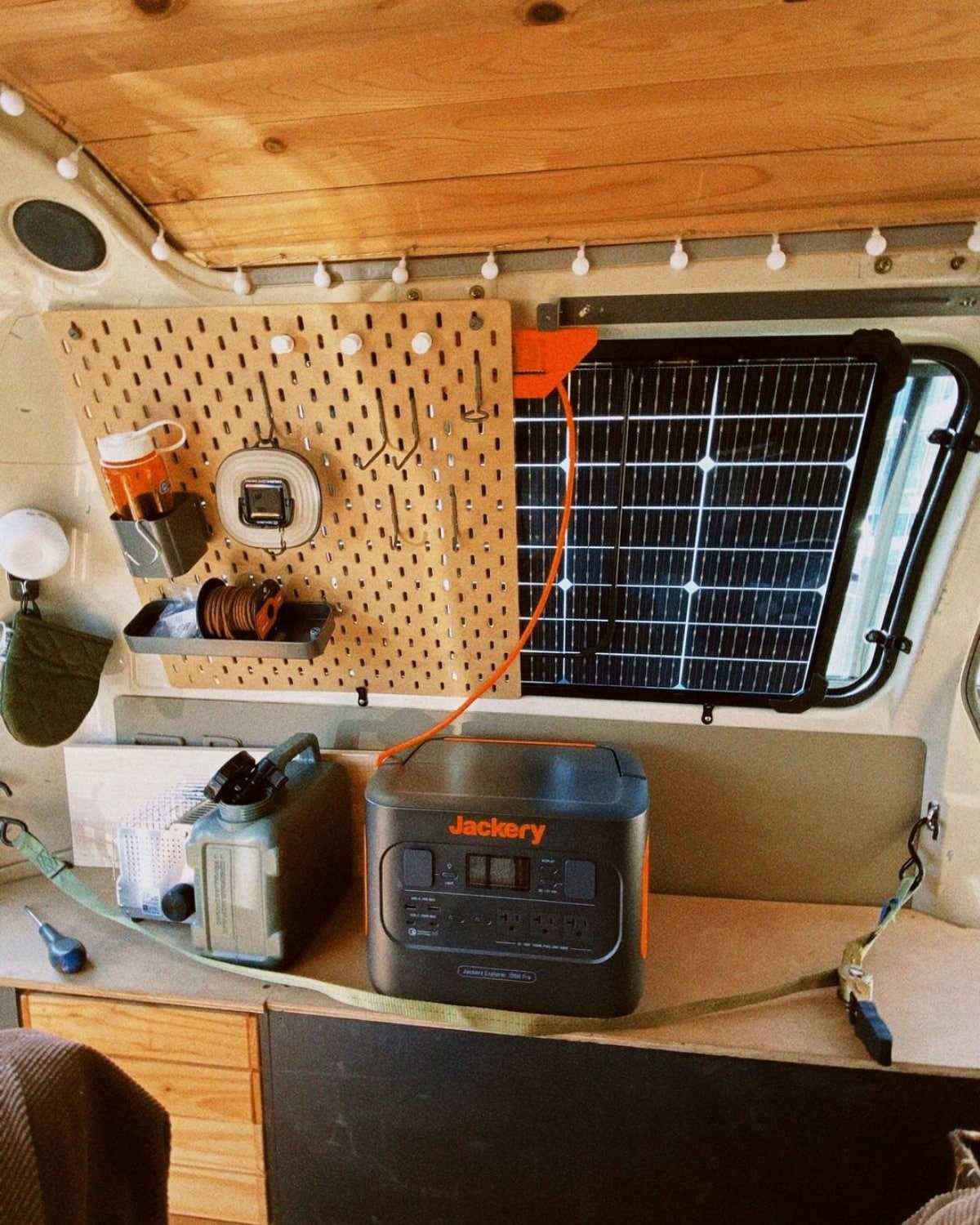 [Image: shonan_vanlife]
Pegboard is another great strategy for keeping things organized vertically. You can get clever with what you store on pegboard, from additional shelving to hanging plants. Just make sure everything is tightly secured.
Sliding Doors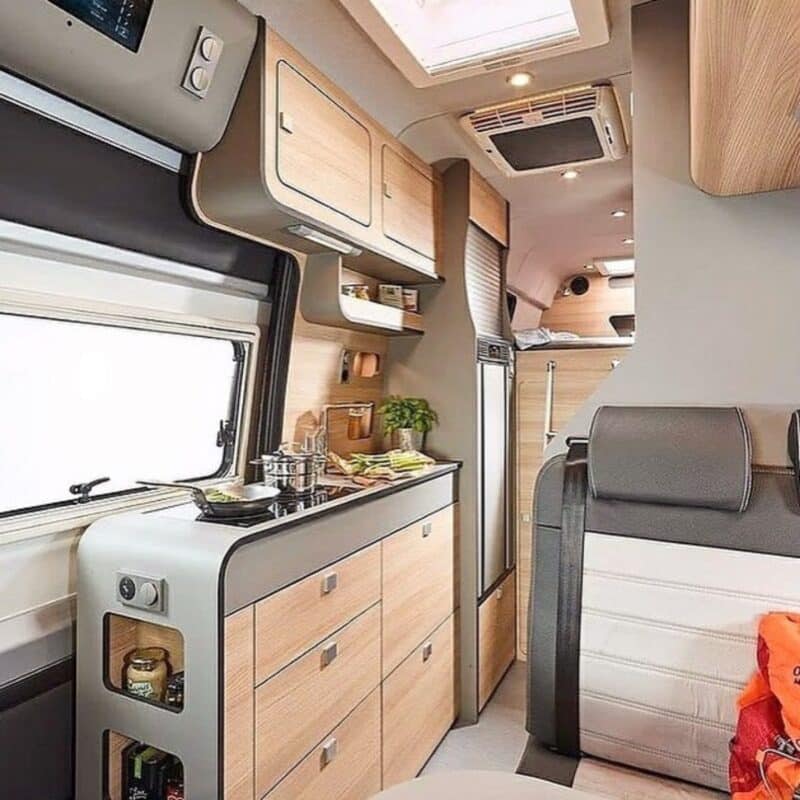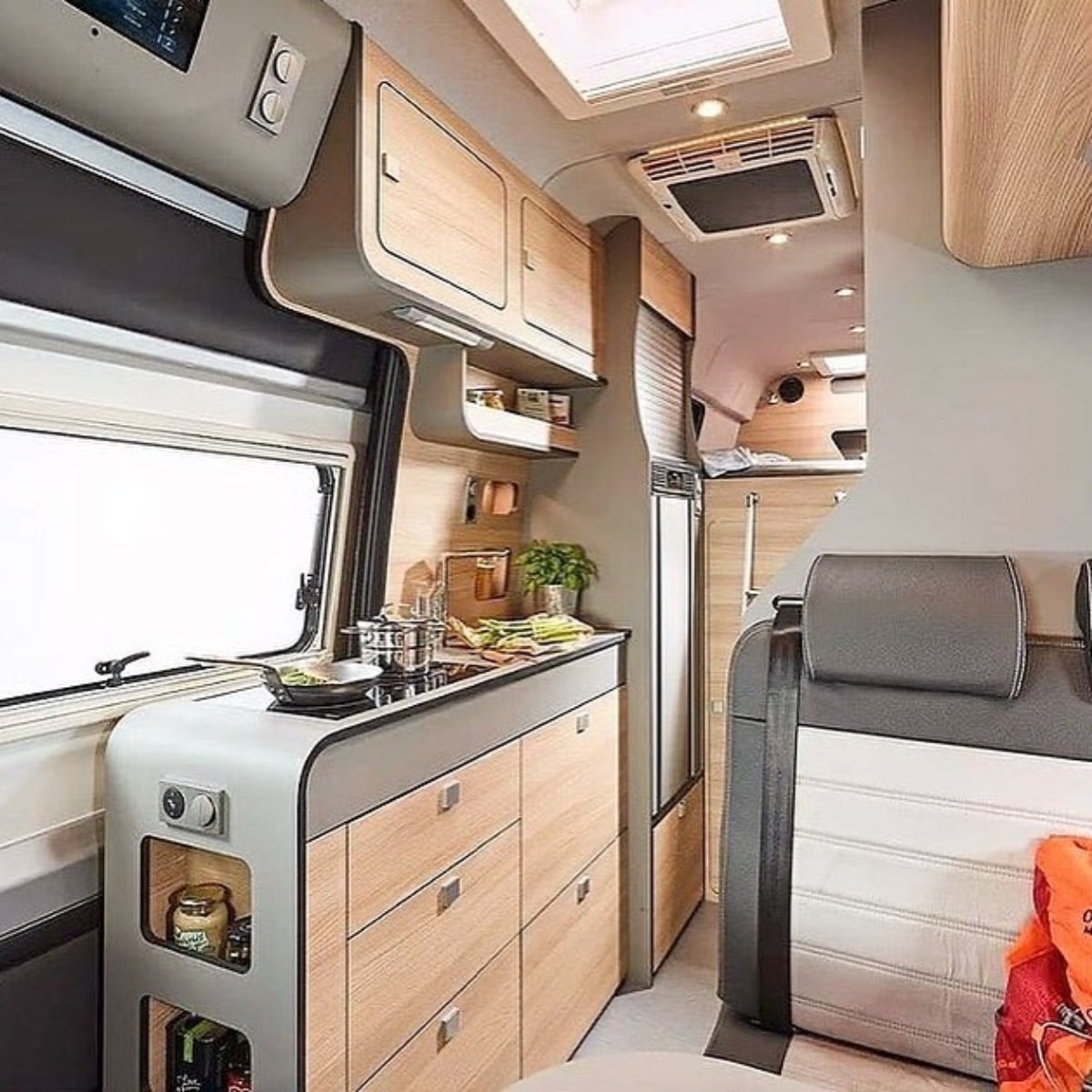 [Image: @hannahliza]
Doors tend to take up a lot of room by their nature of swinging across several feet of space. You can eliminate the necessity of keeping things out of the way by switching to sliding doors instead.
Sliding Trash Can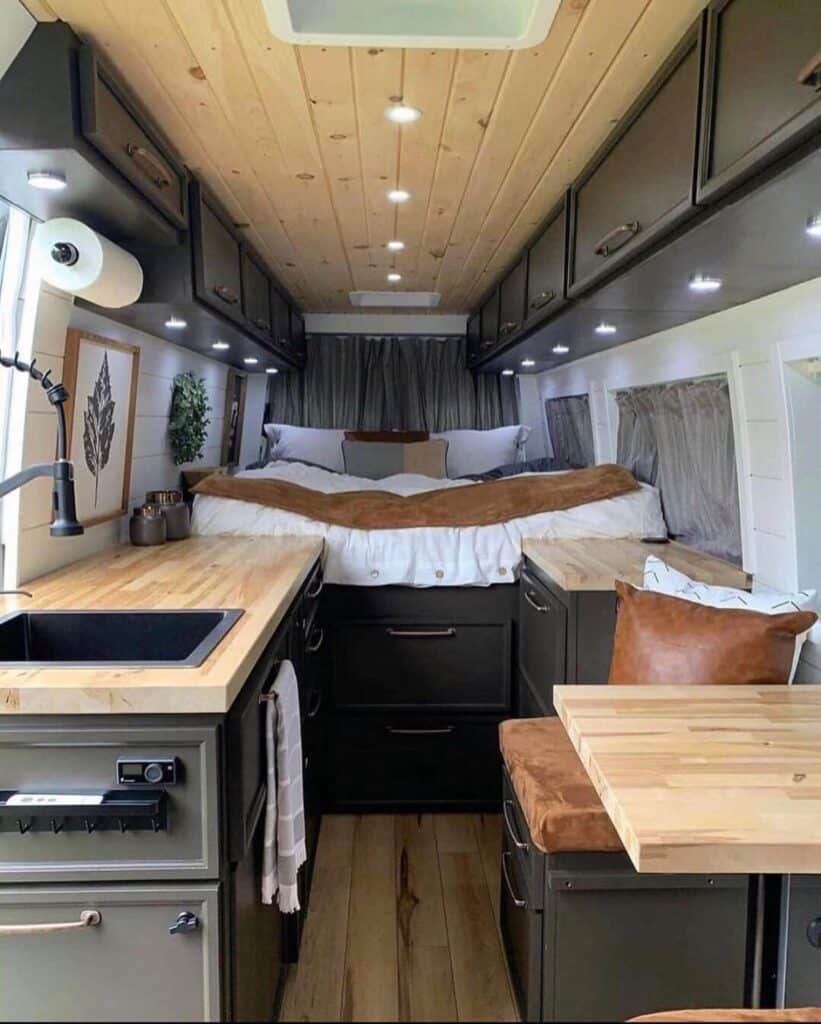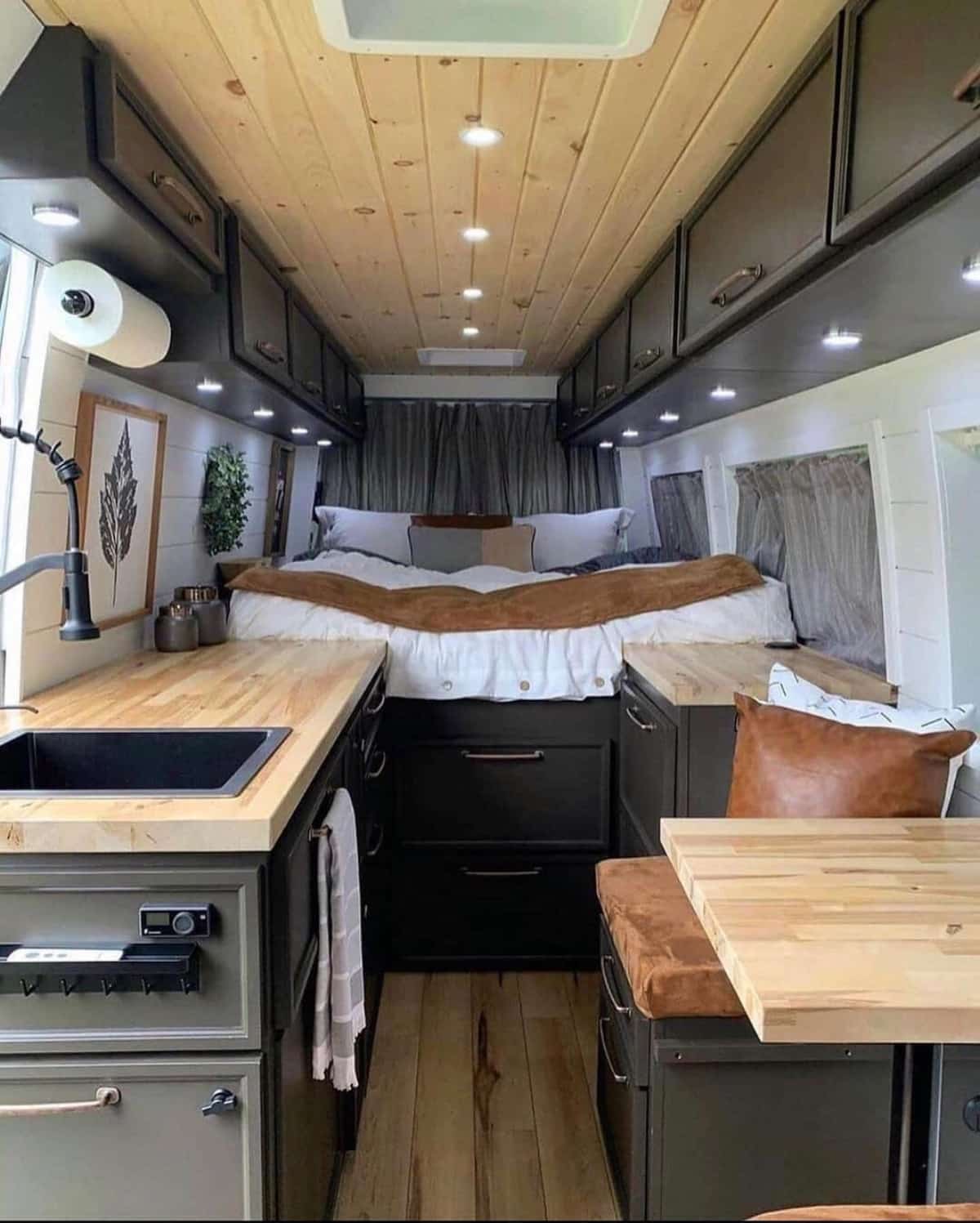 [Image: livlawrencecountrygirl]
Trash cans are another item that takes up a lot of space, but unfortunately, you can't live without one. Try adding a sliding trash can drawer to some of the empty space on your countertop. Not only will you be able to conveniently pull it in and out as needed, but it will also keep trash safely contained while the vehicle is in motion.
Sliding Outdoor Table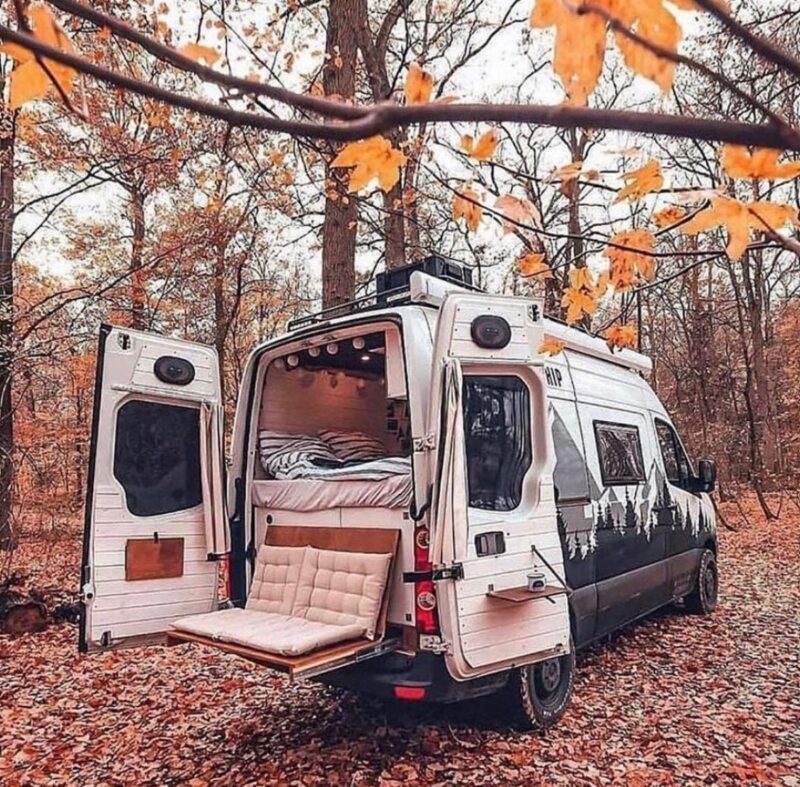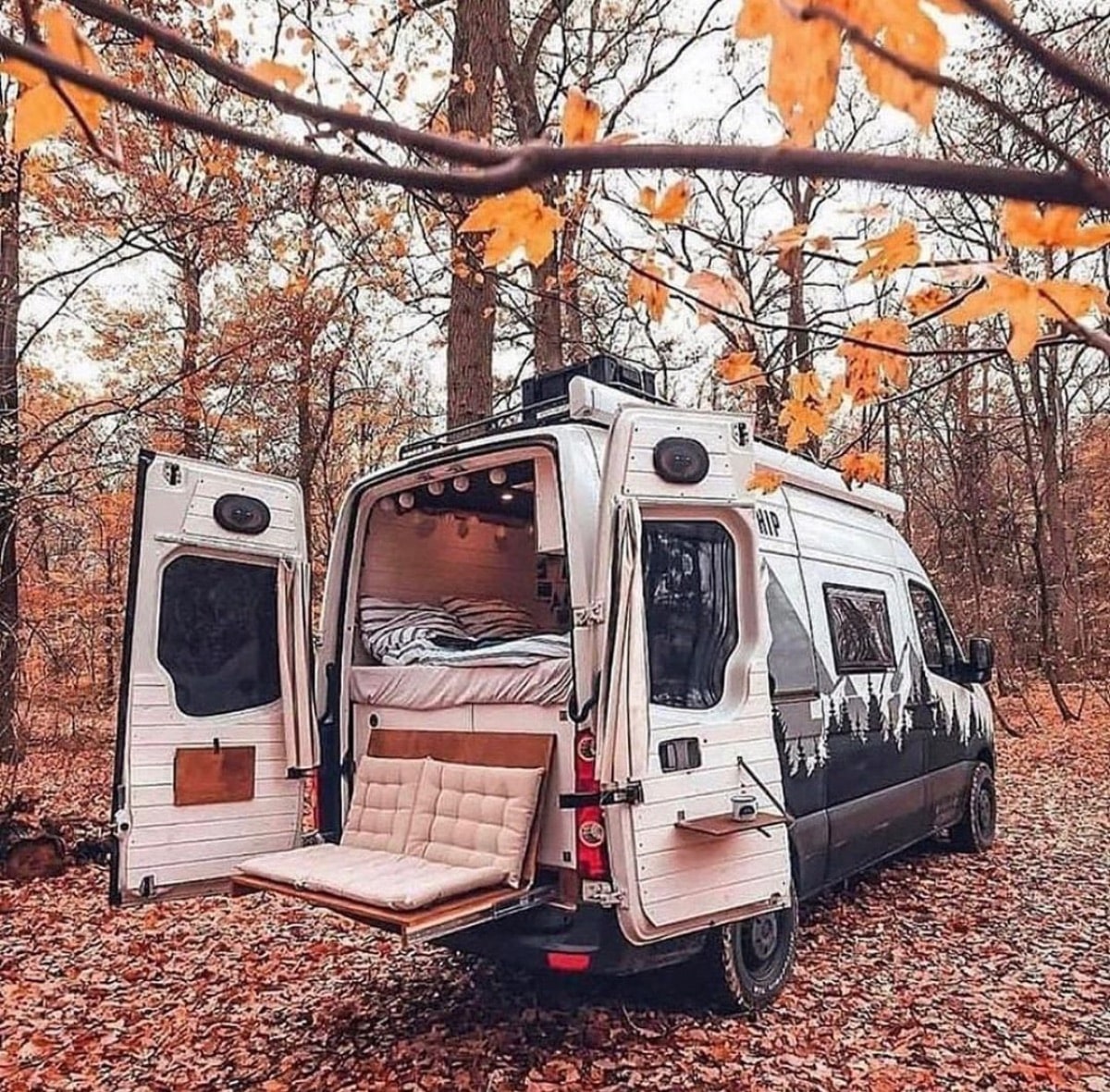 [Image: ig]
Many people who live in their vans tend to have the bed toward the back. Underneath this, there is plenty of room for storage, and one great thing to place there is a roll-out table for the back of the van when the doors are open. This surface space is a great place to both eat and work.
Convertible Bed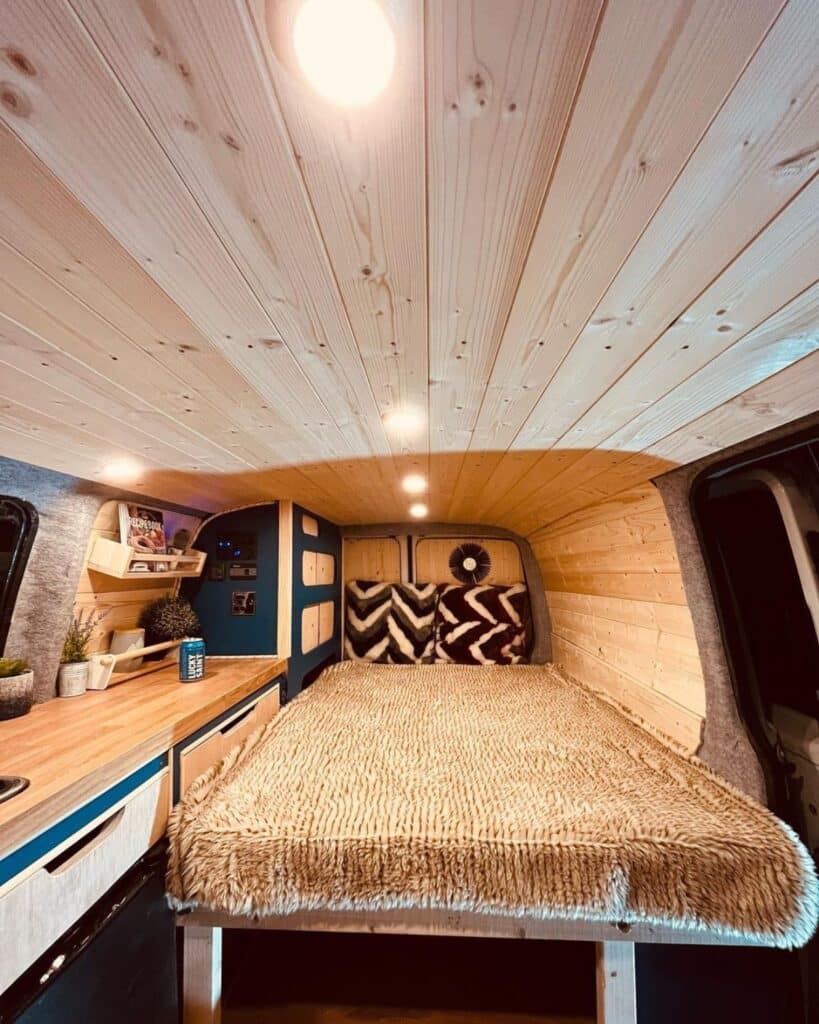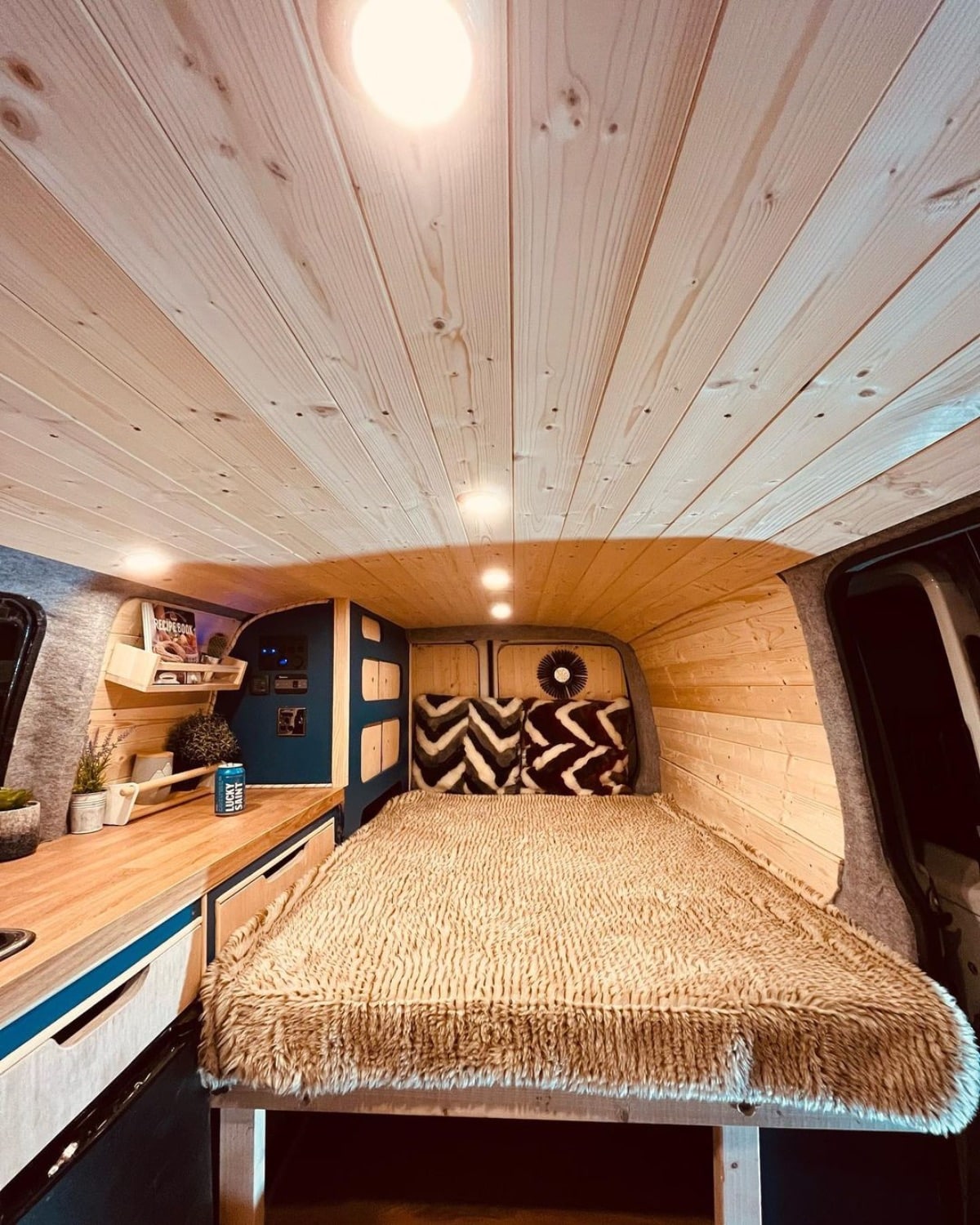 [Image: trobolo.official]
There is no getting around the fact that a bed will take up a significant amount of room in any space. A bed that converts into a table or seating area can be a super convenient way to make your van more versatile.
Hanging Seat Storage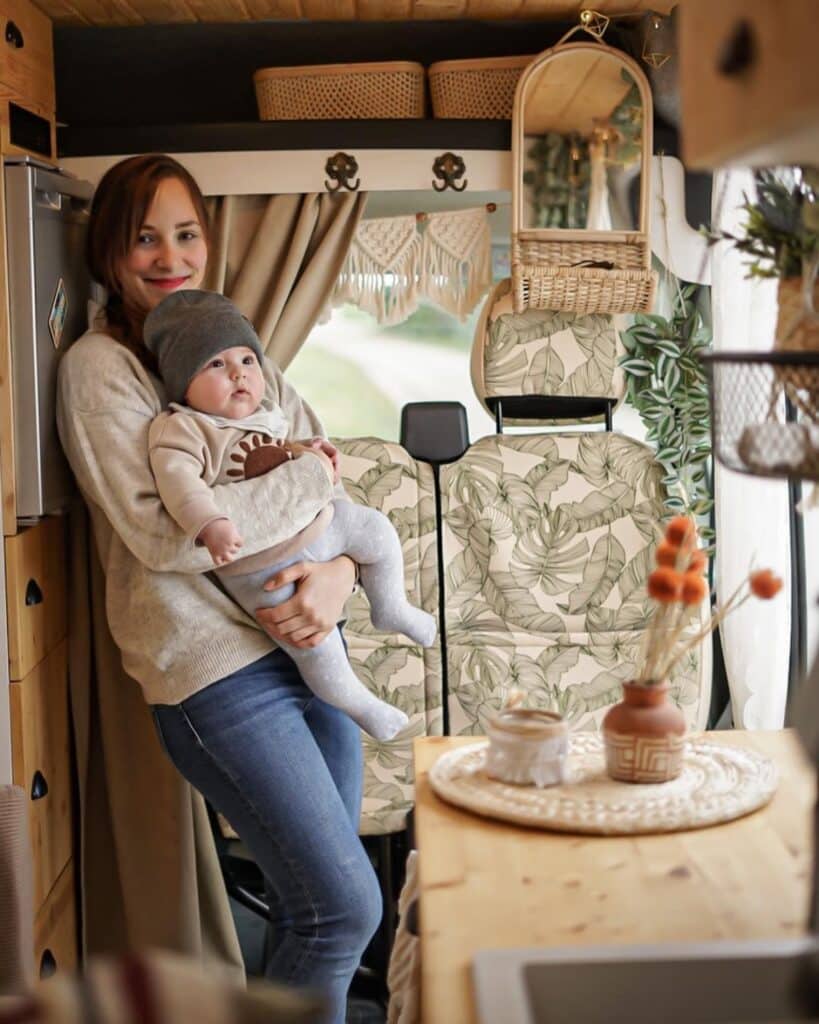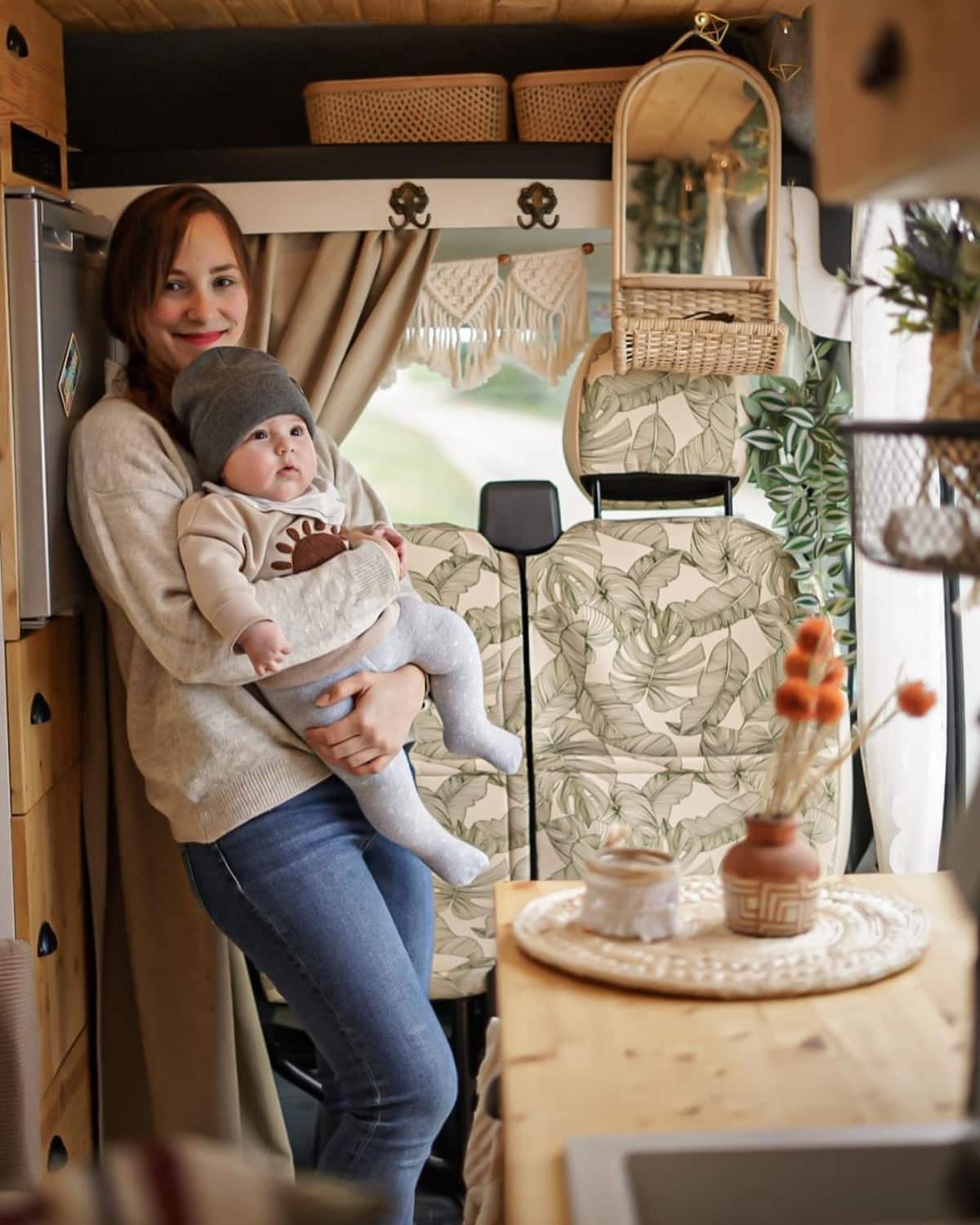 [Image: vanderfulboxer]
Many vehicle seats have a pocket on the back, but these pockets are often narrow and difficult to access. The good news is that there are plenty of hanging storage options that you can attach to the back of your seat. These often come with several pockets and spaces for storing many items.
Hideaway Compost Toilet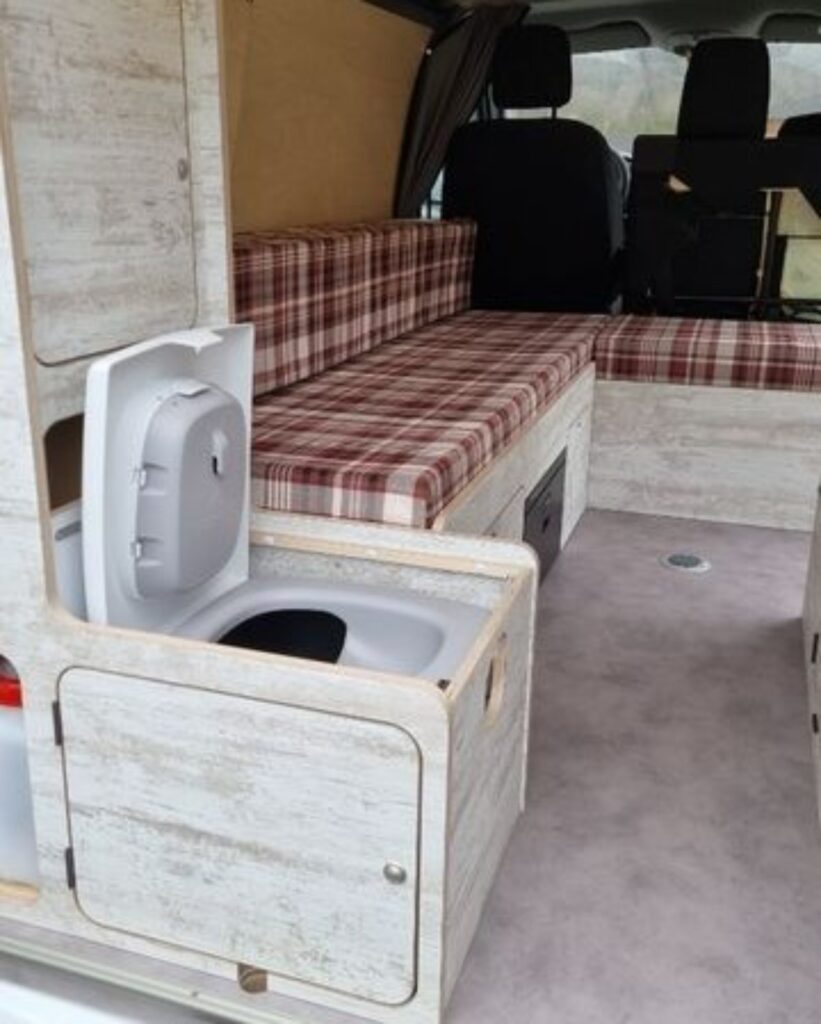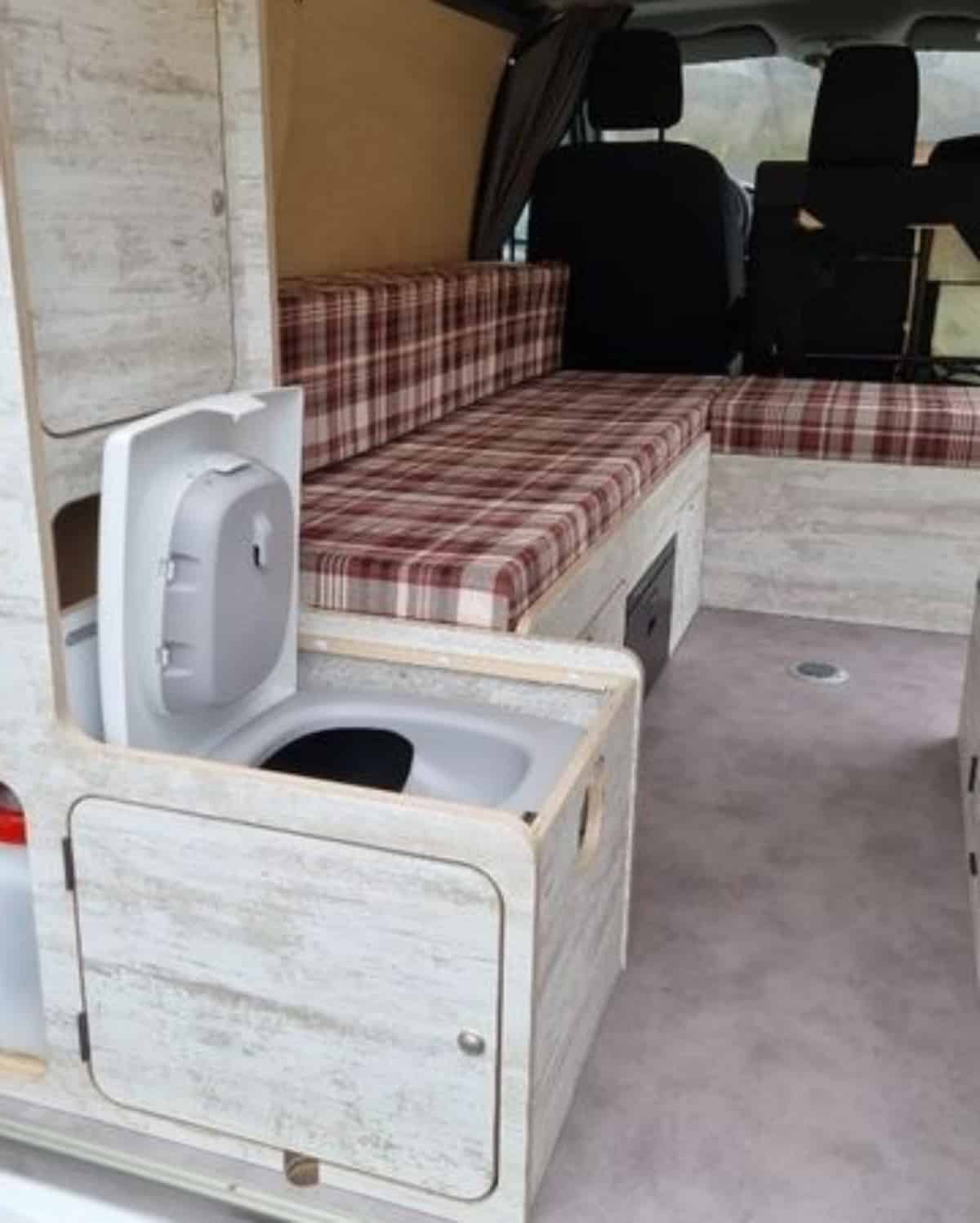 [Image:trobolo.official]
Many people consider the bathroom a critical part of their daily lives, but many van dwellers prefer not to have a bathroom in their vehicles. Instead, you can invest in a small composting toilet that is easy to store away under the bed or sink if there is space.
Outdoor Shower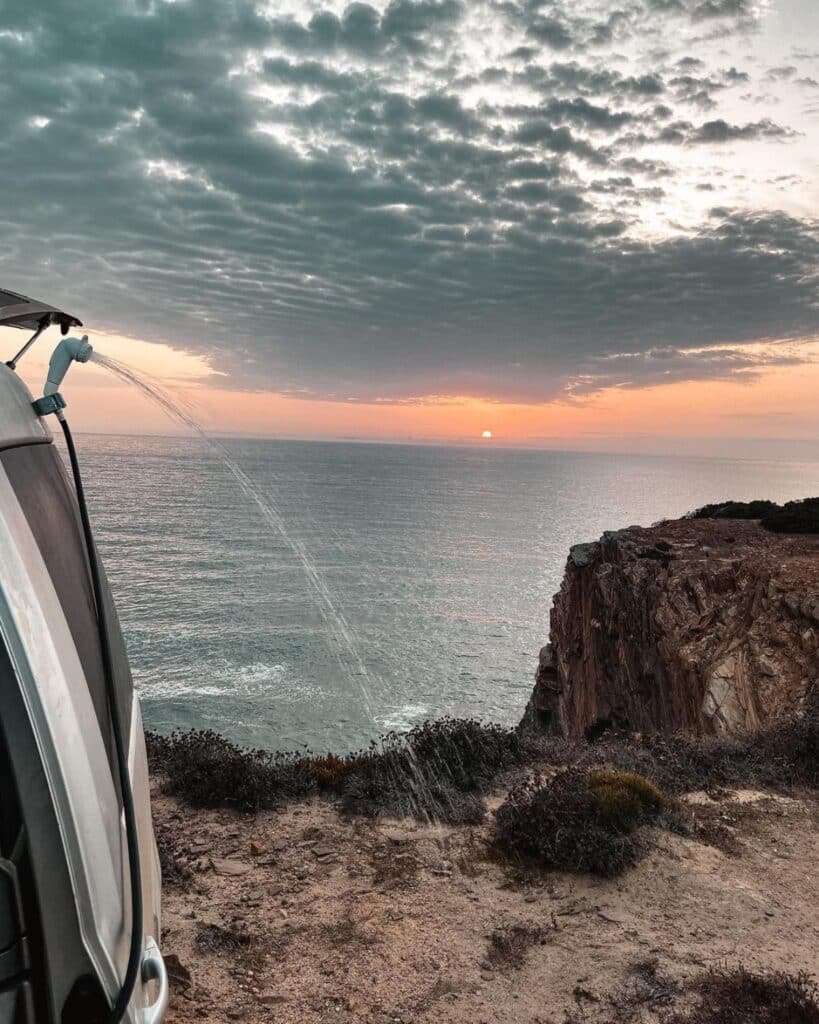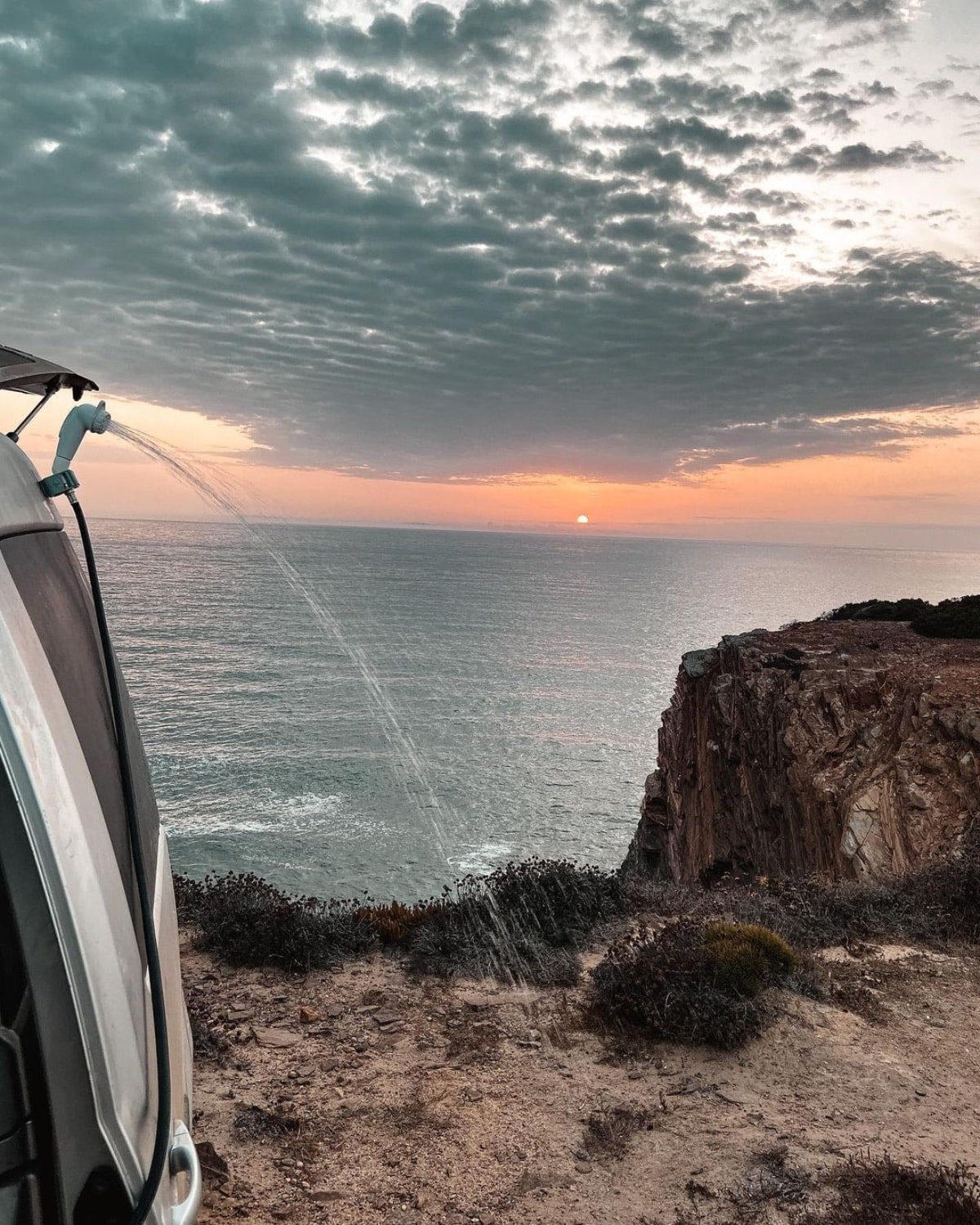 [Image:chriscaddy.vanlife]
In the interest of skipping an indoor bathroom, an outdoor shower can be an excellent alternative. They are generally fairly easy to install, and it's simple to hang a curtain from the back door of your van for privacy.
Doorway Hammock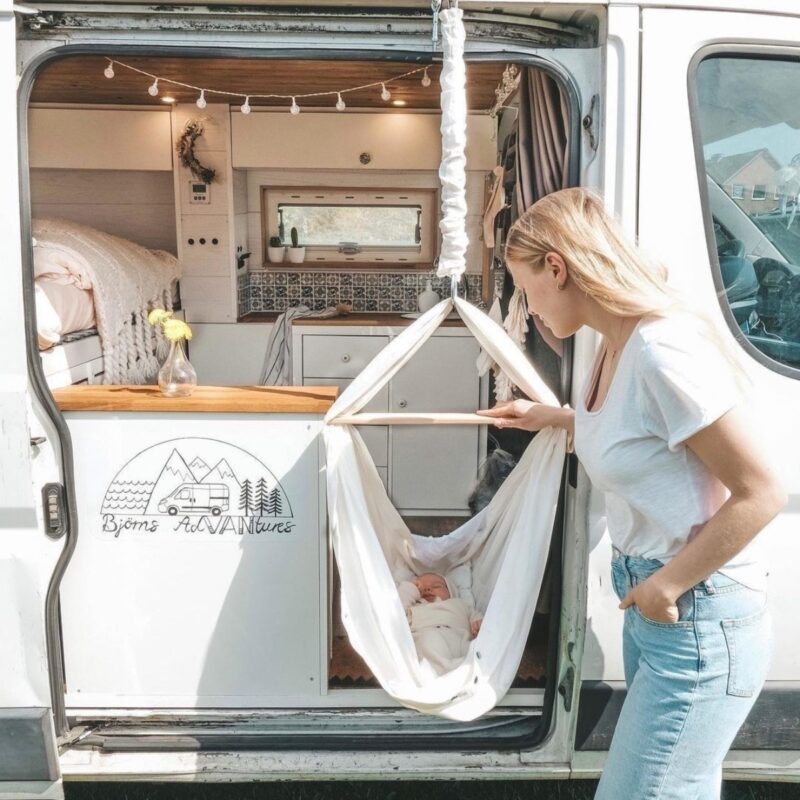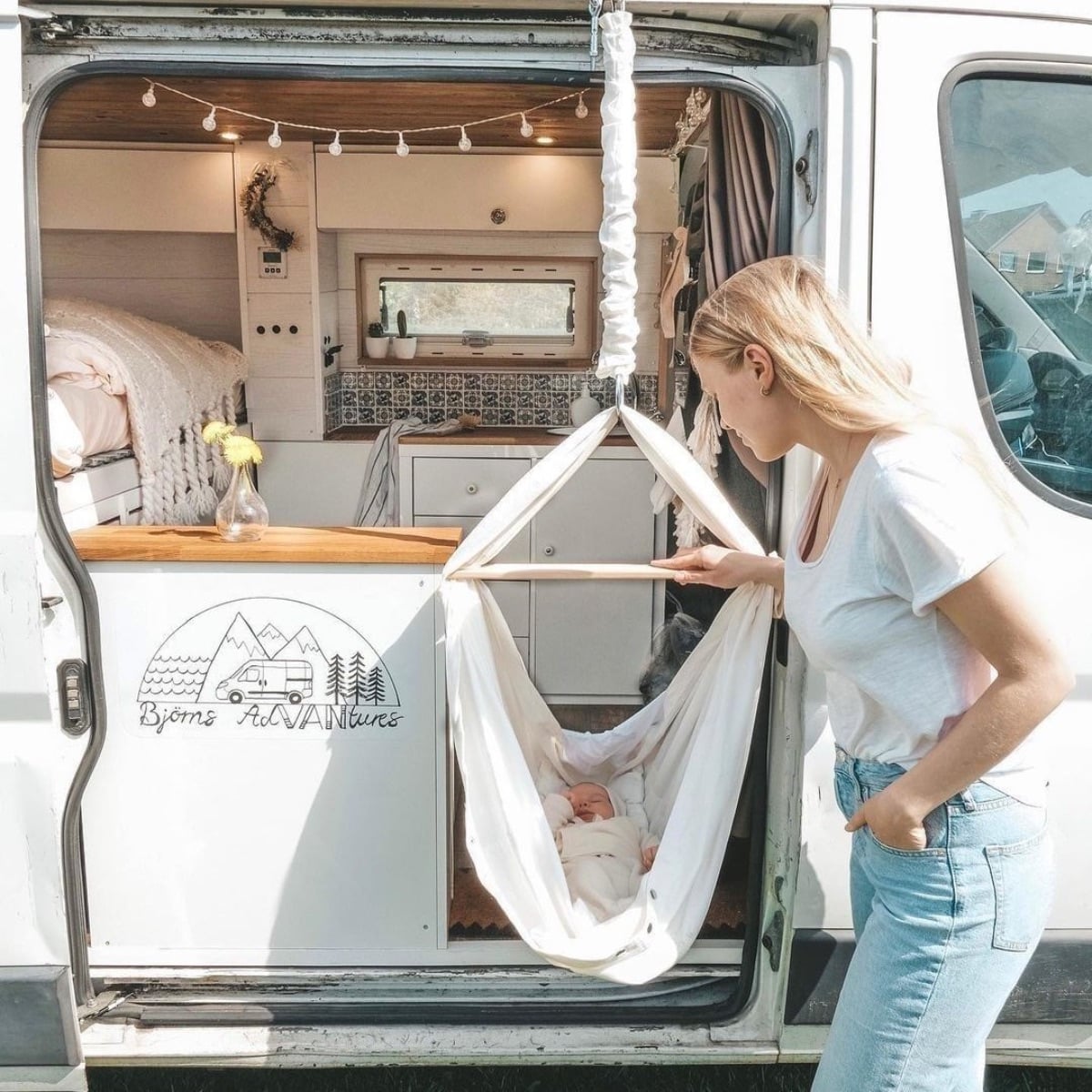 [Image:_the_road_explorer_]
A hammock you can hang from the doorway is a luxurious way to create additional seating. Just make sure it is secure, and you're ready to swing.
Hollow Seating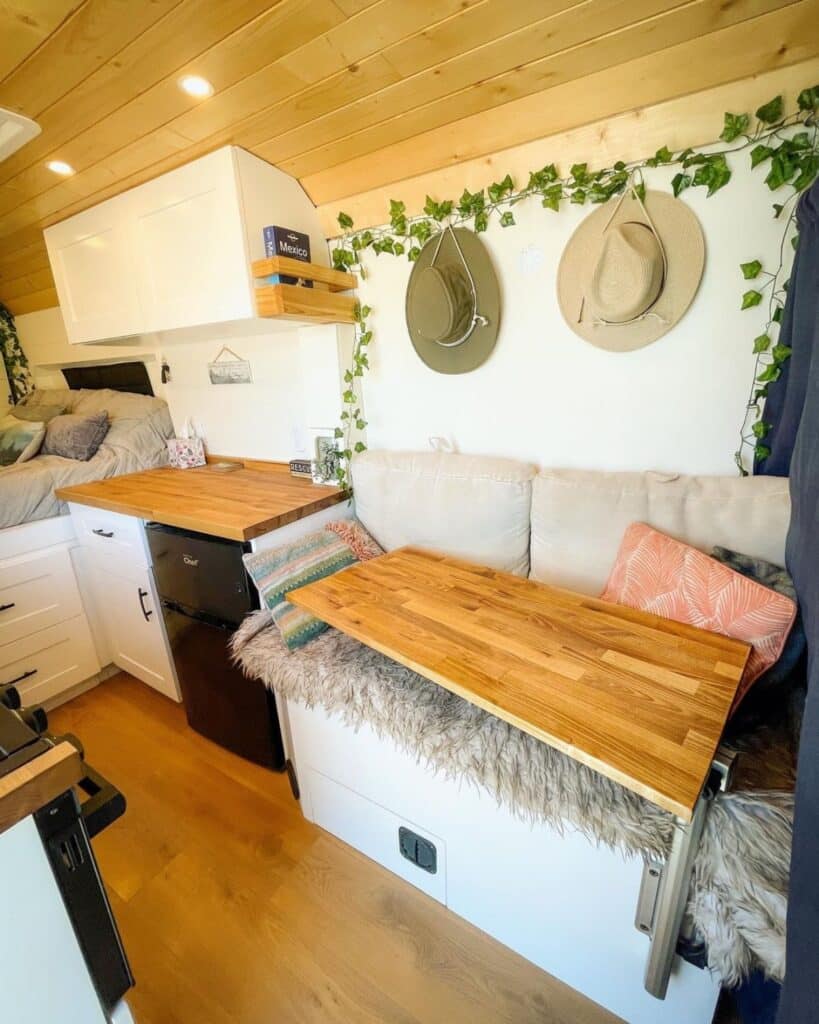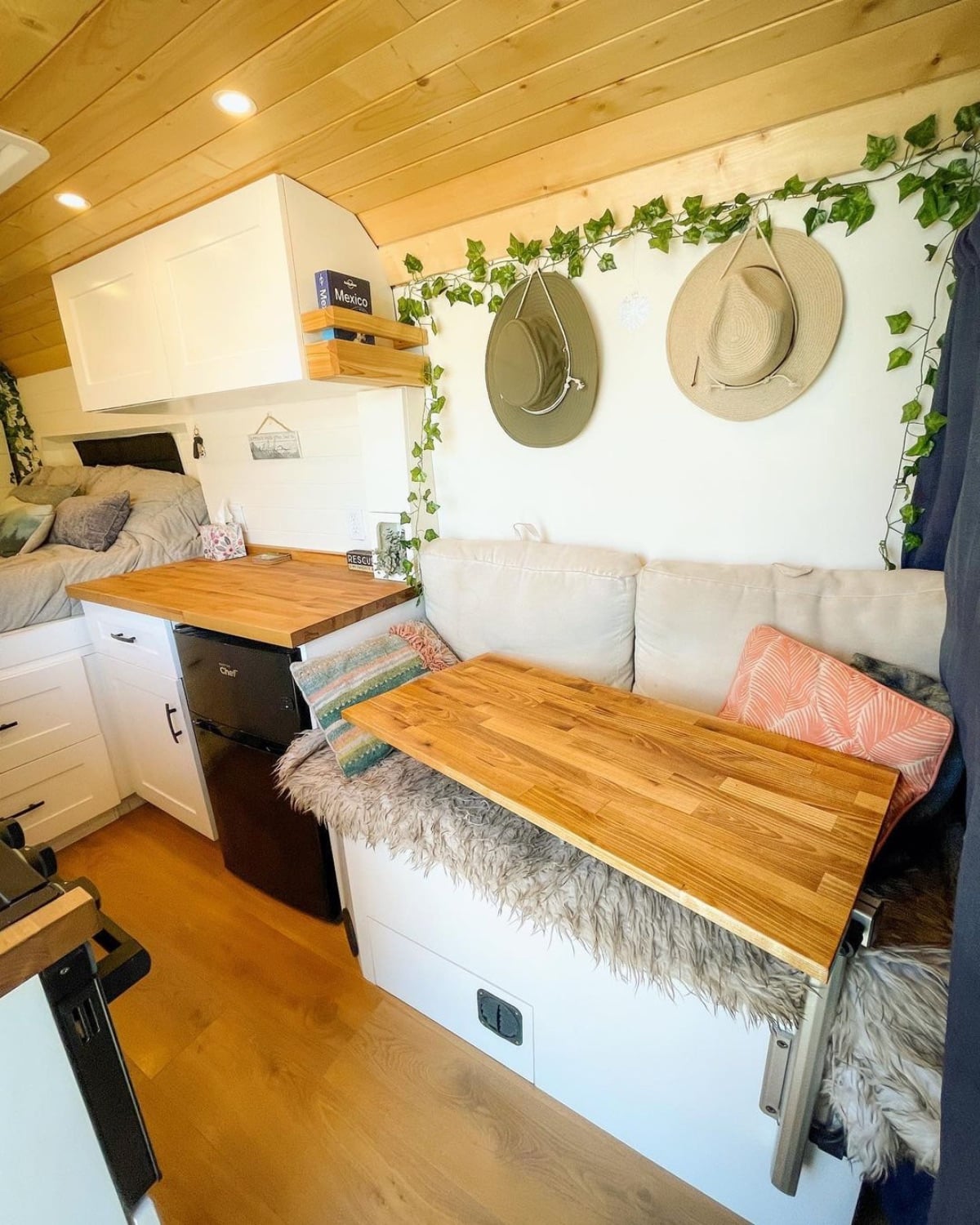 [Image: hayleyandjake]
If your van has benches or a couch, those seats make great storage spaces if they are hollow. They are an especially secure place to keep things when the van is moving, and it is hidden in storage that will keep your vehicle looking great.
Slide Away Stovetop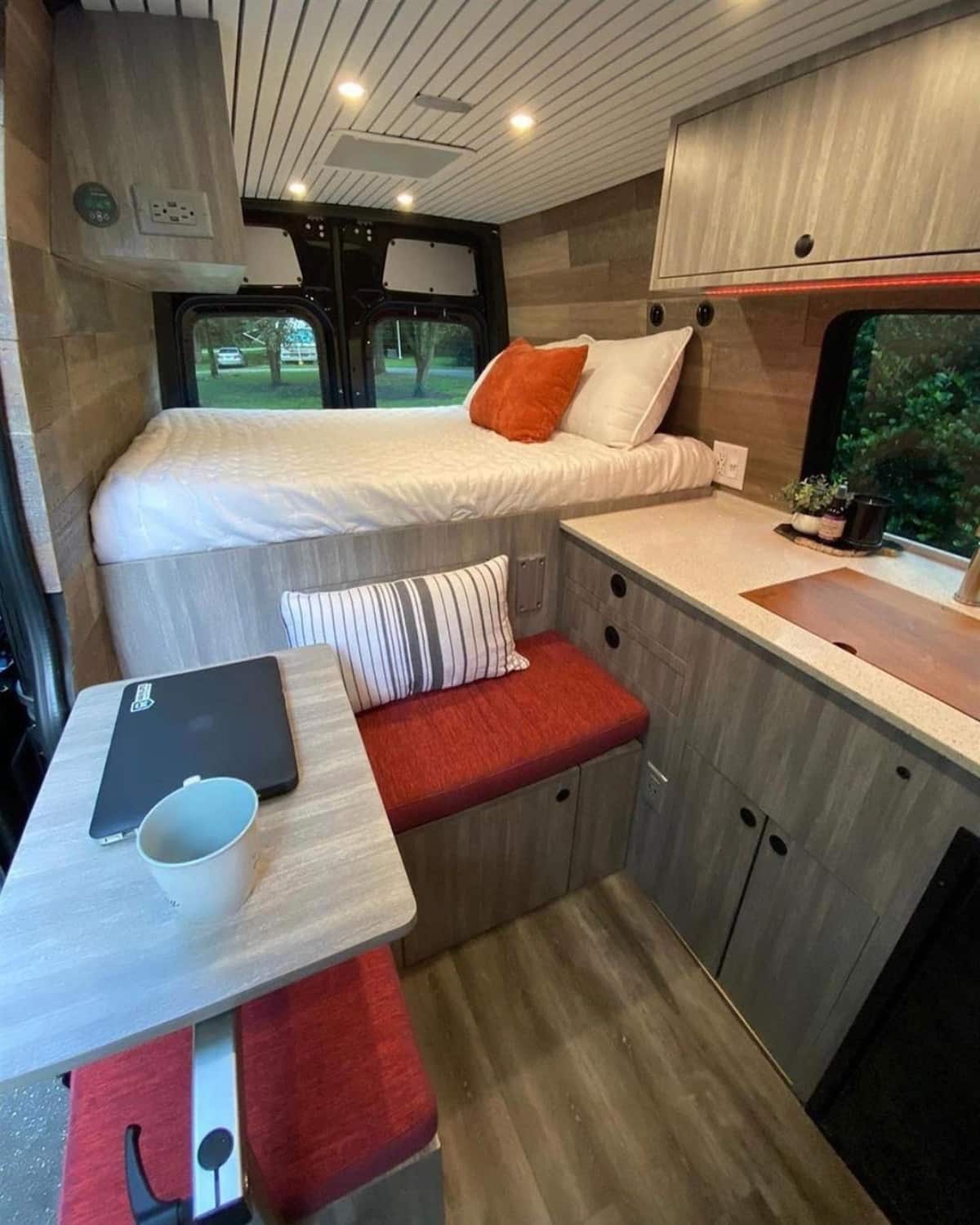 [Image: @van.makers]
Having a stove can be useful for cooking quick meals, and although many of them are fairly small, they will take up a lot of counter space. With some creative engineering, however, you can create a slide-away drawer that will accommodate a small stove top.
Hanging Fruit Basket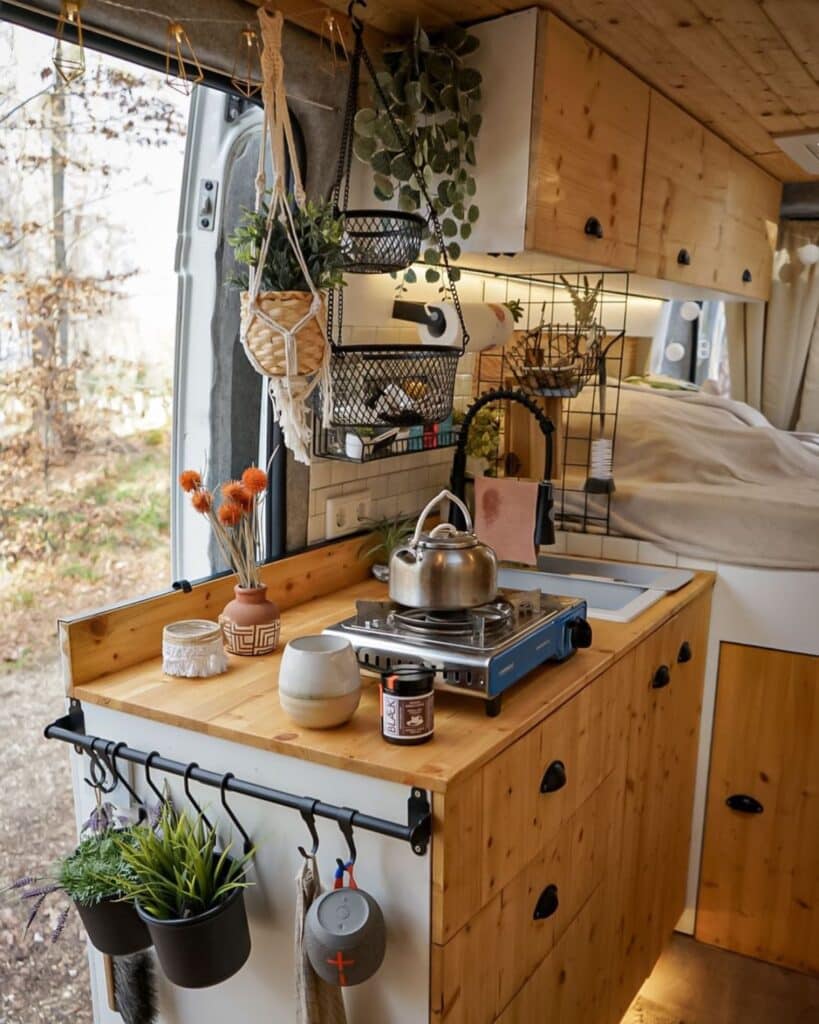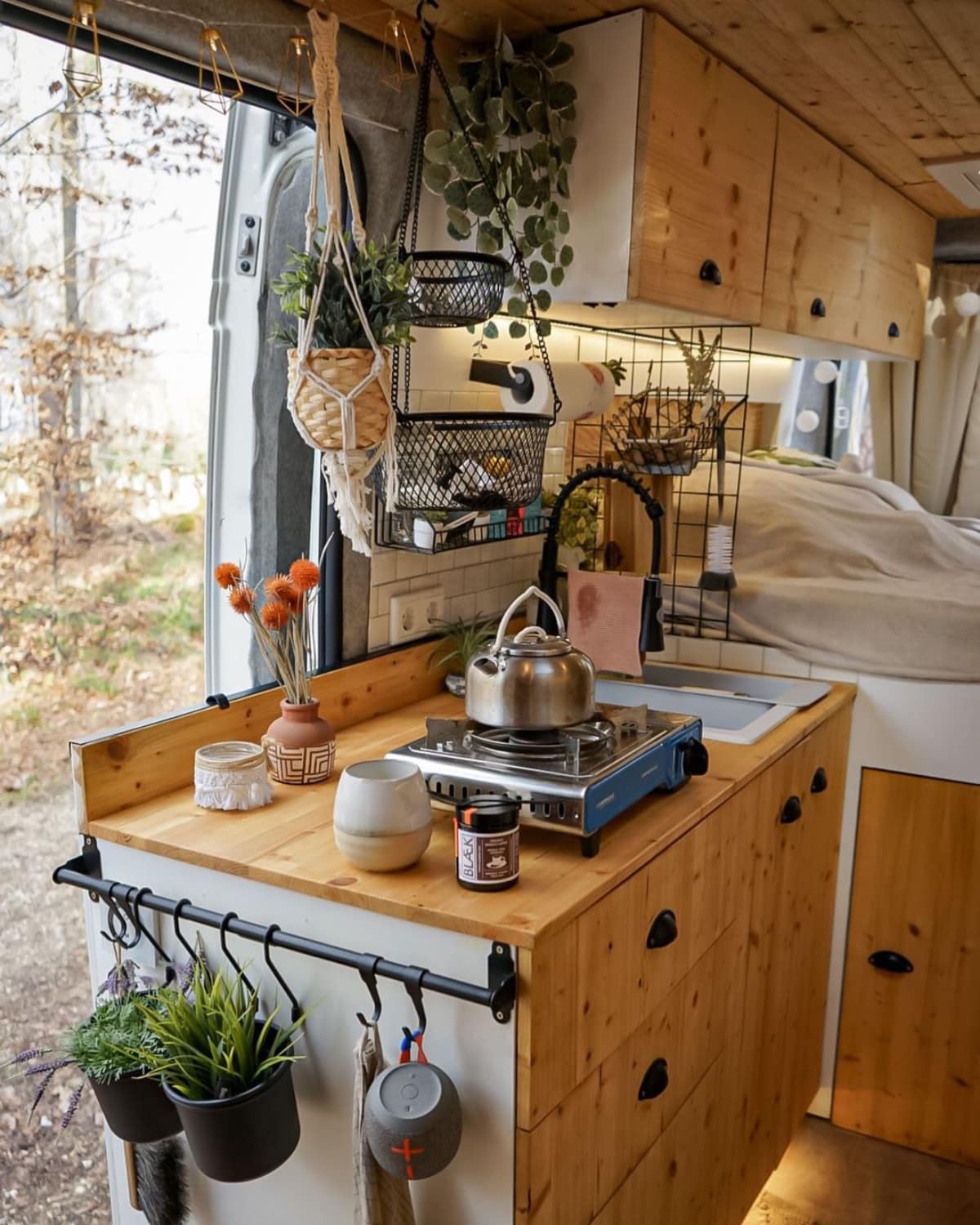 [Image: vanderfulboxer]
Fresh fruits and vegetables are important for any lifestyle. It's easy to keep them out and available by simply hanging them above the counter in a woven basket.
Swing Out Bar Stools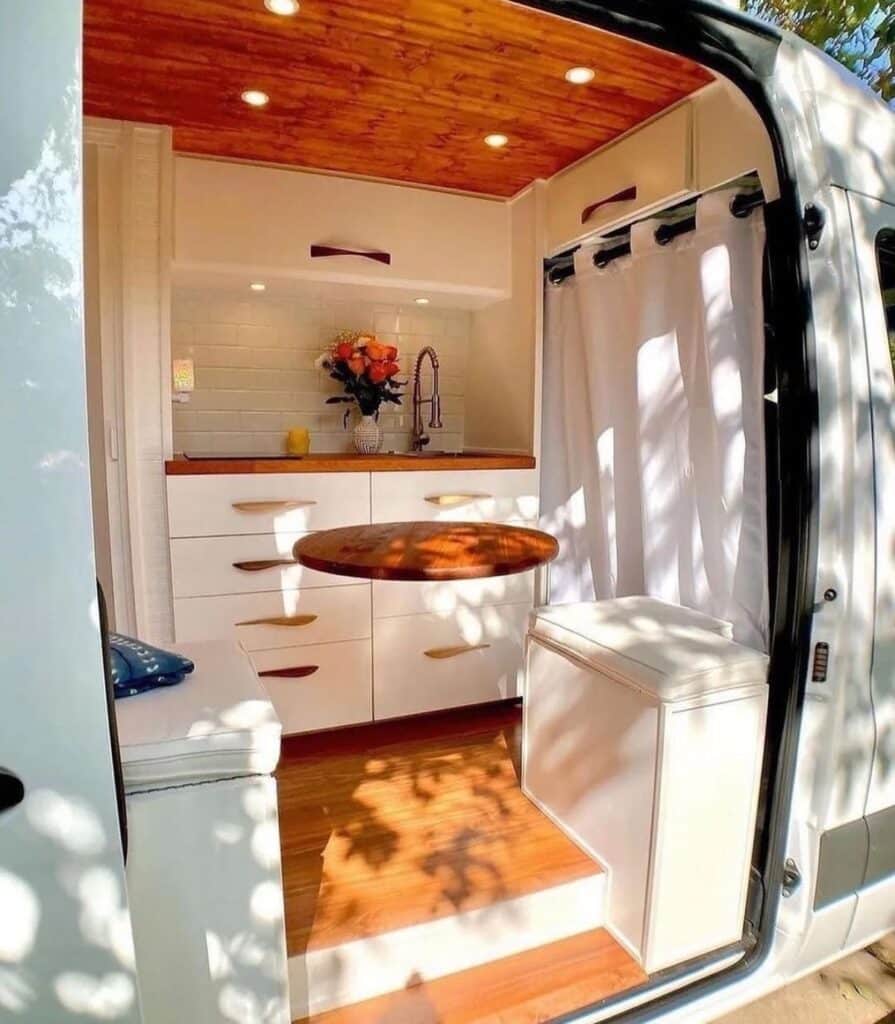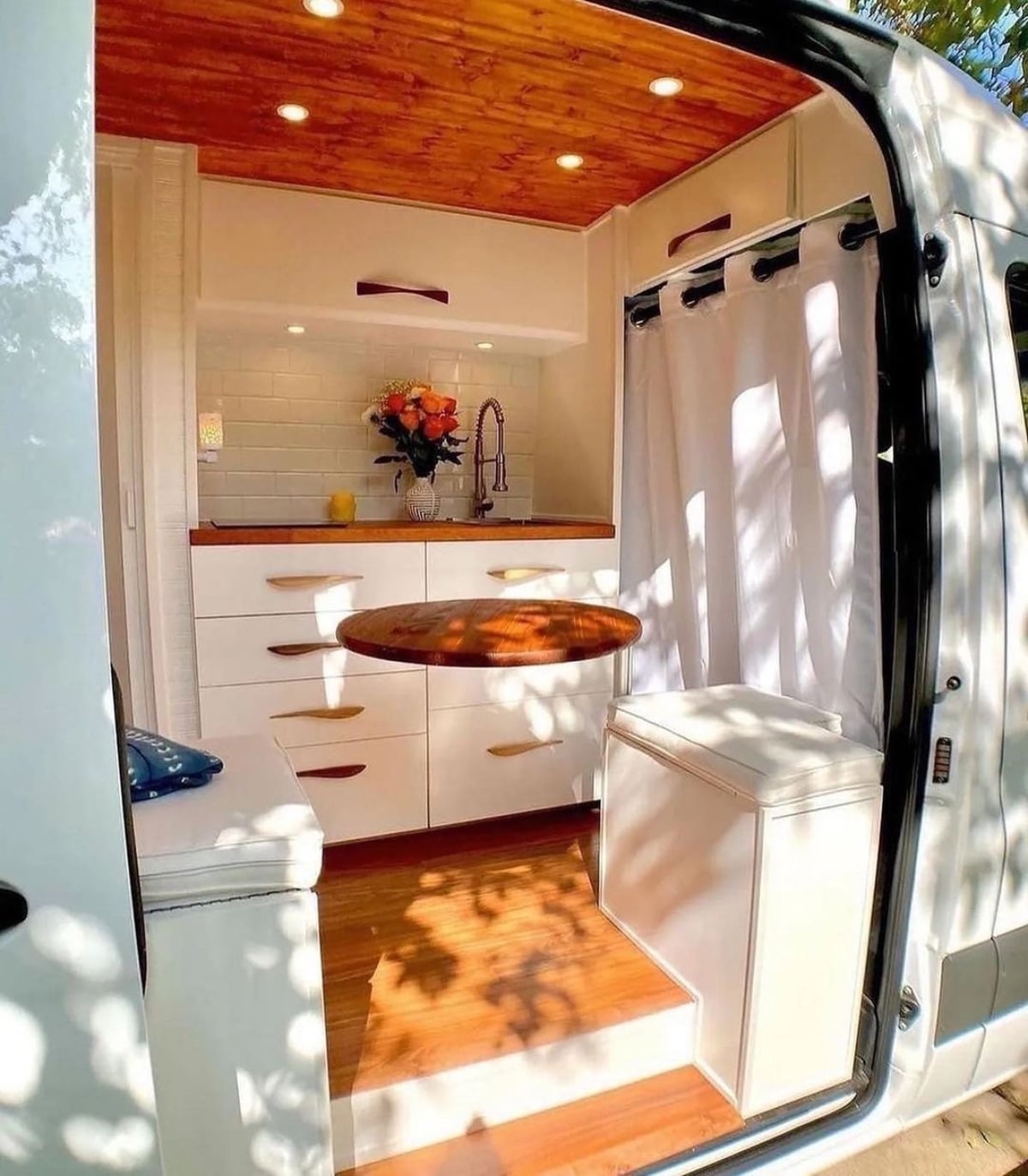 [Image: @the.vanlifee]
Seating can be difficult to place without taking up a lot of room. Barstools can help eliminate a lot of the surface area that normal chairs take up. Swing-out bar stools can be stored conveniently beneath a counter or table.
Van Tool Storage Ideas
When you are storing critical tools that you might need to keep the van running or protect yourself, you will have to decide their placement with care. Here are a few things to keep in mind when storing essential items in your vehicle:
Try to keep items like fire extinguishers and spare tires near a doorway and within easy reach.

There are certain items like spare tires that you can probably keep outside the van.

Double-check that the storage of these critical items is up-to-date every time you use your vehicle.
Frequently Asked Questions
You're not alone if you are still curious to learn more about organizing a small van. Here are some of the most frequently asked questions regarding van storage:
How do I maximize my van space?
There are a few different ways to maximize your van space. Investing in vertical storage and baskets is one of the best ways to use up negative space, but the most important thing you can do is reduce your possessions.
How do you organize clothes in a van?
One of the best ways to organize clothes in a fan is by taking advantage of several small drawers that you can put under the bed or any space above the cabinet if there is any. Keep like items together, and try not to worry about wearing the same outfit a few times in a row.
How do you make a van cozy?
Making a van cozy without feeling cluttered can be quite challenging. Try bringing some small plants that are easy to secure to the walls or hang from a cabinet. You can also string up some fairy lights for a warm glow.
Camping Van Storage Ideas
The organization is critical to mental health, especially when you live in a small space. Keeping your van organized shouldn't be a headache, and with some of these great tips, you'll be on your way to a tidier life.