We're an affiliate
We hope you love the products we recommend! Just so you know, we may collect a share of sales or other compensation from the links on this page. Thank you if you use our links, we really appreciate it!
Van conversions have become popular as more individuals seek novel ways to live and travel. These modifications make it possible to sleep and work in a van, granting freelancers and digital nomads unprecedented freedom.
Designing the van's interior is thrilling because you can tailor it to your needs. However, you don't want to forget the roof vent, a crucial component of van conversion. The vent optimizes ventilation and temperature control within the car. If the van's roof vent needs repair, the interior might become oppressive, hot, and uninviting.
Read on to learn about the five best van conversion roof vents. You'll also discover what to consider when choosing the finest solution for your style and budget.
---
Types of Roof Vents to Consider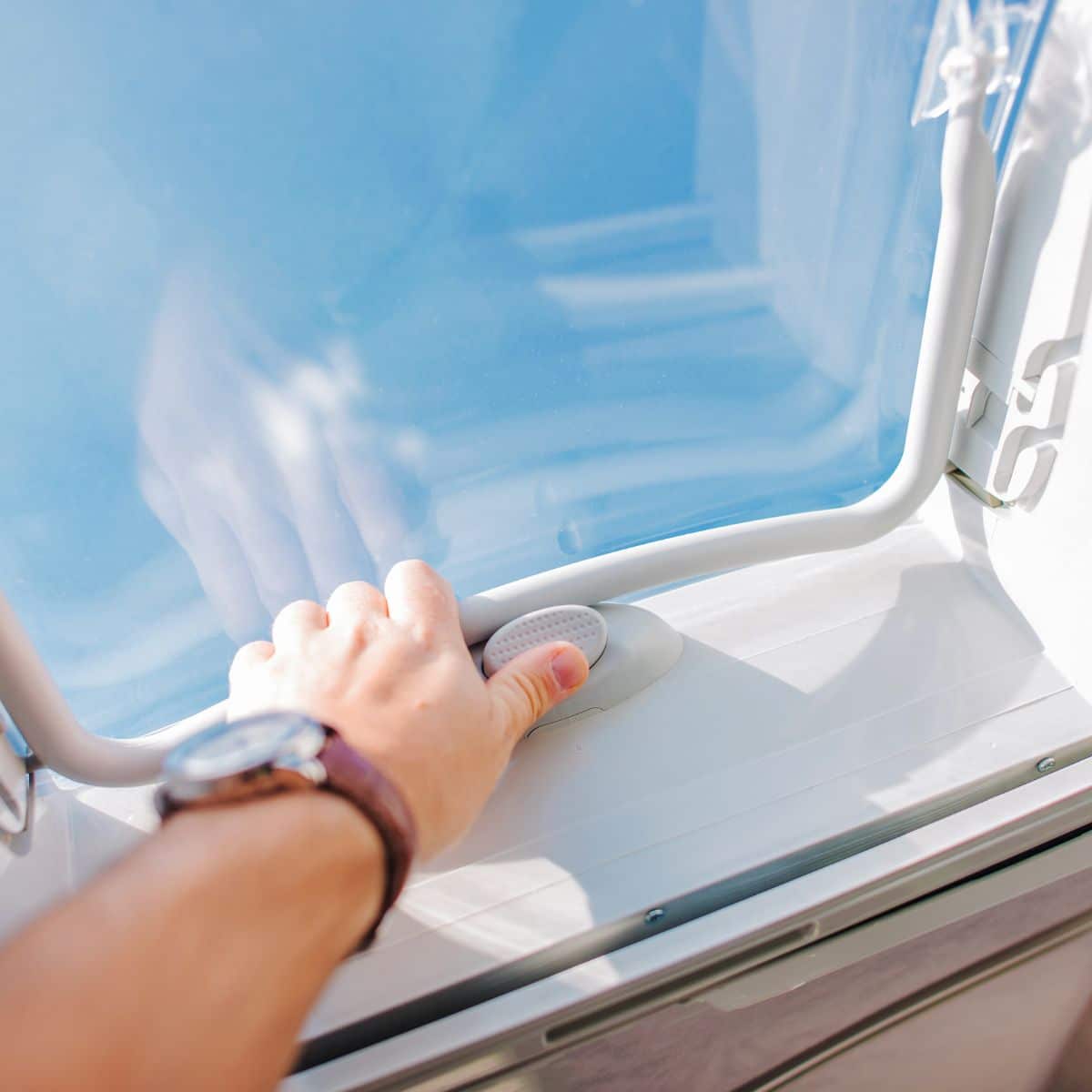 Roof vents come in various designs, including motorized and manual vents. The hand crank used to open and close manual vents is frequently present. Electricity powers powered vents, which you can manage with a switch or remote.
Spinning Roof Vent
A spinning roof vent for a van is a type of vent with a spinning mechanism that helps move air more efficiently. Most of the time, these vents have a turning feature you can turn on or off with a switch or a remote.
They push hot air out of the van, and condensation won't build up as the roof vents spin. By eliminating excess heat and moisture, these vents aid the van's interior air quality and comfort. They also prevent the growth of mold and mildew.
12V Van Roof Vent
This option is a powered vent that runs on a 12-volt electrical system. These vents have a strong fan you can control with a switch or a remote, simplifying the task. This vent gives the van thorough ventilation and temperature control. Most 12V van roof vents use less energy overall and can use the van's battery or the sun for power.
Solar Roof Vent
A van's solar roof vent is a vent that gets its power from the sun instead of pulling from the van's battery. The solar panels turn the sun's rays into electricity to power the fan and pull out hot air and moisture.
Solar roof vents are ideal for people who live in vans and want to use less power from traditional sources. This option impacts the environment less and is easy to install since there's no electrical wiring involved.
Low-Profile Roof Vent
A low-profile vent sits flush with the roof, giving it a sleek and smooth look. Manufacturers design these vents so they're discreet yet effective. The vents are less noticeable than traditional roof vents.
They come in different styles, such as:
Manual

12V DC powered

Solar powered
Van converters who want the vent to have little to no impact on their vehicle's appearance prefer the low-profile option.
Electric Van Roof Vent
A powered van roof vent runs on electricity. You can control this electric vent with a switch or a remote. This vent gives the van excellent ventilation and temperature control. Electric roof vents for vans use less energy and can use the van's battery or a generator to pull hot air and moisture from the air.
---
The Best Roof Vents and Accessories for Van Conversion
Seven of the best roof vents come in various styles to suit your van's size and overall aesthetic.
The Ventline Vanair vent is popular for van converters because it's durable and easy to install. The vent has a built-in rain cover to keep water out. It also has a hand crank to open and close the vent, letting you control how much air flows. The Ventline Vanair RV Roof Vent fits a range of roof thicknesses, which makes it a good choice for multiple van models.
This powered vent is good for people wanting something modern and simple. The Maxxair Vent Cover has a powerful 12-volt fan you can control with a switch or a remote. The vent also has a rain cover you can close to keep water out. The Maxxair Vent Cover is easy to install and can suit different roof thicknesses.
The Fantastic Vent has a powerful 12-volt fan that moves up to 160 cubic feet of air per minute. You can control the fan with a switch or a remote. The rain cover keeps out water when you're not using the fan. The Fantastic Vent is also easy to install and can fit many van roofs.
The Elixir Industries Escape Hatch fits a standard 14-inch by 14-inch opening. There's no switch or remote for this option, only a manual crank. Like other options, the vent includes a rain cover to keep water out. This manual vent is excellent for van lifers who want something small yet efficient.
If you want to improve the insulation in your van, this vent cover is a great choice. The Camco RV Vent Insulator fits over most 14-inch by 14-inch roof vents. The reflective surface keeps heat and cold out, making your van more environmentally friendly and efficient. As with other options, it includes a rain cover to keep water out of your van's interior.
---
How to Choose a Roof Vent for a Van Conversion
Implementing a van conversion requires strong attention to detail, and the vent options are no different. You must consider several factors to ensure that the vent best fits your needs.
Size and Shape
It's essential to get a proper fit on your van's roof. Measure the opening on your roof and choose a vent that is the correct size and shape.
Ventilation Rate
You can tell how much air a roof vent circulates by how many cubic feet per minute (CFM) it can move. If the CFM is higher, the vent can move more air, which can be helpful when it's hot outside or when you're cooking inside the van.
Weather Resistance
A roof vent that can withstand the weather is important to keep water and leaks from getting in. When it's raining, look for vents with built-in rain covers or other features that will keep the inside of your van dry.
Ease of Installation
Putting in a roof vent can be tough, so it's crucial to pick one that's easy to install. Look for vents with clear instructions and all the hardware you need for installation.
---
FAQs
Here are some frequently asked questions that help you make the right choice.
Do you need a roof vent in a van?
Yes, a van conversion needs a roof vent to have enough airflow and temperature control inside the van. Without a vent, your van will stay hot and muggy. These conditions encourage mold and mildew growth, which can make you sick.
What is the best roof vent for a van?
The best roof vent for a van will depend on what the user wants and needs. It will be the right size and shape, let in a lot of air, and be easy to put together. Installation can impact the vent's overall performance, so follow the instructions and seal the edges for most efficient use.
How much does it cost to install a roof vent in a van?
The cost of installing a roof vent in a van varies depending on the vent size and labor cost. The price of the vent itself can range from around $50 to $500 or more. Experienced installers will charge an hourly rate for their labor, ranging from $50 to $200.
How do you fit a van roof vent?
Putting in a roof vent on a van depends on the vent type and model. For most styles, you measure the hole in the roof to ensure the vent is the right size. If there's no hole, you can buy your ideal vent and cut the hole yourself. Use the hardware with the vent to attach it to the roof. You should properly seal the vent to stop leaks.
---
Final Thoughts
A van conversion is complete once you install a quality roof vent. You can choose the best option for your needs and budget by taking into account factors such as the following:
Vent size and how well it fits

How much air it lets in

How well it stands up to the weather

How easy it is to install

How much it costs
The control type might also impact your decision. Many options include a remote for the simplest control, while others wire into a switch. Some are manual, with a crank to open and close the vent. All the vents on this list are good options to think about to make your van conversion comfortable in every season.