We're an affiliate
We hope you love the products we recommend! Just so you know, we may collect a share of sales or other compensation from the links on this page. Thank you if you use our links, we really appreciate it!
Many individuals become scared of traveling in a camper van because they don't know where to use the bathroom, or they don't know how to clean out a portable toilet.
Using a camper van toilet isn't as daunting as it first seems. All you need is the perfect toilet for your travels. We recommend a cassette toilet for camper vans. Cassette toilets are affordable and easy to use.
There are several other toilet options to choose from if a cassette toilet doesn't work for you. Here are the four main categories of camper van toilets:
Portable

Built-in

Boondocking

Foldable
Portable Toilet Options
Portable toilets are perfect options for those with small camper vans. You can store the toilet on a roof rack while not in use to combat scents lingering in your living quarters.
These camper van toilets are the easiest to clean and give the biggest bang for your buck! Thankfully you have several options for portable toilets to choose from.
---
Chemical Toilet
Cassette toilets like the Thetford 92860 Porta Potti 135 are the cheapest and easiest-to-use options.
The entire unit is fairly small – you can move it with ease. The top part of the toilet includes a closable seat and a flush valve.
The bottom area is called the cassette – where all of the liquid and waste will go. This area completely removes from the top part for easy cleaning.
Pros
Cheap option

Extremely portable

Easy to use
Cons
Doesn't contain smells well
---
Hidden Toilet
You can use just about any portable and compact toilet as a hidden toilet. Choose your toilet first. You can then find a cabinet space to place it in.
When you aren't using the toilet, it is out of sight! This option also helps contain smells better because it's hidden in a cabinet.
Pros
You can't see it

Contains smells

Not suitable for all camper van sizes
Cons
You have to build an area to hide the toilet
Built-In Options
Built-in toilet options are permanent. Because permanent toilets typically require a separate room with a closing door, they are best for big-size vans.
---
RV Toilet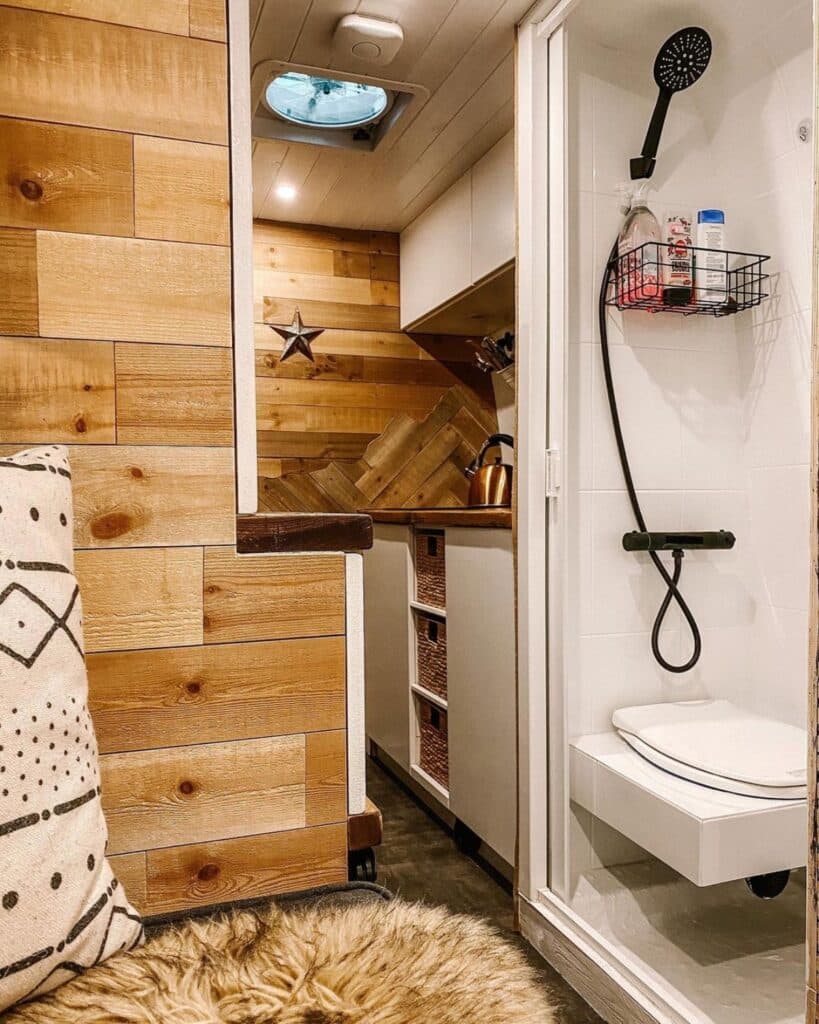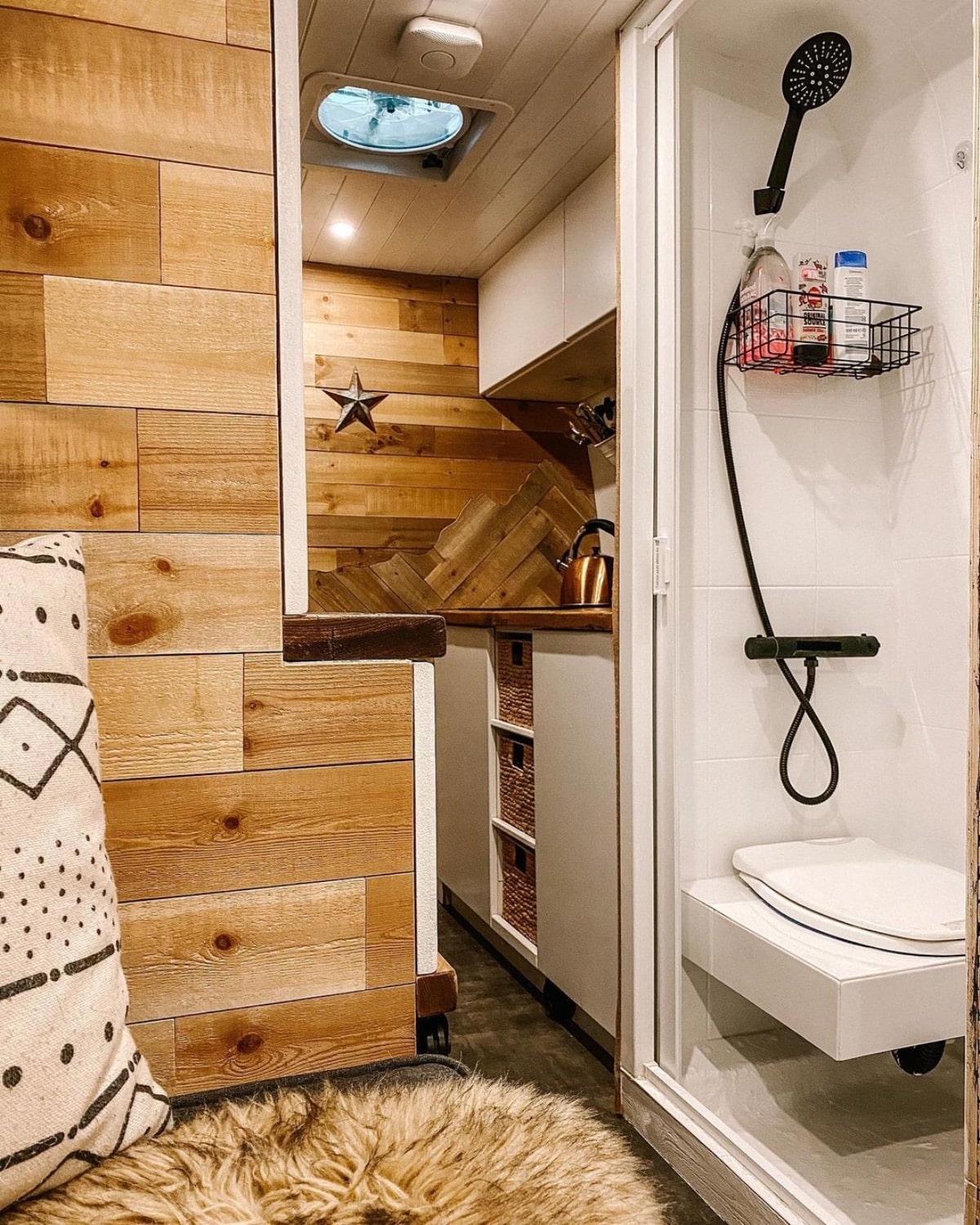 Image: @tothemountainsnback
RV toilets for camper vans look like regular toilets with a few subtle differences. Instead of a flush handle, you have a flush pedal located near the base of the toilet.
An RV toilet doesn't contain water in the base of the bowl and doesn't have a water-holding tank. The toilet takes from the freshwater supply of your camper van, which you must install. After you flush, the waste goes into a black holding tank, which you must also install.
Pros
Most convenient option

It looks like an actual bathroom with a toilet

Once installed, it's easy to use

You have privacy
Cons
Requires a black tank and a freshwater supply

Requires in-depth installation
---
Campervan Toilet and Shower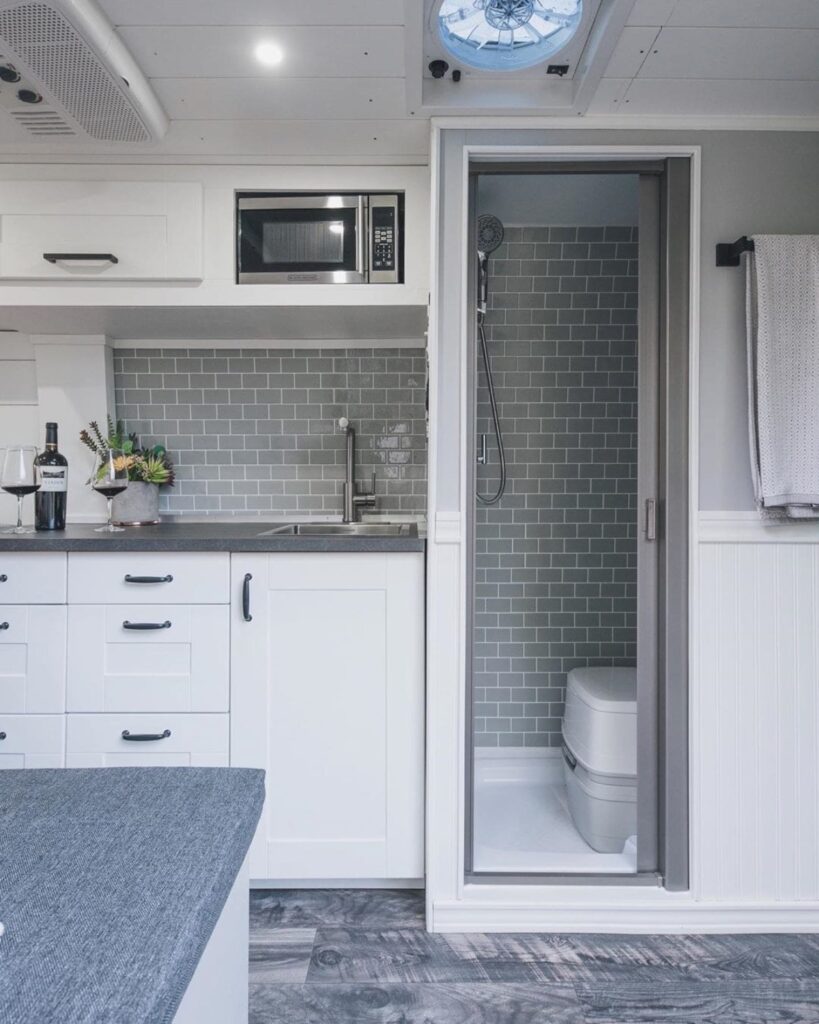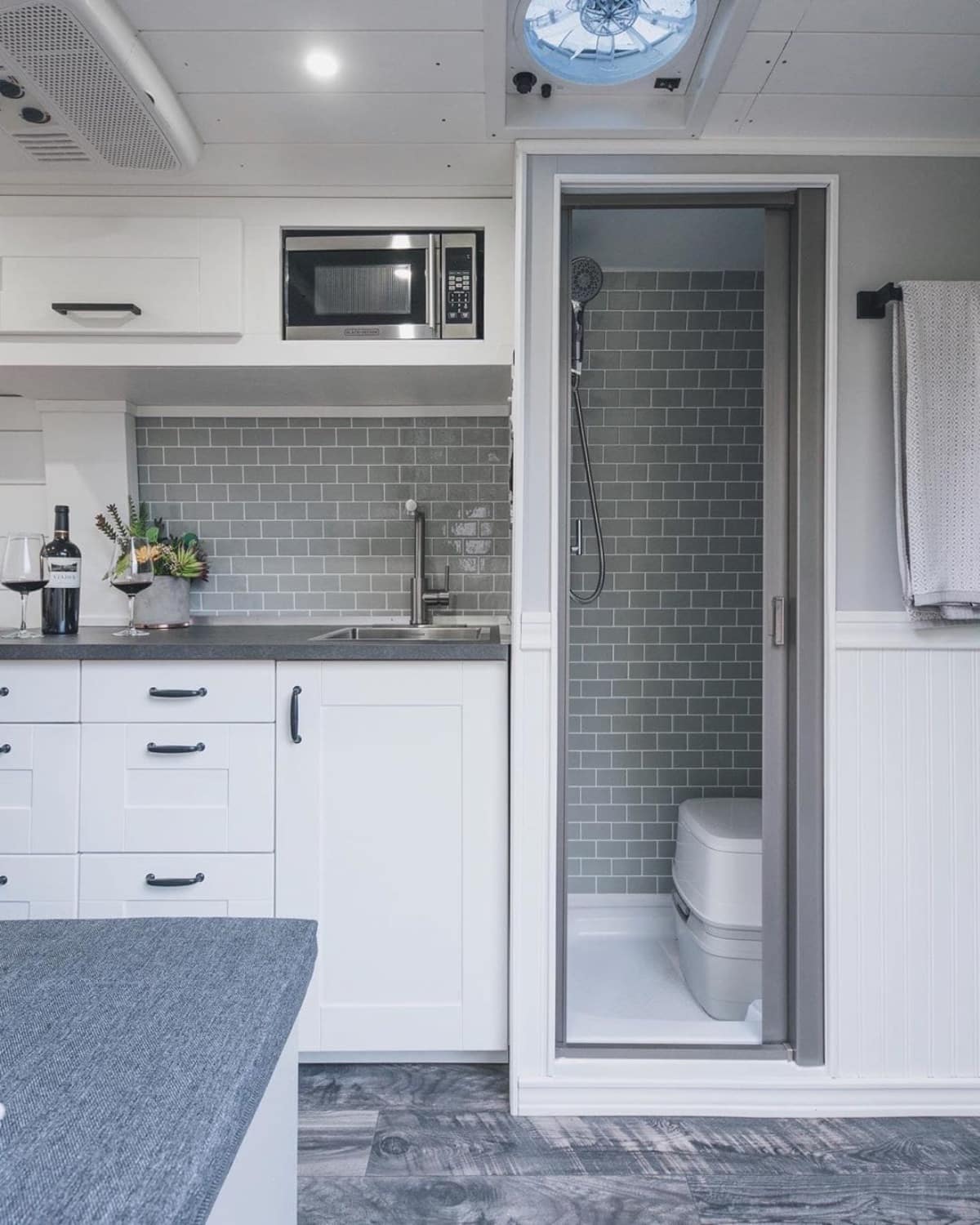 Image: @the.activ
To save on more space, you can combine your toilet and your shower all in one.
Again, this is the best option for big vans as it requires a separate room.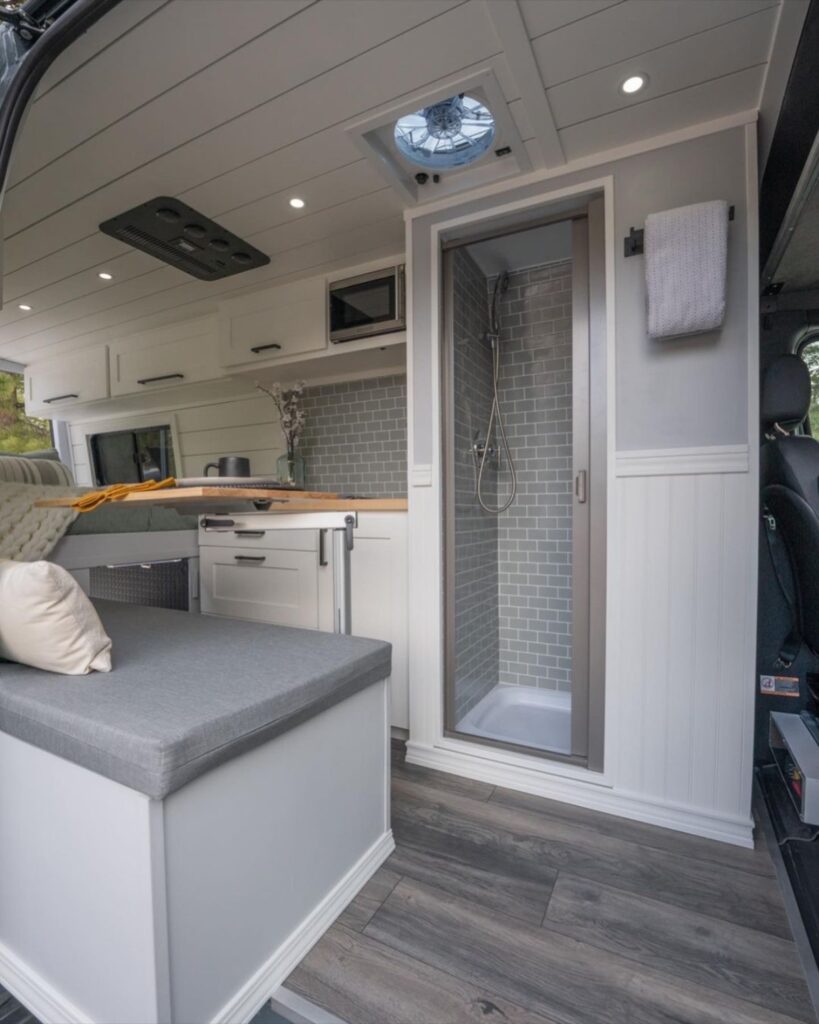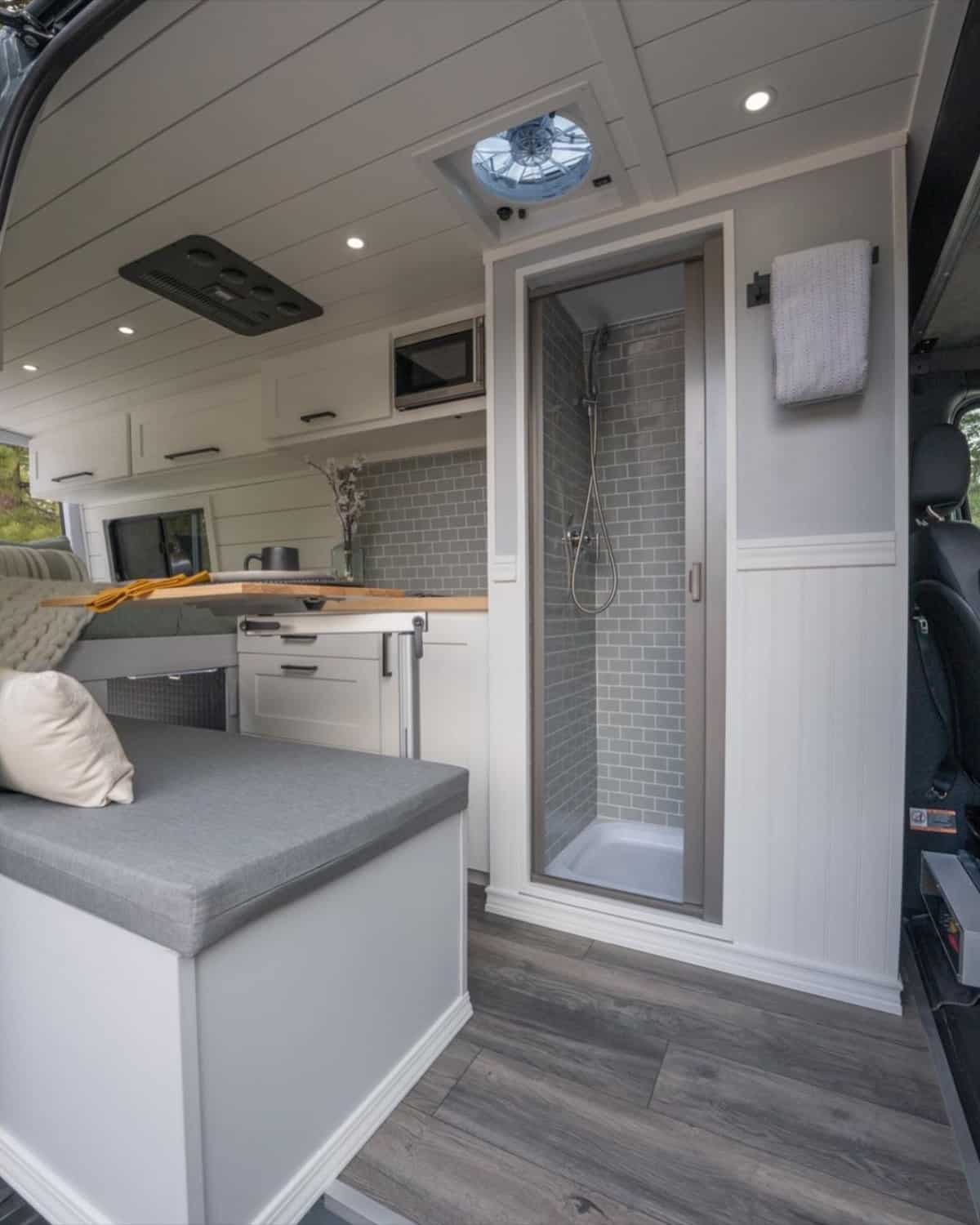 Pros
You conveniently have a shower and toilet in your camper van

Space saving
Cons
If you don't purchase a factory-made camper van, you will have to install everything

Pricey
---
Campervan Composting Toilet
The Nature's Head Self-Contained Composting Toilet is the best option for keeping nasty smells out of your van.
It has two separate compartments – one for poop and one for pee. You can easily remove the pee compartment to empty it. The poop compartment decomposes waste with help from fertilizing components, thus making it the least smelly toilet option.
Unfortunately, this toilet needs a ventilation hole in the van and a little electricity to operate a smell-removing fan.
Pros
Eliminates smells

Eco-friendly
Cons
Pricey

Requires electricity

Requires ventilation installation
---
Toilets for Boondocking
You can use just about any toilet for boondocking. Some toilets, however, require electricity. The options listed below require little to no maintenance and are the best for long boondocking trips.
Shovel
What's better than using the bathroom in the great outdoors? Pop a squat on a fallen tree after you dig a tiny hole in the ground. Do your business, then cover it up with a shovel.
The shovel is not the best option for those that are discrete or shy about doing their business. Using the bathroom this way seems daunting, even if there is no one around for miles.
Pros
Cheap

No toilet bowl to clean out

No holding tank to empty

The world is your toilet
Cons
Not for the shy individual
---
Bucket Toilet
If you are not privy to using the bathroom on a stump or log, then try a bucket.
The Stansport Bucket-Style Portable Toilet has a closing toilet seat that fits on top of a bucket. Attach a disposal bag to the bucket part of the toilet. Then place the seat on top of the bag.
You can tie up the bag after using the toilet and save it for a time you can dispose of it entirely.
Pros
No need to deal with black tanks
Cons
Does not hold back smells

Wasteful because it uses bags
---
Portable Urinal
The Portable Unisex Urinal is the best option for those that like to go on long hikes.
This toilet option is for men and women. Sometimes the pee stream gets caught in the wind and makes a mess of things, but this urinal can help prevent that.
Pros
Saves space

Perfect for long adventures on windy days
Cons
Can't use for solid waste
---
Portable Travel Toilet
The Giantex Portable Travel Toilet is similar to the trash can toilet.
You can leave the toilet portable or fix it in your camper van. There are no black holding tanks or water compartments.
Fix a trash bag to the inside of the toilet compartment for easy cleanup.
Pros
Versatile, you can make it portable or permanent

Get rid of the waste easily
Cons
Wasteful because it uses disposable bags
---
Foldable Toilets
Foldable toilets are the ultimate item for individuals who want to save the most space in their camper van. Fold up the toilet and store it away for later use.
Most foldable toilets require trash bags, which is a downside.
Folding toilet
TRIPTIPS Portable Toilet completely folds down for easy storage. When you fold the toilet out, all you need to do is place a trash bag into the toilet and go.
Pros
Completely compact

Extremely portable
Cons
Wasteful, because it uses disposable bags

Not sturdy

Doesn't hold back smells
Foldable Square Toilet
The Farafox Portable Folding Toilet is a sturdy yet foldable compact toilet you can place anywhere inside your camper van.
This toilet resembles a bin and acts as a toilet. Place your trash bag into the bottom of the toilet when you are ready to use it.
Pros
Sturdy option for foldable toilets

Compact

Easy to store

Easy to set up
Cons
Needs a trash bag

Doesn't seal out the scent
What Is the Best Toilet for Campers?
The best toilet for campers is the chemical toilet because it offers a range of positive qualities:
Compact

Easy to clean

Seals in nasty odors

Offer the biggest bang for your buck

You can use them in both big and small vans
What Is the Smallest Campervan Toilet?
The smallest camper van toilets are the foldable options. These camper van toilets fold down smaller than any other toilet. If you want to save space in your camper van, try the foldable toilet.