We're an affiliate
We hope you love the products we recommend! Just so you know, we may collect a share of sales or other compensation from the links on this page. Thank you if you use our links, we really appreciate it!
So you're finally to the point in your camper van build where you get to choose your flooring material. Congrats! It was probably a long and difficult road to get to this point. Trust us, we understand.
Nadia was a commercial interior designer for 7 years, so she knows the pros and cons of flooring types by heart. For everyone else, we've got all the run down. There's lots of flooring options to choose from. Properties to consider include:
Durability : How will the flooring perform under the vigors of van life? How will it react to moisture?
Weight and Height : We're always trying to keep down the weight in all our van build decisions. How much height are you willing to give up?
How it feels under foot : Is it warm / cool to the touch? Are you looking for some cushion? Does it offer some slip resistance?
Cost : There are great inexpensive yet durable options out there! No need to break the bank.
Appearance : What's your style? Rustic? Modern? Warm or cool color tones?
First and foremost, we recommend checking your local community marketplace (ala Craigslist or Facebook Marketplace) for flooring options. The square footage of material needed for a van floor isn't all that much, and may just match up with the overage from someone's home project! This is a great opportunity to divert waste from the landfill, and probably save some money too.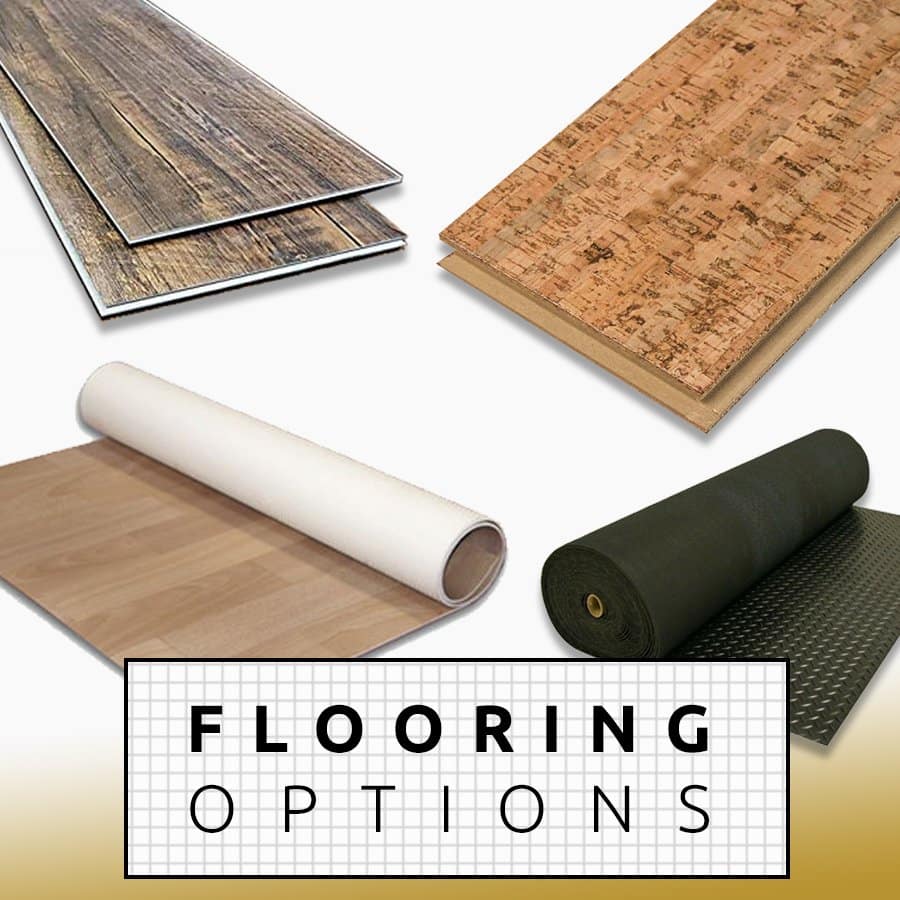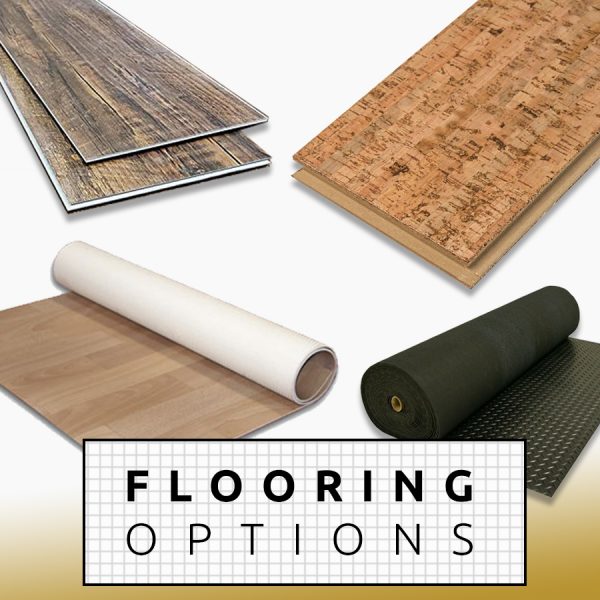 Our Van Floor Pick: Cork!

1. Cork Flooring  |  View at Home Depot →
We love the look and feel of cork flooring! Cork can be a soft material, but as flooring its solid and durable. And of all the options its the most sustainable and environmentally friendly. It also serves as thermal and sound insulation with an R-value per inch of 3, about double vinyl's R-value.
Cork is definitely more expensive per square foot than vinyl. But given limited area in a van, it might not be much higher in total cost.
Cork can be purchased as sheets that you glue down or thicker tongue and groove style planks that snap together and float over your subfloor. Installation is a bit more involved that vinyl because the cork needs to be sealed. We would have installed cork if we didn't already have left over luxury vinyl plank from our house.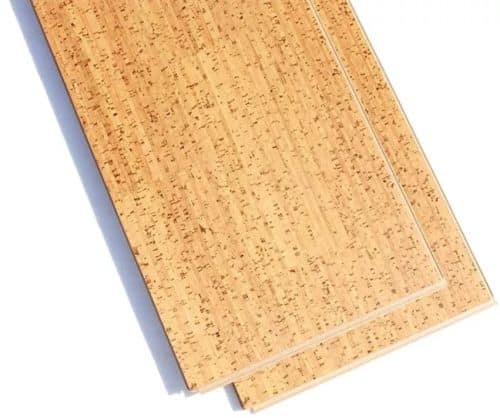 Highly sustainable product, as cork is a rapidly renewable material

Non-toxic and low environmental impact

Provides padding for a soft feel. Cork is often used as a backing for LVP

Sound deadening, insulating, fire-resistant, water-resistant, anti-microbial (resistant to mold and bugs)
Quite more expensive than other flooring options

Maintenance : May need to be resealed every couple of years

More time to install compared to vinyl
SPECIAL GARAGE FLOOR SHOUT OUT
BalanceFoam Interlocking Foam Tiles
We used foam flooring in the garage storage area of our van. Looks aren't as important there so it's all about functionality and cost. It was easy to install, cheap, and lightweight. It's pretty easy to wipe or vacuum. If we had rugged sharp gear it might be prone to tearing, but it's just fine for our bouldering mats.
 Types of Flooring for Camper Van Conversion

Floorings are ordered best to worst by their suitability for van life (in our opinion)
These Pros and Cons are intended to help you get a general understanding of each flooring type listed. There are always deviations depending on the product you're choosing. Each manufacturer has their own technologies and quality controls. It's wise to see the product in person and get a feel for it prior to purchasing. (If you want to support Van Converts, order any product online after clicking to Home Depot and we receive a commission at no additional cost to you).
2. Luxury Vinyl Plank (LVP)  |  View at Home Depot →
We had leftover LVP product from our home. We knew from having this product in our whole home (including the bathrooms) that it was a durable choice. And it has not let us down in the van! Still looks great, and is easy to clean.
Here's our step by step installation of our LVP flooring.
Also called LVT (Luxury Vinyl Tile), this flooring type is all the rage right now for home projects due to its variety of wood look visuals, and fantastic performance. Click-lock options feature a tongue and groove style installation. This is ideal because they can be installed without adhesive, called a floating installation. They also keep moisture from seeping under the floor due to the tongue and groove seam. Some manufacturers will even claim their floor is suitable for bathrooms. And we lived with it in our bathrooms with no problems. It's definitely water resistant enough for van life.
Standard LVP is floating and installs with a pretty simple click lock system. Besides floating, there are also peel and stick and glue down versions of LVP. We see no reason these are preferable to floating installation.  They aren't much easier to install, and they are a lot harder to uninstall.
When shopping you will want to check the "wear layer" which is the protective top layer on the material. The thicker the wear layer, the more durable (and more expensive) the LVP is.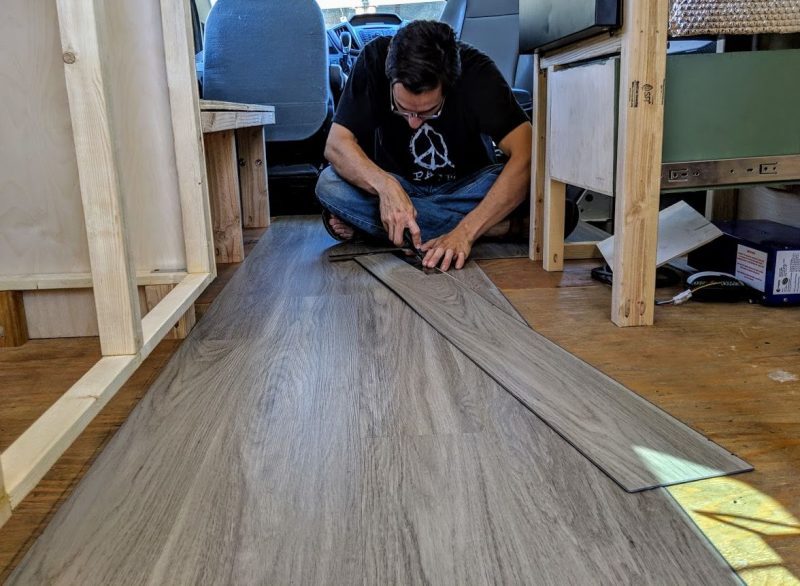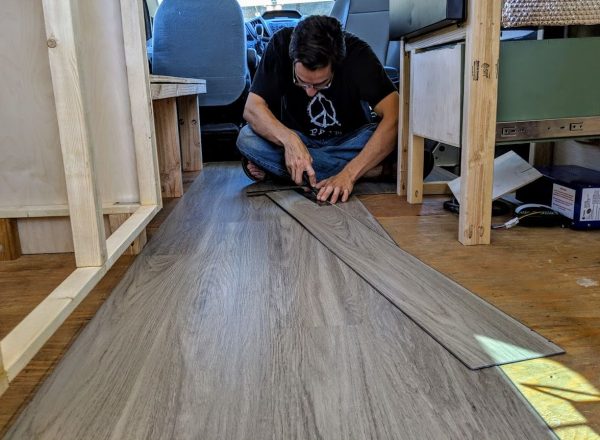 Kevin meditating on our LVP
Most LVT / LVP has a texture, which adds slip resistance.

Looks better (more realistic) than Sheet Vinyl Flooring

Straight forward installation, though difficulty varies by product

Easy to clean, and water resistant to spills

Our LVP was very thin (1/16"). Some are slightly thicker due to comfy backing

Possible to replace a damaged plank, or replace the entire floor

Some products have cork backing, which add a slight cushion and some thermal break
Made with pre-consumer (not recycled) materials, so it's not the most environmental option

Not the cheapest option, but still pretty cheap you must weigh that against the durability and overall lifespan.
3. Sheet Vinyl  |  View at Home Depot →
Sheet Vinyl, as is evident in the name, comes in rolls of continuous vinyl, which you must trim to size and glue to the floor.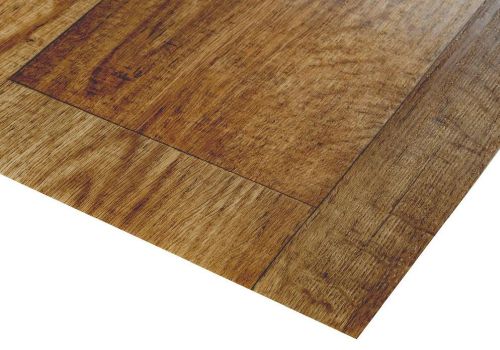 Since there are no seams, the surface is entirely waterproof

Durable, although softer than Luxury Vinyl Plank
Difficult to repair in an attractive manner

Requires adhesive for adhering

Use an adhesive with low VOC to avoid toxic indoor air quality

If you like a wood look, it doesn't look or feel as realistic as LVT planks.
4. Rubber Flooring  |  View at Home Depot →
We used light-weight foam "gym mat" flooring for our garage area. We felt that was better than rubber due to the weight.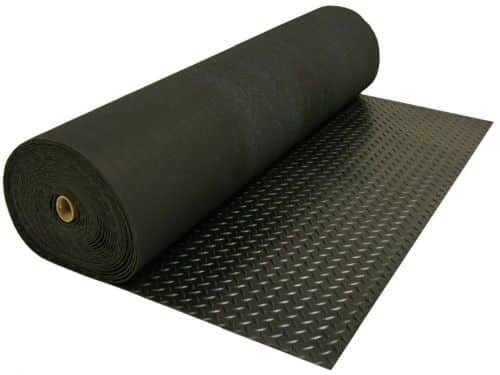 Sustainable (if recycled)

Offers thermal and sound deadening properties

A popular option for the "garage" portions of van builds
Doesn't offer a warm visual feel, if that's something you're after

Requires adhesive for installation
Non Toxic, water-resistant, stain resistant, fire retardant, antimicrobial, hypoallergenic and anti-static

Comes in a floating install and glue down types

Made from naturally renewable materials
Scratches and dents easily, generally not as durable as vinyl flooring

May discolor over time with sun exposure. Some options come with coatings to mitigate this

Susceptible to moisture, not recommended for wet or humid areas

Requires adhesives for Installation
Lots of visuals to choose from
Generally not the most moisture resistant. Can swell from moisture, and grow mold. However, it looks as though there are some developments in waterproof options, they'll just cost you more.

More time to install than vinyl
Will undoubtedly be a showstopper!

Warm to the touch. Nothing like real wood.
May not look beautiful for long! Van Life can be hard on a floor. Hardwood may not be the most practical option, unless you are okay with the visible wear that may result from a life on the road

Tends to absorb moisture, which can cause bowing and warping

Typically more expensive than all other options

Adds considerably more height than a vinyl product, as well as more WEIGHT!
Sidenote: One creative flooring option we've seen is the use of recycled pallet wood. It's a free resource if you know what alleys to scour, and means you've embraced a more rustic look anyhow. Just be sure to choose pallets that are stamped with "HT" for heat treated. This goes for all pallet projects, and will help you avoid pallets that have been treated with not so nice chemicals. Just understand that this route will be a lot of work, both in collecting, breaking down, and finishing the boards!
Carpet

Carpet is not an option that we would choose, simply because it can collect lots of dirt and debris, a staple of van life. If you're planning to cook in your van, it also seems like a bad combination. However… to each their own!  That said, we do love having a rug to cushion our feet, and add some warmth under our shoeless feet (our van is a shoe free household!). Having a small rug that we can shake out and clean has been great.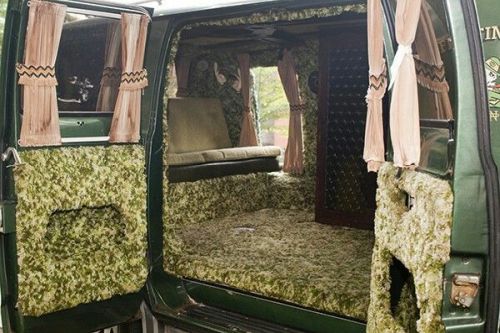 We sincerely hope this information is helpful on your build journey!
This post contains affiliate links that may earn us a commission if a product is purchased. But, we always strive for the reuse and repurpose of materials – so we encourage searching for a local used option before buying from our links.