We're an affiliate
We hope you love the products we recommend! Just so you know, we may collect a share of sales or other compensation from the links on this page. Thank you if you use our links, we really appreciate it!
Living in a van is an increasingly popular lifestyle choice for adventure seekers, minimalists, and digital nomads.
The appeal of being able to travel the continent and experience new places without being tied down to one place is undeniable. But winter brings serious challenges.
Have the right gear and essentials to ensure you are safe and comfortable while living in a van during the winter.
In this ultimate guide, we'll cover all of the essentials for surviving and thriving during van life in winter, from a heater and thermal cup to a shovel and vehicle recovery board.
Winter Van Life Essentials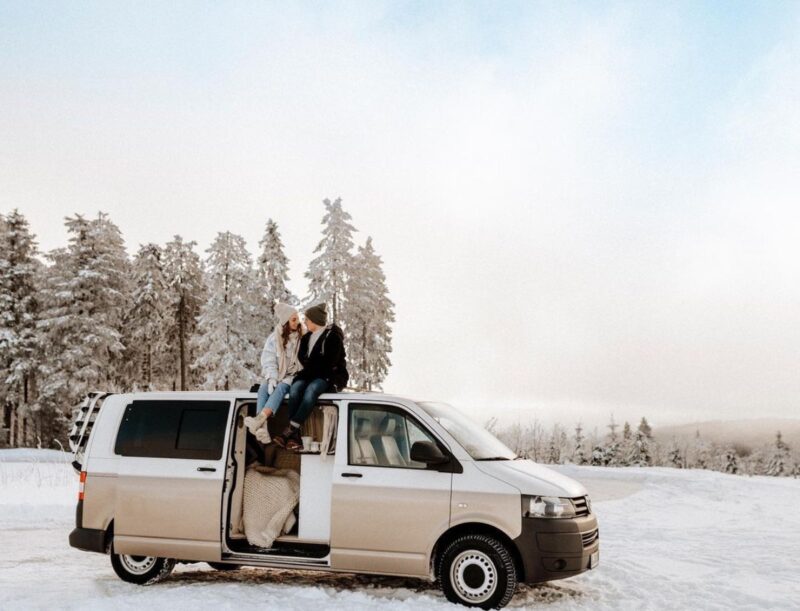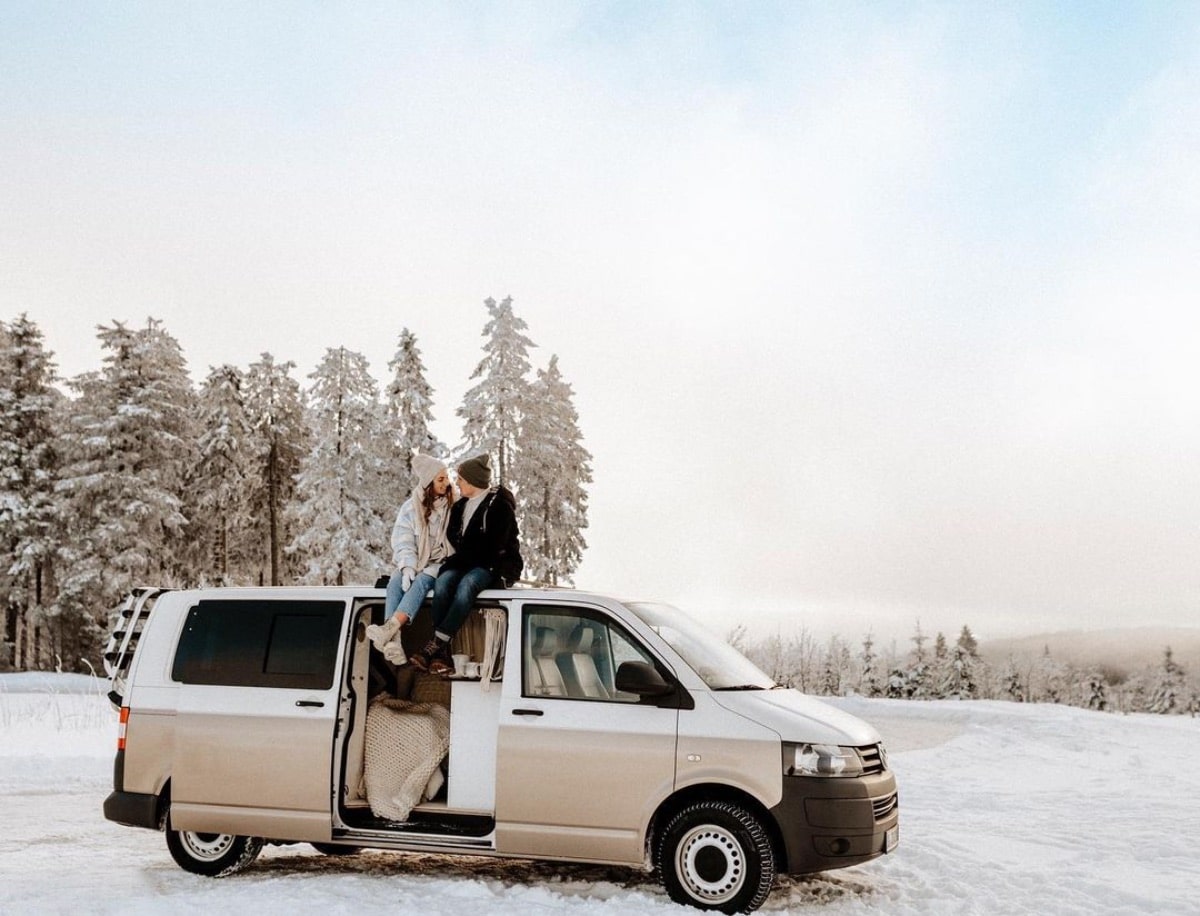 With temperatures ranging from frigid cold to deep snow, having the right gear can mean the difference between a successful trip of exploration—or being stuck inside for days at a time!
To help you out, here are the top must-haves for your winter van life experience so you can make sure your next journey is cozy and warm—all season long.
Clothes
Winter life in a van can be difficult; the cold, darkness, and blustering winds can take their toll. Suitable heat-retaining clothing should be an integral part of any adventurer's supplies. Some warmest clothing materials you can wear include wool, cotton, fleece, polyester, and silk.
Truth be told, there is a correct way of layering clothes for the winter.
Wool
Wool is an all-natural material that's lightweight and resilient; it naturally holds more air with fibers that are crimped and form intricate pockets. This crimping helps create loft, which traps heat, keeping you warm even when temperatures outside drop way down.
For optimal warmth during the winter, try to layer wool garments such as sweaters and cardigans beneath a coat or jacket to keep your core insulated. Choose pieces with weights suited for different weather conditions, such as heavier knit sweaters for the coldest temperatures.
Cotton
Cotton traps body heat and, unlike synthetic fibers, allows air to reach your skin and regulate body temperature more effectively. Try putting thinner layers of cotton underneath coats or sweaters and wear thicker layers on top.
If pairing with other fabrics put the cotton close to the skin. For example, wear a wool sweater over a cotton t-shirt to keep retained body heat close to you.
Fleece
Fleece insulates body heat and retains it from escaping by forming microscopic pockets of air.
Fleece is also breathable and lightweight, which gives you mobility. Layer a thermal shirt and jacket over a fleece shirt with zippered pockets to keep necessities like keys secure.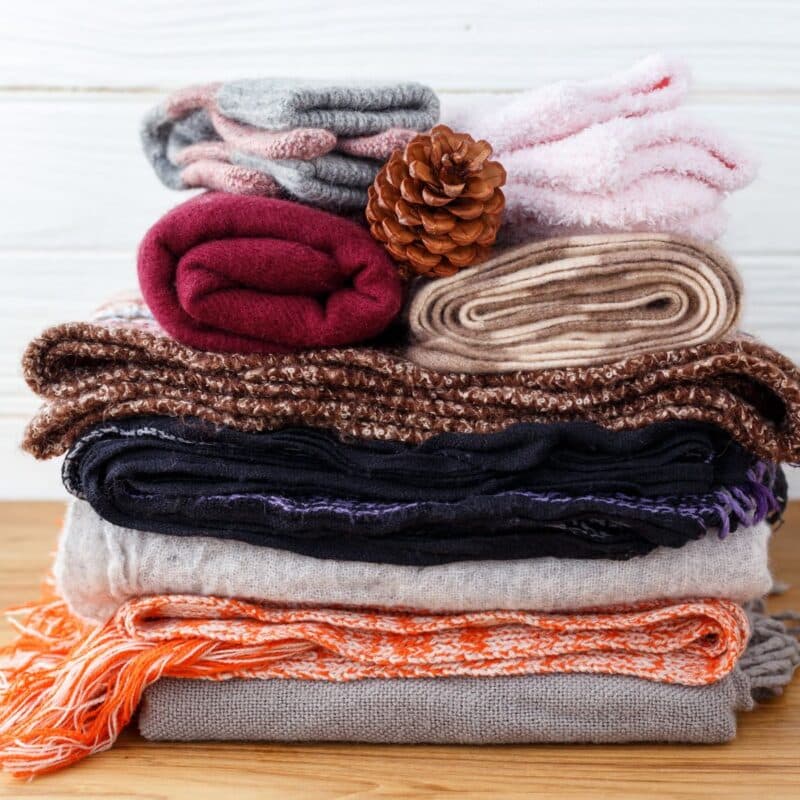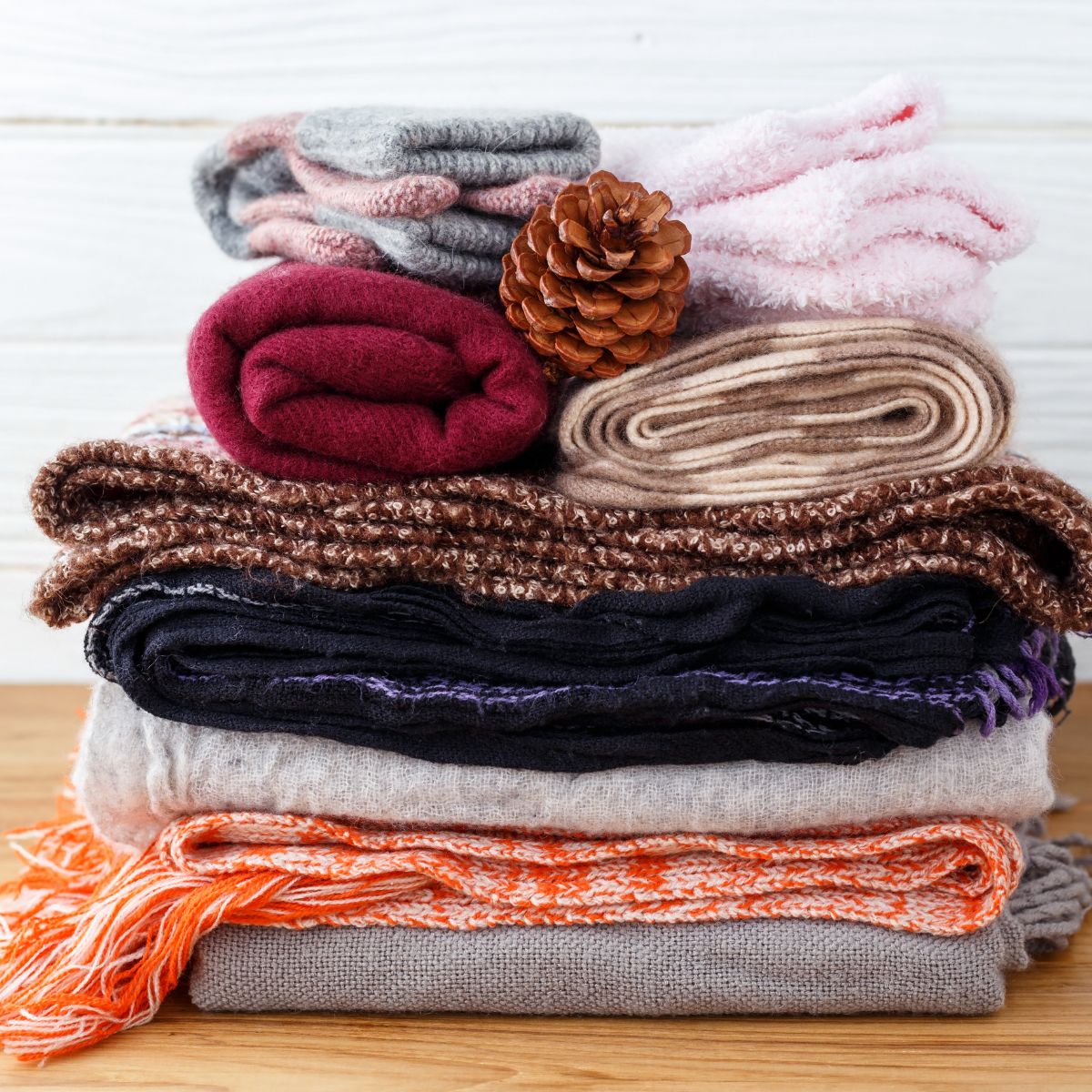 Polyester
Polyester works by trapping air close to the body, where a layer of warm air is insulated against the cold outside.
Wearing polyester base layers next to your skin underneath thicker material such as wool creates an extra barrier between you and the cold winter air, helping keep you warmer than either would alone.
Silk
Silk can be used as an inner layer, trapping heat close to your body while eliminating bulkiness and the uncomfortable grainy feeling of other fabrics such as wool. This inner layer can also be worn next to the skin for extra warmth and comfort.
For added insulation, you can pile your favorite winter pieces like chunky sweaters and scarves over your silk layer.
Snow Boots and Shoe Rack
Snow boots are necessary to keep your feet and interior warm and dry while you brave harsh weather conditions.
Depending on where you're going, snow boots may be required to stay safe inside and outside your van. A shoe rack is also critical to ensure that you don't bring the cold and wet weather indoors.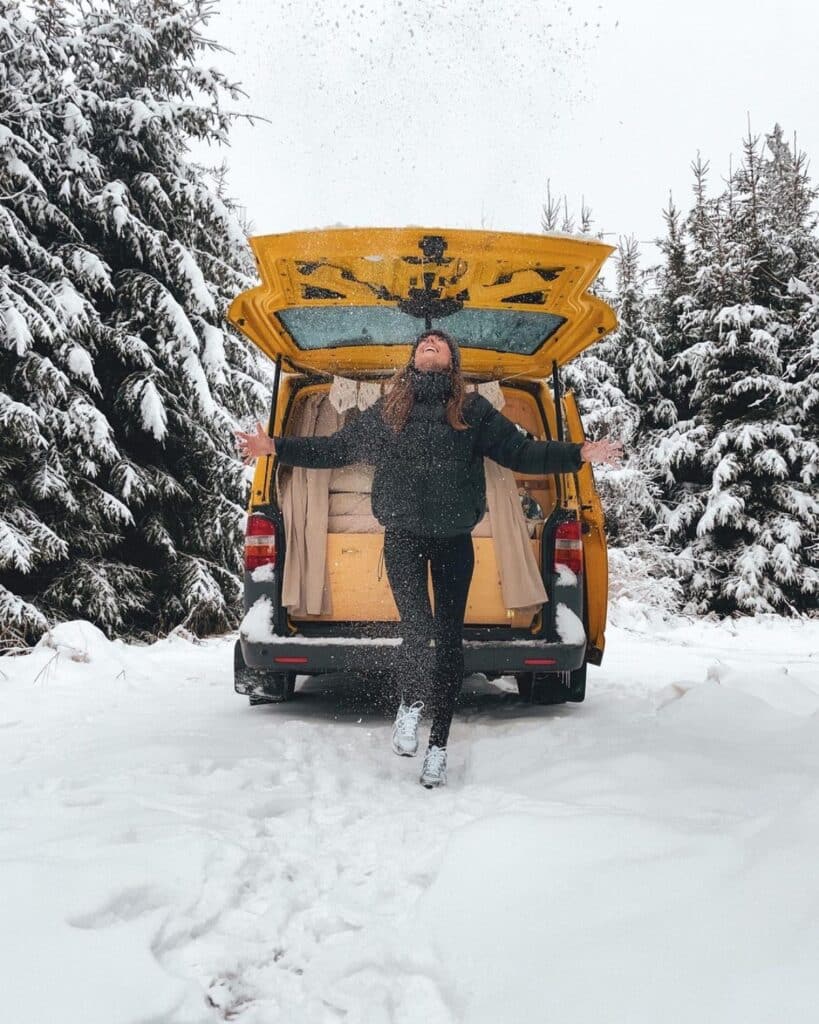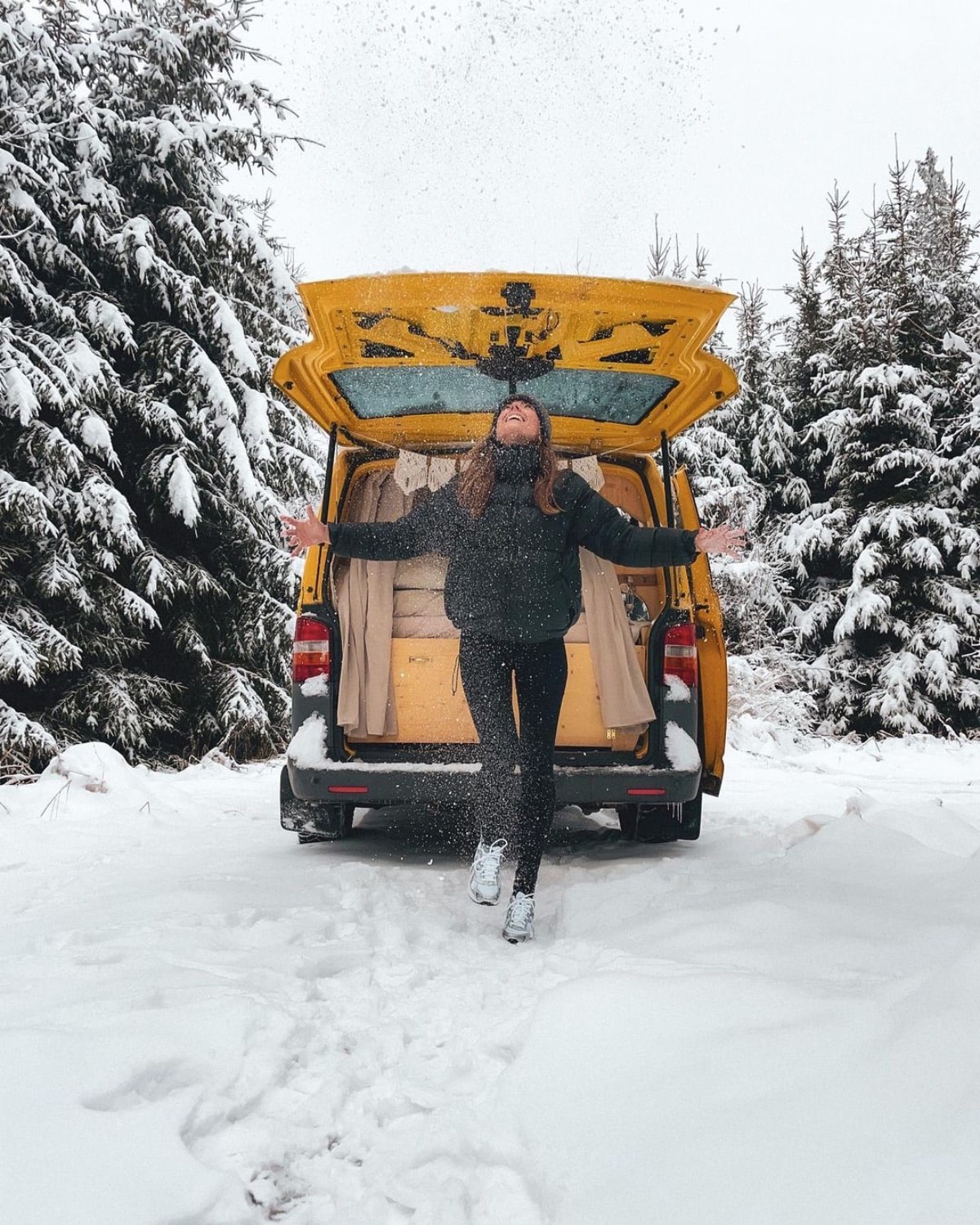 Heated Seat Covers
Heated seat covers for your car or van make all the difference in staying comfortable and stress-free during those weary winter periods. Warmth is essential to maintain healthy circulation levels and avoid bodily aches from low temperatures over extended periods.
They are easy to set up and plug into your vehicle's power source so you don't have to worry about battery life.
Vehicle Recovery Tracks
Vehicle Recovery Tracks are an invaluable piece of equipment when living the van life, especially during the winter months. When placed under your tires, these tracks help you bridge a gap or traverse terrain that may be impossible with your wheels alone.
Vehicle recovery tracks can provide essential grip. This means you won't be stuck in snow or ice because many all-season tires become more rigid and lose traction in cold temperatures.
Heater and Thermal Cup
A heater, such as a small, portable propane or electric model, will quickly and effectively warm up an area of your van. A heater allows you to be comfortable in your living space while protecting you from potentially dangerous conditions like frozen water pipes.
Thermal mugs keep water and other drinks at hot temperatures for long periods to keep you warm.
Ice Scraper and Shovel
While a reliable heater and winter gear are paramount to sustaining comfort and safety when temperatures plunge, an ice scraper and shovel can be just as important.
An ice scraper helps prevent ice from accumulating along windows or other areas where visibility is critical.
A shovel lets you quickly clear away any fallen snow that may have accumulated near your vehicle. Additionally, having a good set of wiper blades helps aid visibility at all times of the year.
Zero Degree Sleeping Bag or Electric Blanket
Zero-degree sleeping bags provide maximum warmth for winter camping. These sleeping bags are resilient in cold temperatures; good models keep you cozy when temperatures are near 0°F.
Electric blankets, on the other hand, offer reliable heat with almost zero preparation. These blankets work better than sleeping bags when the temperature is below zero and snow is present.
Hand and Feet Warmers
Sometimes the cold is too much, and you need to warm up quickly. One of the fastest ways to do this is to stick some foot warmers in your shoes and hold onto some hand warmers.
Hand and feet warmers can be used as heat reservoirs to spread warmth throughout areas of your camping vehicle more efficiently. For instance, you could increase warmth by placing one in your sleeping bag.
Winter Tires or Snow Tires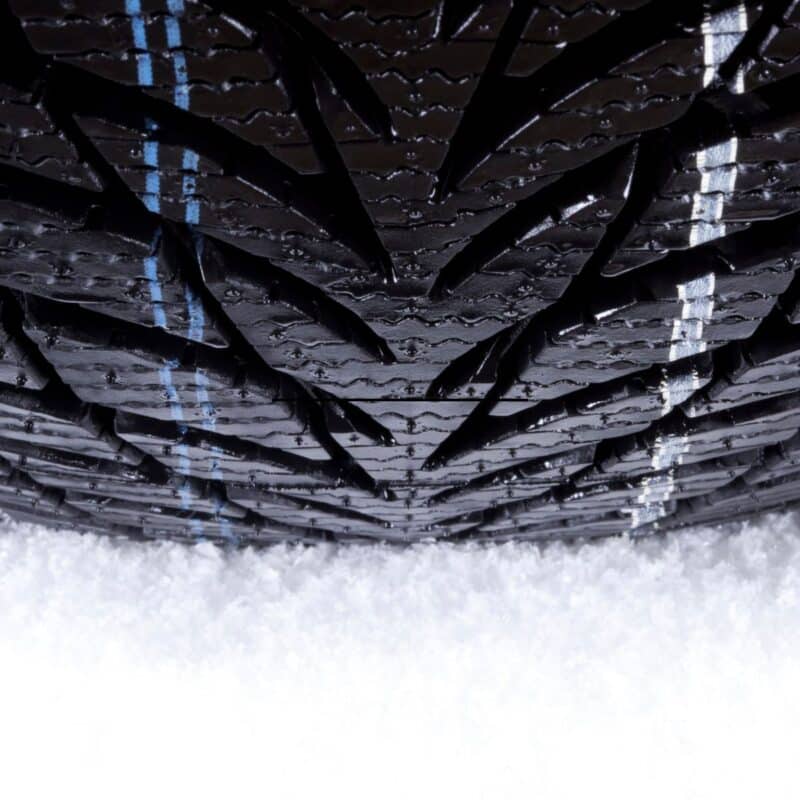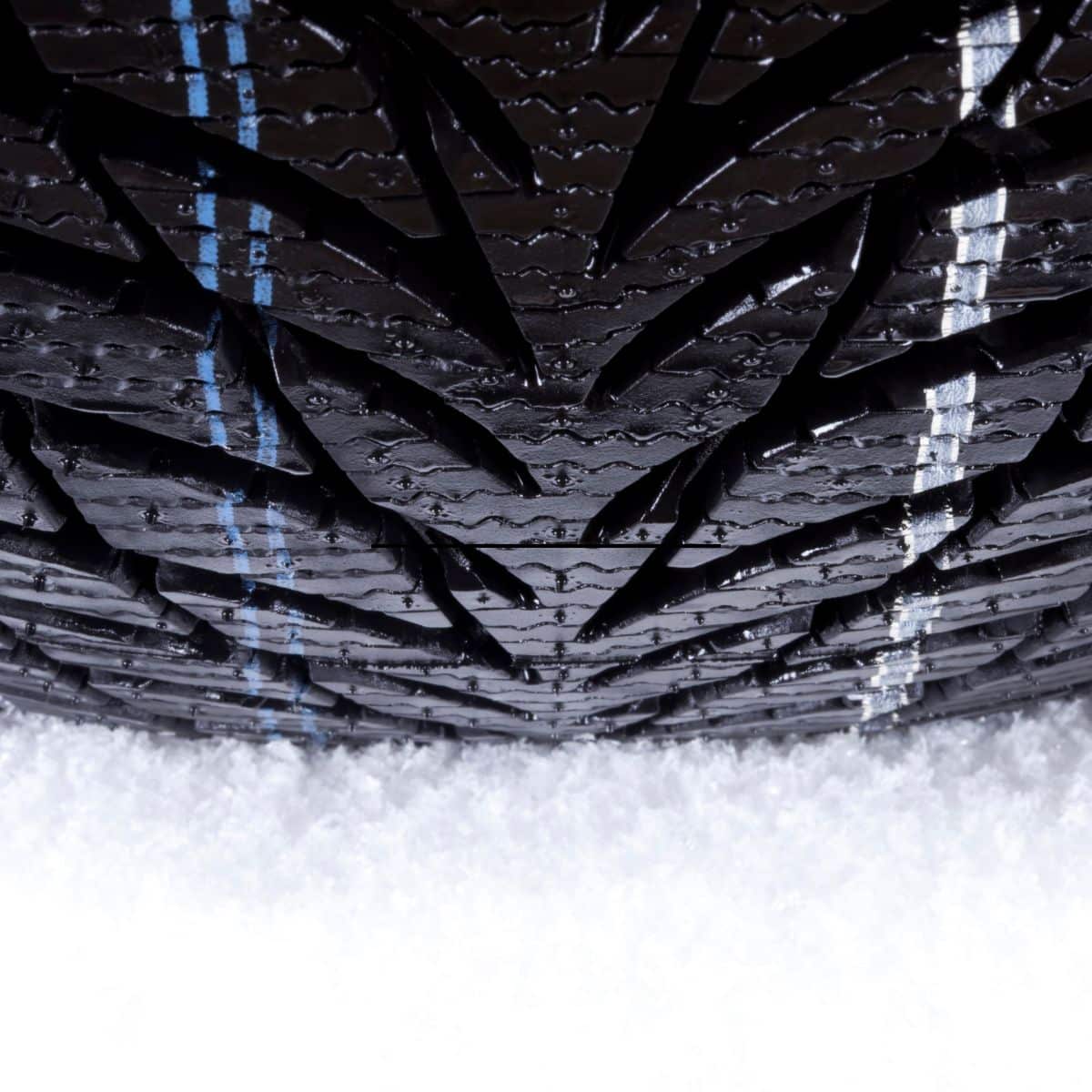 Winter tires/snow tires are essential factors to consider when living in a van during the winter months. Without them, the risk of driving in hazardous conditions increases dramatically and it can be dangerous for both yourself and those around you.
Winter tires provide better traction on icy surfaces and improved braking performance, helping to keep you and your van safe even in the worst winter conditions.
They also reduce mileage impact from salt and snow build-up, meaning that your van will last much longer without requiring additional maintenance costs due to harsh weather conditions.
Portable Car Battery Jumper
Having a Portable Battery Jumper when you're living in a van during the winter months is necessary, and can be the difference between getting stuck in freezing temperatures or continuing with relative ease.
Not only will it help keep you warm when temperatures drop dramatically and your battery runs low, but it will also jump-start your car if it won't turn over due to dying batteries associated with cold weather.
The newer models are lightweight and easy to store – so keeping one with you throughout your van-life adventure is not only convenient but highly recommended!
Extra Tips
As with any extended journey or lifestyle, there are certain tips and tricks to help make it work during cold weather months.
Depending on your type of vehicle, you may want to invest in storm windows or extra insulation to help maintain interior temperatures and protect against the elements.
It's also important to know the locations of nearby resources like clothing donation centers in case you need coats and warm clothes that are suited for lower temperatures. Additionally, having a winter first aid kit with any essentials you may need will come in handy.
Van Life Winter Destinations
If you're looking for the perfect winter destination to fulfill your #vanlife dreams, look no further!
Here are some of the best winter destinations for van life:
Idaho – Silver Mountain Resort

Montana – Whitefish Mountain Resort

Montana – Glacier National Park

Colorado – Wolf Creek Ski Area

Washington – Crystal Mountain Resort

Washington – Silver Lake

Oregon – Mount Bachelor

Utah – Arches National Park
Summary
With the right preparation and setup, you can have an incredibly cozy mobile home that allows you to get away from it all while enjoying beautiful landscapes unseen by most people.
To do this, you need the right gear and essentials. Investing in good quality items can help ensure a safe and comfortable journey, such as wrapping up warm with thermals, insulated jackets, and protective layers, and keeping a heater and hand warmer on deck.
Additionally, don't forget safety gear for your van like a portable car battery jumper, vehicle recovery tracks, and a good old-fashioned ice scraper and shovel. If equipped with these essential items, along with any other special gear that fits your lifestyle – living in a van during winter will make for an amazing experience full of lasting memories.