We're an affiliate
We hope you love the products we recommend! Just so you know, we may collect a share of sales or other compensation from the links on this page. Thank you if you use our links, we really appreciate it!
Before you head out to enjoy a more nomadic lifestyle, it's crucial to pack all the van life essentials you need to make the journey safe and comfortable.
We've rounded up 57 van life luxury items and must-have gear you shouldn't leave home without.
Kitchen
Unless you're planning to take your van through a fast food drive-thru for every meal, you'll need to kit out your kitchen to maximize the cooking space.
1. Cooktop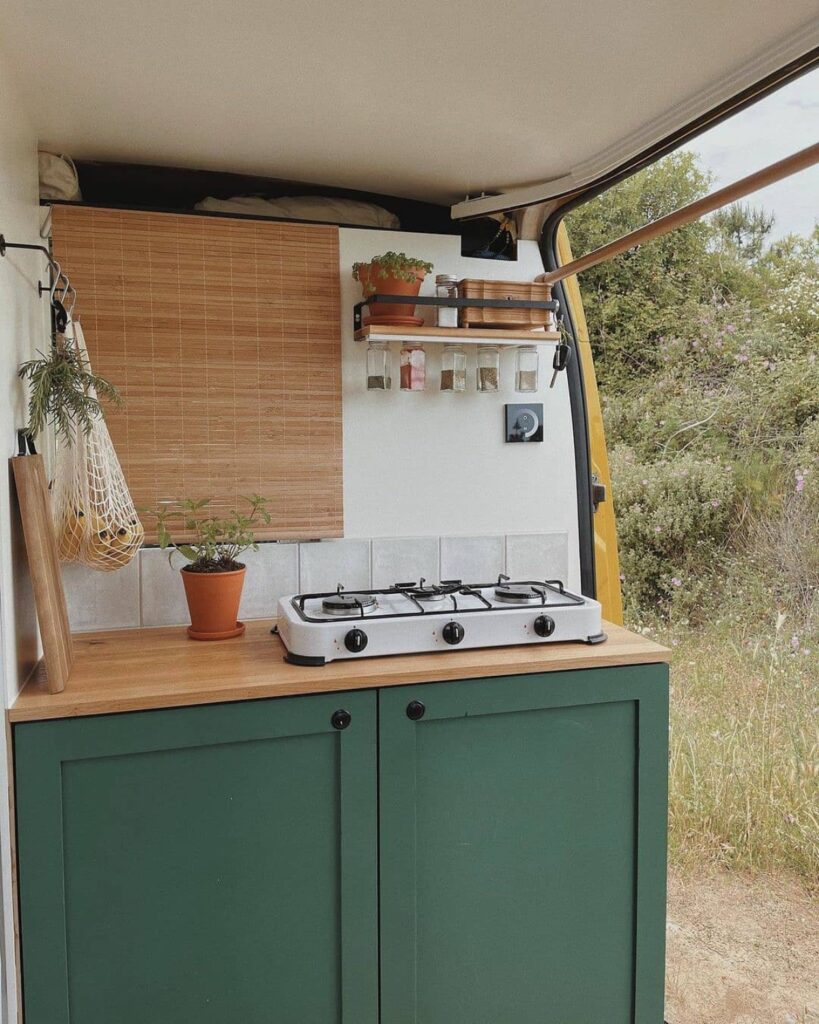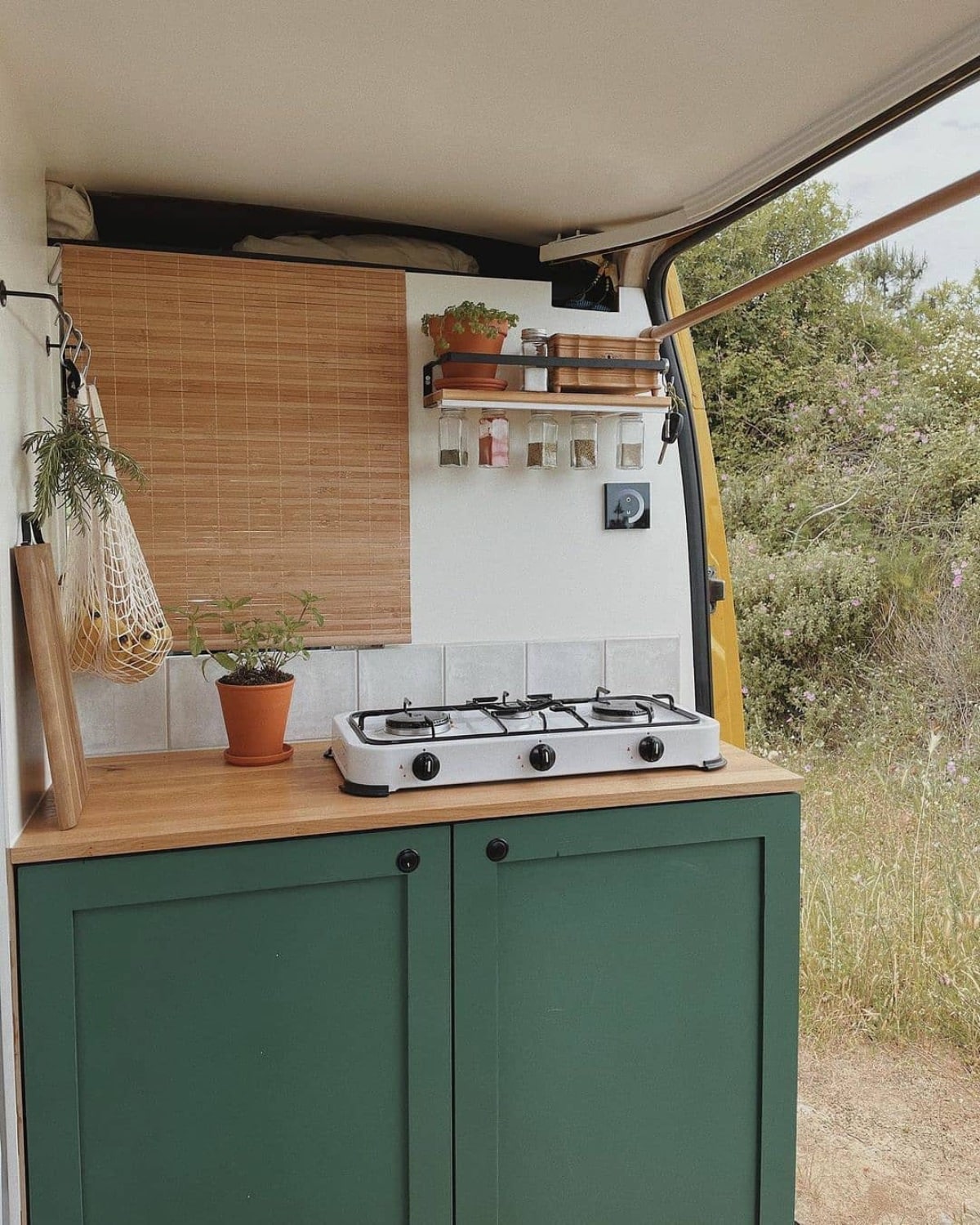 [Image: BeanieVan]
Most vans don't have enough room for an oven and microwave, so you'll depend on a low-profile cooktop for cooking.
2. Magnetic Knife Holder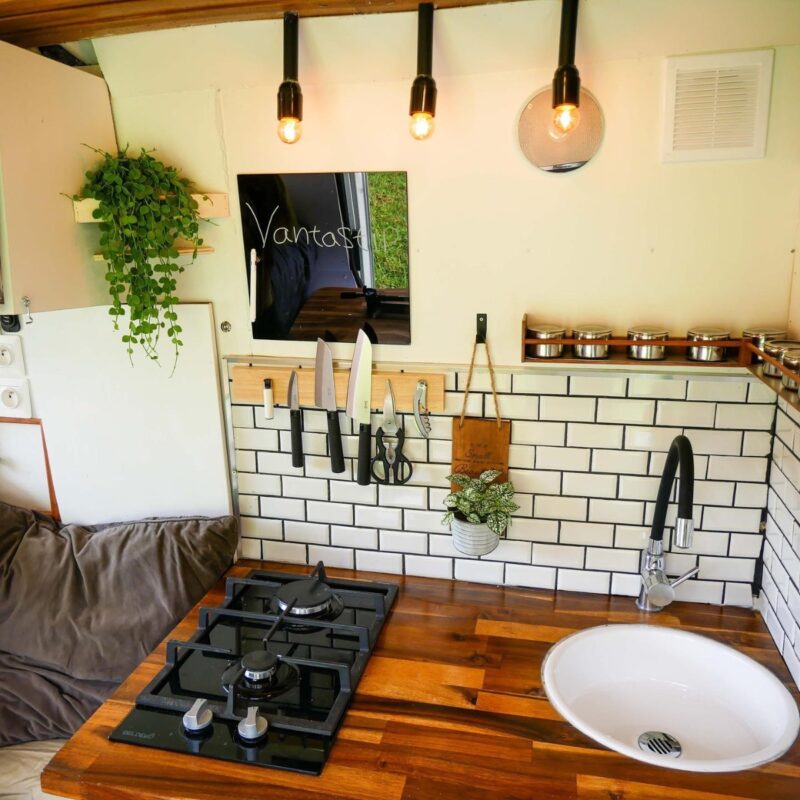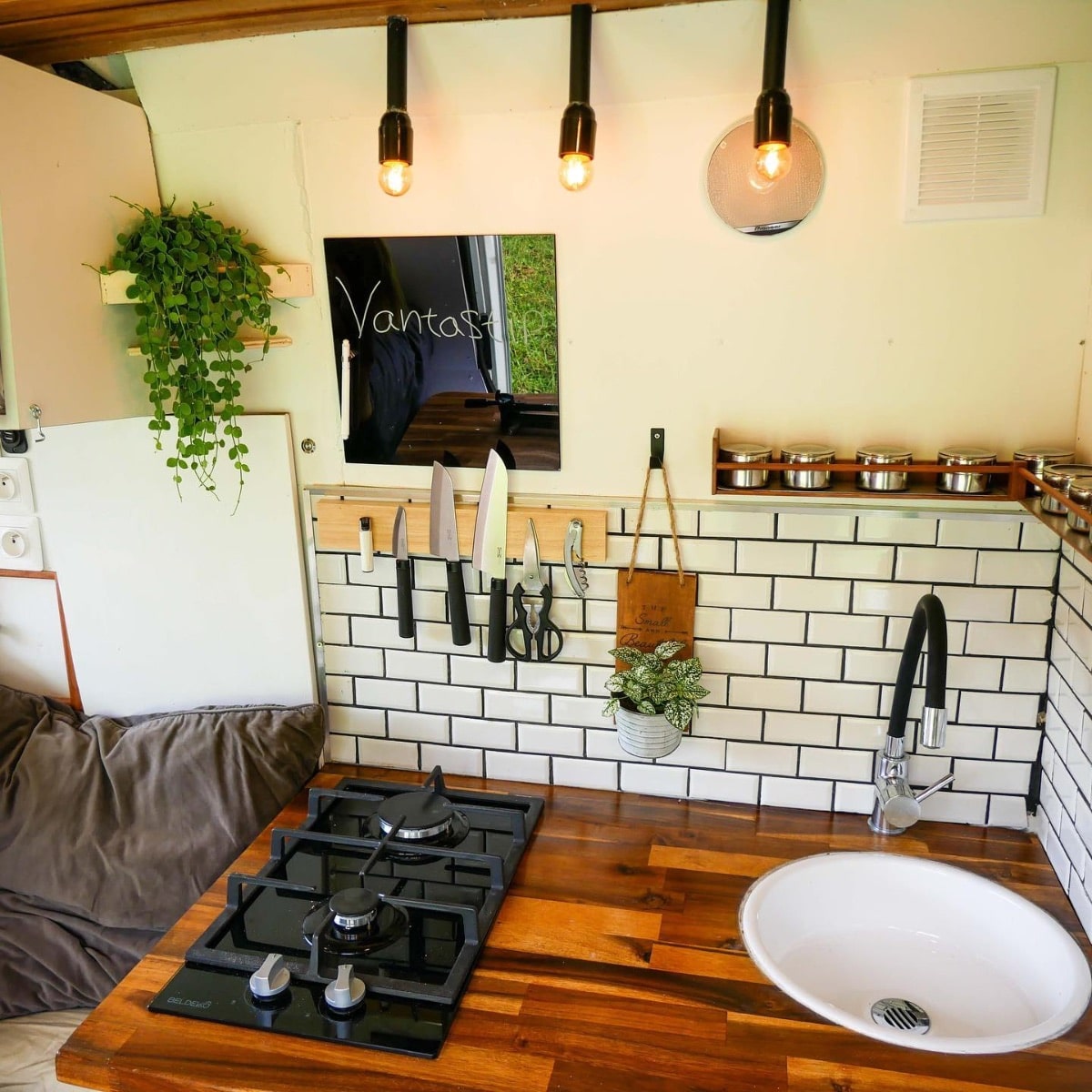 [Image: Vantastip]
Drawer space is limited, so a magnetic, wall-mounted knife holder keeps your sharp tools safely tucked away.
3. Dining Set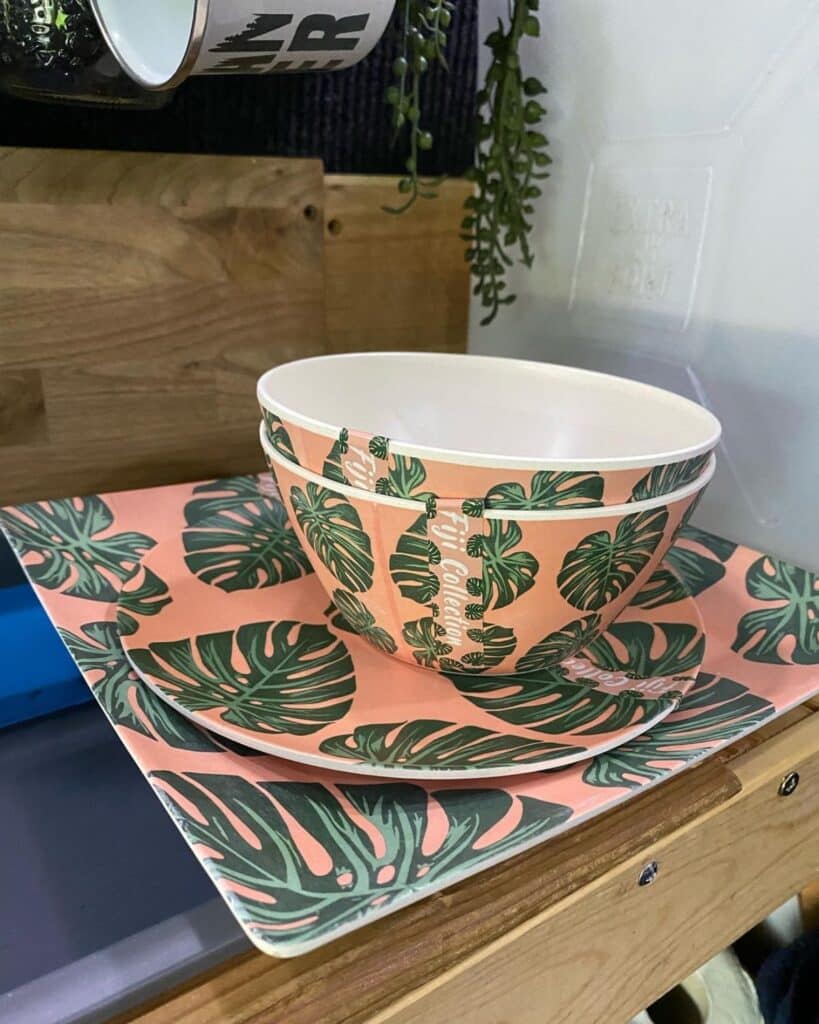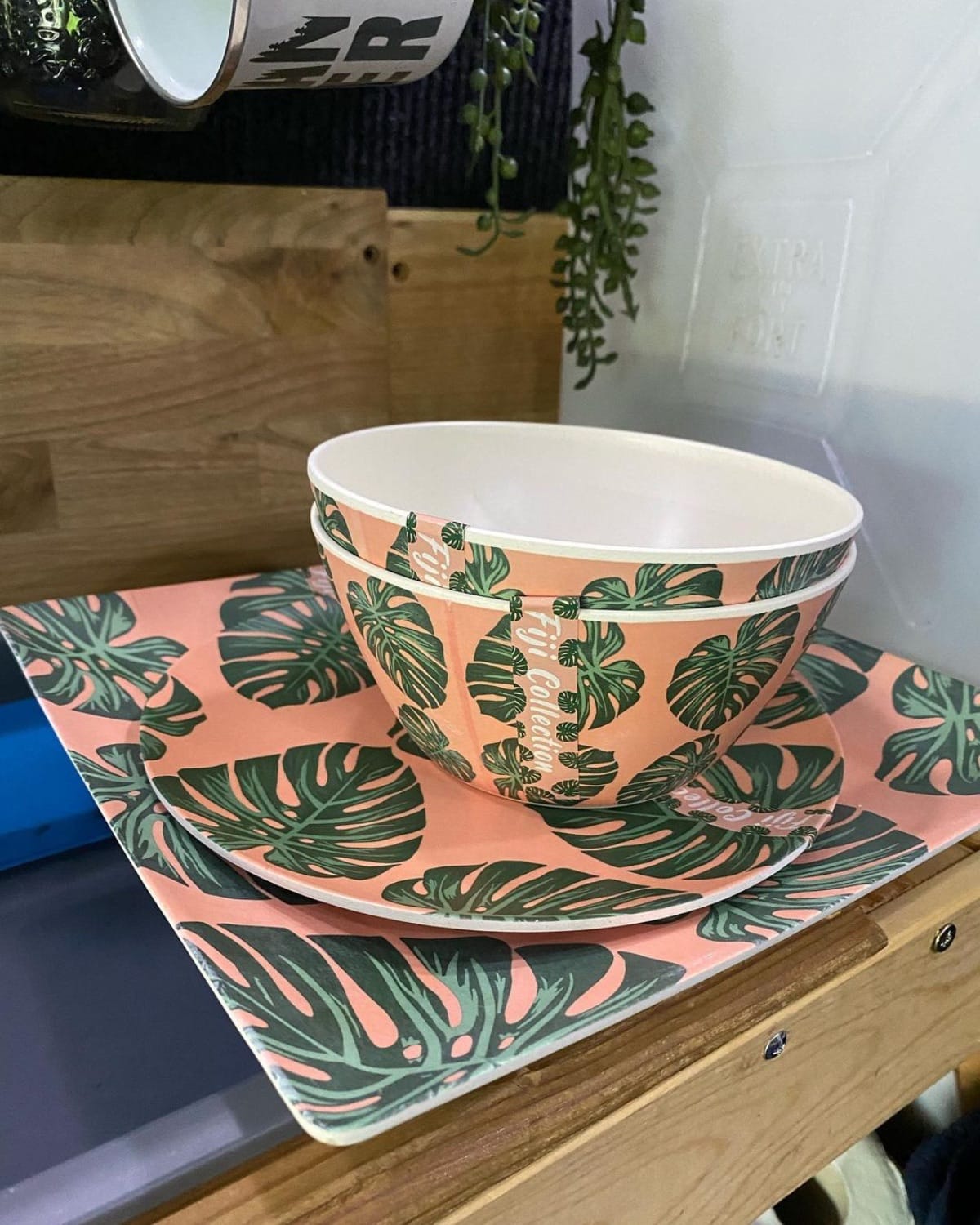 [Image: ReggieTheCamperVan]
Disposable plates and cutlery might seem like your best bet for handling dishes, but they take a toll on the environment. Invest in a matching dining set.
4. Collapsible Draining Board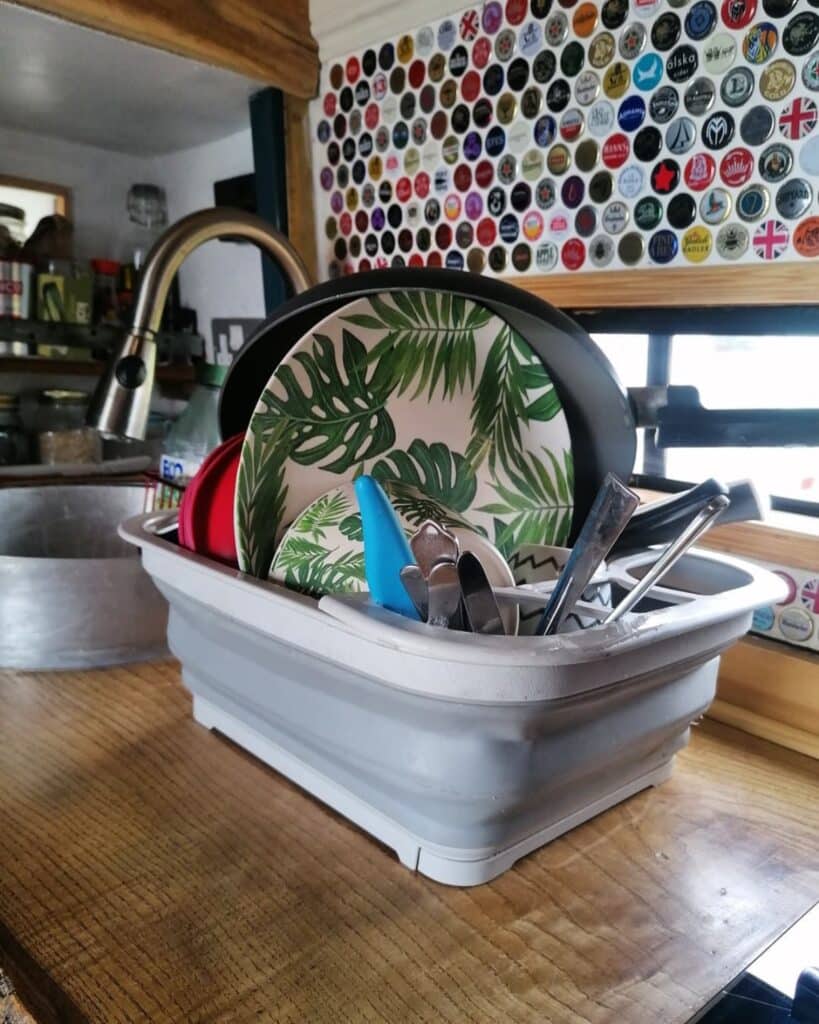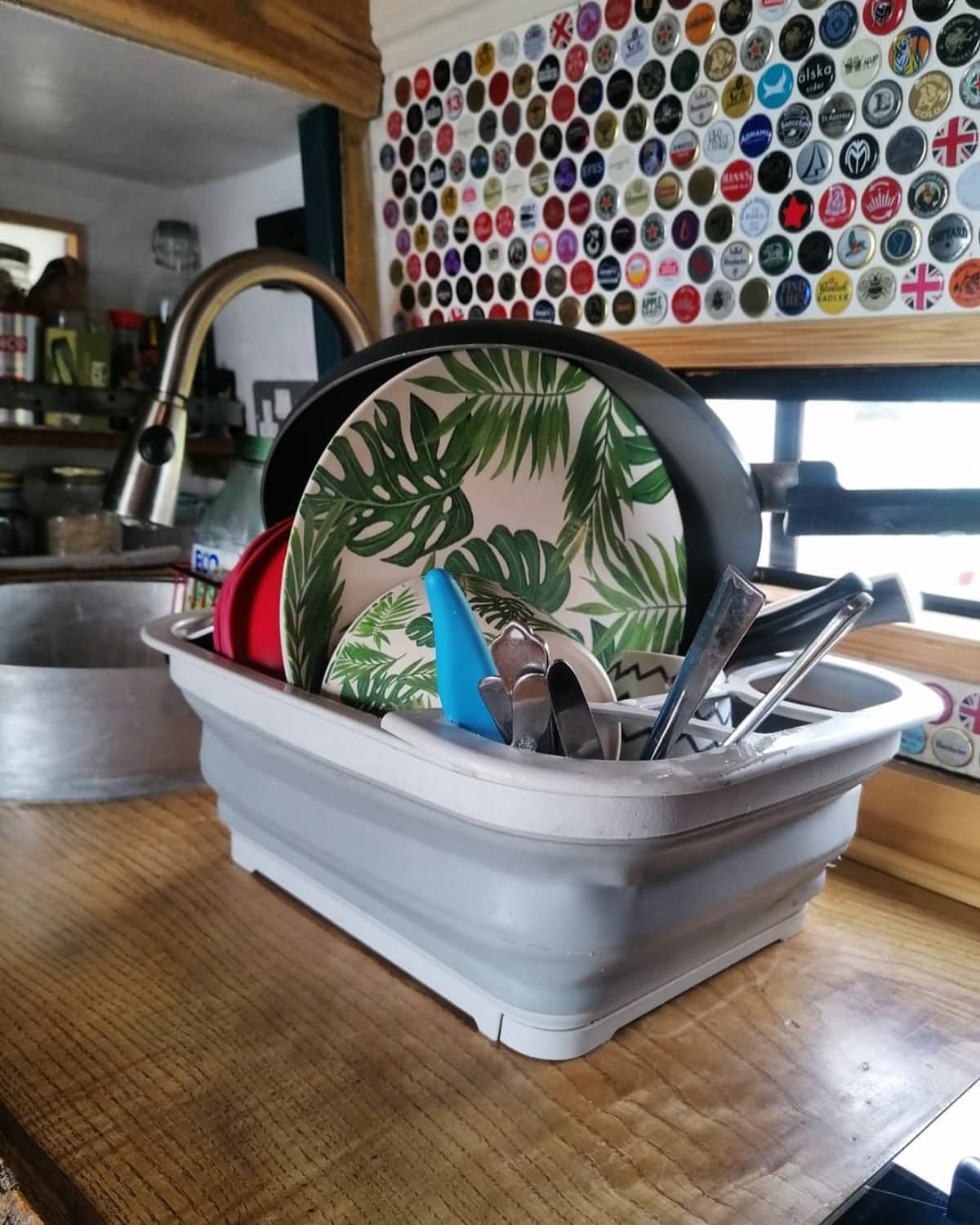 [Image: FireTruckFamily
You'll need somewhere to let your dining set dry after washing, and this collapsible draining board easily tucks away to make more countertop space.
5. Cookware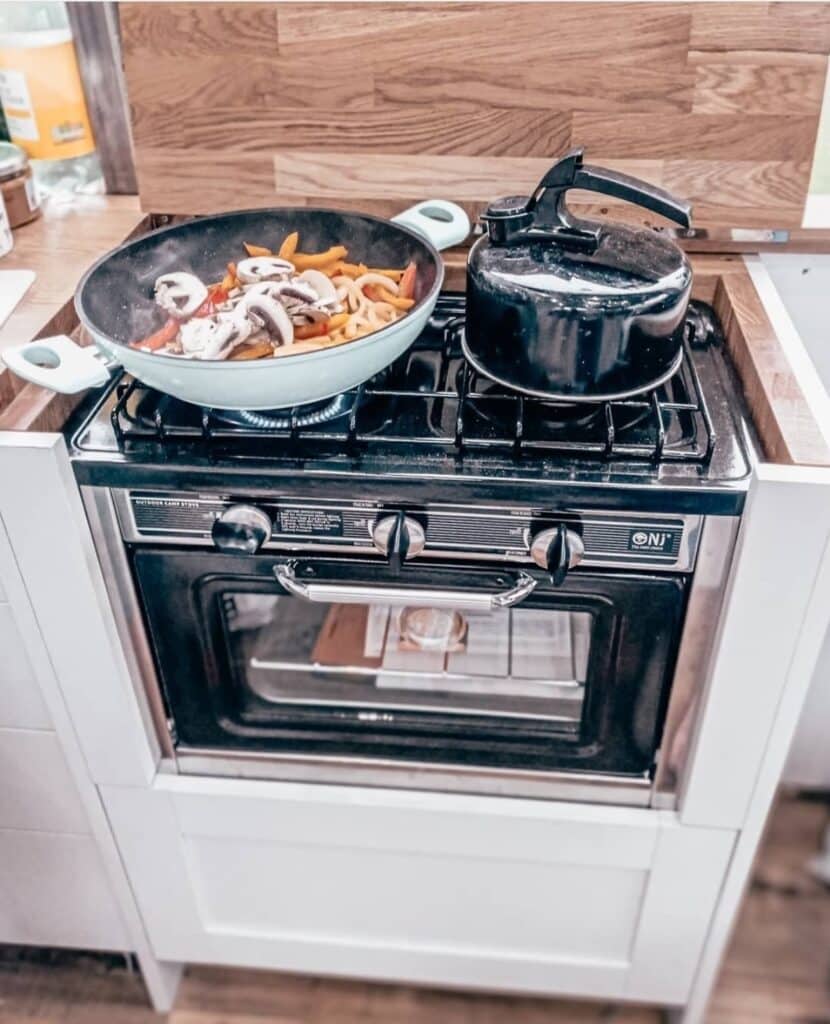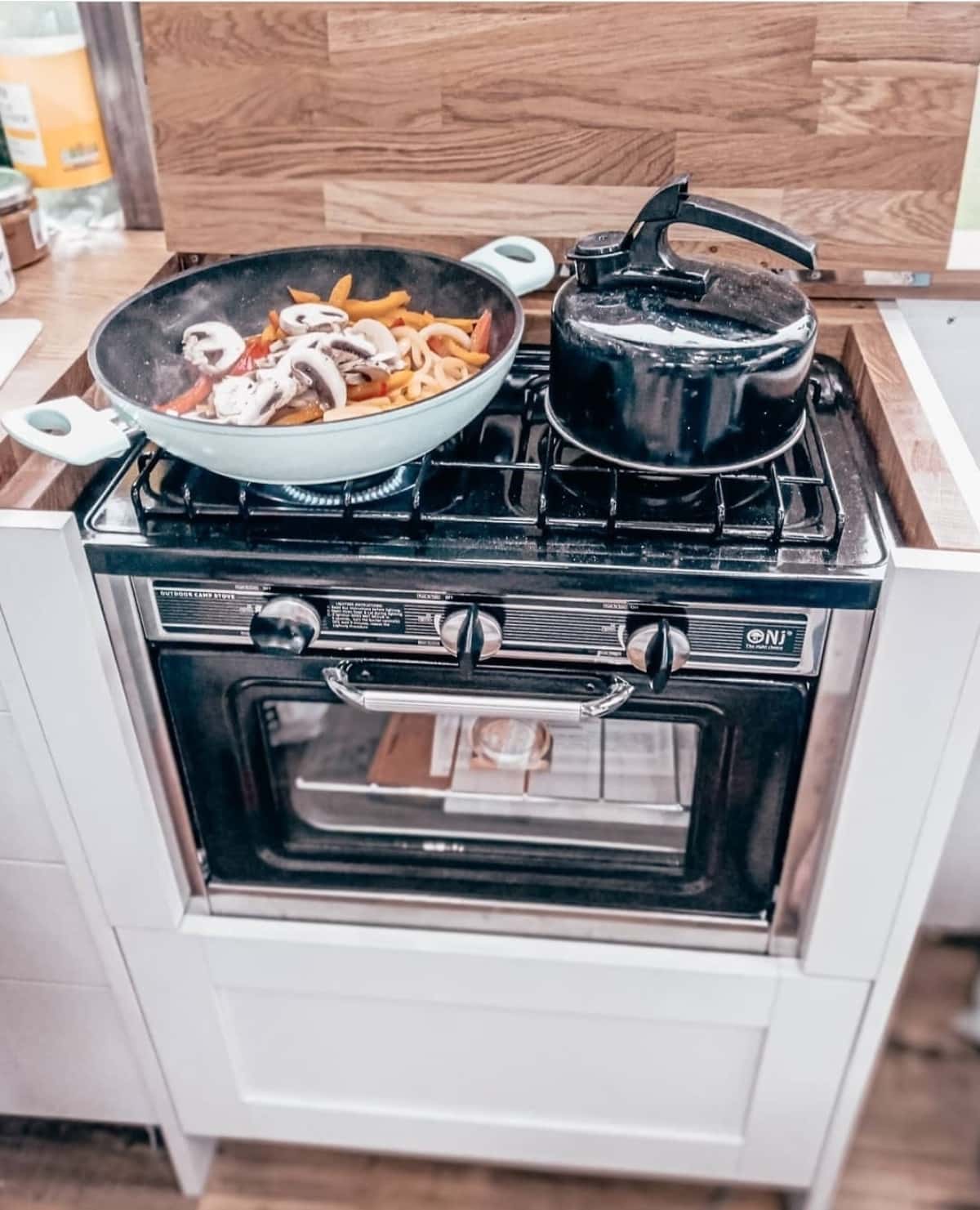 [Image: DiffyAndMarlie]
Cookware takes up a ton of room in your cabinets, so stick with the essentials: a skillet, a pot, and a griddle pan.
6. Mini Grill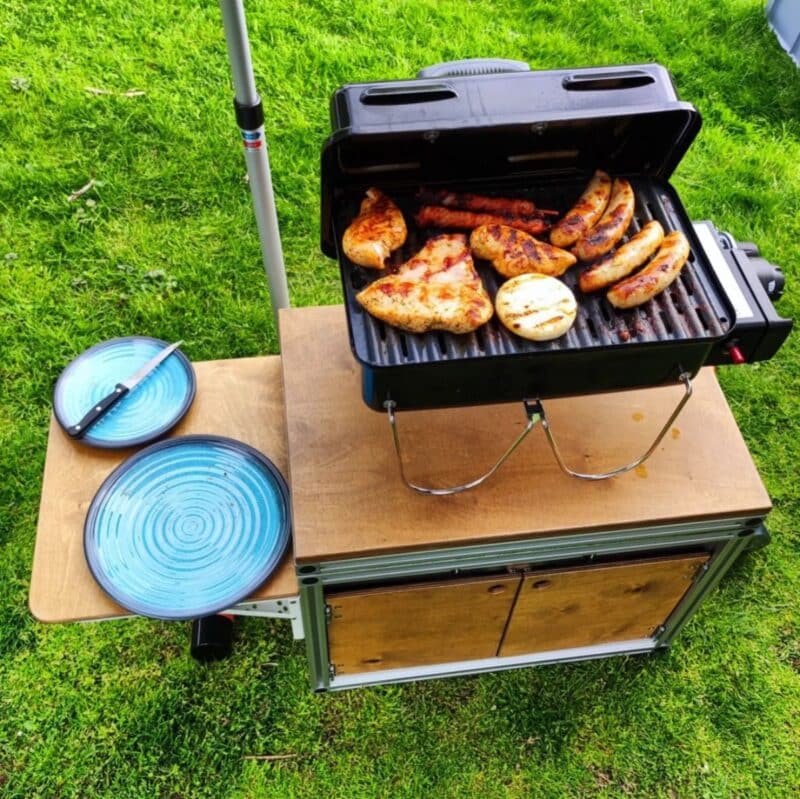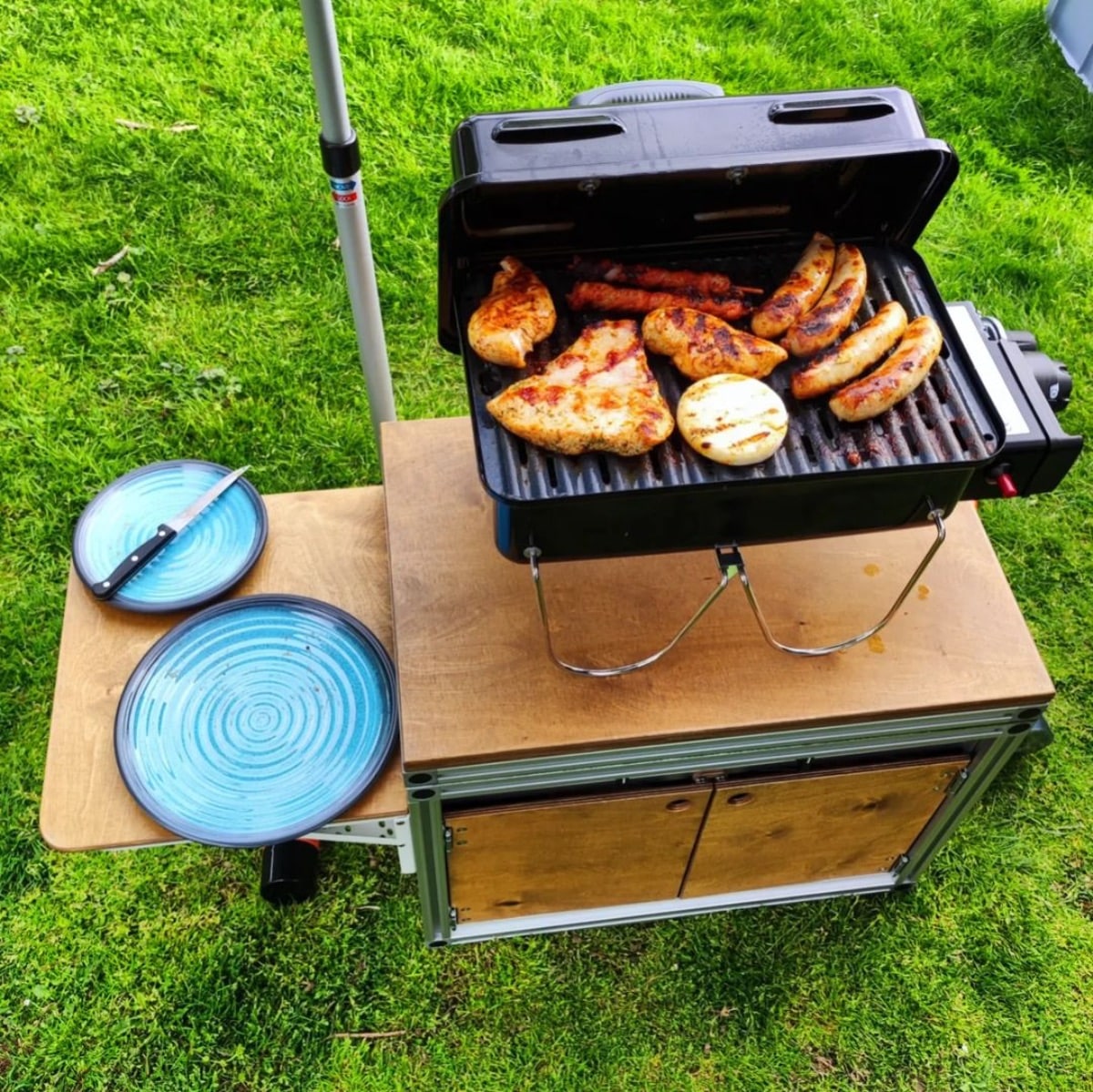 [Image: t6campervans]
When the weather's nice, you'll appreciate having a space-saving mini grill to achieve that perfect char on your burgers and steaks.
7. Pour-Over Coffee Set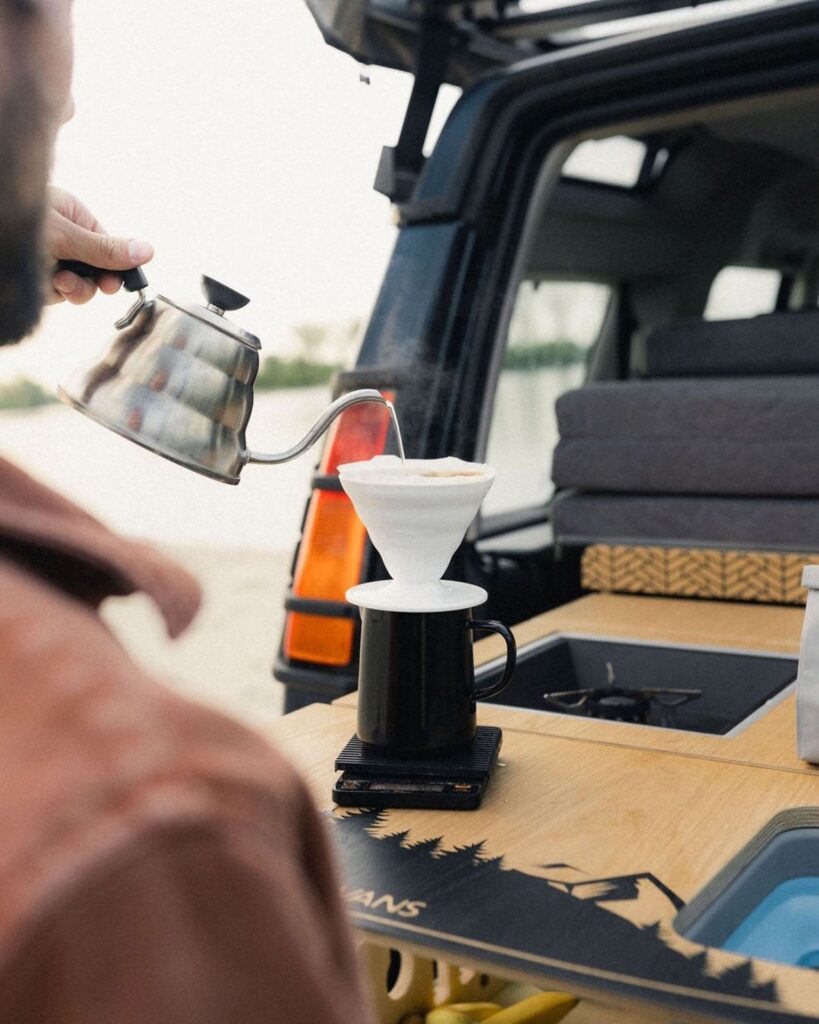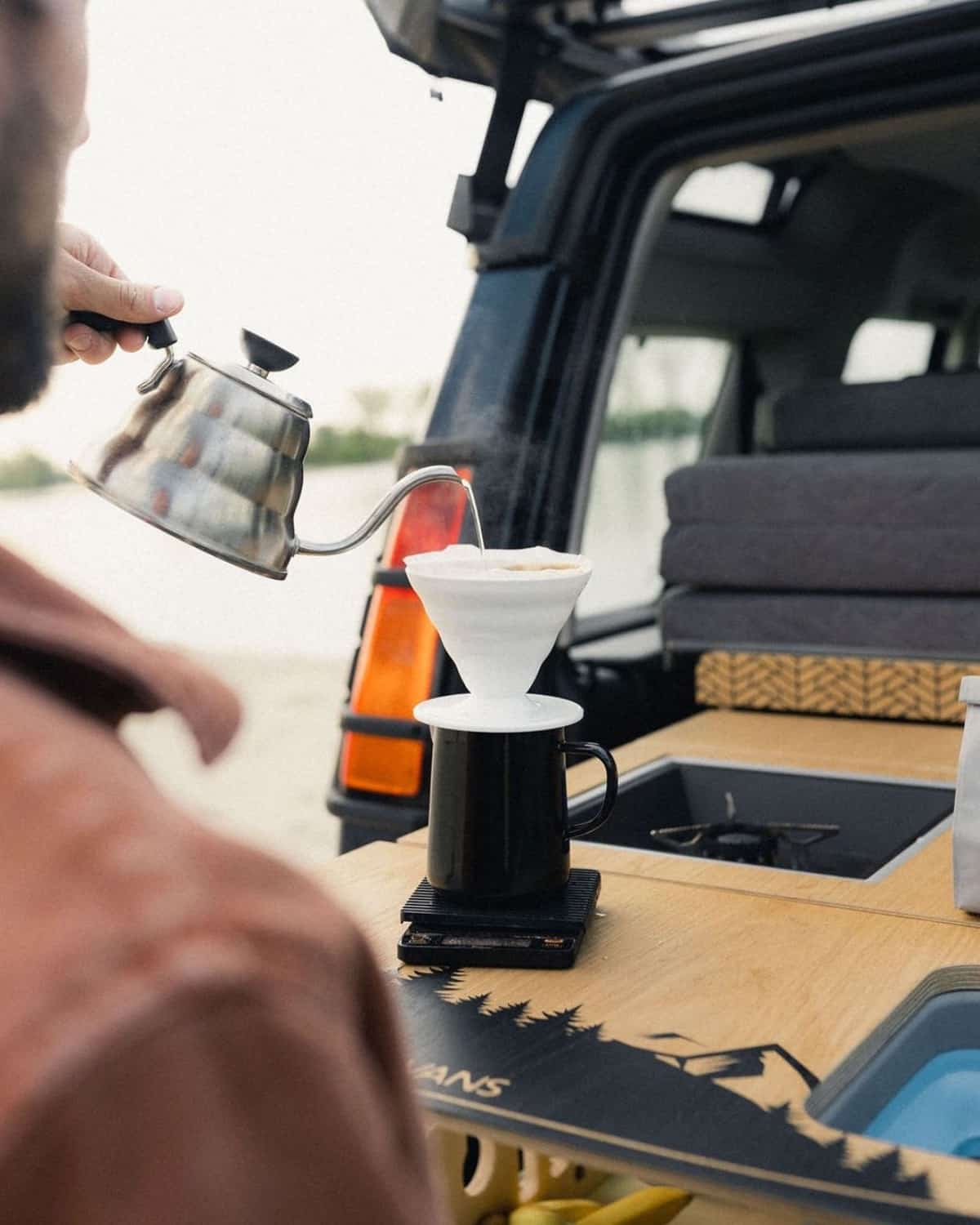 [Image: EscapeVans]
As much as we'd love to haul our Keurig on the road, a pour-over coffee set offers a delicious cup of joe without the bulk.
8. Hanging Shelves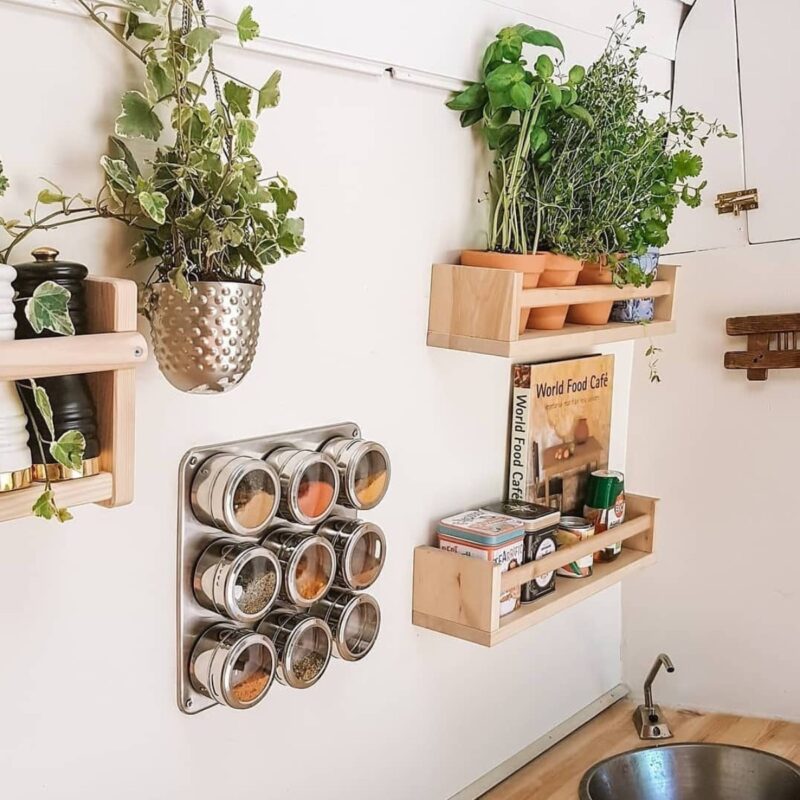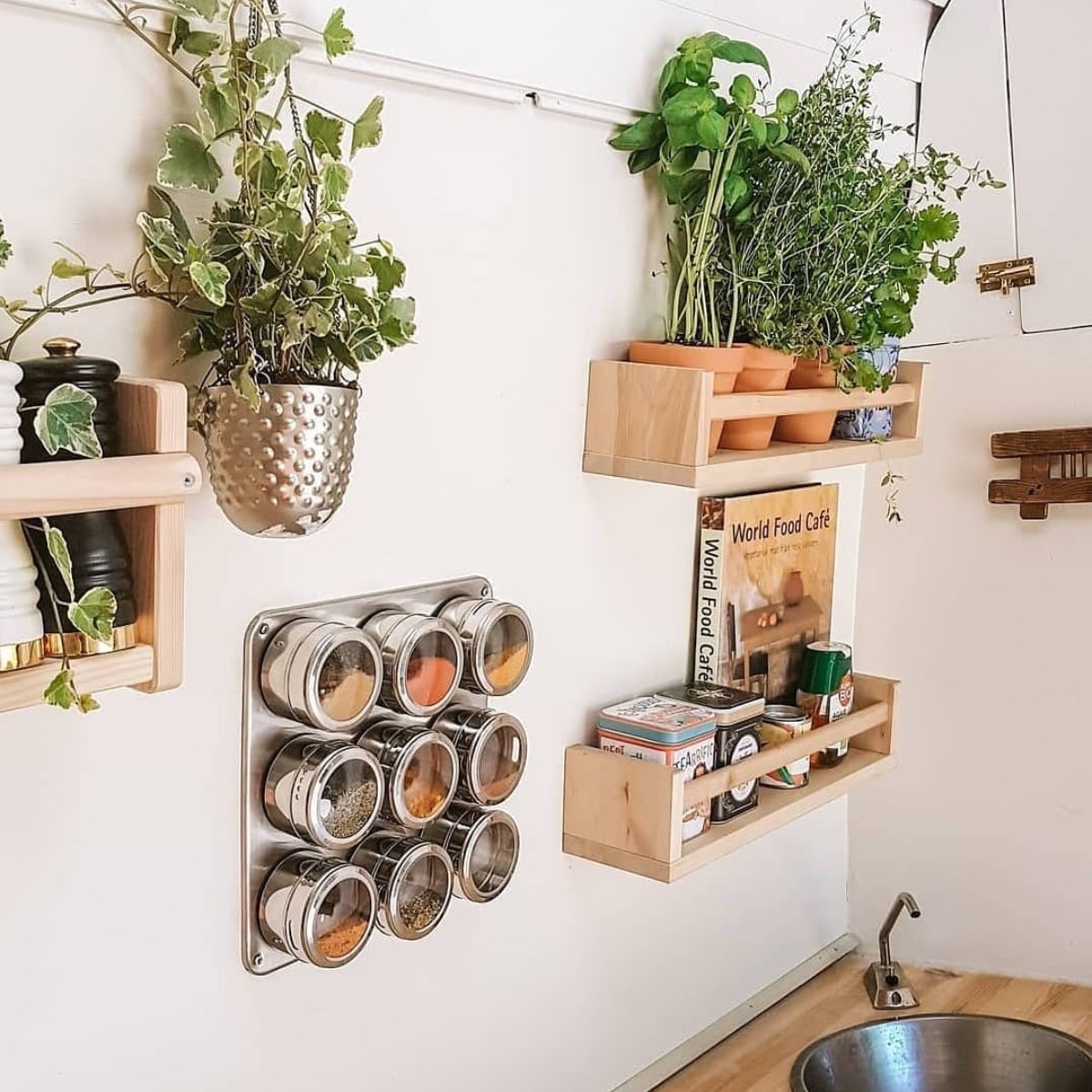 [Image: VandemicVegans]
Van life is about maximizing vertical storage; these hanging shelves will free your drawers and cabinets from clutter.
9. Slide-Out Storage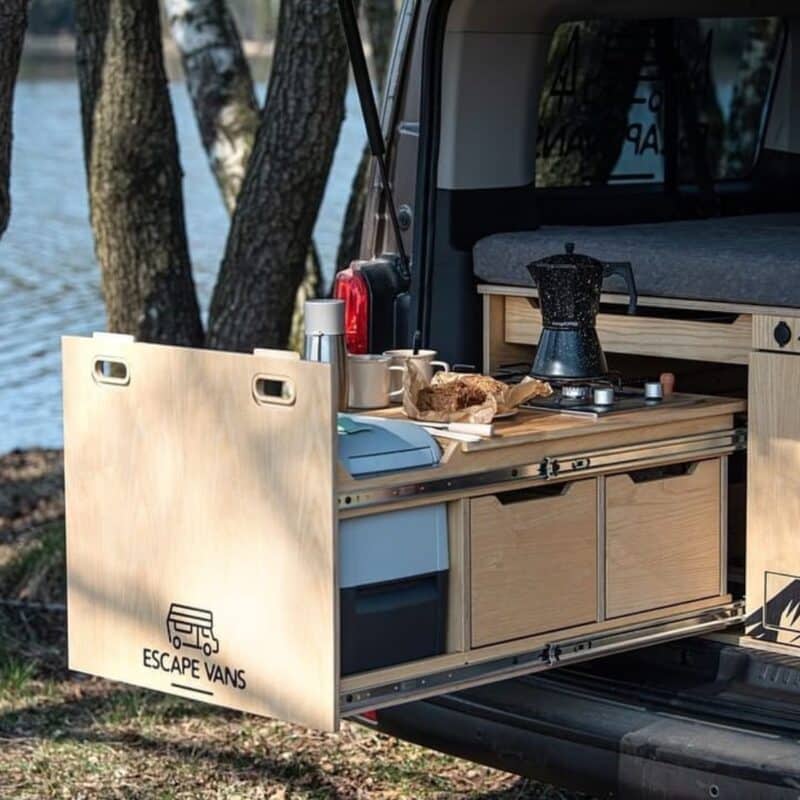 [Image: EscapeVans]
Slide-out storage is a life-saver in the tight confines of a van. Once you're done grabbing your items, it's easily tucked away out of sight.
10. Portable Fridge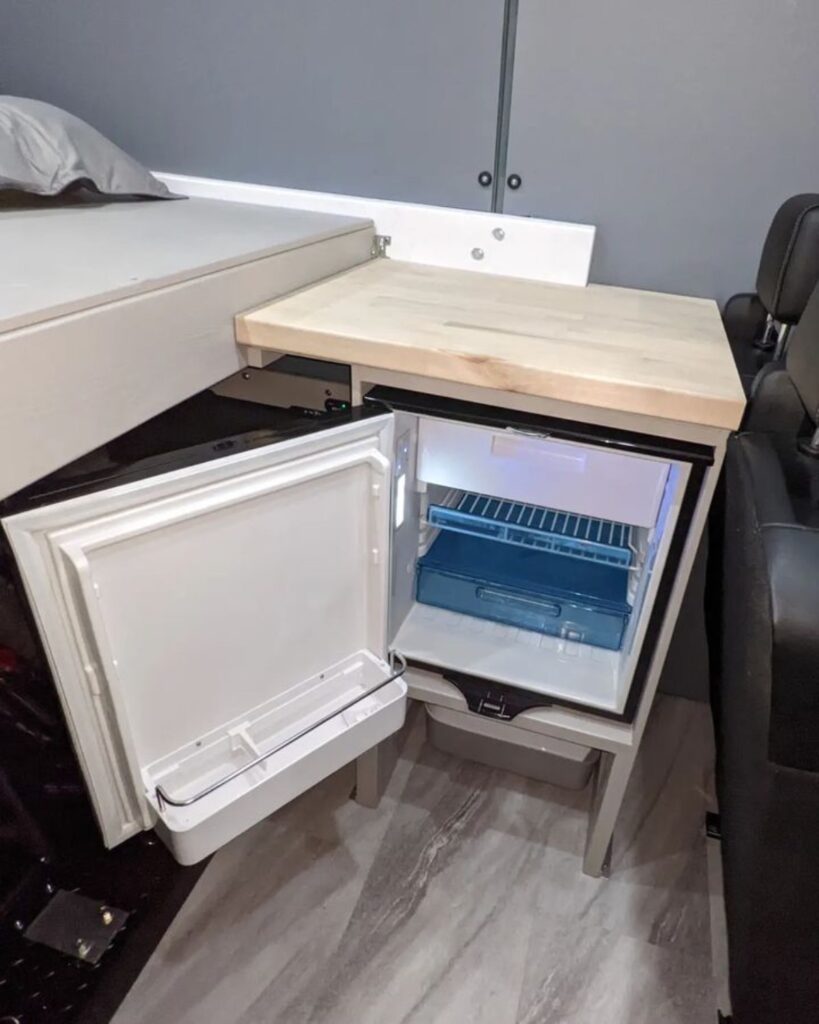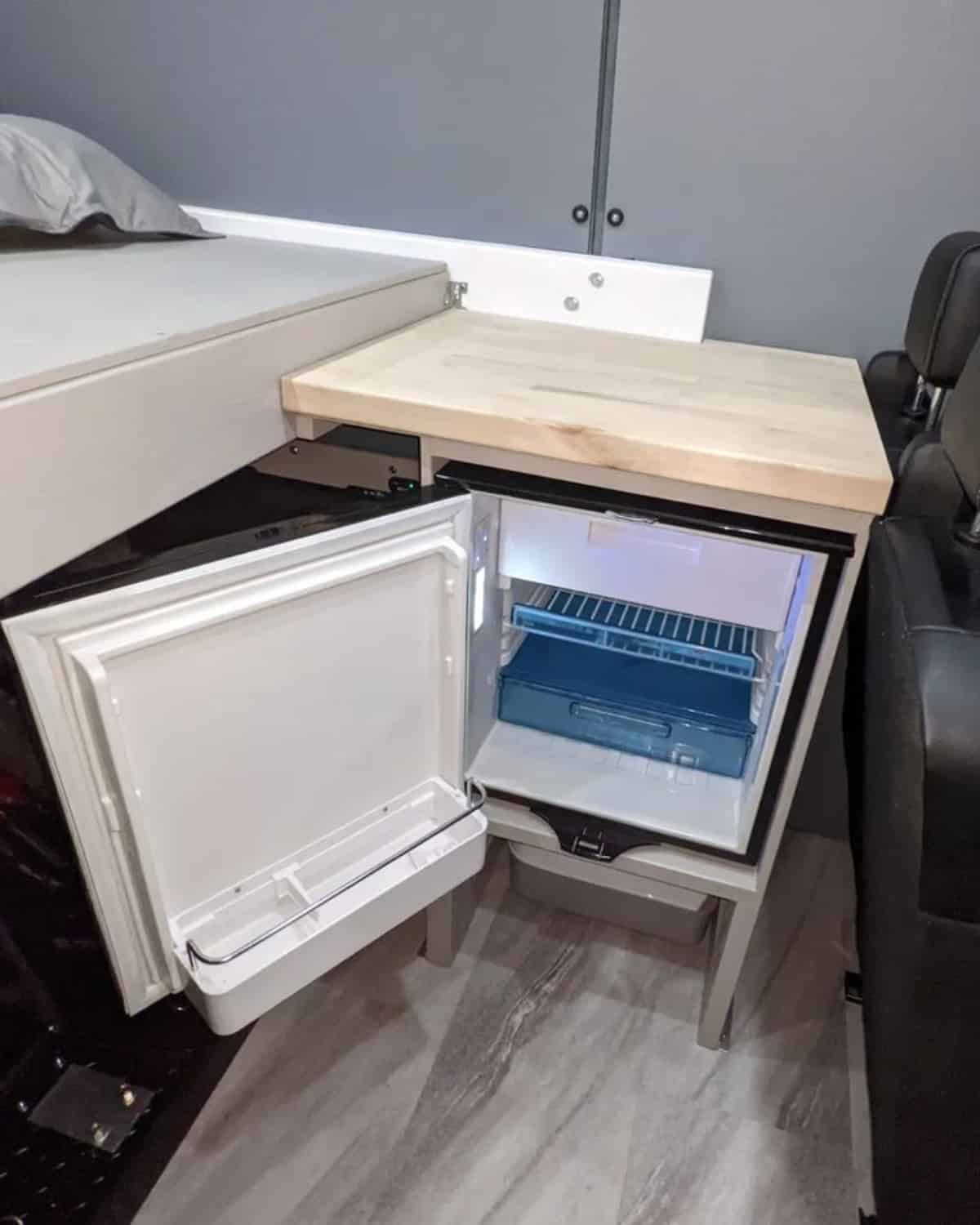 [Image: DieselDuff]
Many beginning van enthusiasts think a cooler will cut it for keeping their food fresh, but experienced travelers know a fridge is worth the investment.
Bathroom
If there's one aspect of van life that makes people reconsider their newly nomadic lifestyle, it's the logistics of the bathroom.
With the right van life essentials, you won't have to keep an eye out for travel plazas and rest stops.
11. Travel-Friendly Toothbrush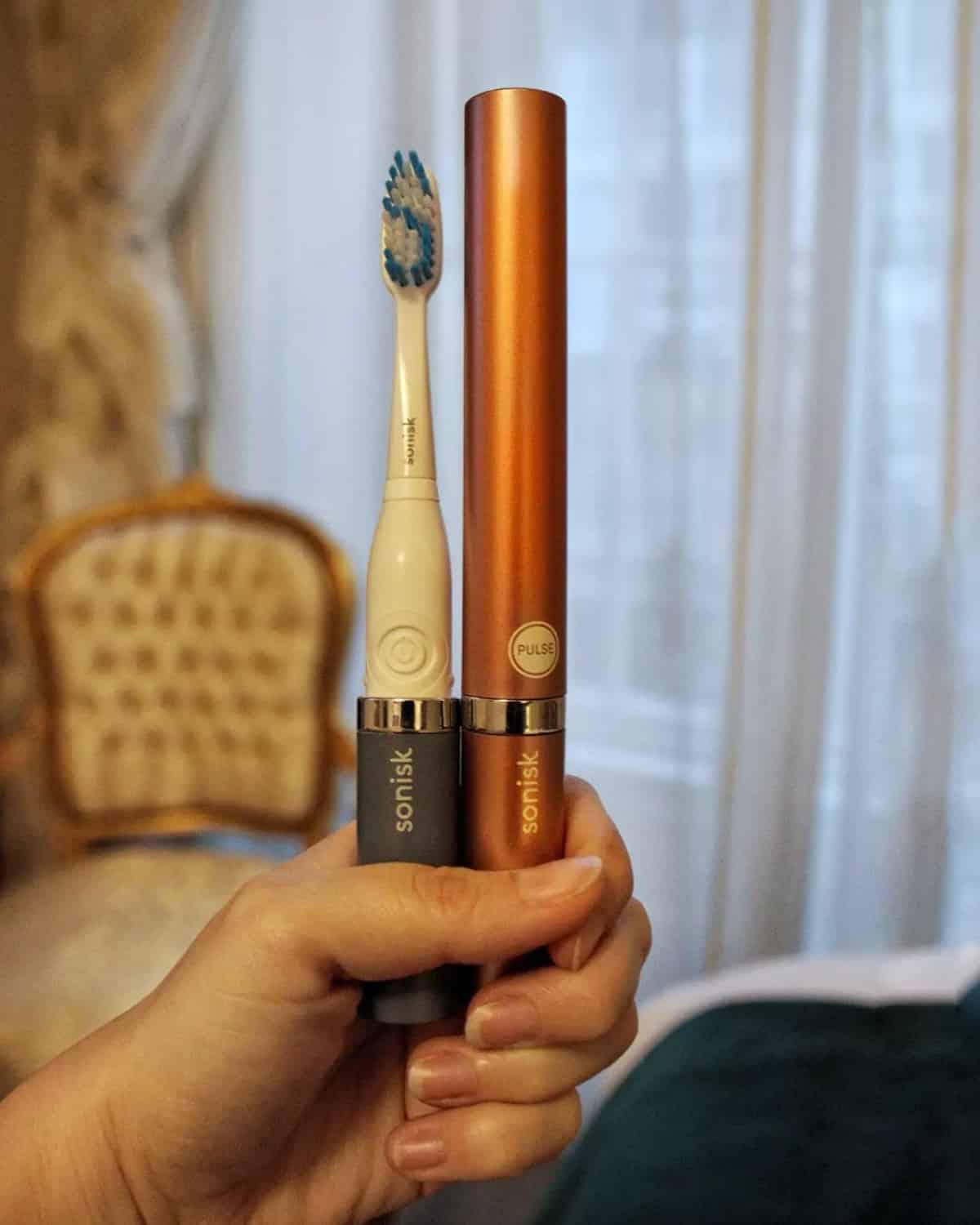 [Image: teamthomastravels]
Keep up your dental hygiene on the go with a low-profile electric toothbrush. The included cover ensures it stays clean in your backpack.
12. Laundry Bin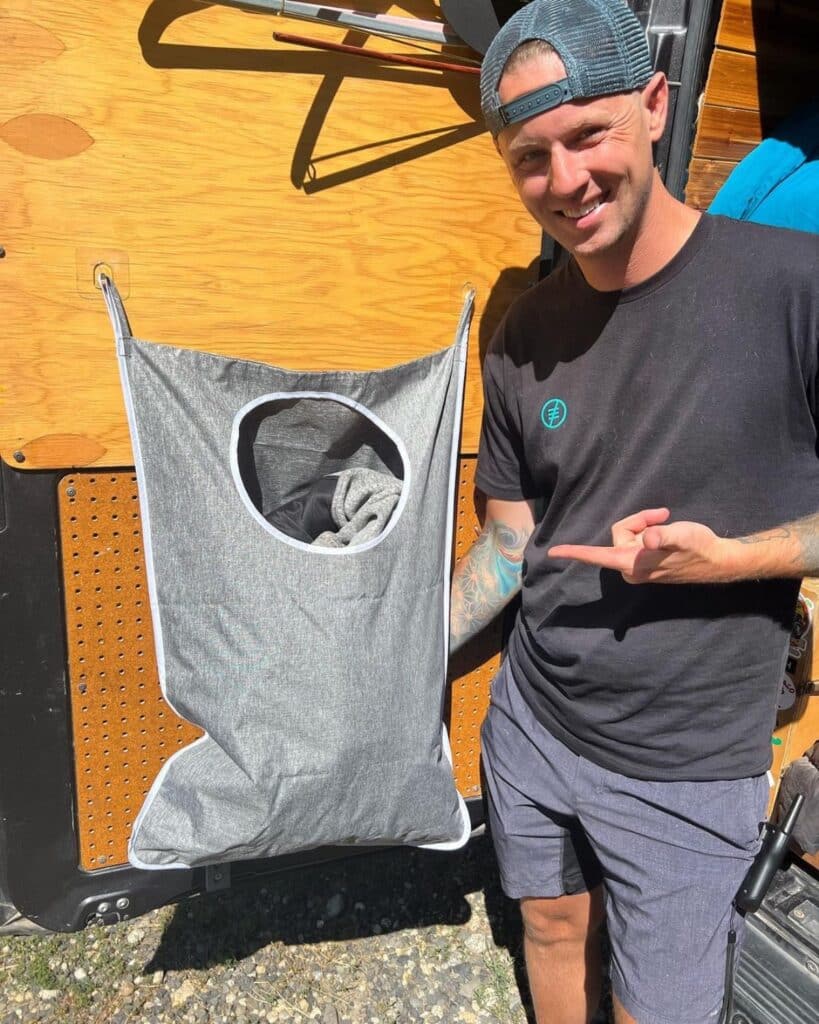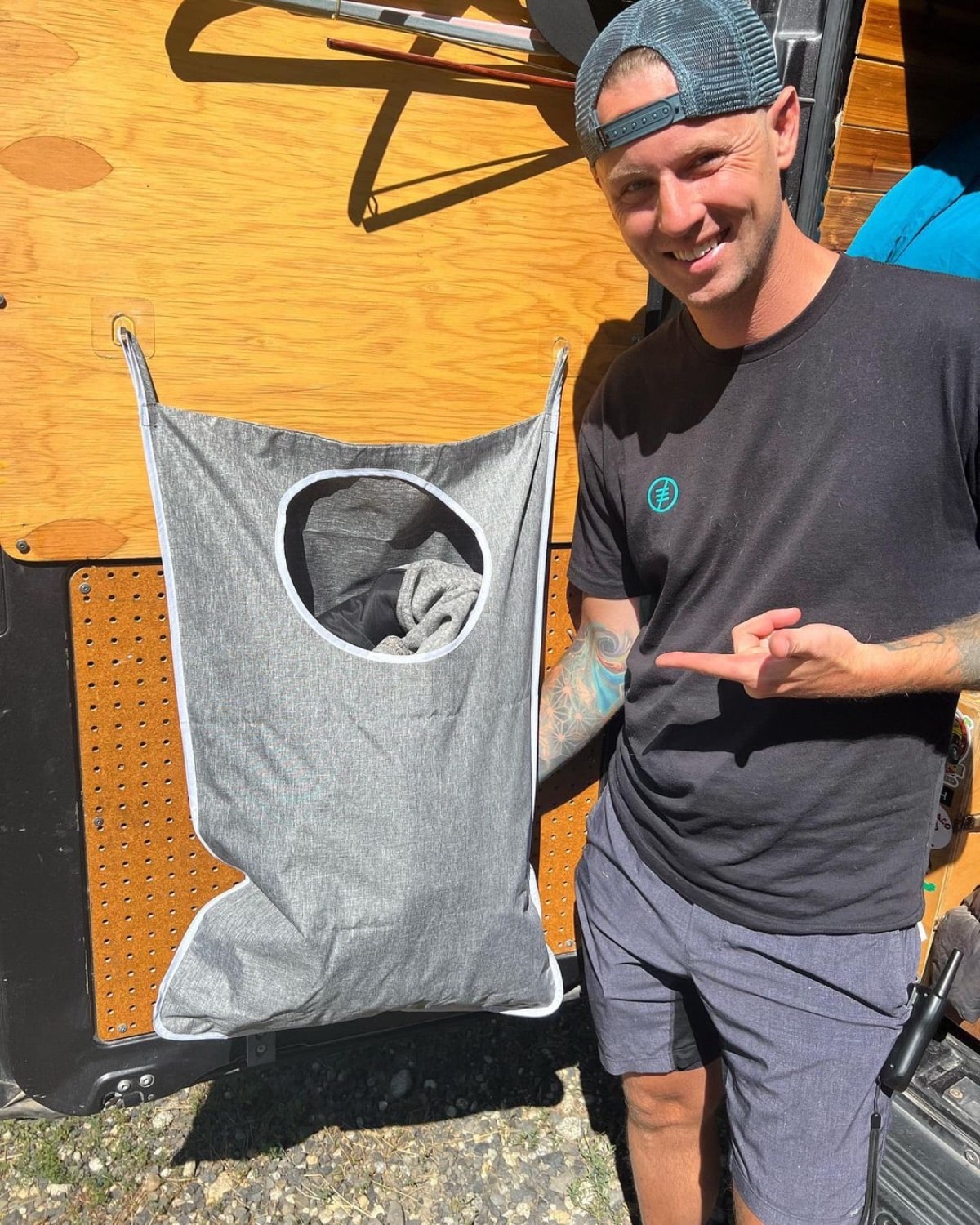 [Image:allie.and.dan]
Dirty laundry can become an issue if you're working with boxy hampers, but a hanging laundry bin keeps your garments off the floor.
13. Heating Mat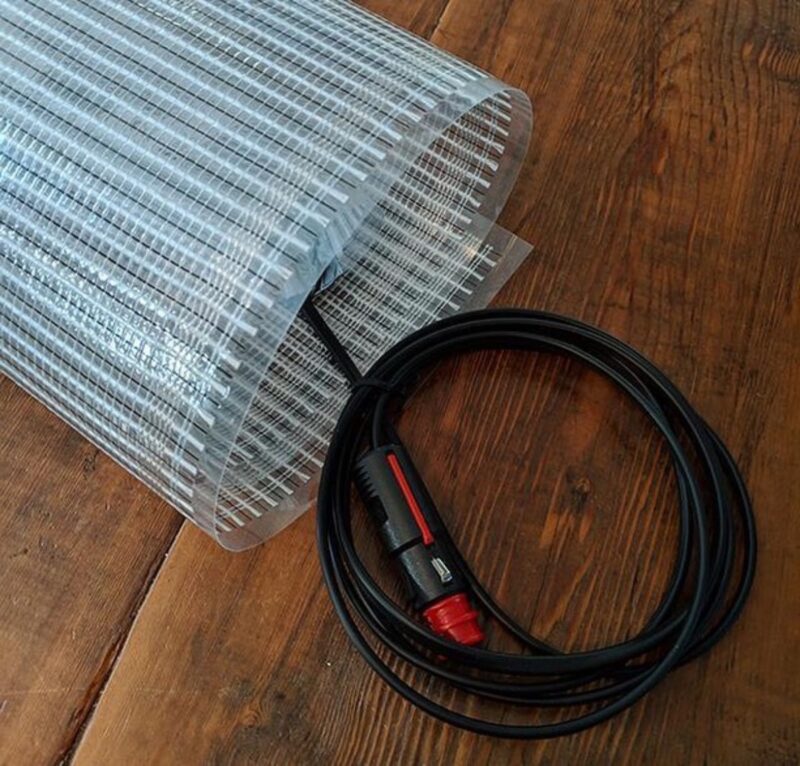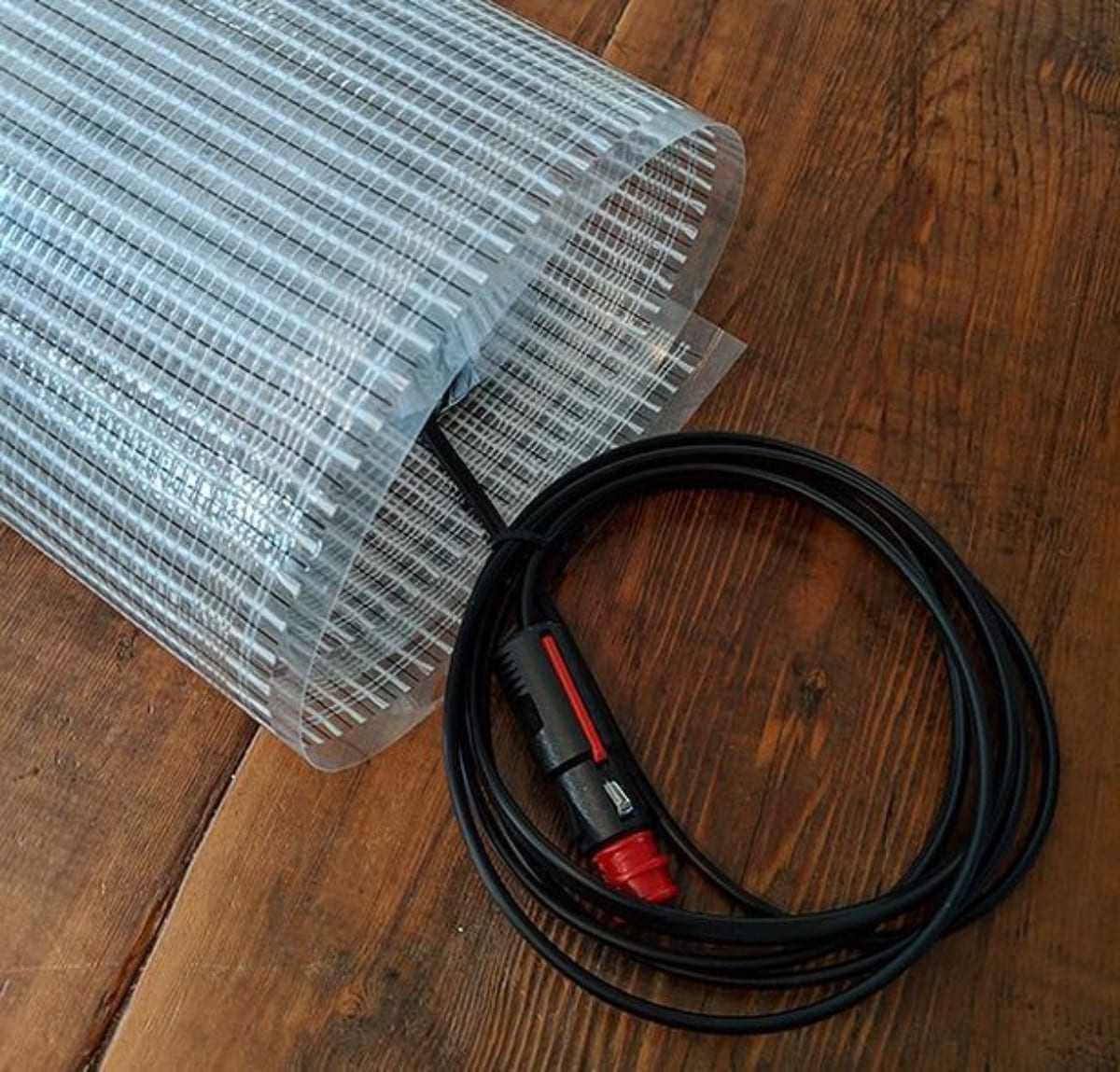 [Image:expedition_upfitter]
If you're planning on traveling in the winter months, an underfloor heating mat for the bathroom is one of those van life luxury items that will soon feel like a necessity.
14. Composting Toilet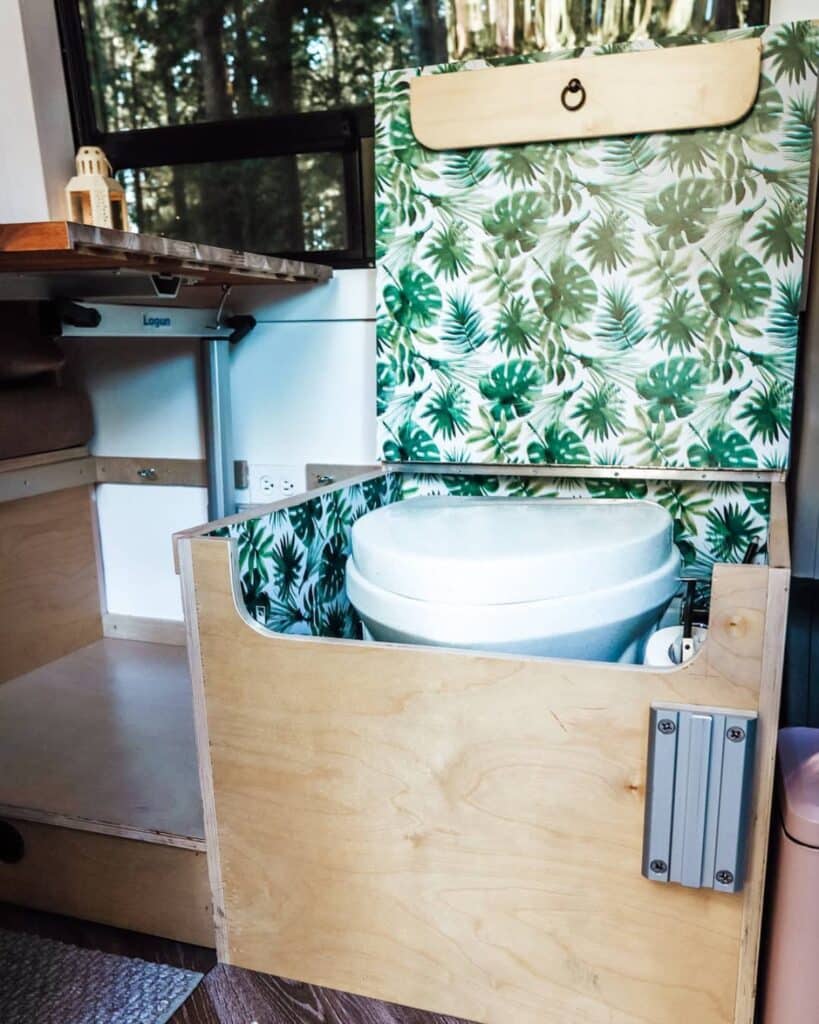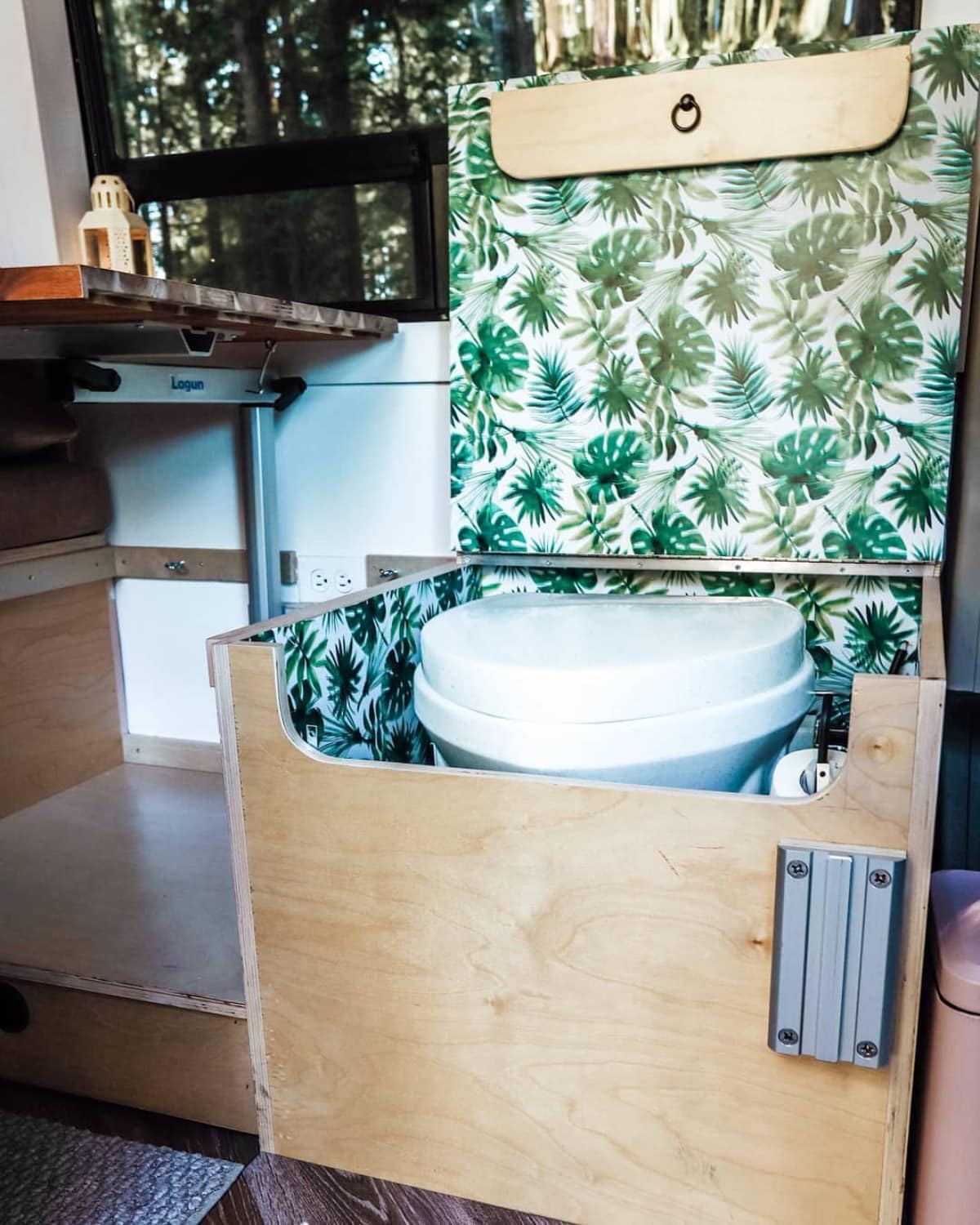 [Image: emsvanlife]
Finding a safe spot to deposit your waste is always an issue, but a composting toilet transforms that burden into a garden-safe alternative to fertilizer.
15. Portable Shower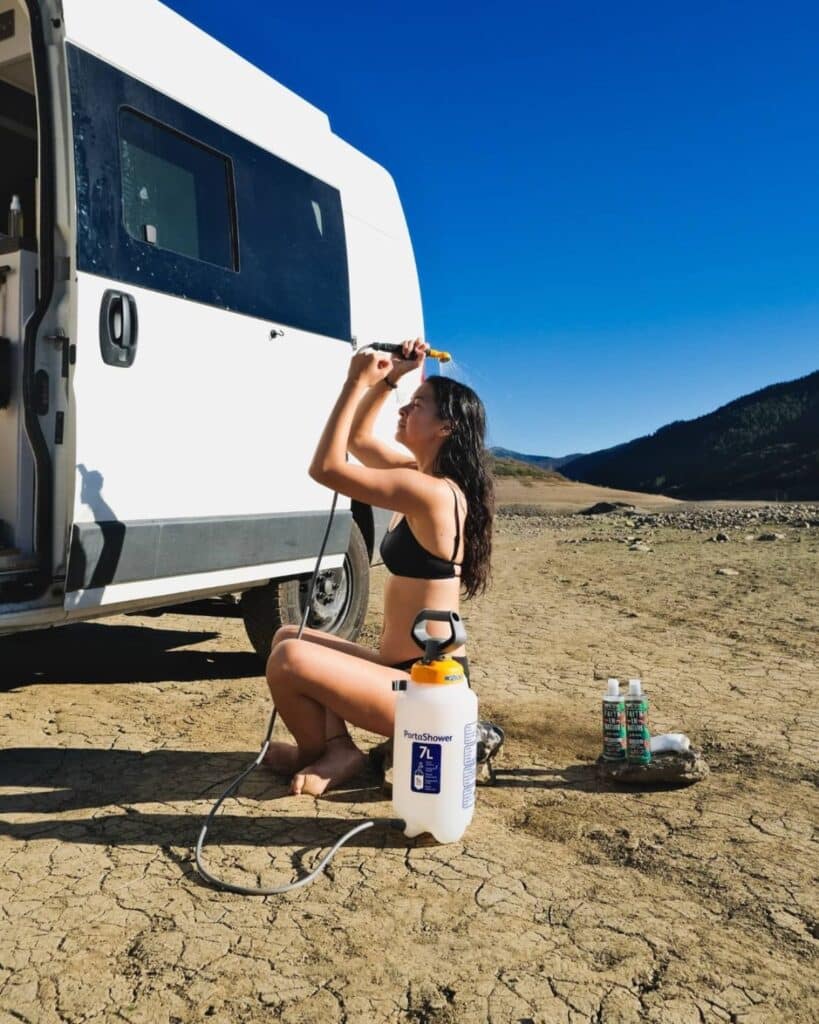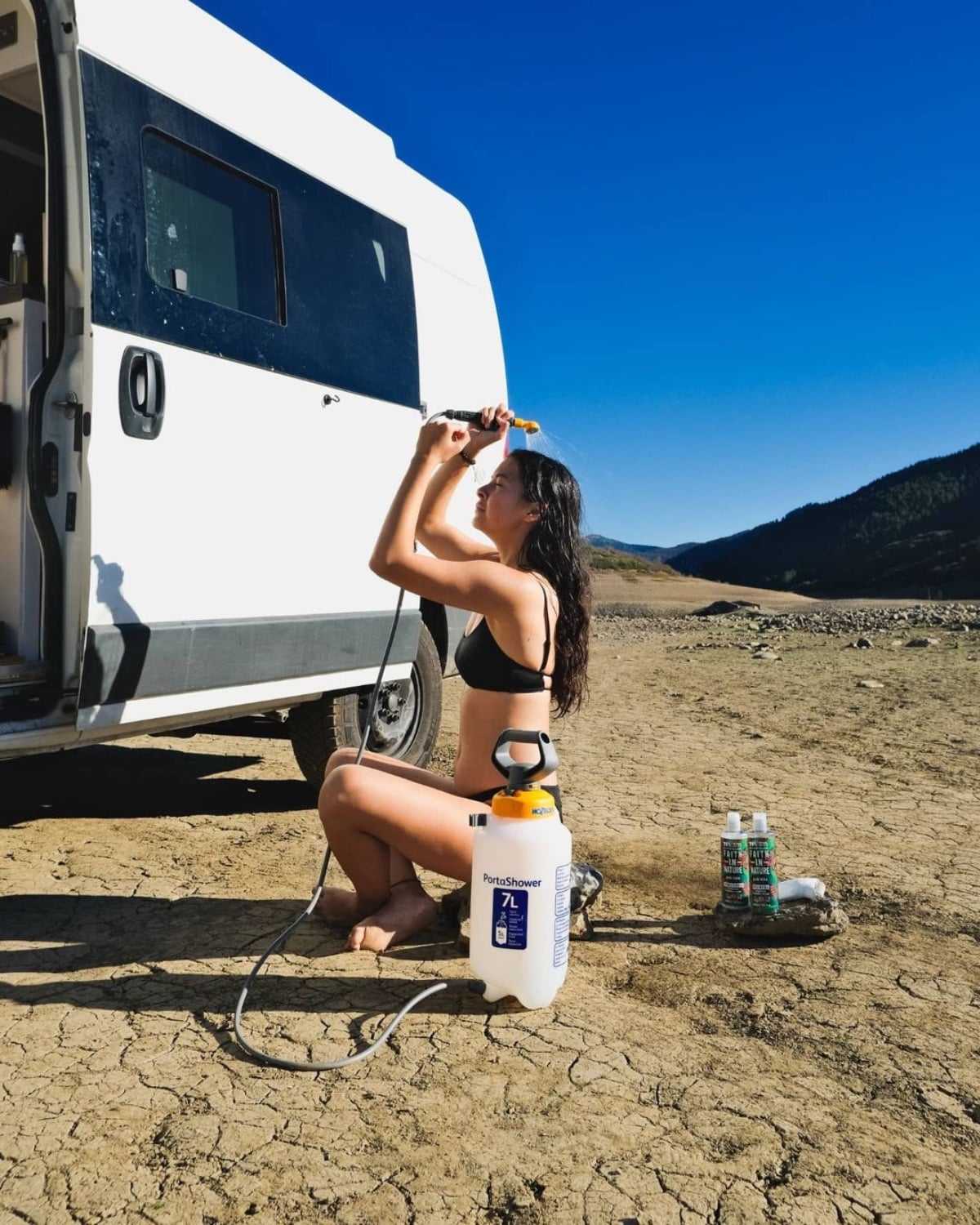 [Image: nicroams]
Truck stop showers can be a thing of the past if you're willing to devote the time and money to building an in-van shower setup.
16. Accordion Shower Door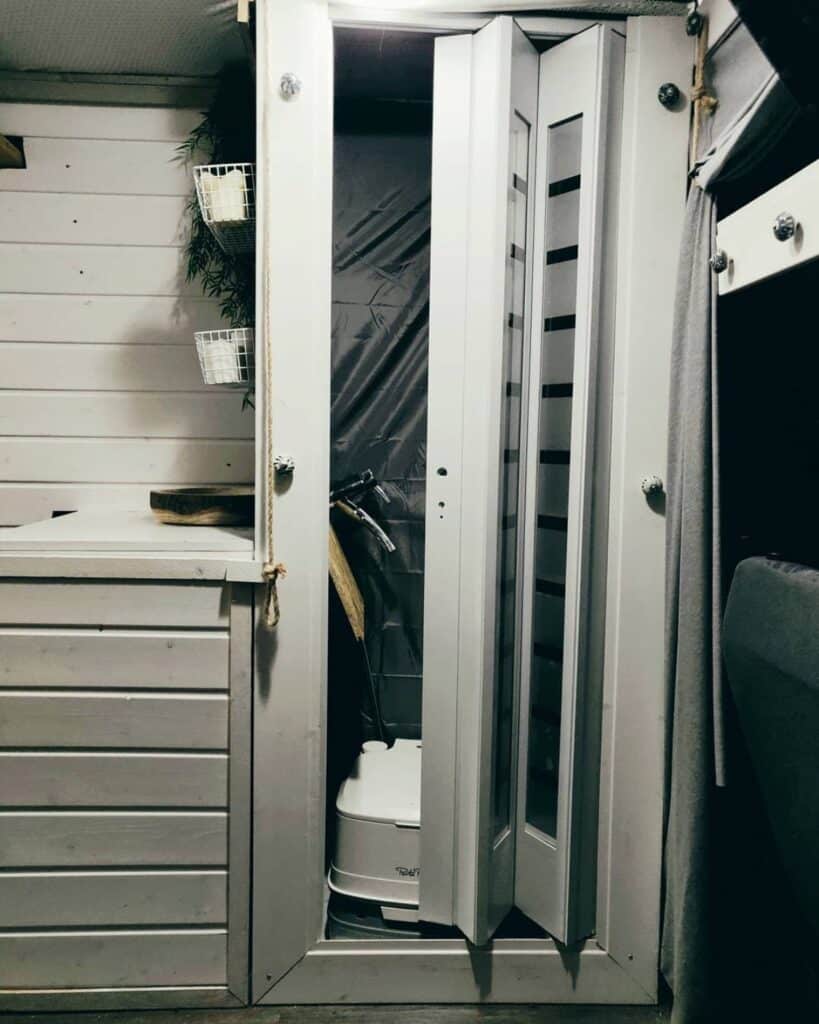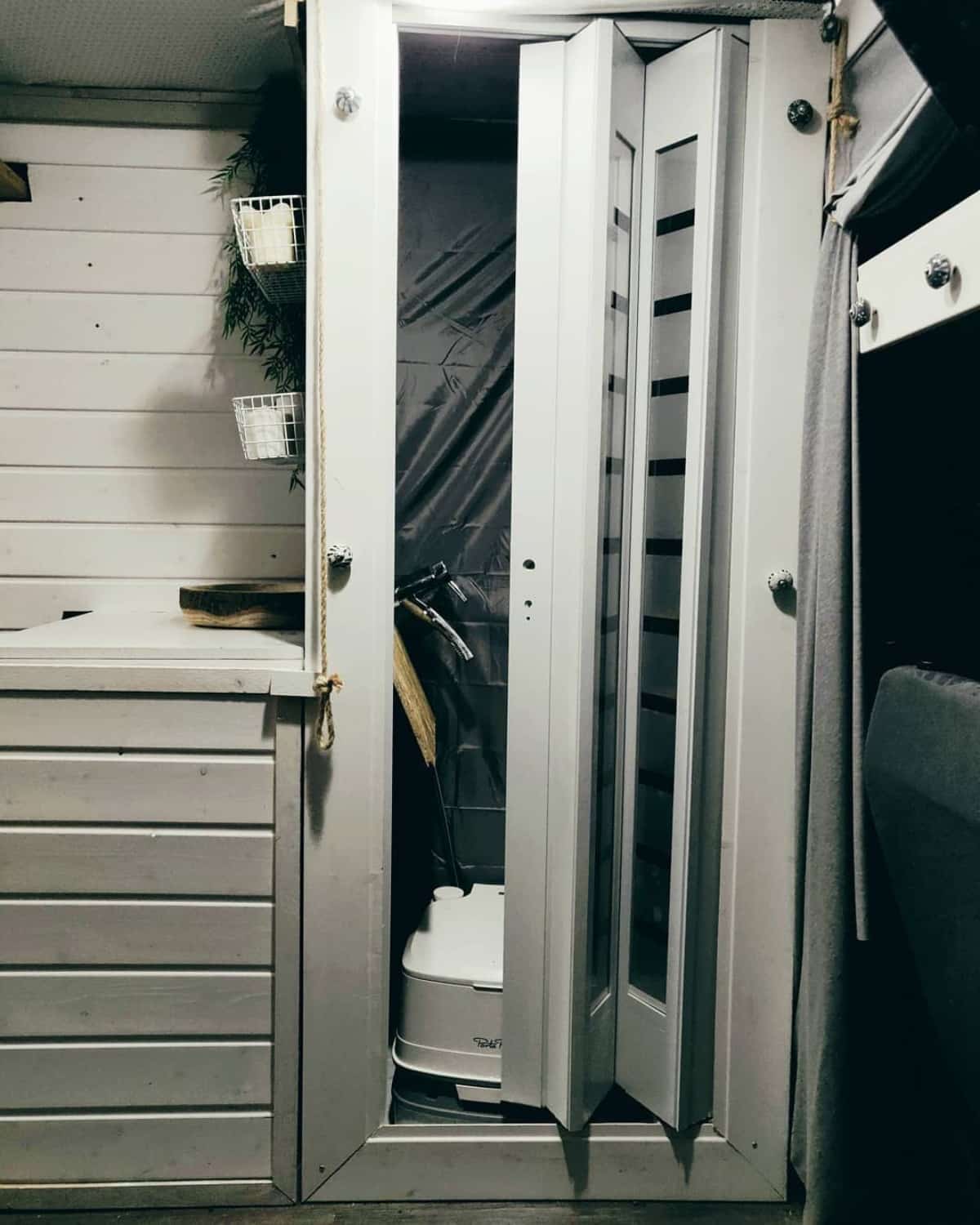 [Image: emsvanlife]
Swinging shower doors are obtrusive, and curtains often lead to watery messes all over the floor. Accordion shower doors solve both of those problems.
Bedroom
When you're ready to unwind after a long day on the road, there's nothing quite like a cozy, quiet space to relax in.
17. Storage Riser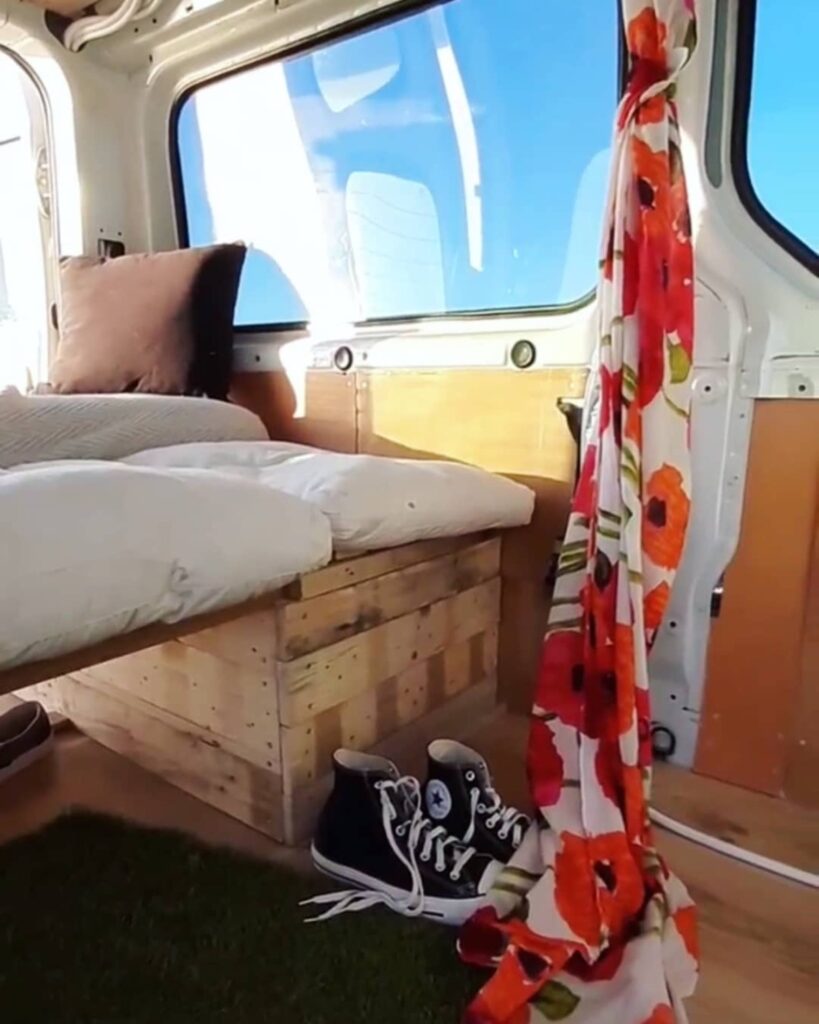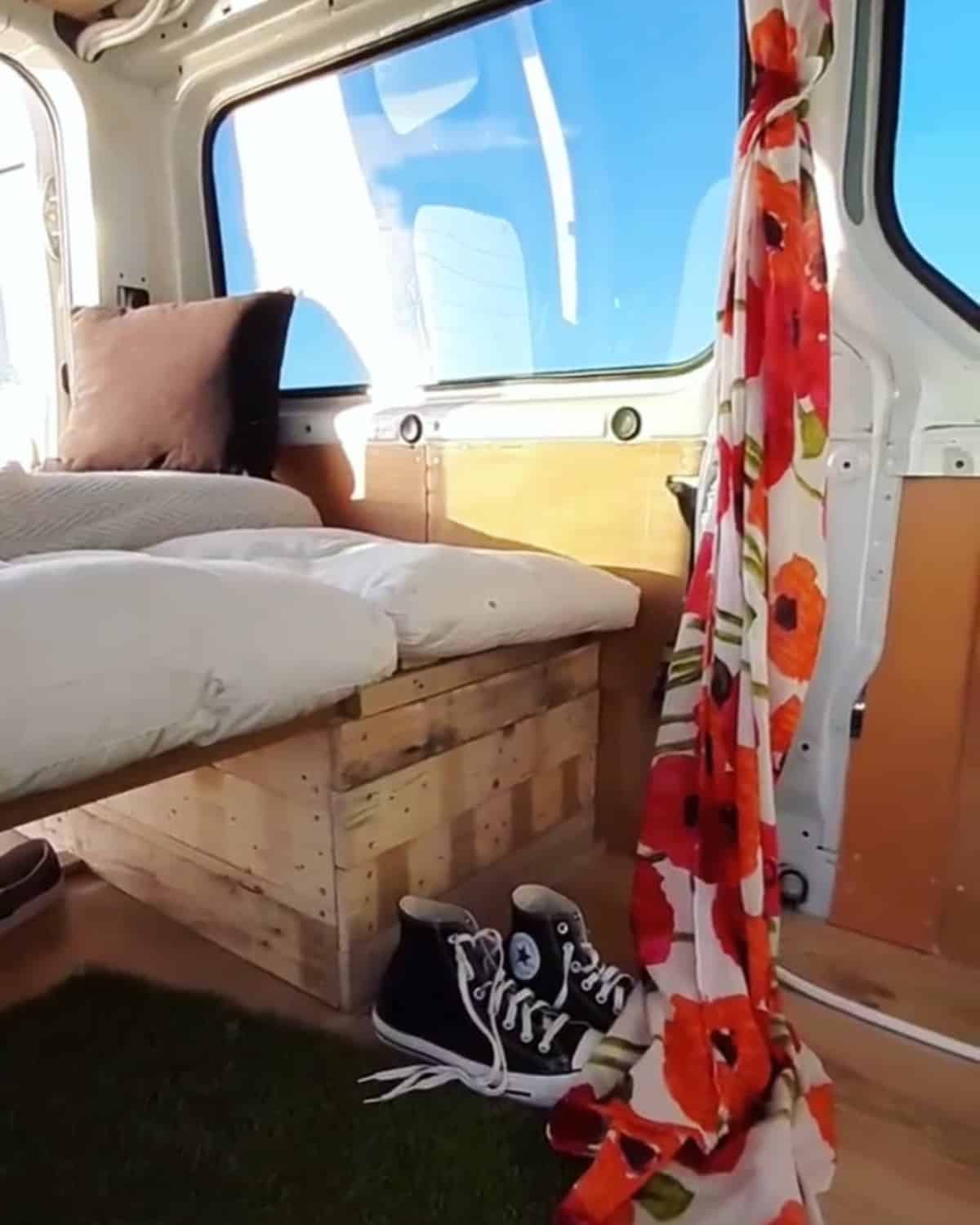 [Image: esperanzavanlife]
Give yourself under-bed storage with heavy-duty wooden risers.
18. Low-Profile Cabinets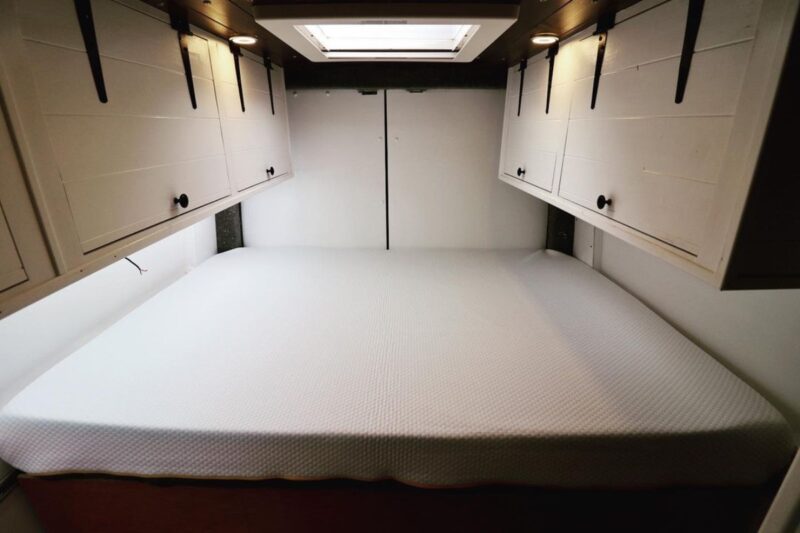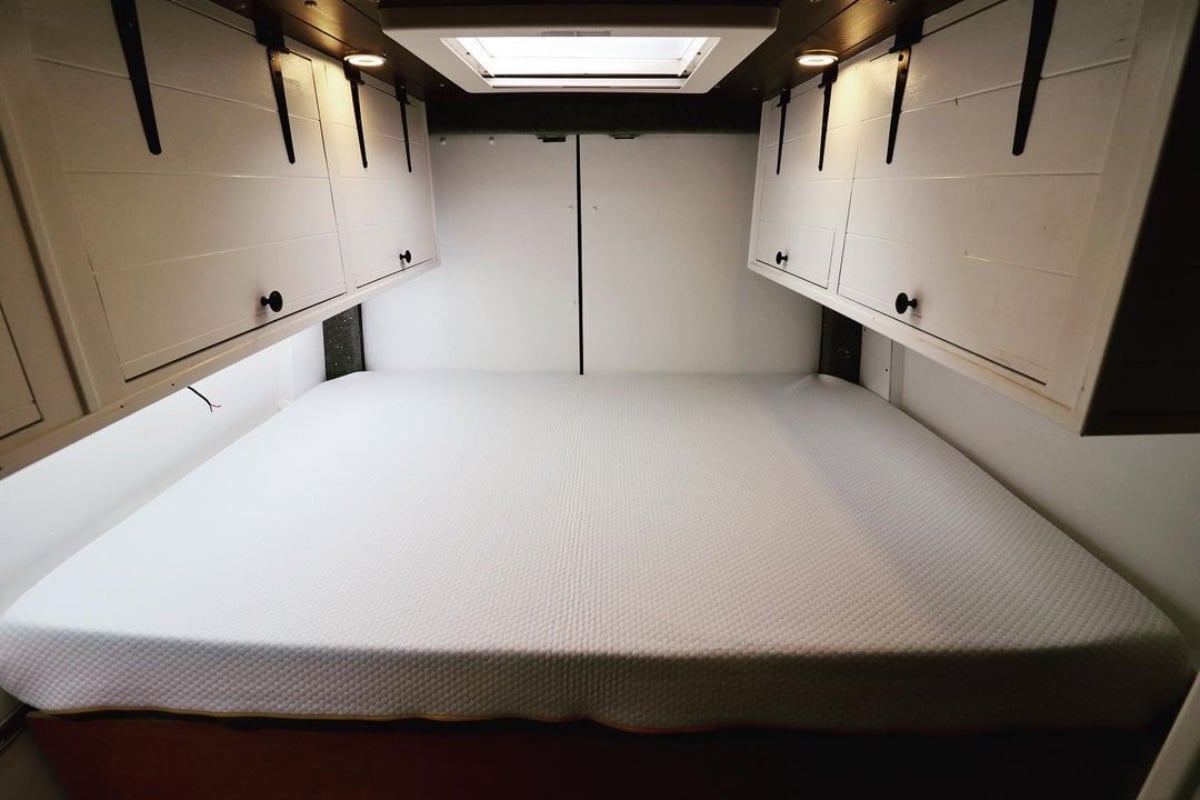 [Image:richierosmusic]
Low-profile cabinets are a must for storing your van life luxury items, from linens to art supplies.
19. Extra Blankets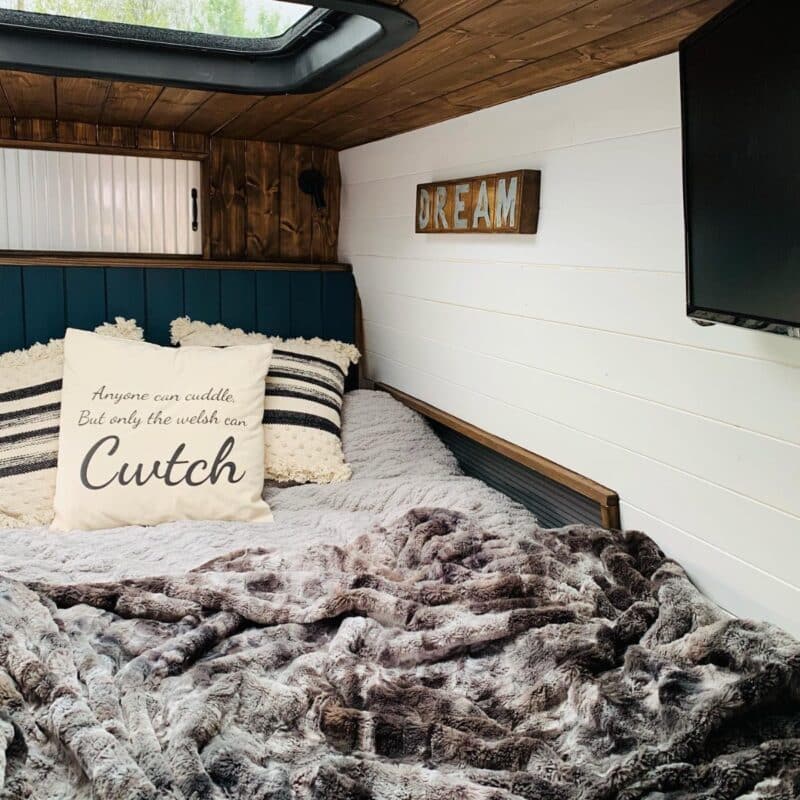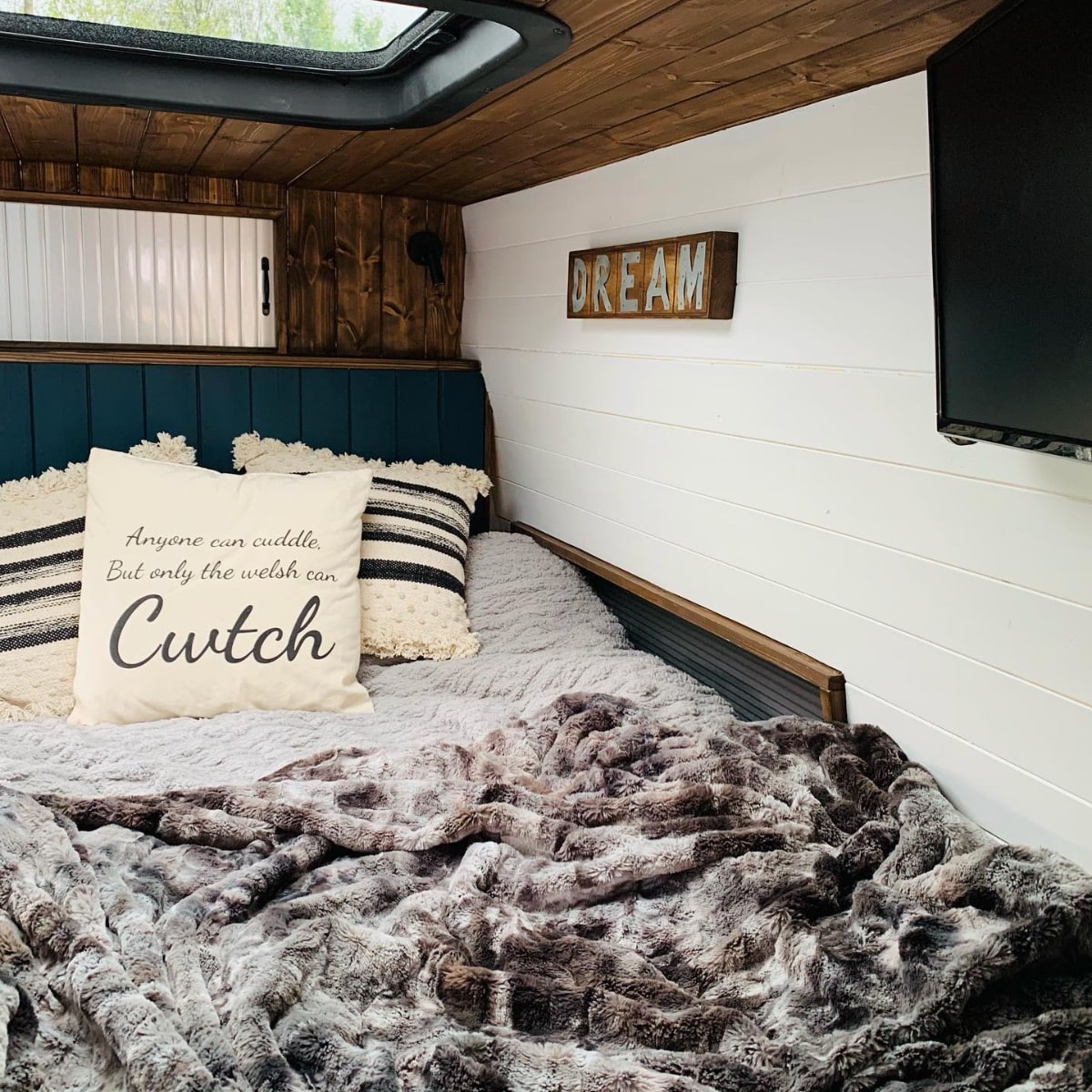 [Image: _cactuscampers]
Cold evenings are no match for a pile of warm blankets.
20. Rear Door Screen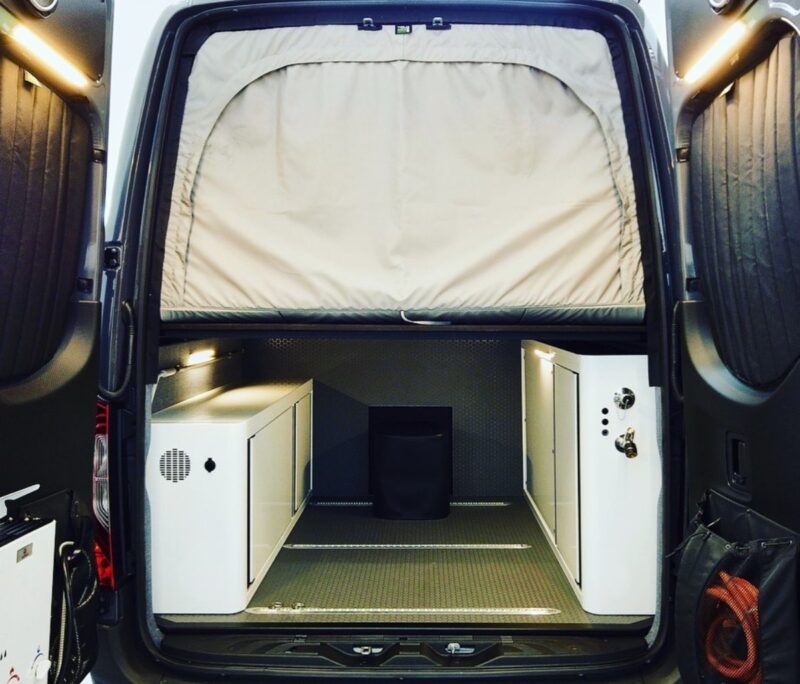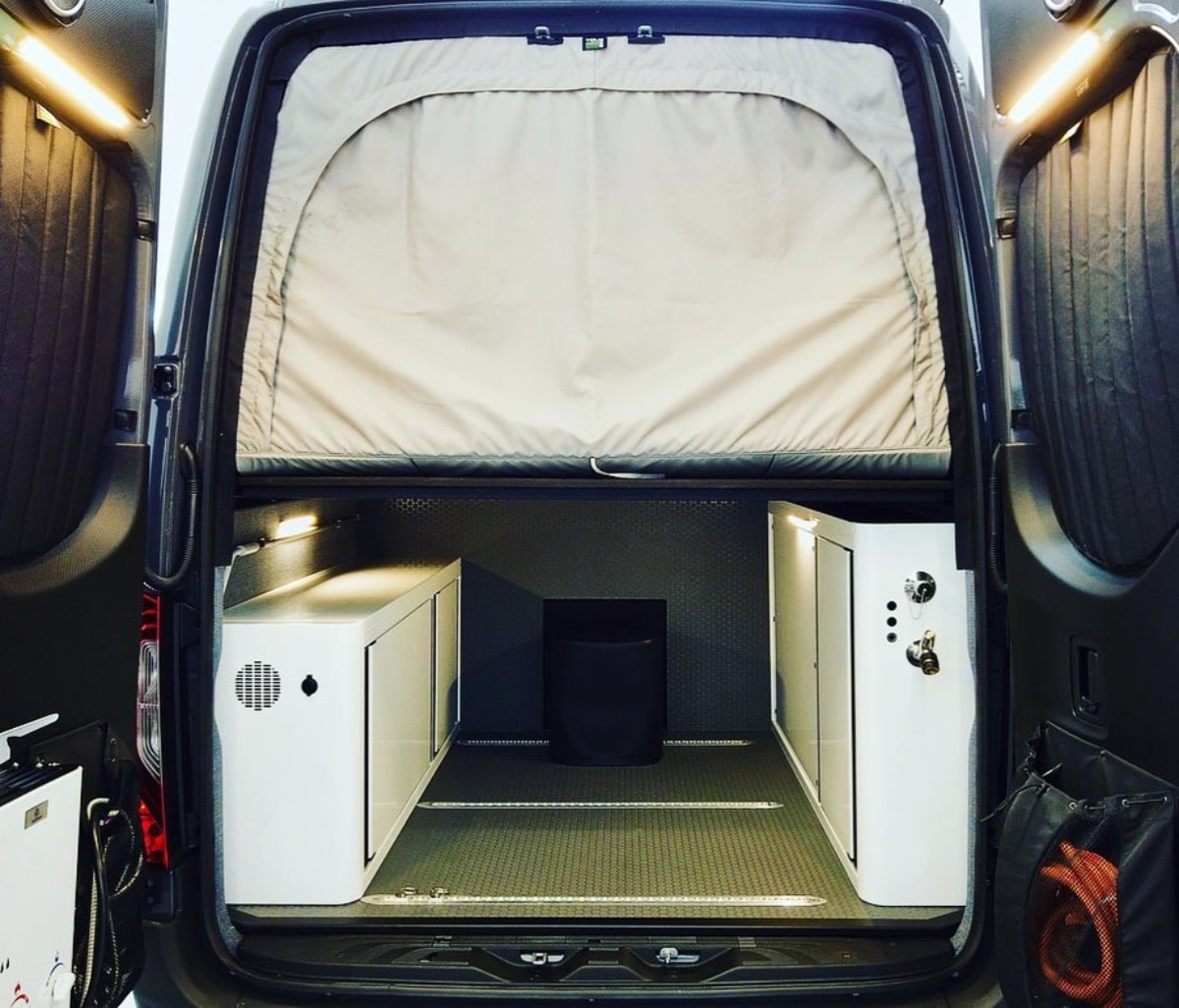 [Image: mytourig]
Vans can become saunas when sleeping in arid climates, but a rear door screen lets the breeze in.
21. Reading Lights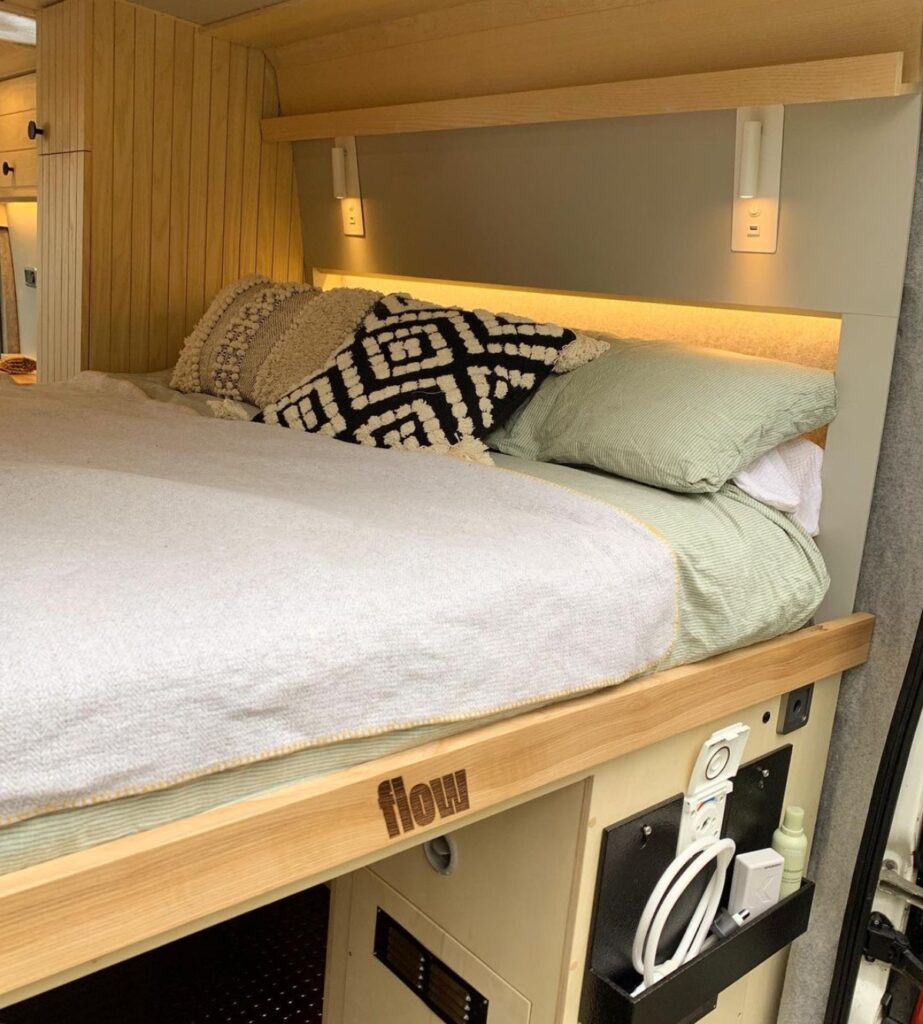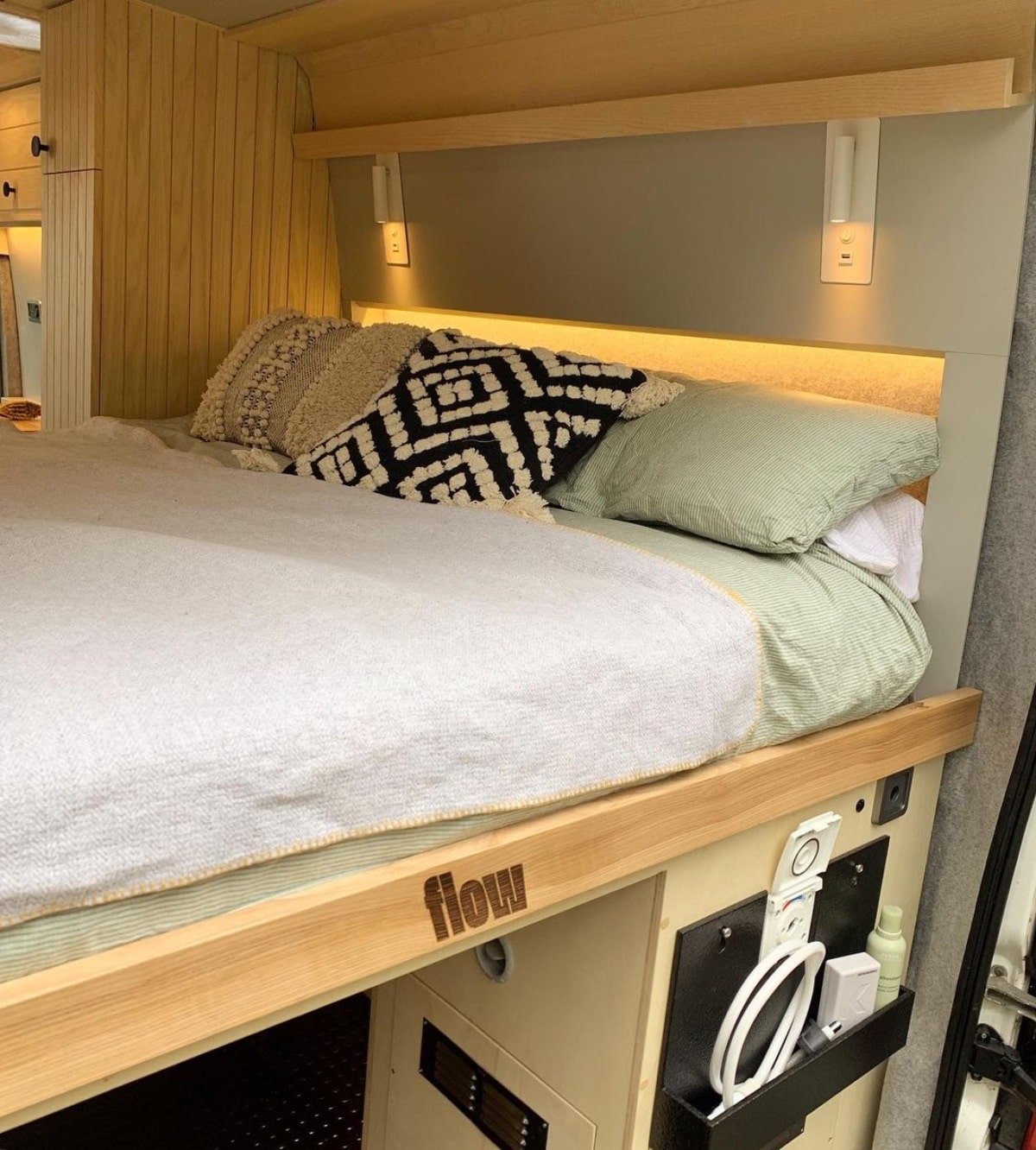 [Image: flowcampers]
If you have a friend or loved one along for the ride, these reading lights ensure they get a good night's sleep when you want to finish another chapter.
22. Black-Out Curtains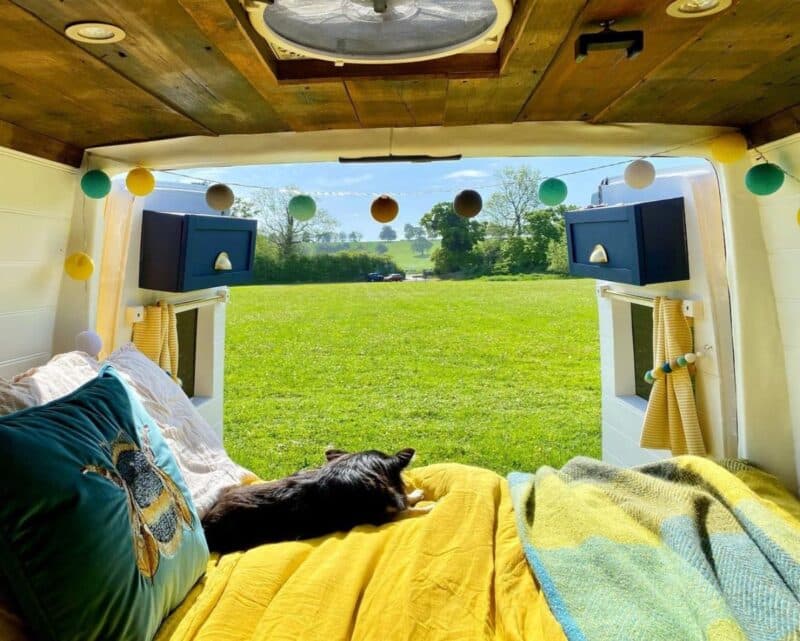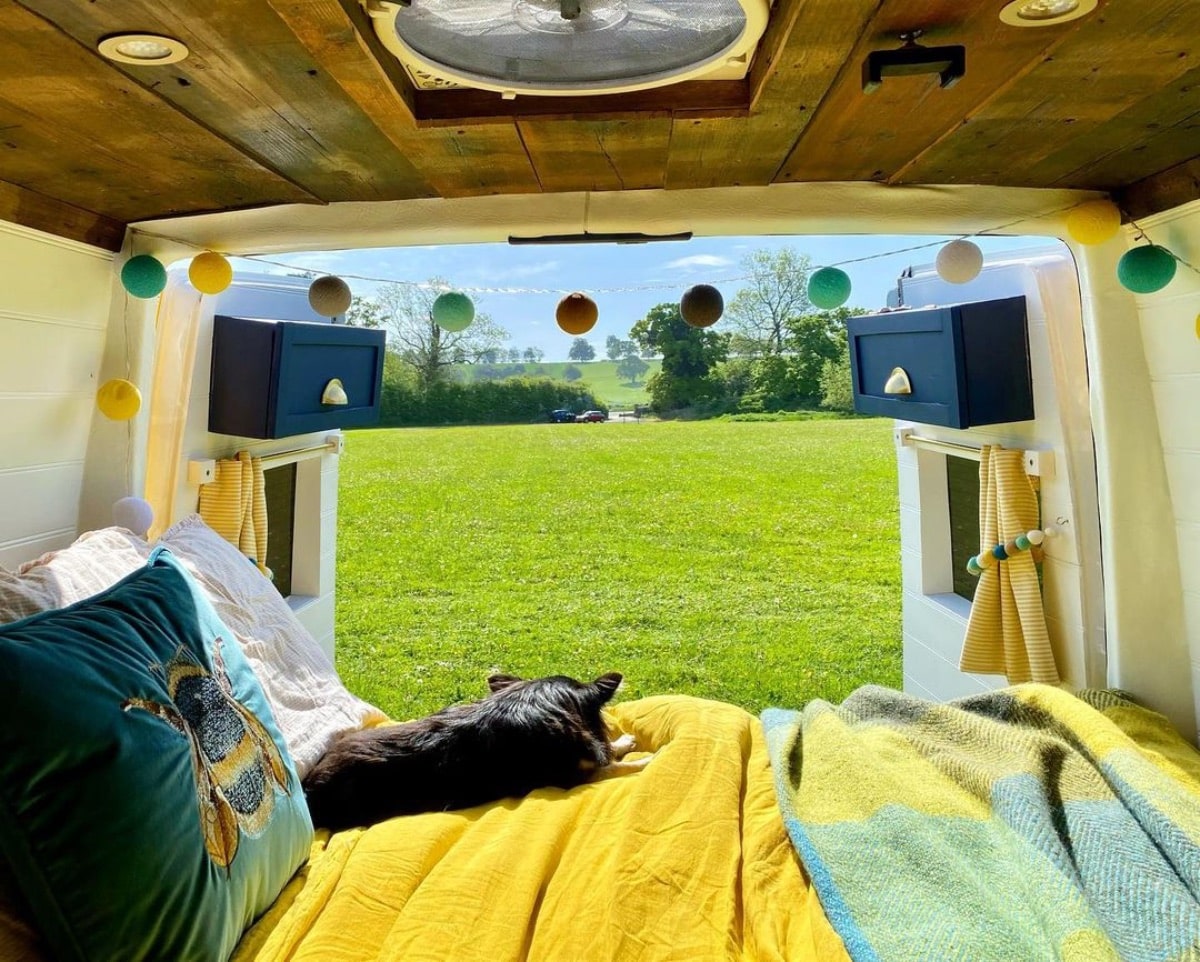 [Image: our_life_of_projects]
You'll appreciate having black-out curtains when the sun wakes up before you do.
Tech, Tools, and Gadgets
Many electronics are considered van life luxury items, but these gadgets should top your list of essentials.
23. Power Station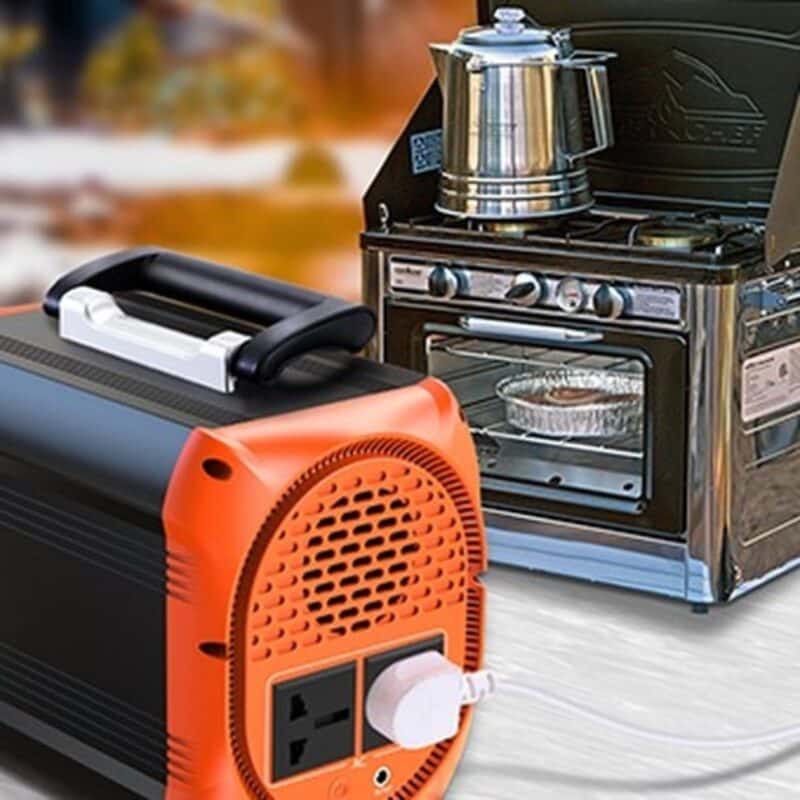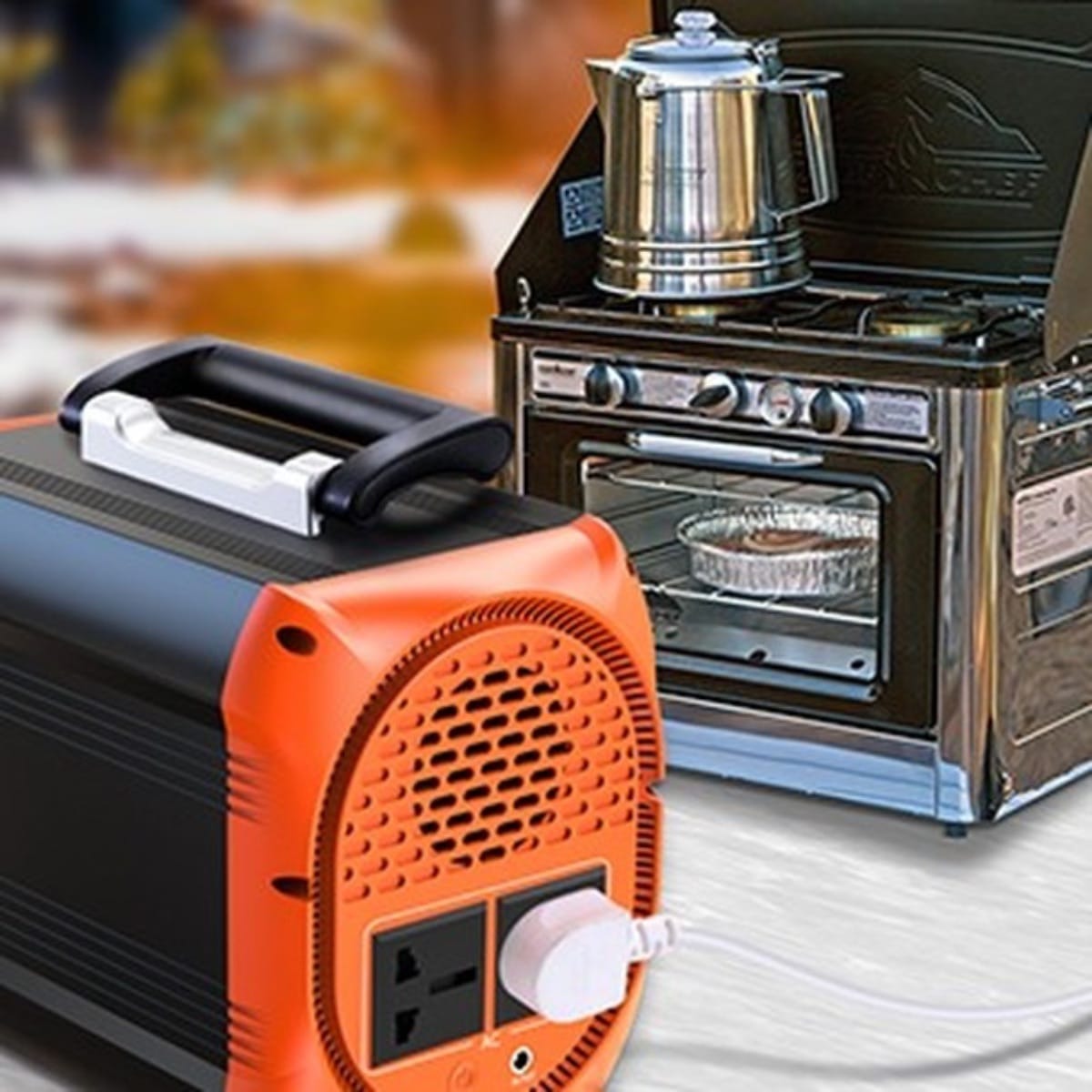 [Image:shehryarafzal.123]
If there's one thing you should splurge on, it's a reliable power station. You'll depend on it for your electronic needs when the van is parked.
24. Electric Lanterns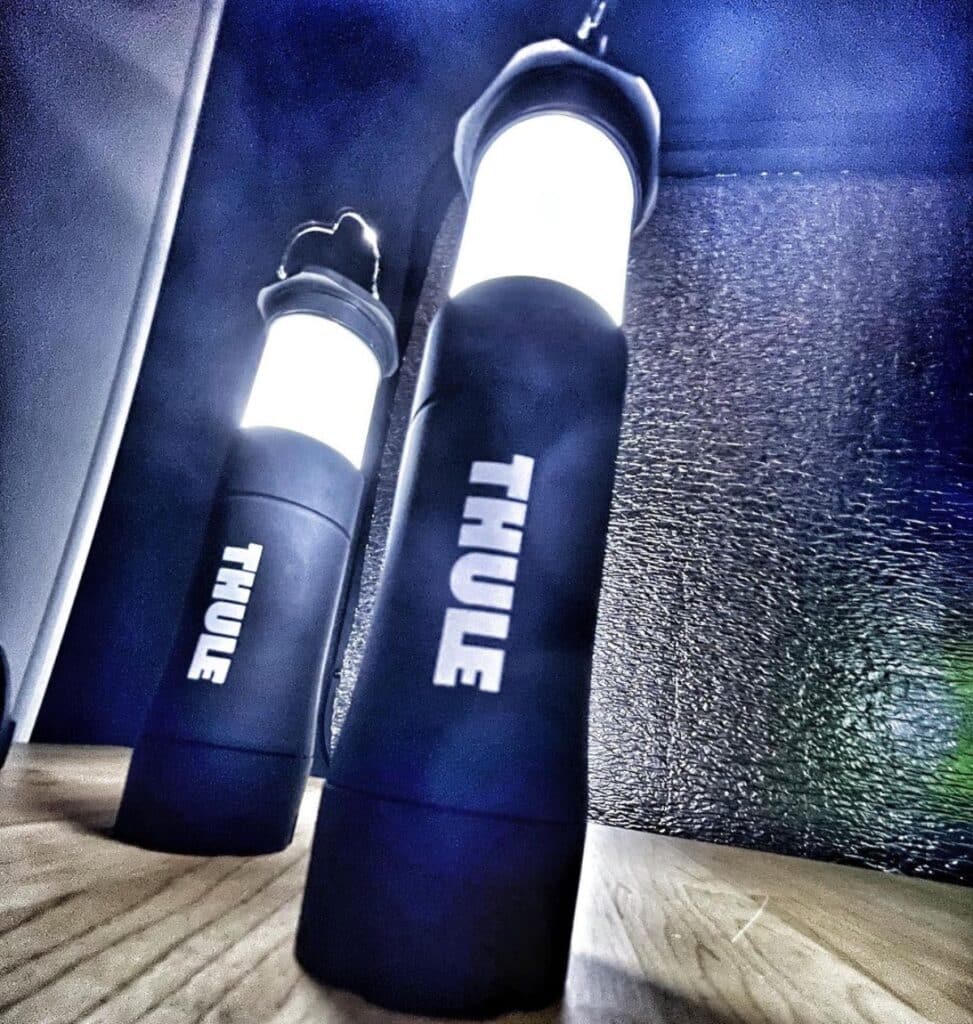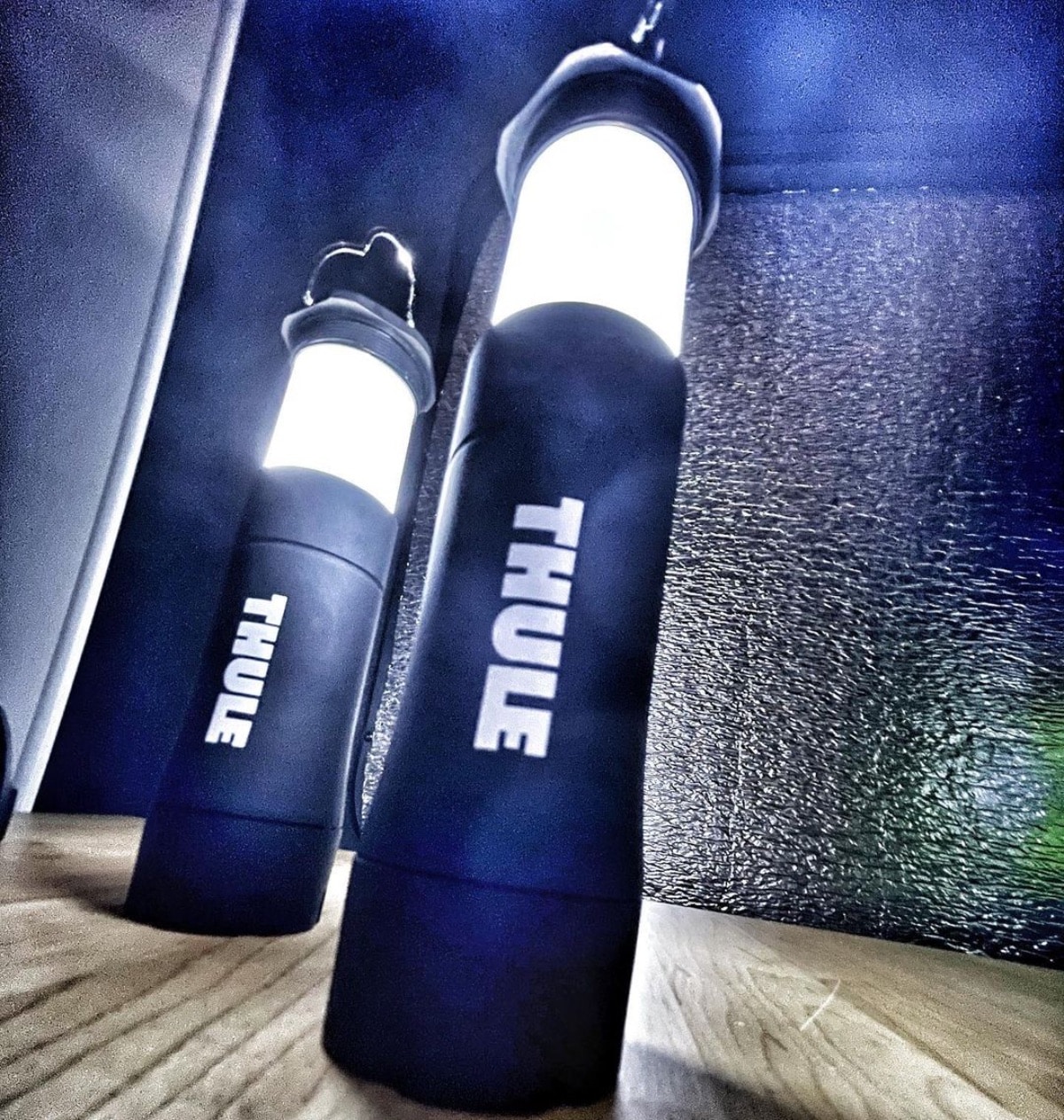 [Image:doriandmena]
Keep these electric lanterns charged, and they'll come in handy if you have to leave the safety of your van at night.
25. Handheld Vacuum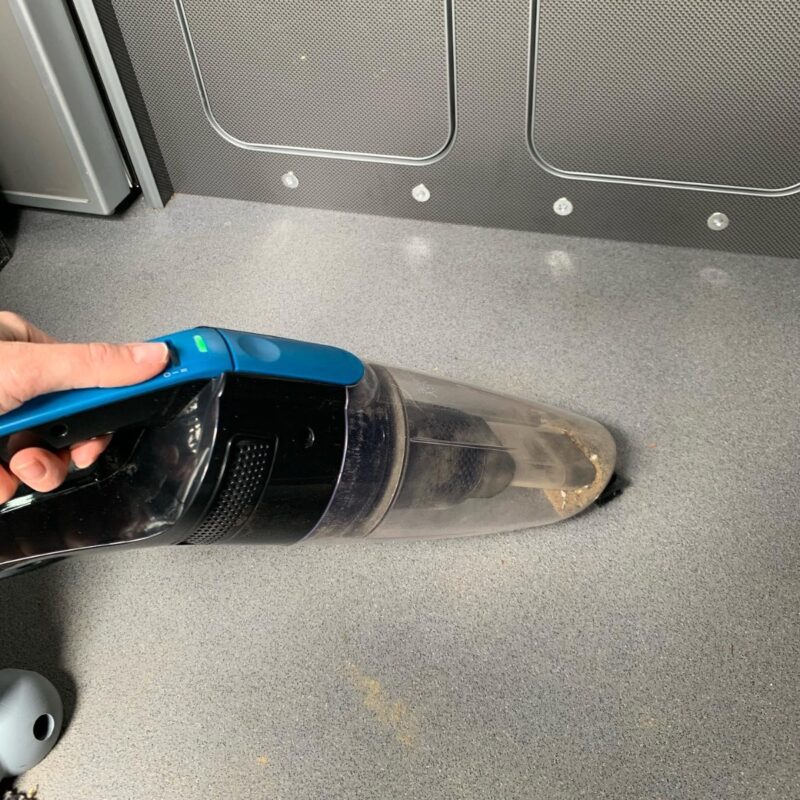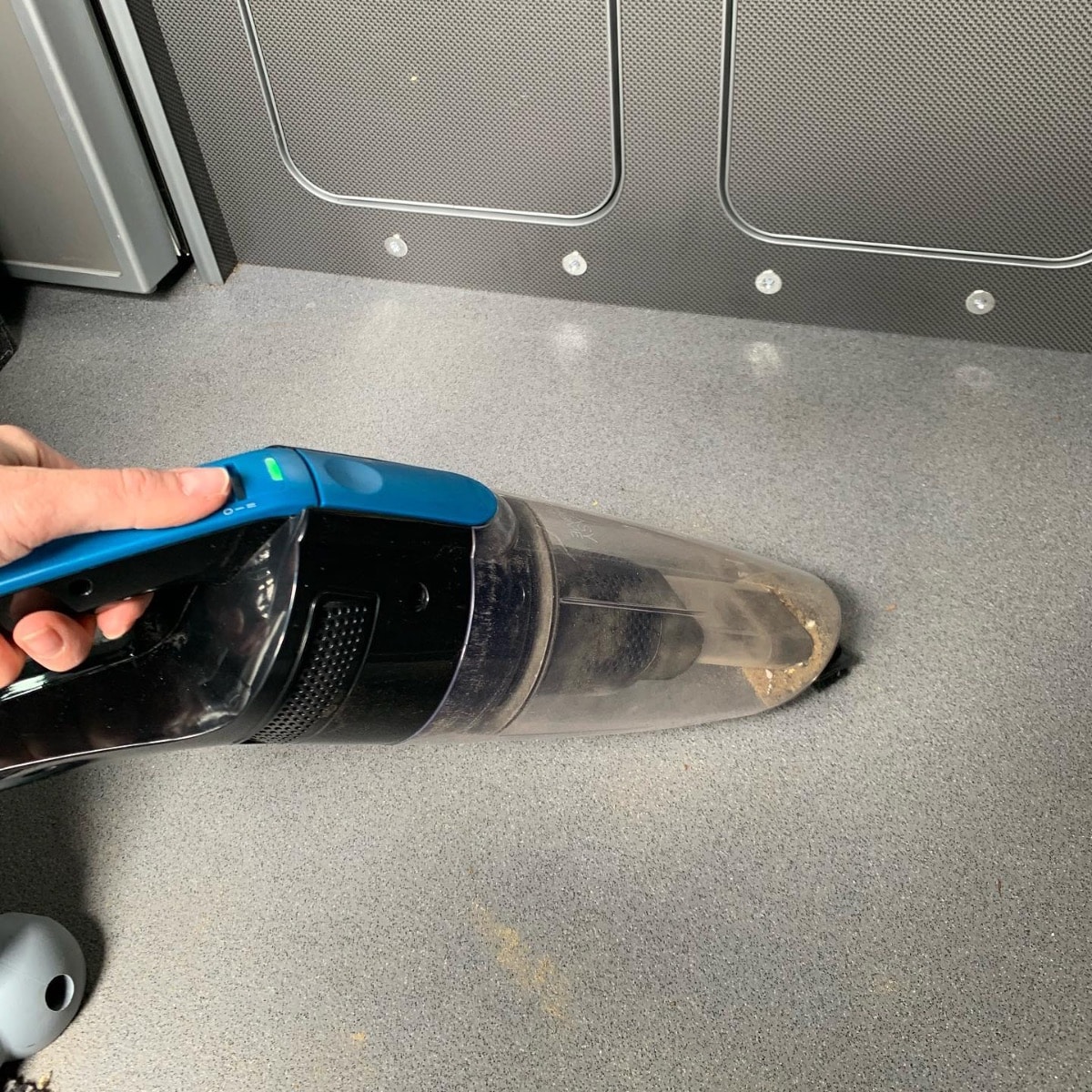 [Image:thegirlwiththecampervan]
Take care of little messes in no time with a handheld, battery-powered vacuum.
26. Space Heaters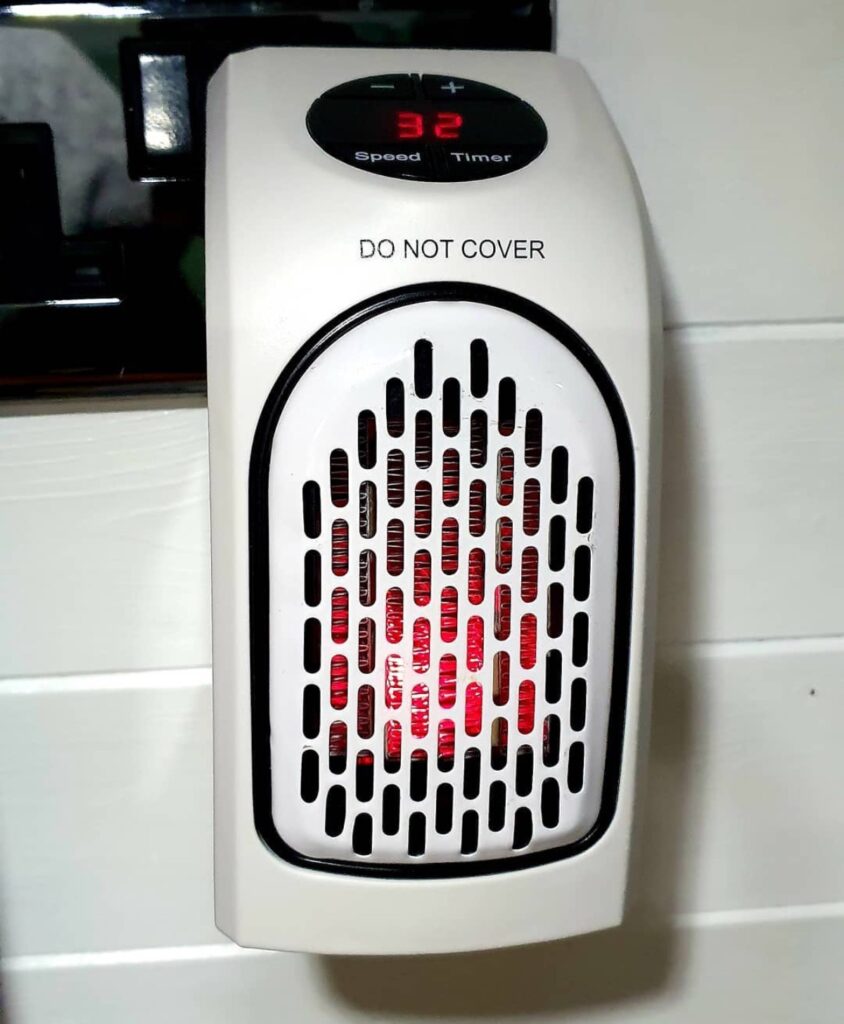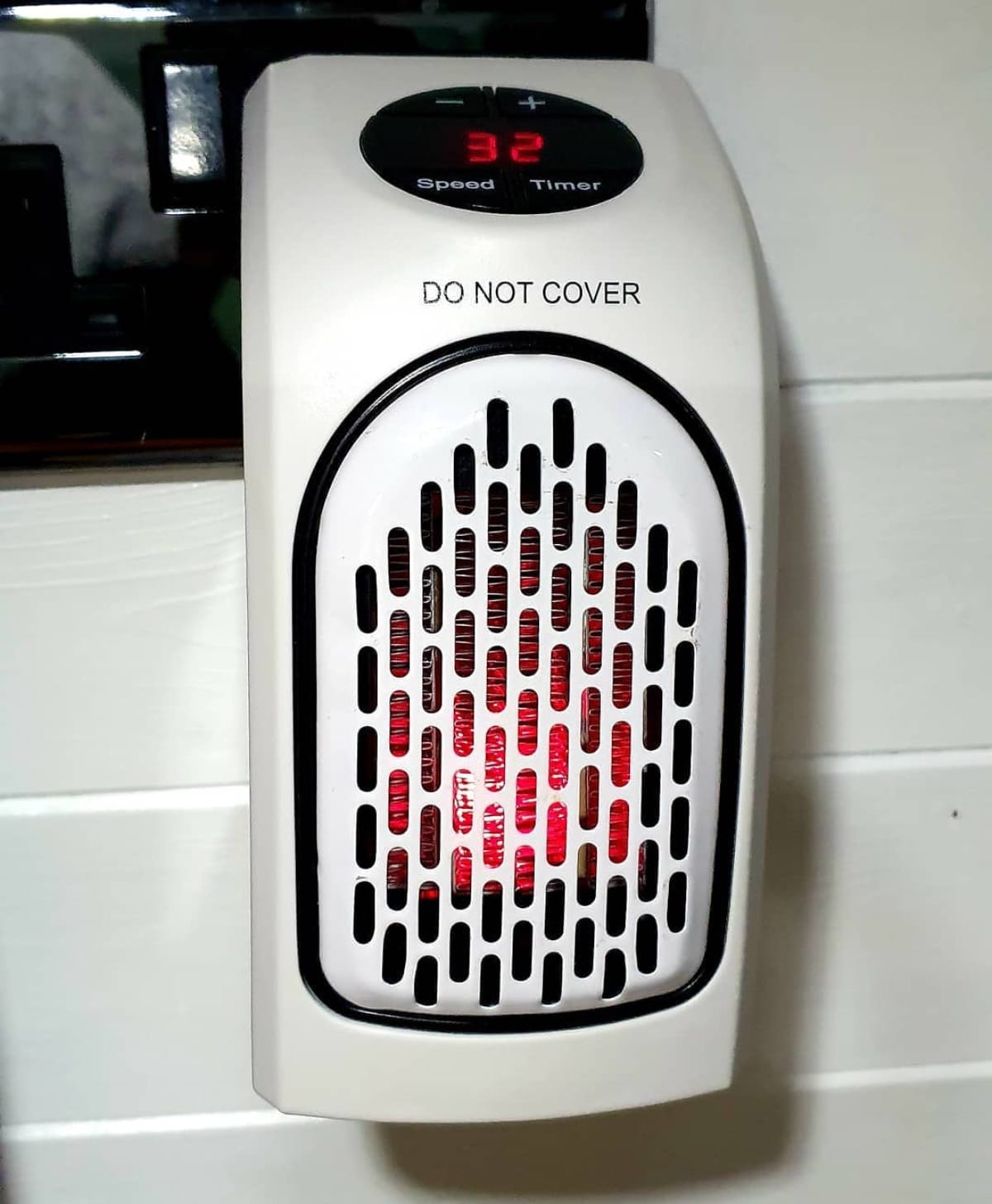 [Image: thevantastictwo]
In the higher latitudes, space heaters will keep you toasty warm.
27. Digital Safe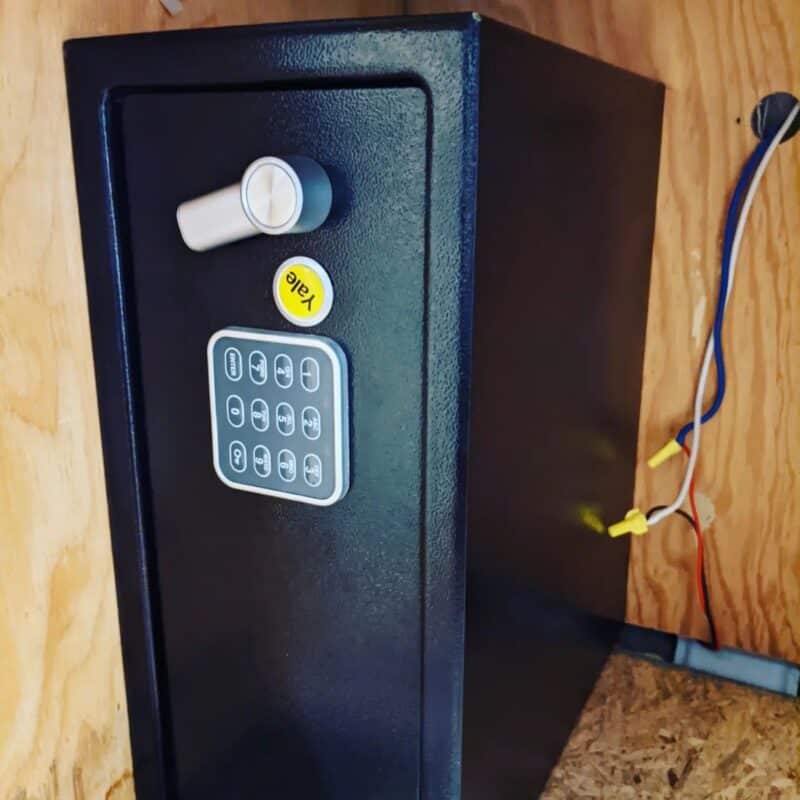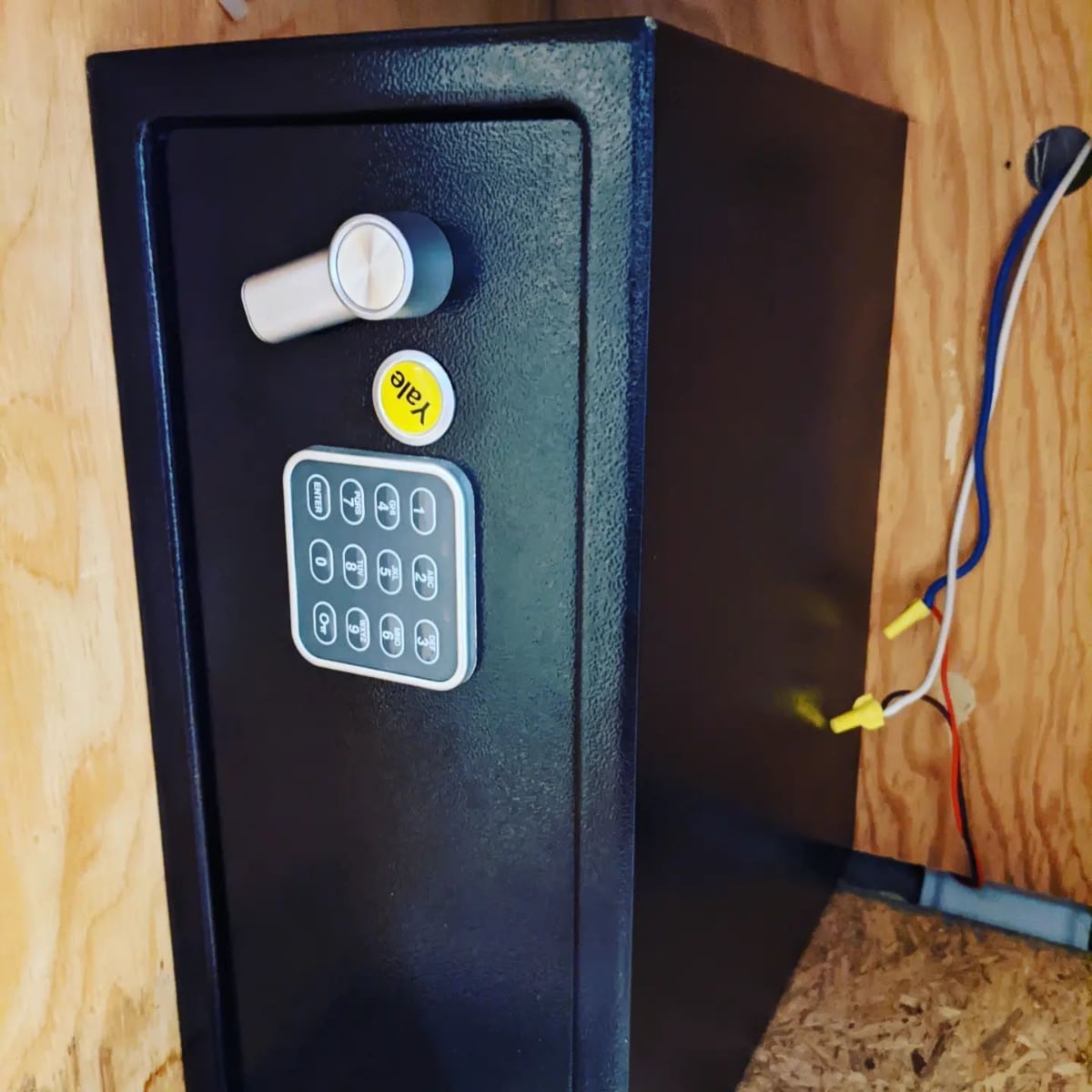 [Image:vanlifecrashpad]
Stash away your license, title, insurance, registration, and other crucial documents in a digital safe.
28. Dashcam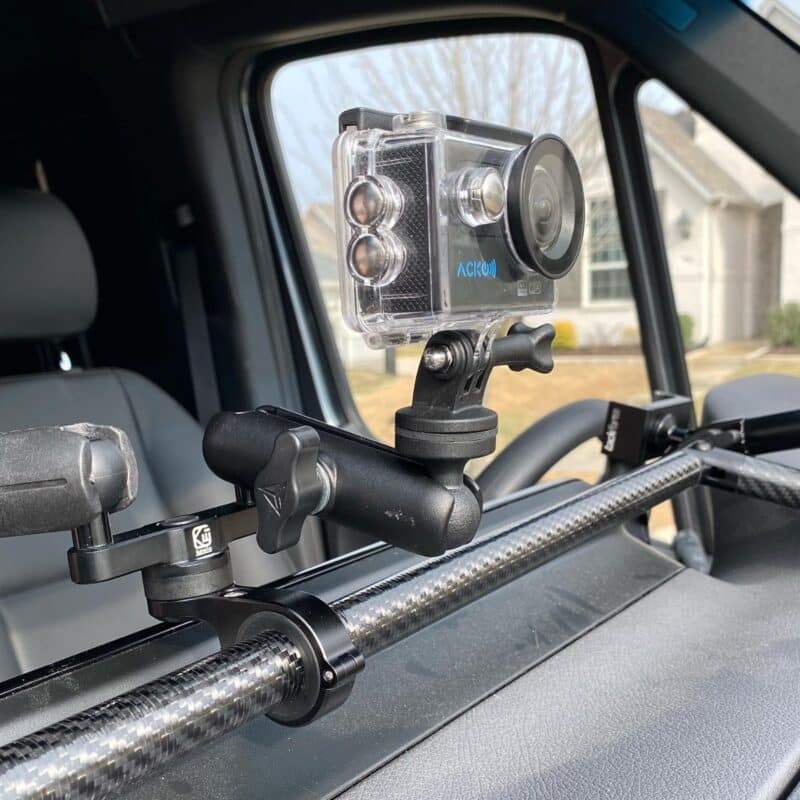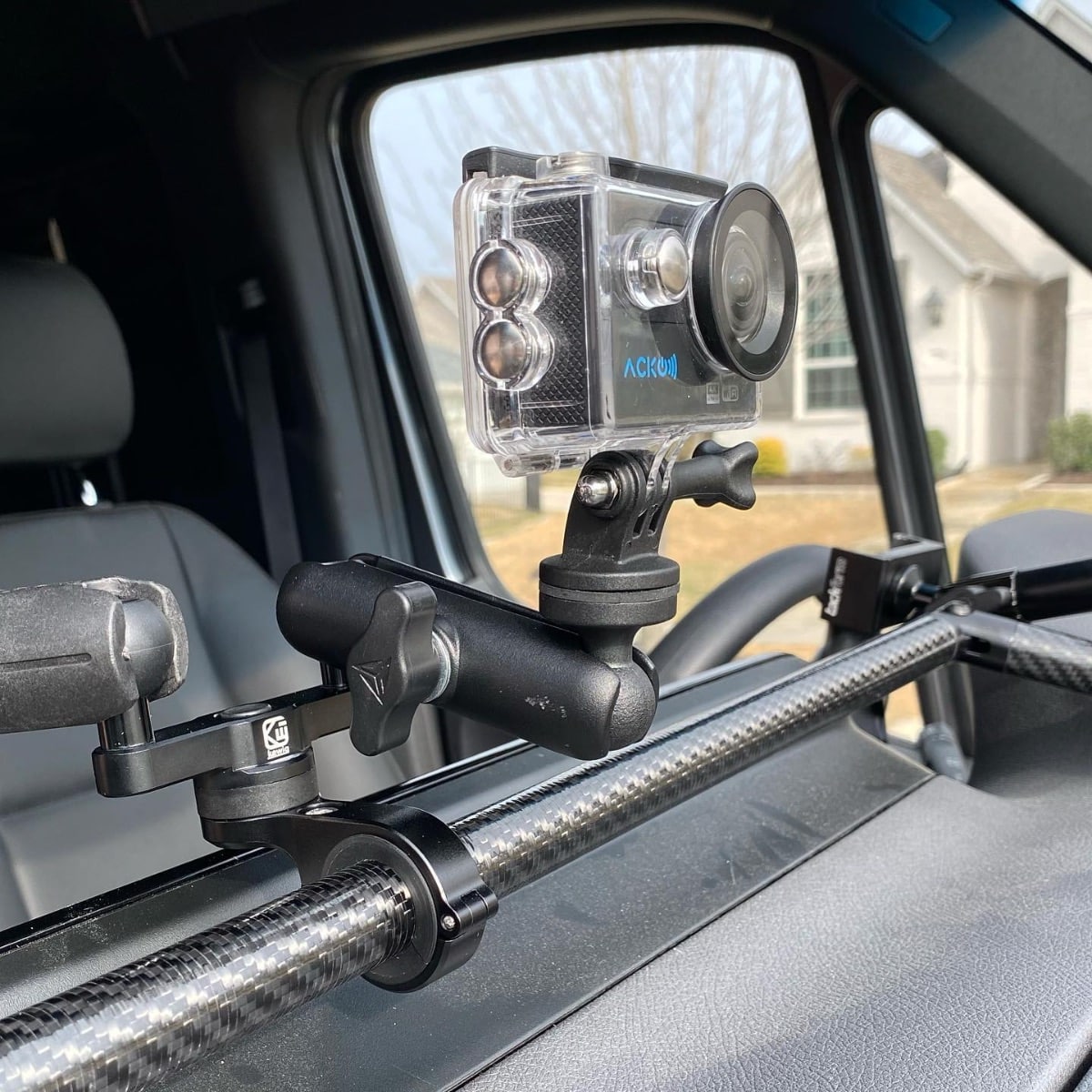 [Image: novel.rig]
Record every backwoods trail and desert drive with a mountable dashcam for your van.
29. Dishwasher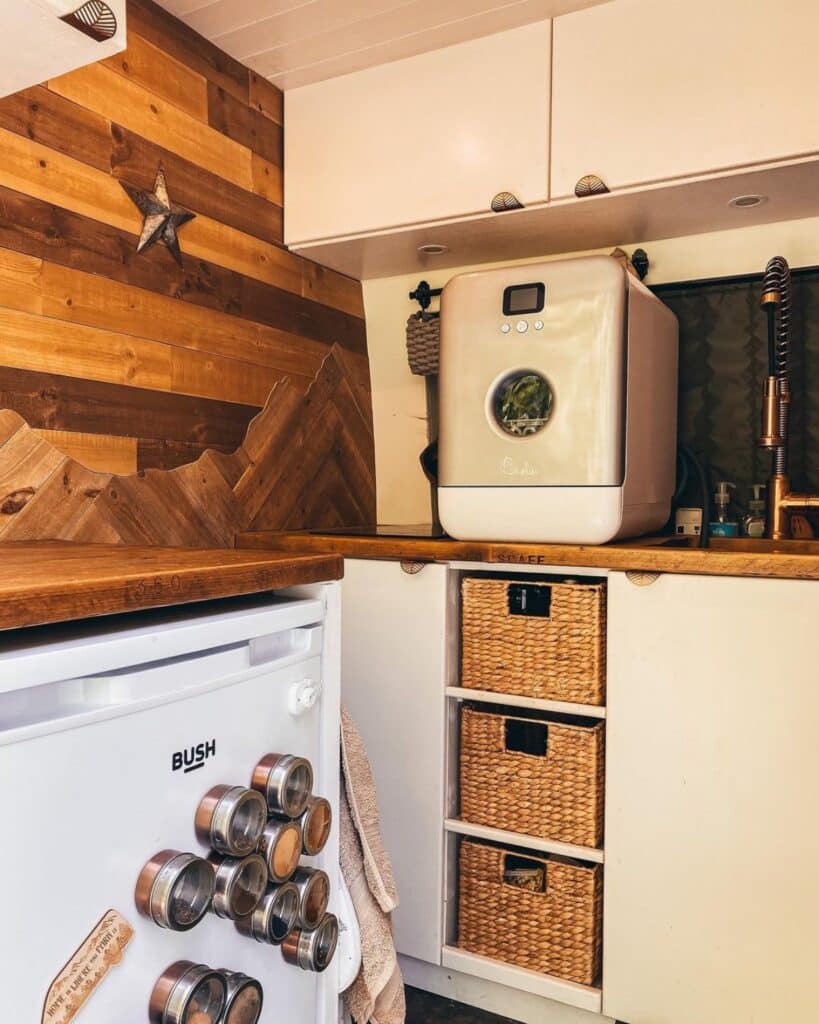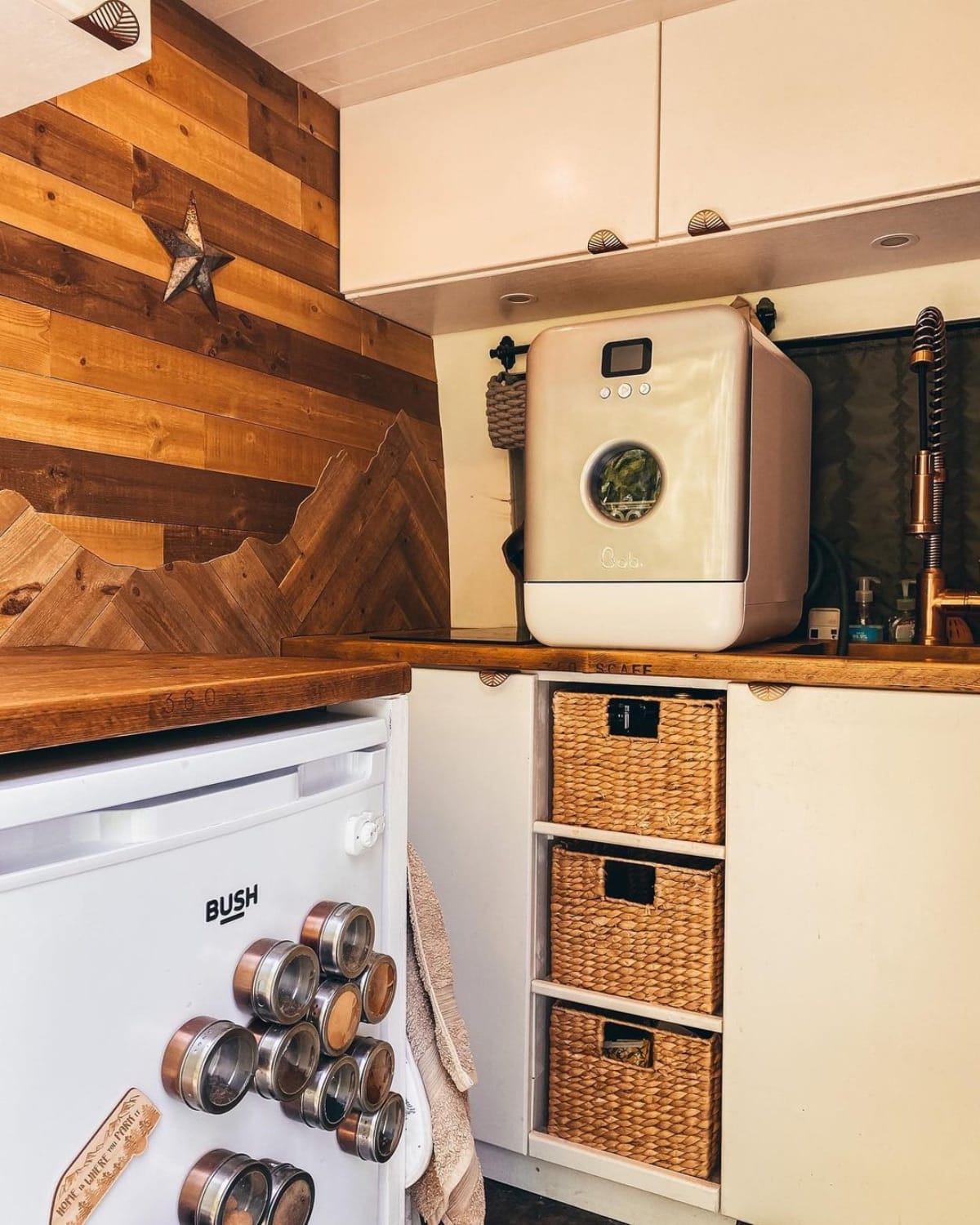 [Image: tothemountainsnback]
Dishwashers top the list of van life luxury items, making chore day much easier to manage.
30. Mobile Wifi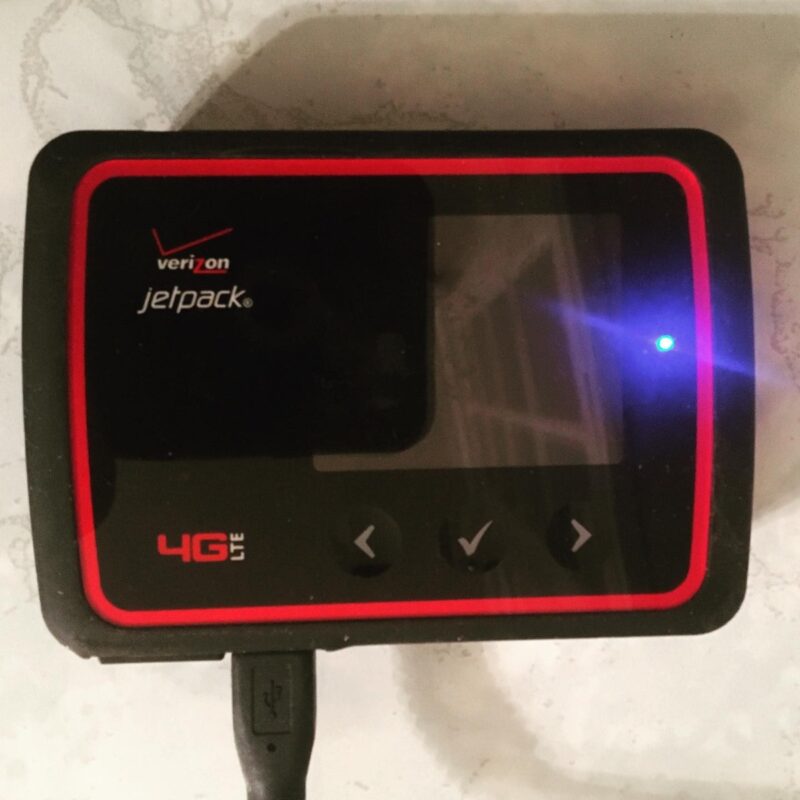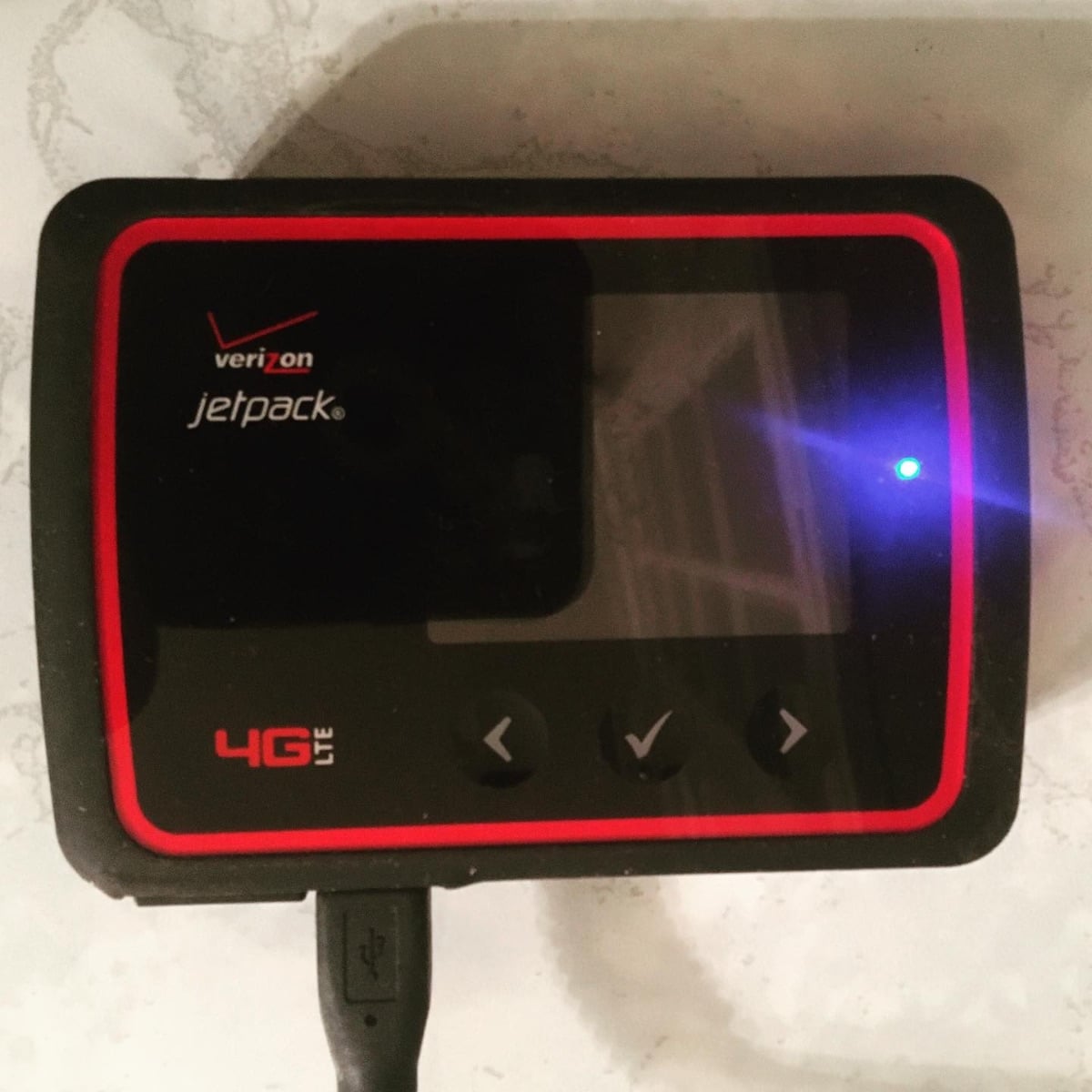 [Image: michael.mannings]
Stay connected with a mobile wifi unit.
31. Bike Repair Kit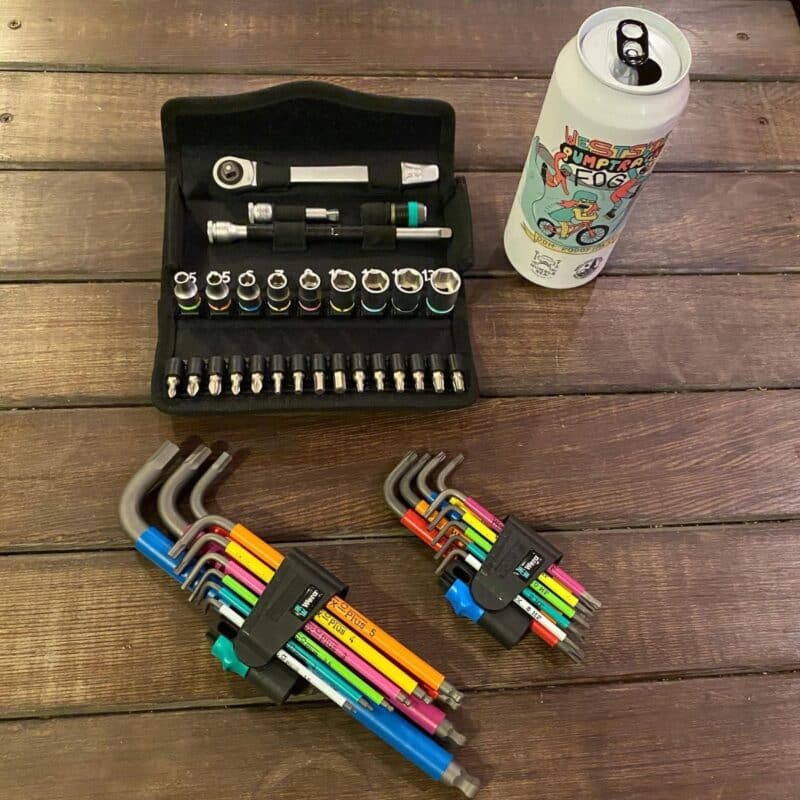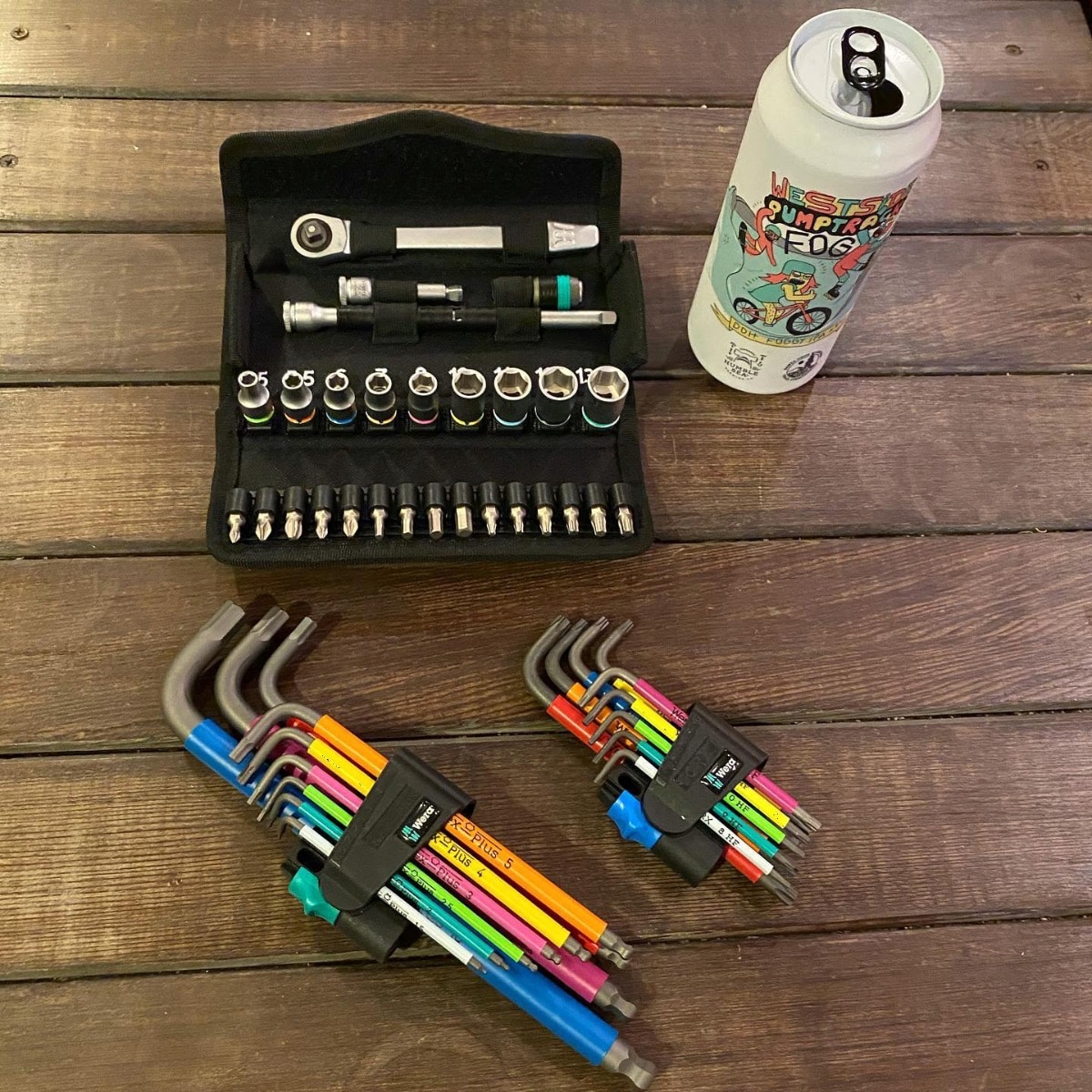 [Image:thevannerds]
Many van life enthusiasts like to take their bikes out in the backwoods, so pack an all-inclusive repair kit to keep it in excellent condition.
32. Jack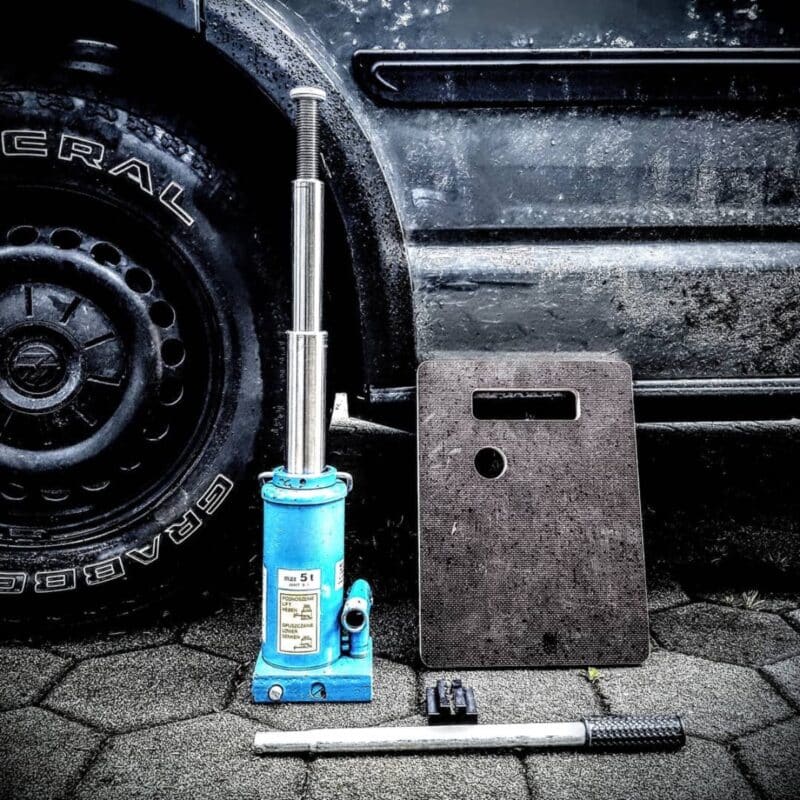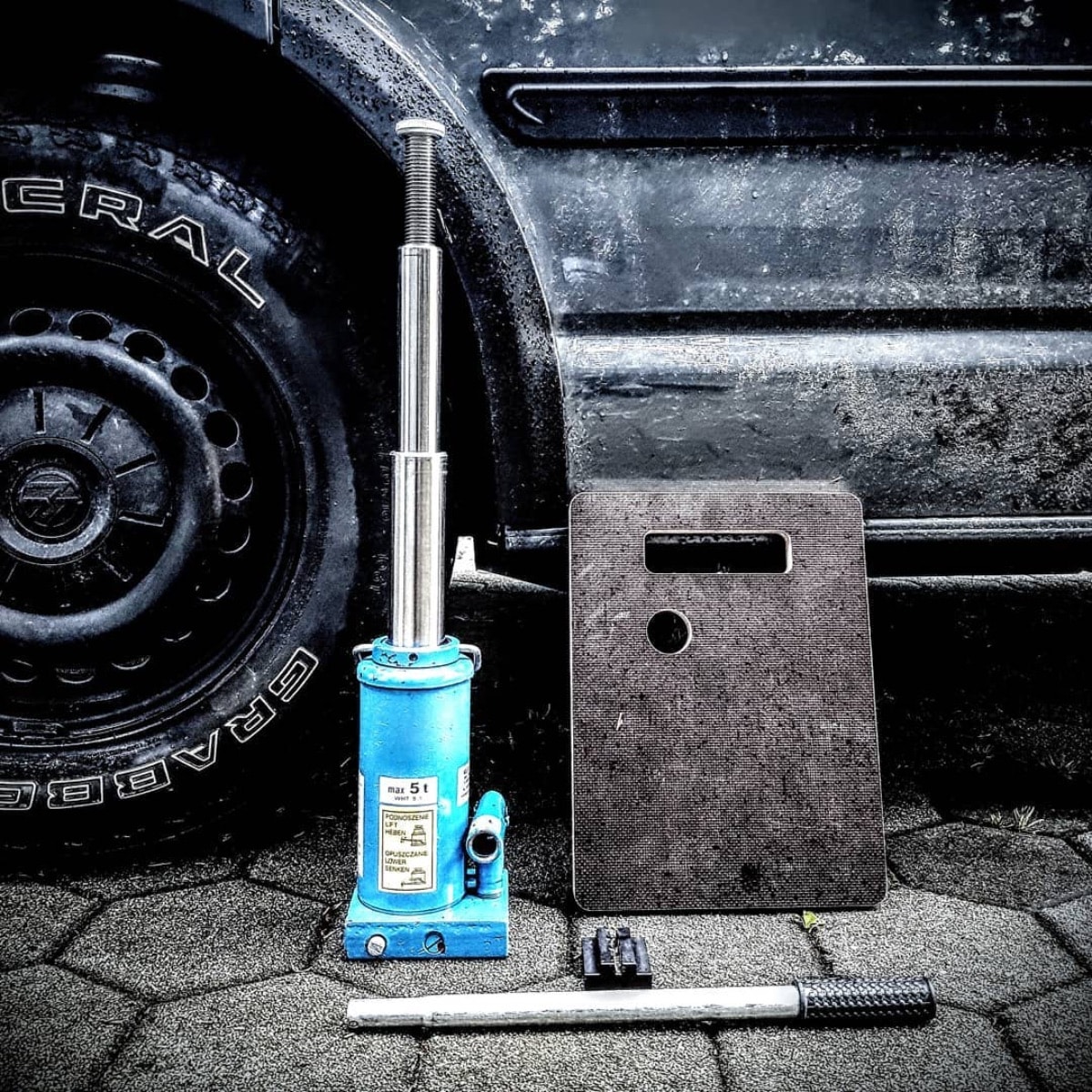 [Image: 360_discover]
A jack is essential in your van tool kit if you don't want a tire blowout to slow you down.
Personal Items
Trading in your traditional home for a life on the road can be challenging. Make the transition easier with these personal comfort items.
33. Reusable Water Bottle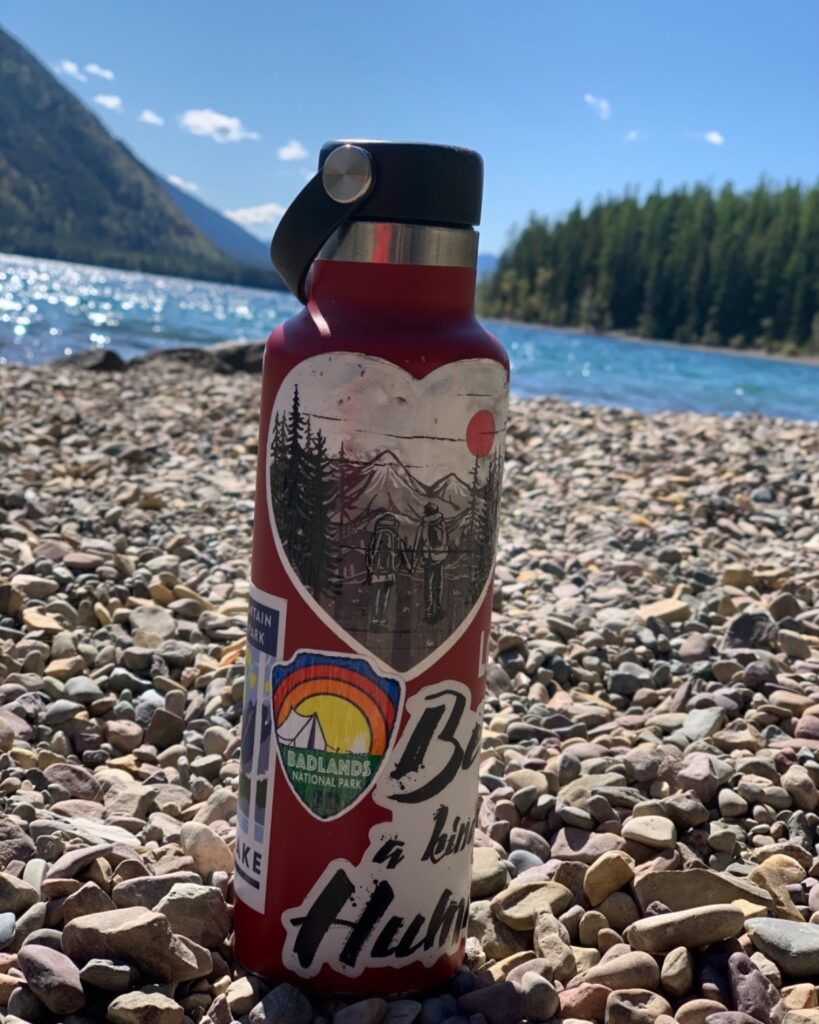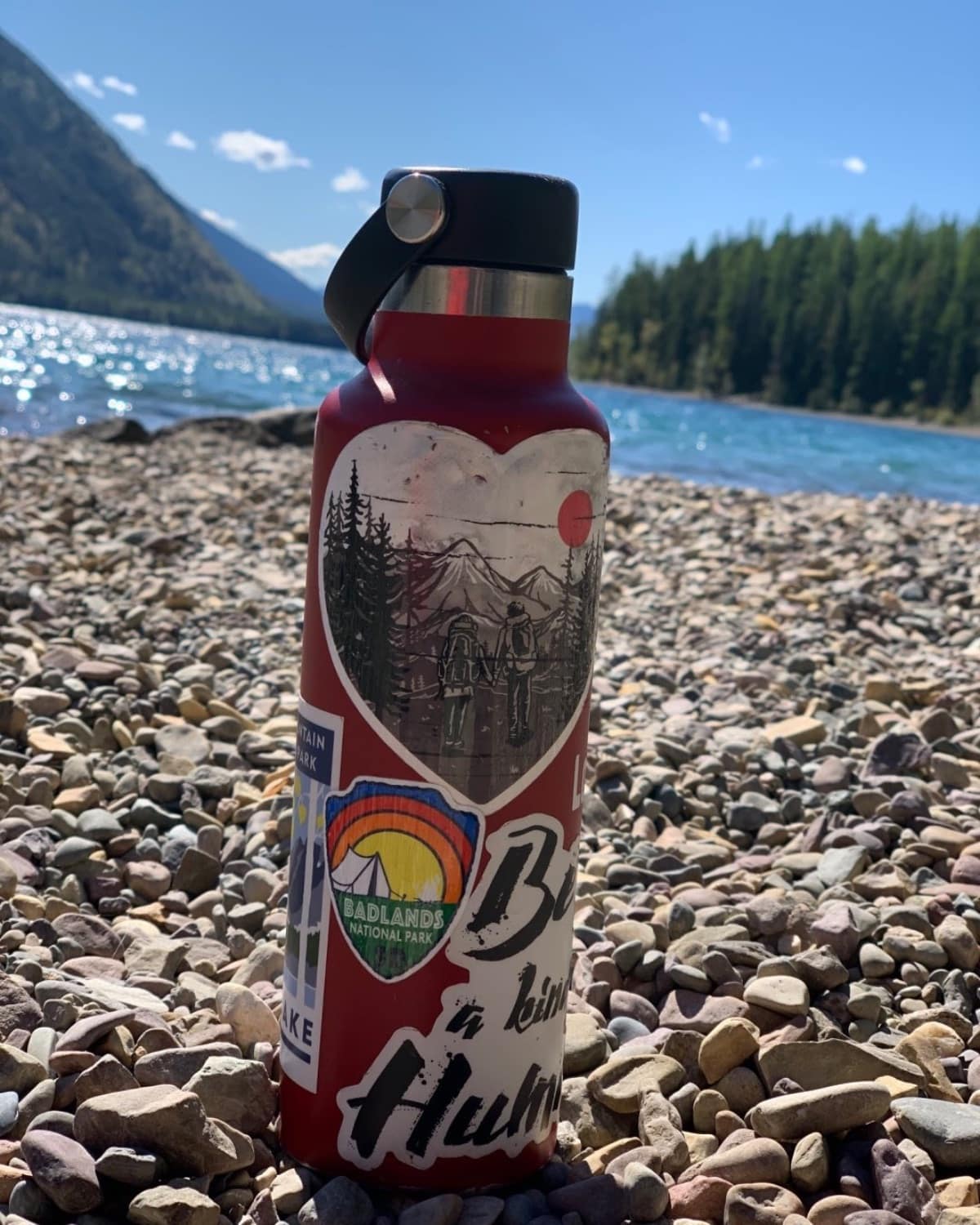 [Image: losflatlanders]
Ditch the disposable bottles in favor of a take-anywhere refillable version.
34. Cuddly Friend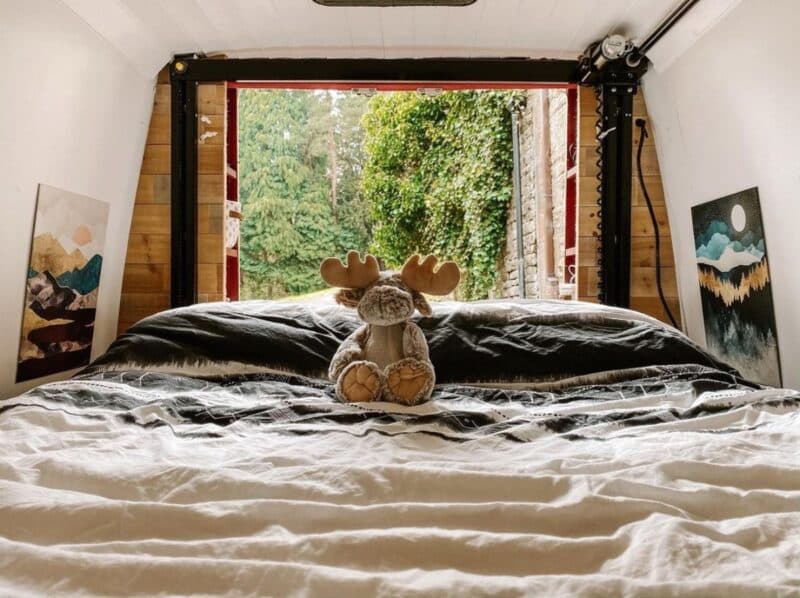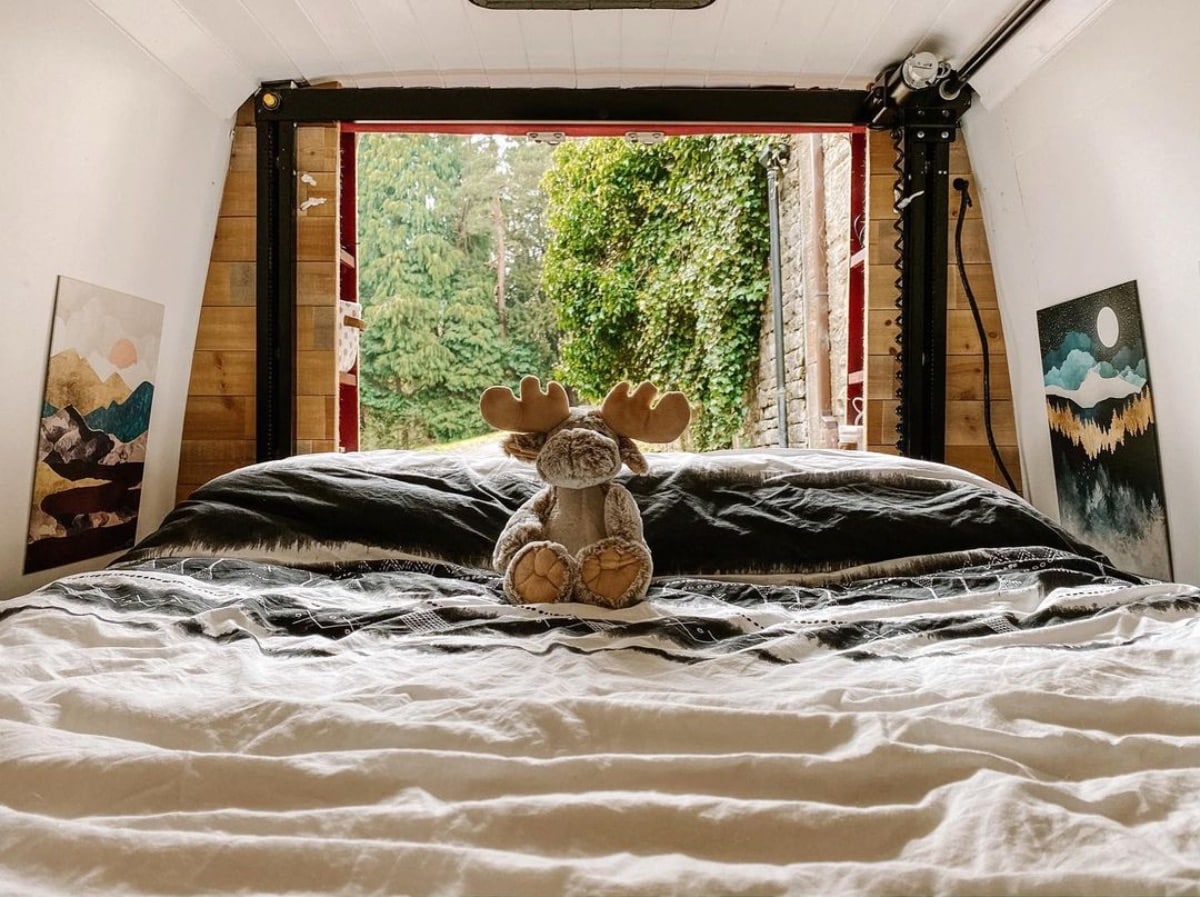 [Image:tothemountainsnback]
Who says your pet has to be real? A plush toy is a faithful companion for your home on wheels.
35. Cozy Slippers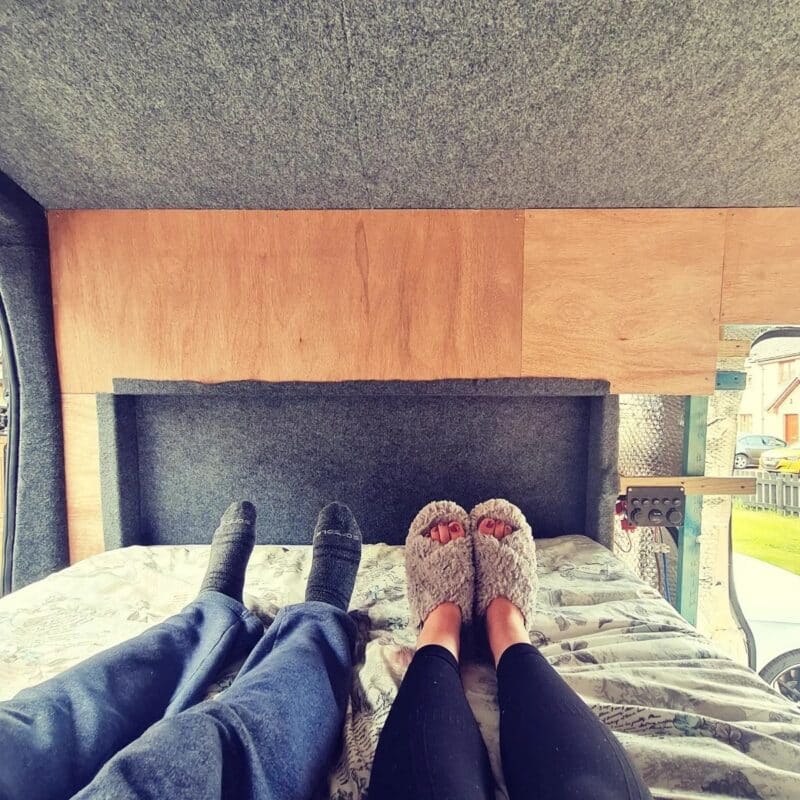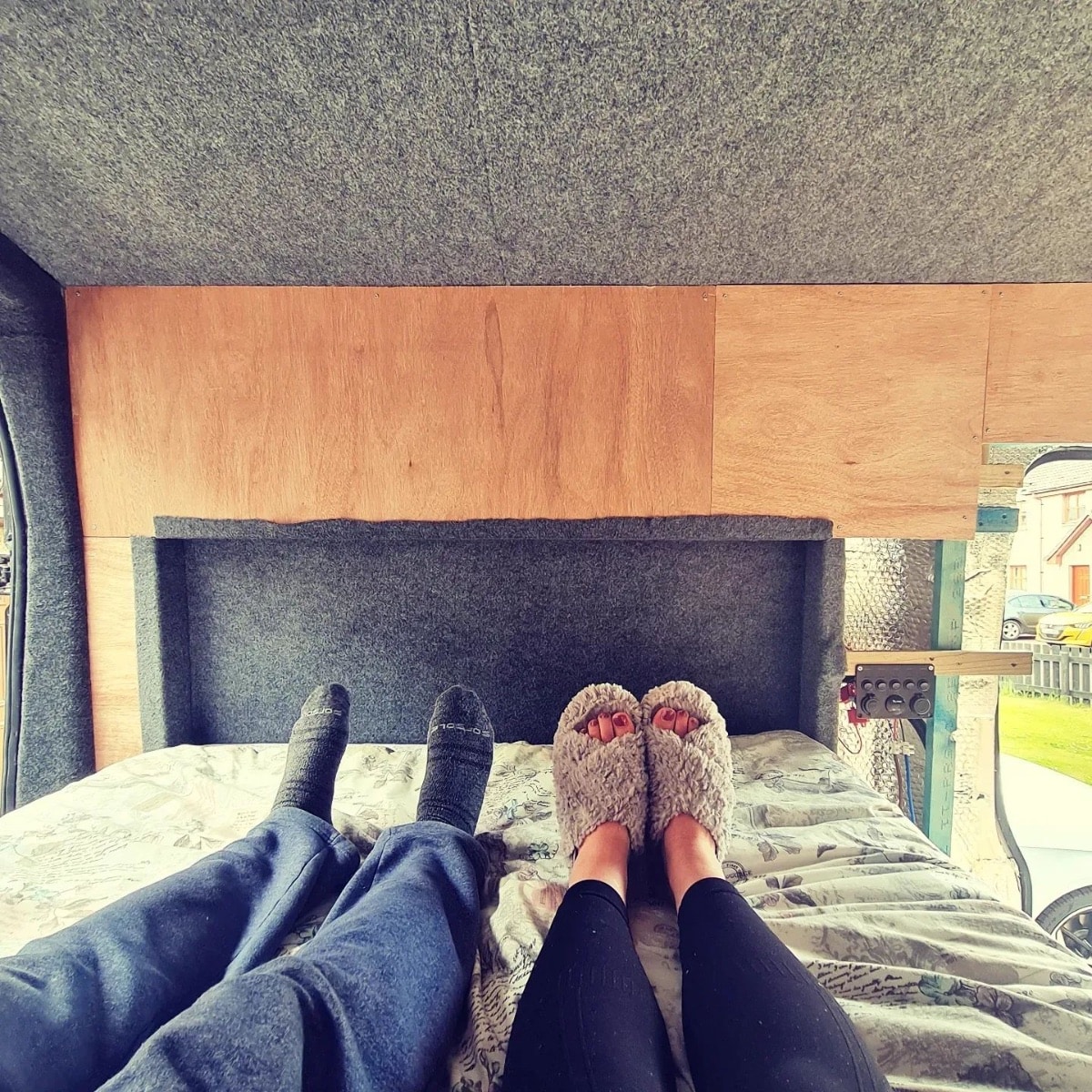 [Image: van4ventures]
Trade in your hiking boots for comfortable slippers when it's time to settle in for the night.
36. Favorite Coffee Mug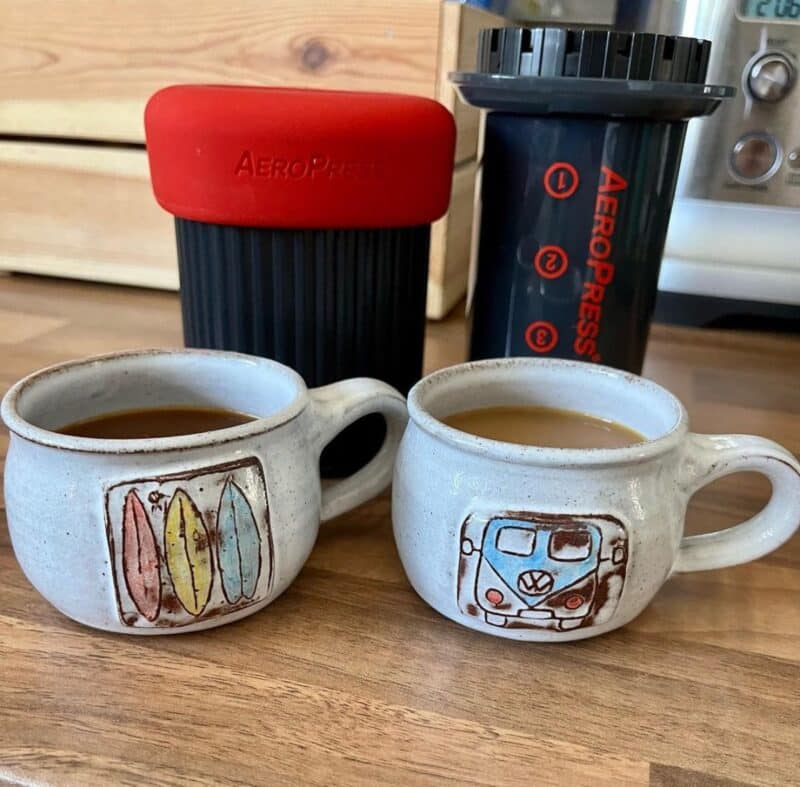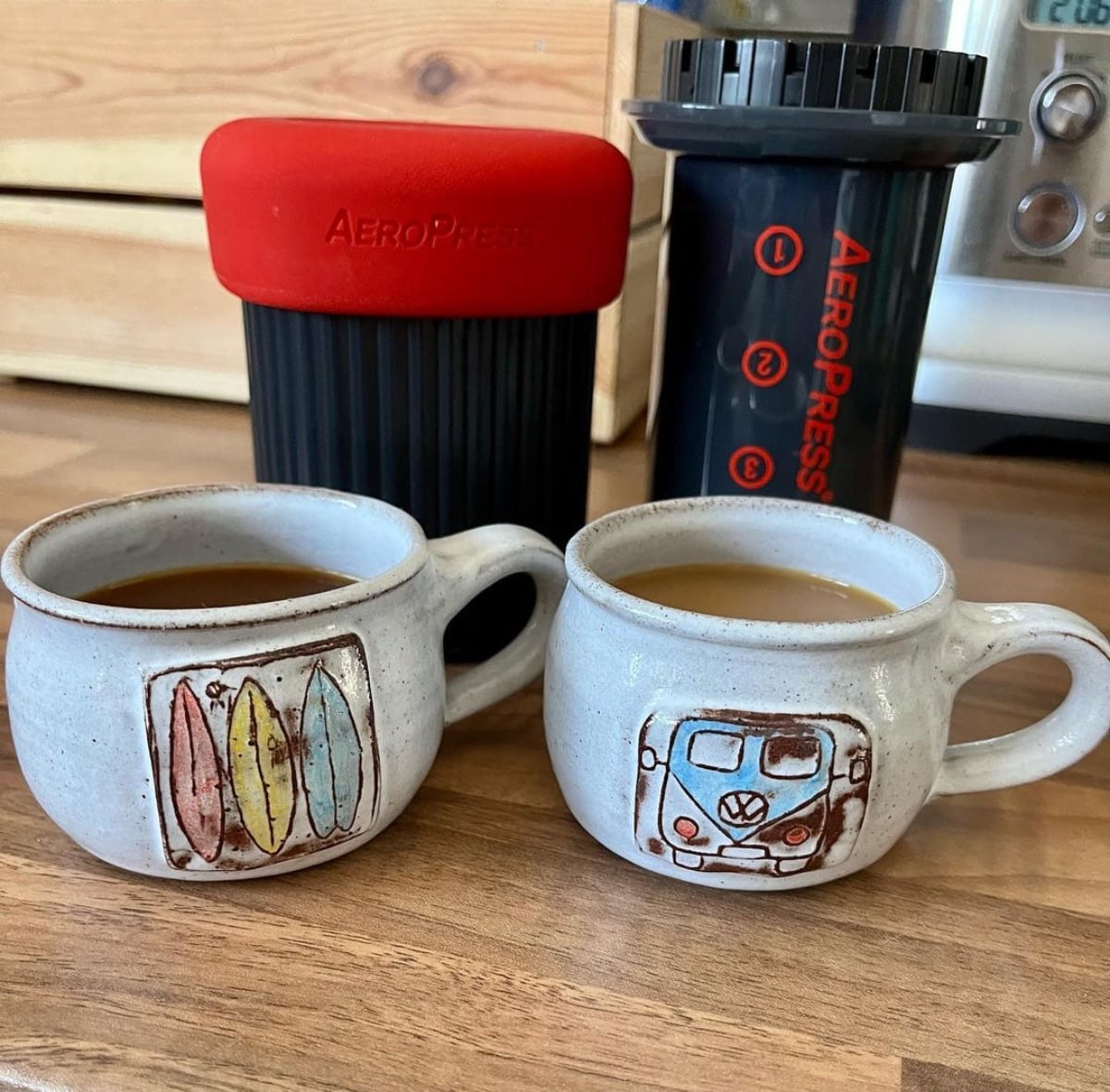 [Image: theramblingstones]
Unfortunately, your coffee mug collection likely won't fit in your camper van. Choose your favorite to take on the road with you.
37. Drawstring Makeup Bag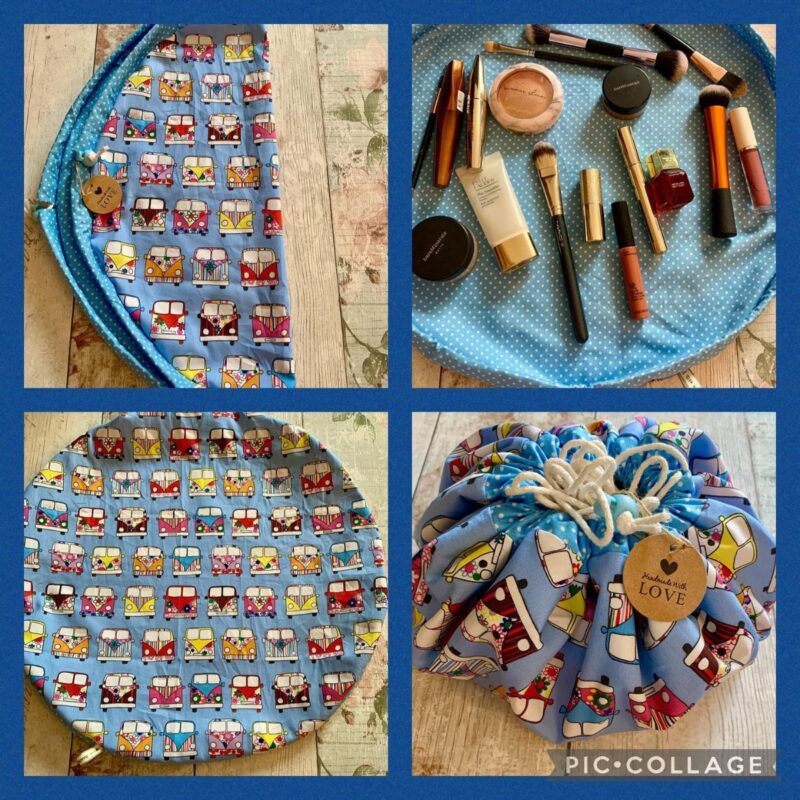 [Image: crafts_and_creations_by_emily]
This sturdy-bottomed drawstring makeup bag transitions from sack to styling table in a snap.
38. Shave Kit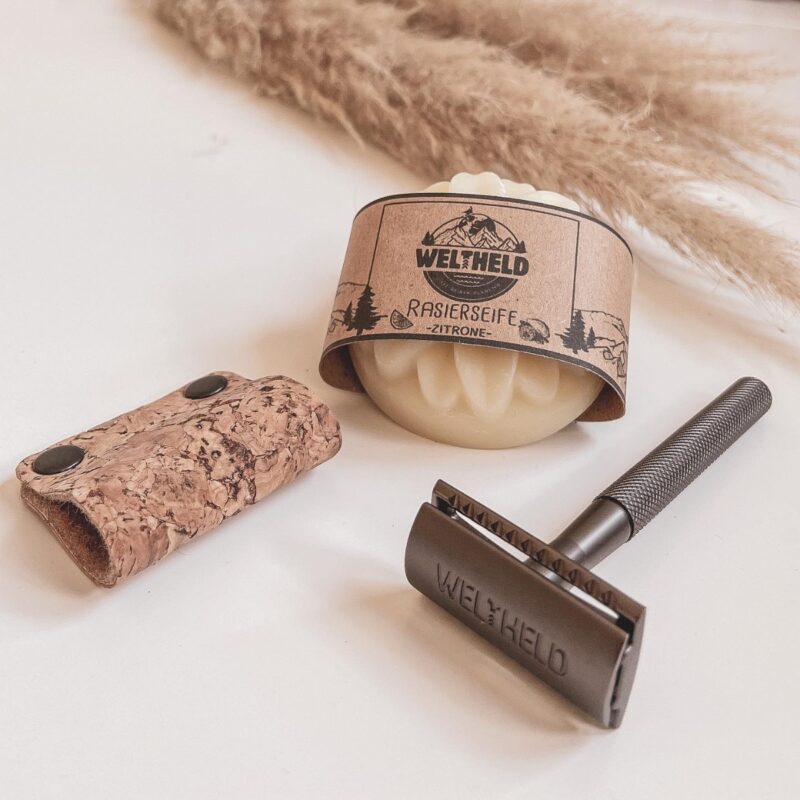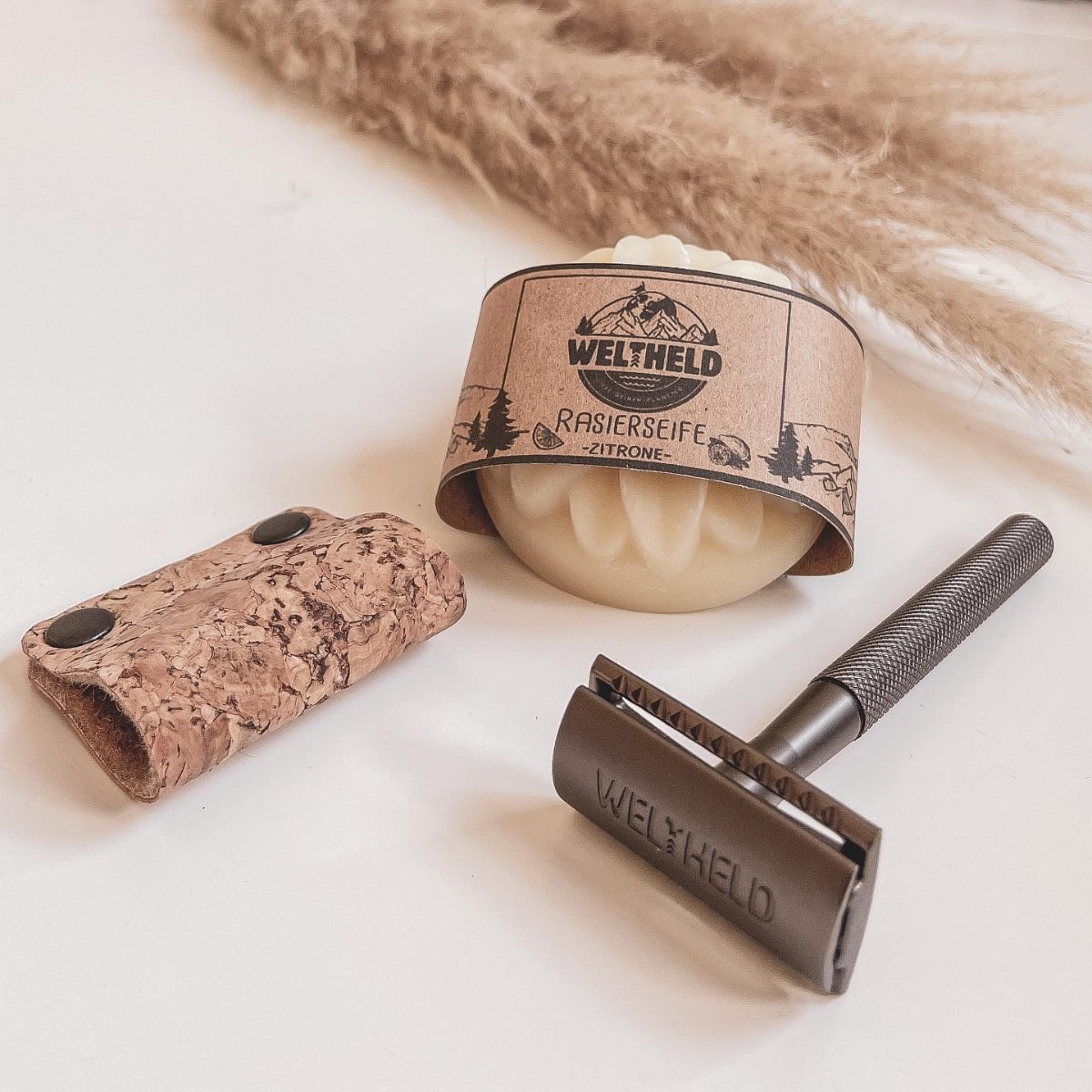 [Image: weltheld_]
Treat your face right with a luxury shave kit.
39. Travel Journal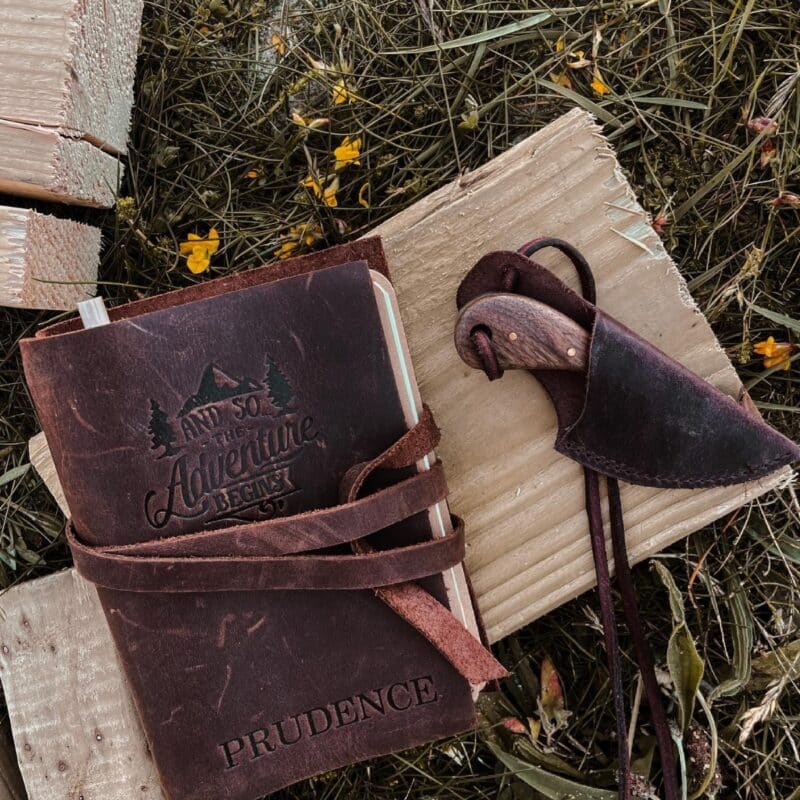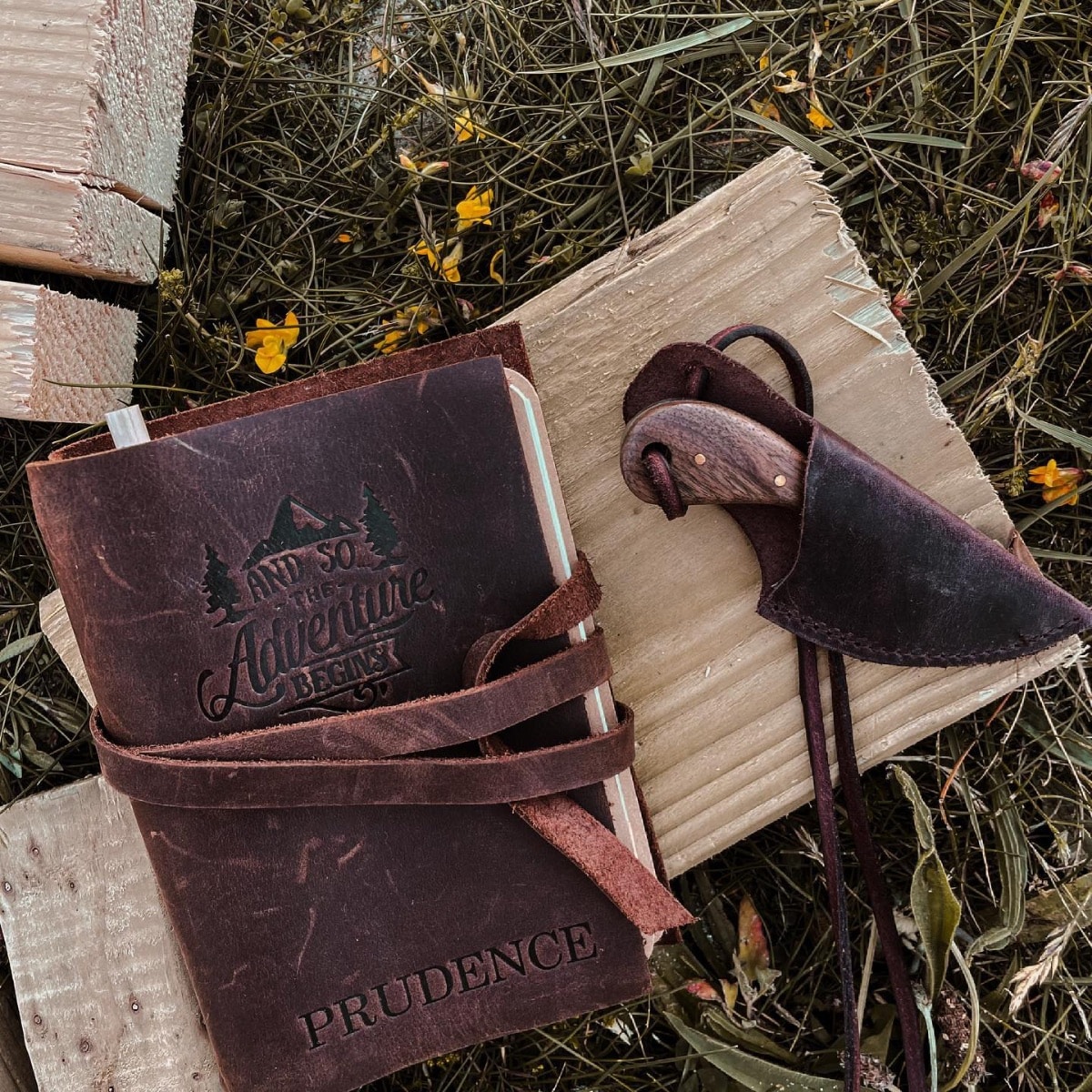 [Image: niamh171]
Let your inner Hemingway or Kerouac shine with a personalized travel journey.
40. e-Reader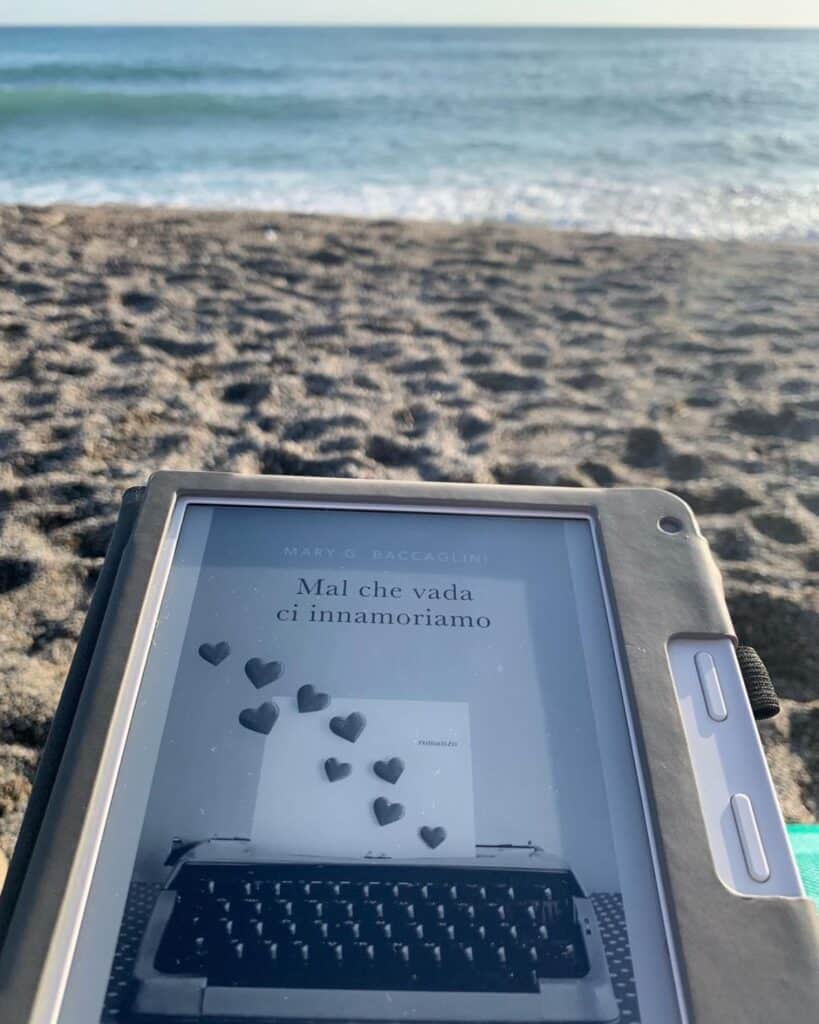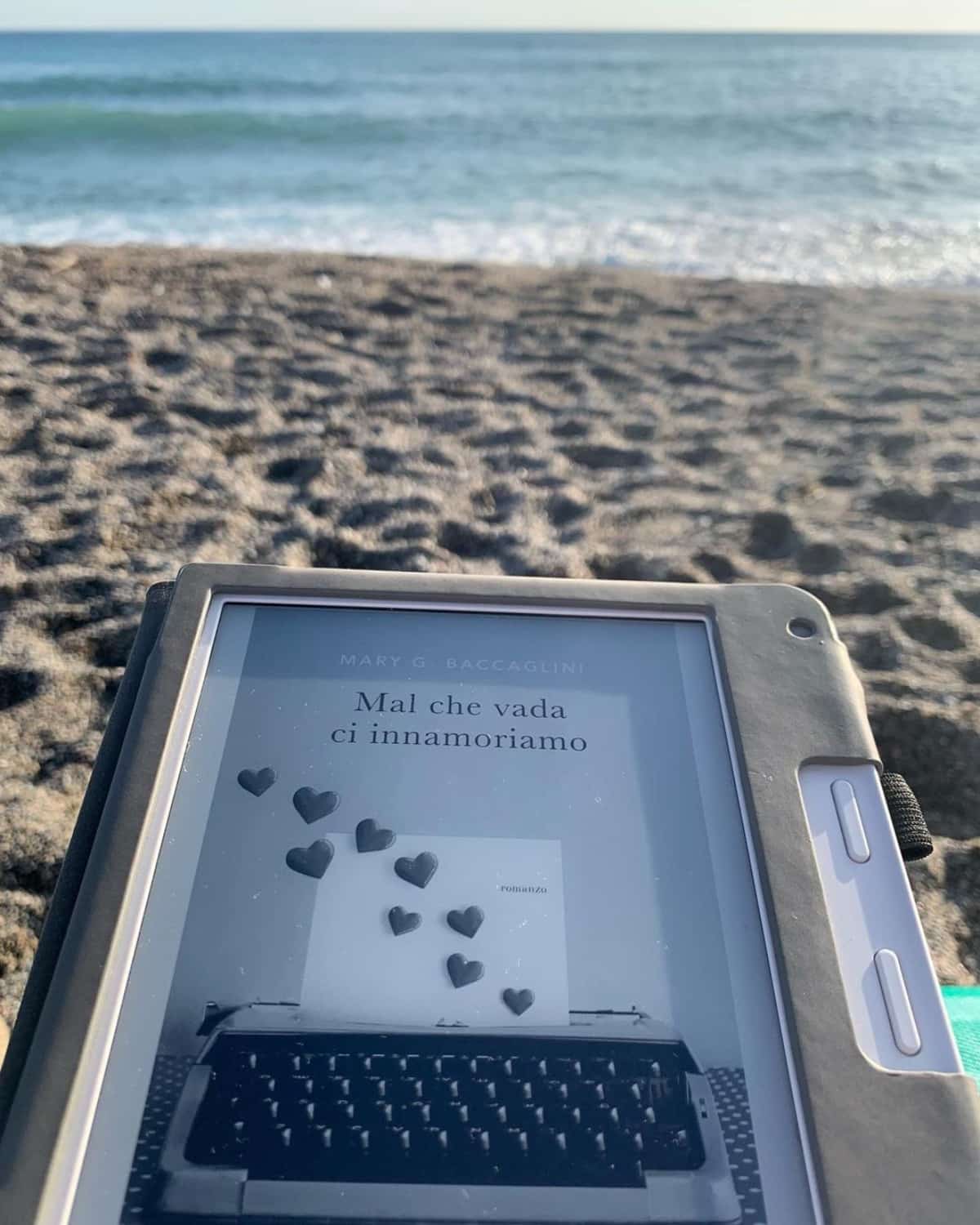 [Image:_ilaria_filippa_]
Books are heavy, bulky, and tough to travel with. Trade in your paperbacks for a digital reader to save space.
Health
Nomads know that physical health is crucial for adventuring. Keep your van's medicine cabinet well stocked, and you'll be prepared to handle any health issue that comes your way.
41. Sunblock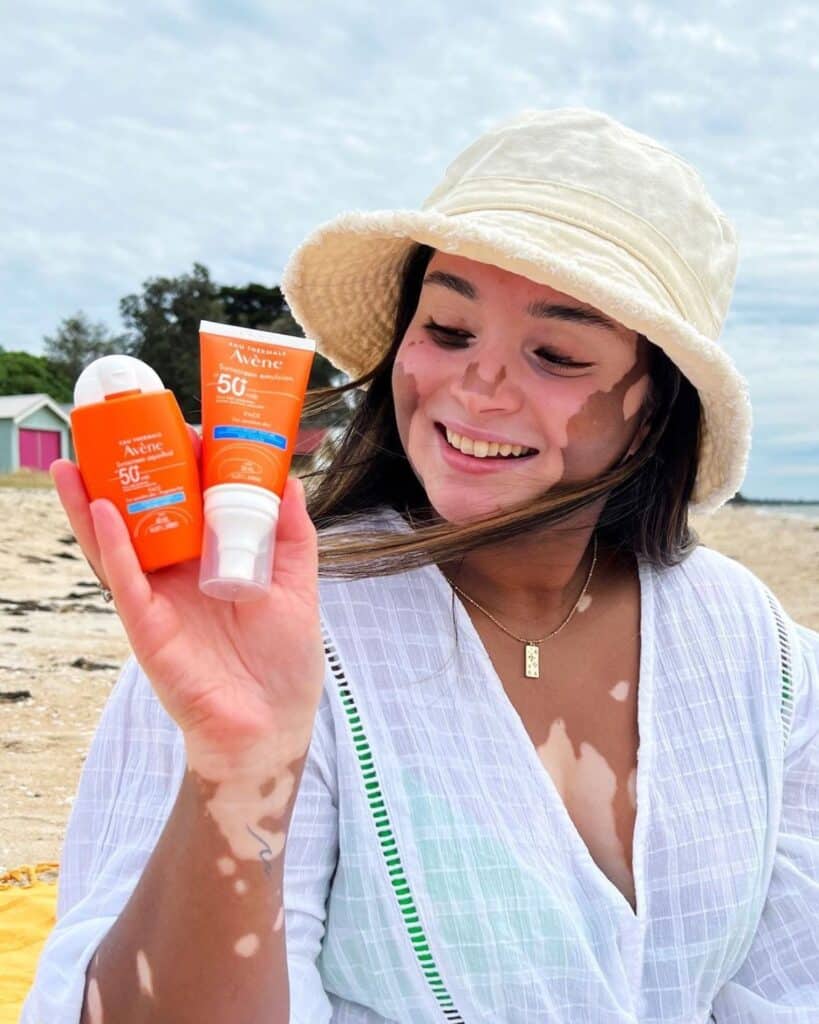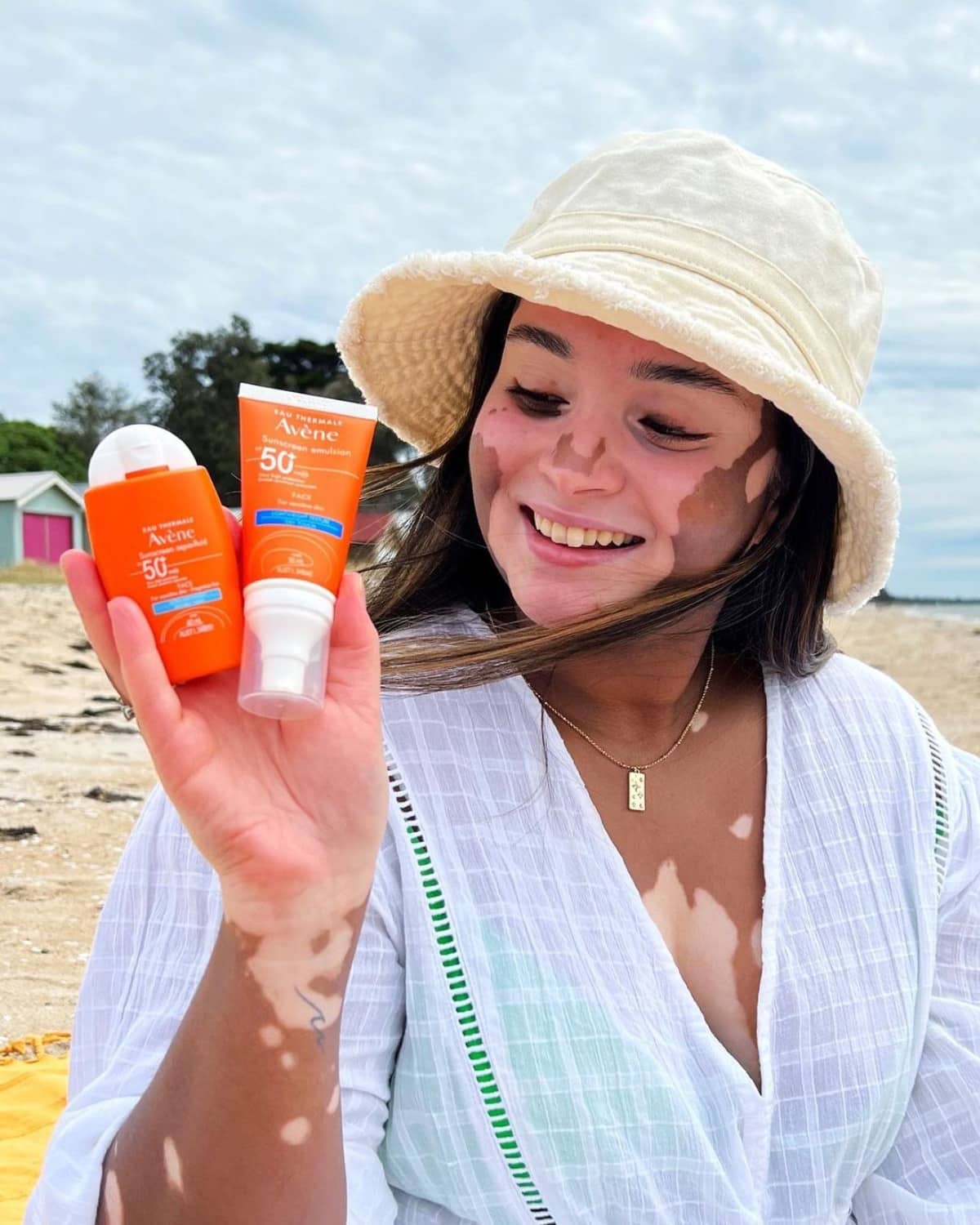 [Image: onella_am]
Avoid a painful sunburn when enjoying the ocean waves or mountain trails.
42. First Aid Kit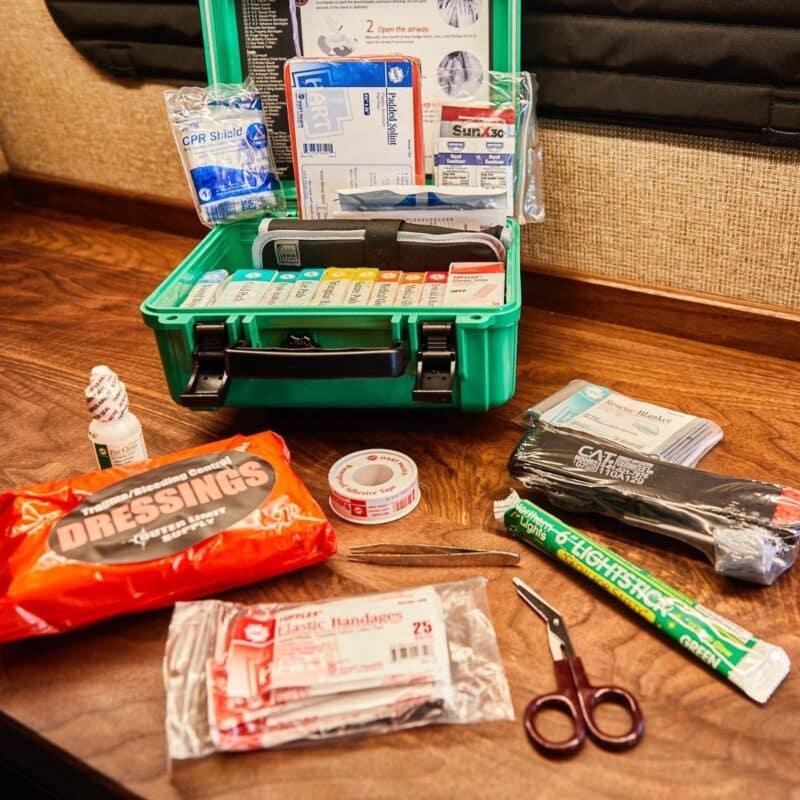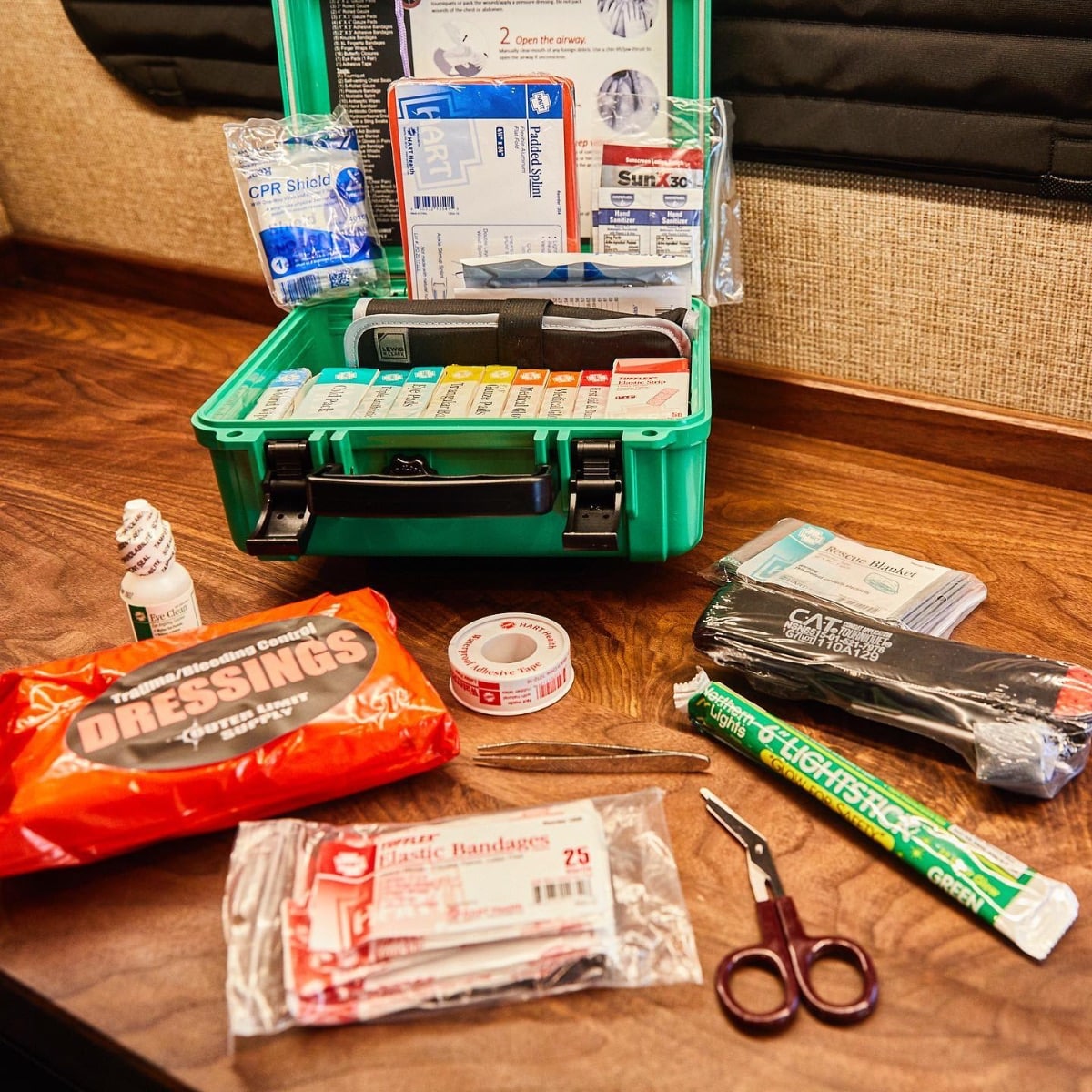 [Image: werollwithit]
Stop minor bumps, cuts, and bruises from becoming a more significant health concern.
43. Medications and Refills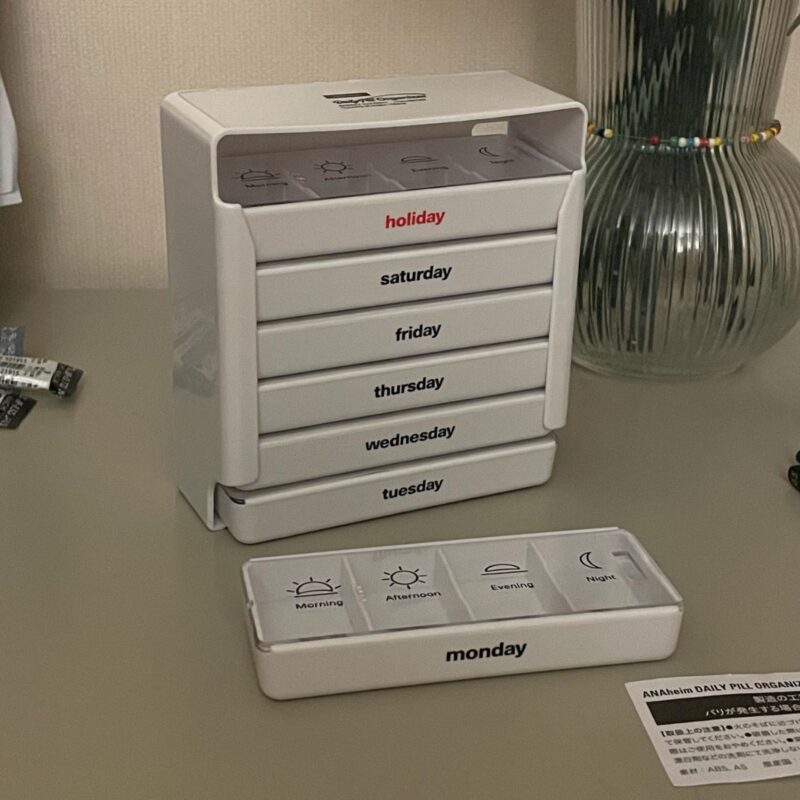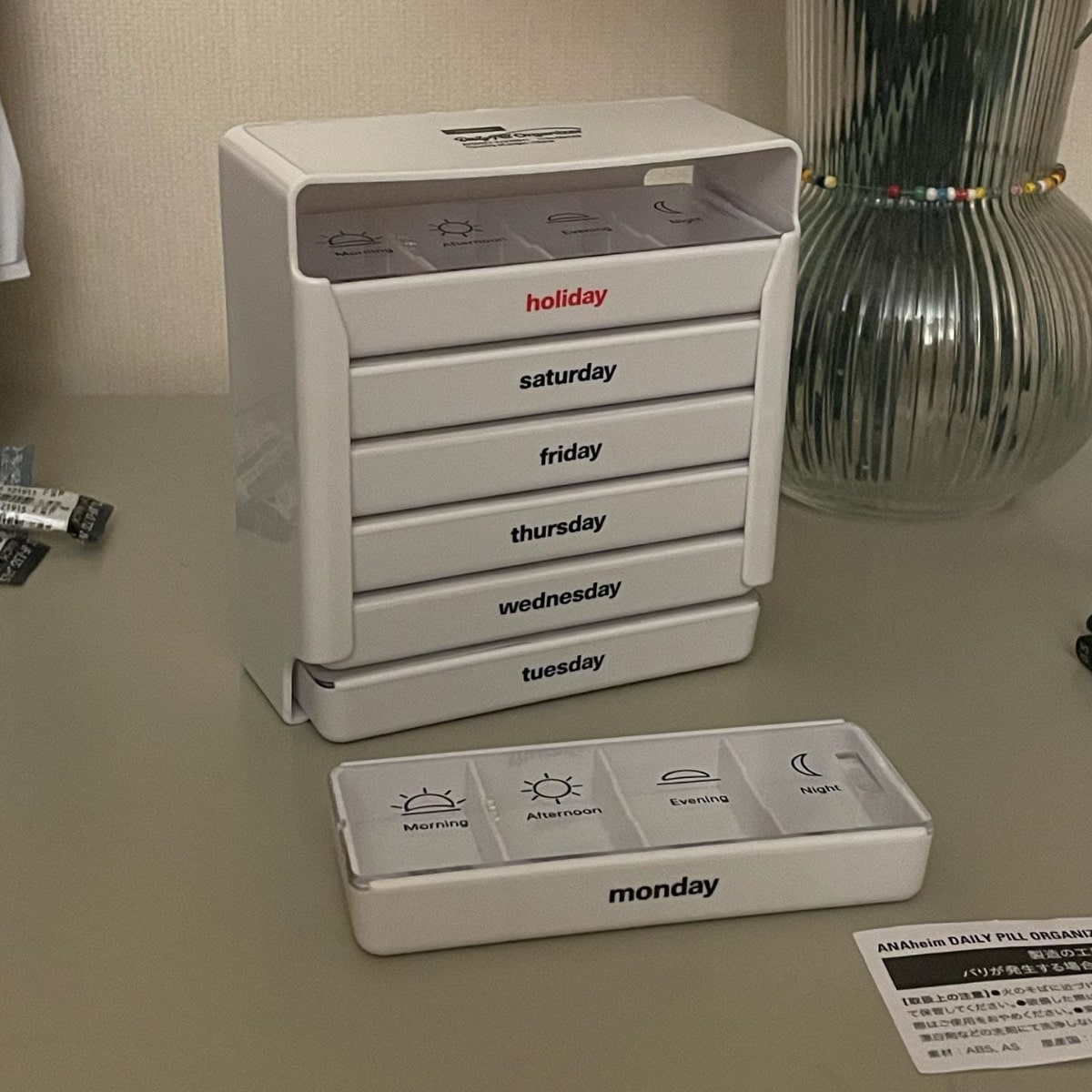 [Image: eongziong]
Getting your meds refilled on the road can be tricky, so be sure you're well-stocked.
44. Multivitamin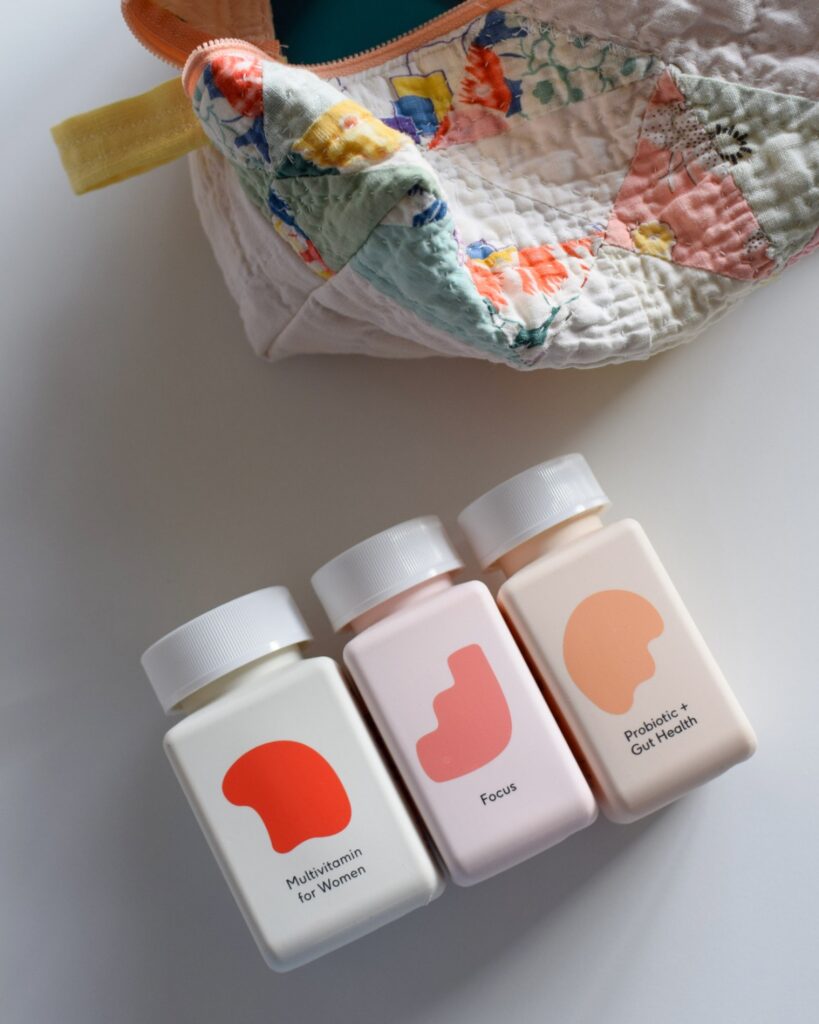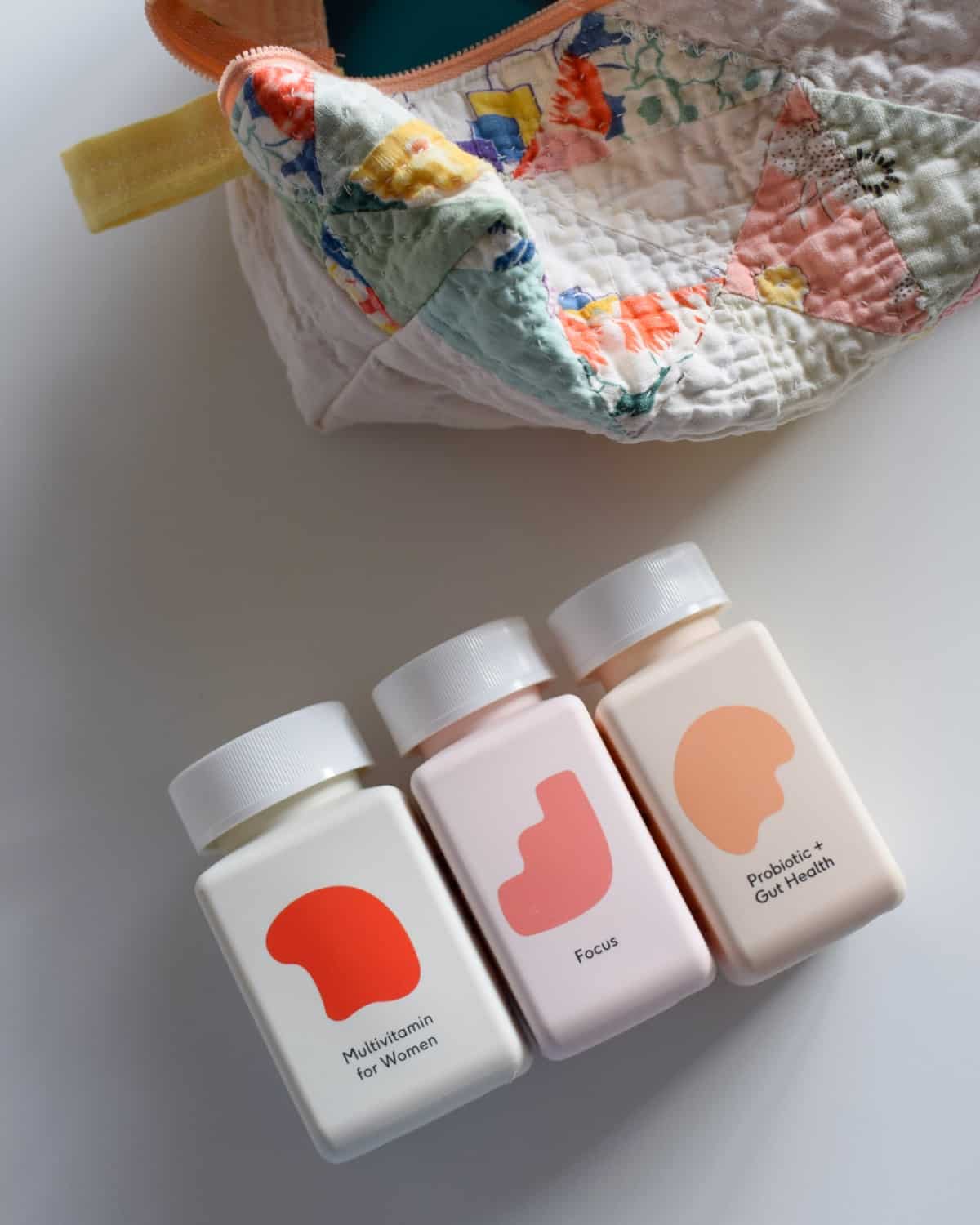 [Image: careof]
When you don't have access to fresh fruits and veggies, a multivitamin can help you get essential nutrients.
45. Eyewear Kit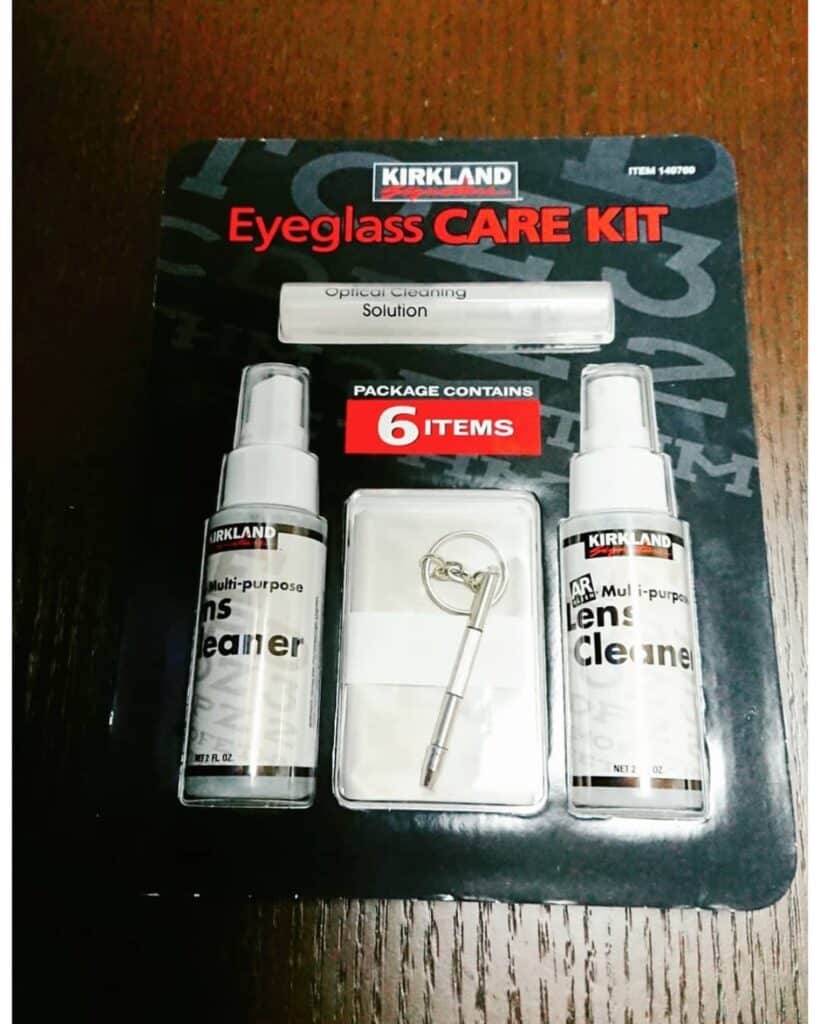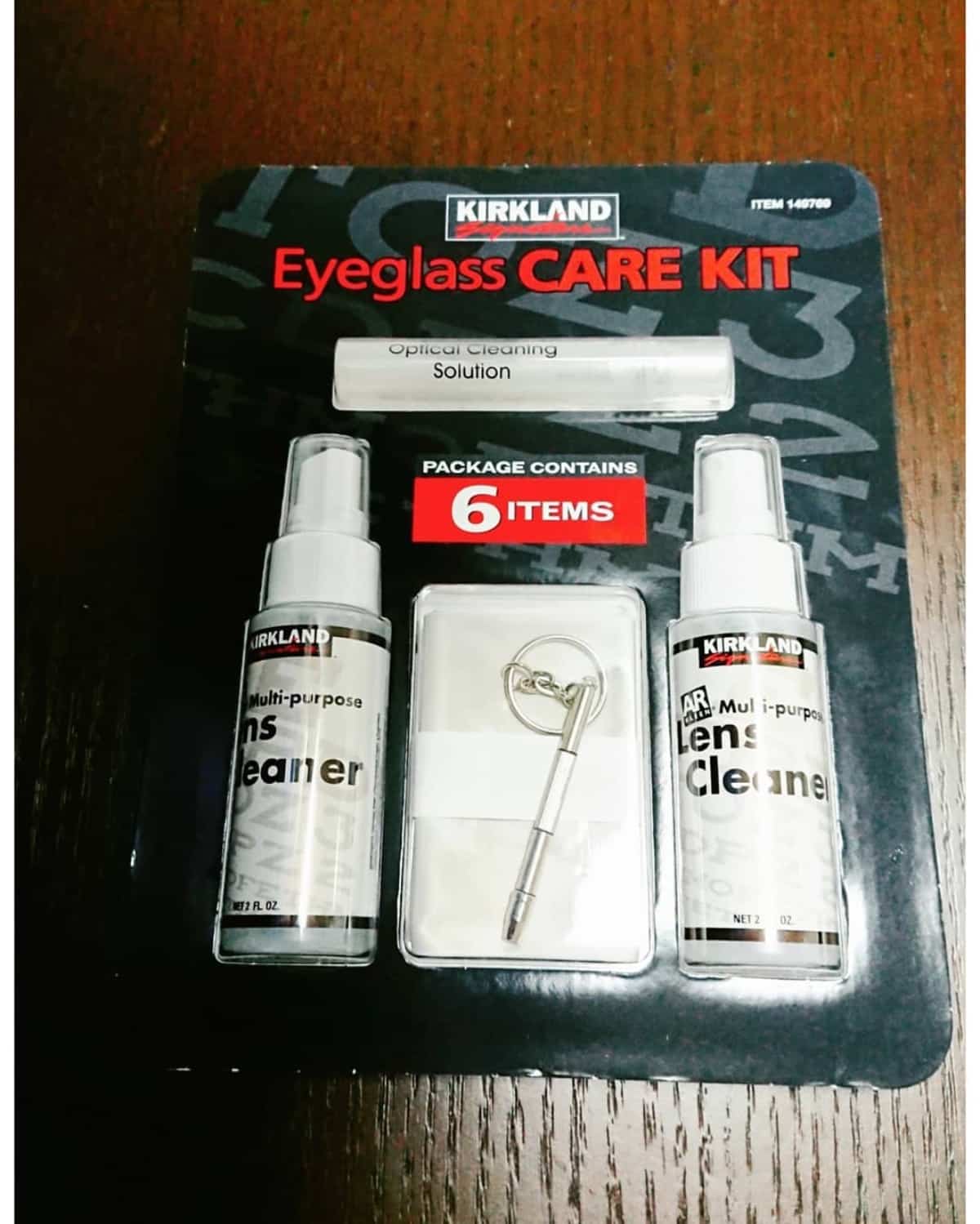 [Image: fuyumi_1004]
An eyewear kit is a must-have to keep your sight 20/20.
Outdoor Entertainment
These outdoor accessories will help you enjoy the wide, open spaces when the van feels cramped.
46. Pop-Up Awning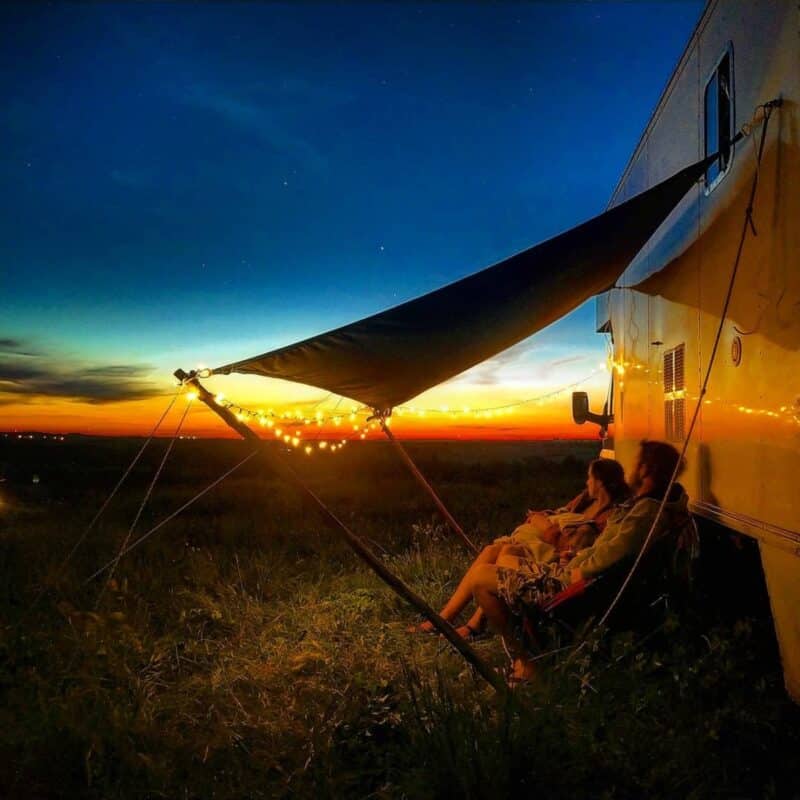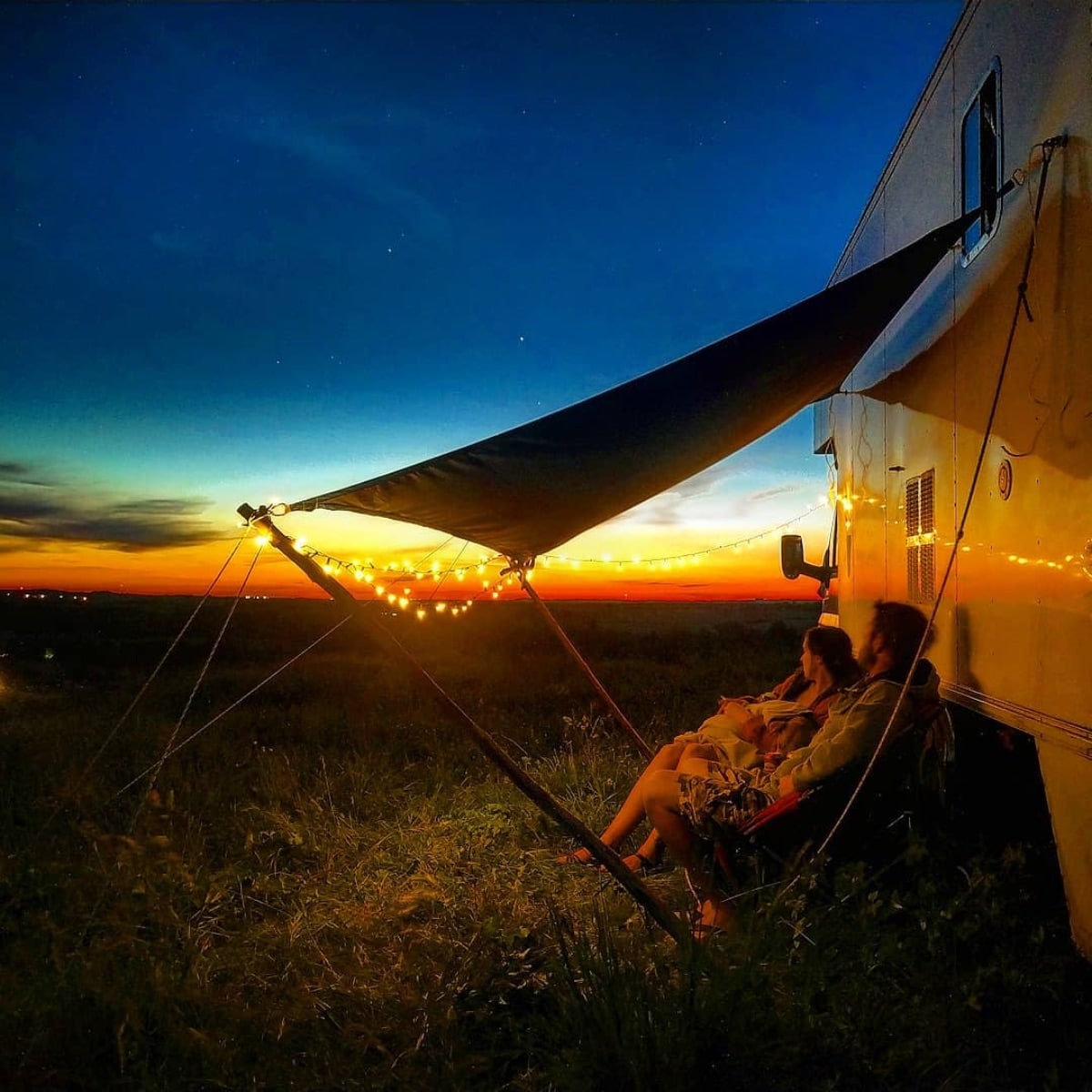 [Image: another_white_van]
A pop-up awning keeps the sun off your face when hanging out al fresco.
47. Hammock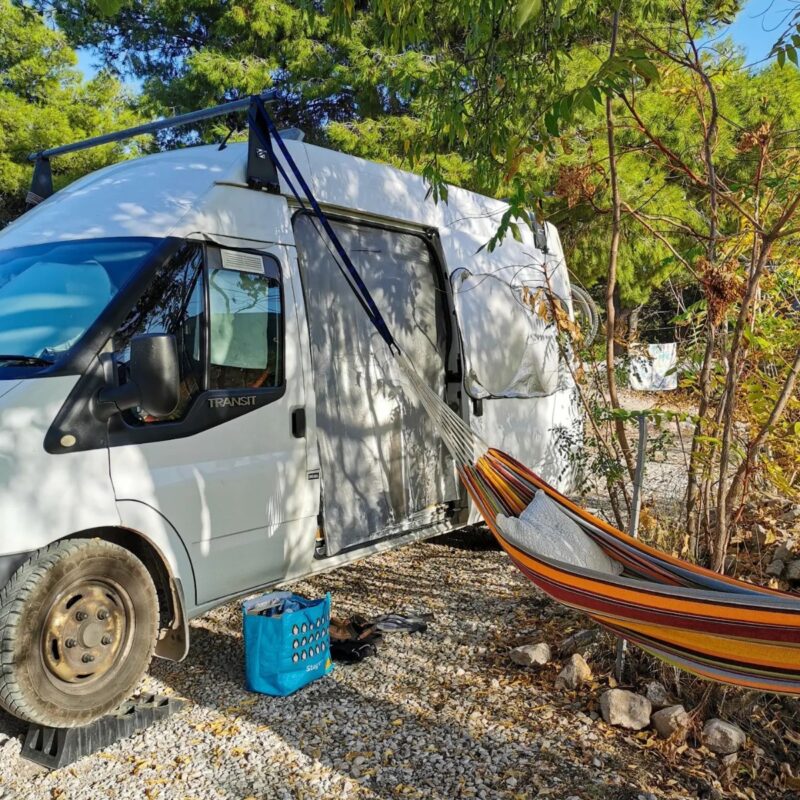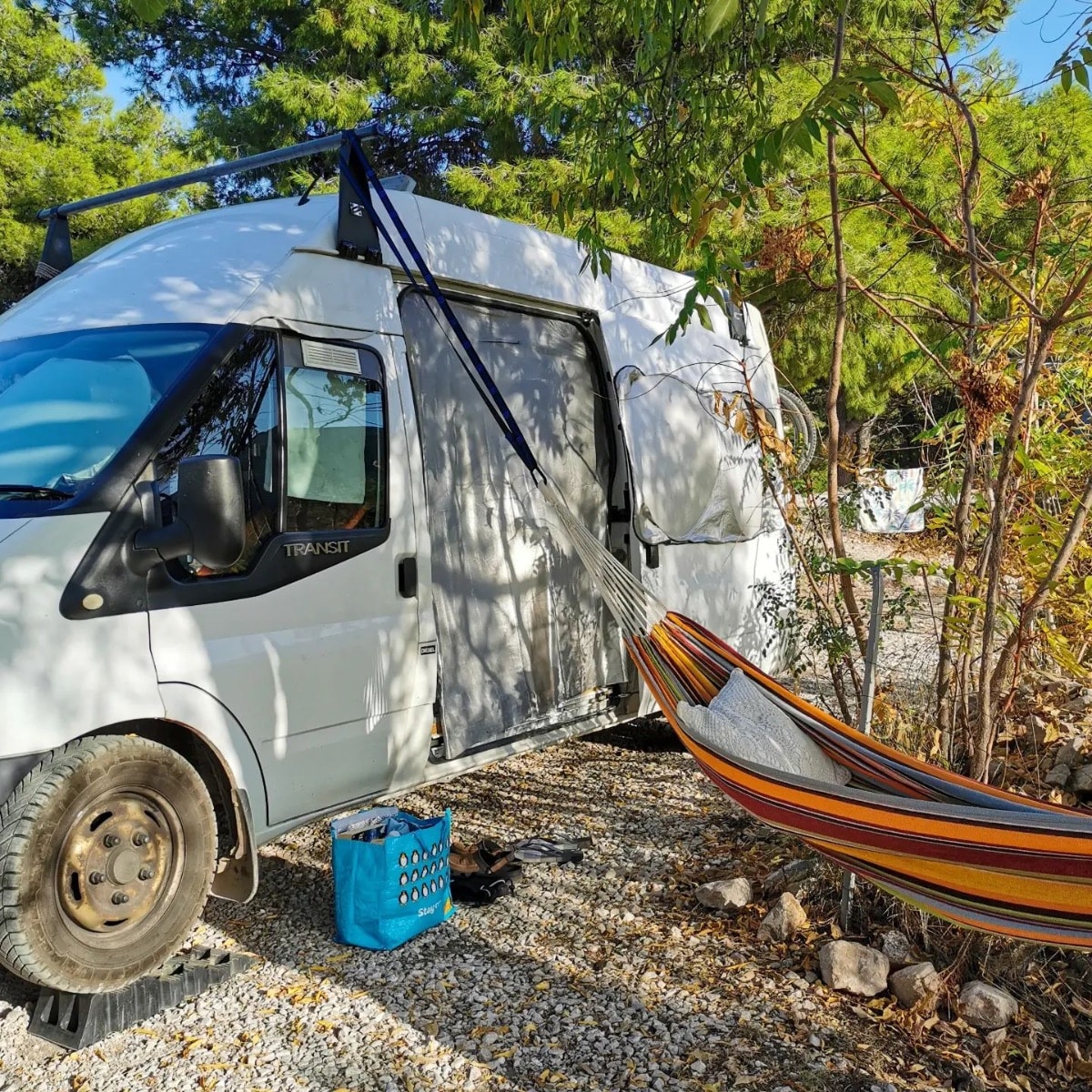 [Image: in.vansition]
Your hammock will become your new favorite reading nook, nap spot, and dining room.
48. Propane Fire Pit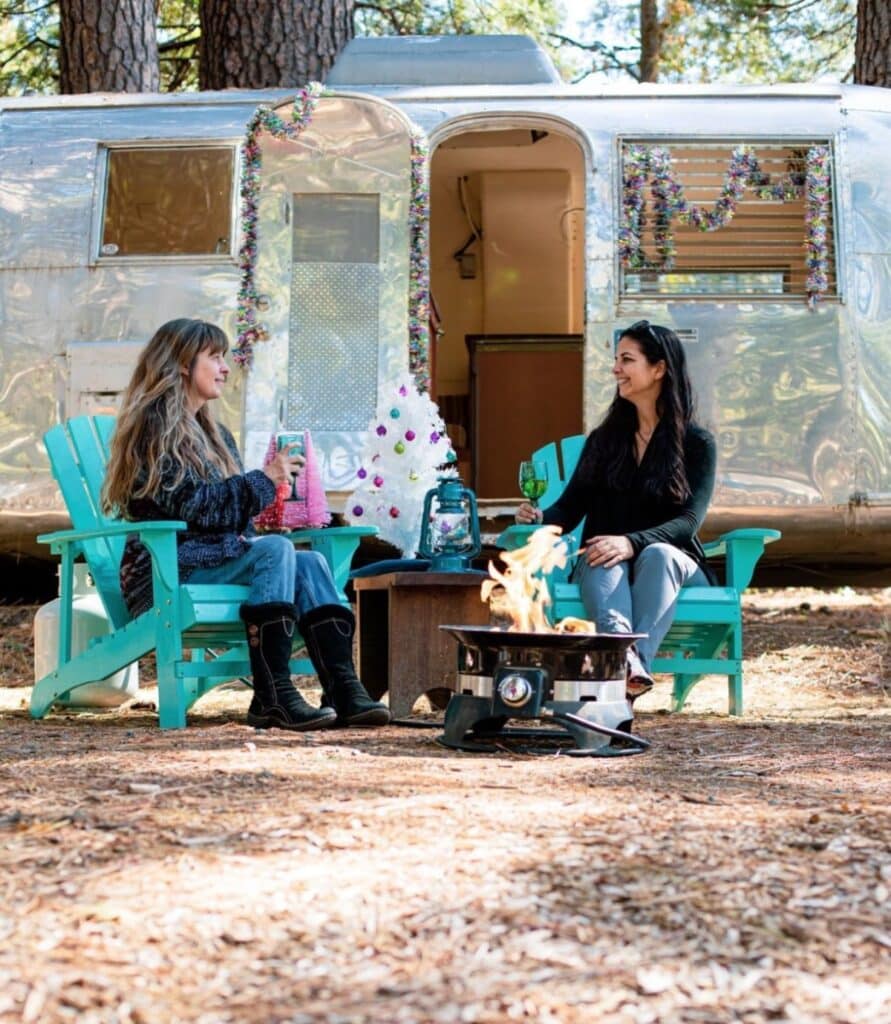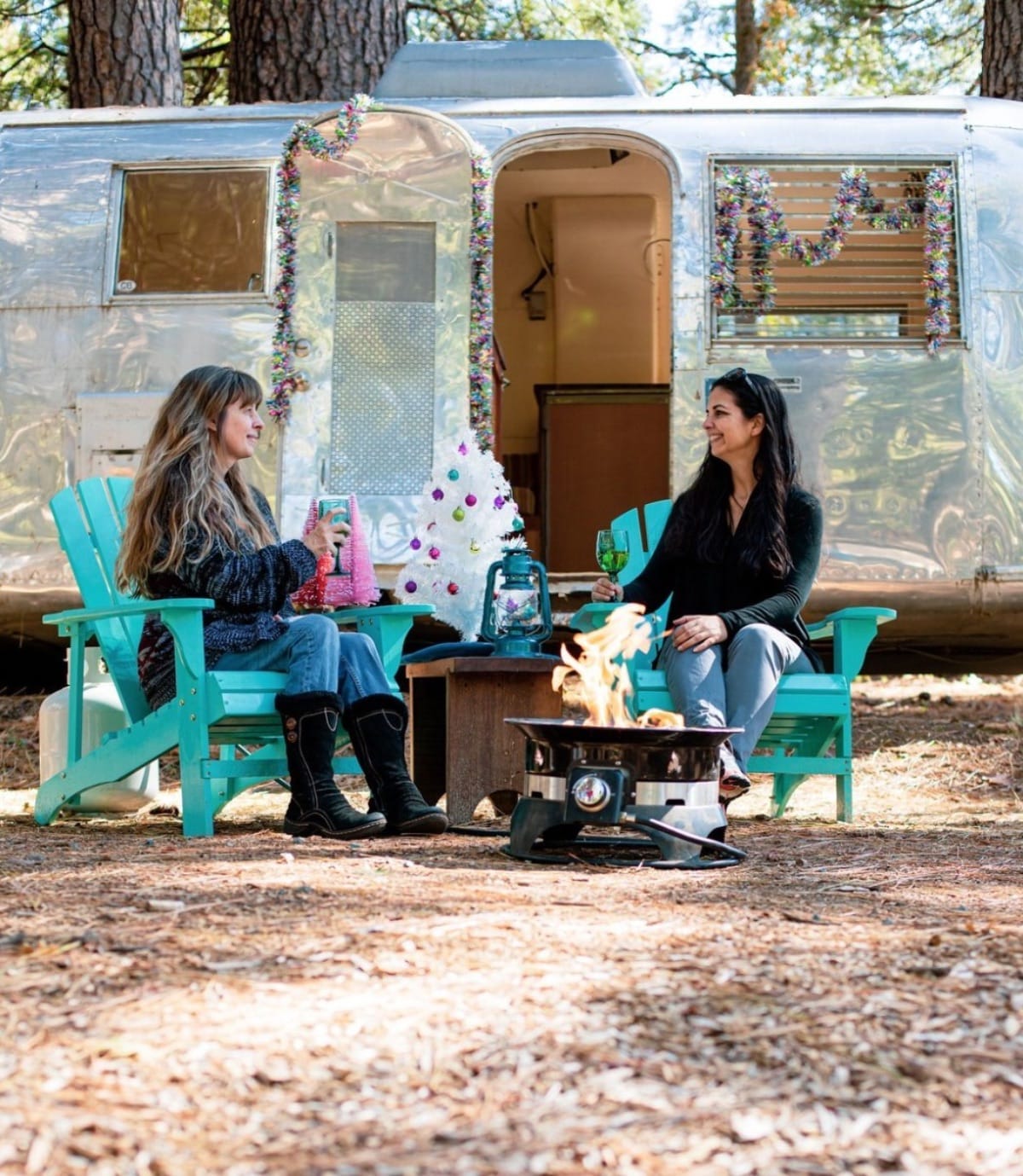 [Image: outlandliving]
There's nothing like a crackling fire to make an outdoor gathering even cozier.
49. Mosquito Repeller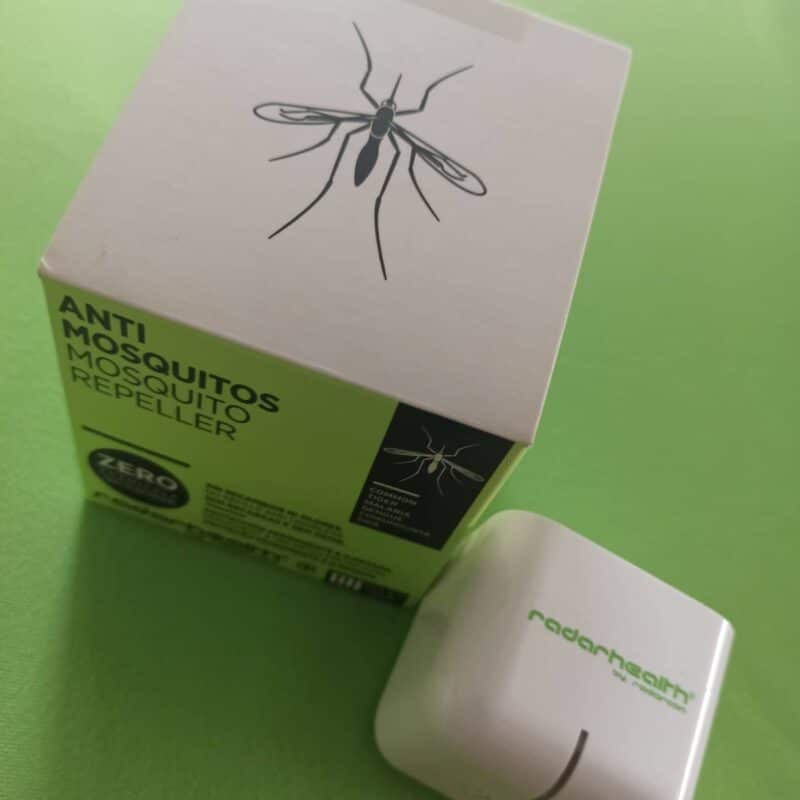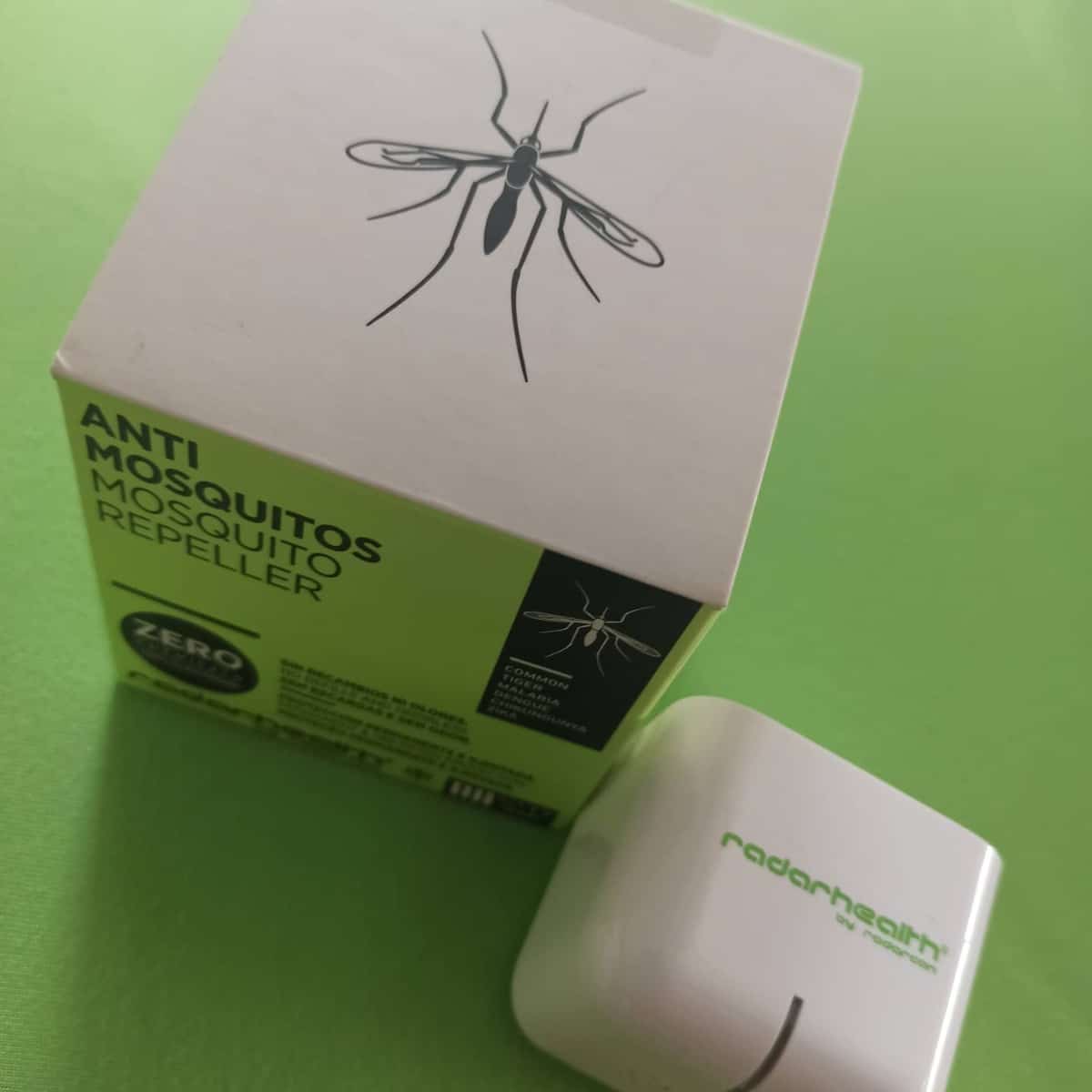 [Image:2hearts_together_onwheels]
If bug spray isn't cutting it, an electric mosquito repeller keeps the thirsty bugs at bay.
50. Folding Chairs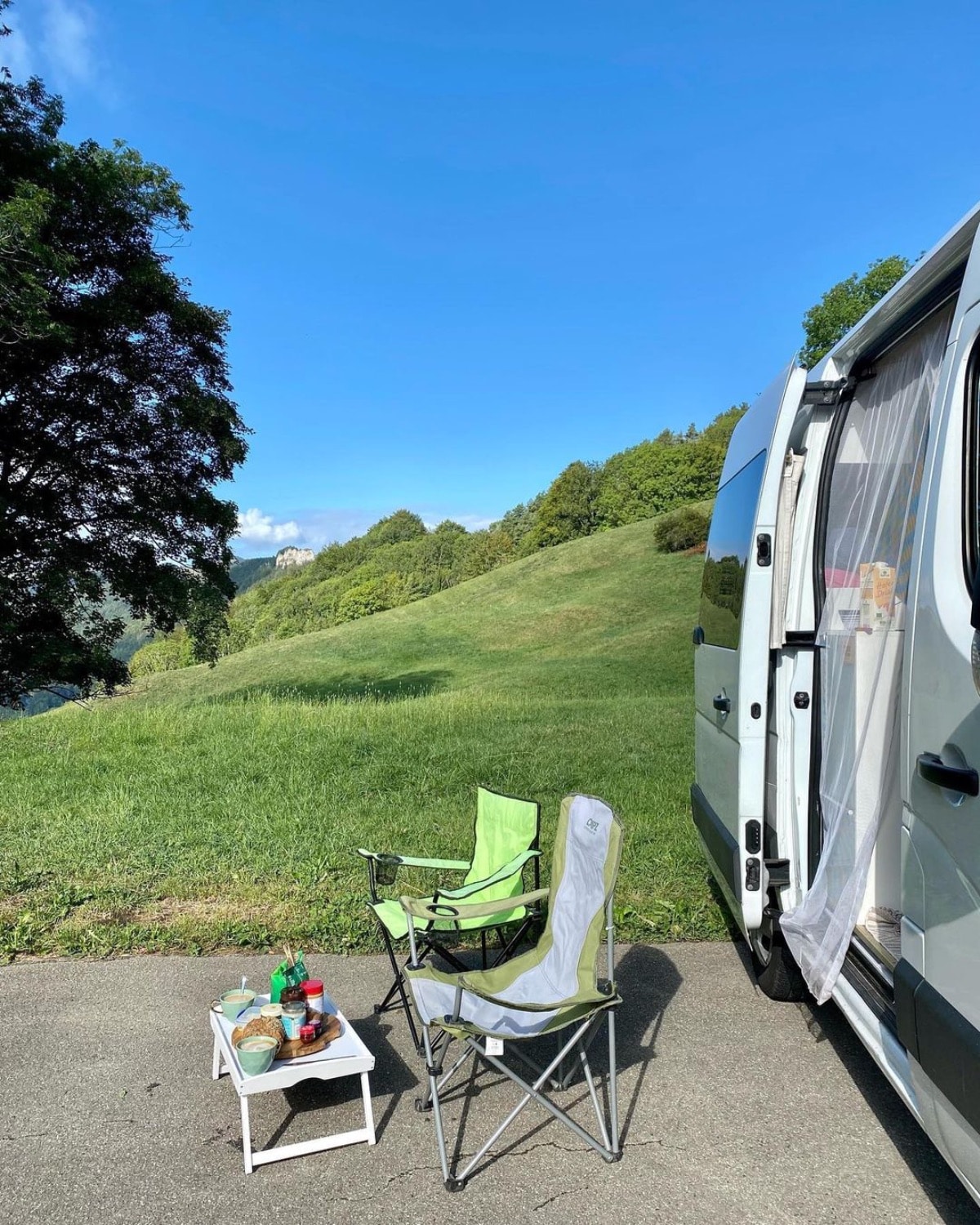 [Image:lunadvanture]
Spend sweltering summer nights in comfort with handy folding chairs.
Pets
These pet care essentials ensure your furry friend can enjoy the journey.
51. Harness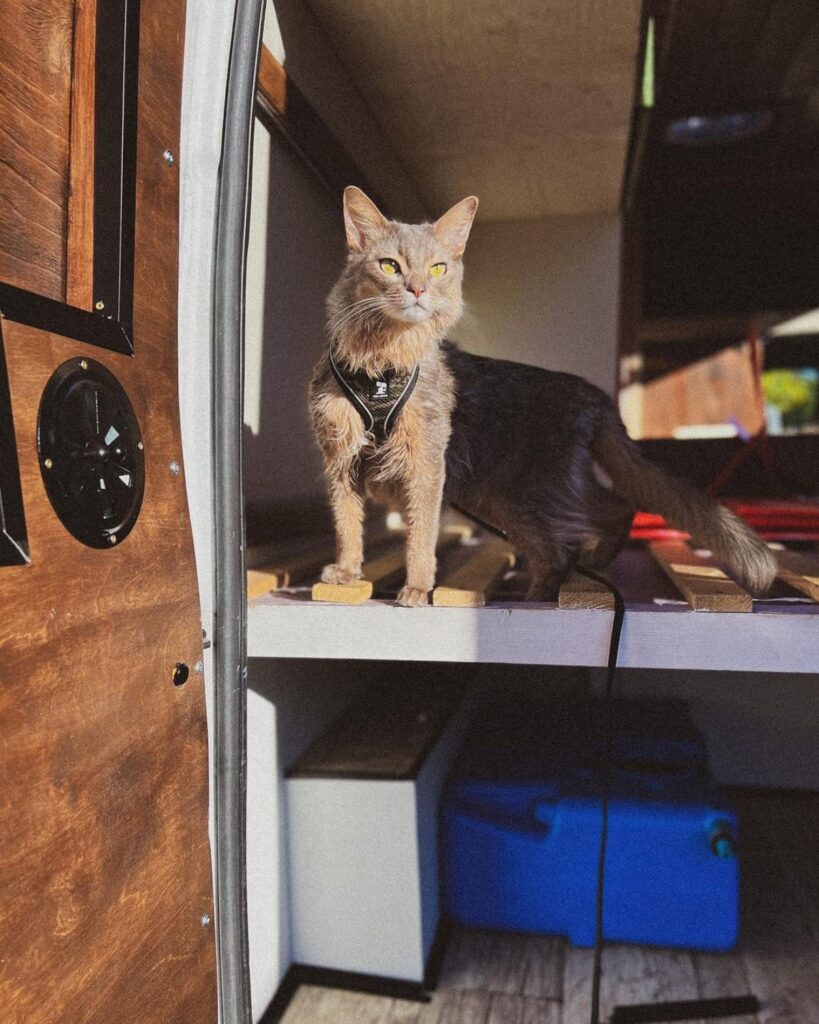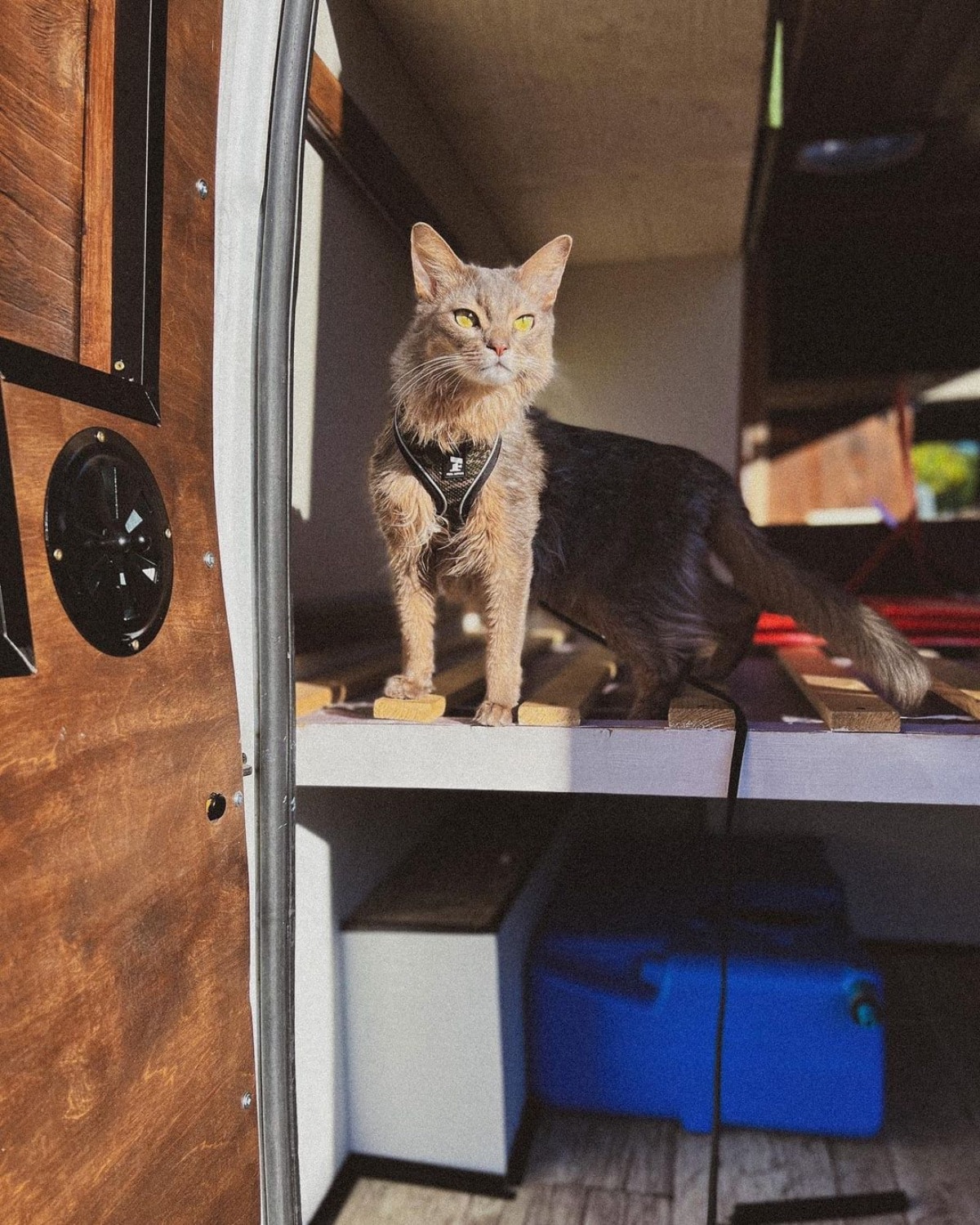 [Image: stigvard]
Harnesses are safer and more comfortable for walking your pets, as they take pressure off of the neck.
52. Pet Tracker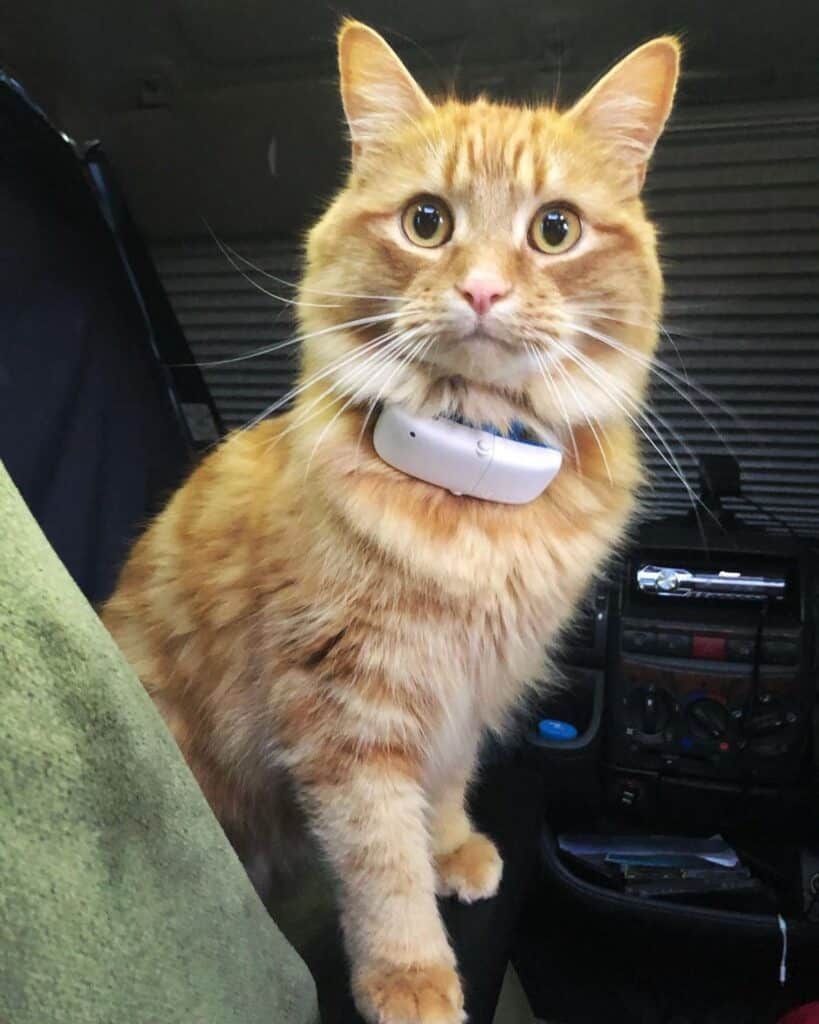 [Image:barney_and_jerry]
A pet tracker is a must-have if your frisky feline slips away during a pitstop.
53. Bed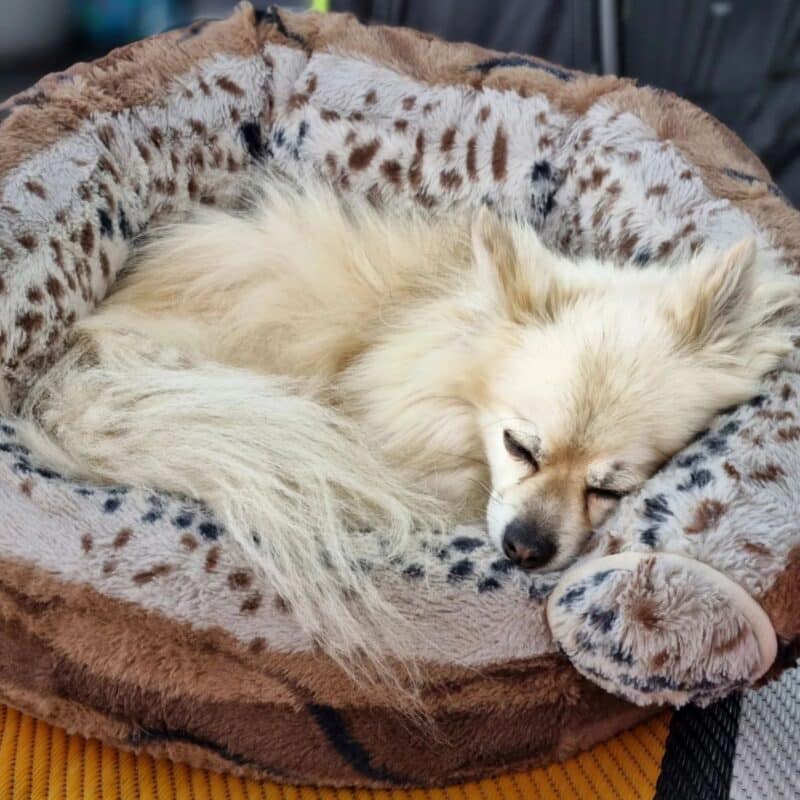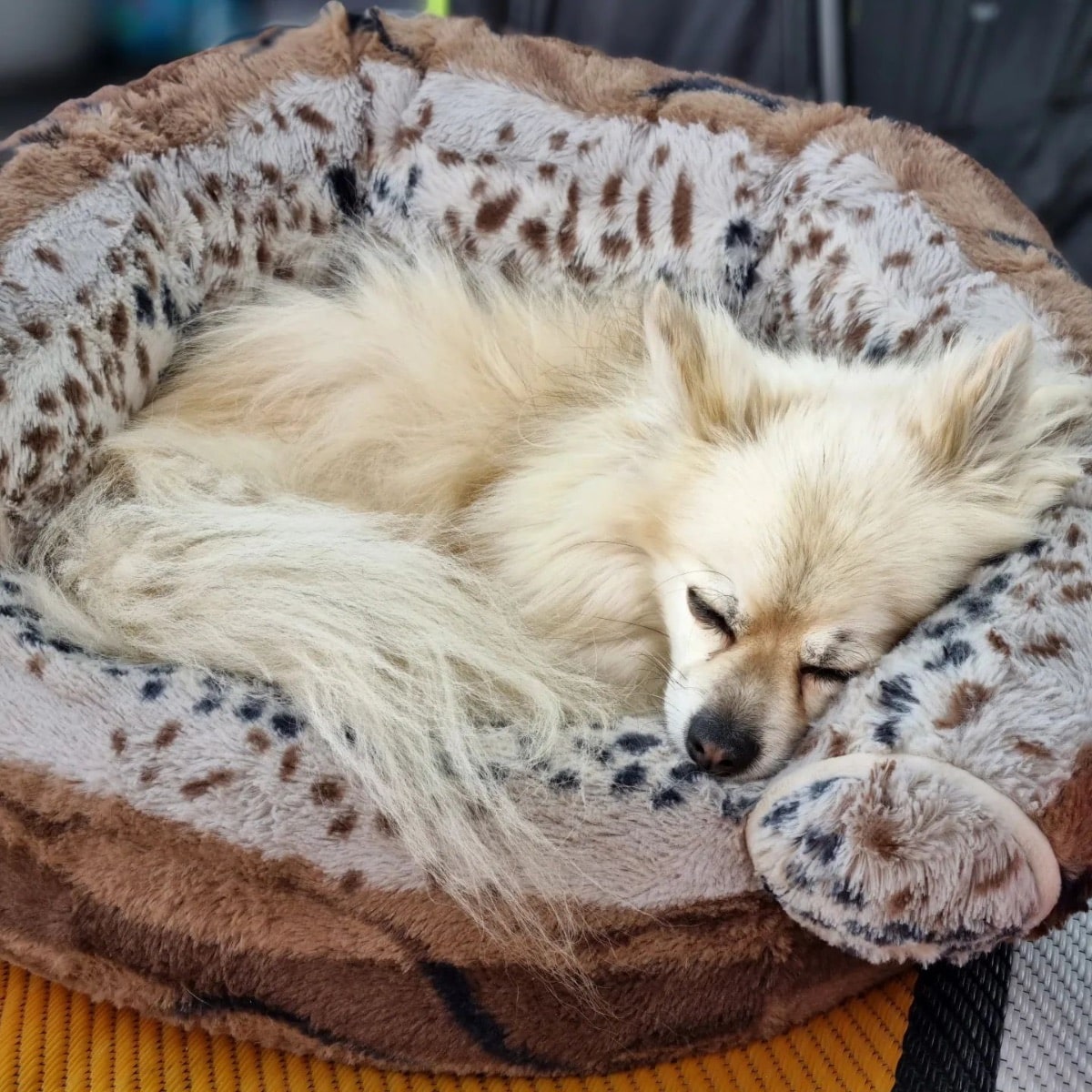 [Image:vwolivia]
Your pet needs a safe space to hang out when you're on the road, so give them a comfortable bed to nest in.
54. Travel Water Bowl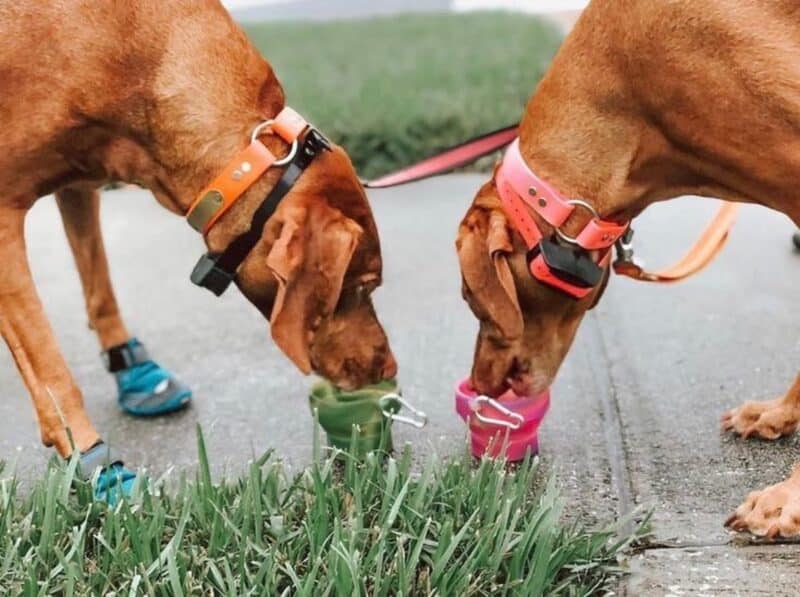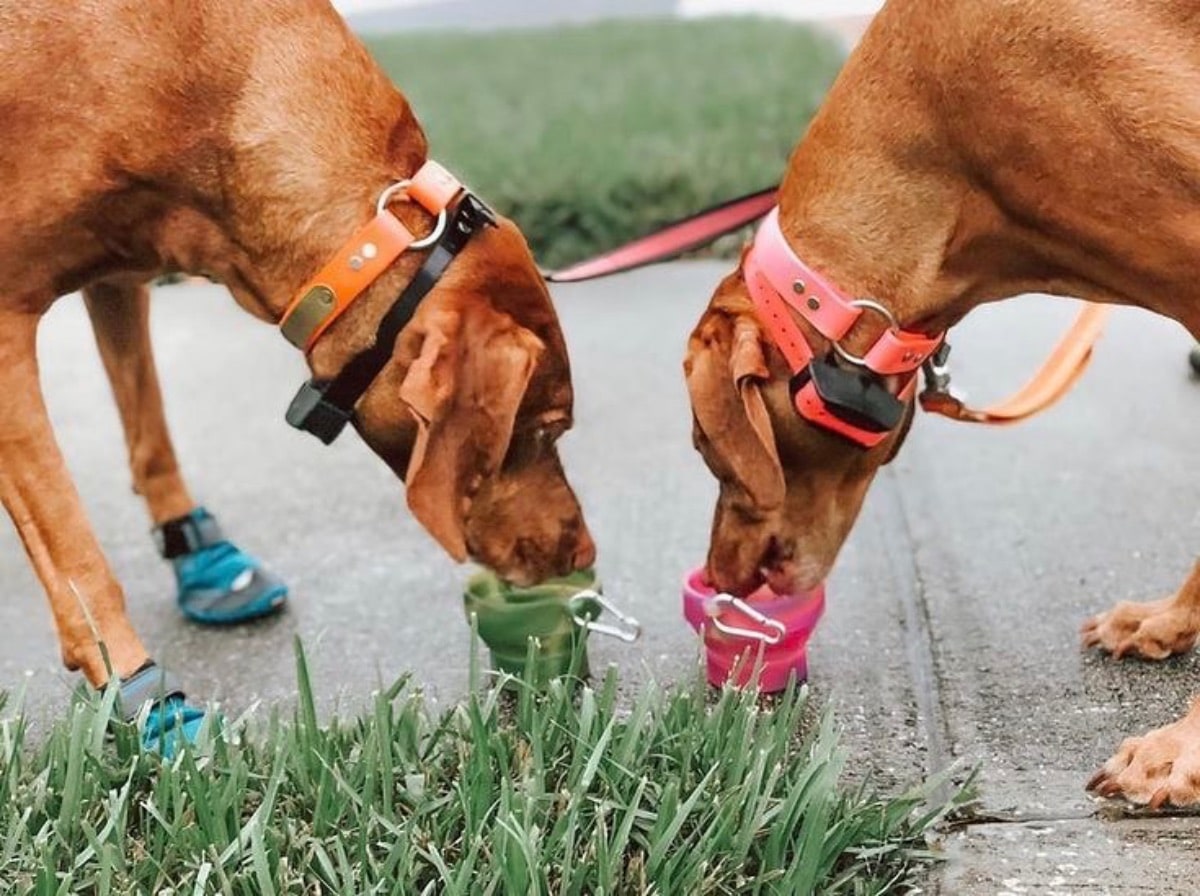 [Image: bubibottle]
This all-in-one solution keeps your pets hydrated.
55. Backpack Carrier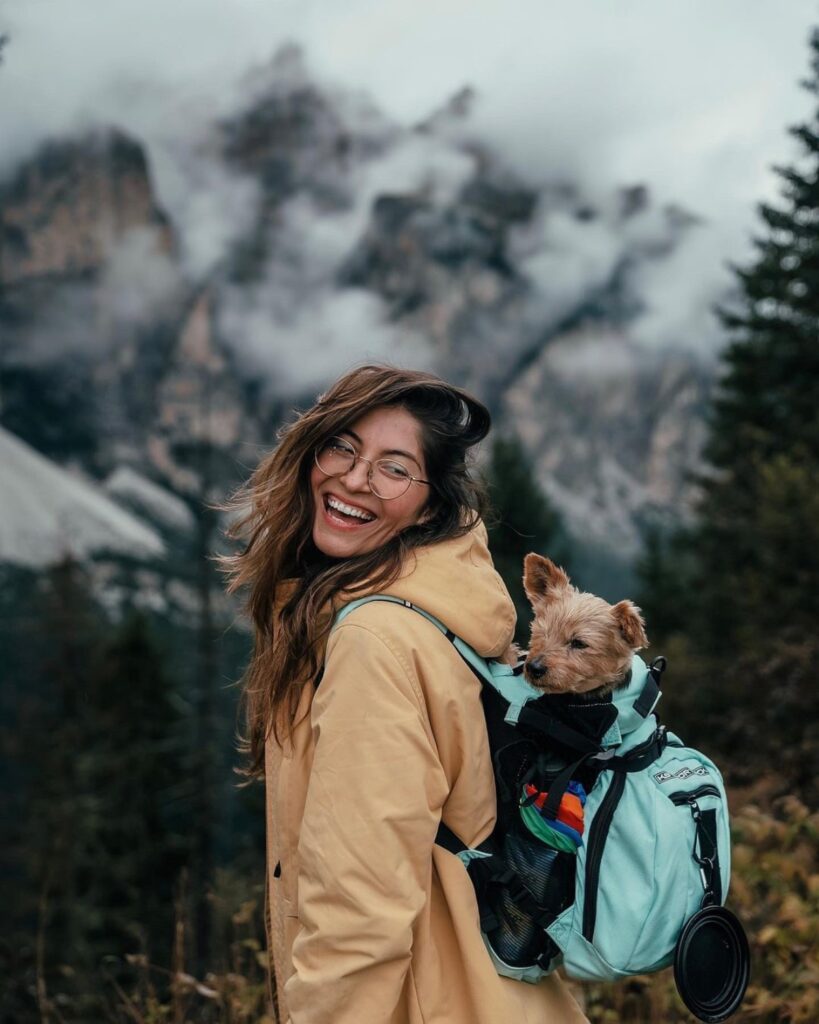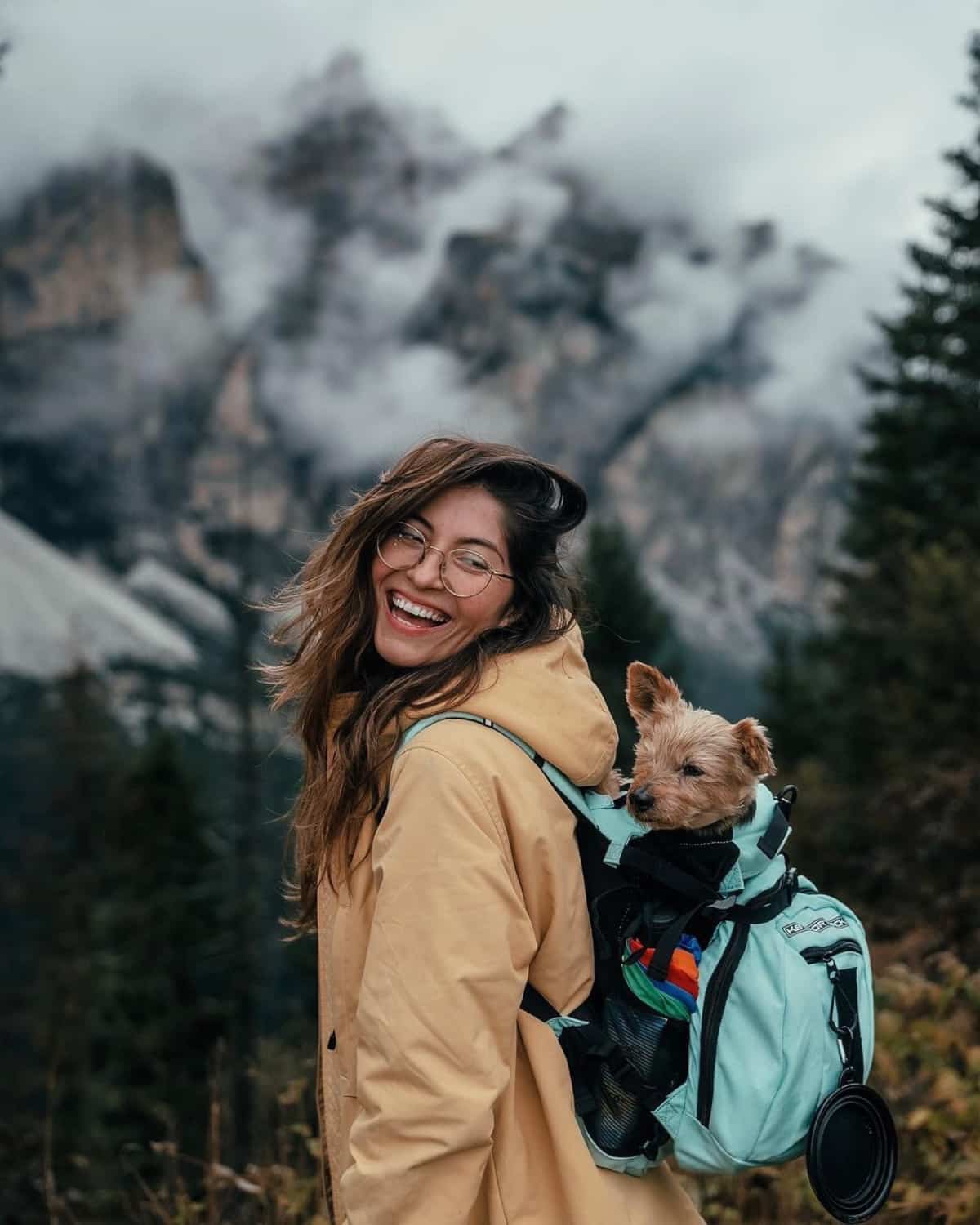 [Image:jits.into.the.sunset]
A backpack carrier lets your pet hitch a ride when they tucker out.
56. Updated ID Tags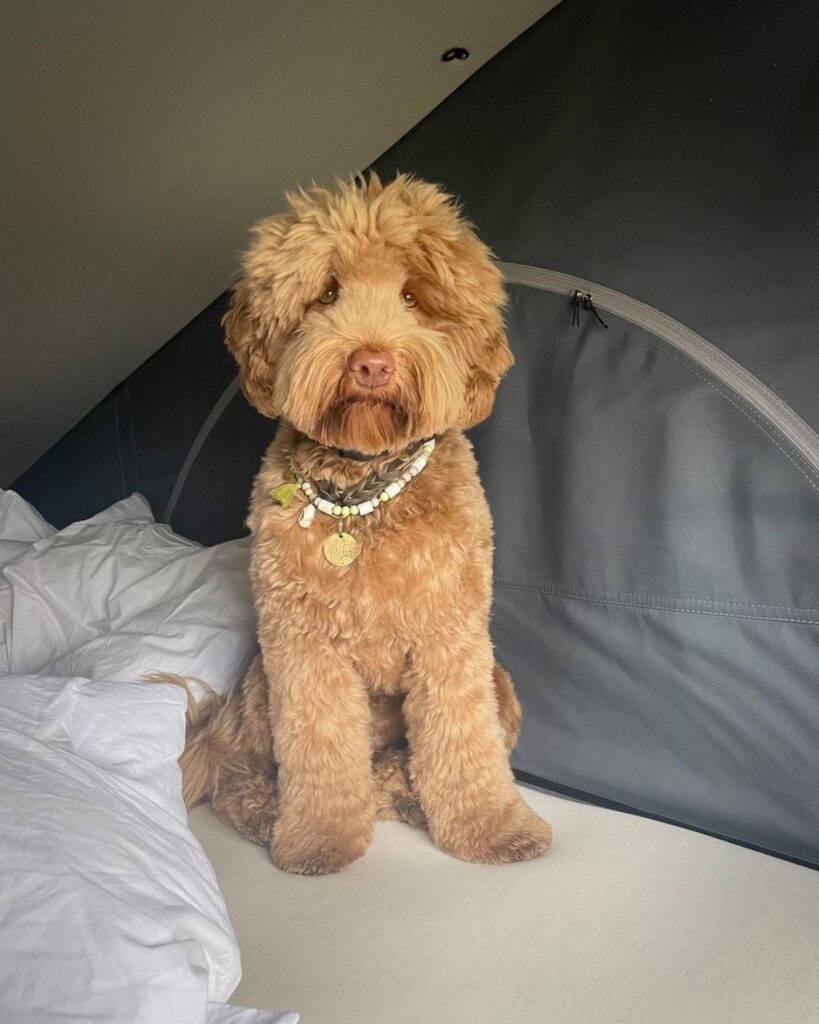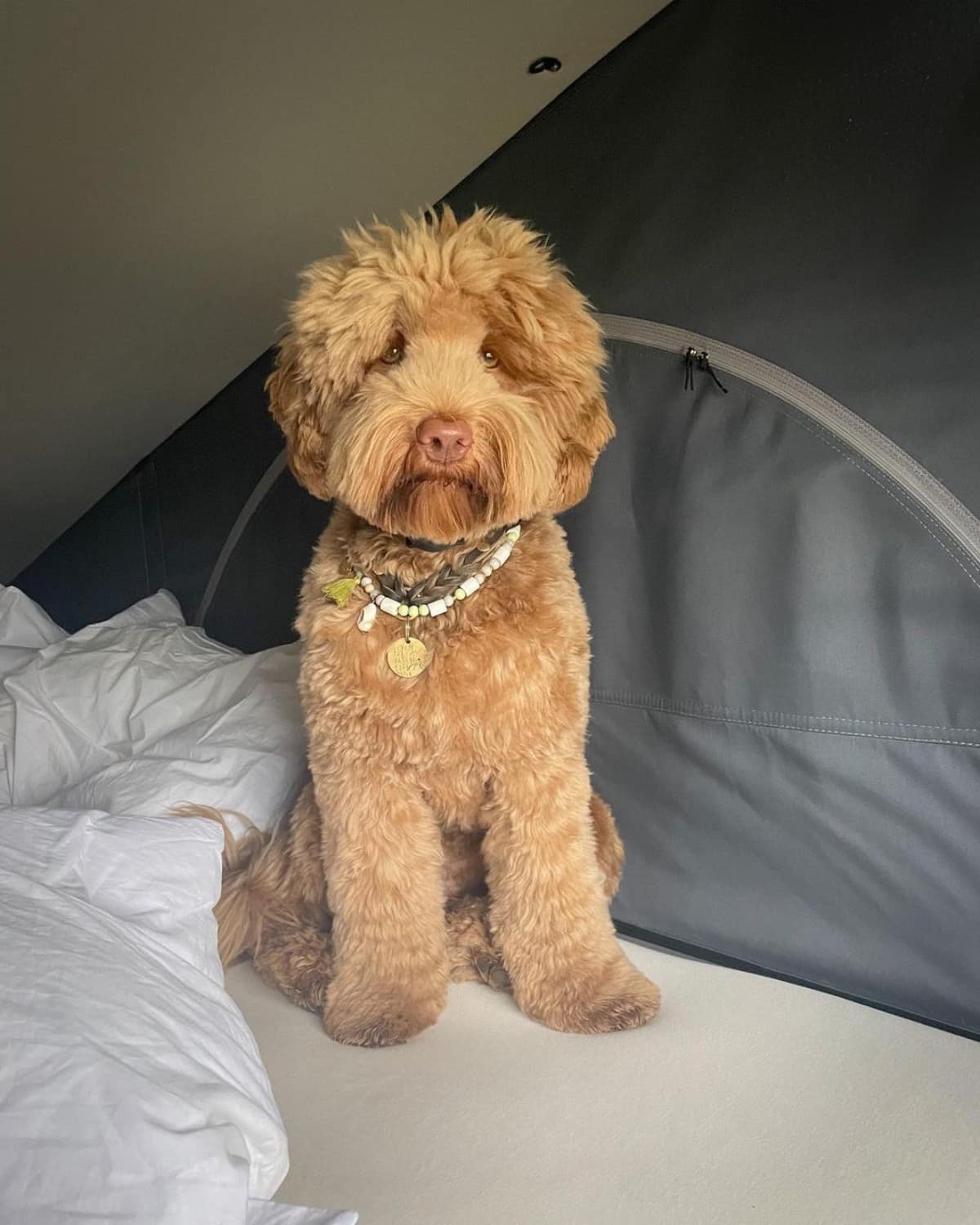 [Image:misterjameshond]
Before you head out, ensure Fido has an updated name tag with your phone number and emergency contacts.
57. Litter Box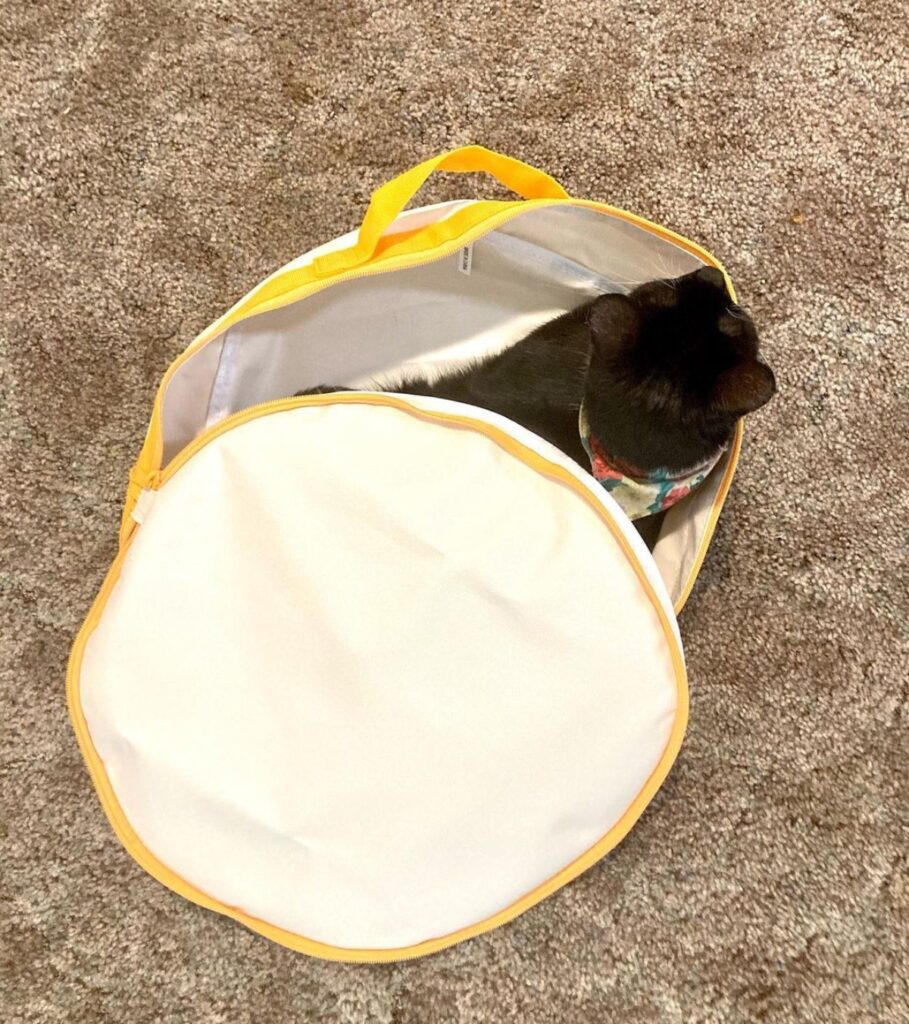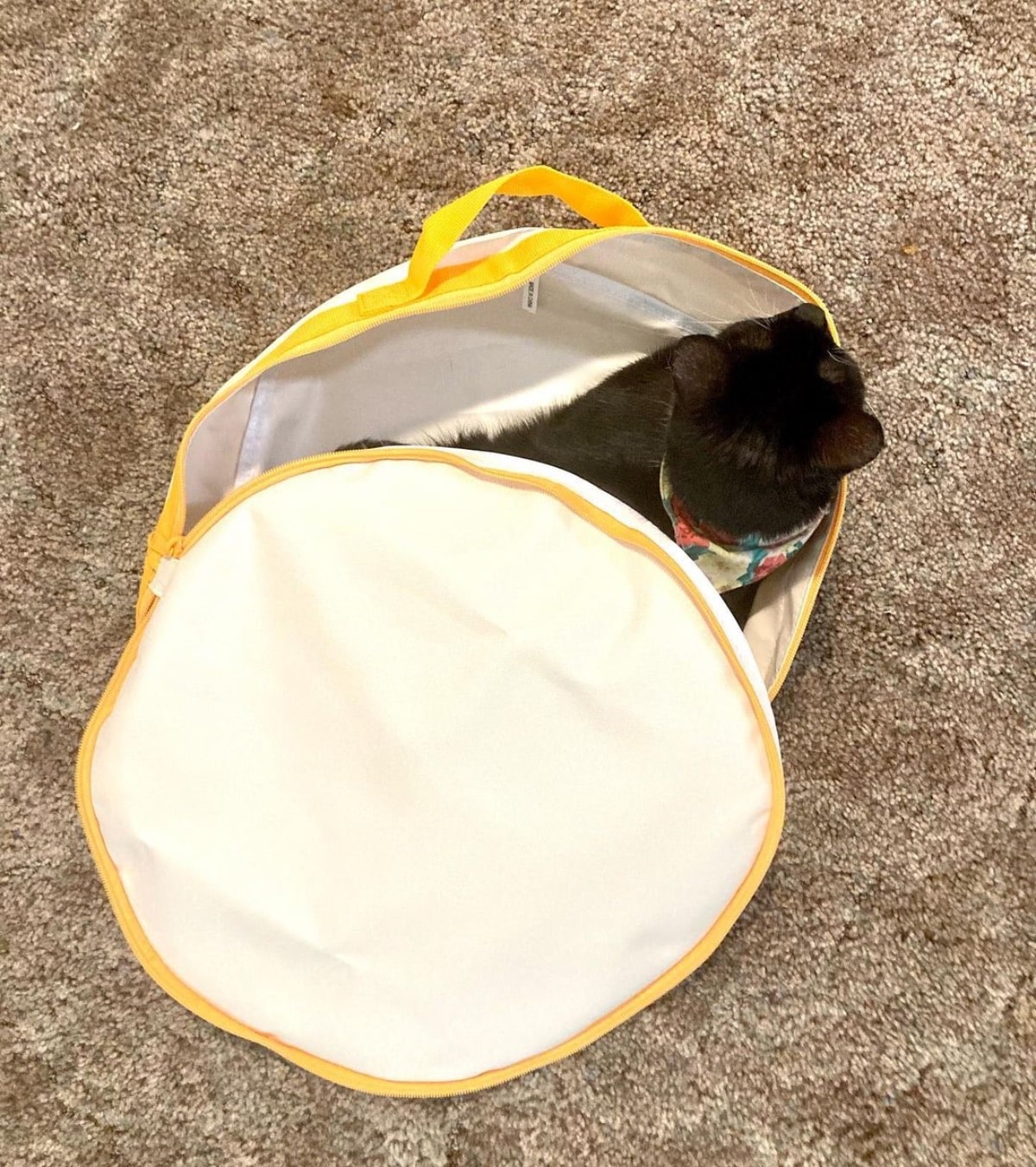 [Image: blackcatbrews]
You'll need a zipping litter box to keep the mess where it belongs.
Final Thoughts
Whether a weekend warrior or a full-time wanderer, these van life luxury items and essential gear will help you quench your thirst for adventure in style.
While it might take some maneuvering to fit everything in the compact space, you can create a beautiful, practical home on wheels with a bit of creativity.