We're an affiliate
We hope you love the products we recommend! Just so you know, we may collect a share of sales or other compensation from the links on this page. Thank you if you use our links, we really appreciate it!
Once you have your van kitted out, it's time for the fun part: choosing the elements of your interior design. However, that task is tricky when working with such limited square footage for trinkets and wall hangings.
Whether you're looking for a refresh or starting from scratch, these 27 ideas for how to decorate a camper help you maximize your space while still adding plenty of fun and personality.
1. Let the Sunshine In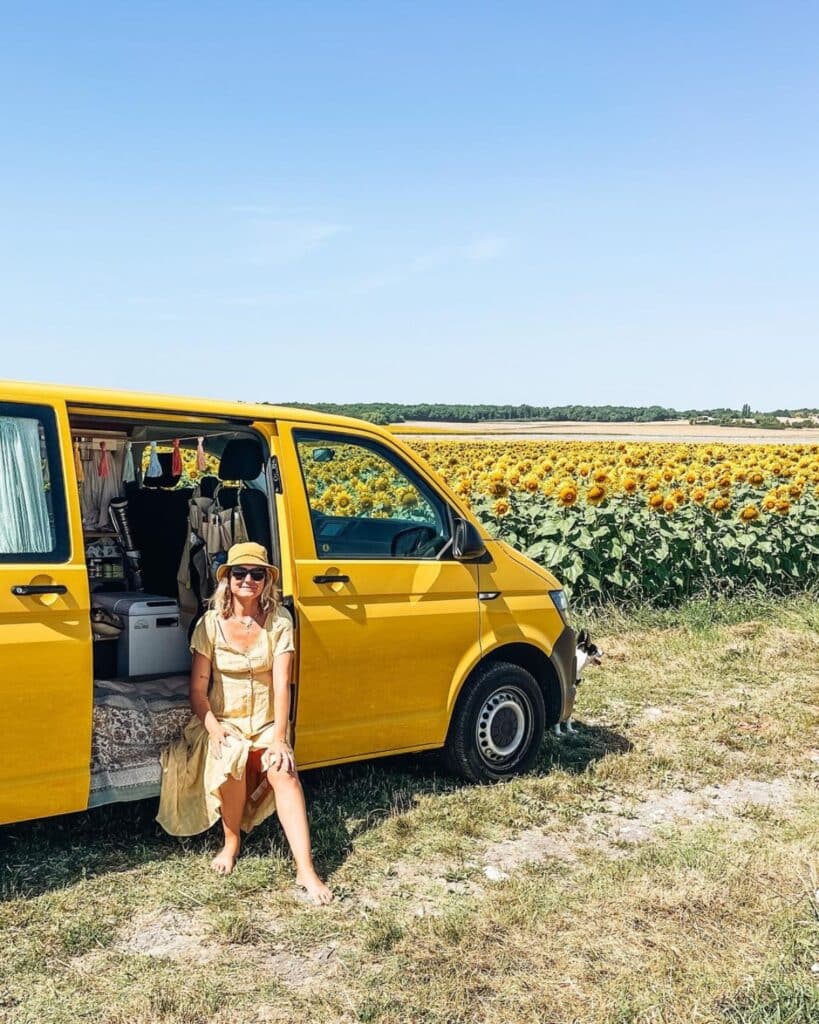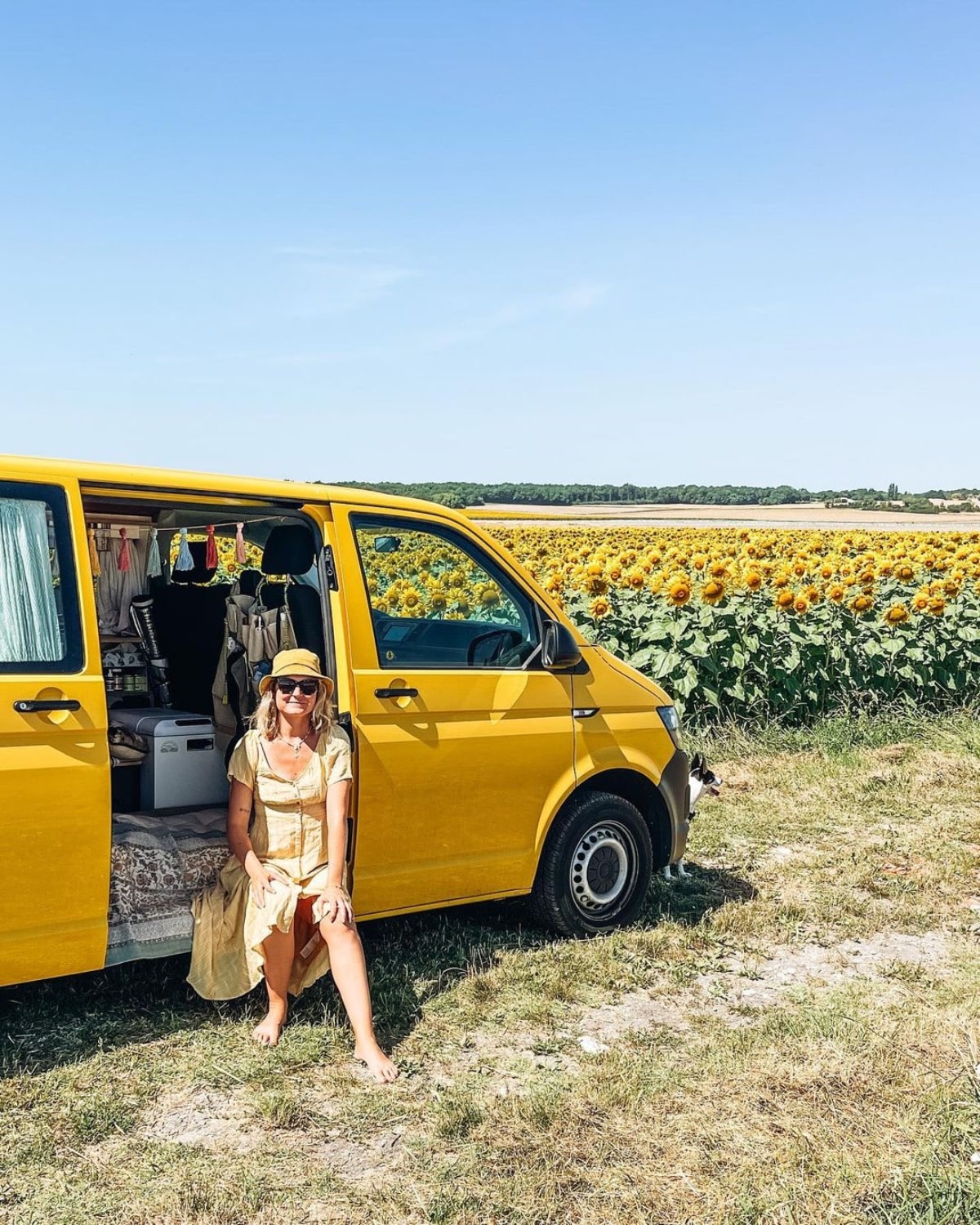 [Image: SarahLentz]
Why let daffodils and marigolds have all the fun? Give your van's exterior a bright, happy makeover with yellow paint.
2. Shower in Style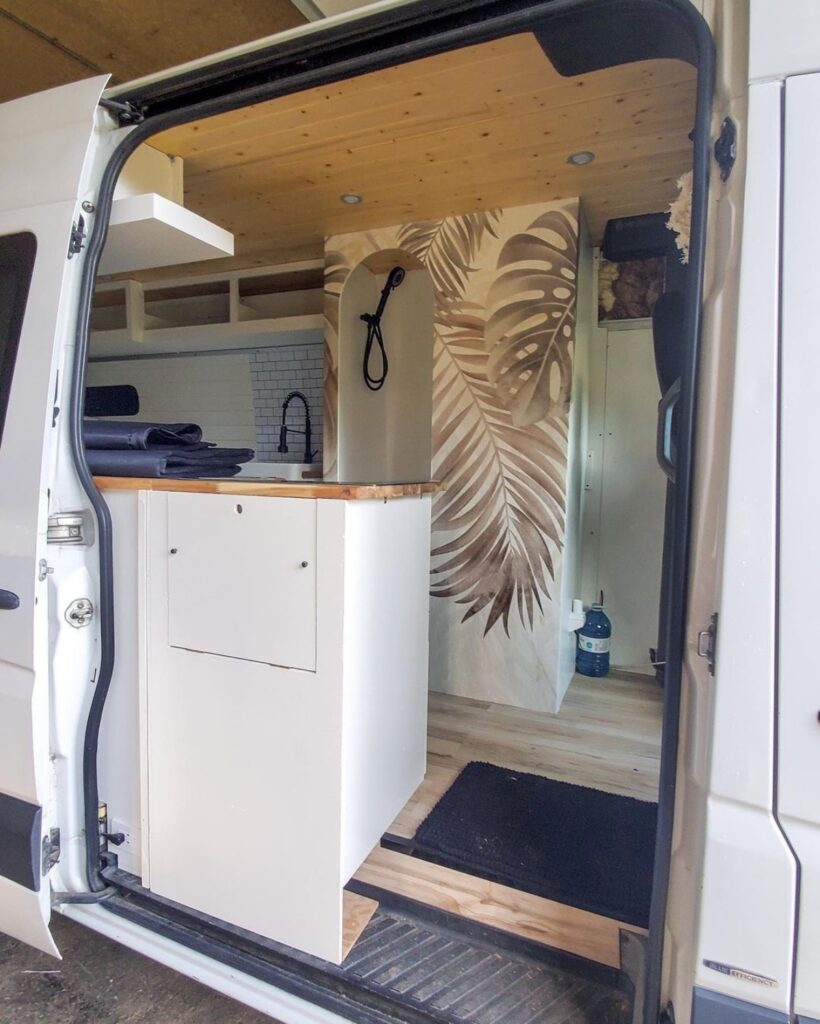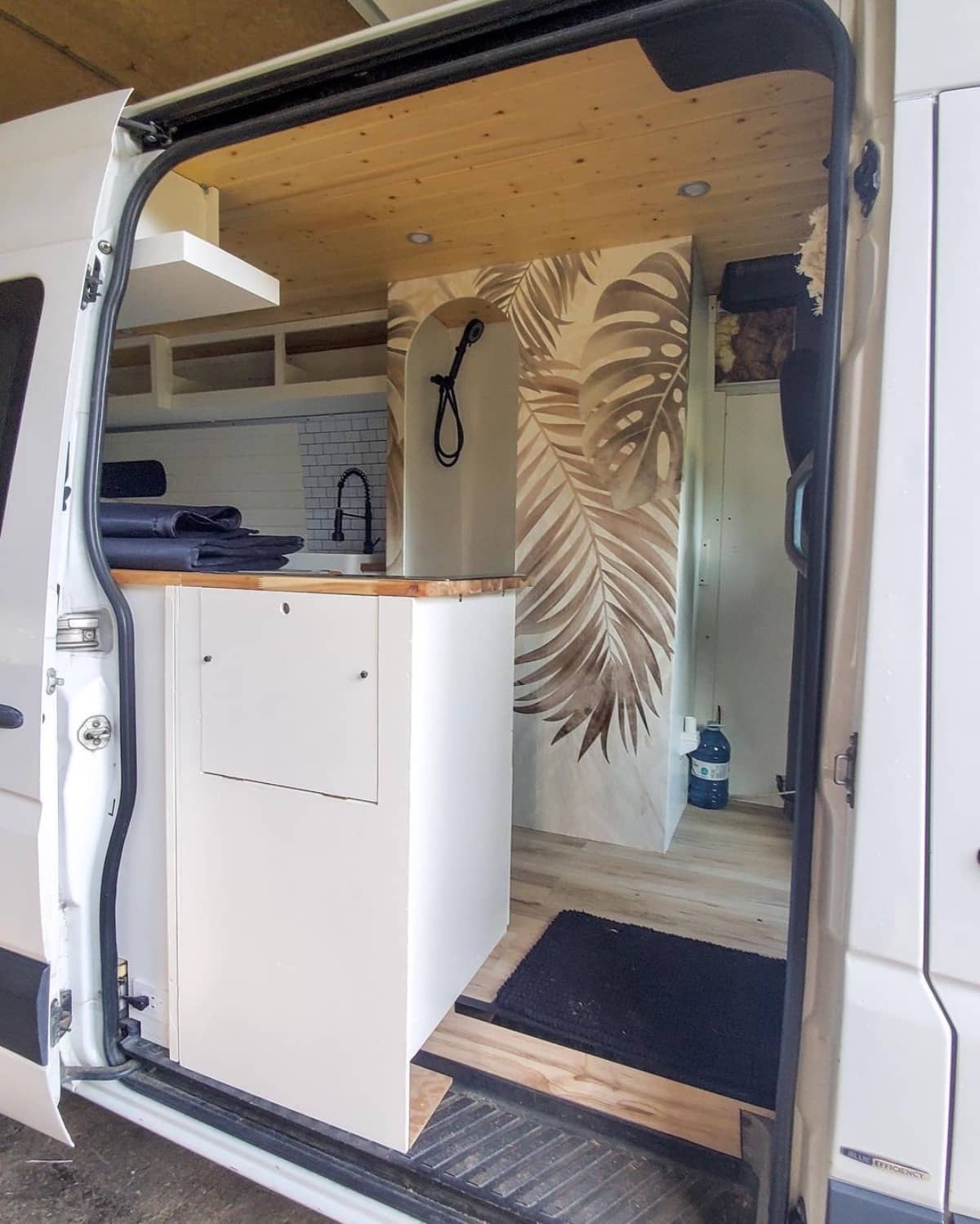 [Image: liv_inthemannvan]
Show off your inner artist with a custom, hand-painted shower mural. It's a great way to add texture and color without occupying your limited floor space.
3. Celebrate the Season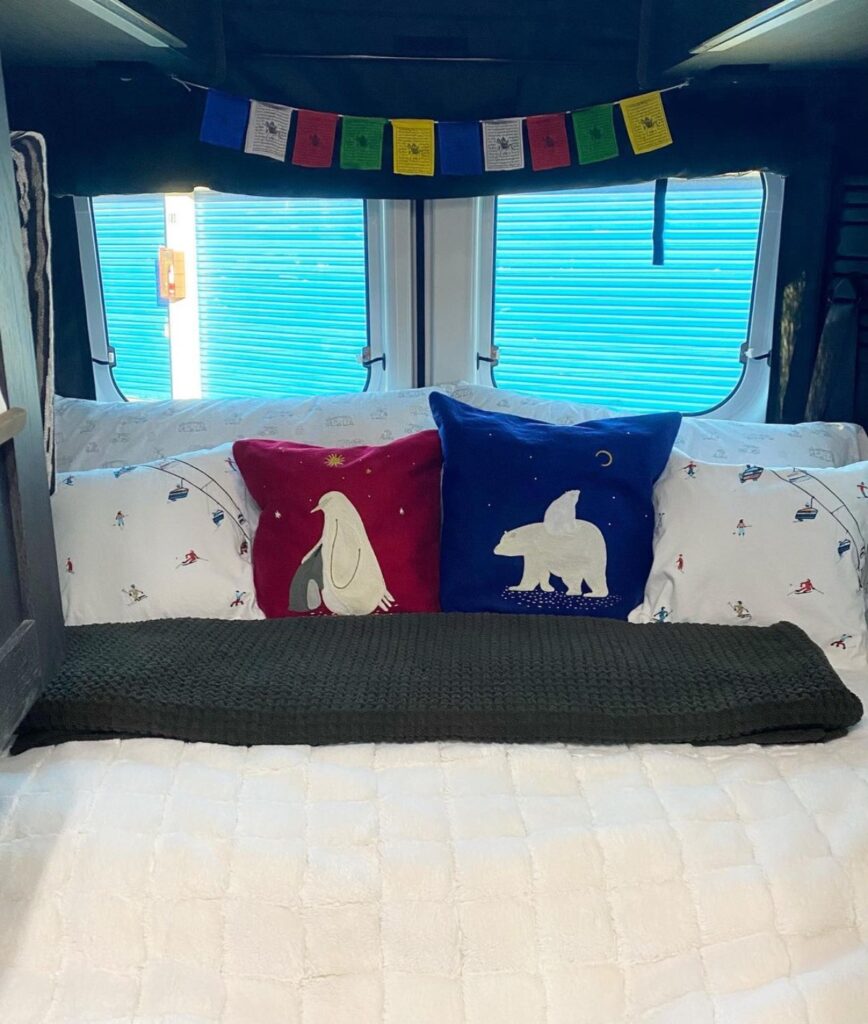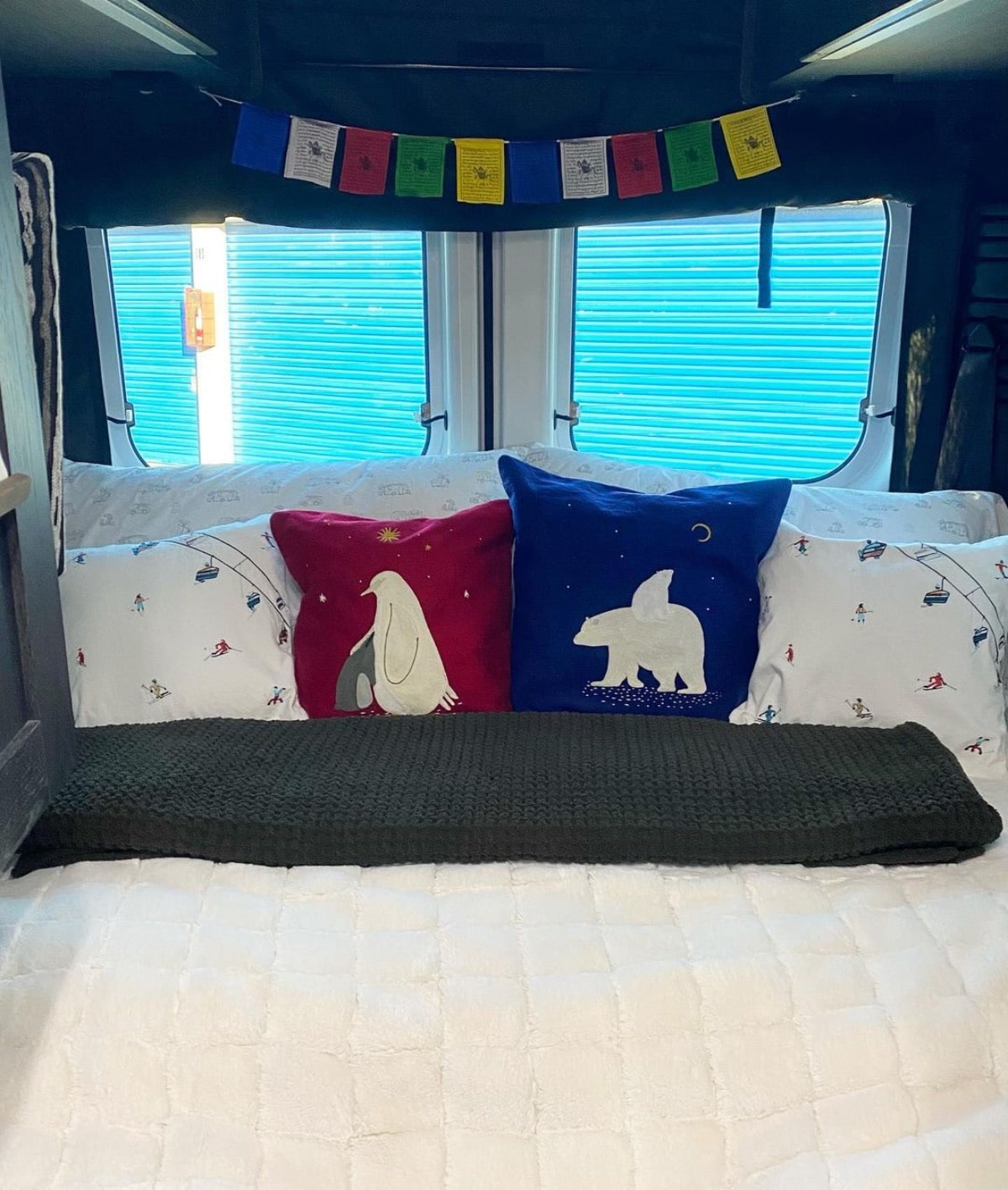 [Image: wanderlustandtrails]
When the holidays roll around, give your van a more festive feel with seasonal throw pillows, plush throws, and wall hangings.
4. Busy as a Bee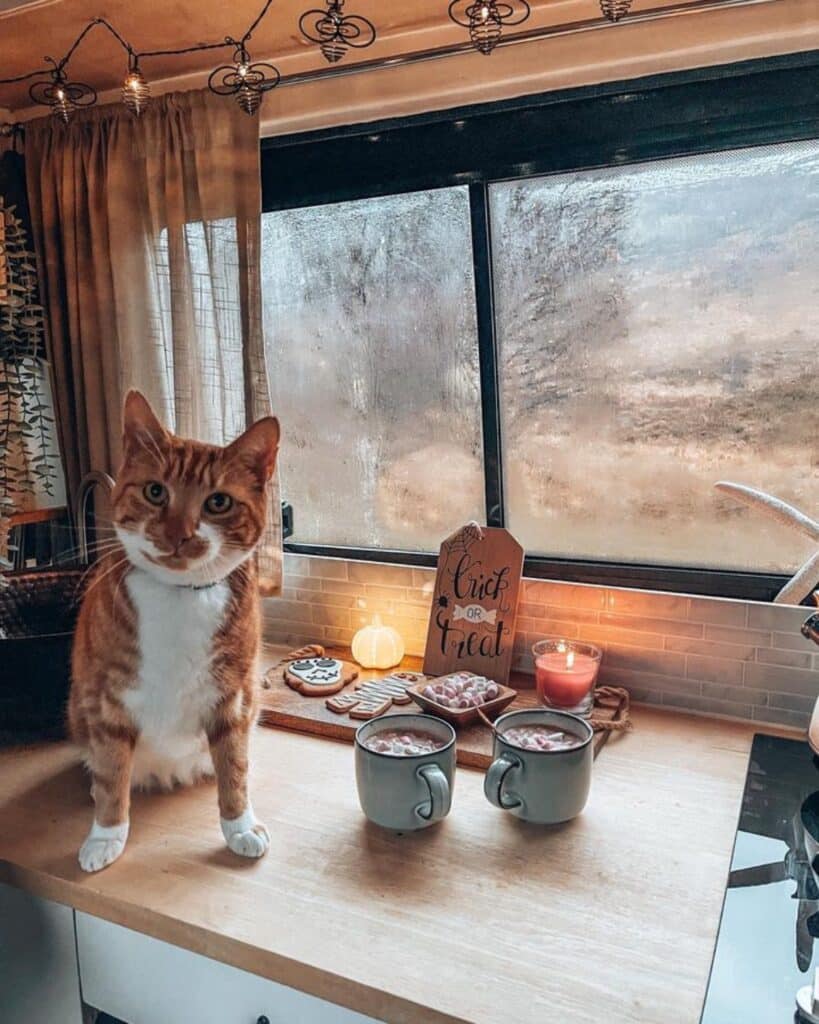 [Image: highlifetovanlife]
Twinkle lights are one of the most popular ideas for decorating your van, but you can spice up the trend with exciting shapes like these charming bumblebees.
5. Trailing Greenery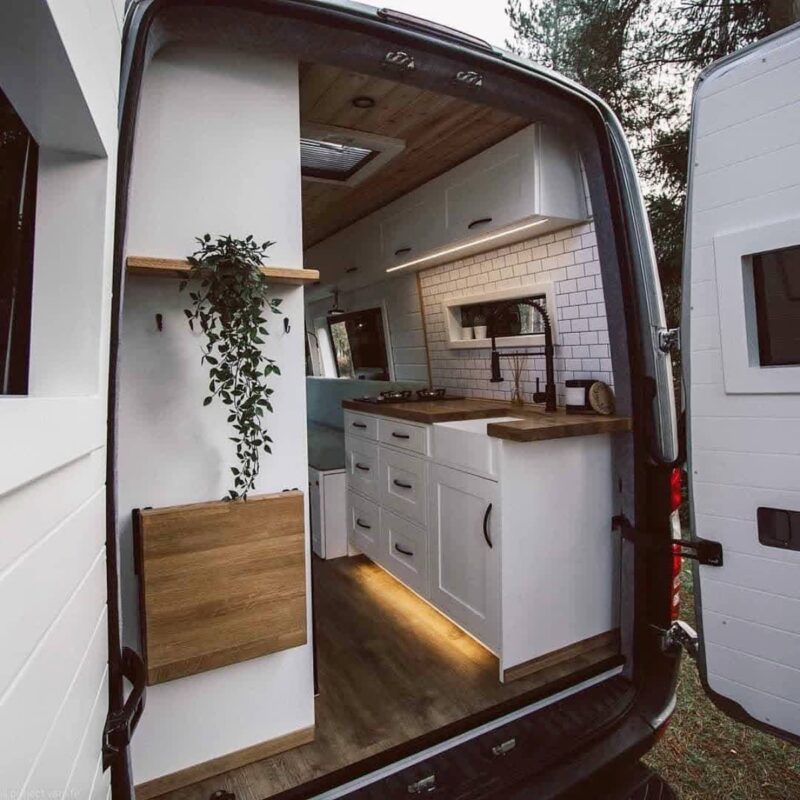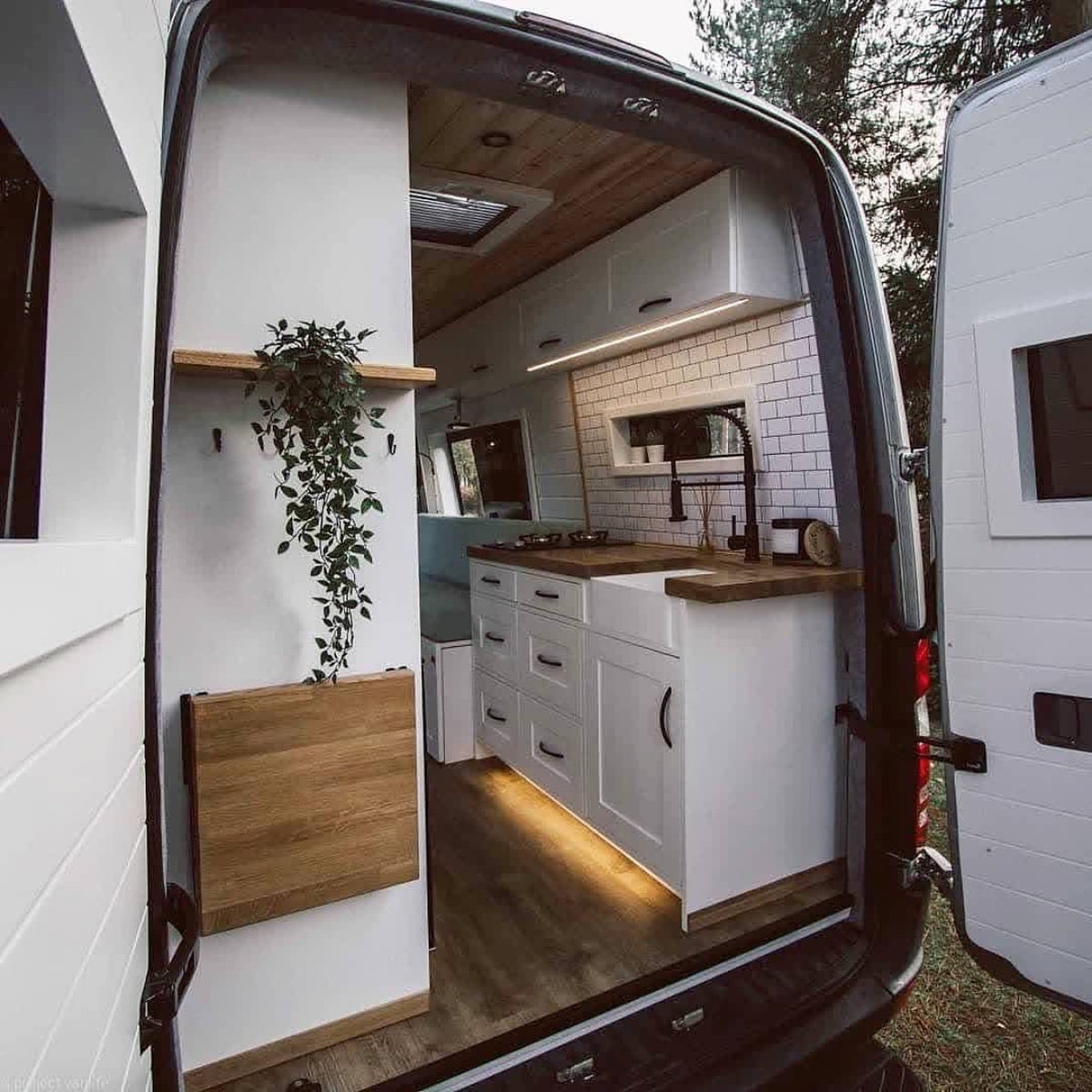 [Image: motorhome.brasil]
When the weather's gone dreary, you can still enjoy all of the fruits of nature with verdant vines and frilly foliage cascading across your van.
6. Macrame Multitaskers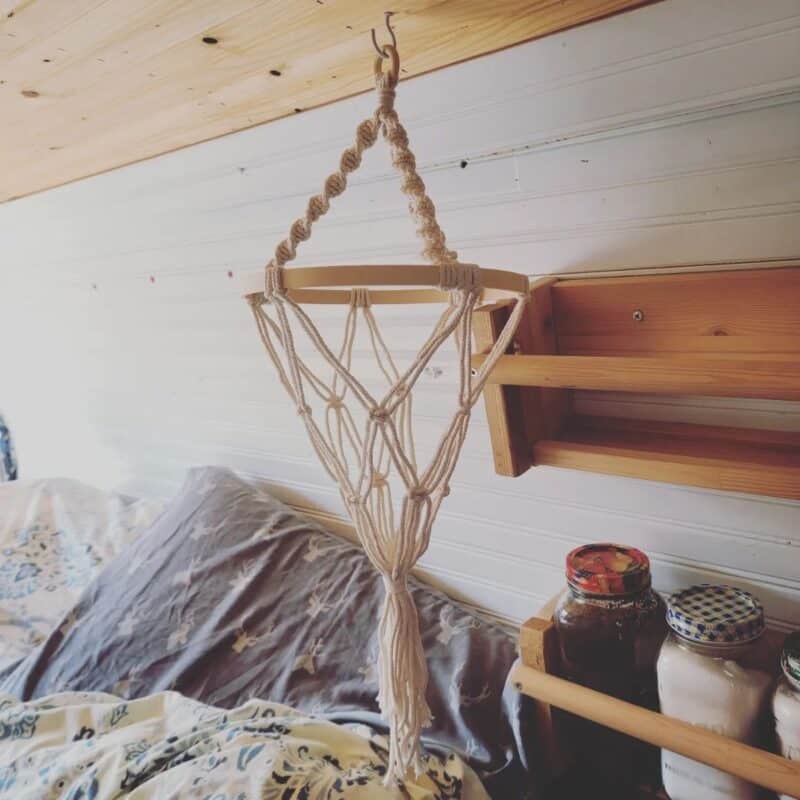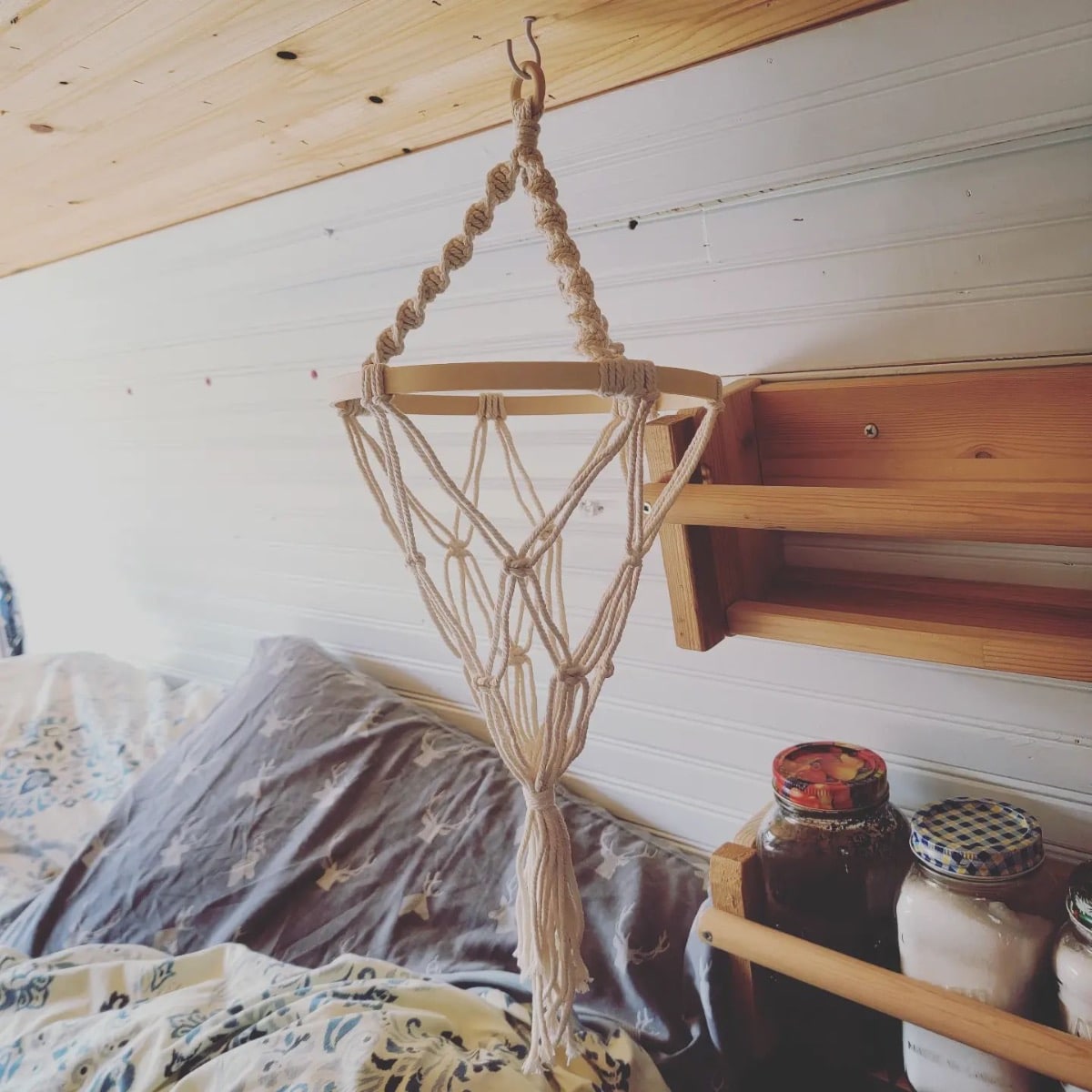 [Image: boha.creations]
Space is a sacred thing when you're decorating your van. This macrame hanging fruit basket does double duty as a practical storage option and a stunning DIY detail.
7. Set the Mood for Adventure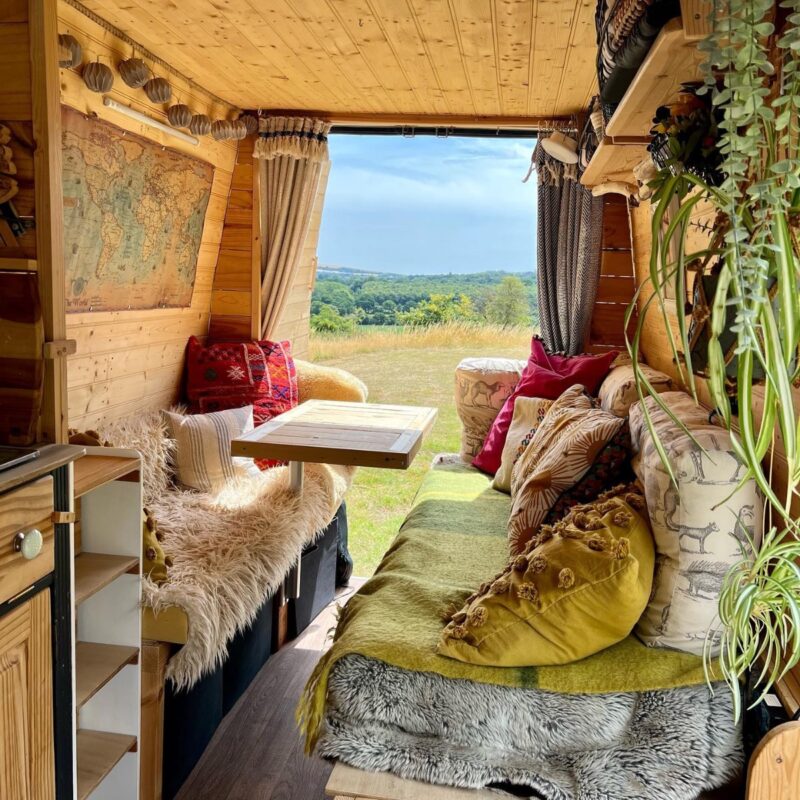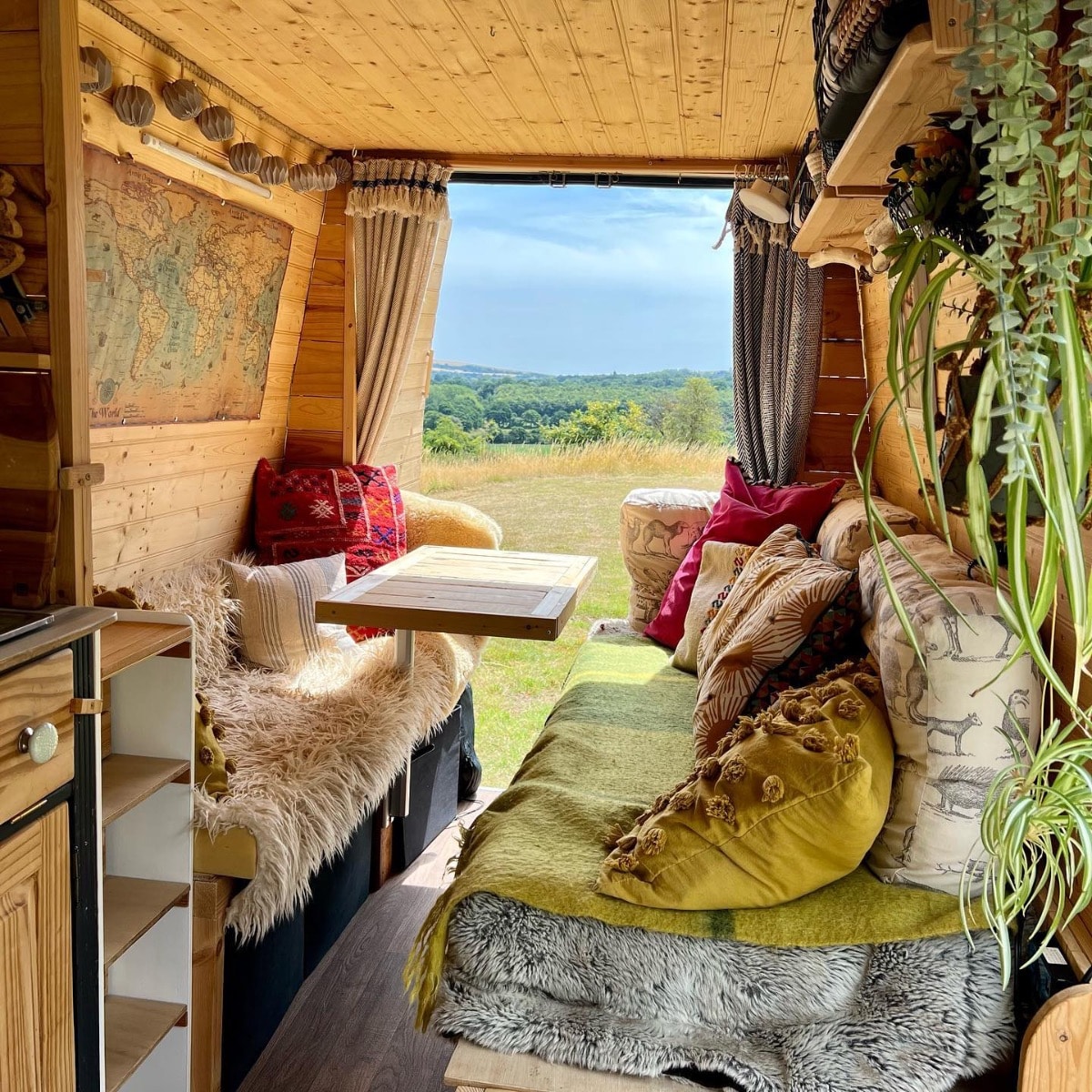 [Image: homemadecampervan]
With the tattered map, natural wood, rustic textiles, and lowkey color palette, this van lifer transformed their space into an Indiana Jones-esque headquarters.
8. Built-In Backsplash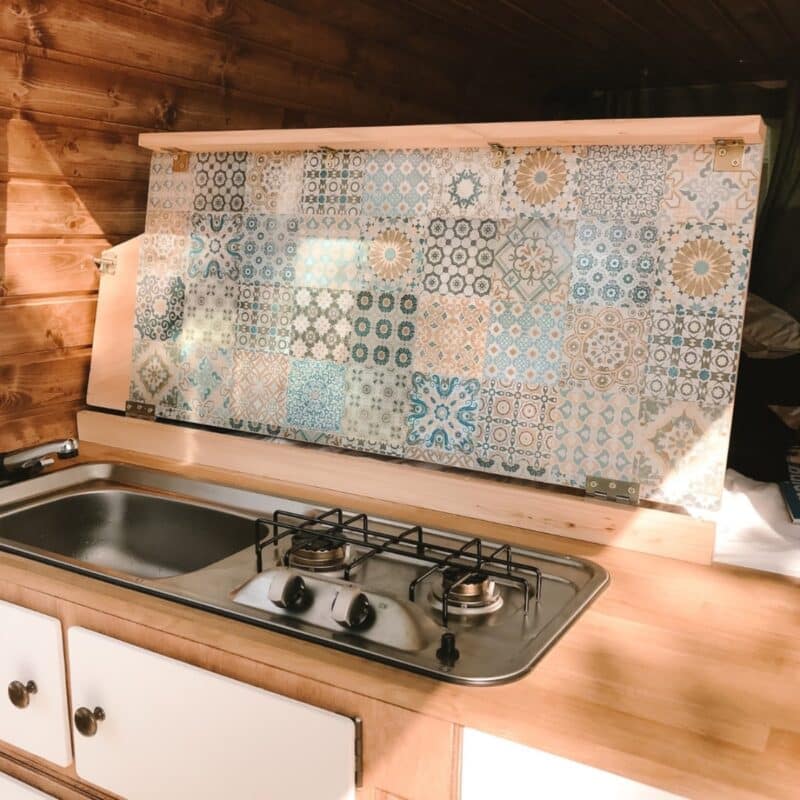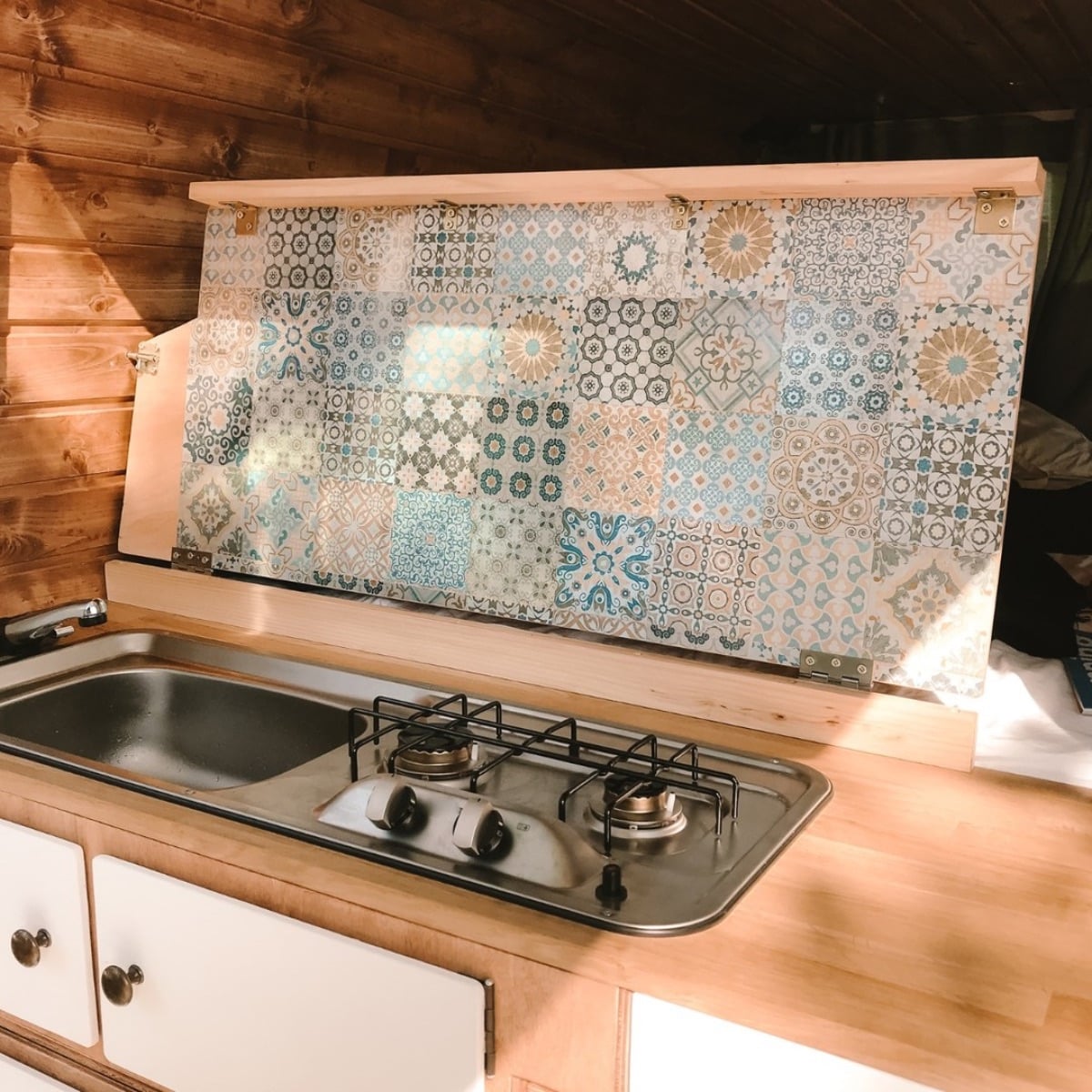 [Image: mecacamp88]
If your kitchen layout lacks a window with a view, adding a warm and colorful vinyl applique to your sink cover can make dish duty more pleasant.
9. Coordinated Comfort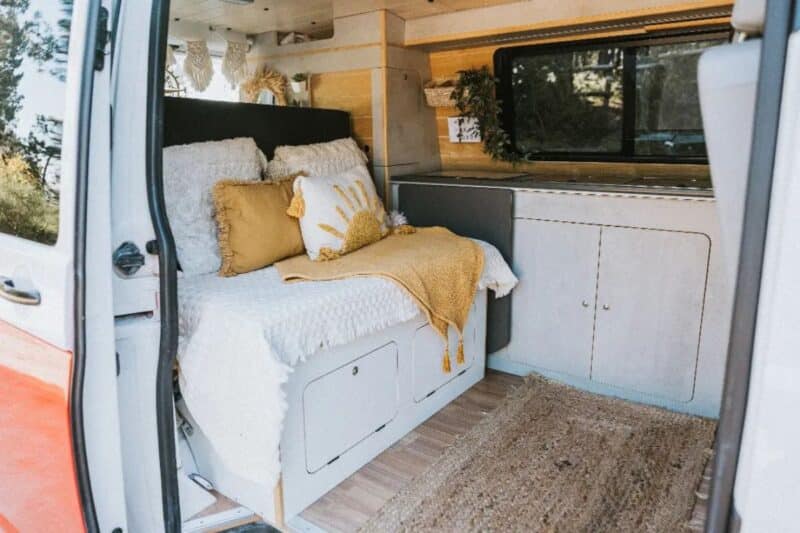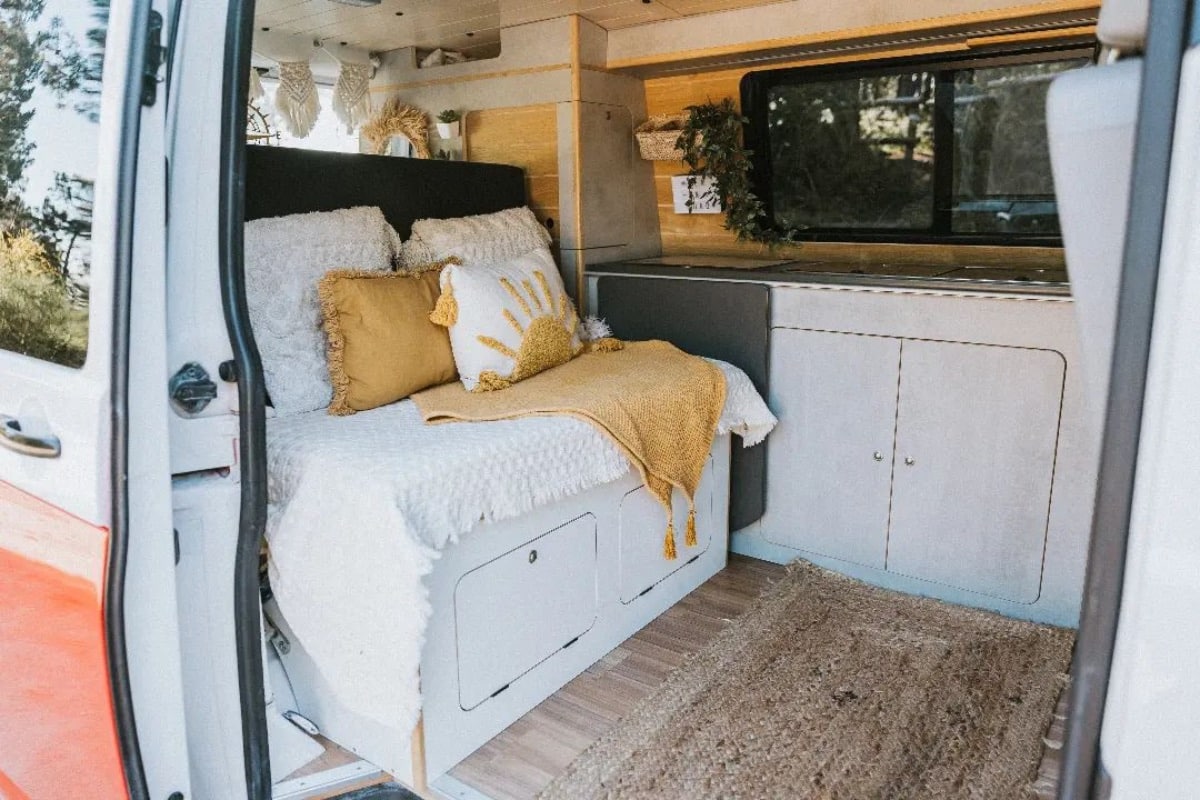 [Image: bea_onroad]
Coordinating color palettes can turn a simple bench seat into a relaxing space for reading, writing, or taking a mid-afternoon nap.
10. Warm & Cozy Rug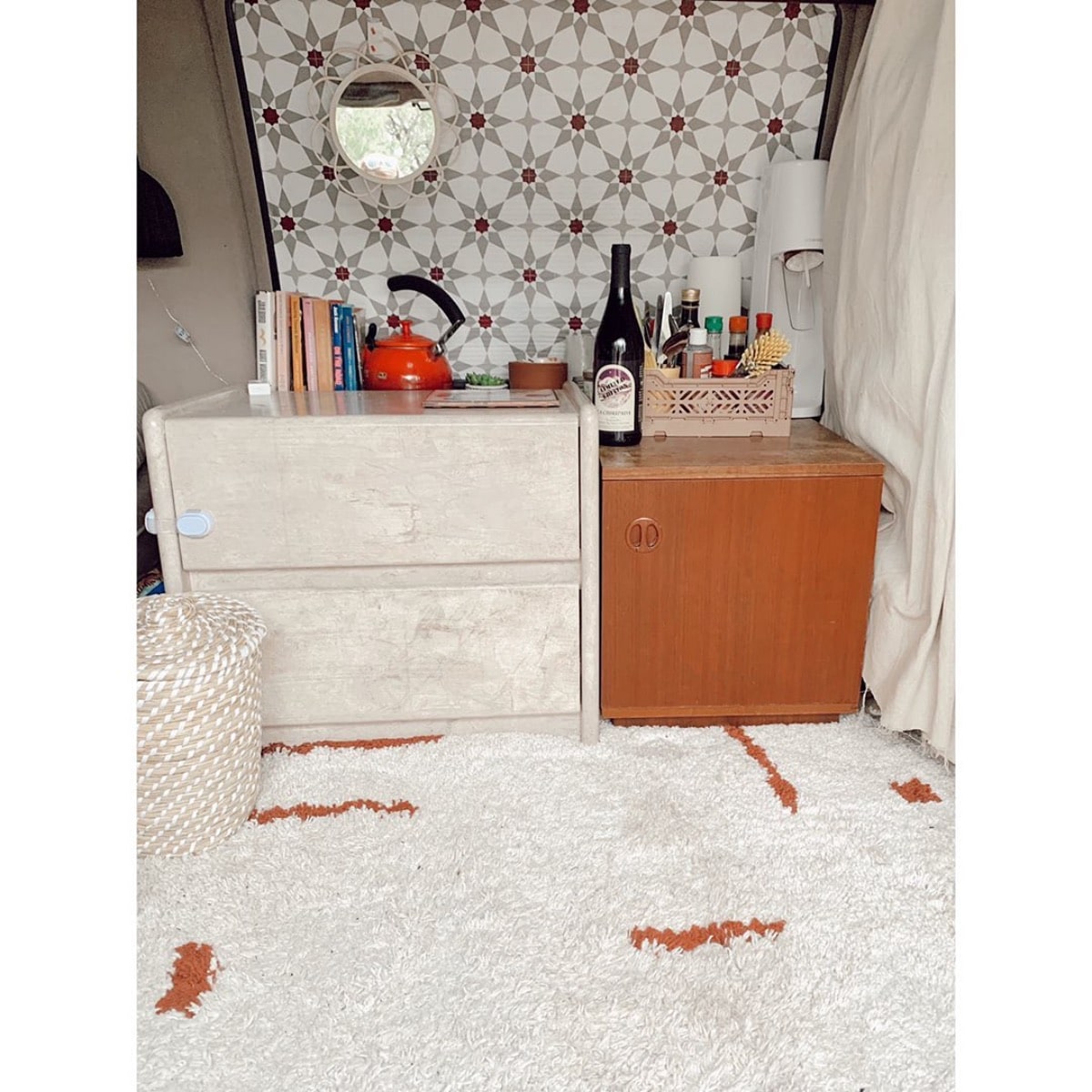 [Image: erin.hensley]
Rugs are ideal van decor because they separate rooms and make cold winter mornings easier on your feet.
11. Well-Worn Weave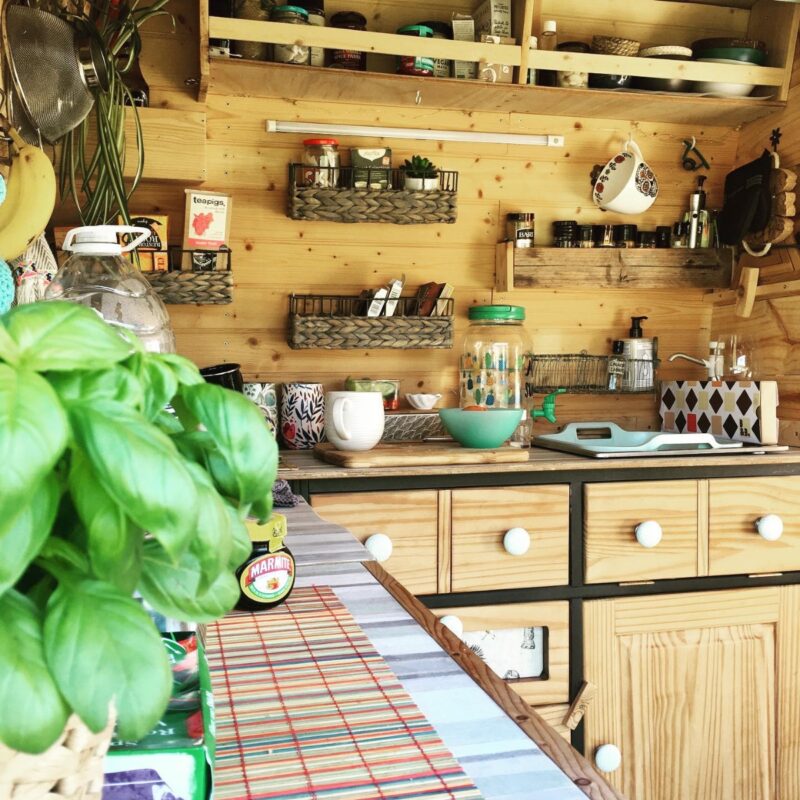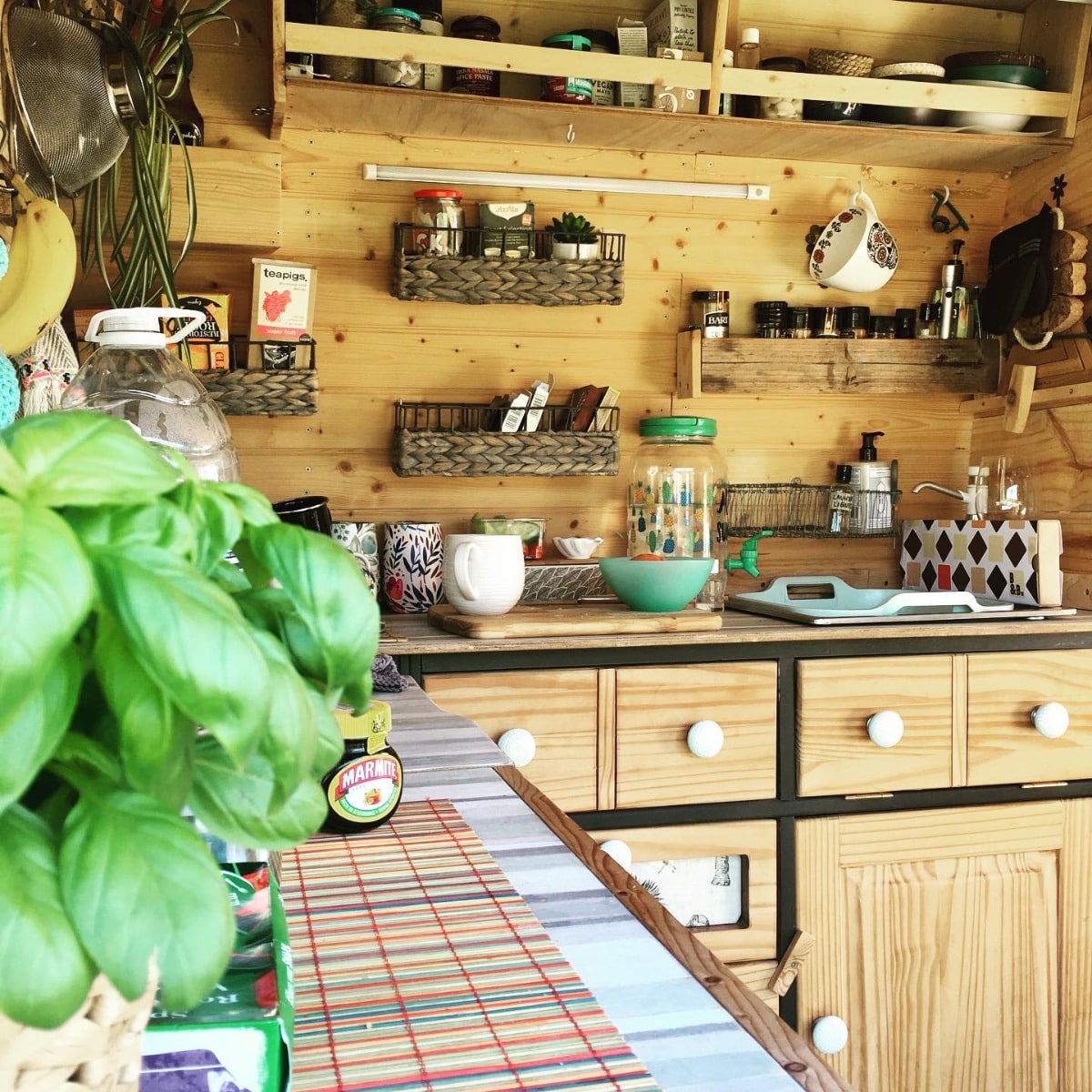 [Image: homemadecampervan]
These rustic hanging shelves complement the fresh, new wood on the cabinets and walls.
12. Luxe Paint Job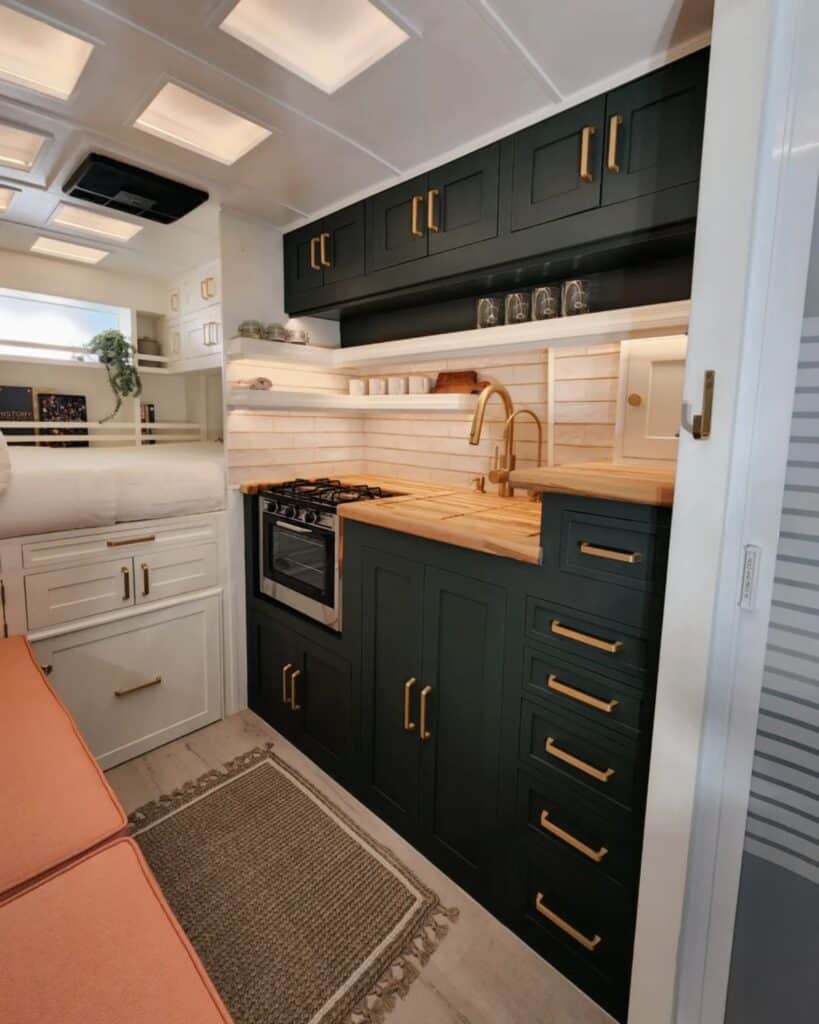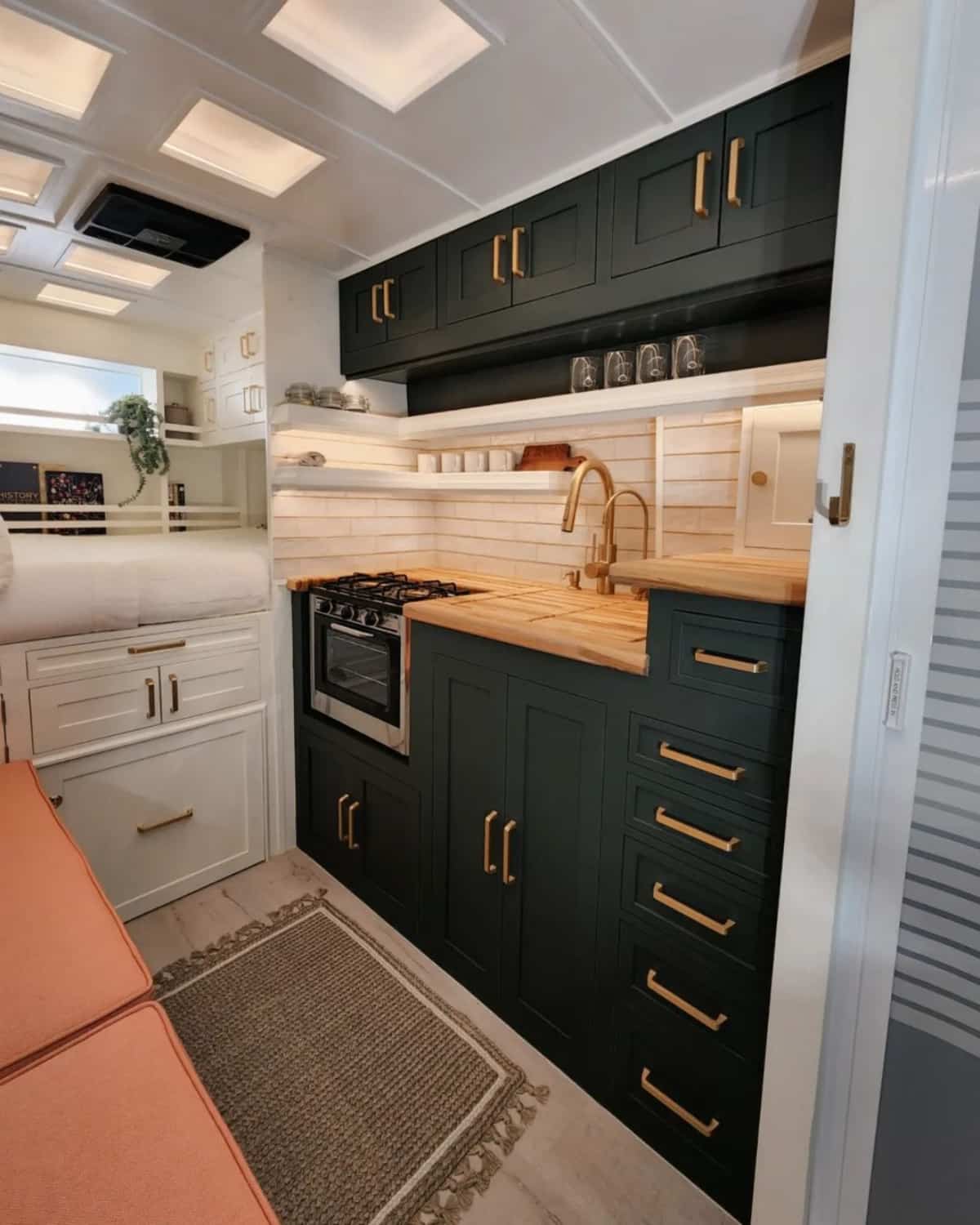 [Image: vanninginplainsight/]
Matte paint colors make rooms feel smaller because they don't reflect light like gloss paints. However, they add an undeniable touch of luxury, especially when adorned with metallics for a touch of sparkle.
13. Coffee Bag Cabinetry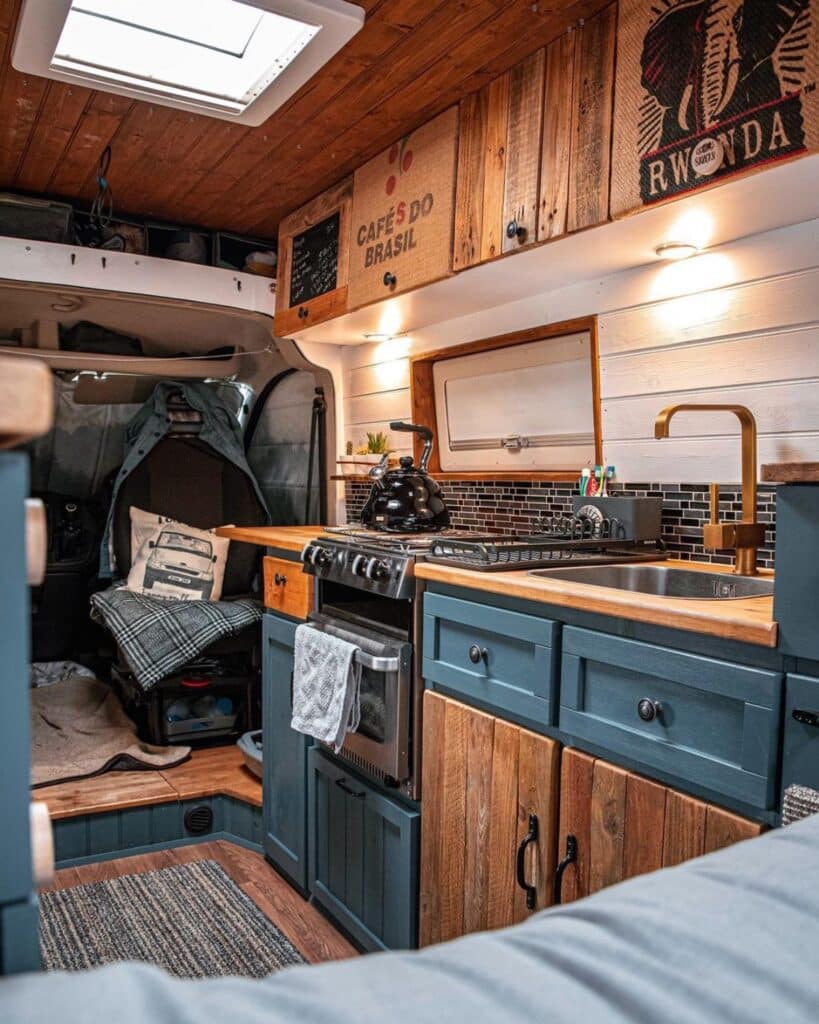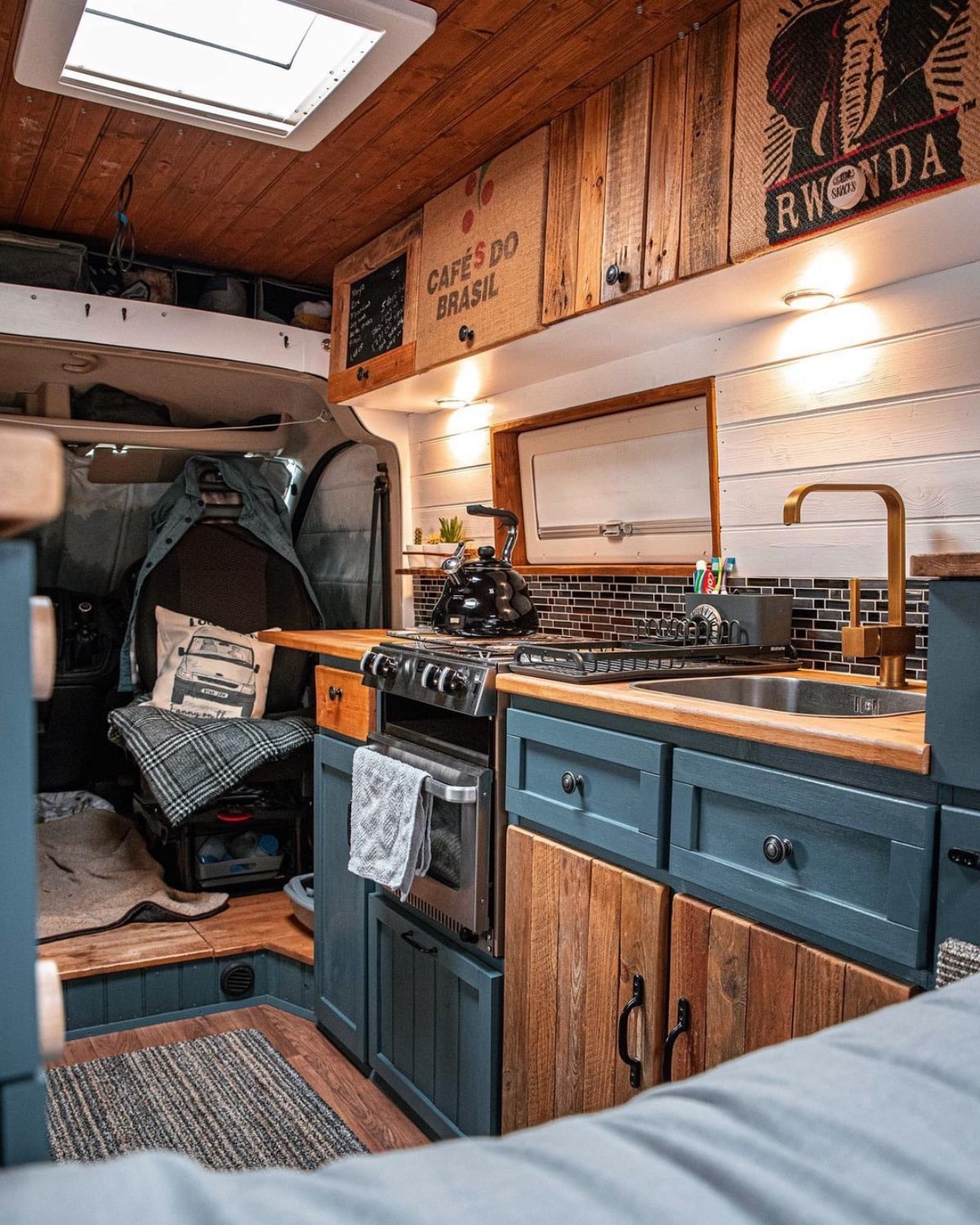 [Image: camper_vibe]
Decorating your van with reused materials, such as these coffee bags from Brazil and Rwanda, is a sustainable way to breathe a little life into your home on wheels.
14. Hanging Baskets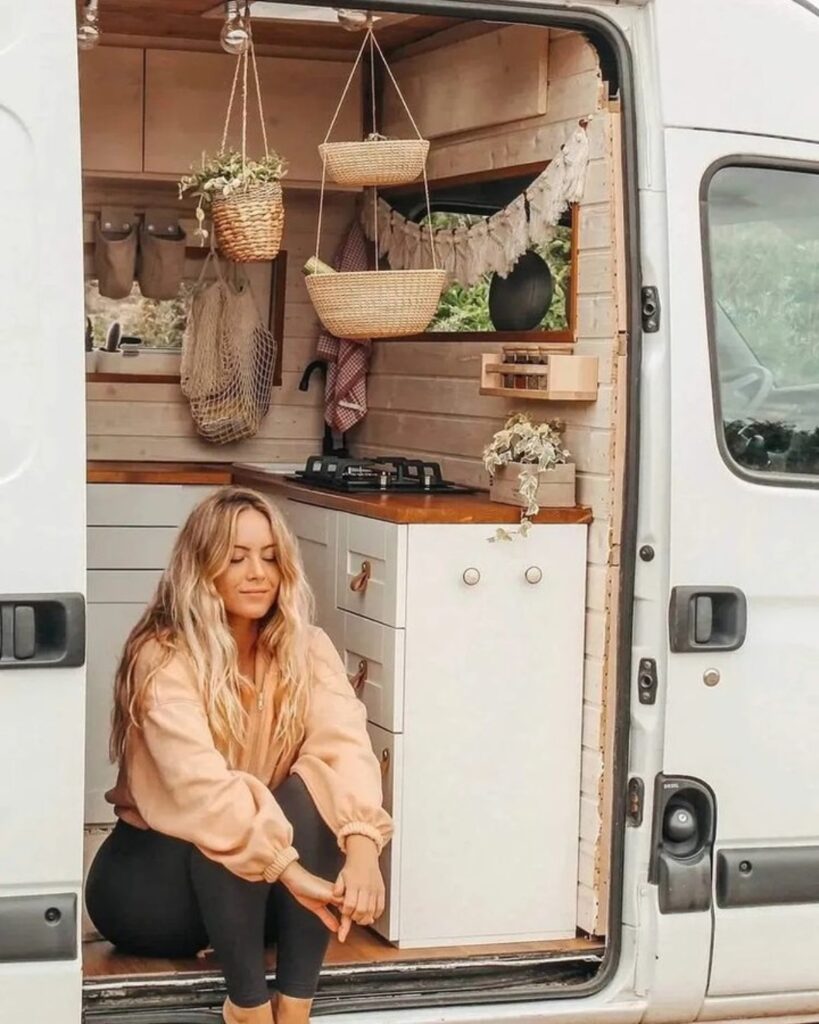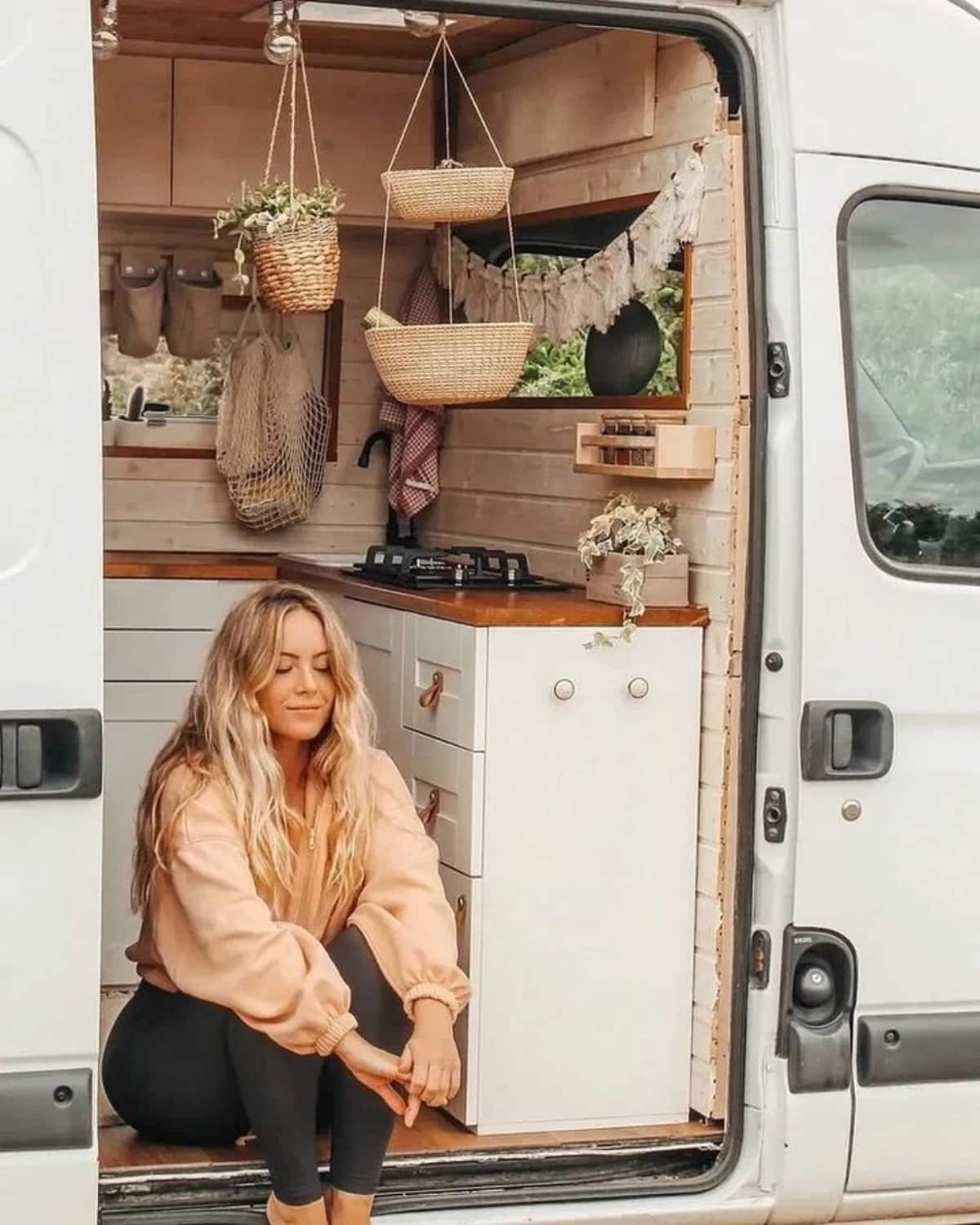 [Image:vanlifedistrict]
Incorporating decor that hangs from the ceiling is one of the easiest methods for jazzing up your space without your van feeling cluttered or chaotic. Add air plants, ivy, or succulents for a low-maintenance dash of natural decor.
15. Headin' West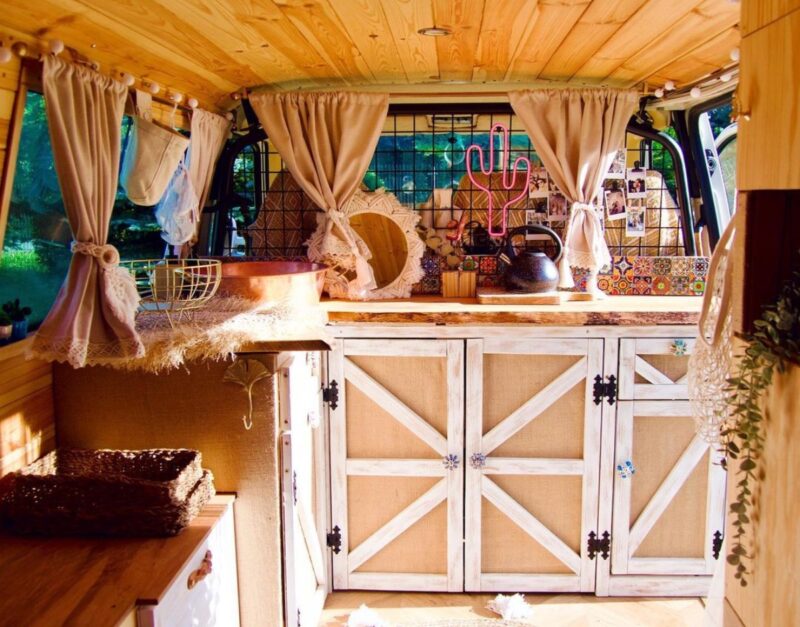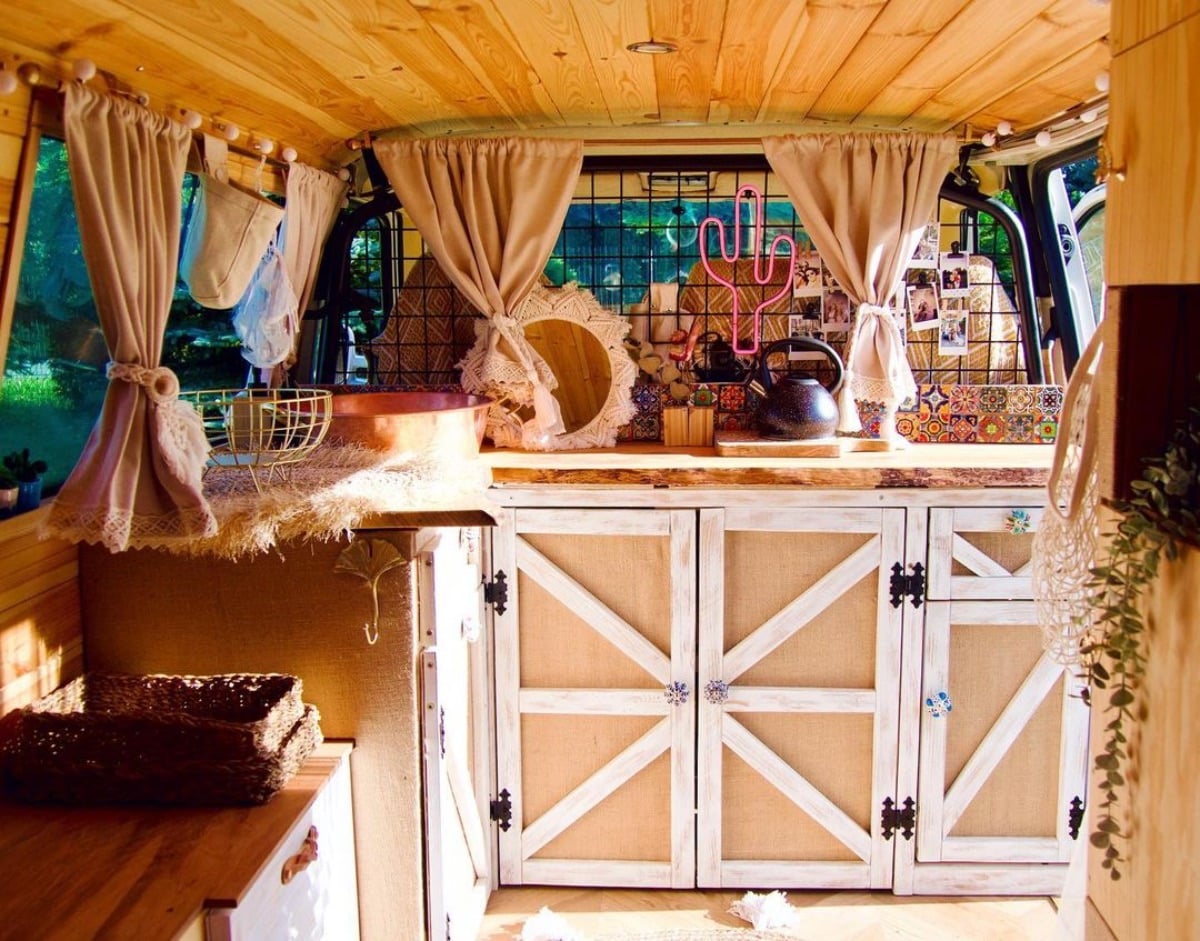 [Image: tripiarze]
This ingenious idea for how to decorate a camper brings the "barndominium" trend into your unconventional living space. The burlap curtains, barn door paneling, and neon cactus add a touch of southern flair.
16. Indoor Seashore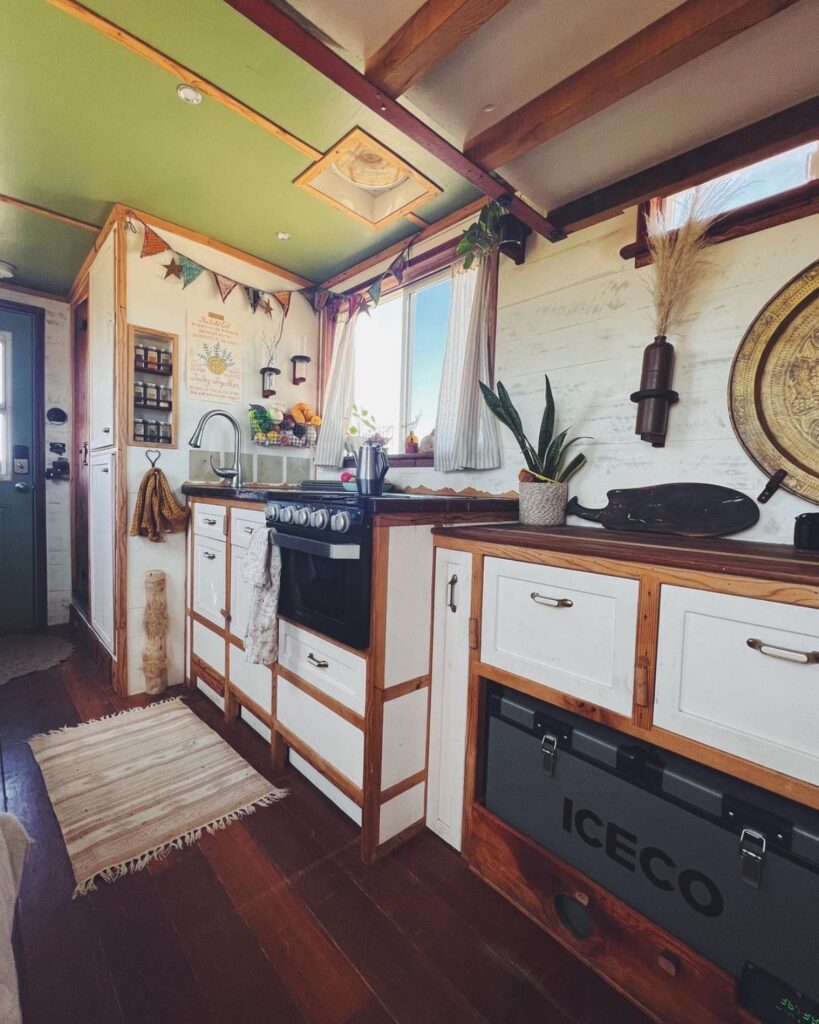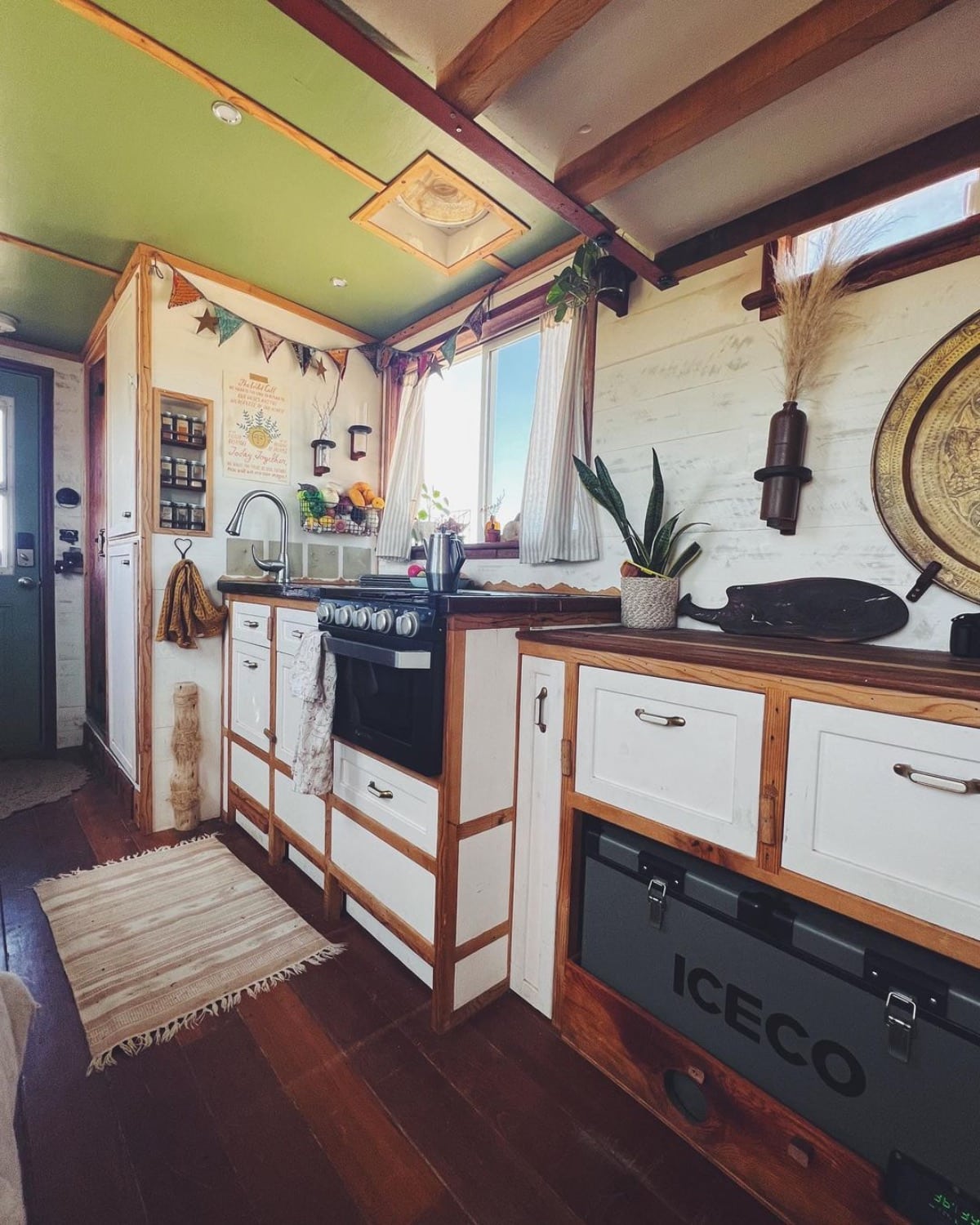 [Image: boxtruckliving]
Part of the fun of van life is that it feels like a vacation every day. In the winter, however, it's hard to justify a day on the beach when there are snow-capped mountains and evergreen forests to explore.
Bring the coast to your camper with dried sea grasses, marine life-shaped curios, and old-school, lantern-shaped wall sconces.
17. Sylvan Wonderland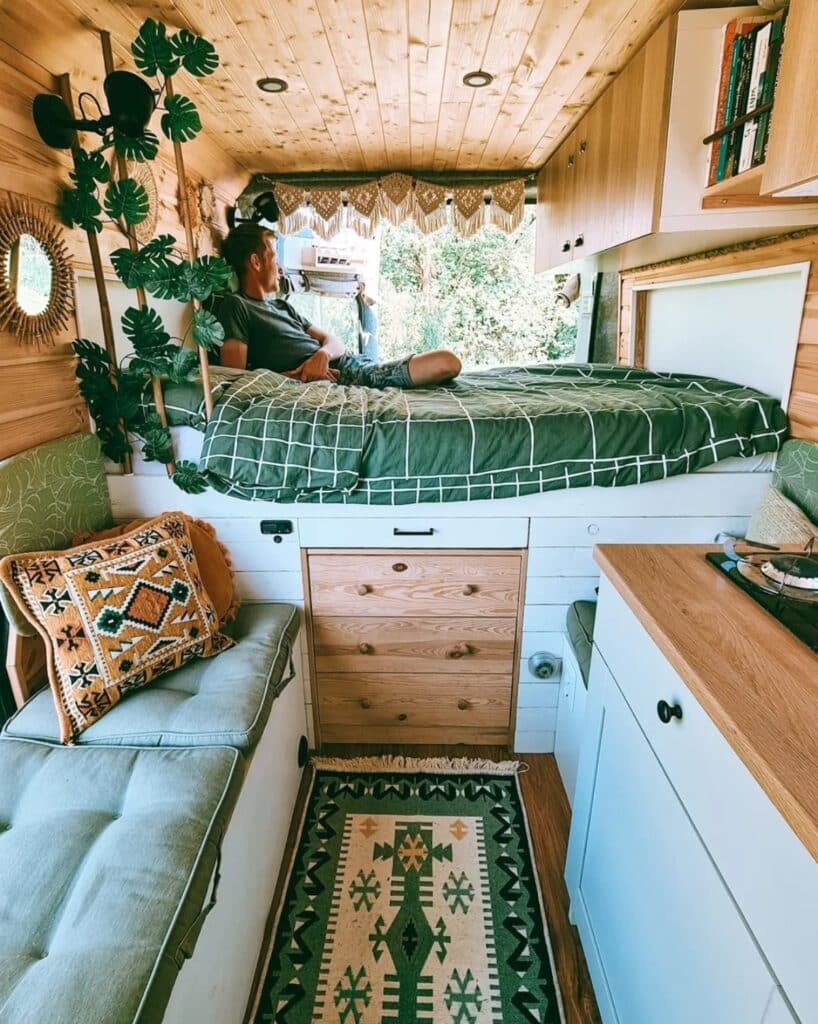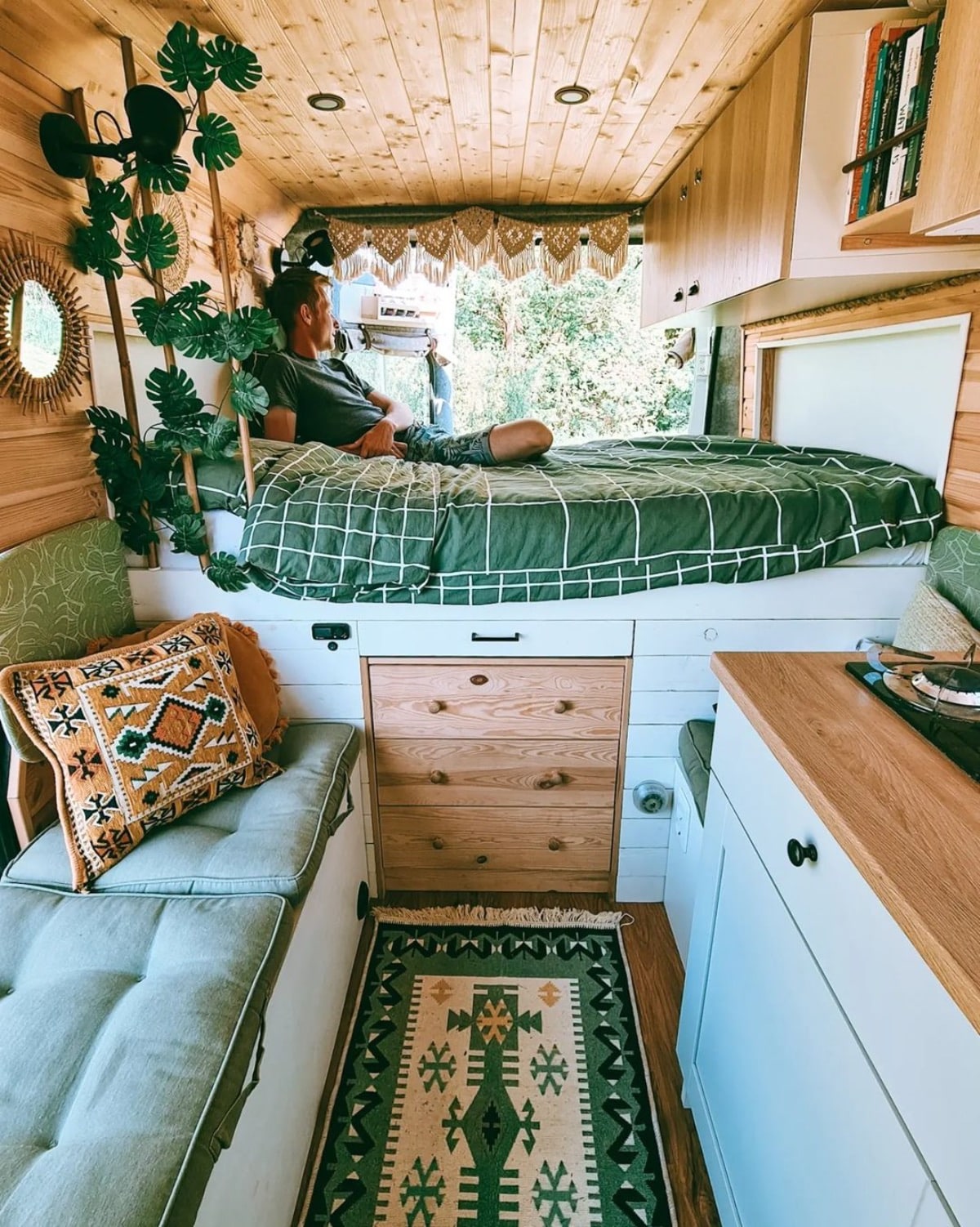 [Image:itscaptainvantastic]
If you can't get enough of visiting hidden forest trails, turn your camper into your personal sylvan hideaway with a monochromatic green color palette featuring dashes of natural wood, burlap textiles, and jewel-toned accents.
18. Bold Retro Palette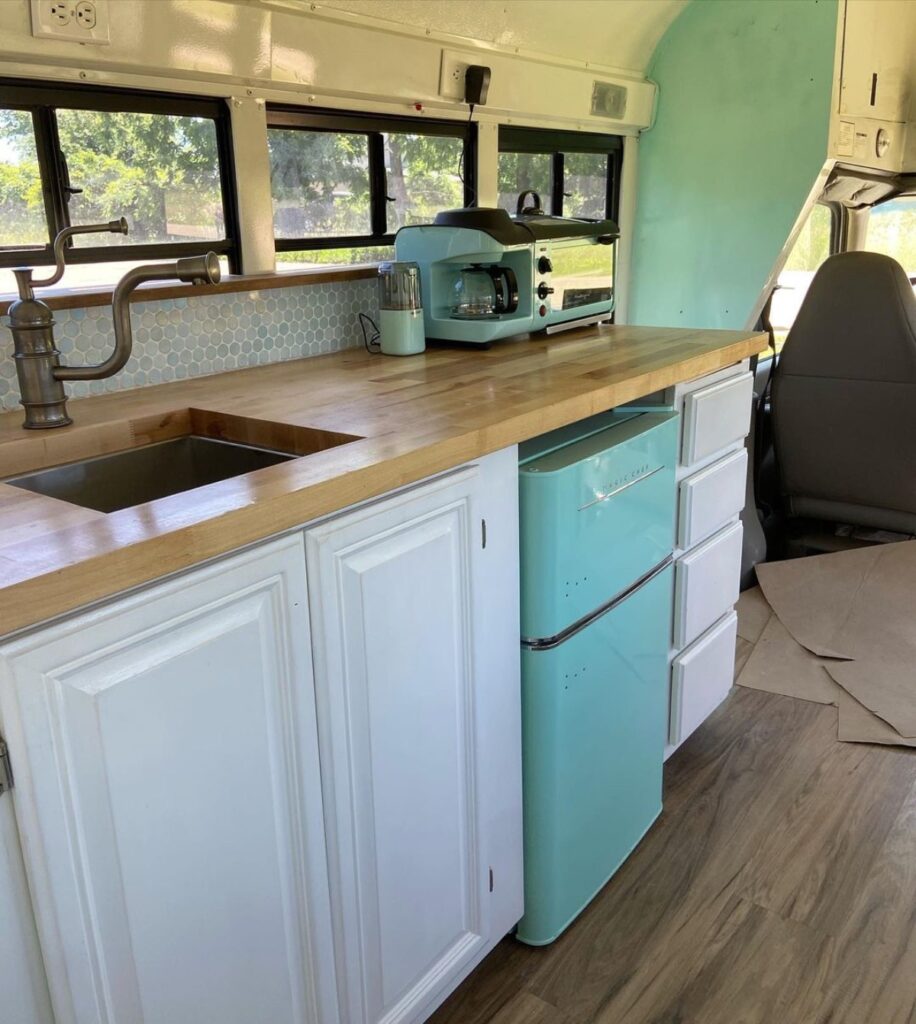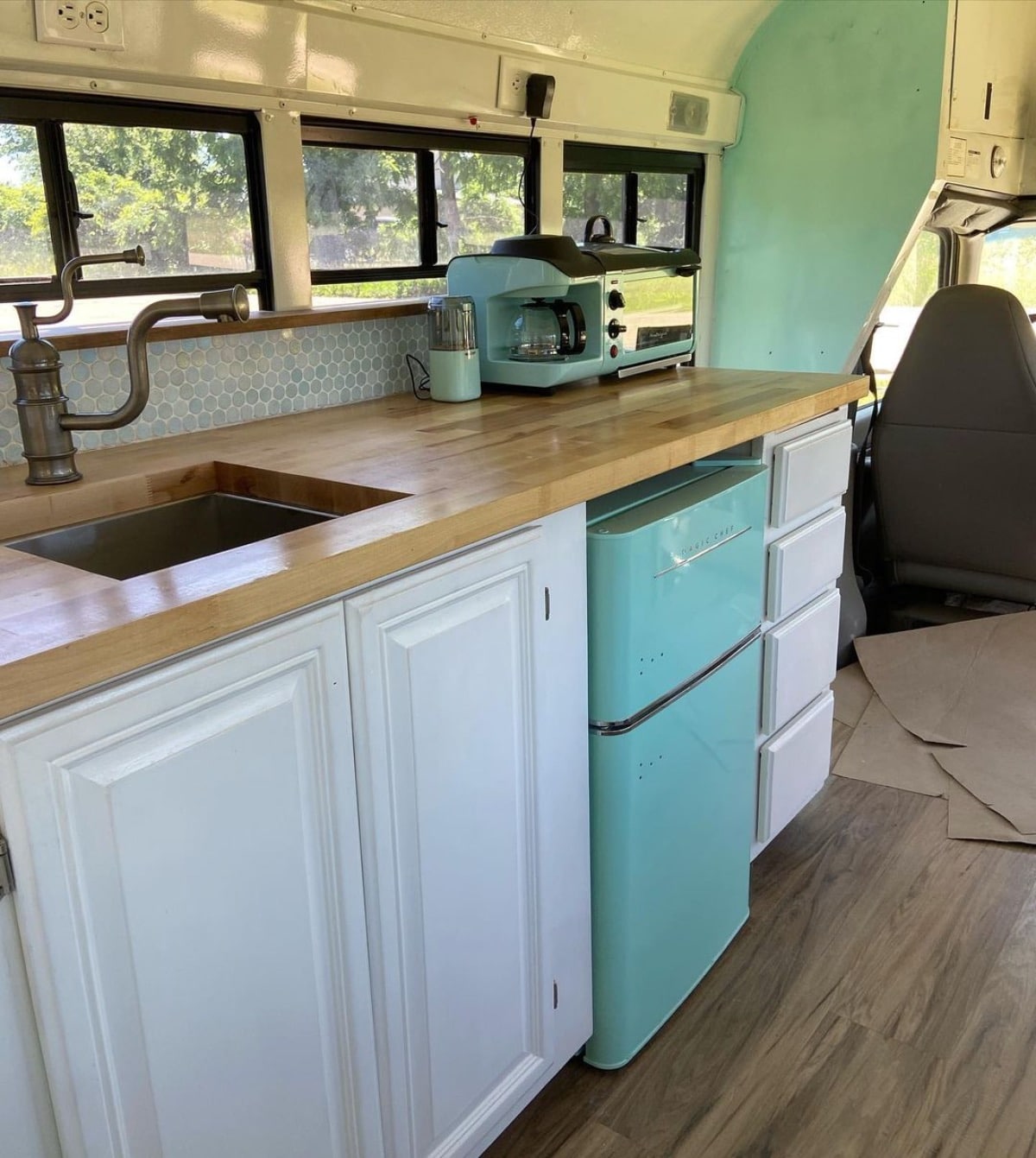 [Image: dventuresorbus]
Retro kitchens are coming back into style, so there's never been a better time to deck out your camper kitchen in pop art colors and vintage appliance silhouettes. Try burnt orange, avocado green, or butter yellow if blue isn't your color.
19. Simply Chic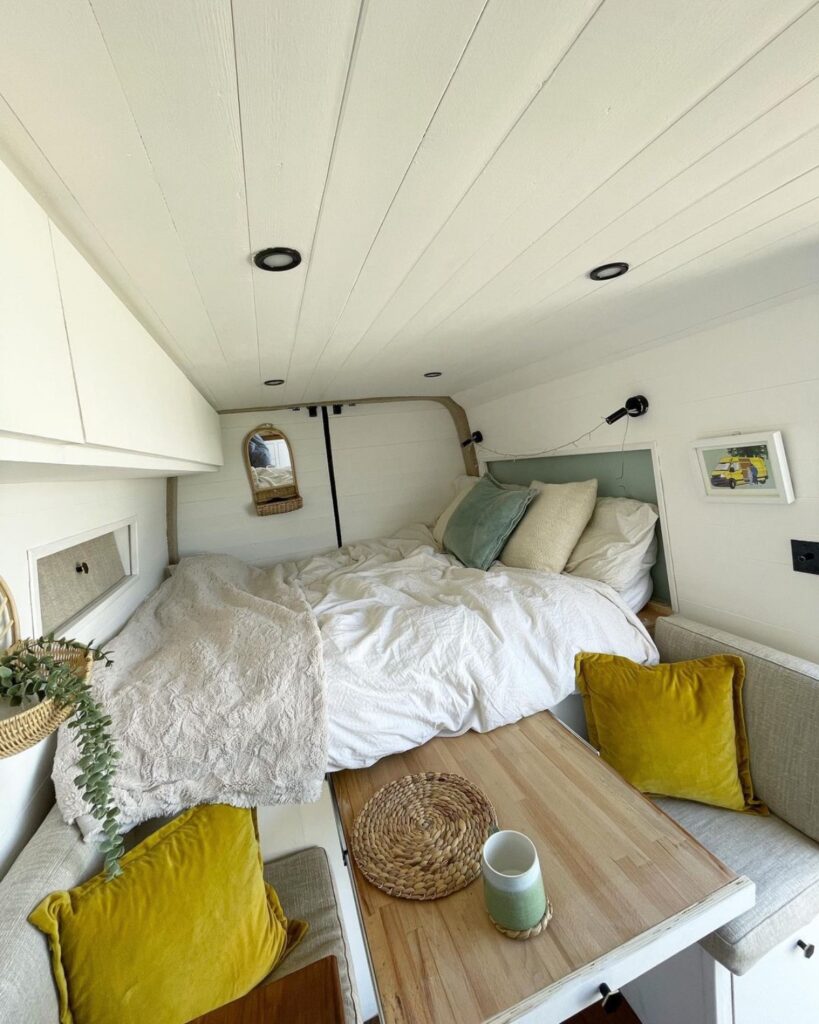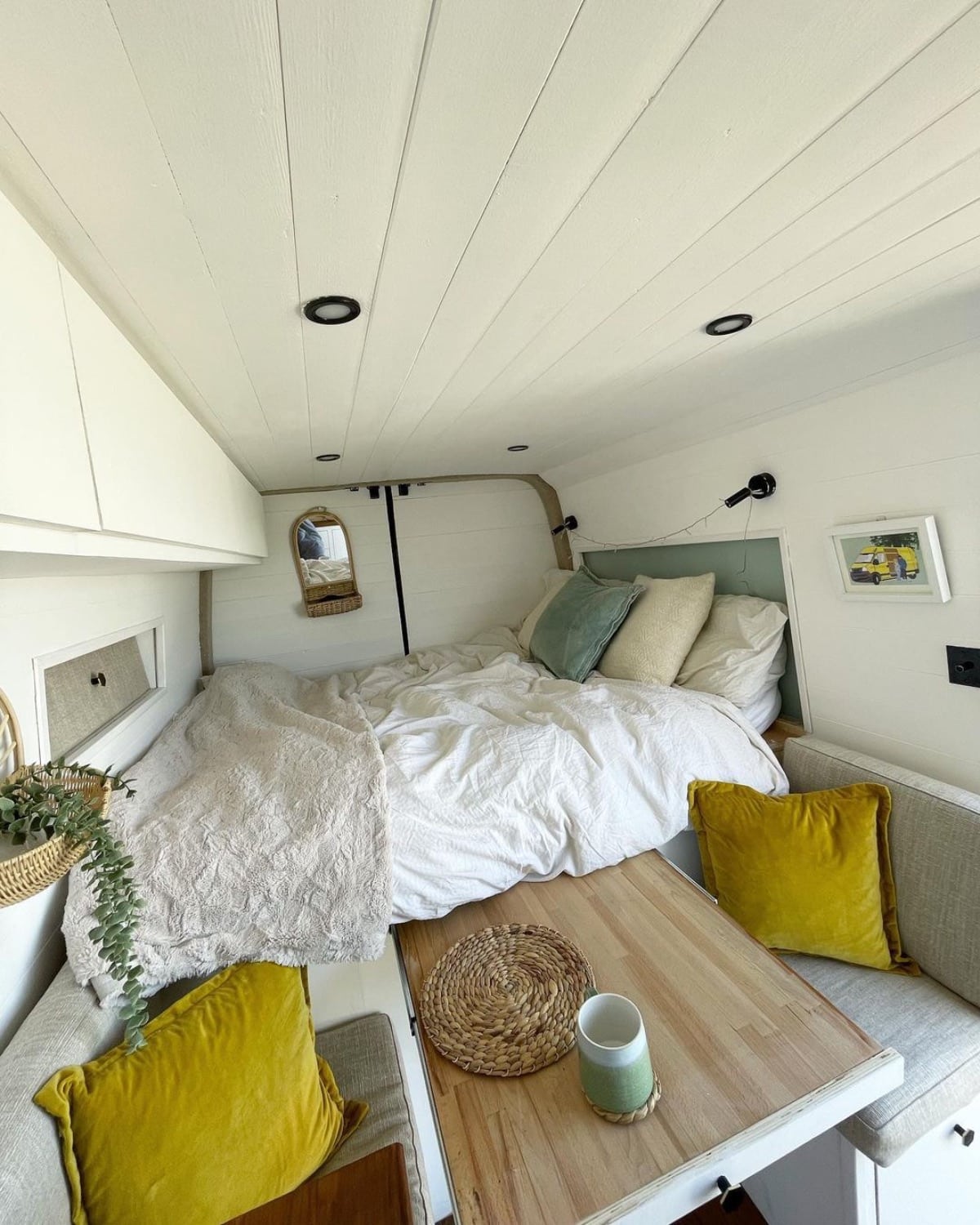 [Image: urlittleyellowadventure]
One essential thing to remember about decorating your camper is not to overthink it too much. Something fresh, simple, and chic is just as attractive as more elaborate designs.
20. Natural & Neon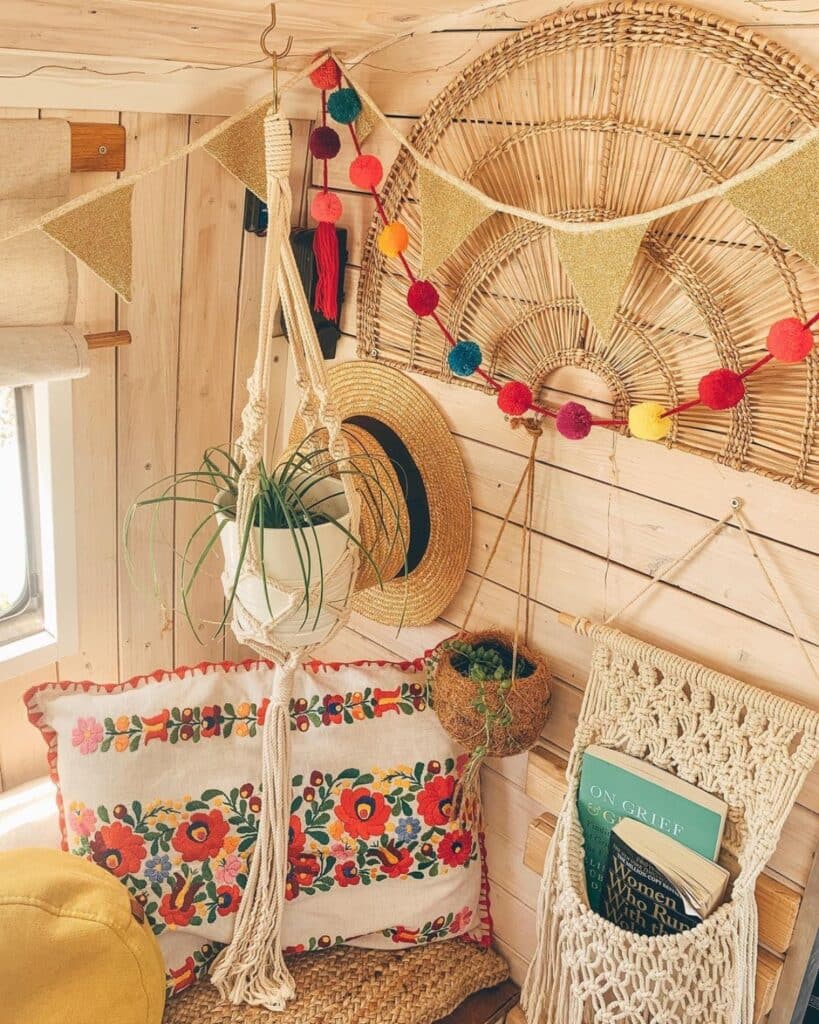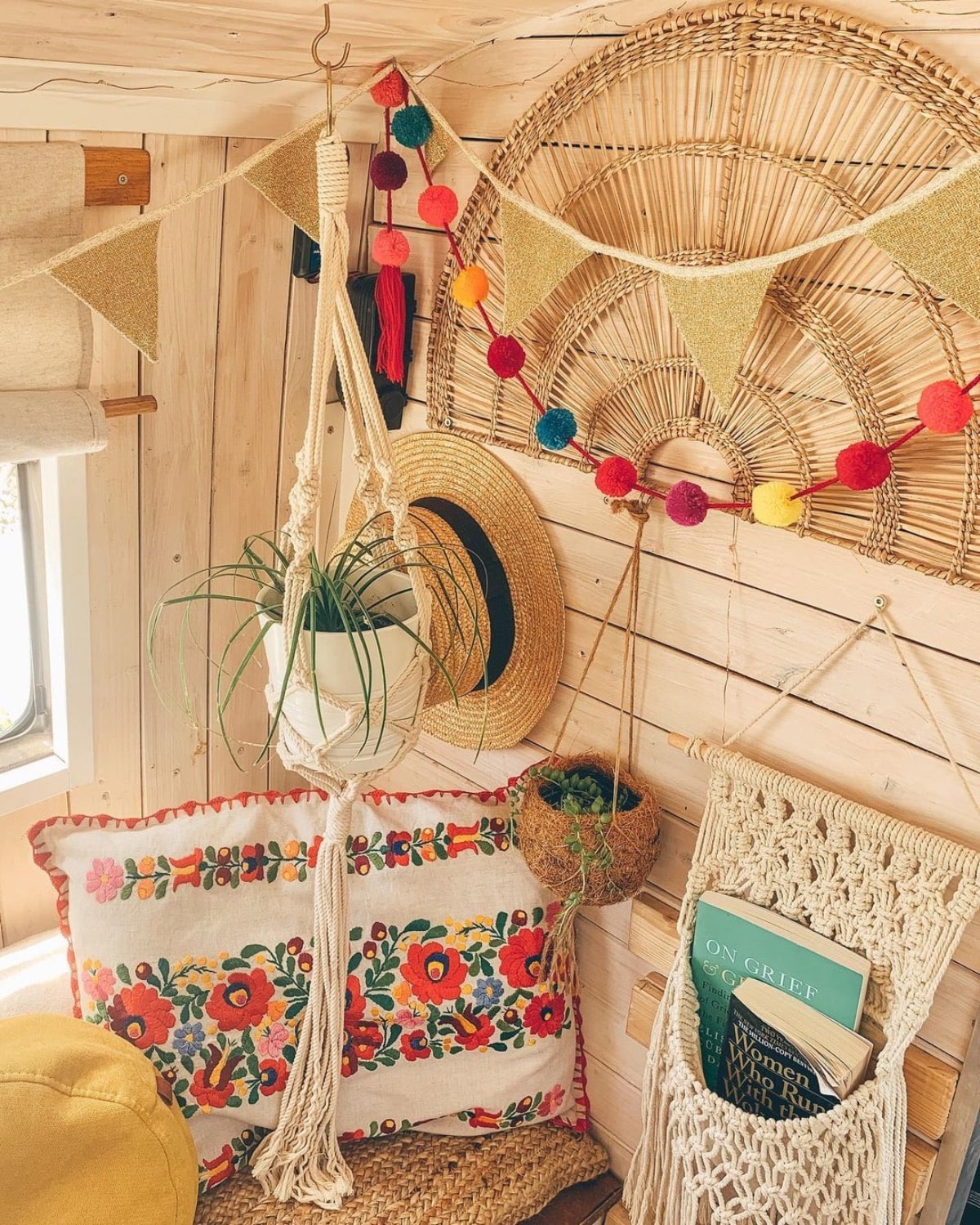 [Image:_herbertthevan]
The saying goes that "Opposites attract," and this natural space with bold, brilliant pops of color is proof that it's true.
21. Sunflower Archway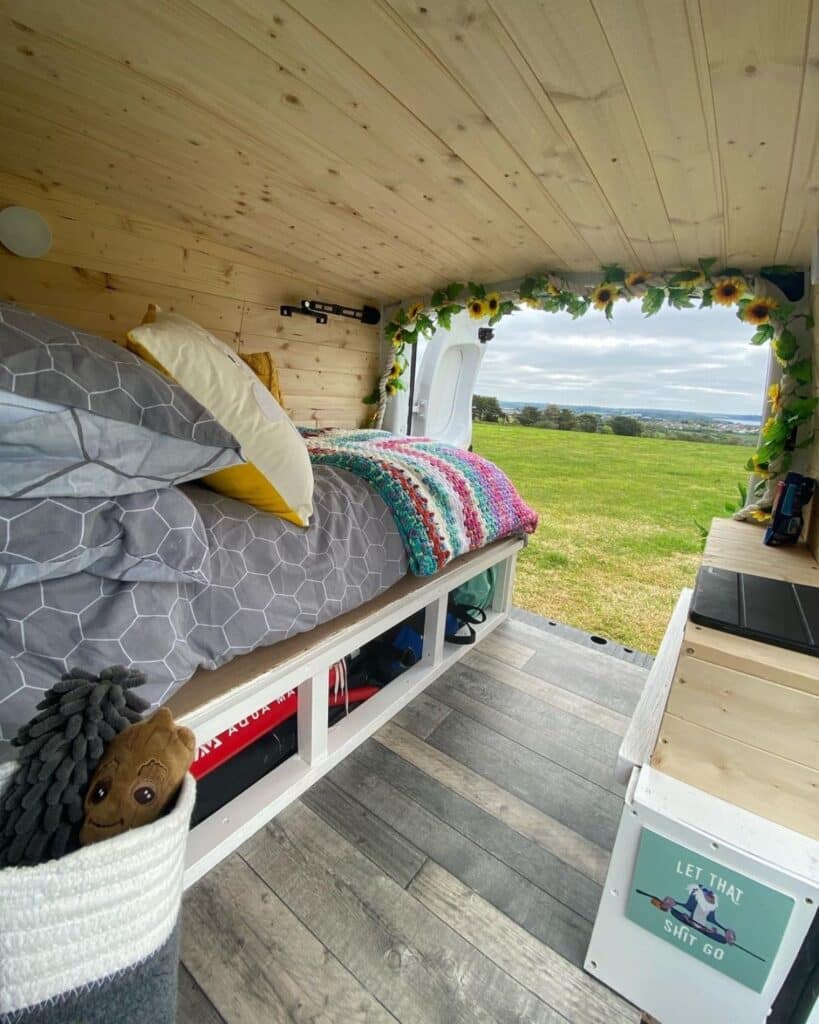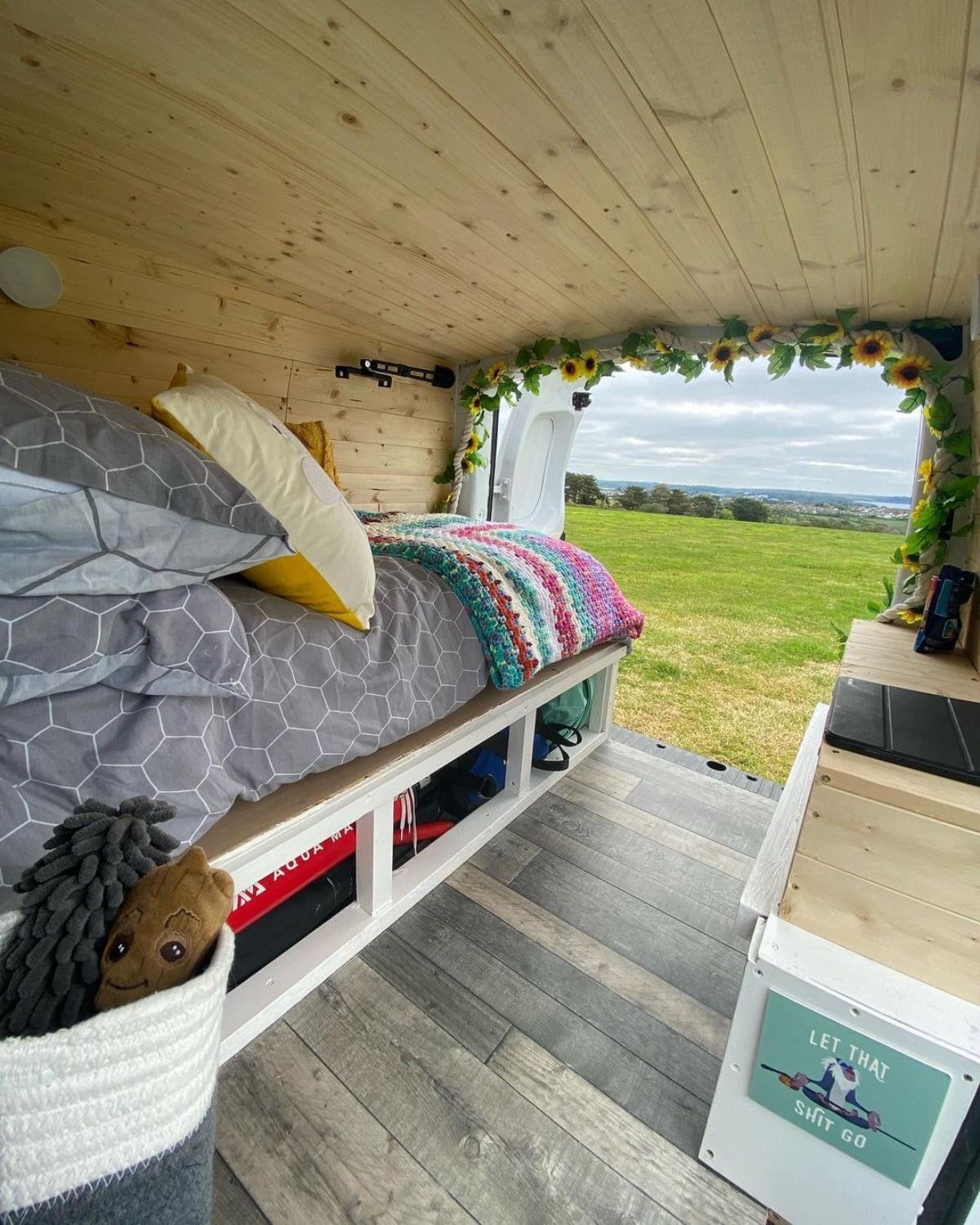 [Image: kustard64]
You'll feel like a fairy princess when you step through your van's back door after you hang a stunning sunflower arch around the doorframe.
If you're not a fan of sunflowers, try swapping other botanicals like peonies, eucalyptus, or daisies.
22. Chevron Woodwork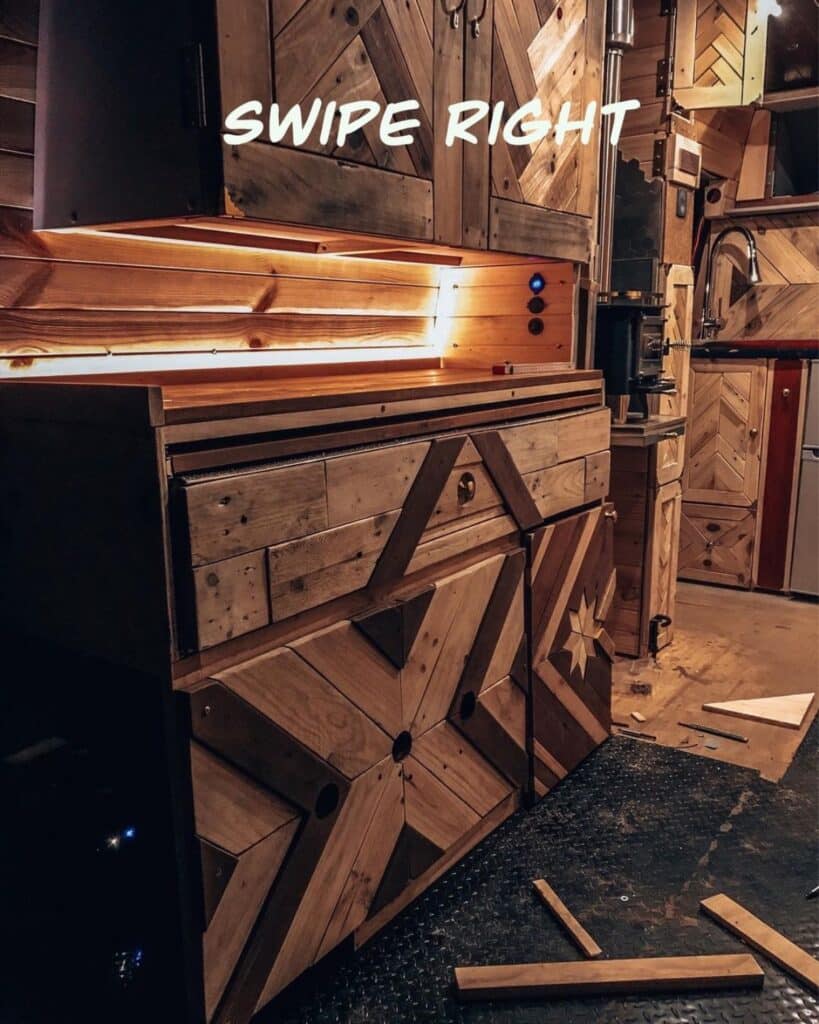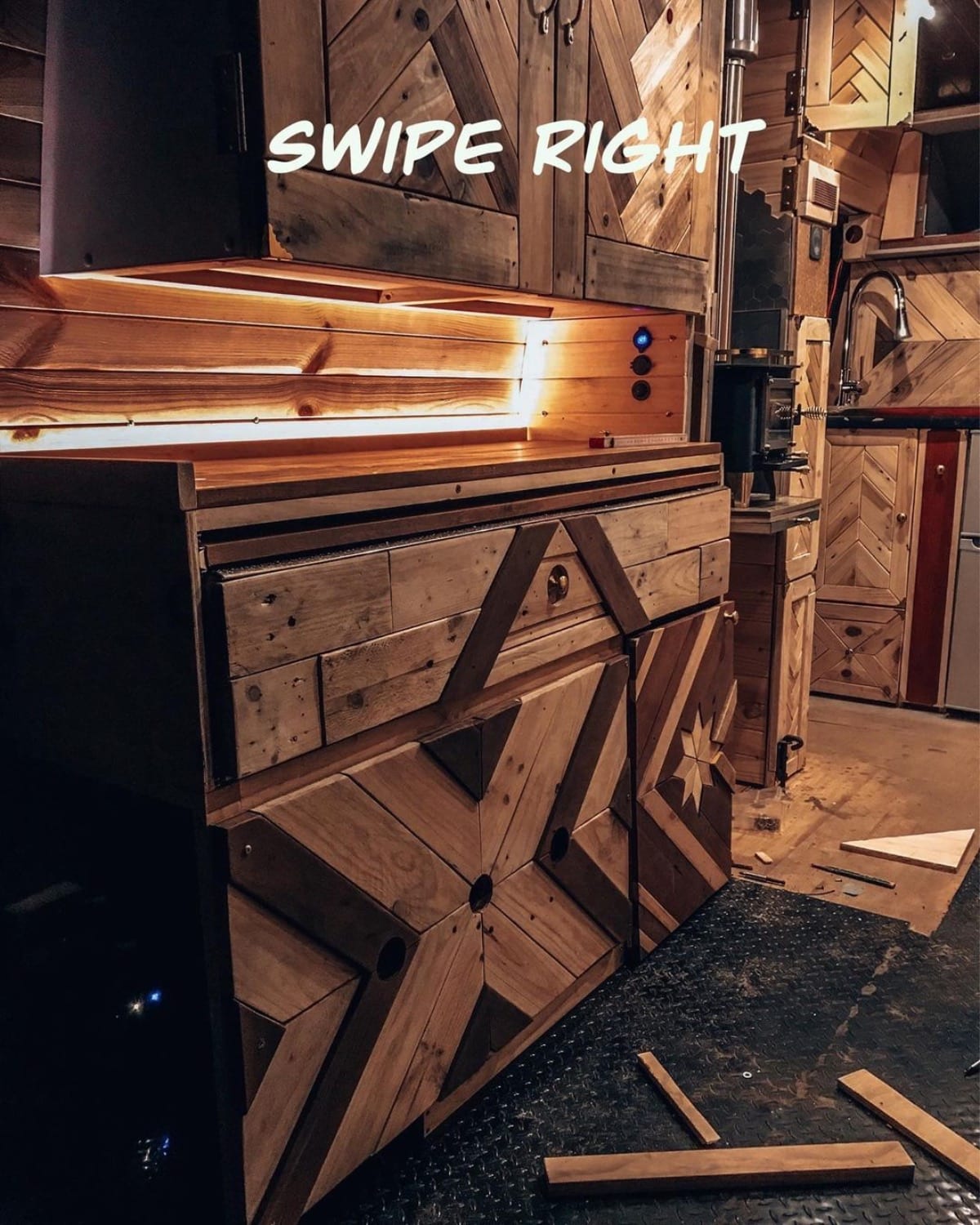 [Image: shackonwheels]
Mix together light and dark wood panels on your cabinets for a rustic, visually interesting chevron finish.
23. Wood Paneled Walls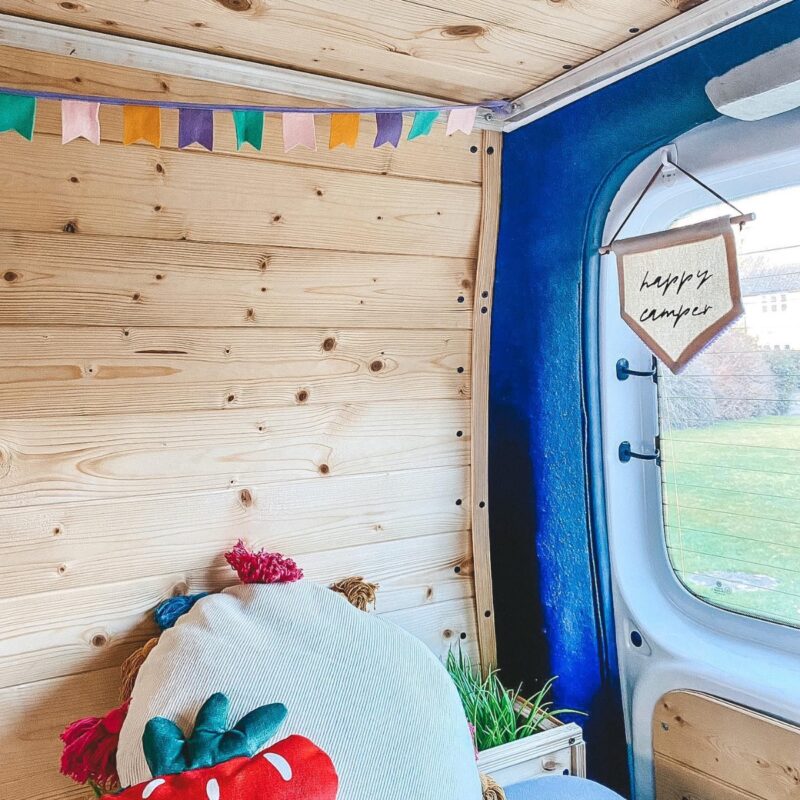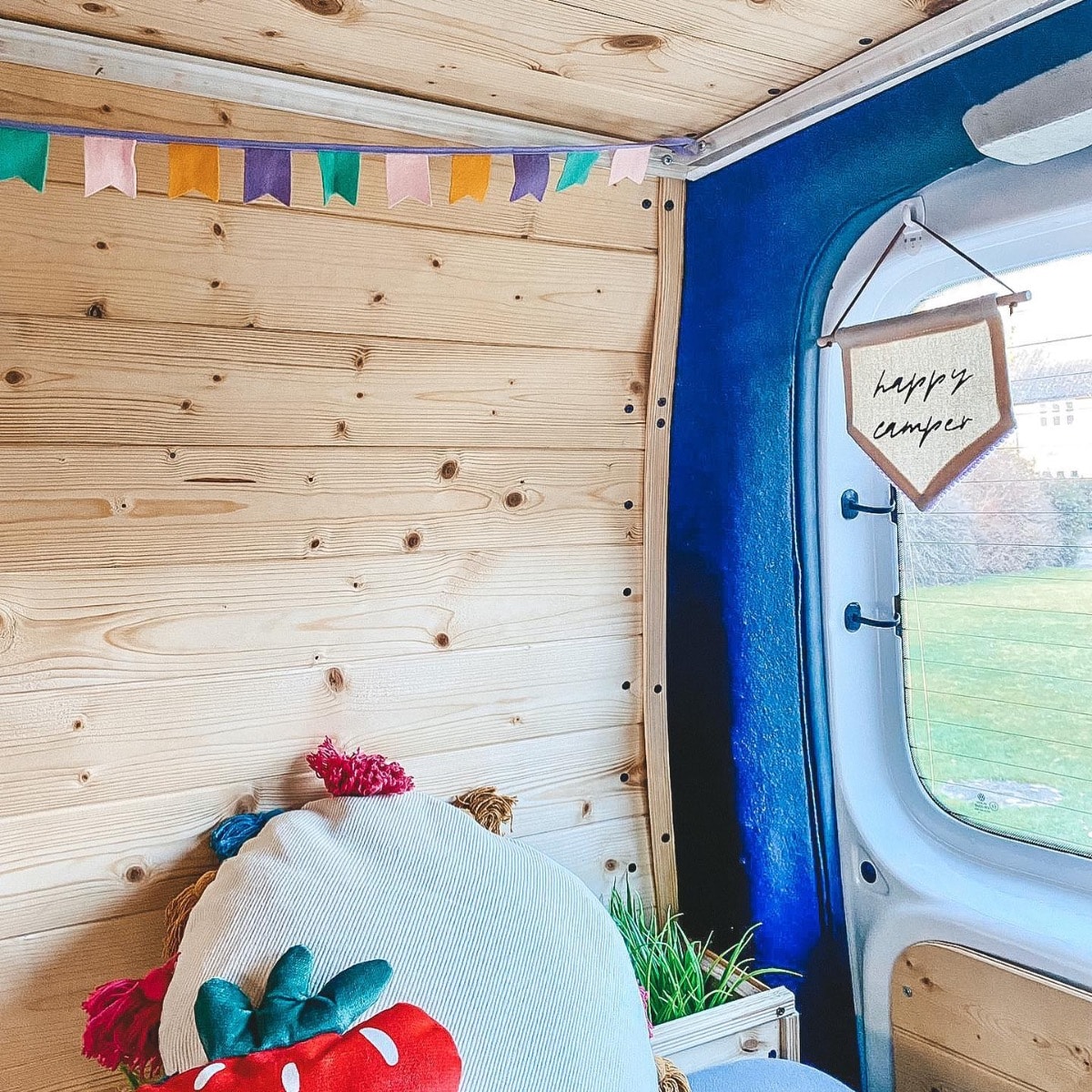 [Image: goldenmtn]
Wood panels are a callback to simpler times, and you can turn your camper into a nostalgia trip every time you walk in the door by swapping out traditional paints and wallpapers for DIY plank decor.
24. Comfy Quilt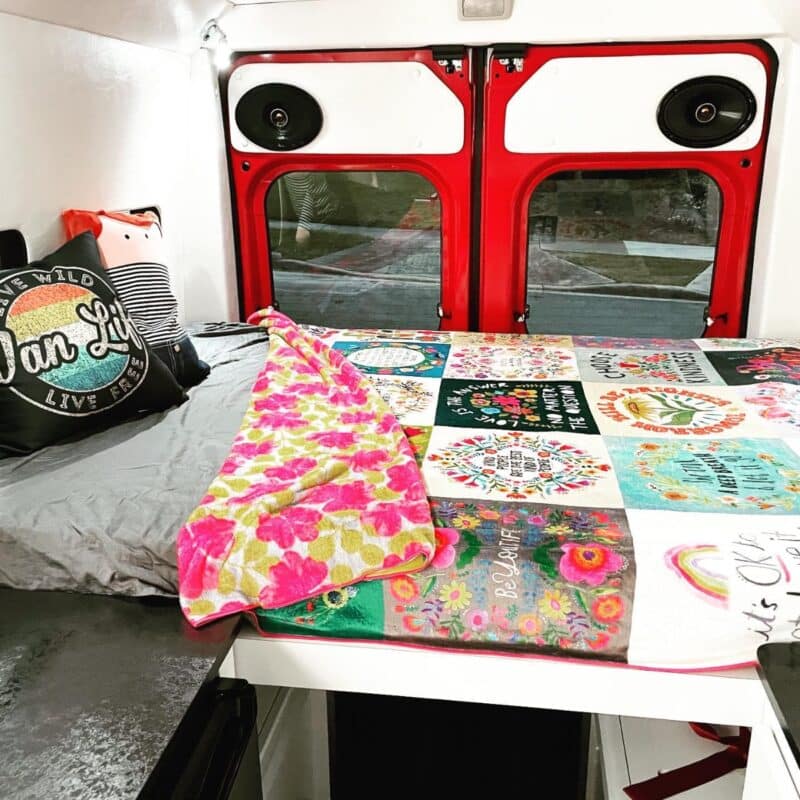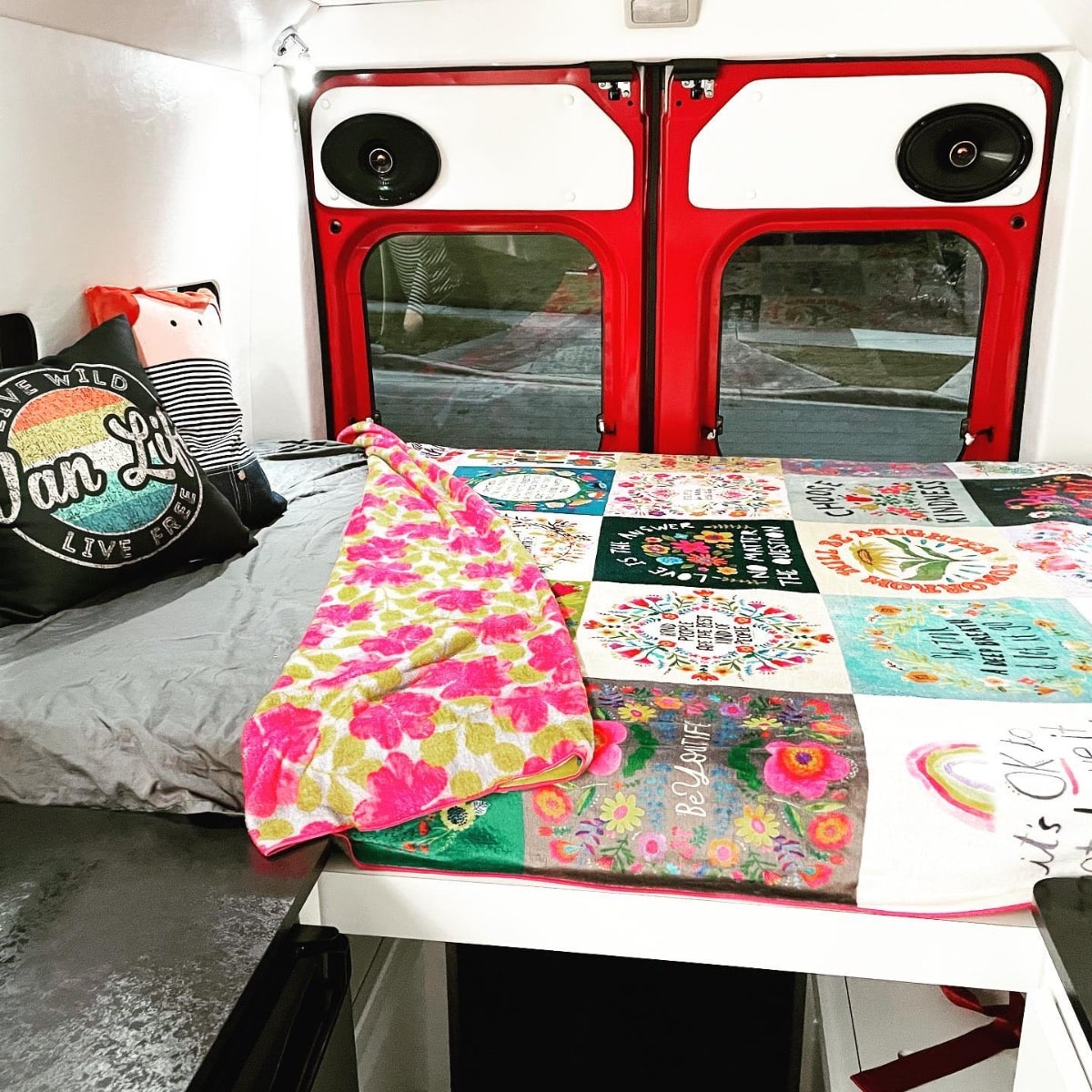 [Image: vanlifecompany]
Before you toss out that bag of clothes you never wear, consider repurposing your old band t-shirts and softest sweatshirts for quilting squares. You'll be able to carry some of your favorite wardrobe pieces forever and stay warm on even the chilliest evenings.
25. Geometric Mirrors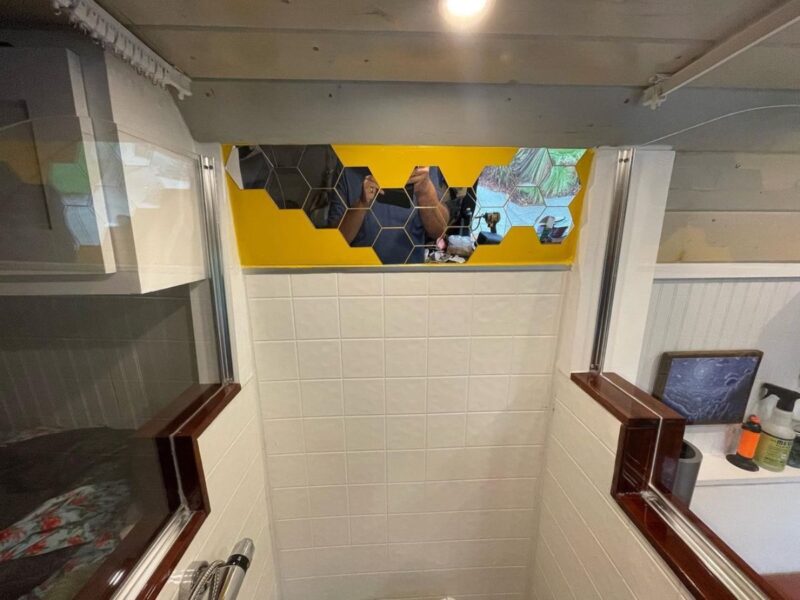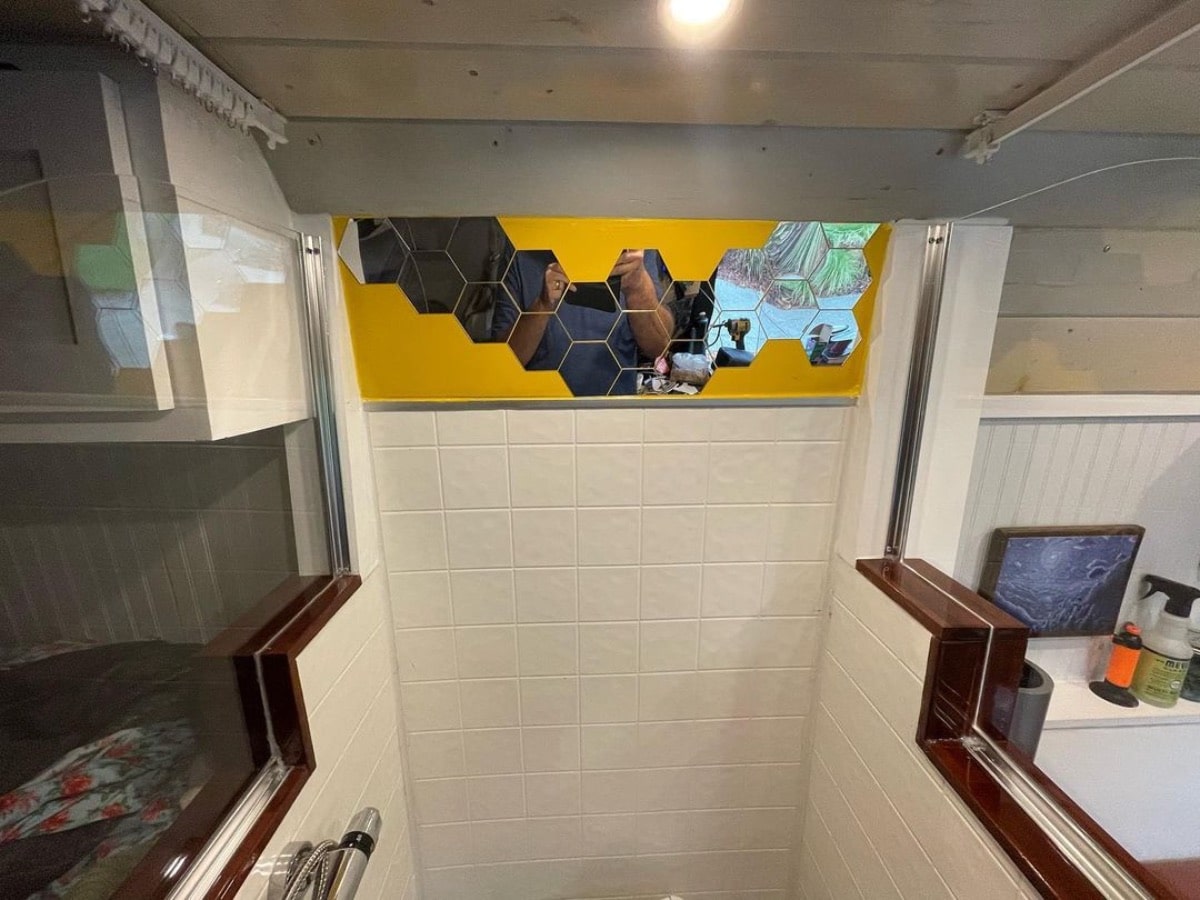 [Image: spacewolf_and_the_rhizosphere]
Mirrors can open up small spaces by catching and reflecting light throughout the room. These octagonal mini mirrors are a charming way to liven up your camper decor and brighten areas that natural light can't reach.
26. Boho Gold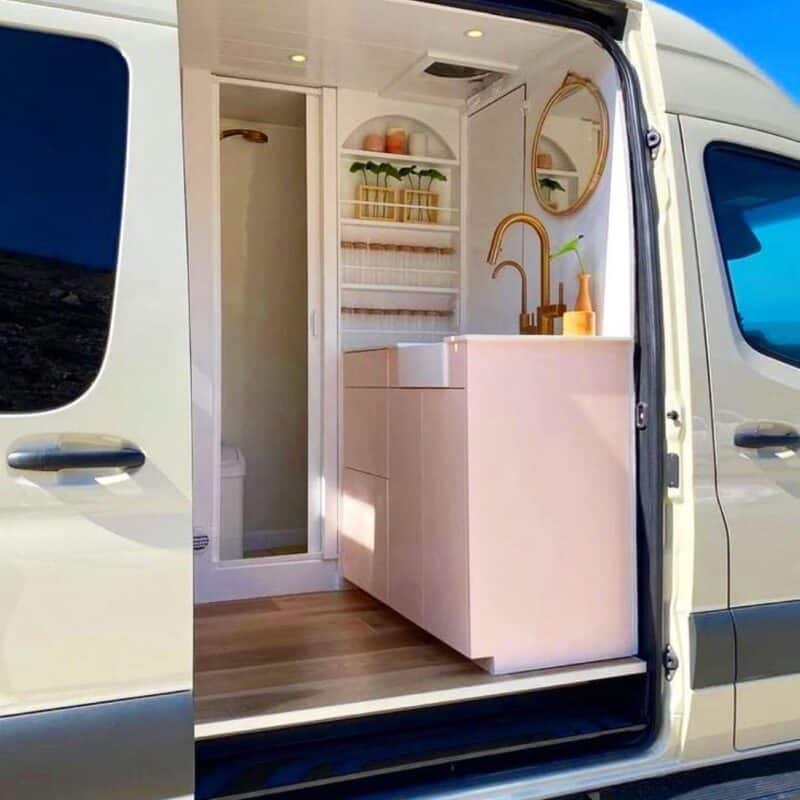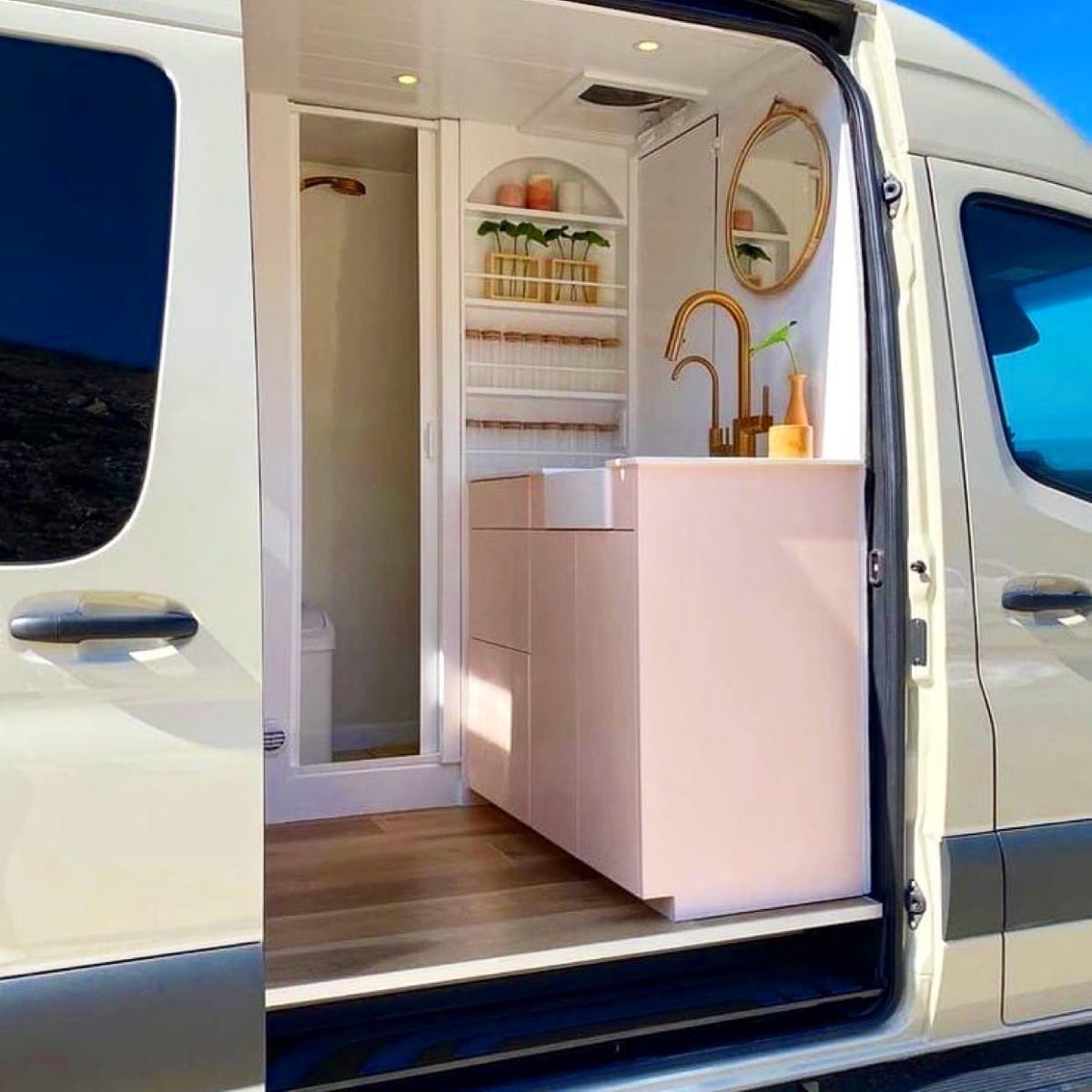 [Image: onlyvansshow]
Millennial pink and burnished gold work together harmoniously, particularly in boho-style interior designs., Because this color combination is quite bold, you'll want to stick with clean, crisp white for your accents.
27. Floor to Ceiling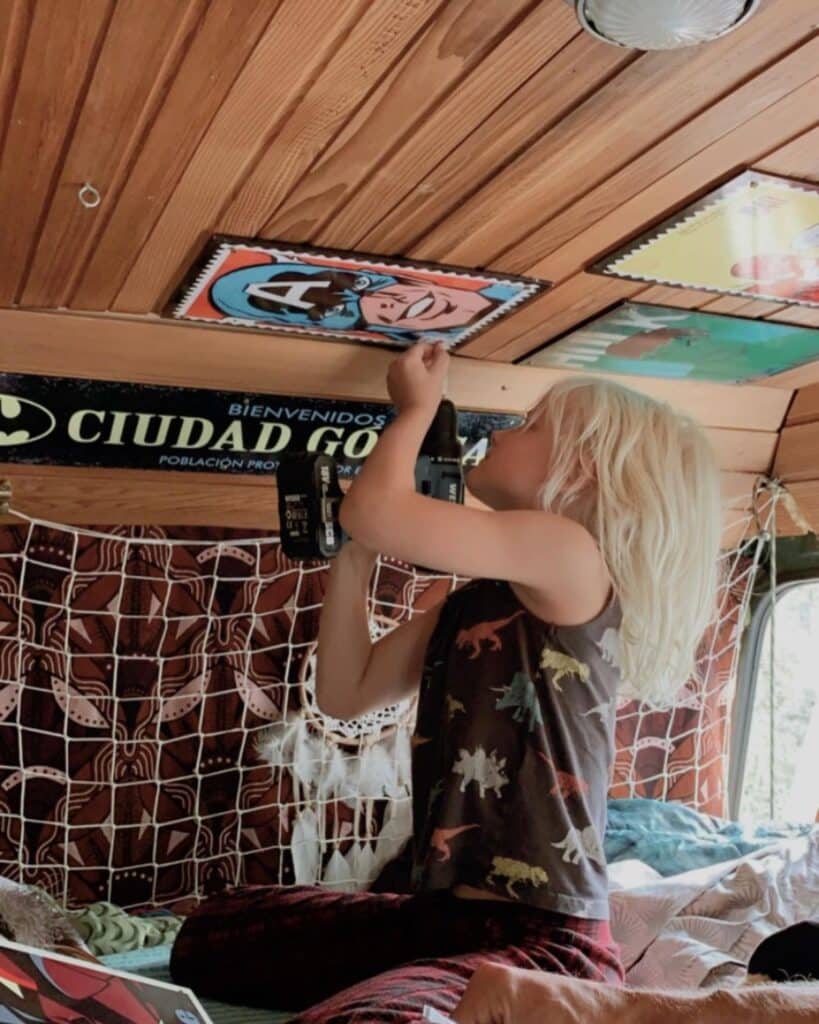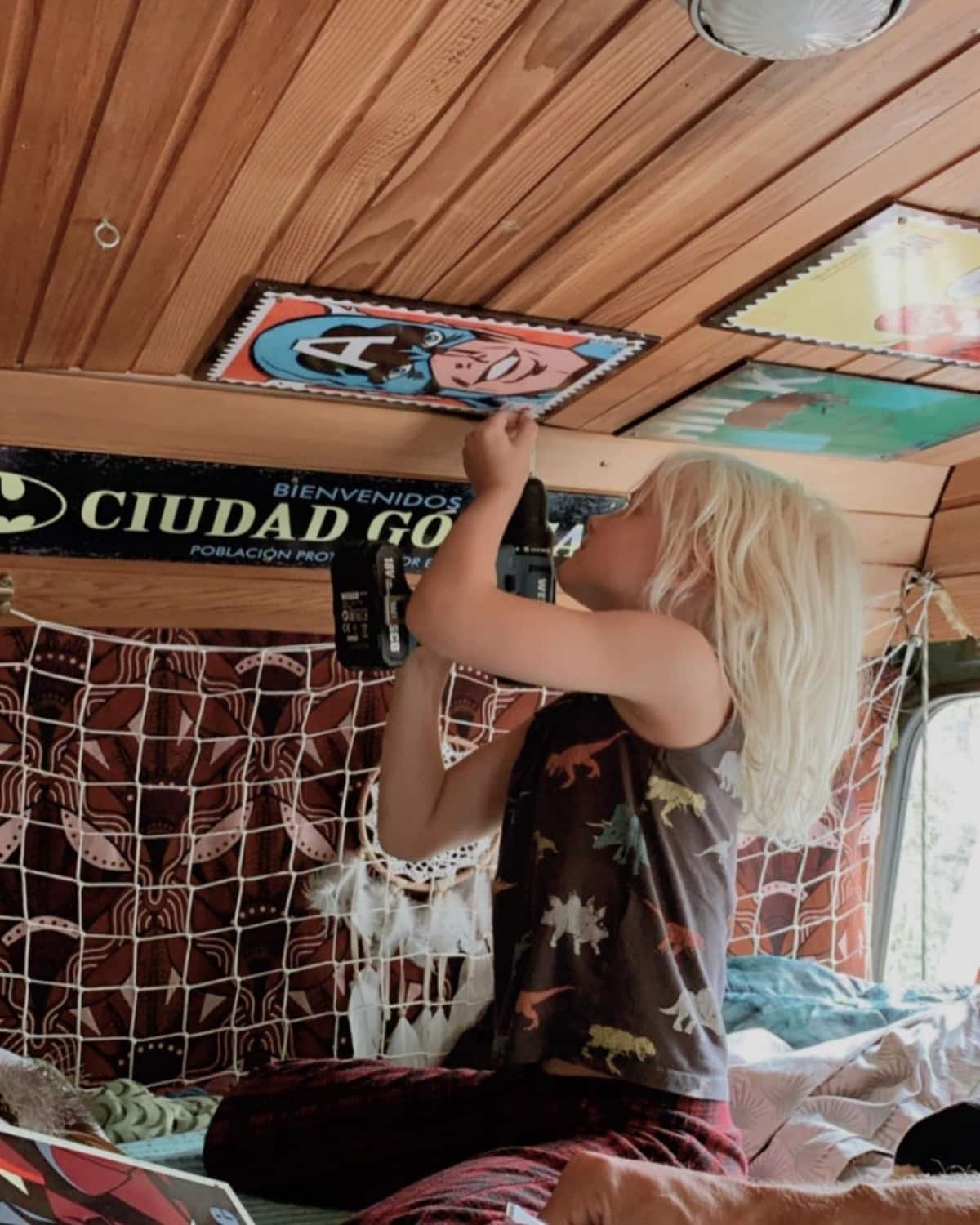 [Image: our_road_stories]
Once you run out of room on the walls for your posters and family pictures, look up to the ceiling for untapped space for your DIY gallery displays.
Final Thoughts
The decision to live your life on the road is a big one, but it doesn't require you to live without beautiful things. With a bit of creativity when deciding how to decorate a camper, you can transform your van into a true home away from home.