We're an affiliate
We hope you love the products we recommend! Just so you know, we may collect a share of sales or other compensation from the links on this page. Thank you if you use our links, we really appreciate it!
People usually think of vans as transportation, but van life influencers show how you can turn them into living spaces and mobile offices. A van with office space can be an affordable alternative to a traditional office. It's an excellent choice for freelancers, entrepreneurs, and remote workers who need to be on the move.
This article will discuss many van types you can transform into offices, plus the characteristics and advantages of having a mobile office.
---
Types of Vans
There are several styles of vans based on how much space you need and how you intend to use the van. Three of the most popular options include:
Conversion vans

Sprinter vans

Camper vans
Conversions Vans

[Image: Sebastian]
Vans converted to offer more room, comfort, and amenities than the standard seating are conversion vans. You can transform them into many configurations, such as workplaces, sleeping quarters, and even compact living areas.
Sprinter Vans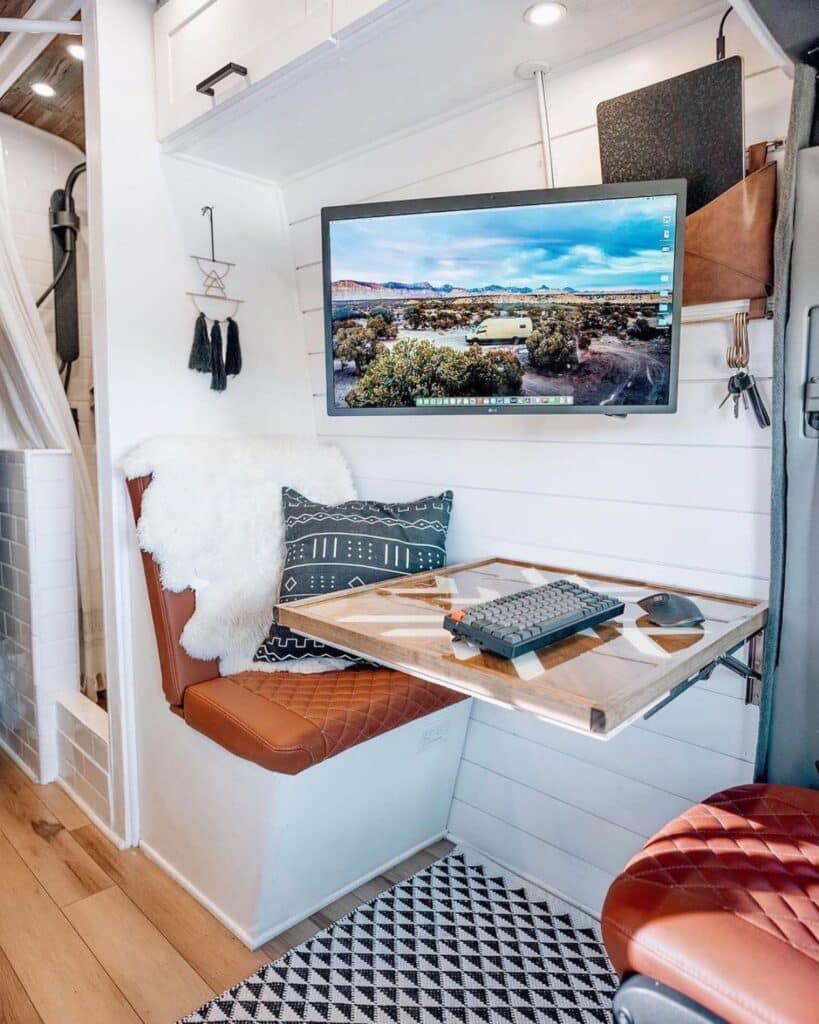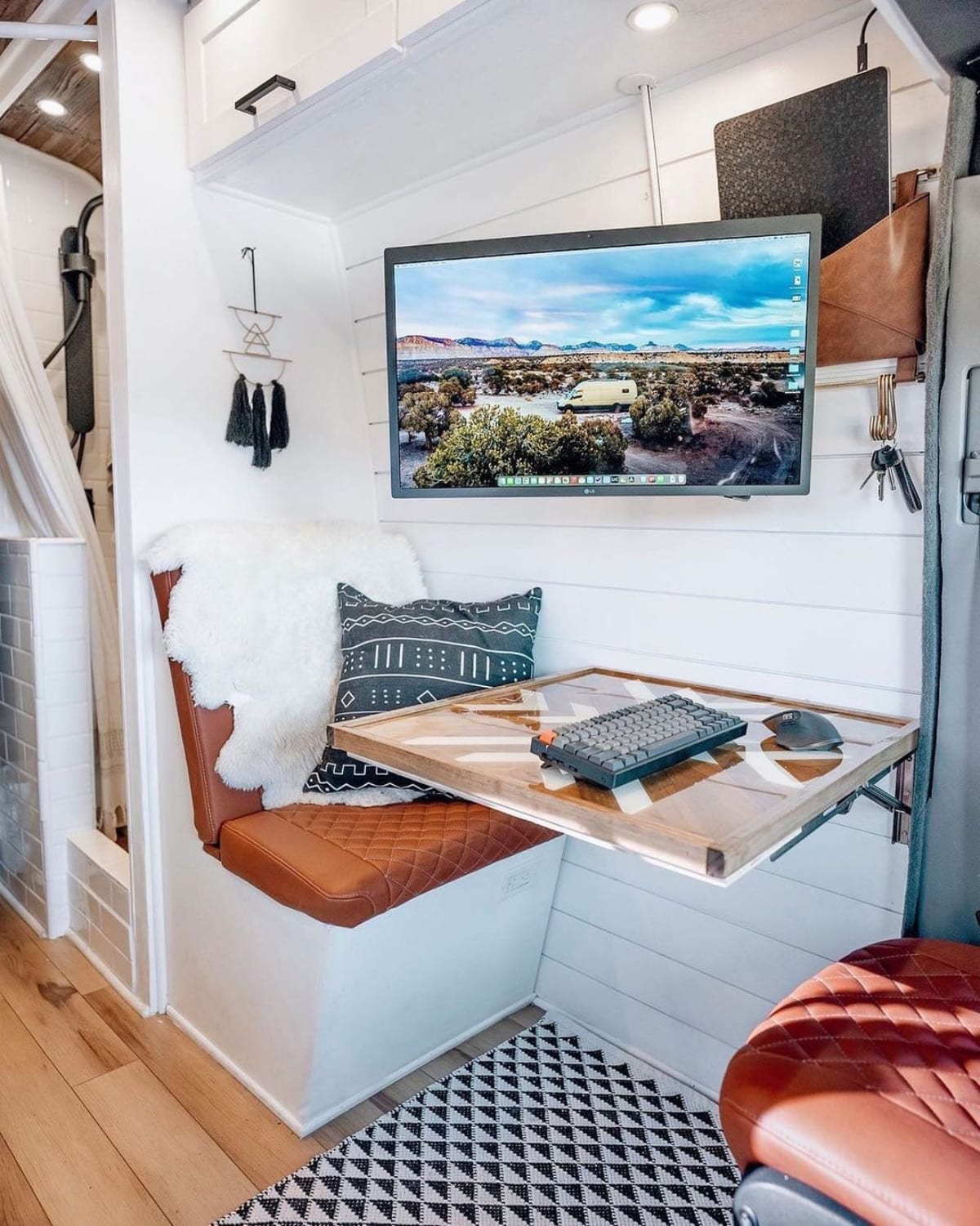 [Image: GoAndLiveFree]
Sprinter vans are larger than conversion vans, yet they're reliable and fuel efficient. You can convert them into various setups, including office spaces. This type of van is an excellent option for those who need more room and a spacious work environment.
Camper Vans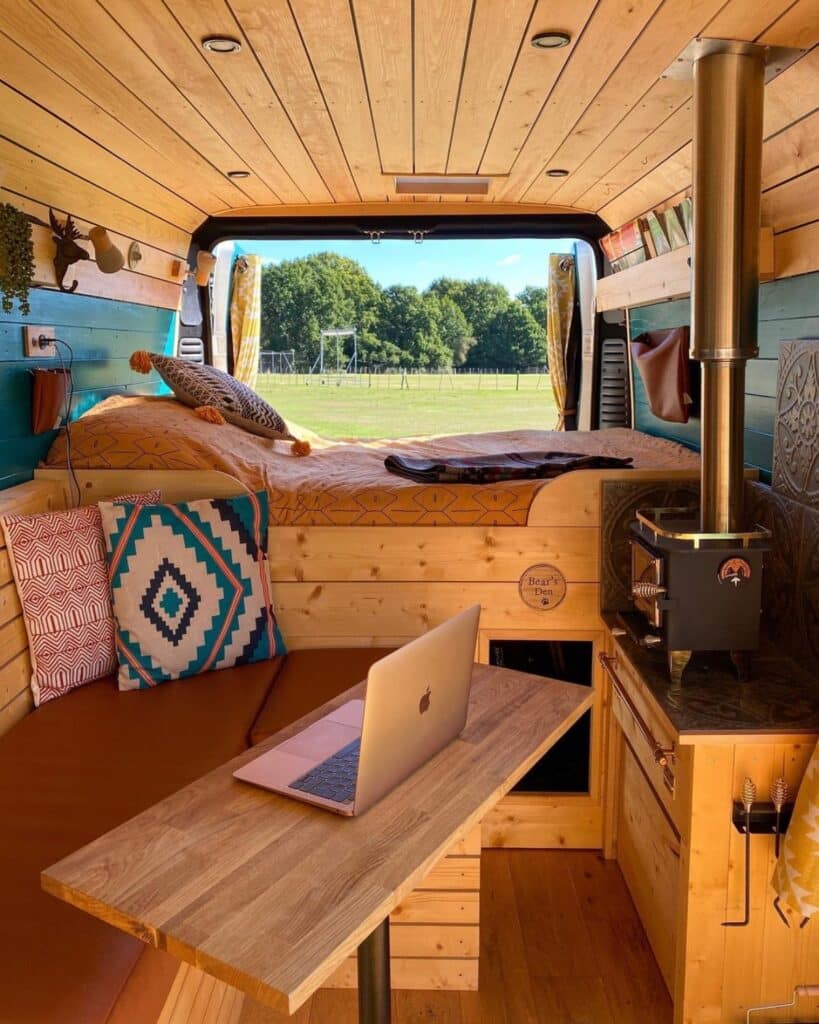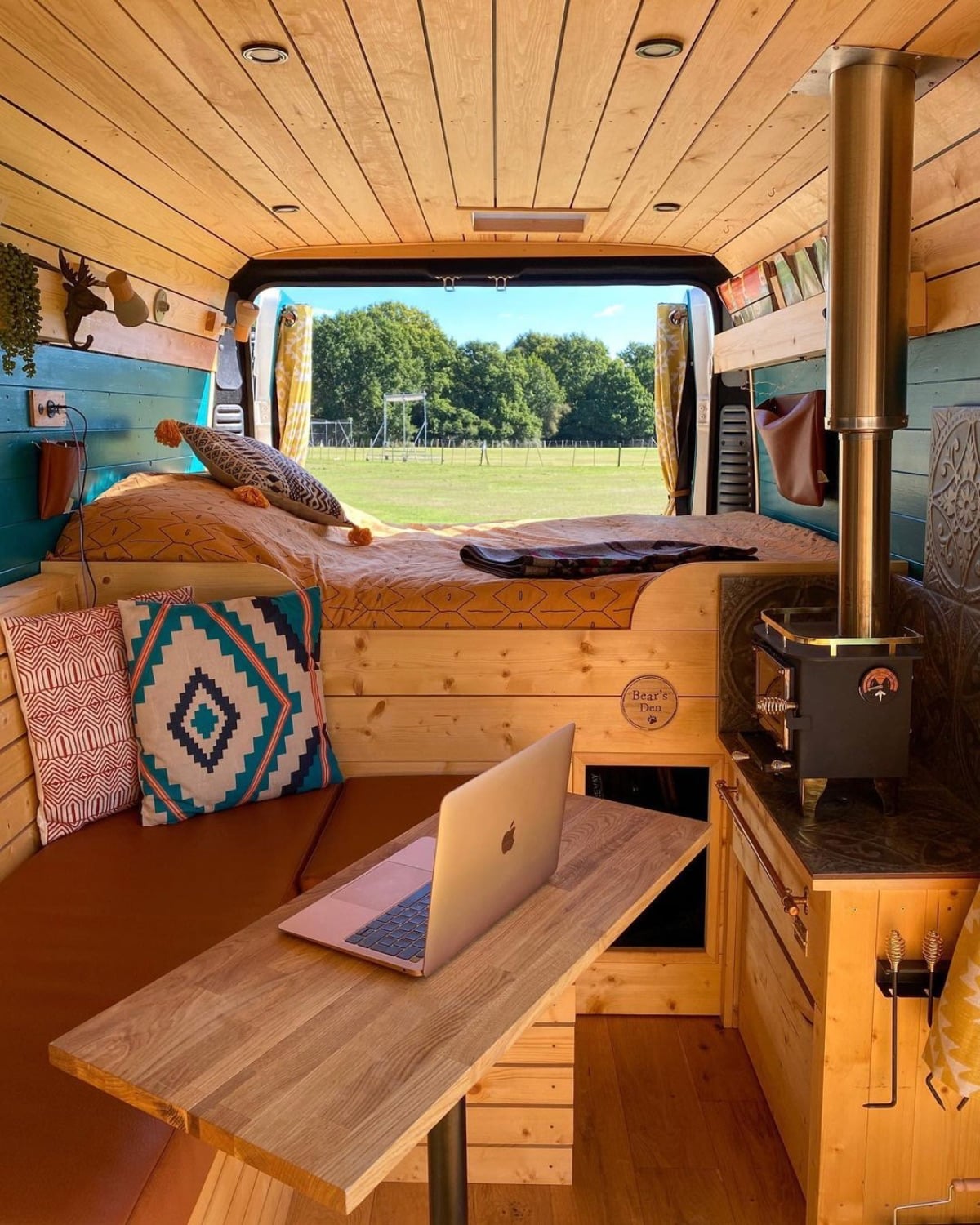 [Image: CamperDreamin]
Another popular option for an office on the go is a camper van. Camper vans are one of the smallest versions. People typically use them for camping and road trips. Camper vans are more affordable than conversion and sprinter vans, making them an option for those on a budget.
Design Styles
Once you have your van, you can dig into the best design style for your office.
Compact and Functional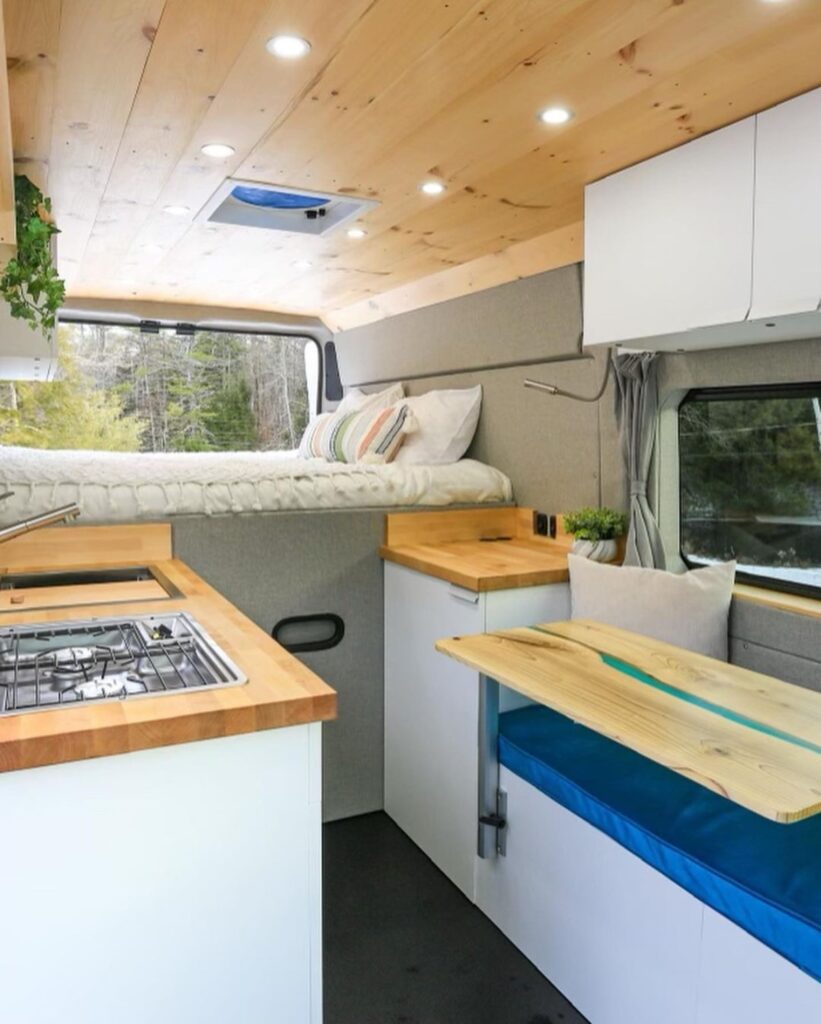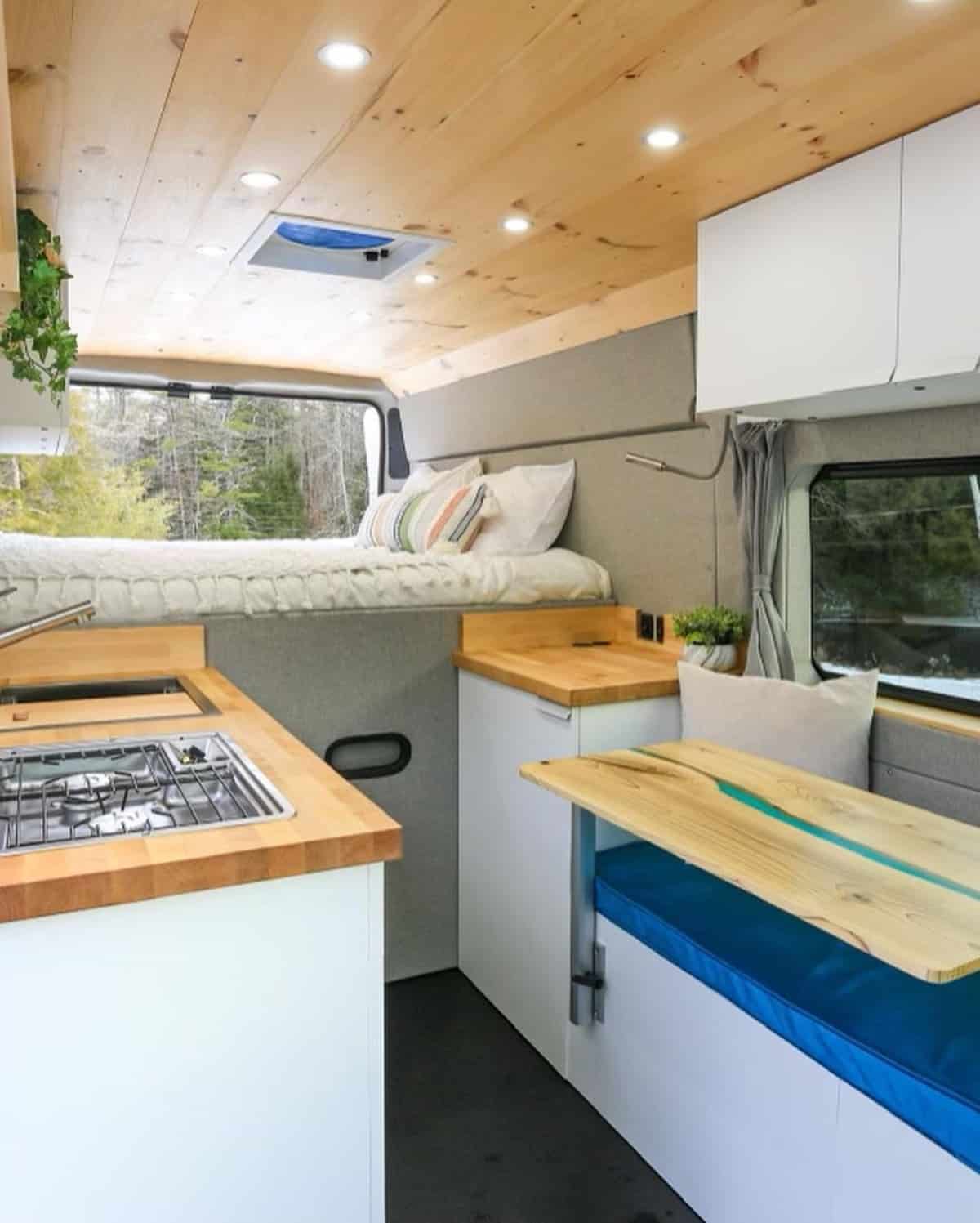 [Image: WheresMyOfficeNow]
A small, functional design can be the best choice for people with limited room. This approach could include a fold-down desk you put away when not in use and storage for office supplies and equipment. You could also get a fold-up bed that hangs on the wall or a pull-out bed that you can hide under the floor.
Industrial Style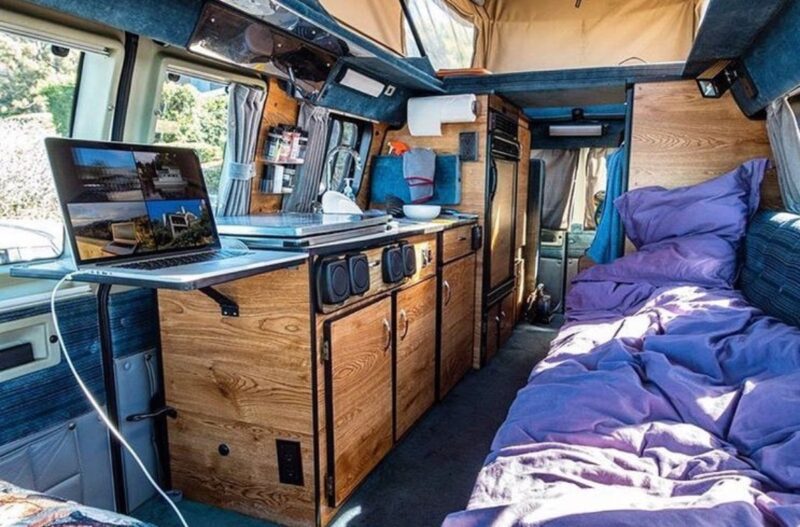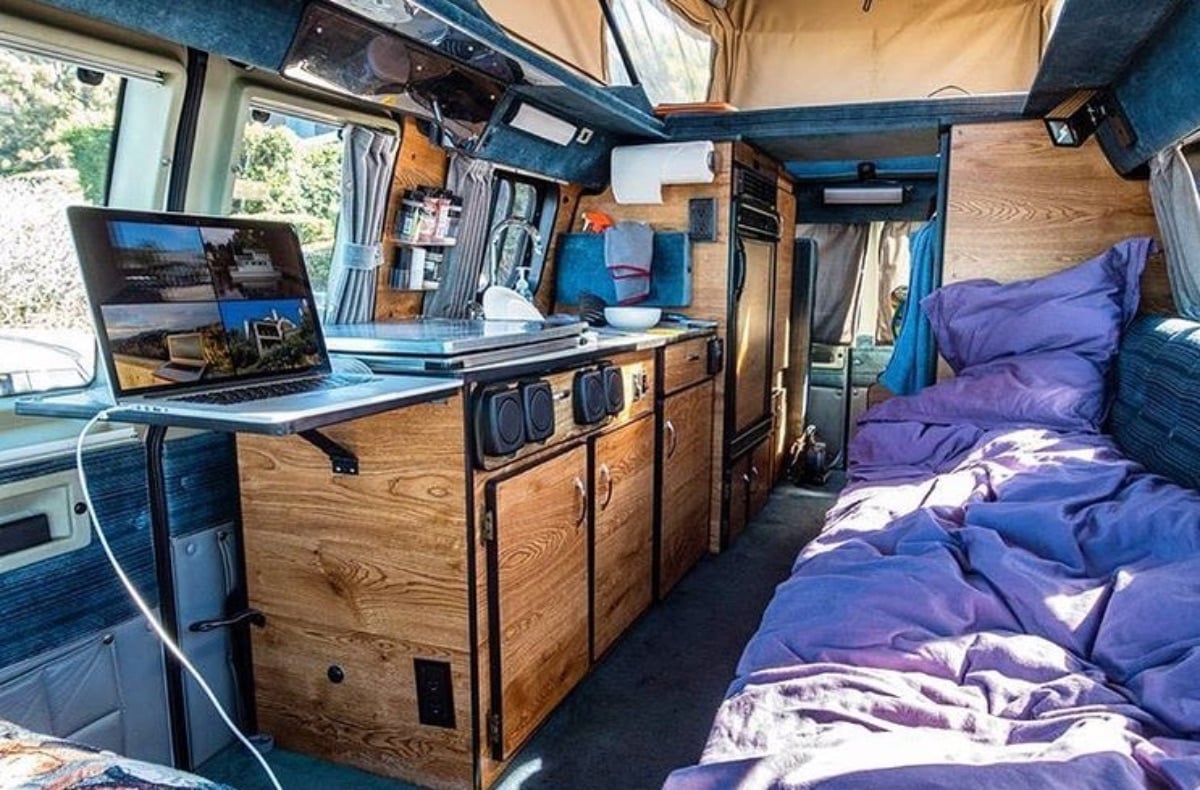 [Image: VanLifeDiares]
An industrial-style van office space can be a great option for those who want a more rugged, industrial look. You could use exposed metal, concrete, or brick as design elements. You can use a desk made from reclaimed wood, metal shelving, and a small table with a concrete top and metal legs.
Bright and Airy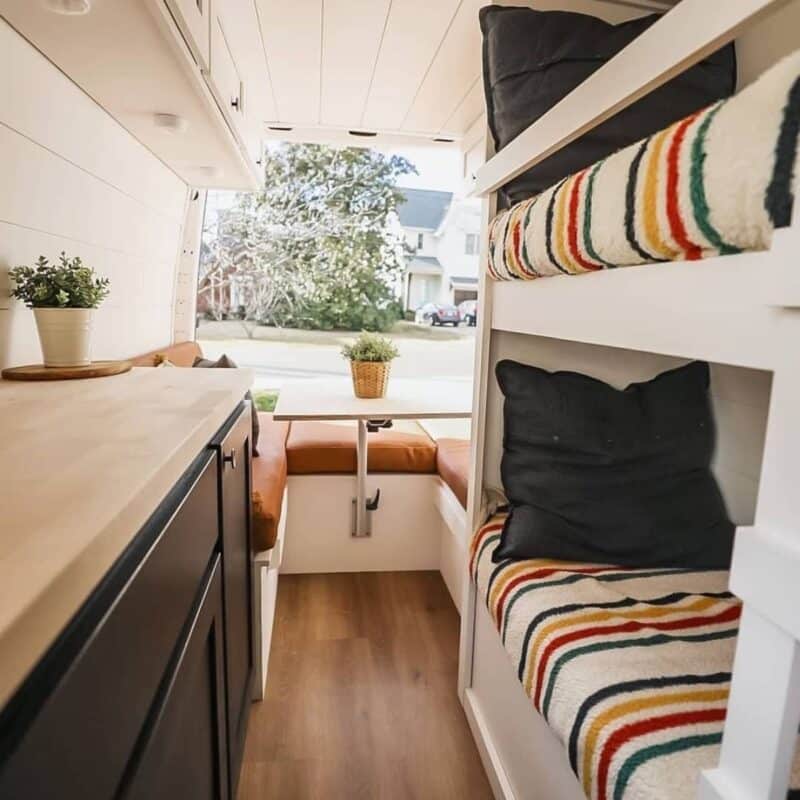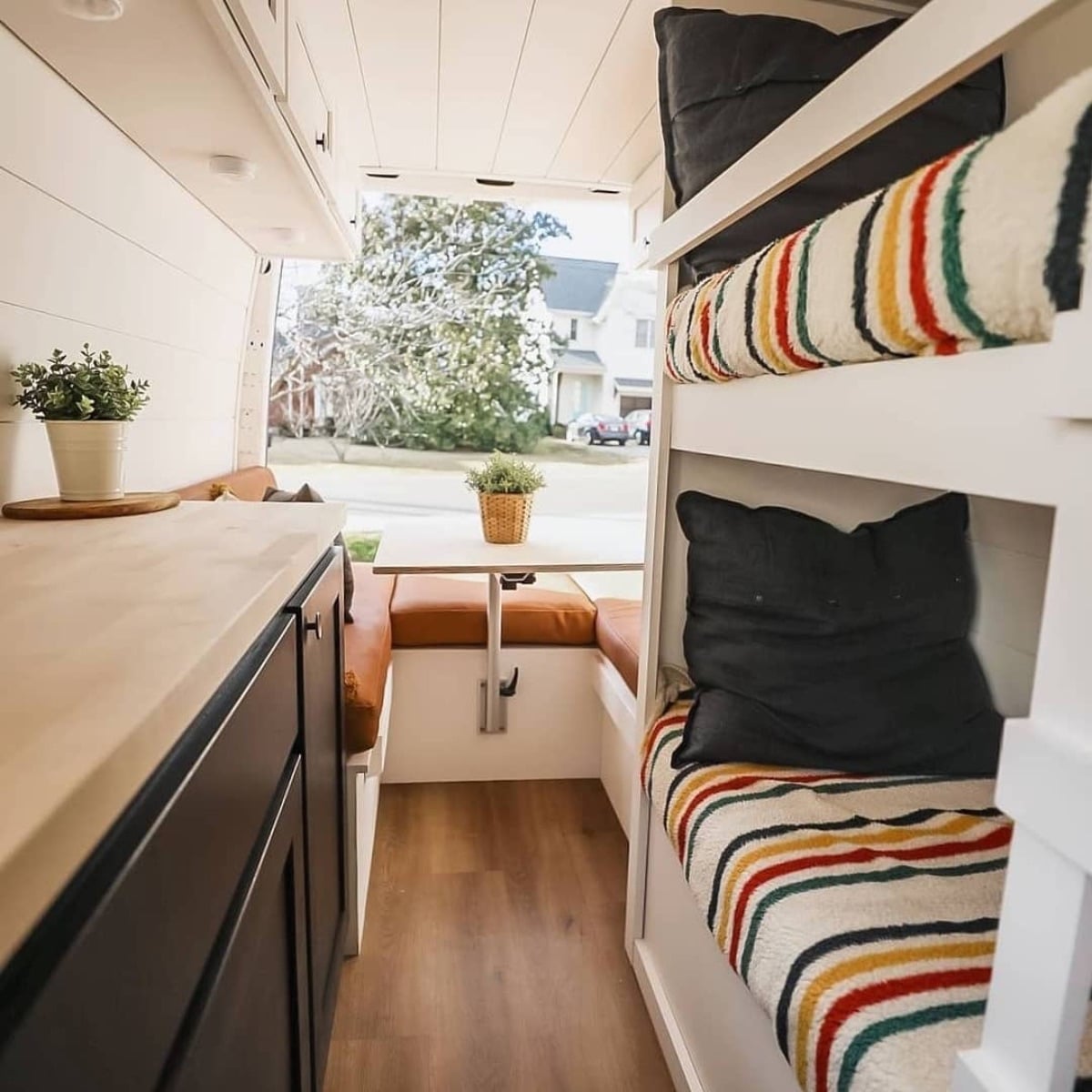 [Image: Ramble and Revive]
If you want your office to be bright and airy, you can use light colors and lots of natural light. You can use large windows, skylights, and surfaces that reflect light to brighten the room. Think about getting a standing desk with a whiteboard and white or light gray paint.
Cozy and Rustic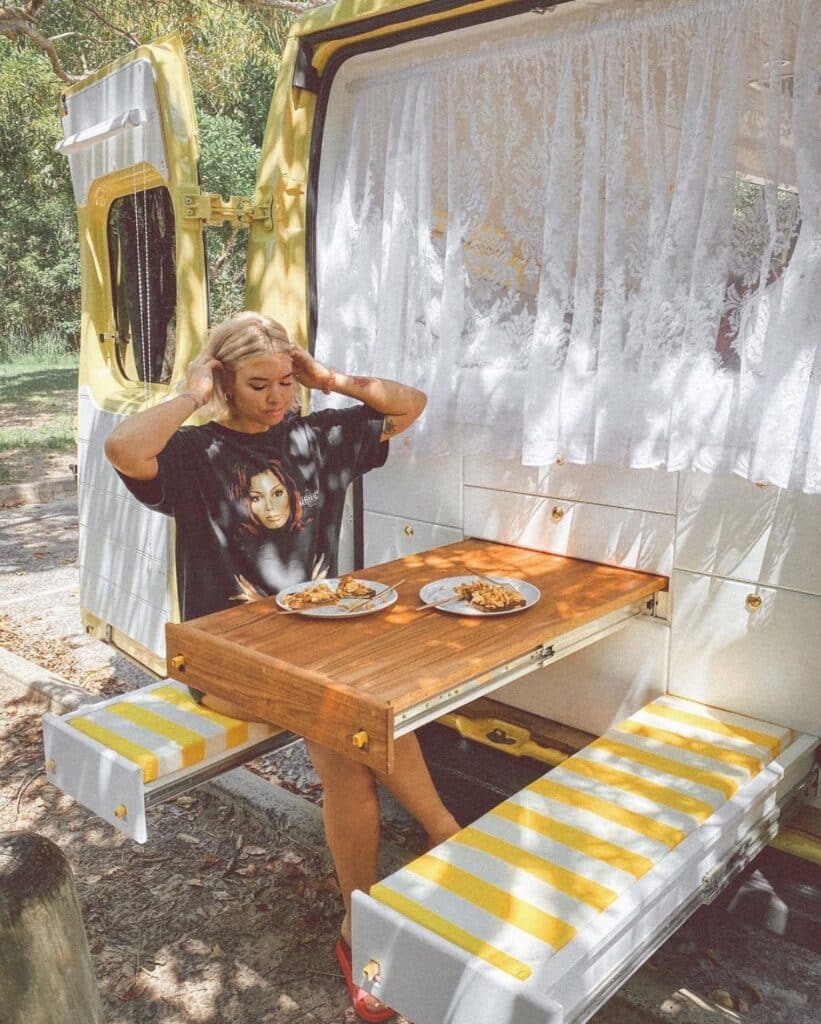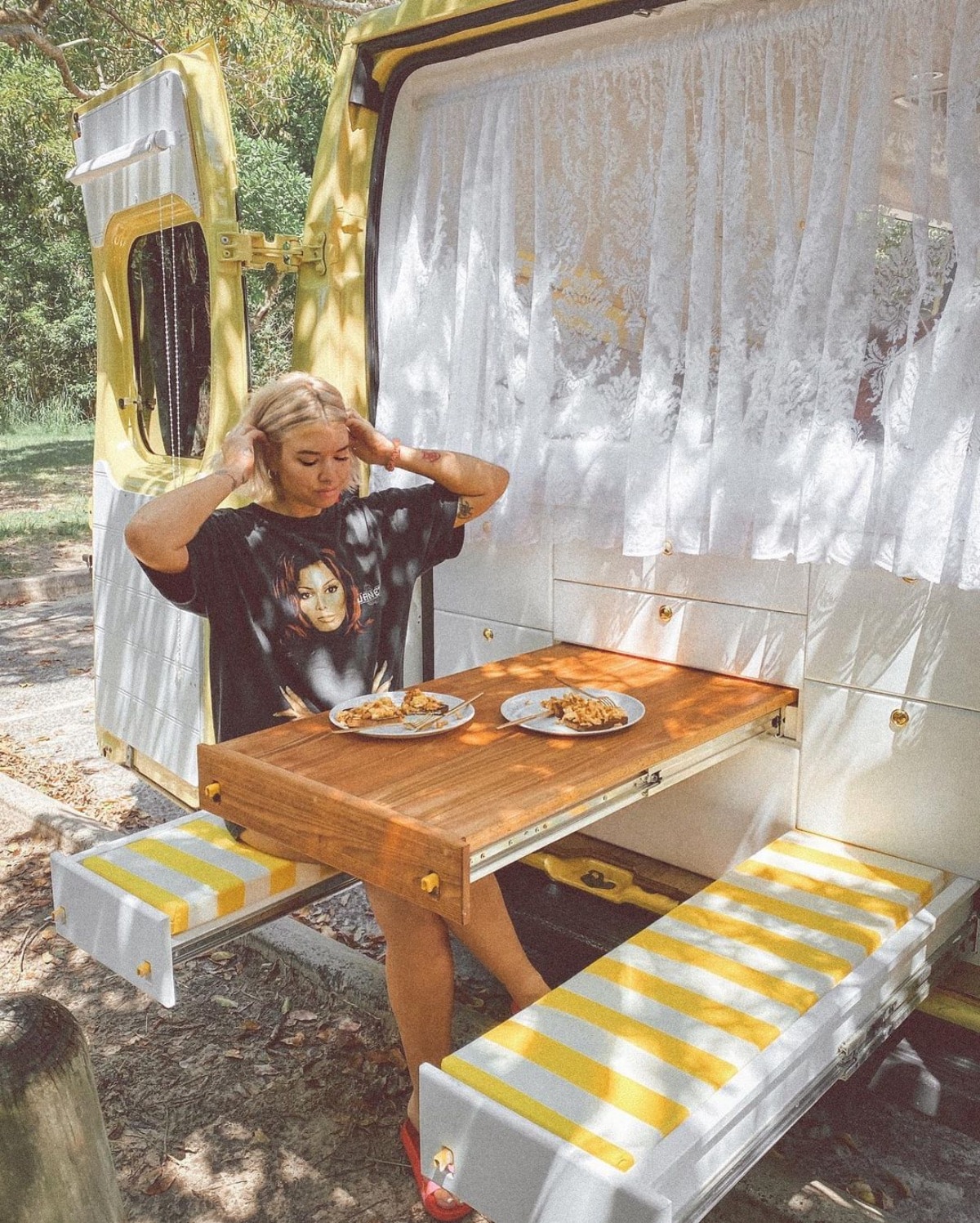 [Image: dolcesolecamper]
A cozy and rustic design can be a great choice if you want to feel more at home. You could use reclaimed wood, vintage finds, and vintage fabrics as design elements. You can build a bookshelf into the walls or create a gallery wall with old prints and paintings.
Modern Minimalist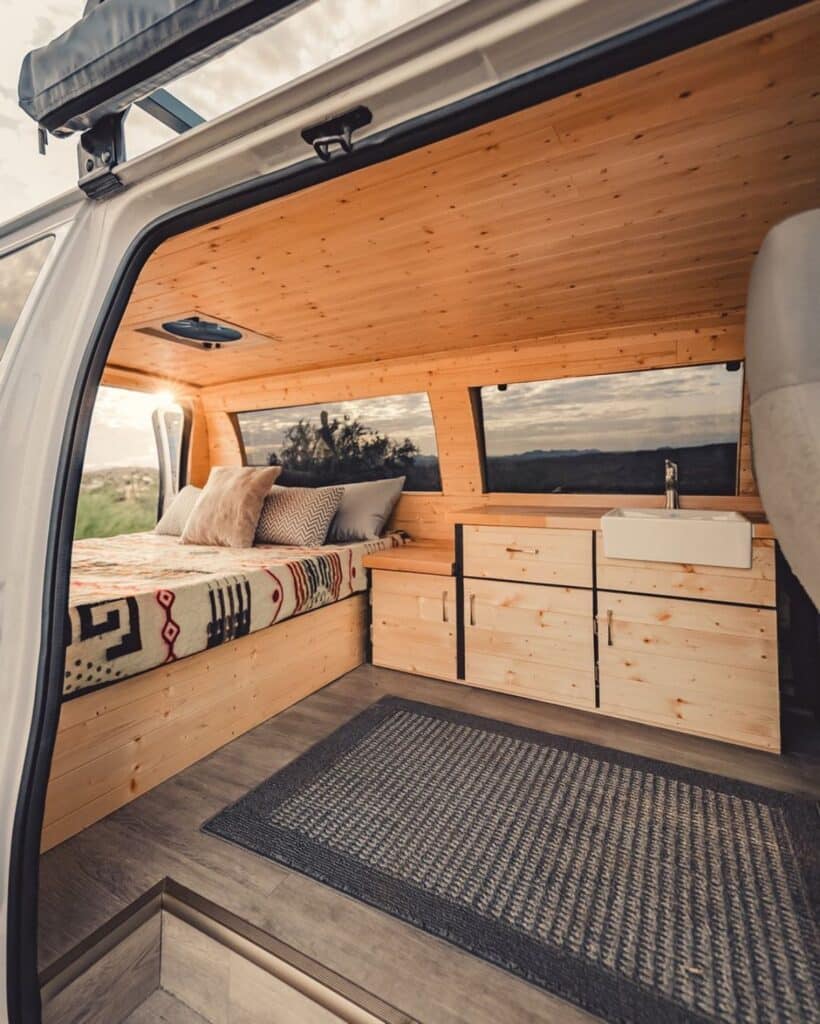 [Image: justinwadeorton]
Choose clean lines, neutral colors, and a simple, uncluttered design for a modern and minimalist office. This style uses primarily white or gray hues, a desk with clean lines, and a simple design. You can add a pop of color with a colorful accent wall or furniture.
High-tech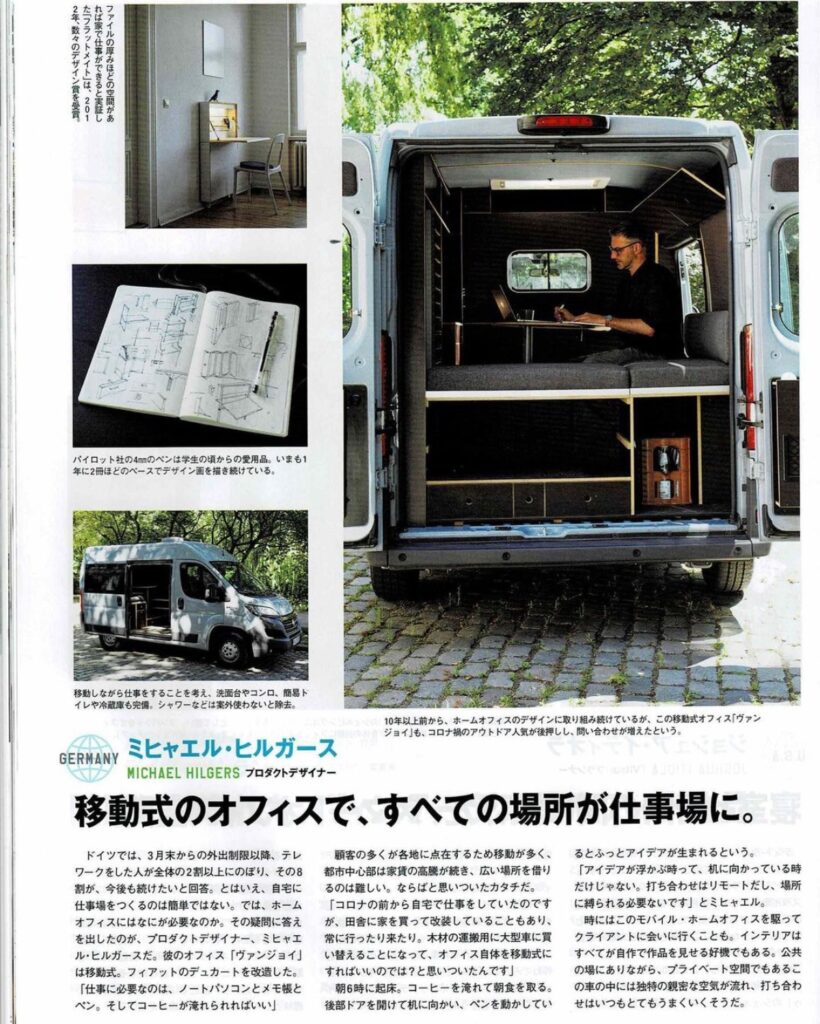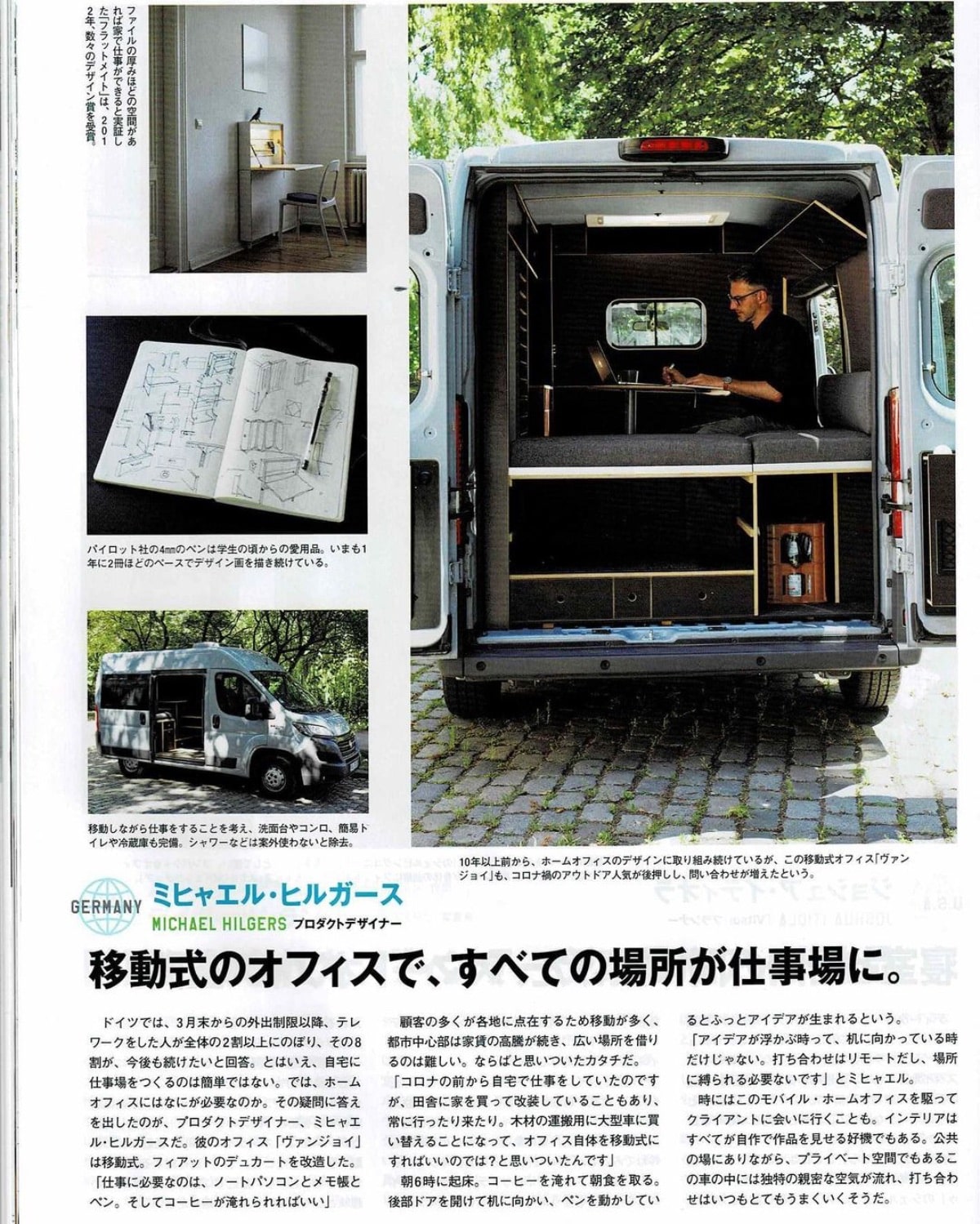 [Image: studiomichaelhilgers]
You can choose an office with the most recent technology if you need a high-tech space. This setup could include a built-in charging station, a standing desk that you can adjust, and places for more than one monitor. You can even hang a big TV for video conferencing or watching webinars and presentations.
It's possible to turn a van into an eco-friendly office. Use natural floorings like bamboo or cork and install lights and appliances that use less energy. Make furniture from reclaimed wood. Solar panels on the van's roof can power lights and charge devices. Make insulation from recycled denim or cellulose, which benefits the environment.
Things To Consider When Converting a Van to Include Office Space
Consider these essential factors before you turn a van into an office. You can hire a reputable builder or company specializing in converting vans and save yourself from work. They'll have design ideas to help you turn your van into an office.
Experienced professionals know the legal and regulatory requirements to convert a vehicle into a living and working space.
Design and Layout
Think about how you'll use your van office space and what features you need. For example, if you spend a lot of time at your desk, you'll want to ensure you have a comfortable chair and enough room for your legs. Add a small table or seating area if you're giving talks or holding meetings.
Think about how to set up the office space, such as if you want a standing desk or one that can turn into a bed. You can use these concepts to make the most of your space.
Electrical and Power Systems
A van office space will need a power source to charge devices, provide light, and control the temperature. Solar panels on the van's roof are one way to supply power. Ensure the electrical system is well-built and reliable, with a backup generator in case the power goes out.
Insulation and Climate Control
A van can get hot or cold, so it's important to have good insulation and climate control. Consider putting insulation in the van's walls, ceiling, and floor to keep the temperature comfortable inside. A small air conditioner or fan can also help keep the office cool during the summer.
Internet Connectivity
Most people who work from home need to be able to connect to the internet. You can choose a mobile internet plan or use a mobile hotspot to set up a Wi-Fi network in your van. Another solution is installing a small satellite dish on the van's roof to provide internet access wherever you go.
Safety and Security
Your office's safety and security should be a top priority. Consider installing security cameras and an alarm system to protect your equipment and personal belongings. Also, ensure the doors lock well and the windows are strong enough to keep people from breaking in.
Renovation Costs
Think about how much it costs to turn a van into an office. Even though it might be cheaper than renting a regular office, it's a big investment. Consider these costs:
Van price

Expense of conversion

Ongoing payments like gas, repairs, and insurance
Final Thoughts
Vans are becoming increasingly popular as mobile offices, as they're a flexible and affordable alternative to traditional offices. You can convert different van types, each with pros and cons. There's a van you can convert to meet your needs, whether you want a cheap option or a roomy and comfortable office.
A van with office space is an exciting alternative for people tired of traditional offices. The right van and design give you a mobile office that ensures you're productive wherever your business takes you.