We're an affiliate
We hope you love the products we recommend! Just so you know, we may collect a share of sales or other compensation from the links on this page. Thank you if you use our links, we really appreciate it!
Sleep is one of the most important factors to consider when it comes to adventures in a camper van. Thankfully you can choose from several different styles!
The bed frames the layout for the rest of your van build. You can decide which layout fits best with your traveling needs. Maybe you need more storage space, or you need more floor space.
There are two main categories of camper van beds you can build:
Fixed beds

Convertible beds
Fixed Beds
Fixed beds never move within your camper van. This bed type is perfect for those that need the most storage space. You can lift your bed high to build storage drawers or place bins underneath the bed.
Fixed camper van beds are most suitable for big vans.
You can place these in small vans, but you won't have space for moving around in the back.
Two of the most popular fixed camper van beds are as follows:
Bed #1: Bunk Bed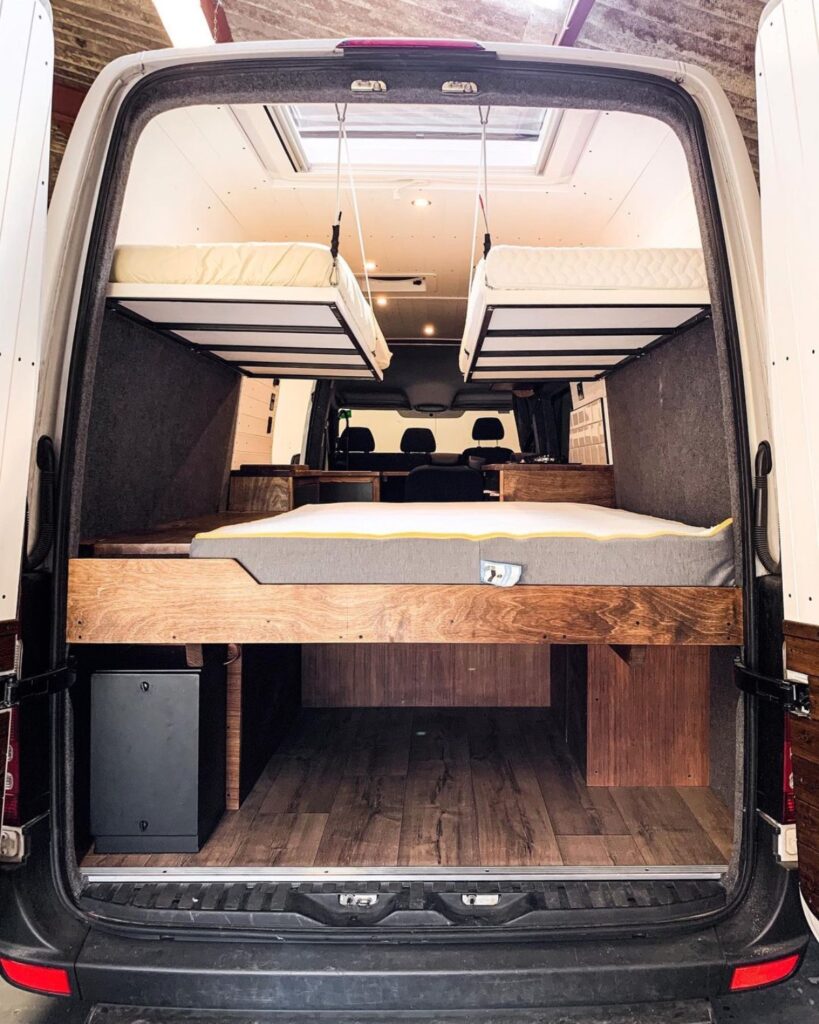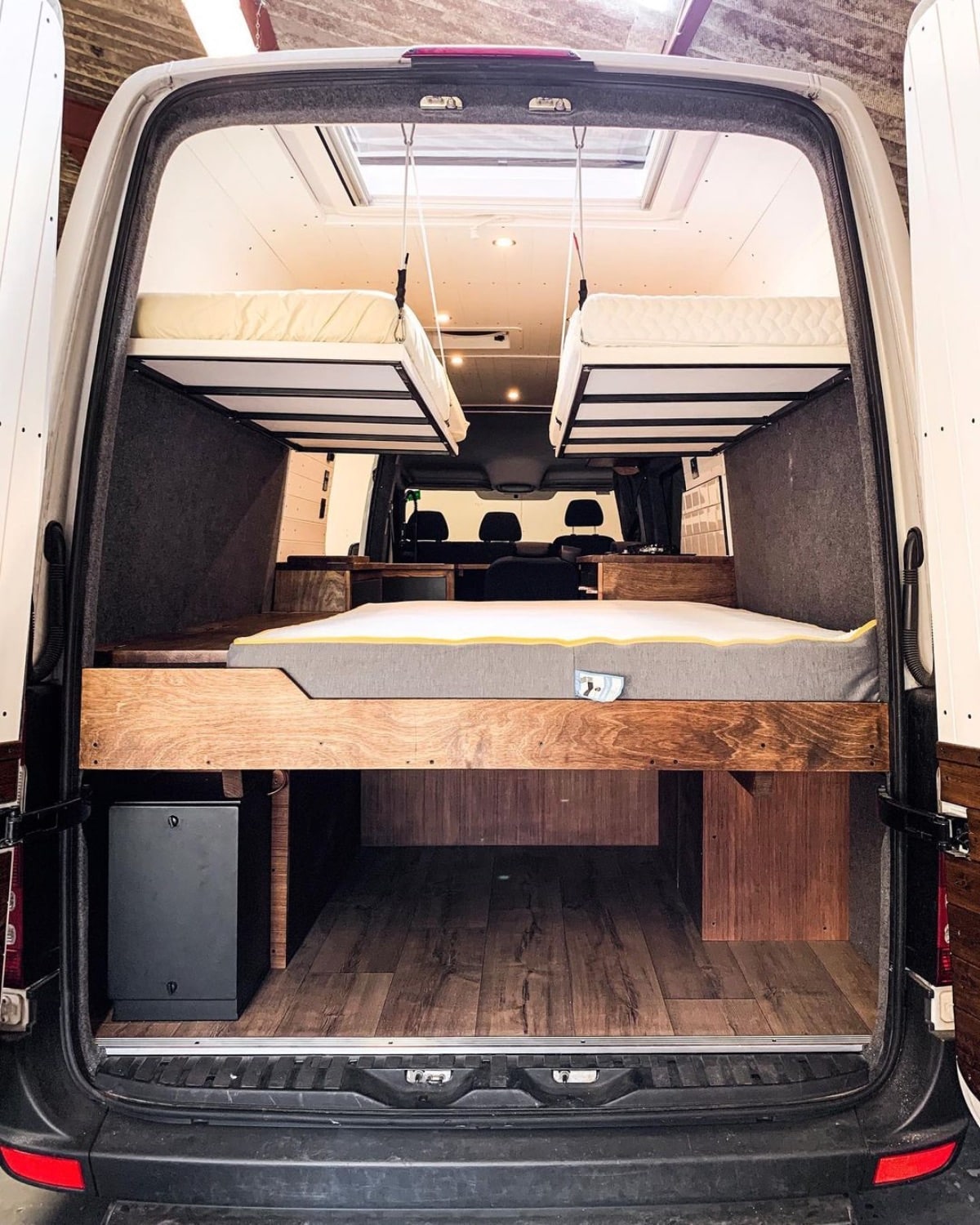 Bunk beds are perfect for those traveling with other people. You can install a bunk bed in a camper van in several different ways.
You may find it saves more space to install one in the front of the cab over the passenger and driver seats.
You can also use chains to hover your bunks over your main bed.
[Image: Instagram]
Bed #2: Platform Bed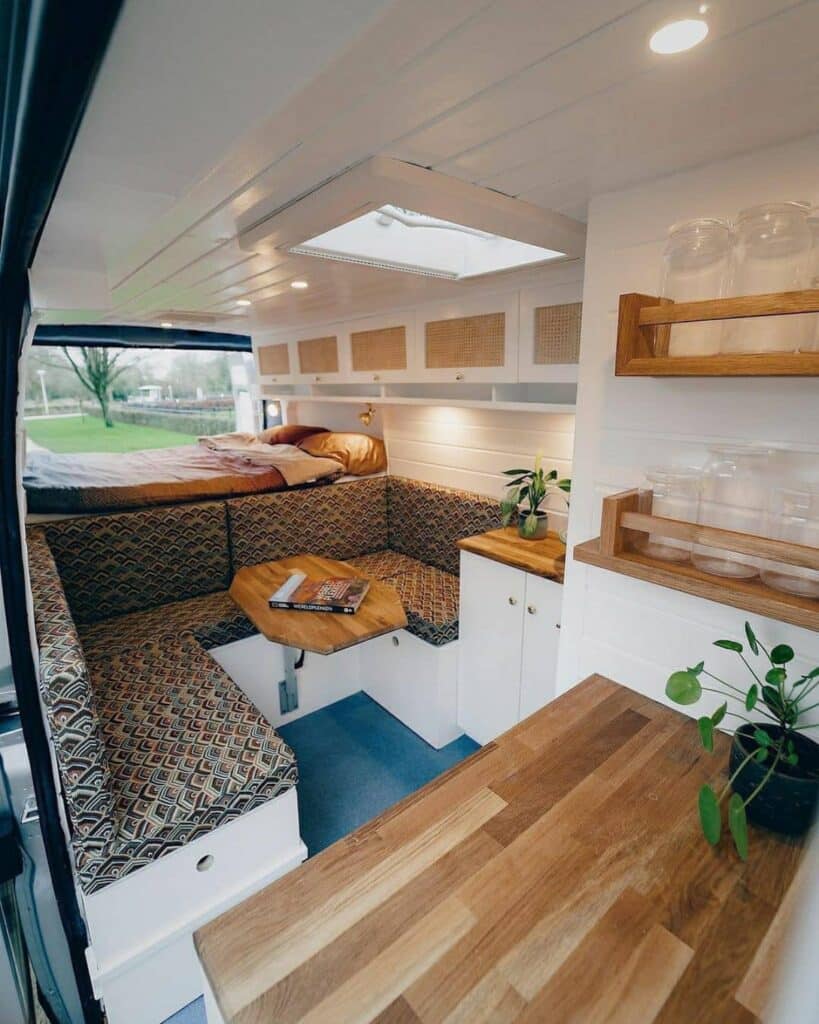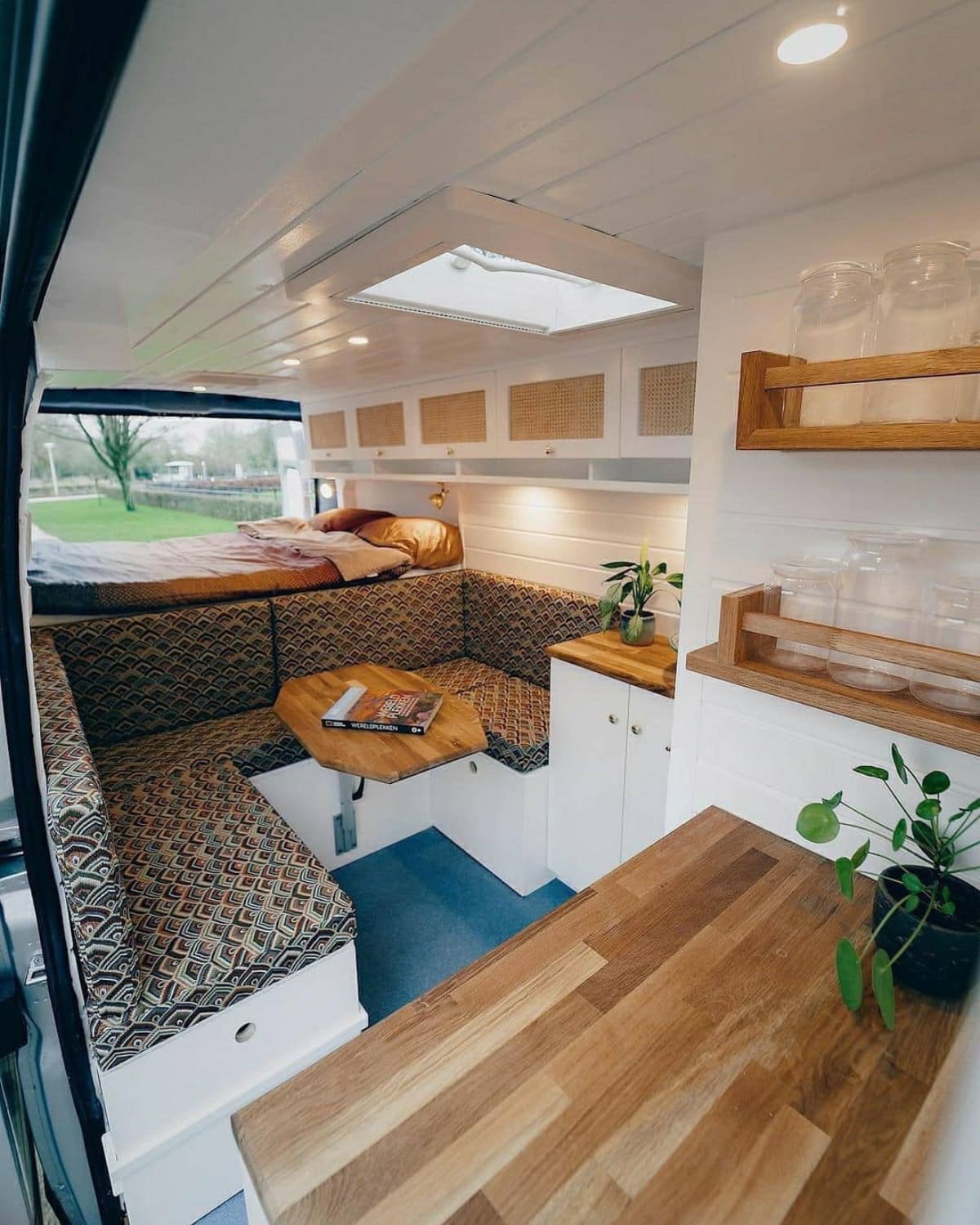 Platform beds are the easiest camper van bed to build. Usually, these beds only consist of legs and a platform. You can create more or less storage below your bed by making the legs short or long.
[Image: Instagram]
Convertible Beds
Convertible camper van beds are a perfect addition to any size camper van.
They are useful in small vans because you can fold or move them out of the way when you need to move about your living quarters.
Bed #3: Murphy Bed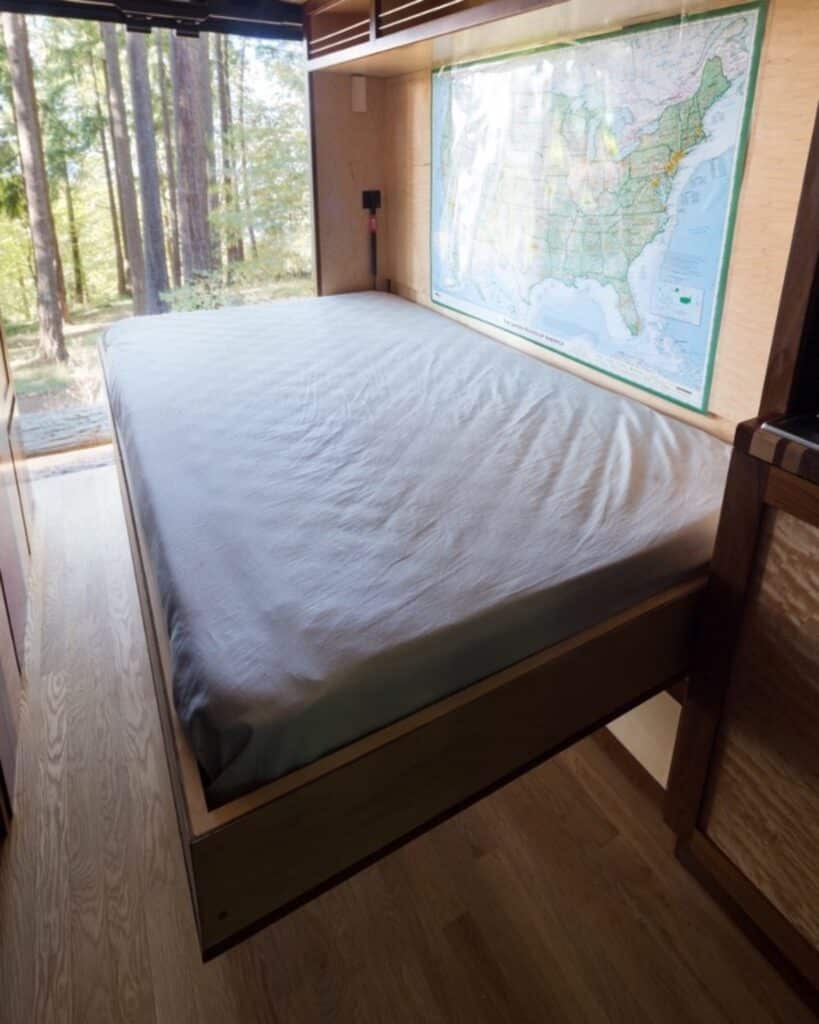 Murphy beds are popular in RVs and campers and are equally popular in camper vans. The bed folds against the wall, leaving the most amount of space to travel with bikes or paddle boards.
[Image: Instagram]
Bed #4: Slat Bed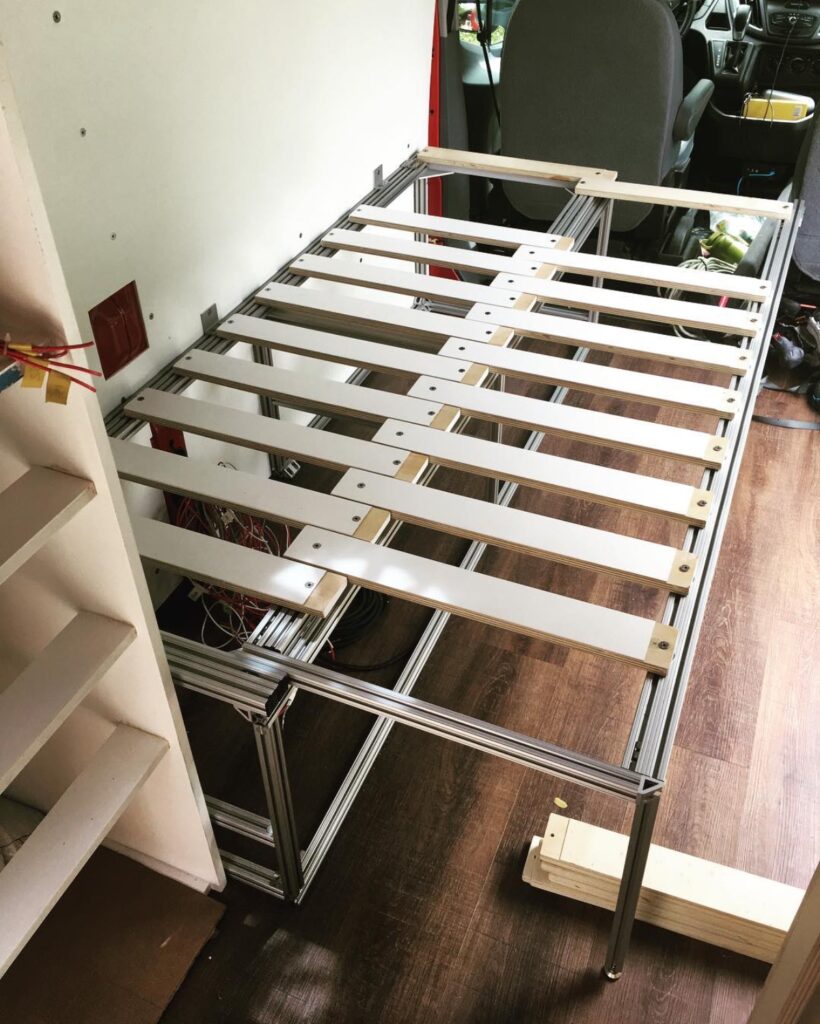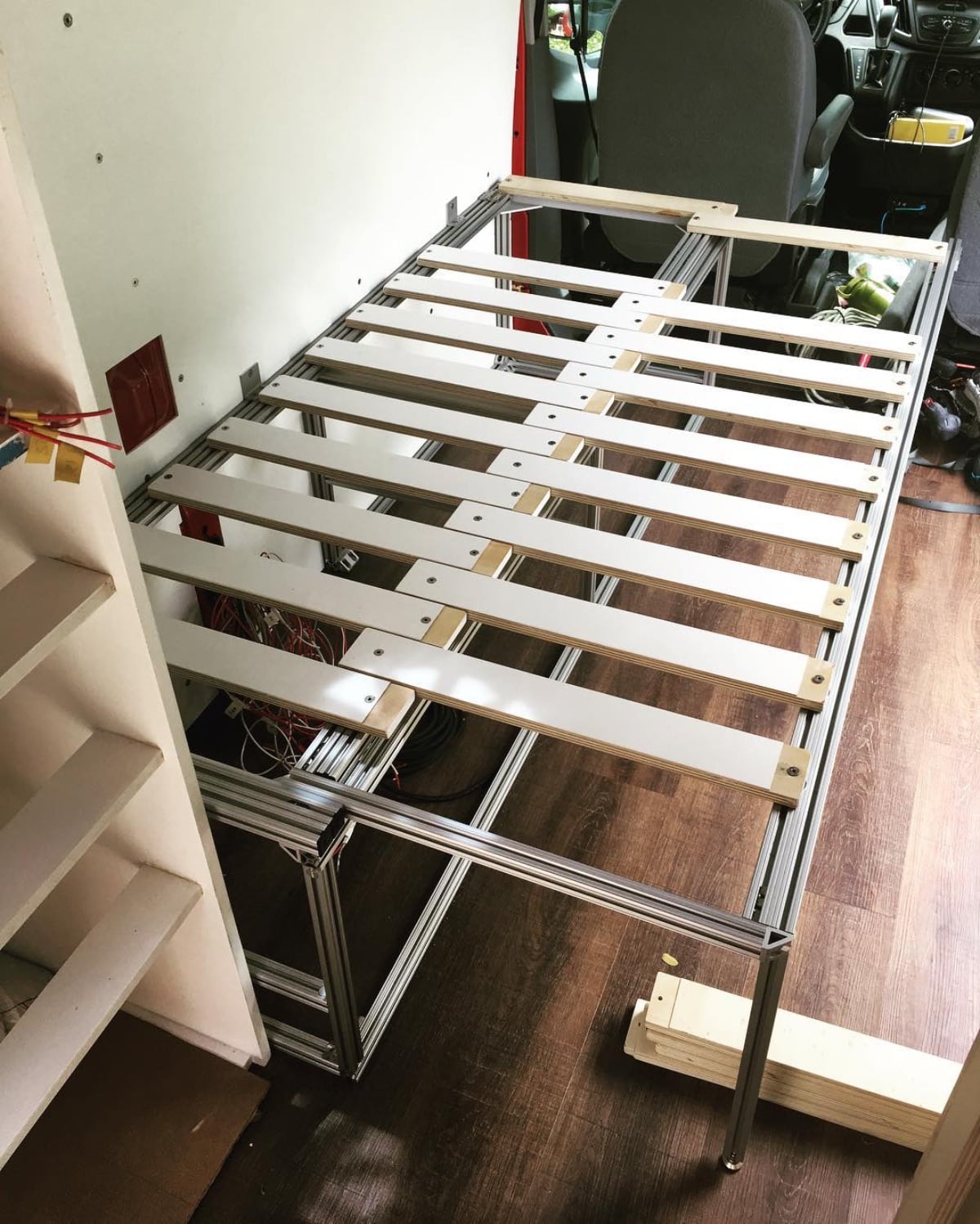 Slat beds have wooden slats for a platform. These slats glide smoothly into each other to form a couch or slide out for a bed.
The mattress lays on the platform and slides in or out with the slats.
[Image: Instagram]
Bed #5: Rock and Roll Bed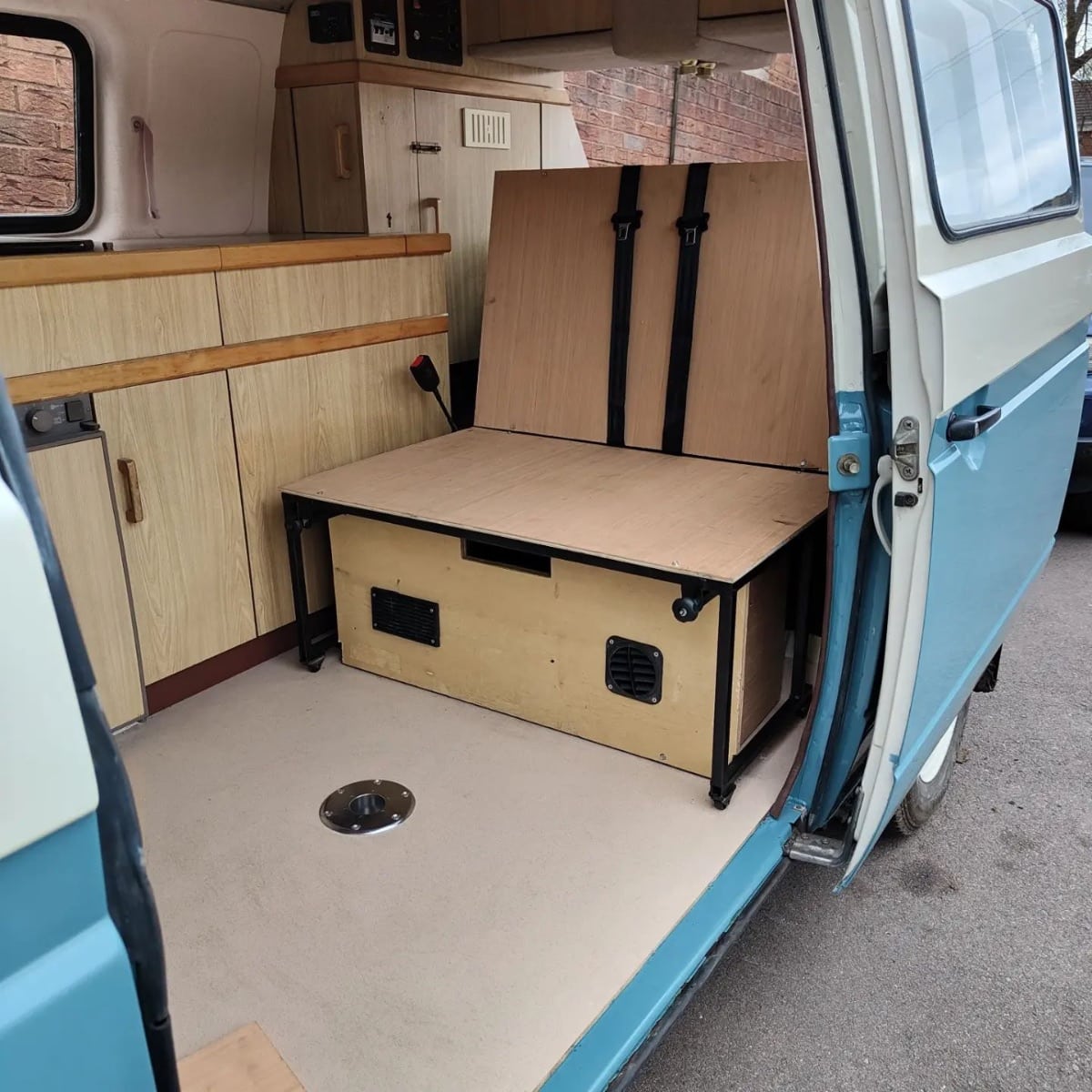 Rock and roll beds typically start in a couch form. The couch is usually the back seat of the van. To make it into a bed the seating will roll out and click into a flat surface. These beds are perfect for those traveling with several people
[Image: Instagram]
Bed #6: Two Benches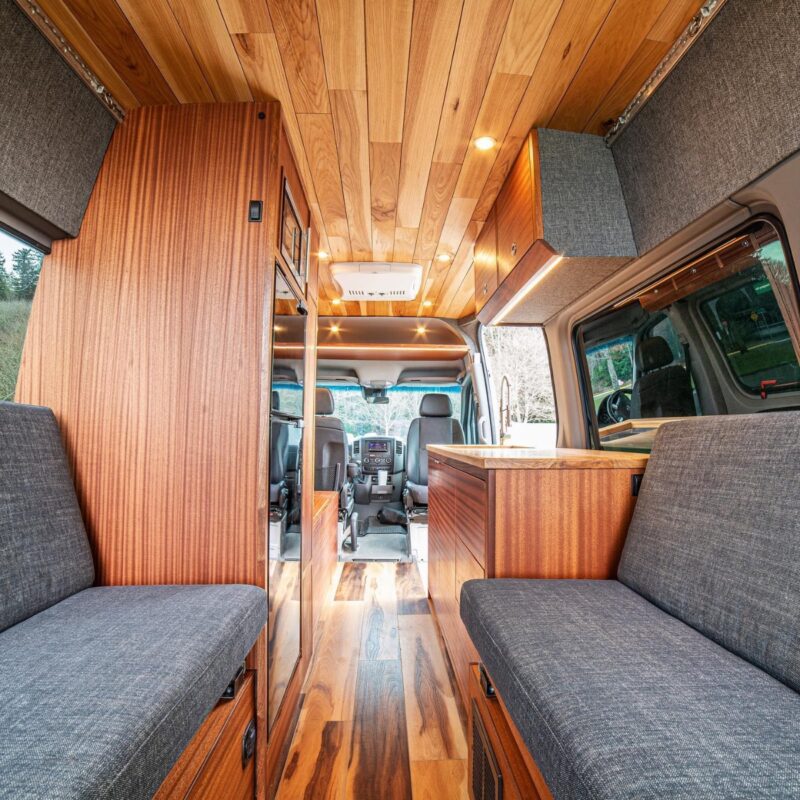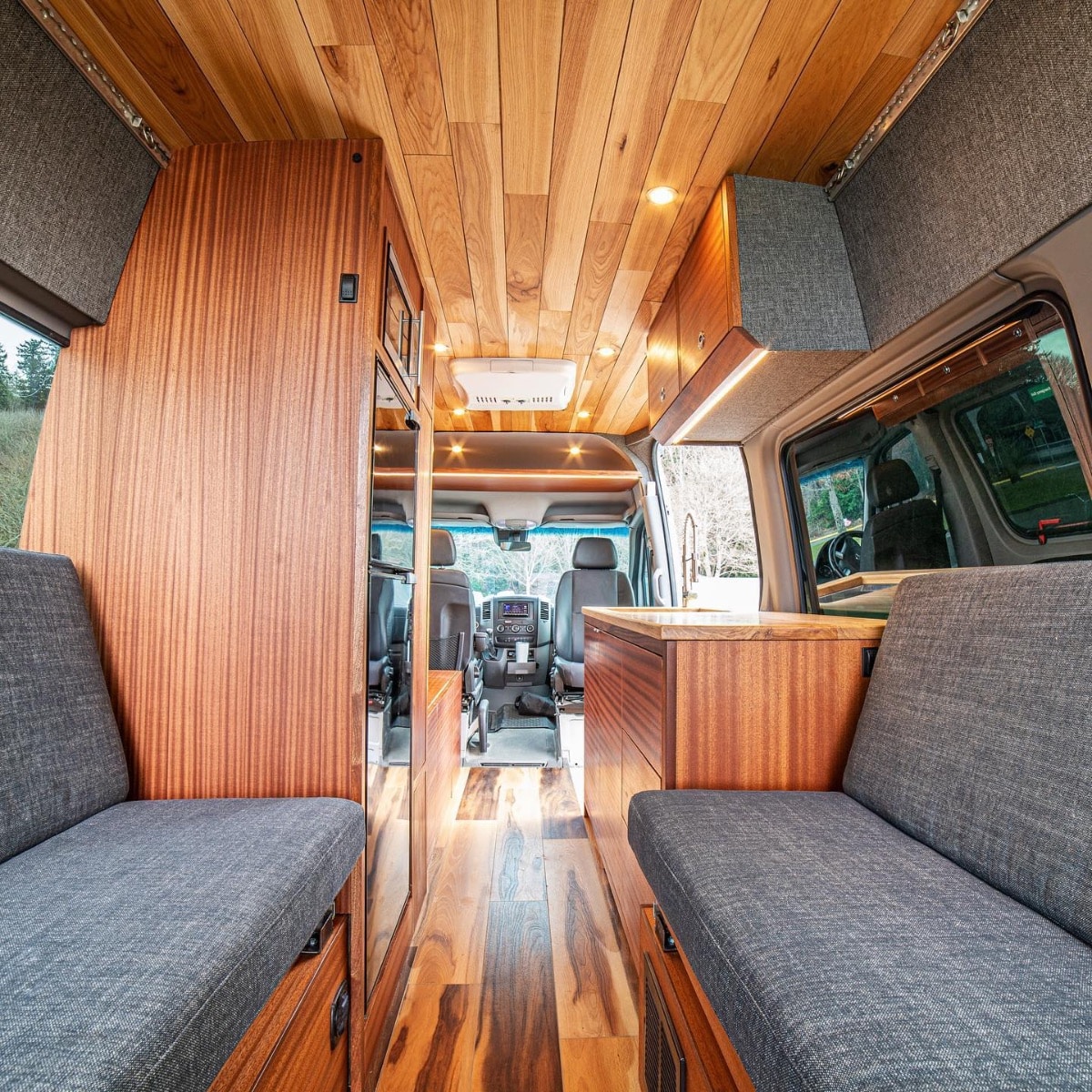 You can design benches for a sitting area. Sometimes this is useful for eating when your benches are up.
There are two rock-and-roll benches on either side of the camper van walls. These will roll out and meet in the middle to complete your bed.
[Image: Instagram]
Bed #7: Fold-out Couch Bed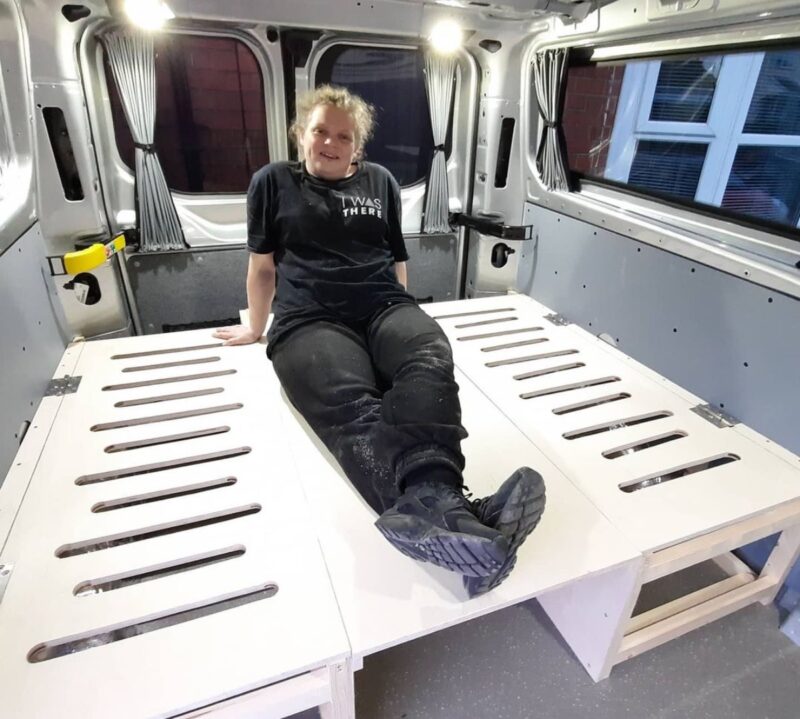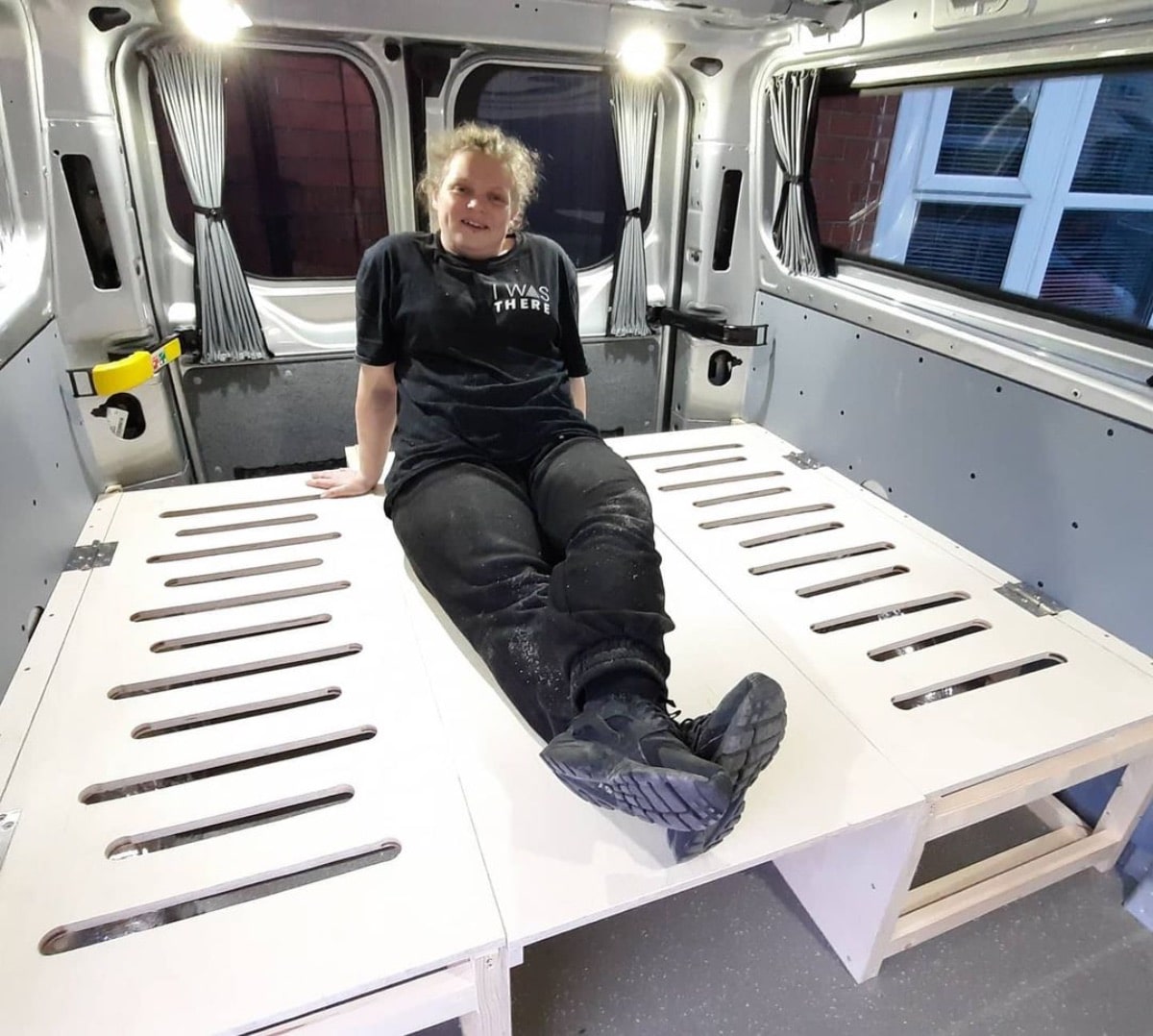 A fold-out couch bed is similar to the two bench styles, but with a subtle difference.
When you want your fold-out couch bed, place a piece of wood between the two benches and a cushion on top of the wood to complete the bed.
[Image: Instagram]
Bed #8: Bed Lift System
A bed lift system, of Happijac lift, is one of the priciest options ranging over $1,000 to install. If you have a tall enough van, you can lift your bed to the ceiling during the day and lower it at night.
There are alternatives to a Happijac lift system that work great but with a cheaper price tag.
Bed #9: Table Bed
A table bed is similar to the benches in the back of the van. The table part breaks down and will fill in the gap, connecting the benches into a bed.
Bed #10: Flip Bench Bed
A flip bench bed is one single bench located in the desired place of your camper van.
The top of the bench will flip down over the bottom part. Sometimes the legs will rotate out of the top part providing support for the base.
The cushions are sometimes stored in the base of the bench, or you can slide your mattress in and out with the bench.
Bed #11: Slide-platform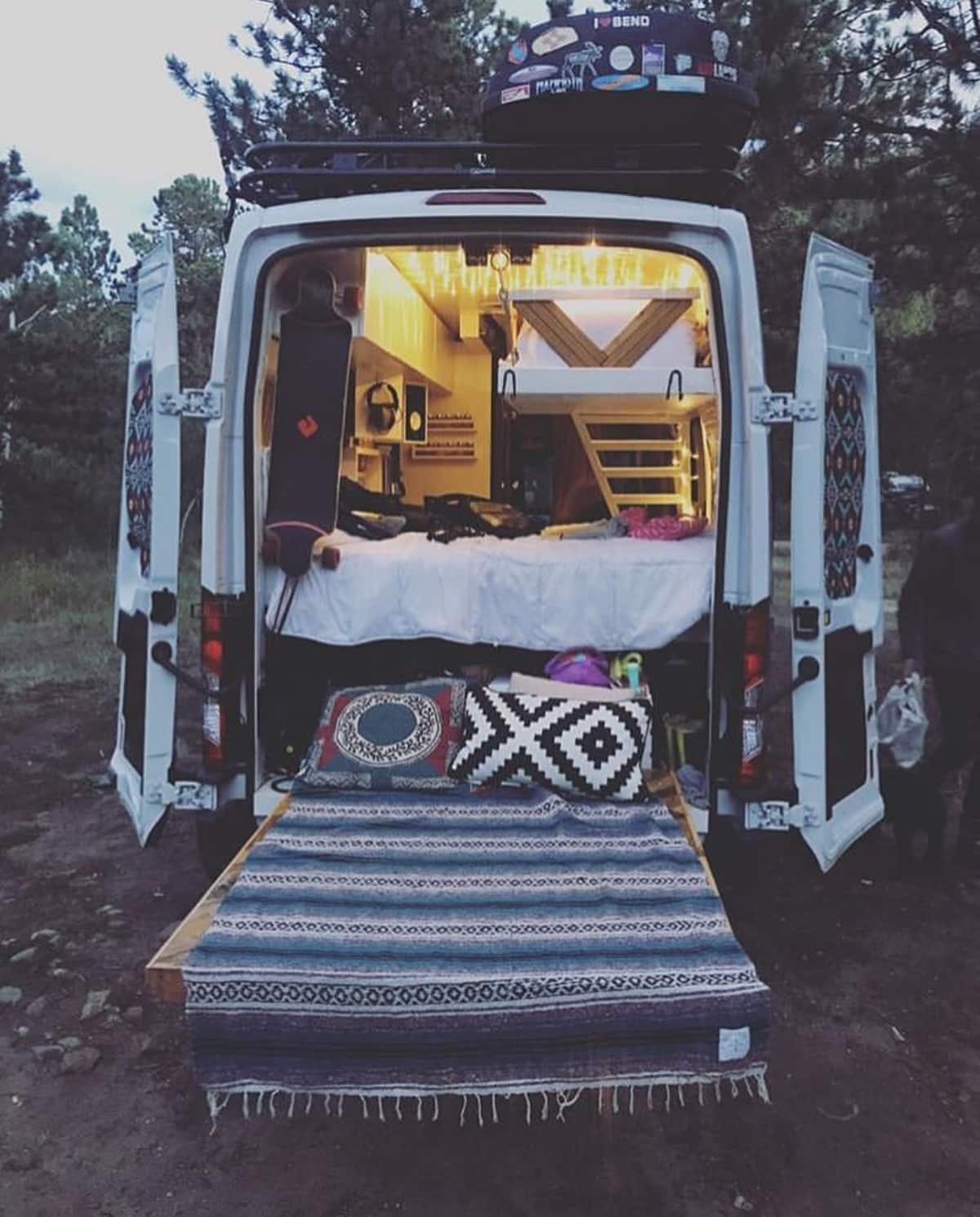 Rope or chains hold a slide-platform van bed. When you park your camper van, you can slide the bed out the back two doors of your van and enjoy the sunlight.
[Image: Instagram]
Bed #12: Drawbridge-style Bed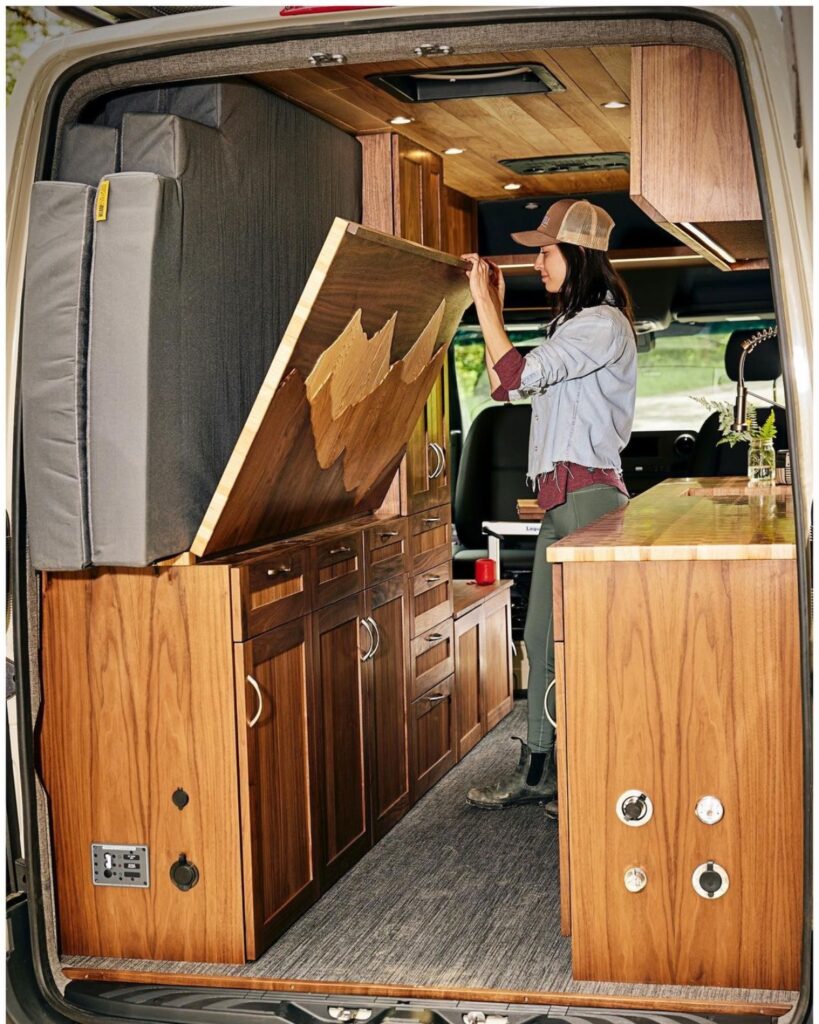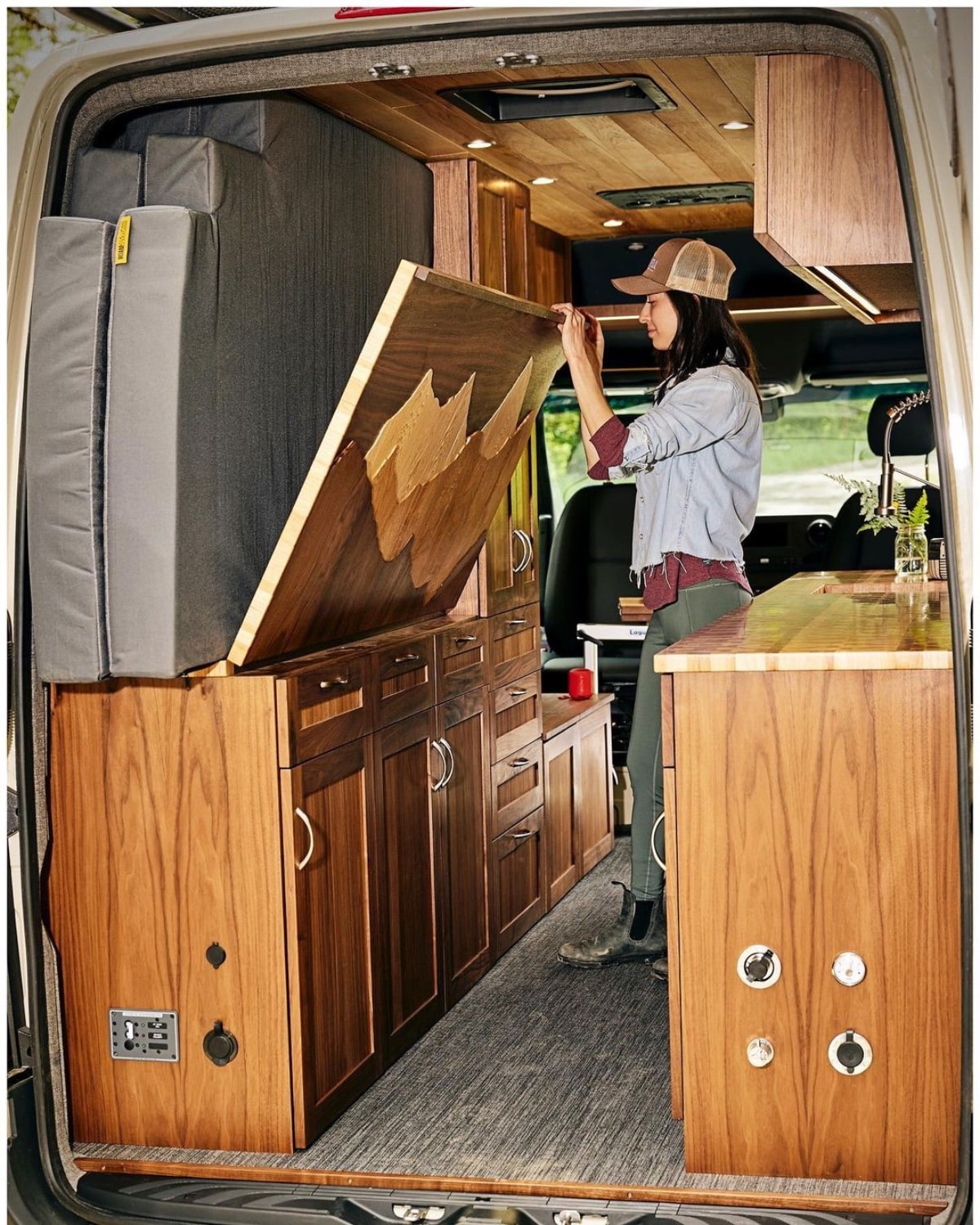 This style of camper van bed is similar to the Murphy style bed because it goes into the wall. However, instead of the bed staying intact when it's up, the bed folds behind a tiny wall.
[Image: Instagram]
Bed #13: U-bench
Campers and RVs typically feature U-bench style beds. The bed can either be a table or a bed.
When the table is set up, the couch cushions go around the table along the sides and the back.
When you want to put the bed down, take the table down and place the top in the gap. Then place the cushions on top of the table piece.
Bed #14: Air Mattress
Air mattresses aren't ideal for van life but are perfect for temporary solutions. If you can't wait to get out on the road, but you haven't built your bed, an air mattress is the perfect solution.
Bed #15: Bench Seats
If you have those two back seats in your camper van, you can design them to fold out into two twin beds.
Bed #16: Hammock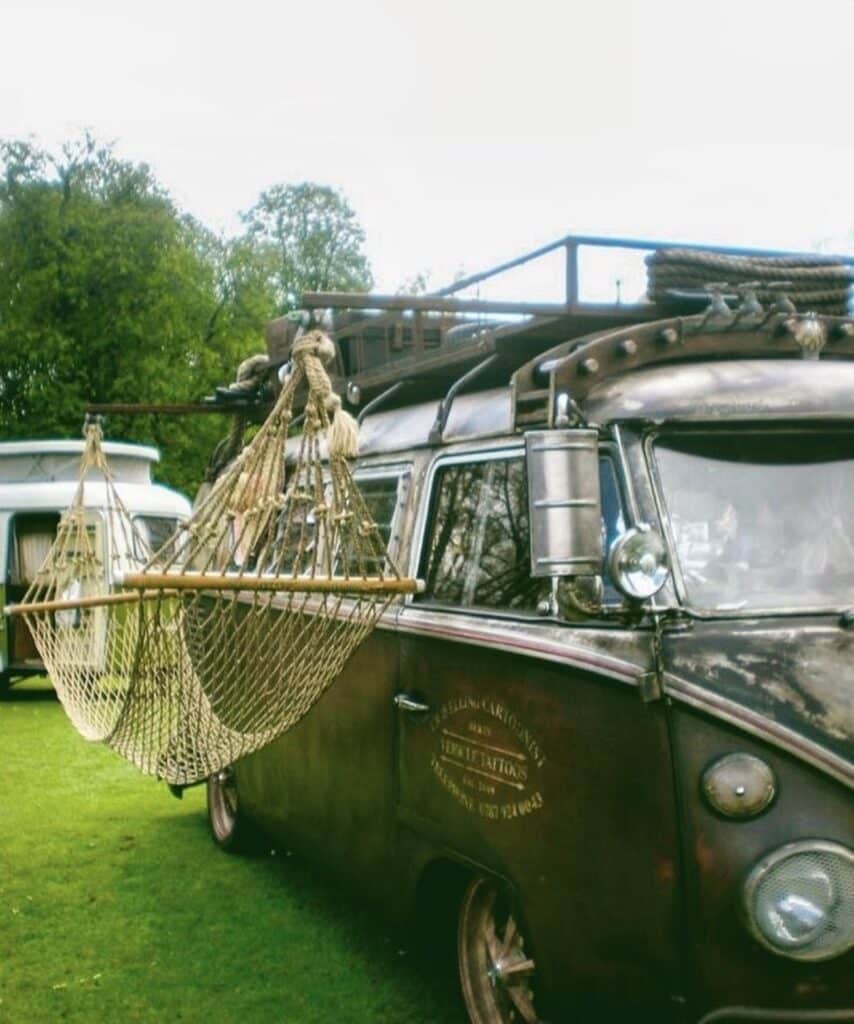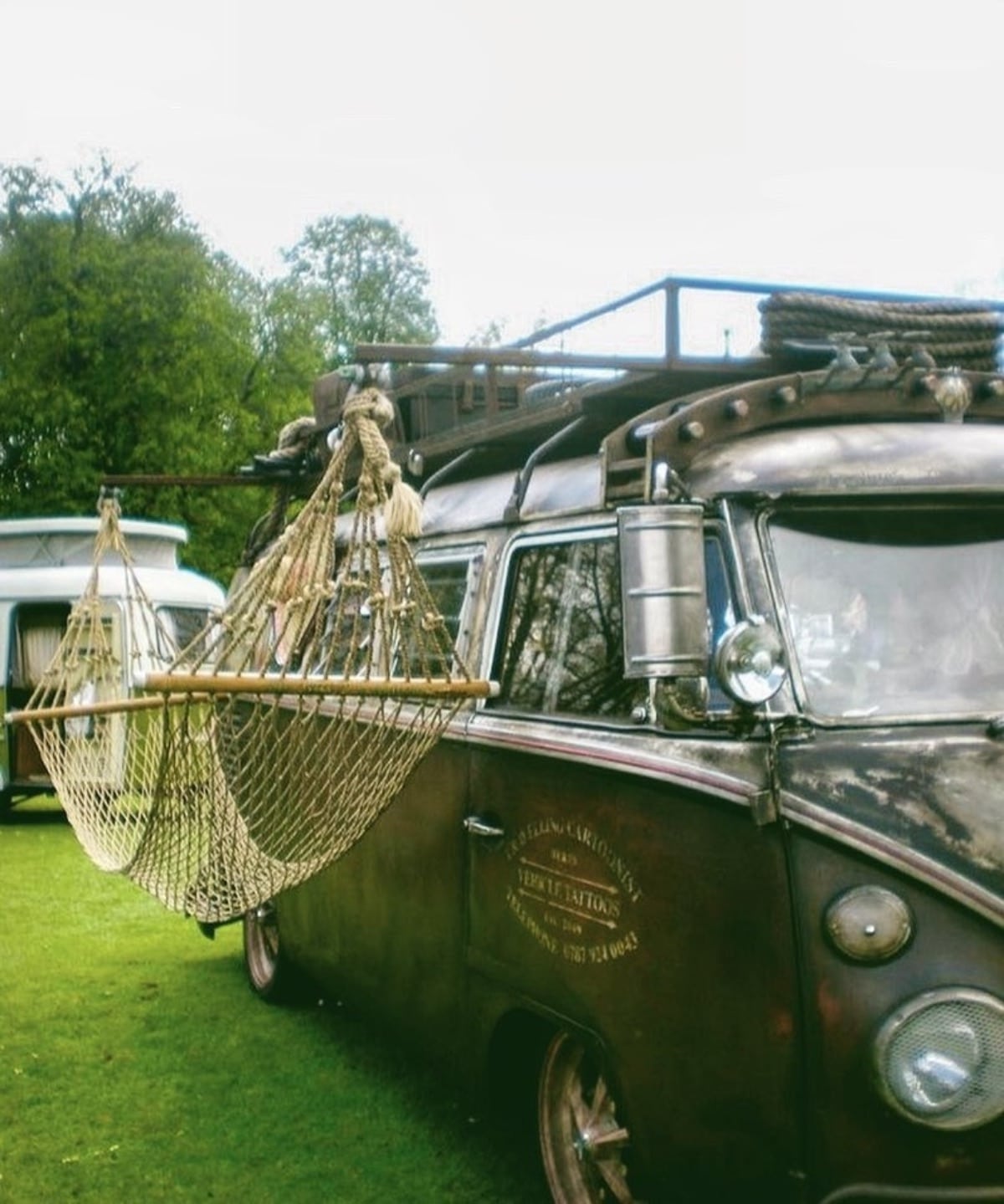 Hammocks are a popular option for sleep in the camper van world.
You can create tie-down points in your van or find them. Hammocks allow for the most amount of space and versatility.
[Image: Instagram]
Bed #17: Custom-designed Beds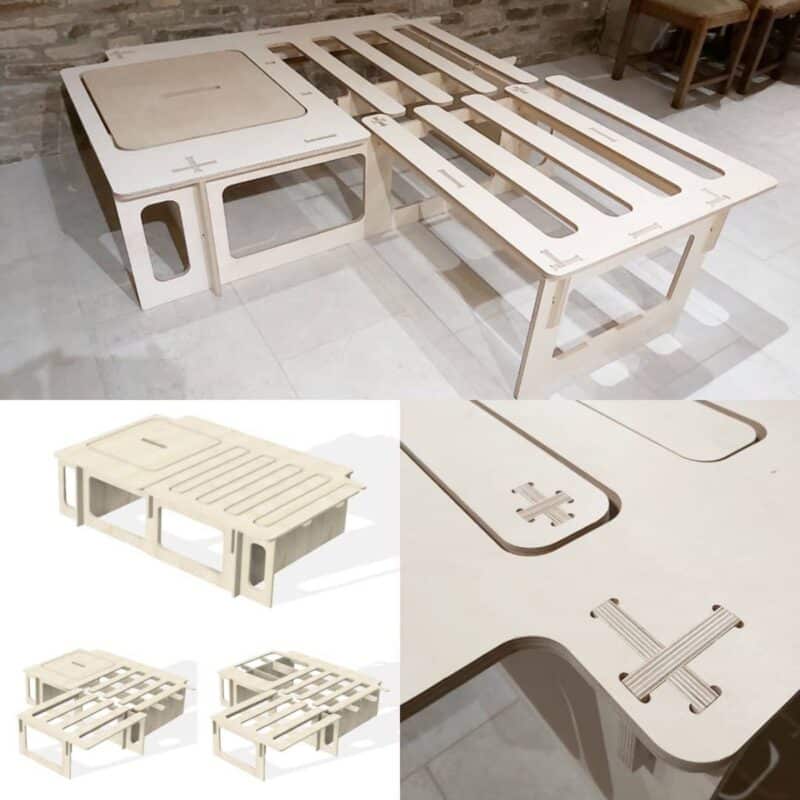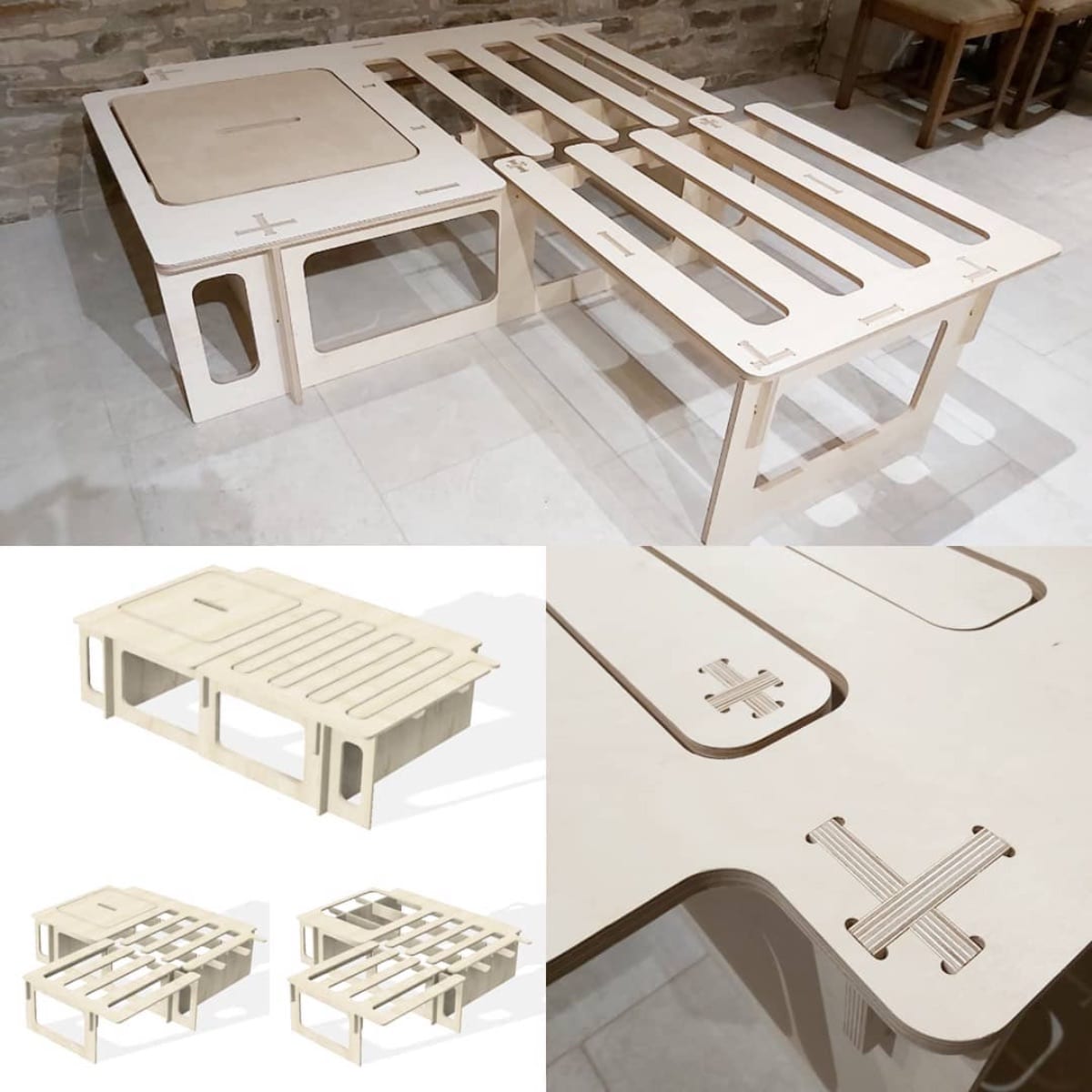 You can design a bed however you want! That's the beauty of camper van living-no bed options are out the window.
Here is a perfect example of a customized L-shaped camper van bed:
[Image:Instagram]
Frequently Asked Questions
There are still plenty of other questions about camper van beds, and we are here to answer those questions.
What are van beds called?
You can use any of the terms used above to describe a camper van bed.
How can I sleep comfortably in my van?
Sometimes people believe you can't sleep comfortably in a mobile home, but you can!
Here are a few tips to have the best sleep of your life:
Park the van on level ground

Purchase a comfortable mattress

Bring your most comfortable bedding

Soundproof your van

Put light-blocking curtains up on the windows
Can I put a mattress in my van?
Sometimes you can put a mattress in your van. You cannot customize a spring mattress. You need specific dimensions for your bed to fit your platform.
You could purchase a memory foam mattress and cut it to fit a customized space. Memory foam mattresses are the most common bedding used in a van because of their versatility and flexibility.
Building Your Camper Van Bed (DIY)
You have several options for building out your bed, depending on your skill level and the complexity of your camper van bed.
Camper Van Bed Kit
Camper van bed kits provide a foam mattress, bed frame, storage system, and all the necessary mounting hardware and instructions. Many kits fit specific models and sizes of vans, making the conversion process even simpler and more reliable.
DIY Campervan Bed
DIY campervan beds provide a comfortable sleeping option for those who don't want to spend money on a traditional bed. Customize the design to fit the size and shape of your campervan, build in storage compartments, and even add a ladder for easier access.
Professional Installation
Professional installation ensures your camper van bed is secure, so you can rest easy. However, it's more expensive since you have to buy the materials and pay for labor.
How do you make a van platform bed?
Platform beds are the simplest type of camper van bed to build. These beds usually consist of wooden legs with a wooden platform to hold the mattress or cushions.
Here are some simple steps to make a van platform bed.
Step 1
Plan out your space. Measure the length and width of your van. Measure how high or low you want your bed.
Step 2
Gather all your materials:
Plywood for the legs and platform

Wood screws at least 1″ length

Wood glue
Step 3
You start with the legs and cut them to the height of your choosing. You can fasten the legs to the floor of your van with bolts and L brackets.
Connect the legs with cross bars so the platform has a place to sit.
Step 4
Cut the platform. Make sure you measure the back of your camper van and use that measurement for your platform.
Place the platform on top of the cross bars and fasten it with wood glue and bolts.
Step 5
Let the wood glue dry, and place your customized mattress on your platform. Enjoy!
Final Thoughts
The use of camper van beds is an excellent way to increase the comfort and functionality of your vehicle. Whether you are looking for something more luxurious or something simple, there are countless designs available to meet your needs.
Camper van bed provide a comfortable place to sleep and add a touch of style and personality to your vehicle. With the right design, you can create a unique and cozy space for yourself and your family to make your travels more enjoyable.