We're an affiliate
We hope you love the products we recommend! Just so you know, we may collect a share of sales or other compensation from the links on this page. Thank you if you use our links, we really appreciate it!
Van life often requires giving up some of our favorite luxuries in favor of living a more simplistic, minimalist life. However, sacrificing kitchen space is a tough ask for those who love whipping up a meal for friends and family.
With a bit of creativity and thoughtful planning, you can design a practical, fully-functional minivan kitchen that lets you embrace your nomad lifestyle without giving up your culinary aspirations.
If you need some inspiration, we've rounded up 21 van kitchen ideas that maximize your cooking space without compromising the comfort of your camper.
1. Convertible Counter Space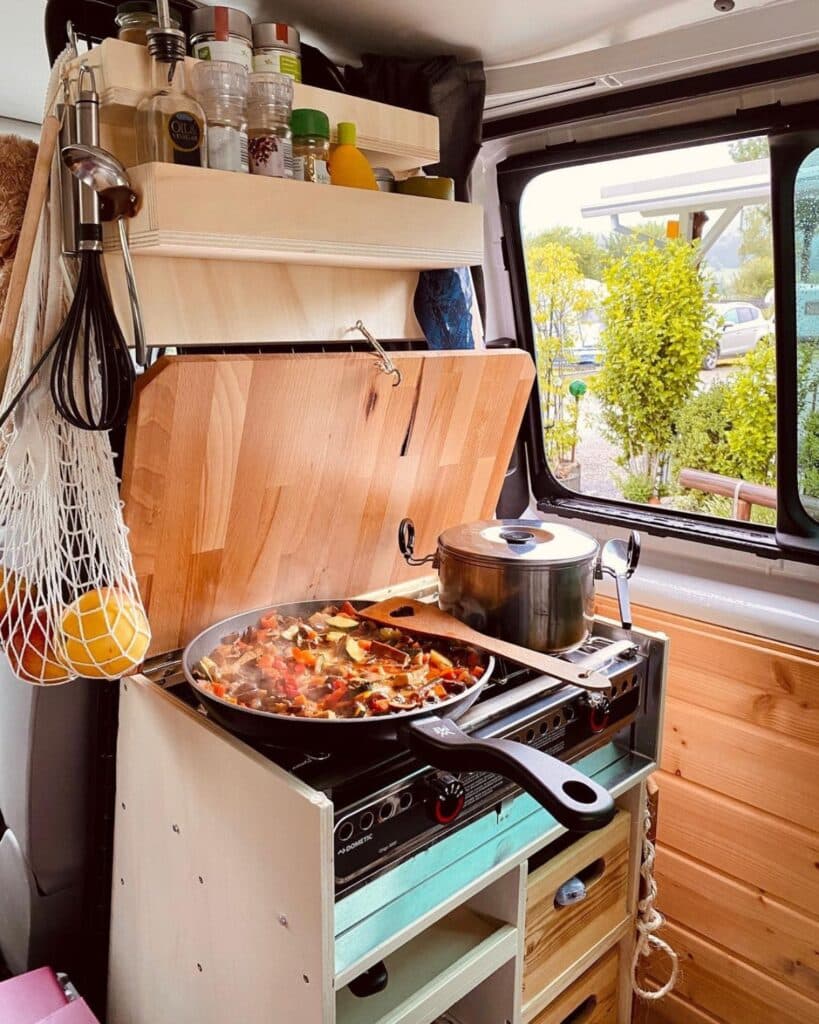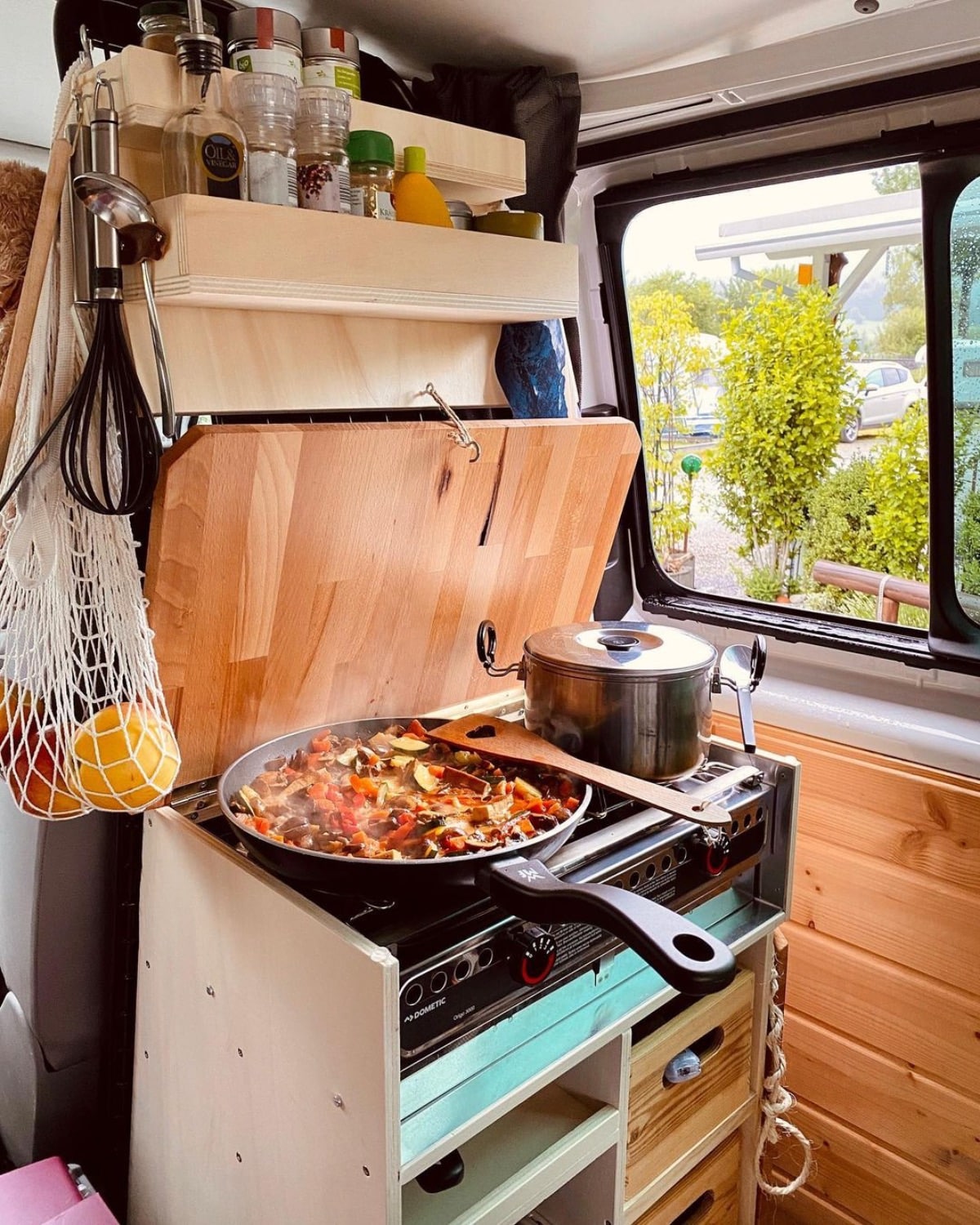 [Image: Maren Ingrid]
One of the rarest commodities in van kitchens is countertop space. By installing a fold-up butcher board over your stovetop, you can quickly prepare your meals in the same area where you cook them.
2. Wooden Backdrop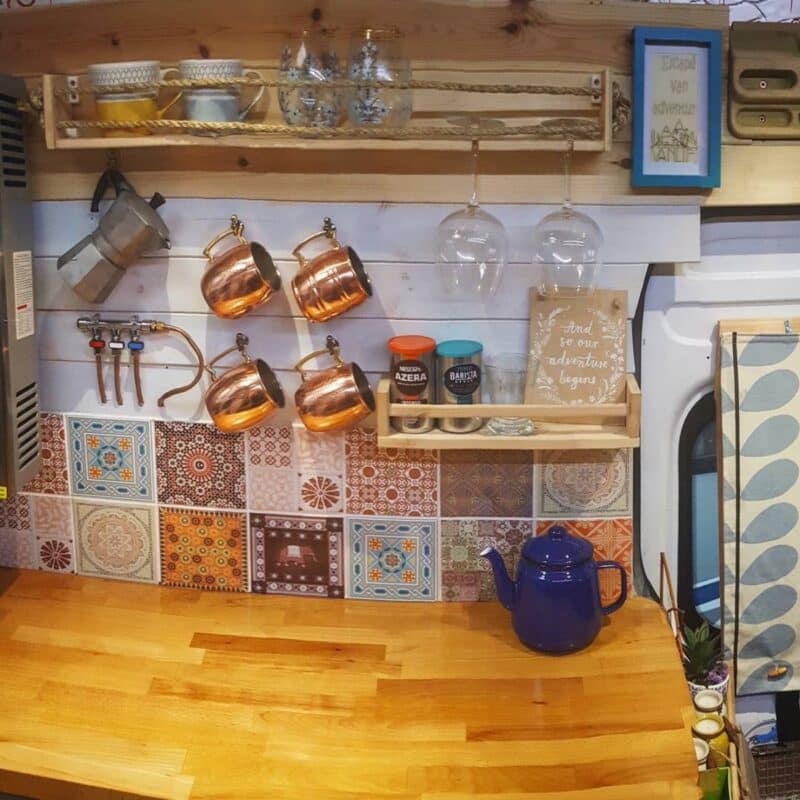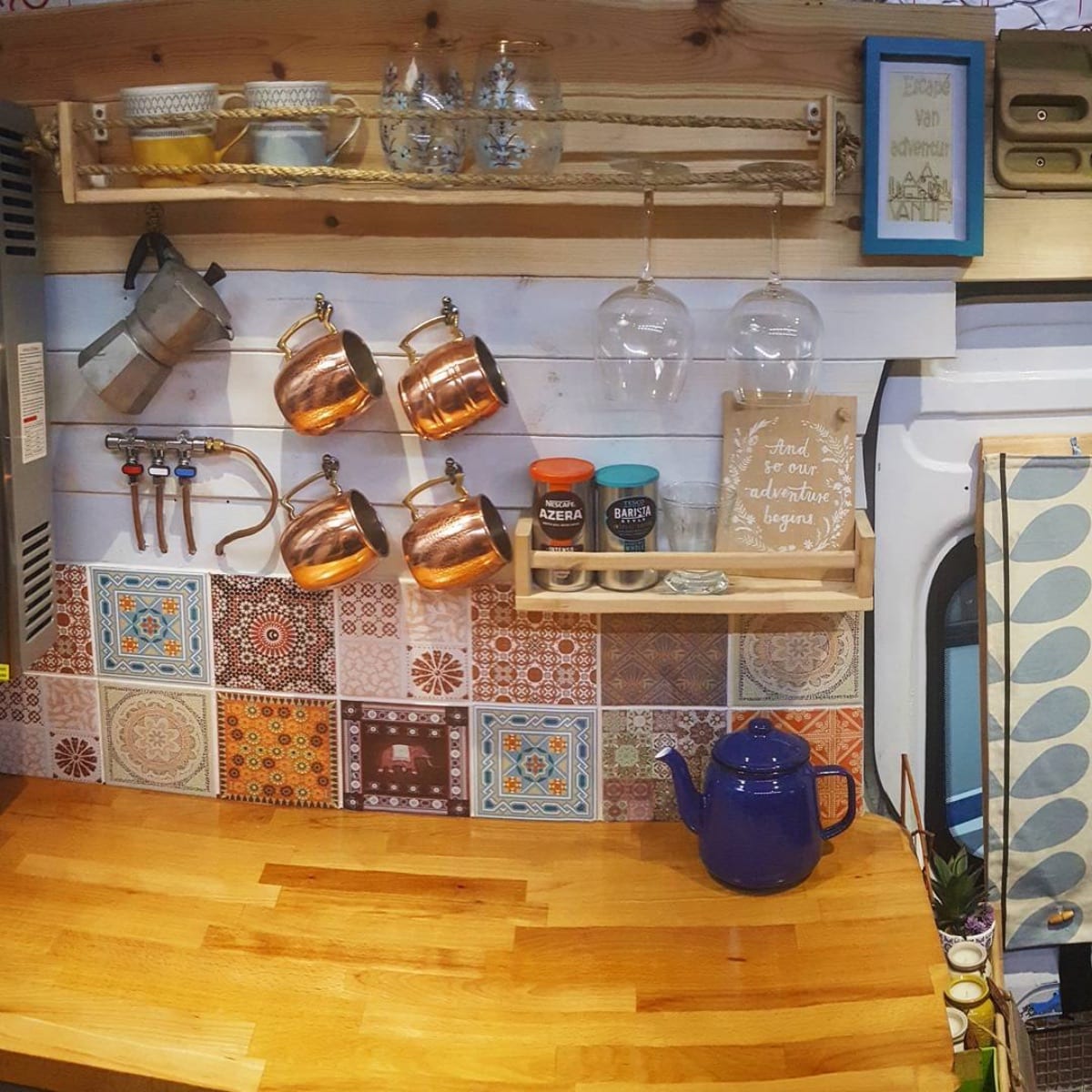 [Image: Van Travel and Life]
Install a wooden backdrop to capitalize on your vertical space. Wall hooks and small shelves are perfect storage for hanging mugs, spice racks, or decorative elements.
3. Backdoor Cooktop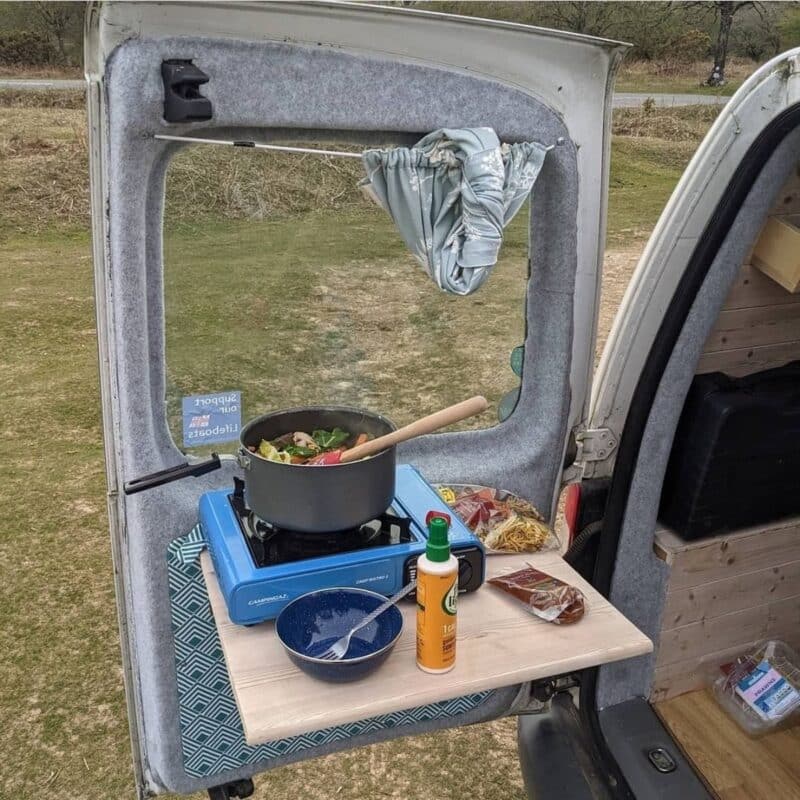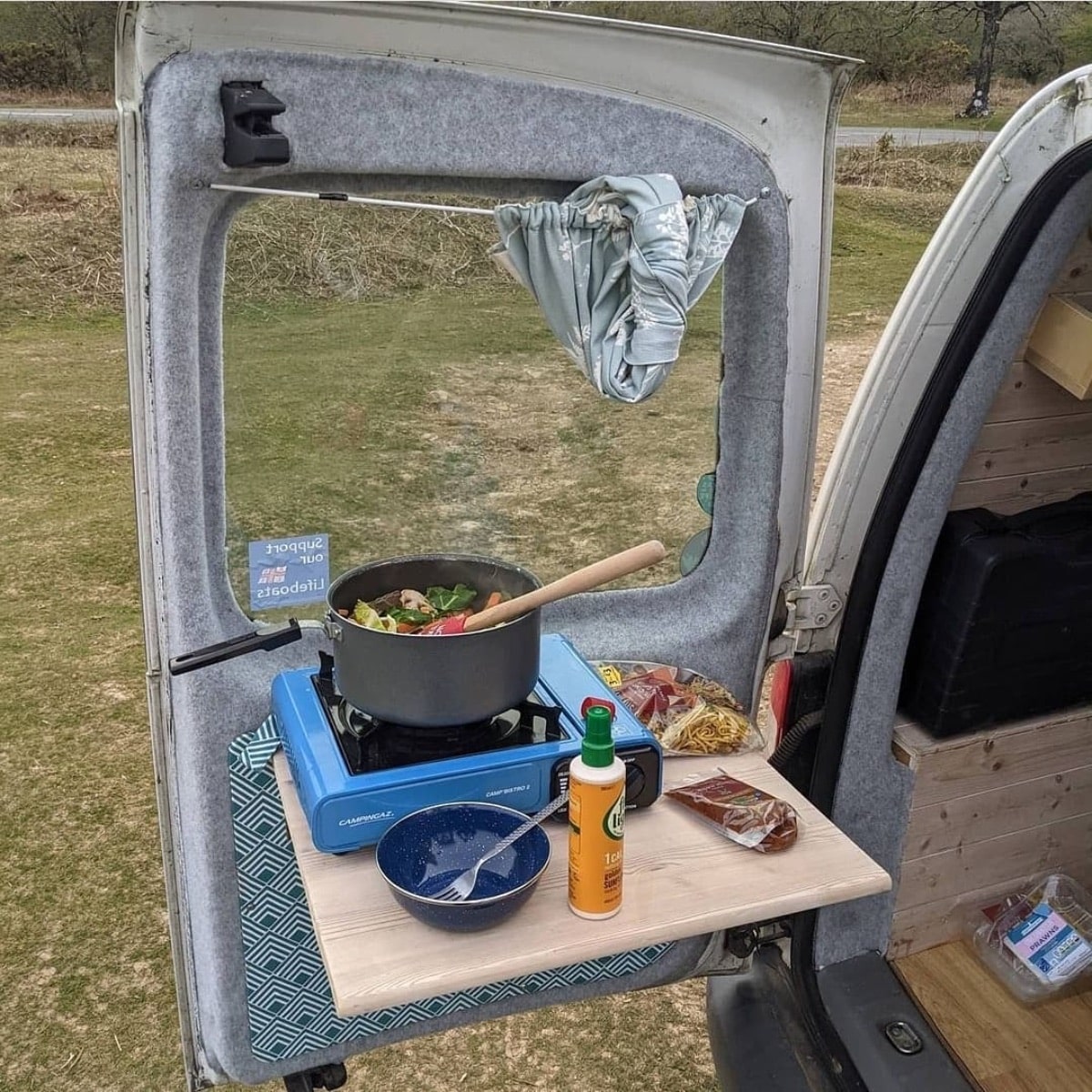 [Image: Caddy Maxi Adventures]
Take your culinary talents outdoors by putting a sturdy wooden shelf on the interior of your rear van door. When you're not cooking, it's a handy table that easily transitions to your stovetop come dinnertime.
4. Go Modular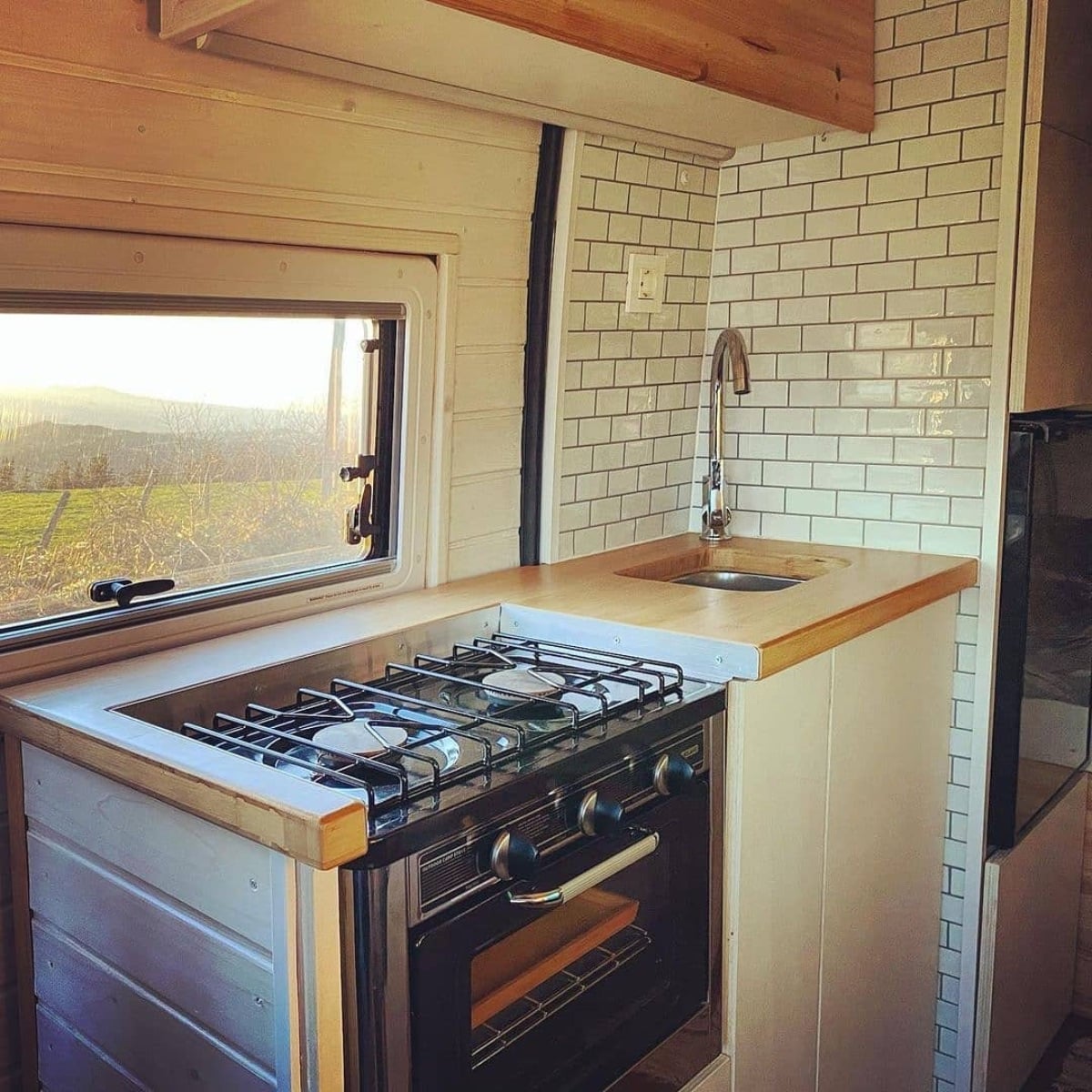 [Image: Vans of Asturias]
Minimalism is essential when you're living the van life, and no home furnishing brand embraces that concept more than Ikea. With an Ikea camper van kitchen, such as the Knoxhult, you get all the modular storage you need in a clean, modern design.
5. Van Kitchen Pod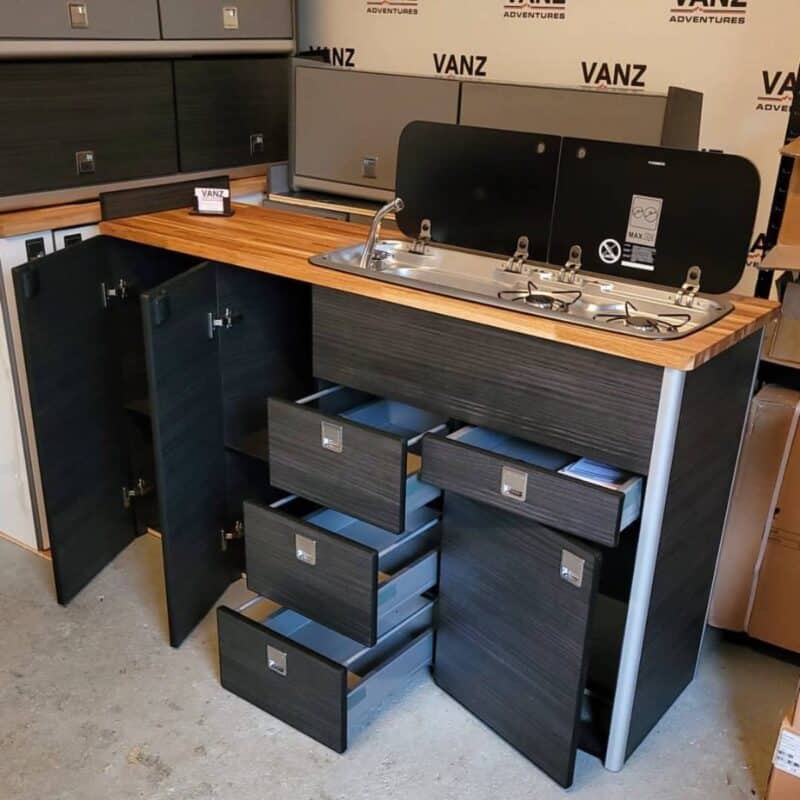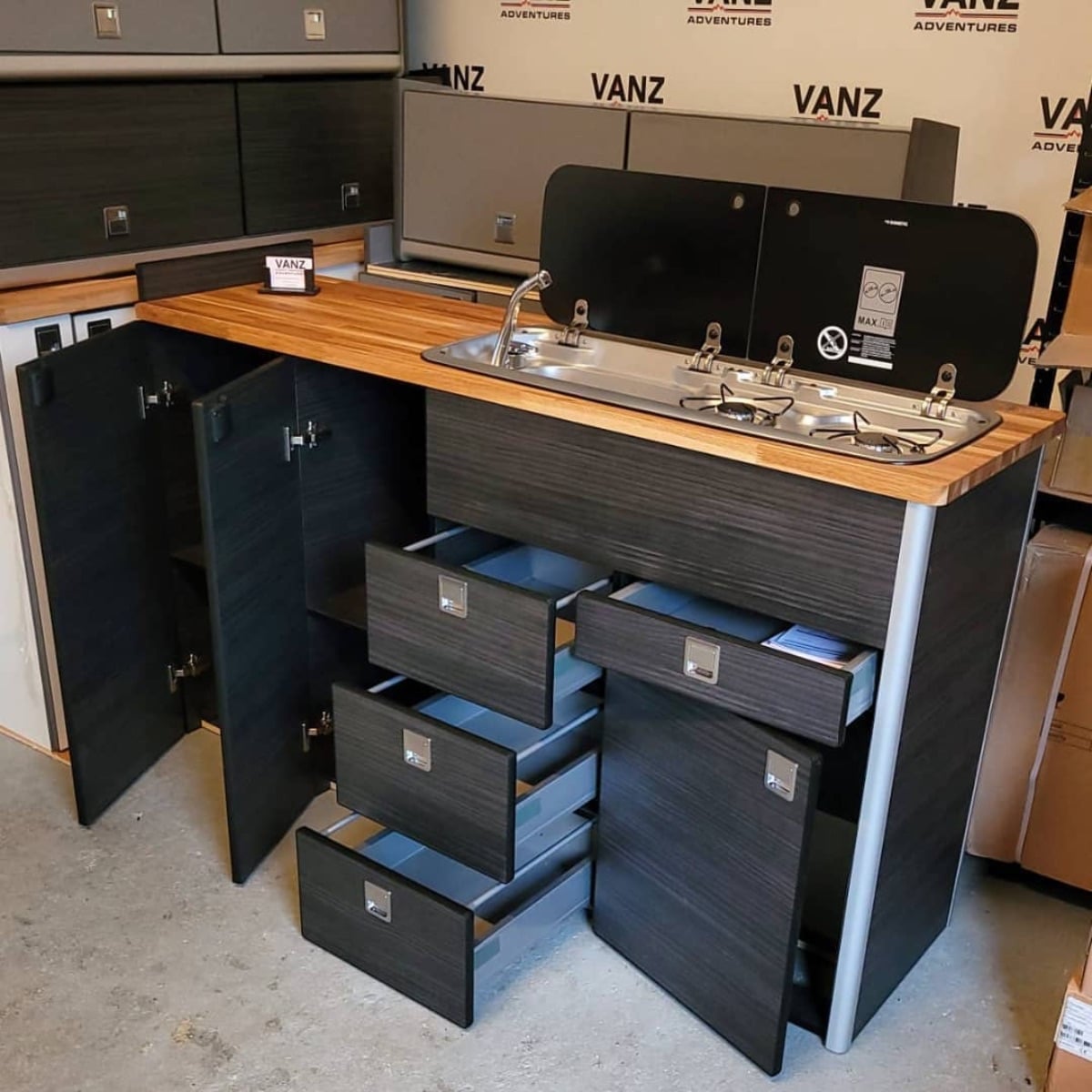 [Image: VanzAdventures]
A van kitchen pod is an all-in-one solution that makes outfitting your home on wheels a breeze. While many options are available, most include a cooktop, sink, drawers, and cabinets in a single unit.
Many companies also take custom orders, so you can personalize the layout, paint, and fixtures to meet your needs.
6. Hanging Spice Rack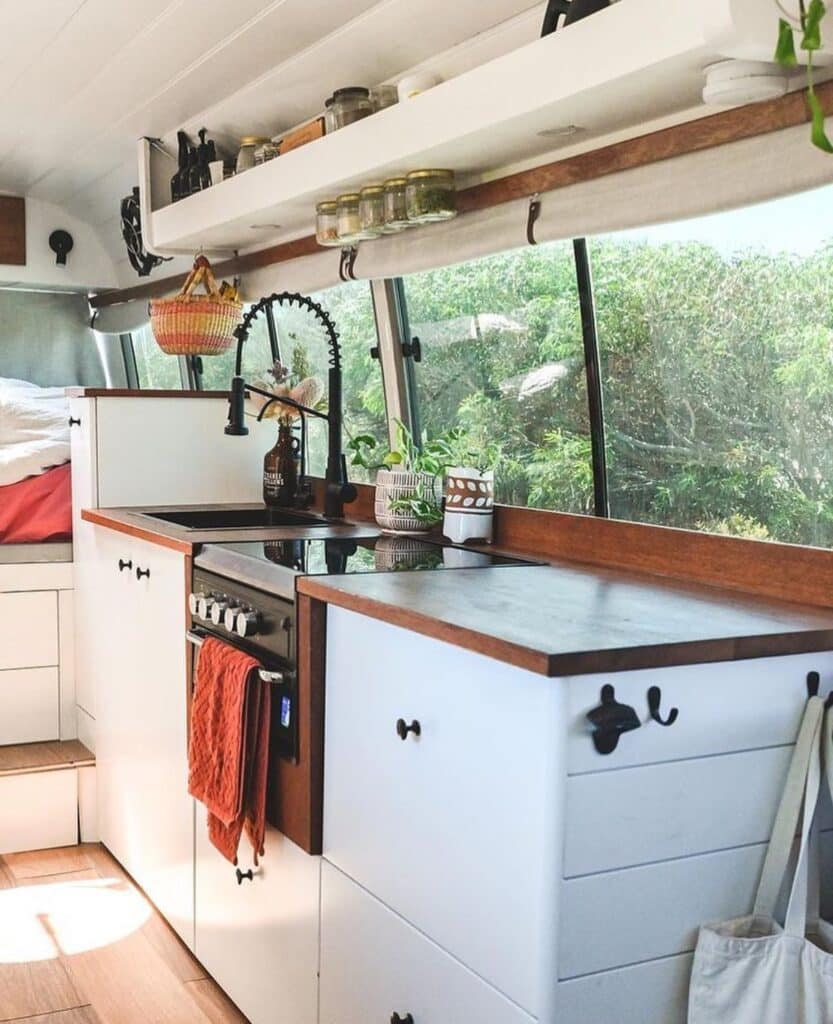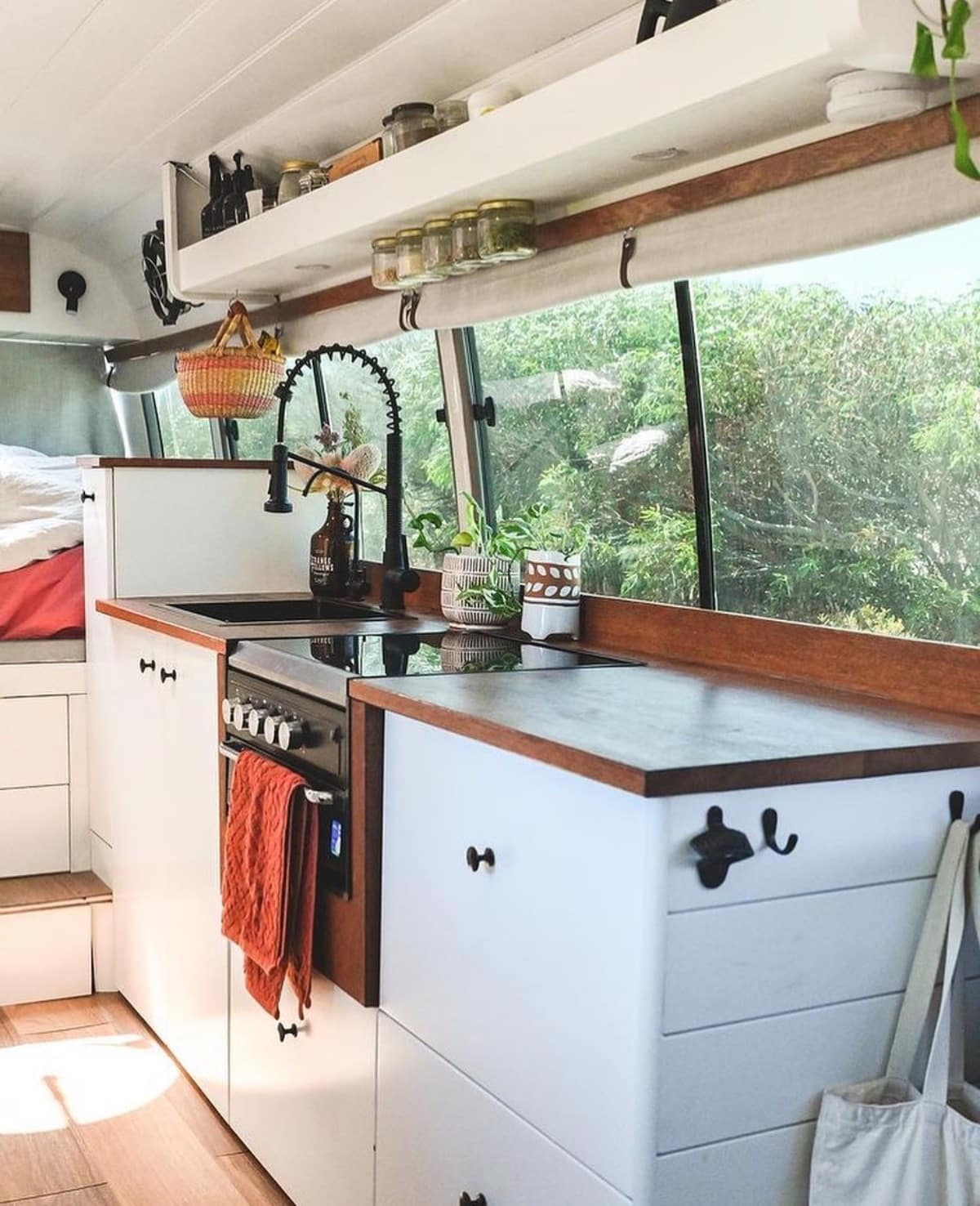 [Image: VanLife Virtual]
Magnets and mason jars can safely keep your artisanal herbs and spices stowed away without cluttering up your drawers. This configuration also makes it simple to grab what you need when your hands a full.
7. Chalkboards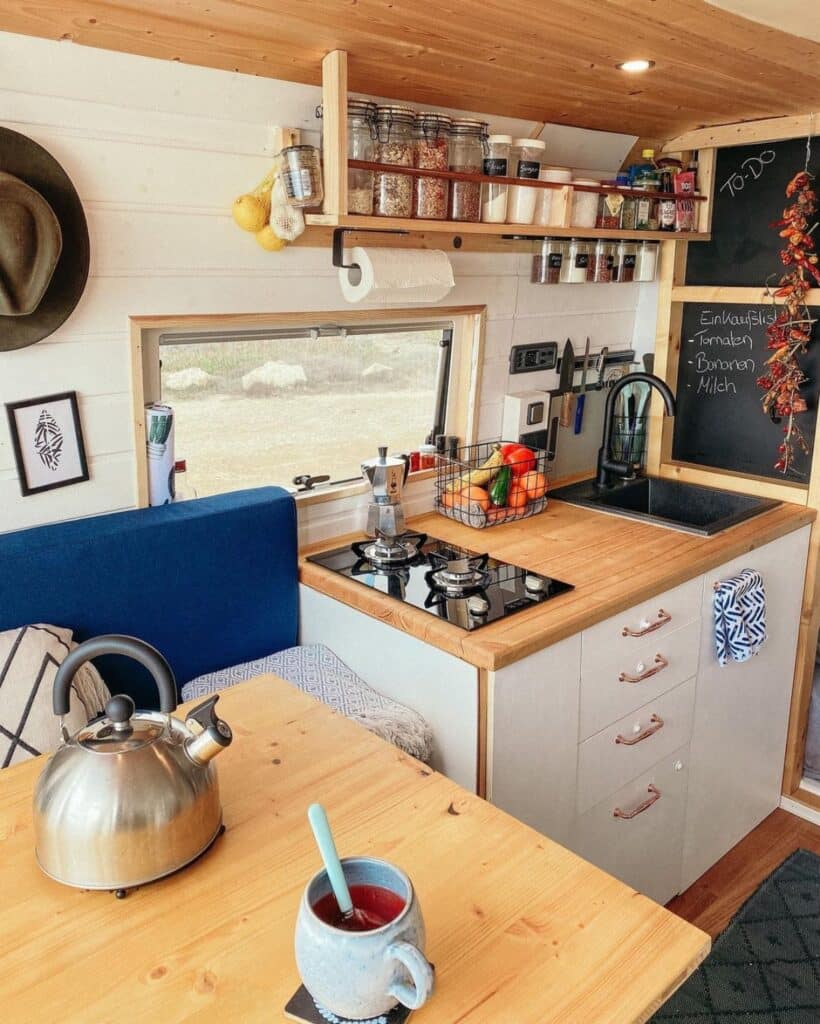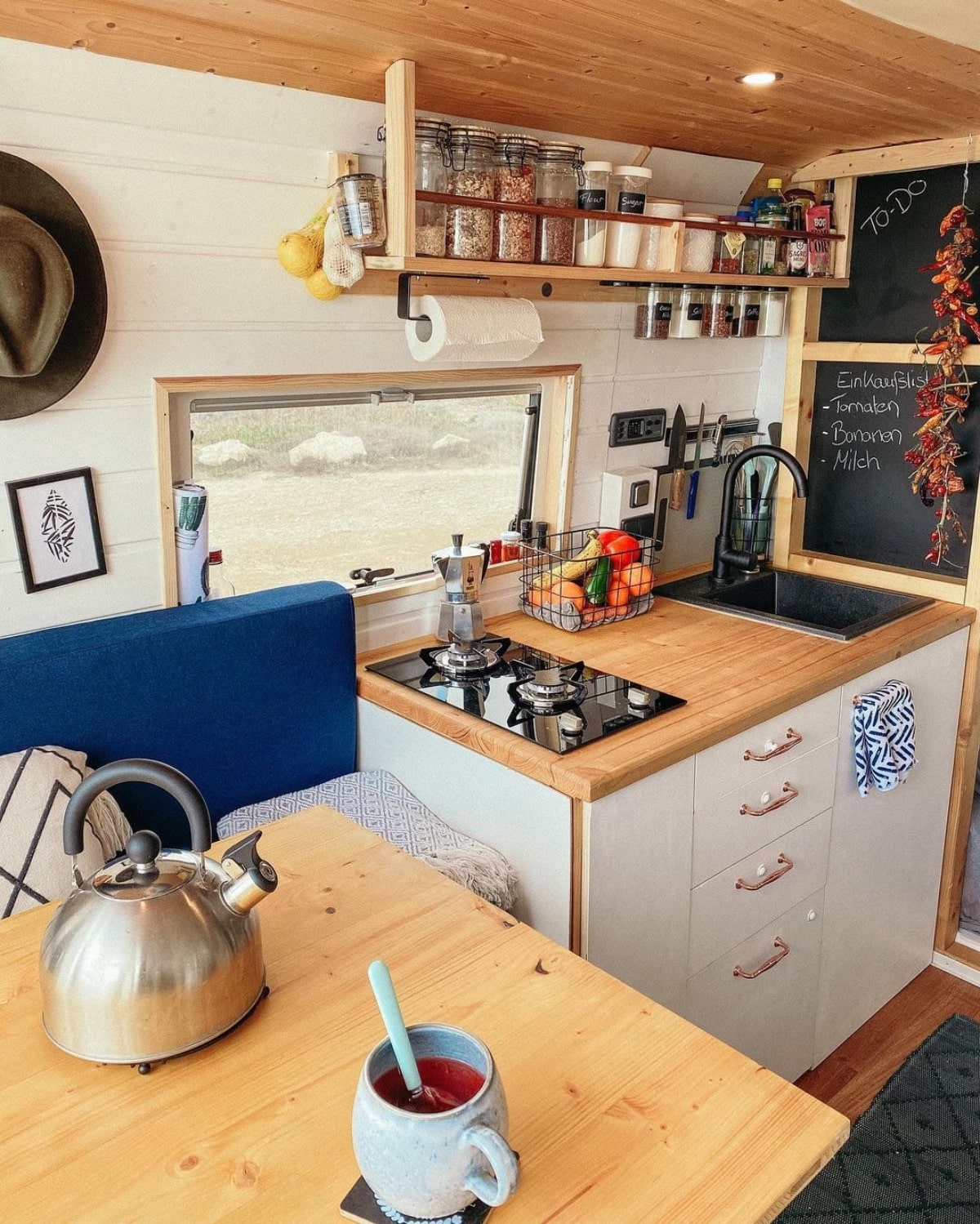 [Image: Makai The Van]
With handy chalkboards in your kitchen, you can quickly jot down grocery lists and hang recipes for easy access on the road.
8. Slide-Out Sink Cover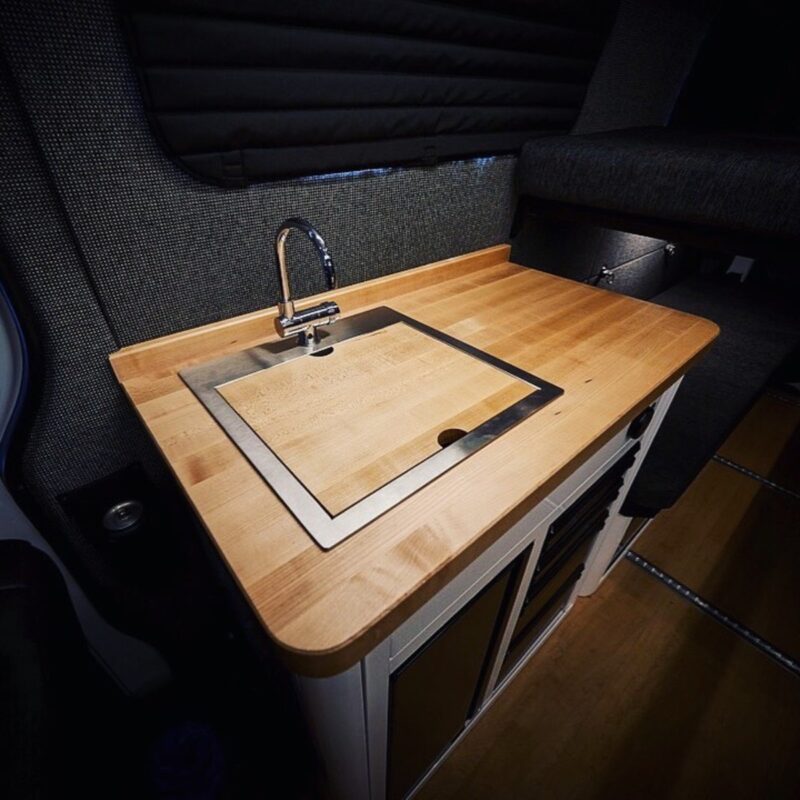 [Image: MyTourIG]
Why just turn your stove into a countertop when you can transform your sink too? A slide-out sink cover is one of the most ingenious van kitchen ideas because it makes the most of every square inch of your camper.
9. Sliding Cupboard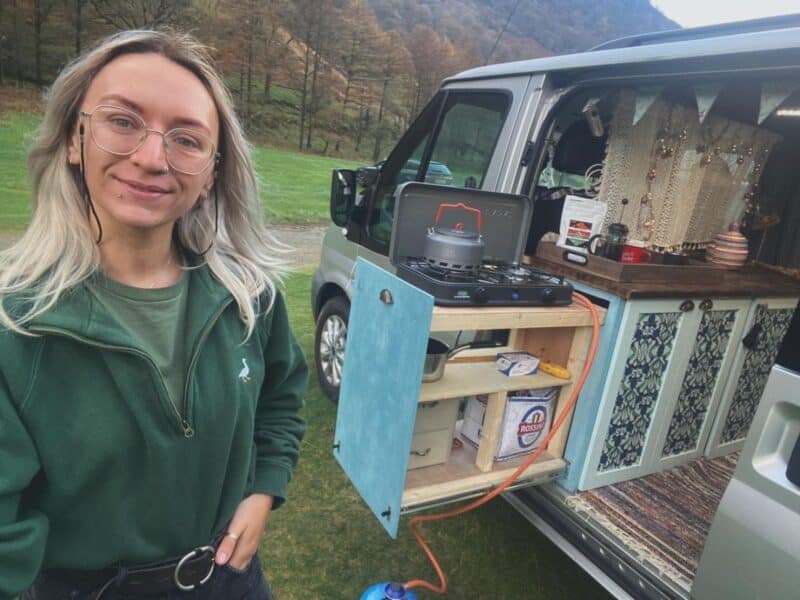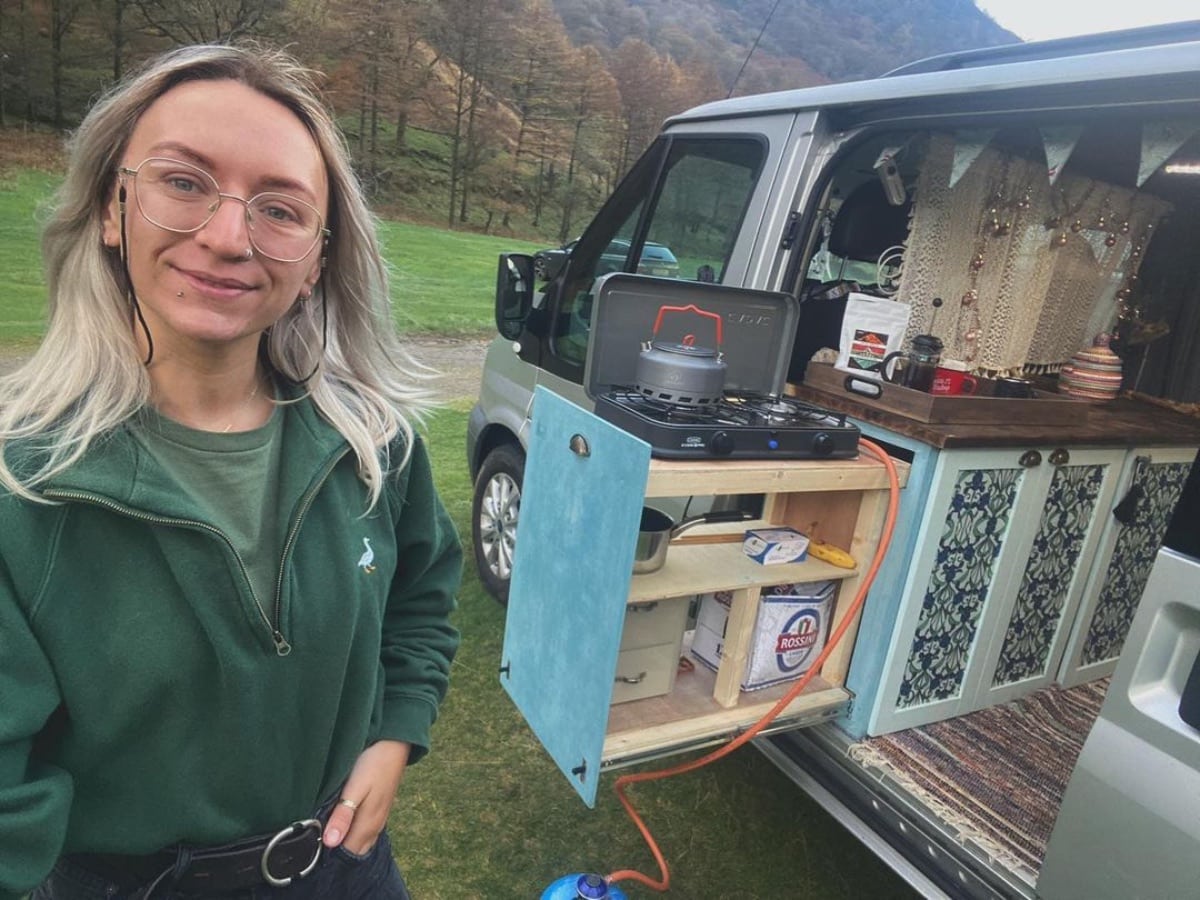 [Image: Eve Jones]
Van life requires creative ways to turn fixtures and cabinetry into multi-use tools, like adding a built-in, slide-out cupboard to your cabinets. When the weather's nice, you can slice and dice in the sunshine or leave it tucked in on rainy days that require indoor-only activities.
10. Rattan Details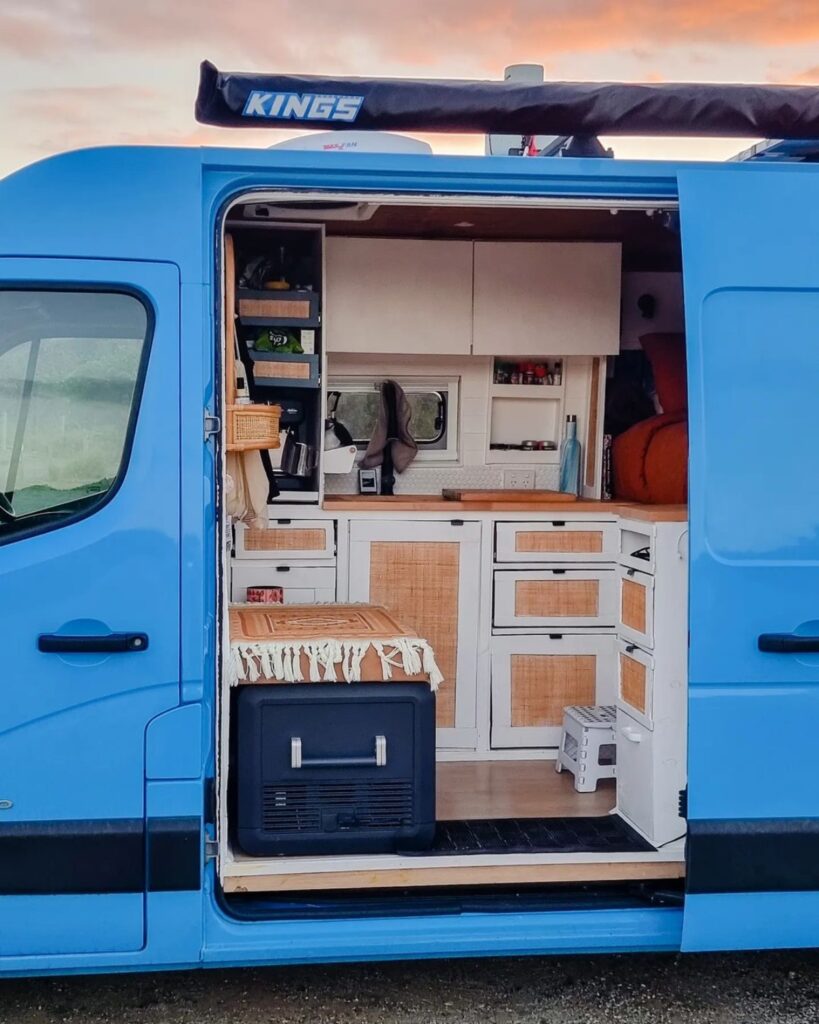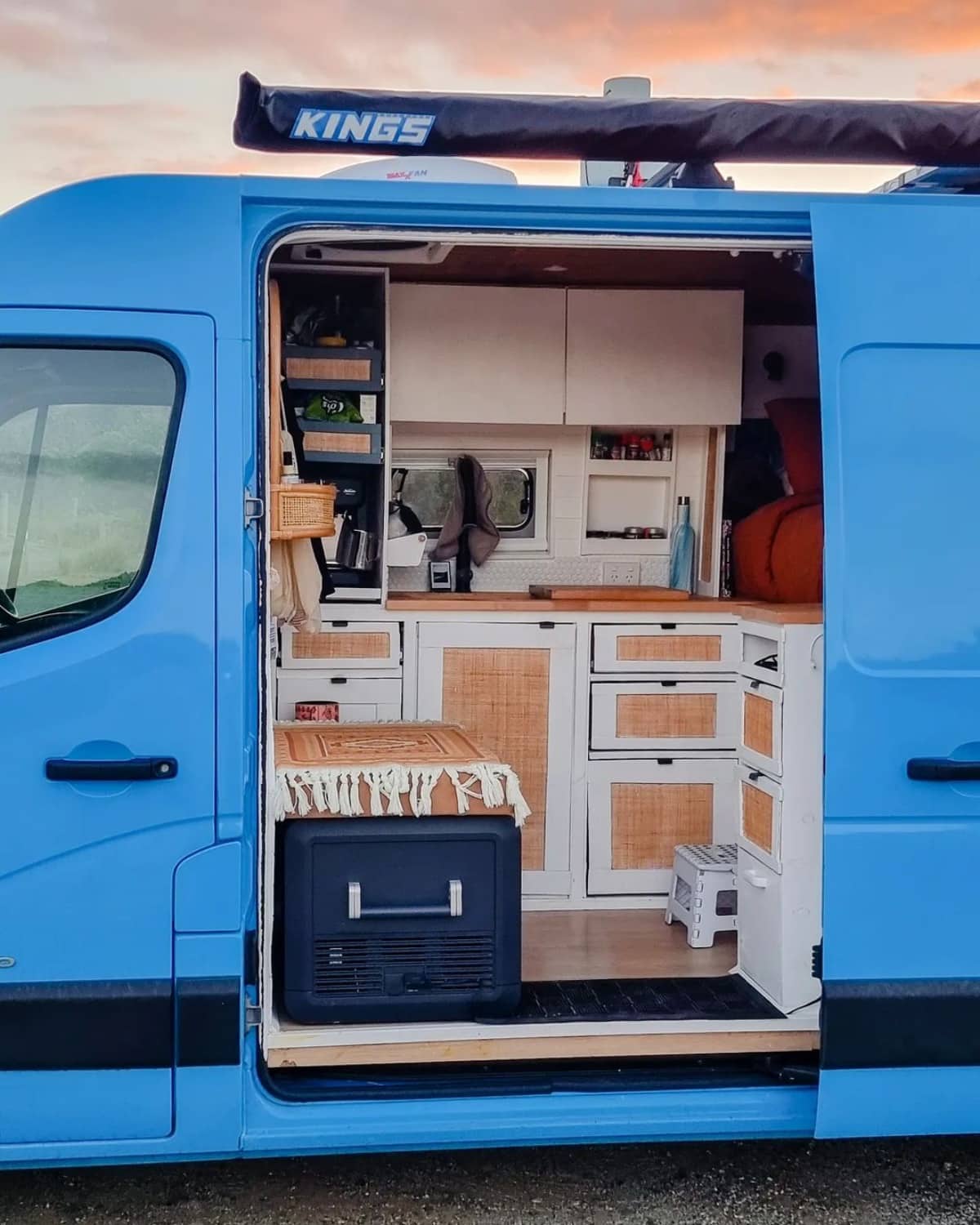 [Image: https://www.instagram.com/p/Cb8_YYxJFYj/]
If you're looking for boho-chic van kitchen ideas, look no further than these gorgeous rattan-front cabinets and drawers. The white paint job lets the textile weave show off in all of its natural glory.
Be sure to choose sustainable rattan wood, as climbing palms are threatened by overharvesting.
11. Bold Blue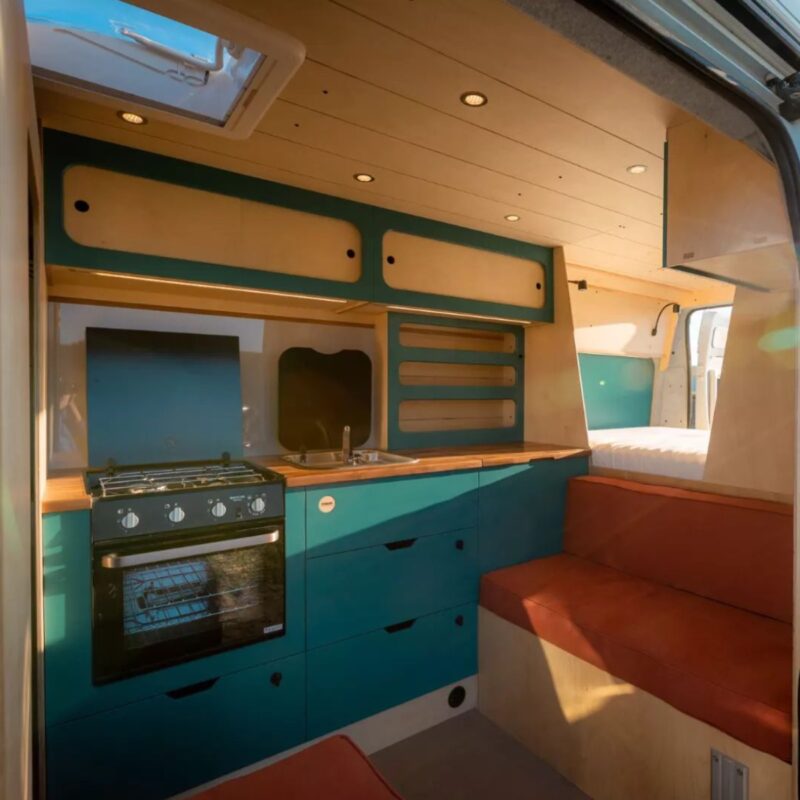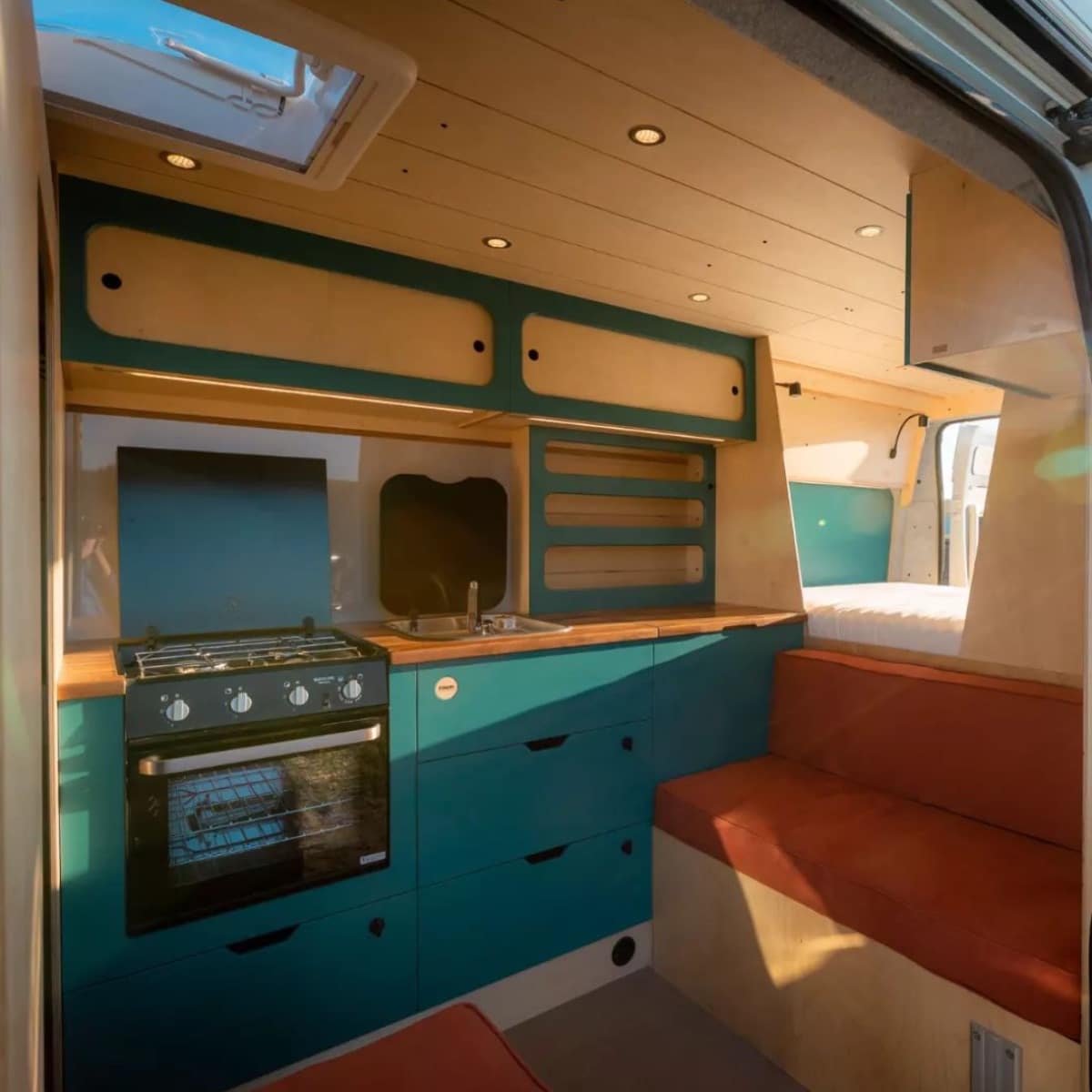 [Image: BlueVanVenture]
This stunning turquoise paint job adds a brilliant pop of color against a light-colored wood interior. Blue is also a calming color, perfect for those seeking a more harmonious, tranquil lifestyle.
12. Indoor Herb Garden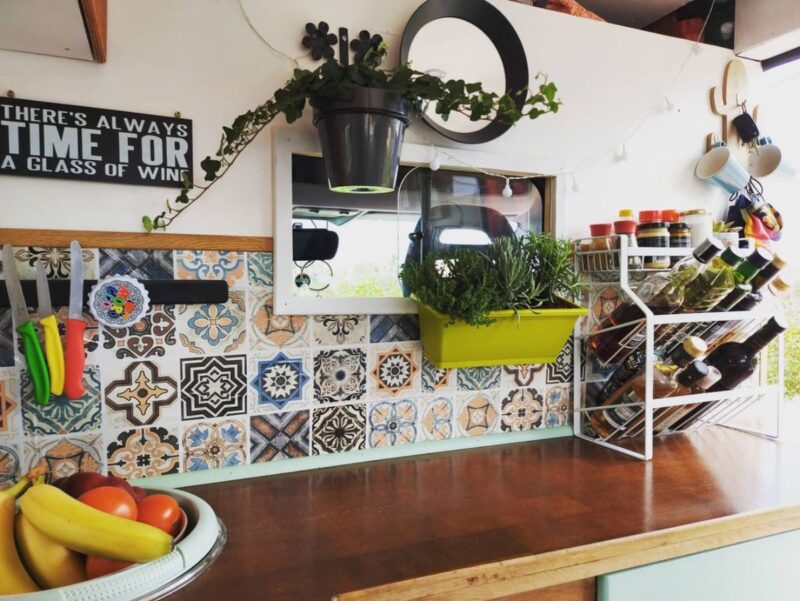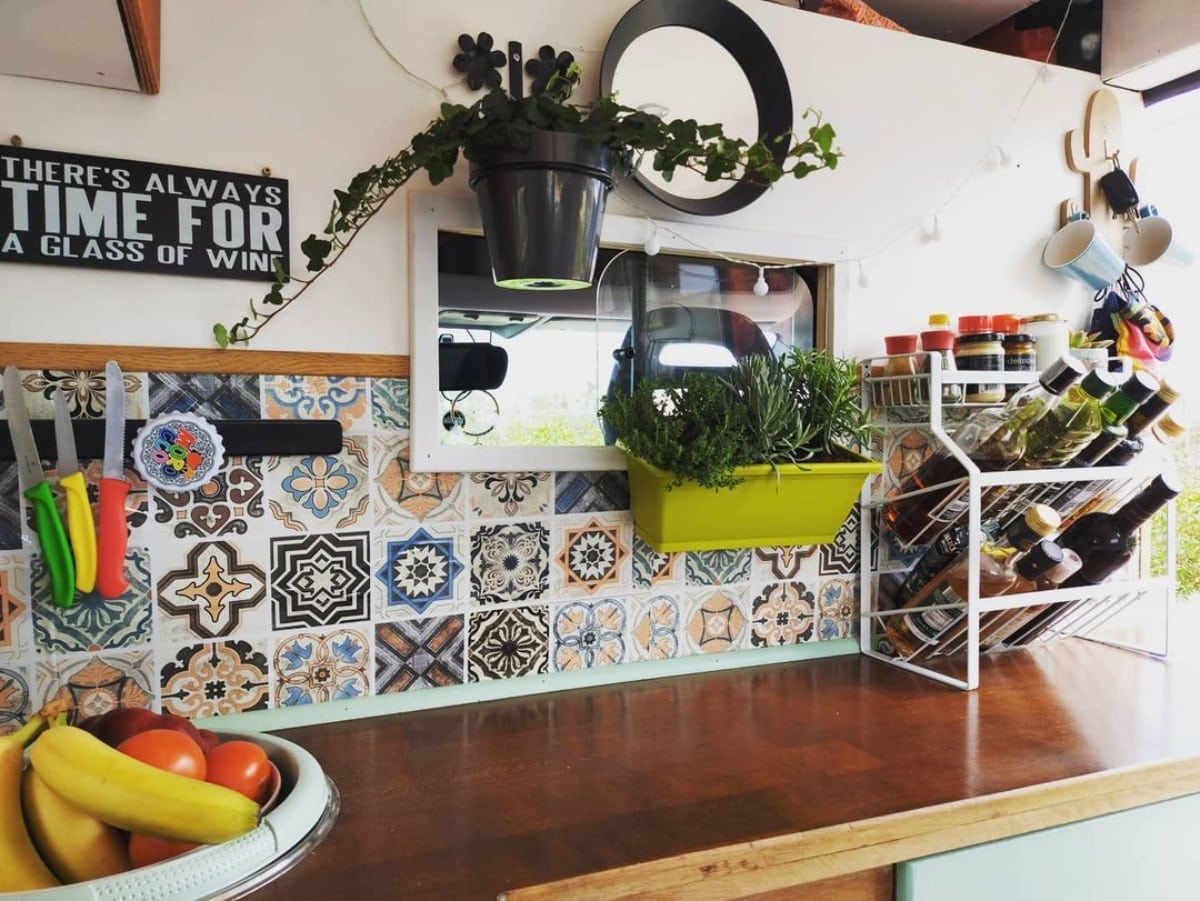 [Image: OurPlanB]
One of the downsides of van life is giving up the opportunity to keep a vegetable and herb garden. Wall-hanging planters ensure you always have a sprig of fragrant rosemary or freshly-plucked chives at your fingertips.
13. Windowsill Art Gallery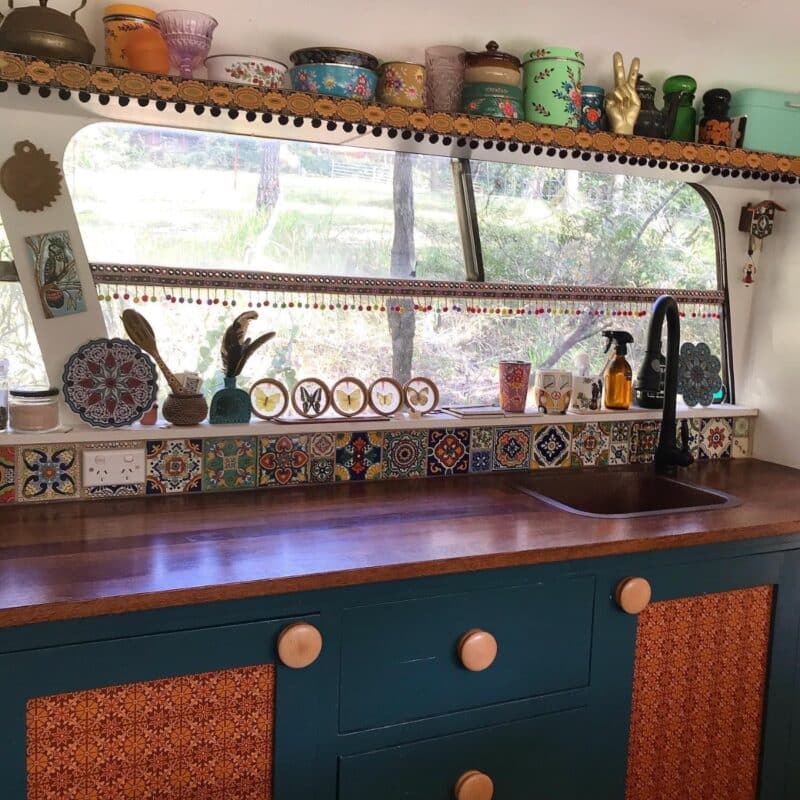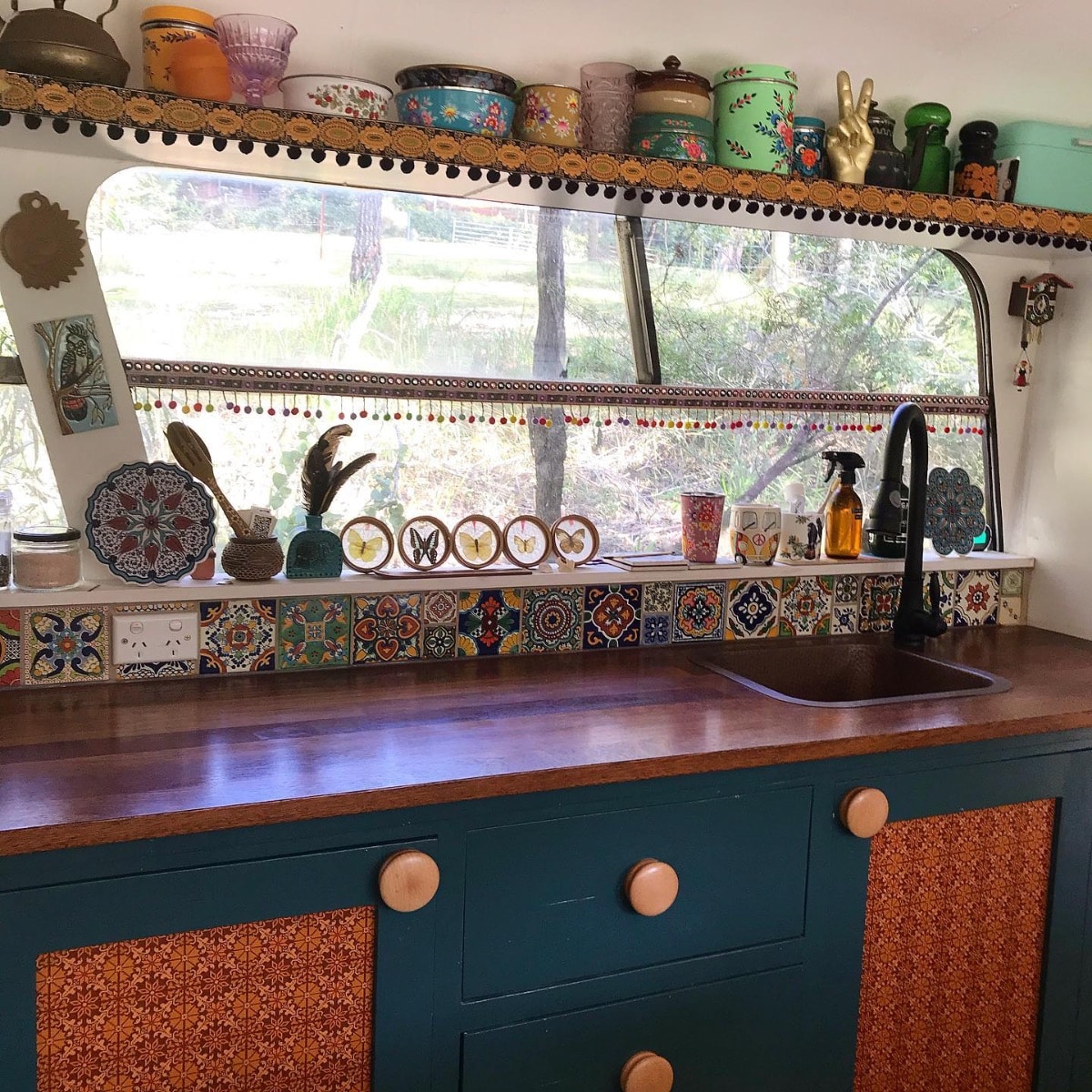 [Image: Gina Moore]
Adding a few inches to your minivan kitchen windowsill allows you to display your favorite pretty little things without compromising your countertops.
14. Wood Burning Stove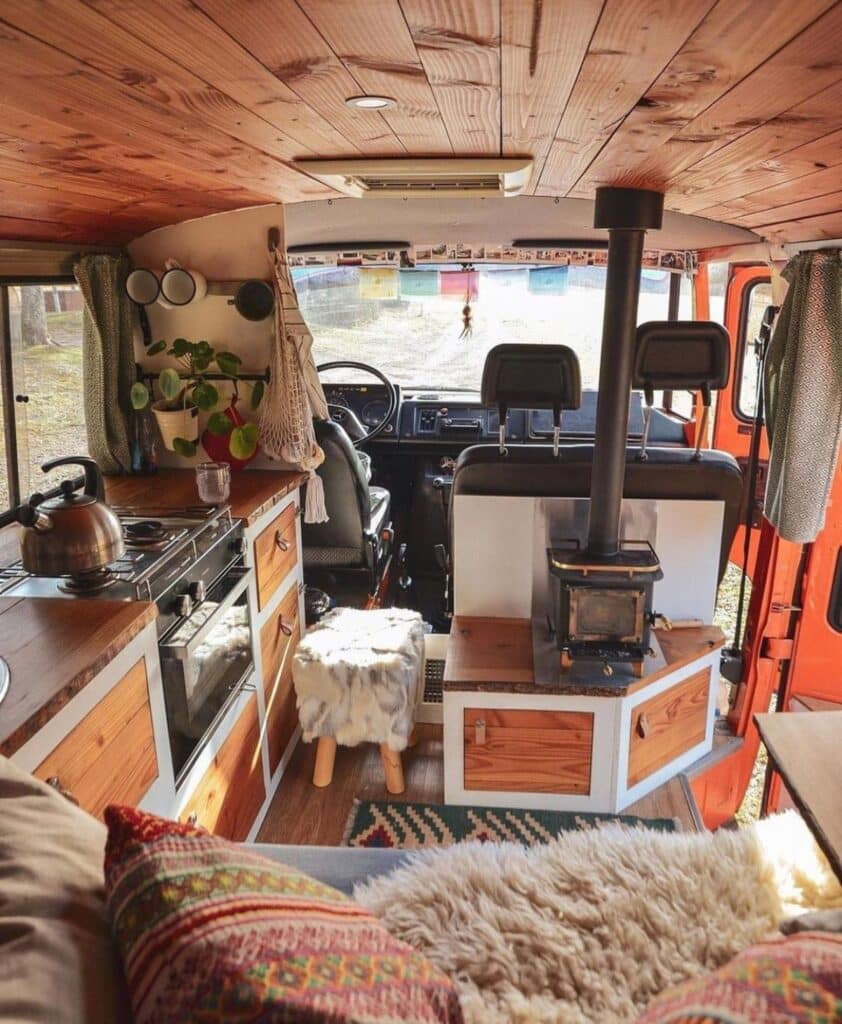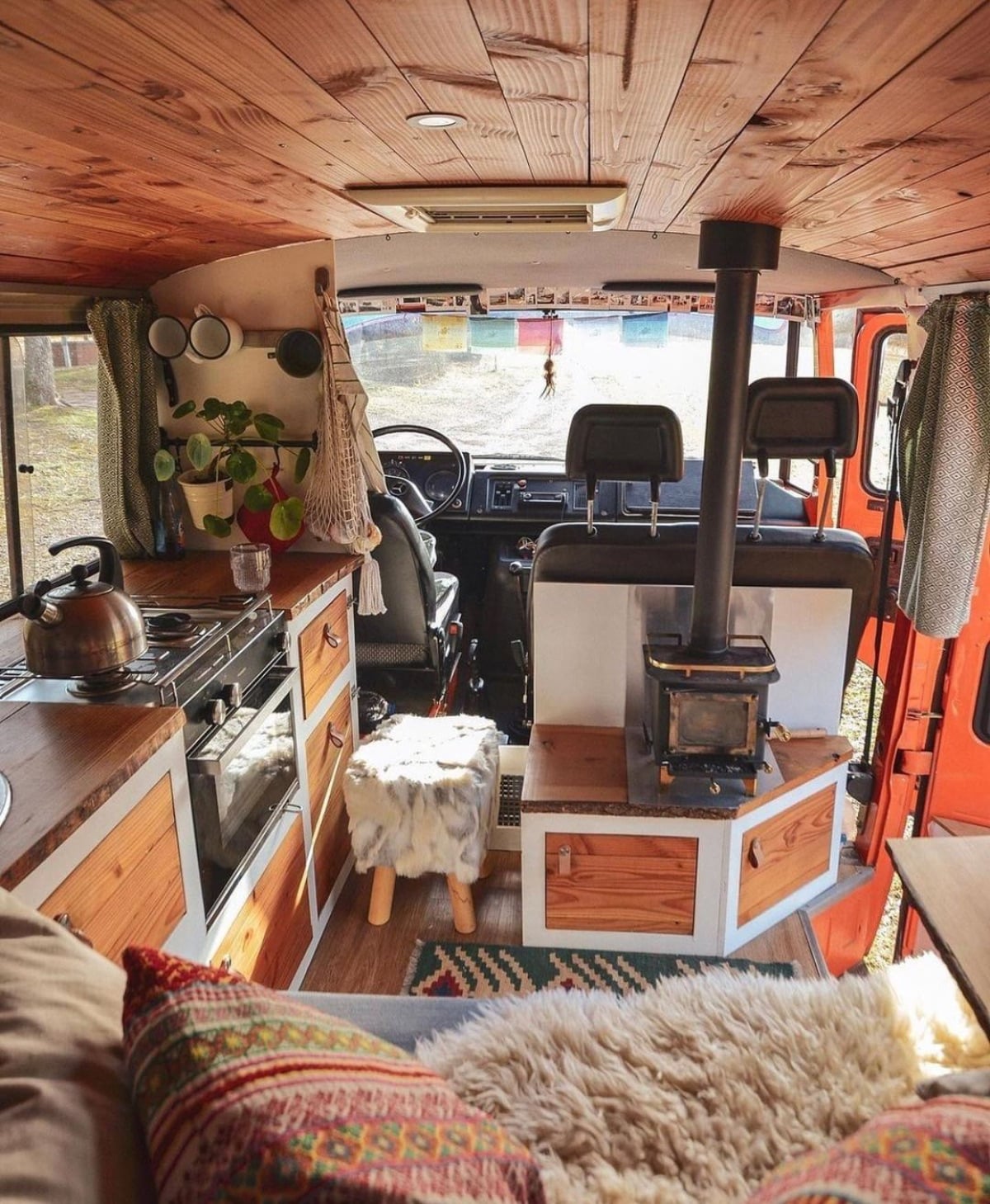 [Image: Orange Road Trip]
Go old-school with a wood-burning stove. It does double duty by providing a small surface for tasks like brewing a pot of coffee and giving heat without propane or electricity.
15. Rustic Wood Grain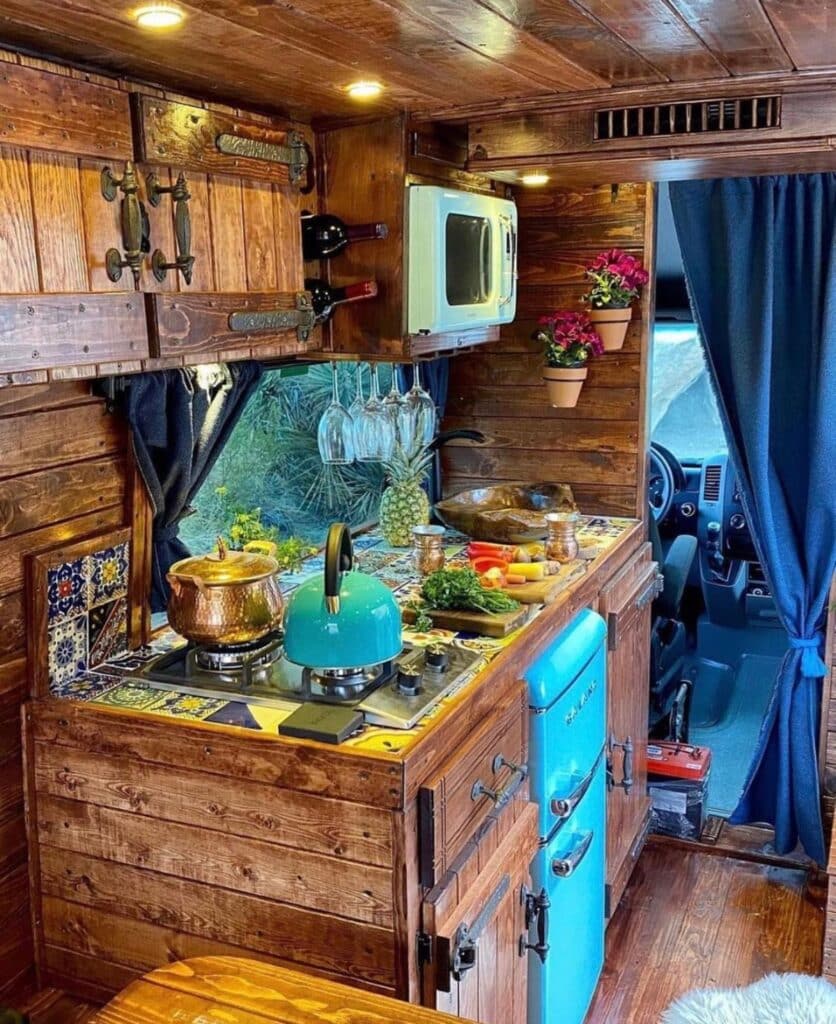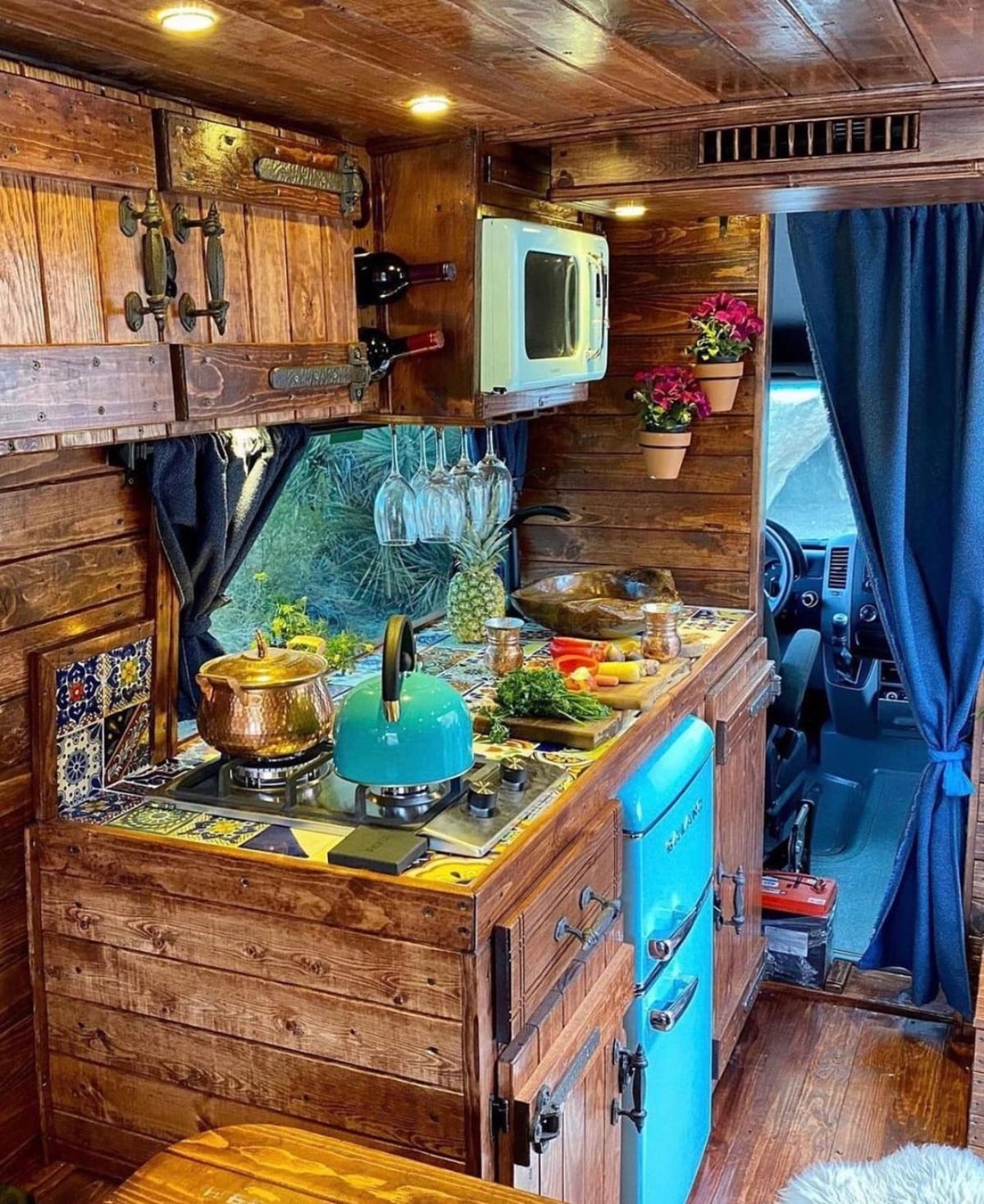 [Image: Exotic Campers]
Turn your minivan kitchen into the cabin of your dreams with natural wood grains and burnished brass fittings. The colorful accents from the fridge, microwave, and tea kettle add brightness and balance.
16. Swing Chair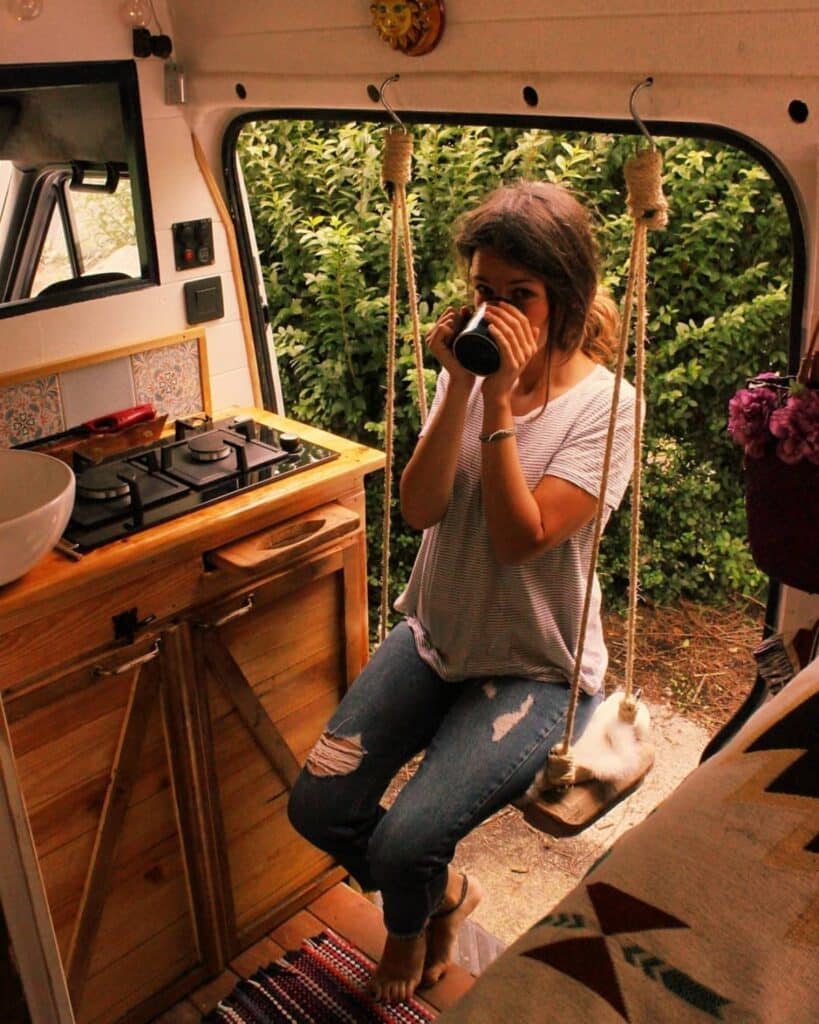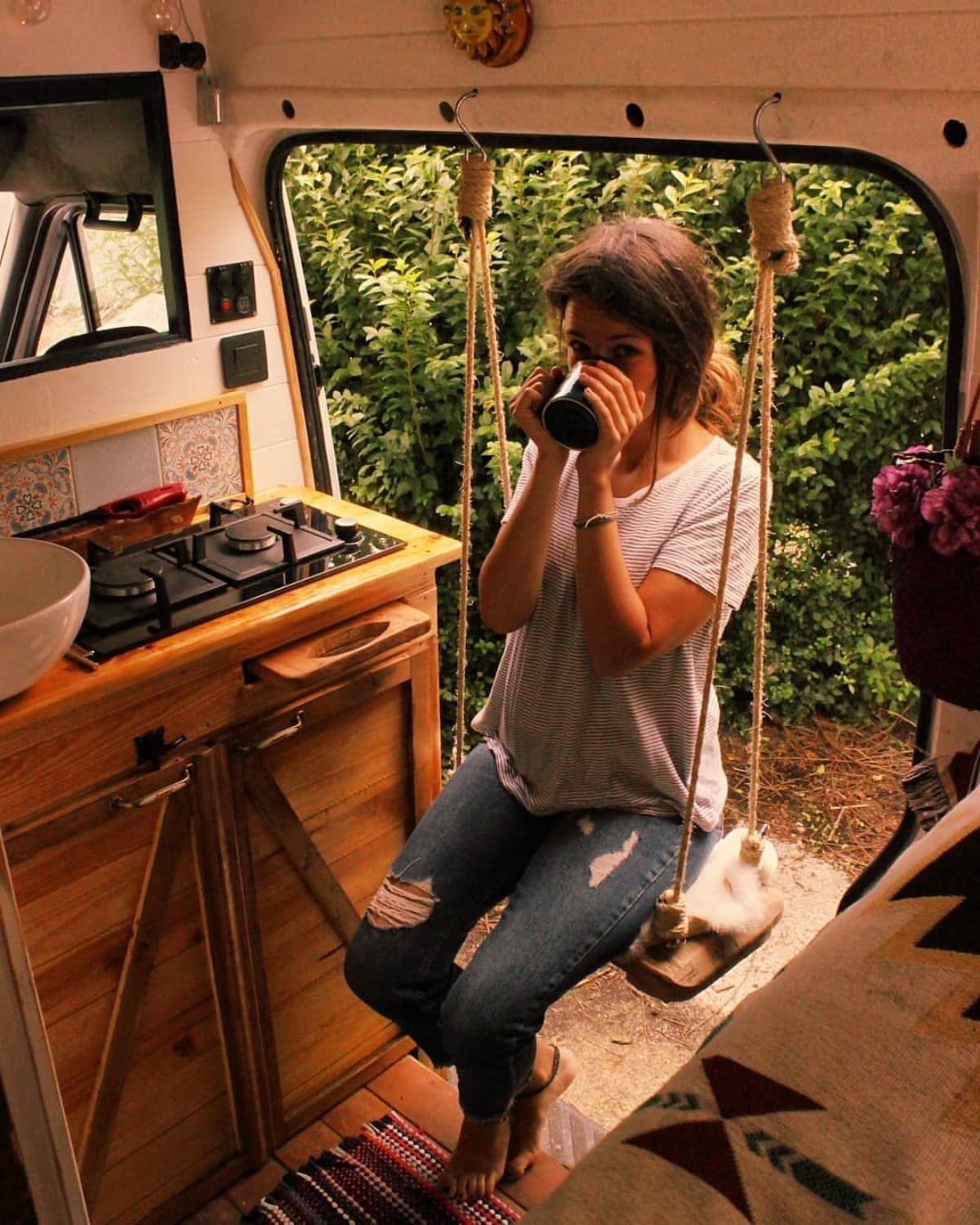 [Image: Lavan204]
Add whimsy to your morning cup of coffee with a built-in swing in your camper kitchen. It easily hooks into pre-drilled holes, so you can move it out of the way while you're cooking, then enjoy your meal in the sunshine.
17. Mix-and-Match Knobs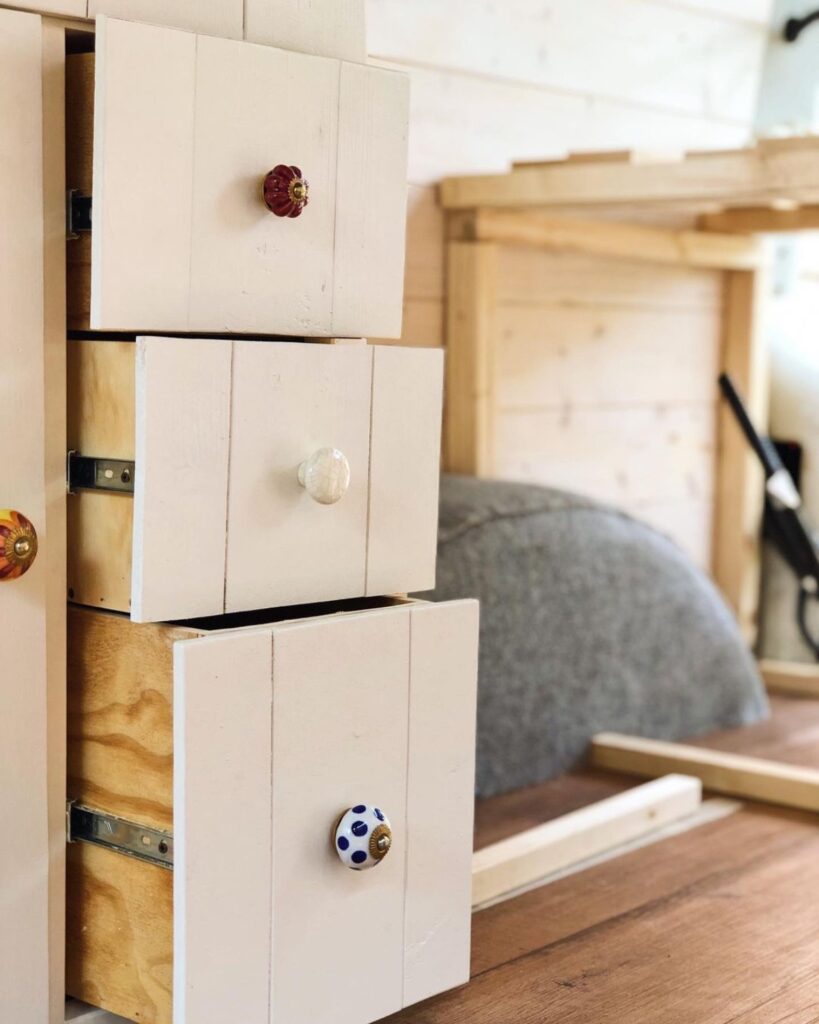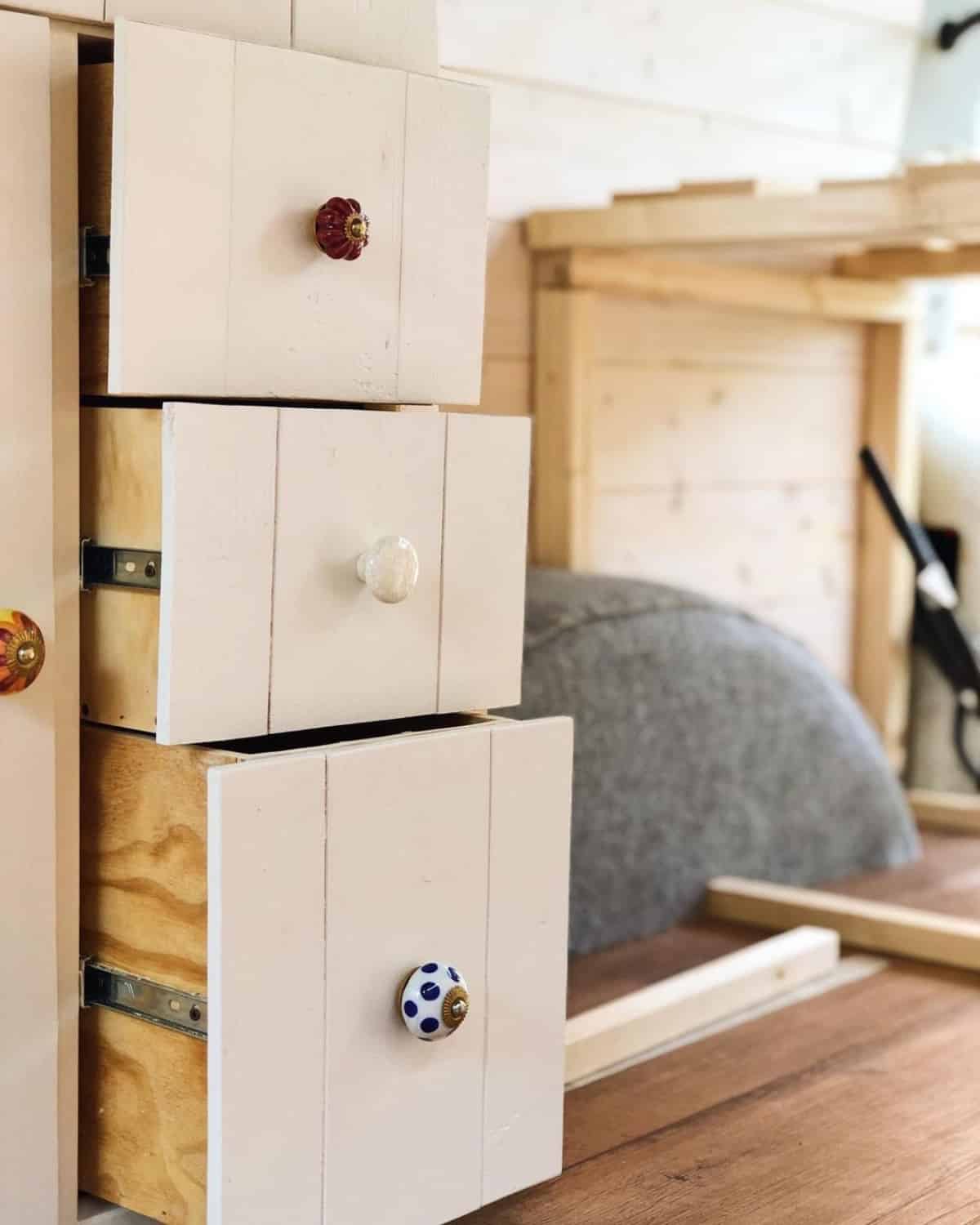 [Image: Wandering Ino]
When it comes to creative van kitchen ideas, it's all about the little details. These vintage knobs are a charming way to show off your interior design skills and take advantage of mismatched thrift store finds.
18. Rock Wall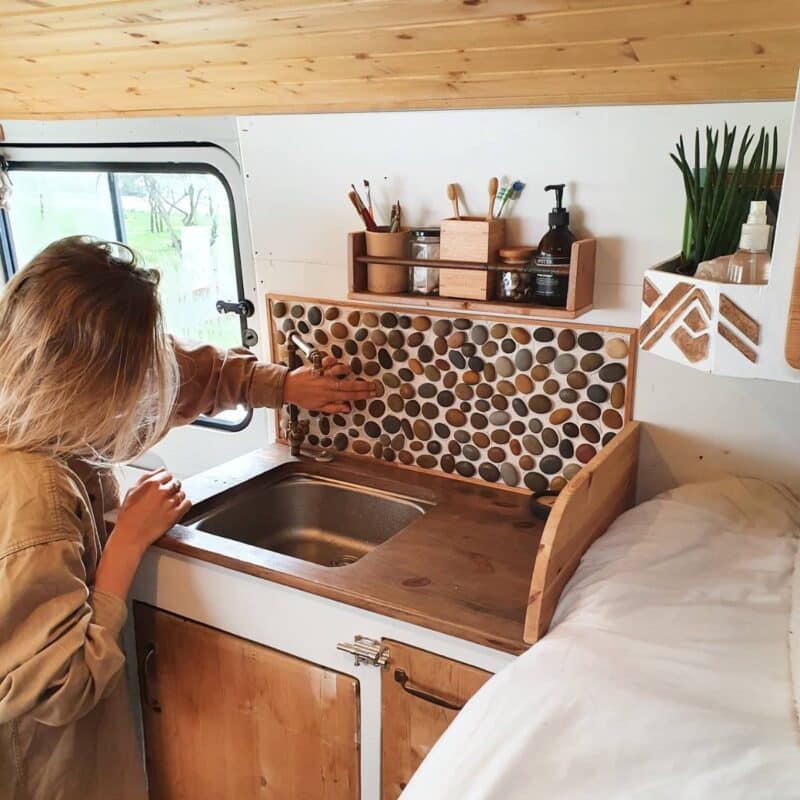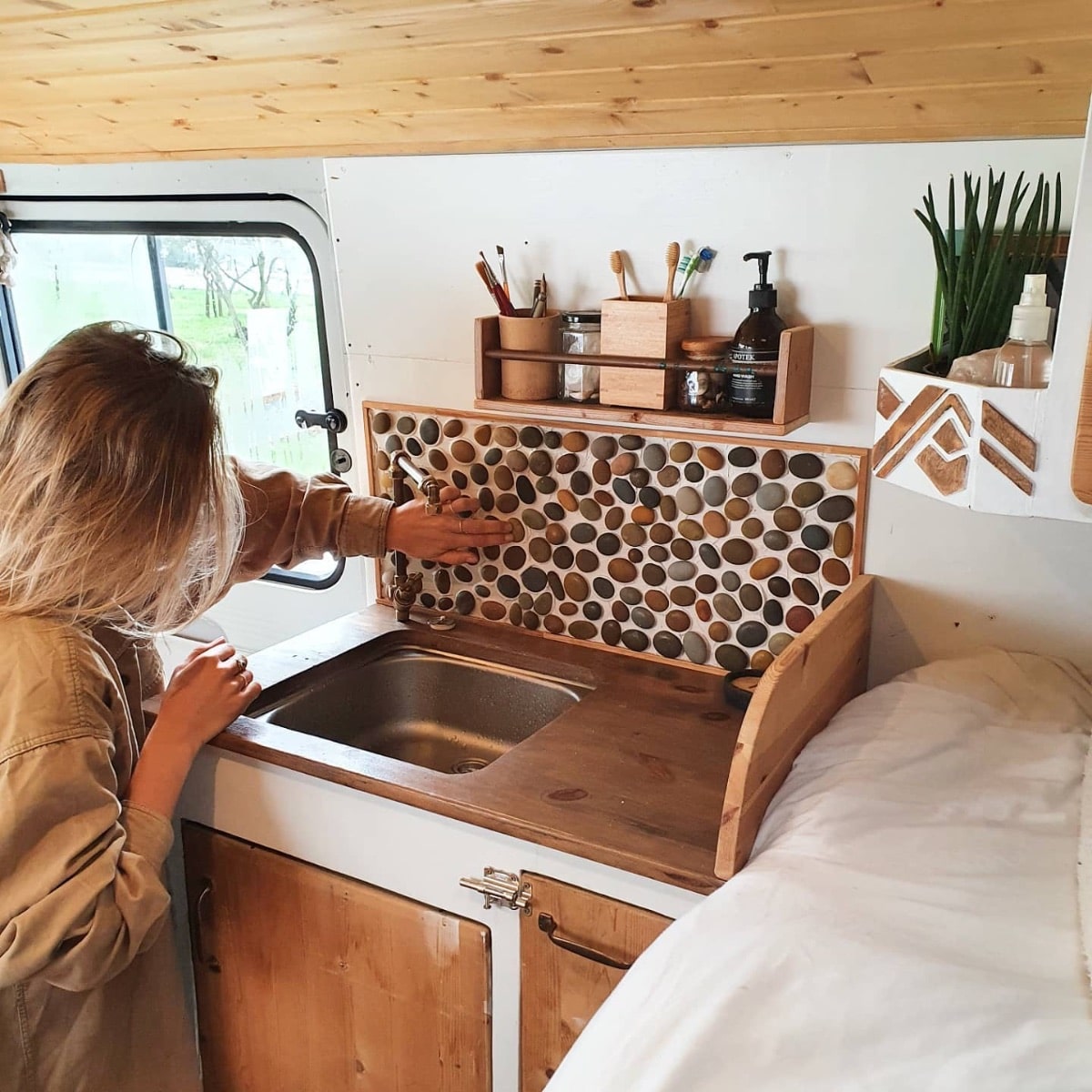 [Image: Freek&San]
With a bit of hot glue and thumbtacks, you can build a customized kitchen backdrop with stunning stones you collect on your adventures. Each time you stumble across a rock that catches your eye, turn it into a DIY thumbtack by hot gluing a pin to the back.
As your collection grows, you can watch your backsplash transform into a unique travel log that will make you smile whenever you're whipping up a curry or sauteing veggies.
Cover it in your chosen fabric if you want something more visually interesting than corkboard as your canvas.
19. Towel Rack Storage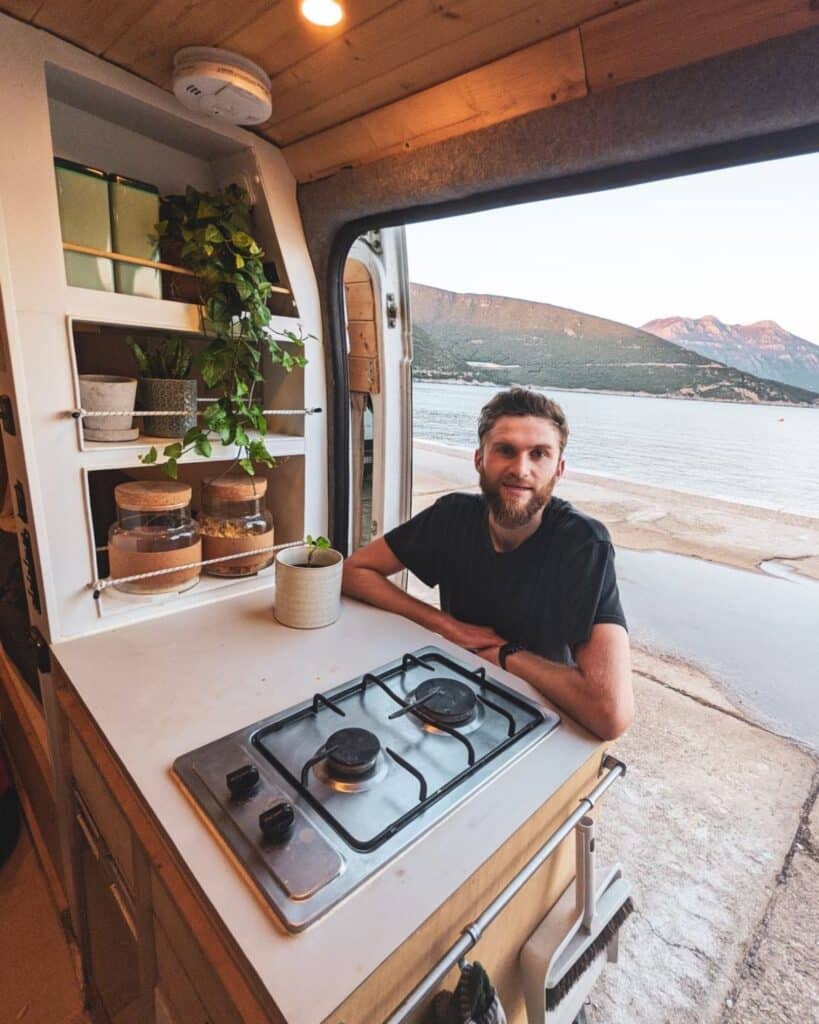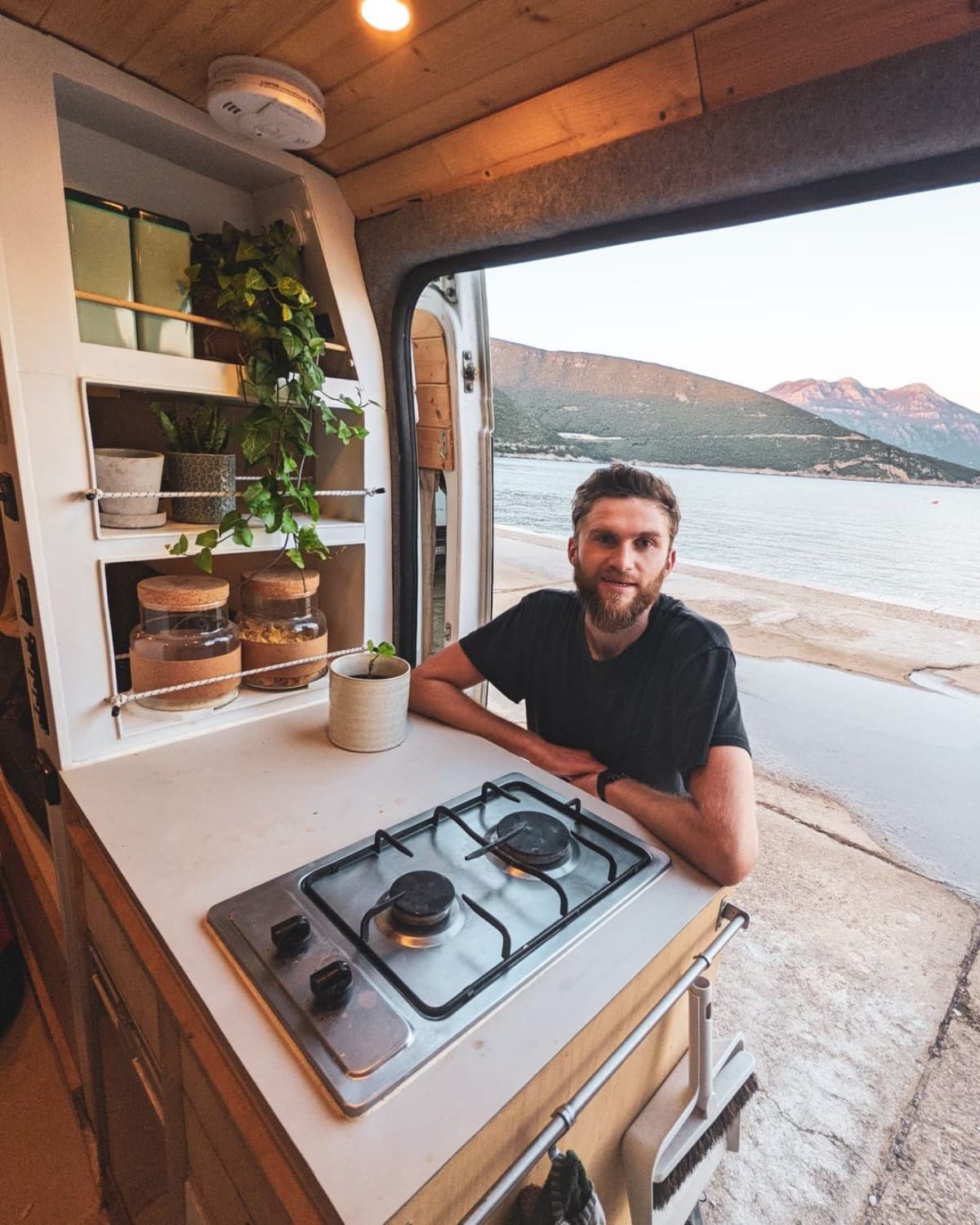 [Image: White Van Plan]
Something as simple as a towel rack can help you tuck away pots, pans, utensils, and cleaning supplies without wasting valuable room in your cabinets. To hang, thread S-shaped hooks through the holes in your kitchen tool handles.
20. Under-Cabinet Lights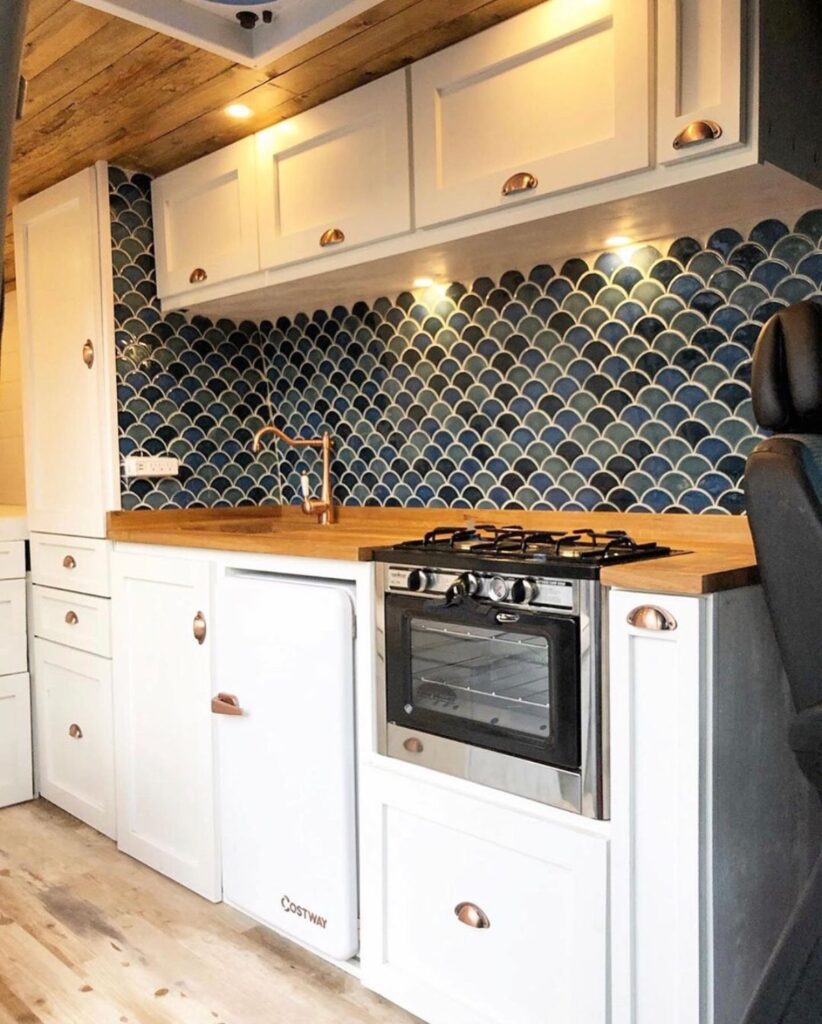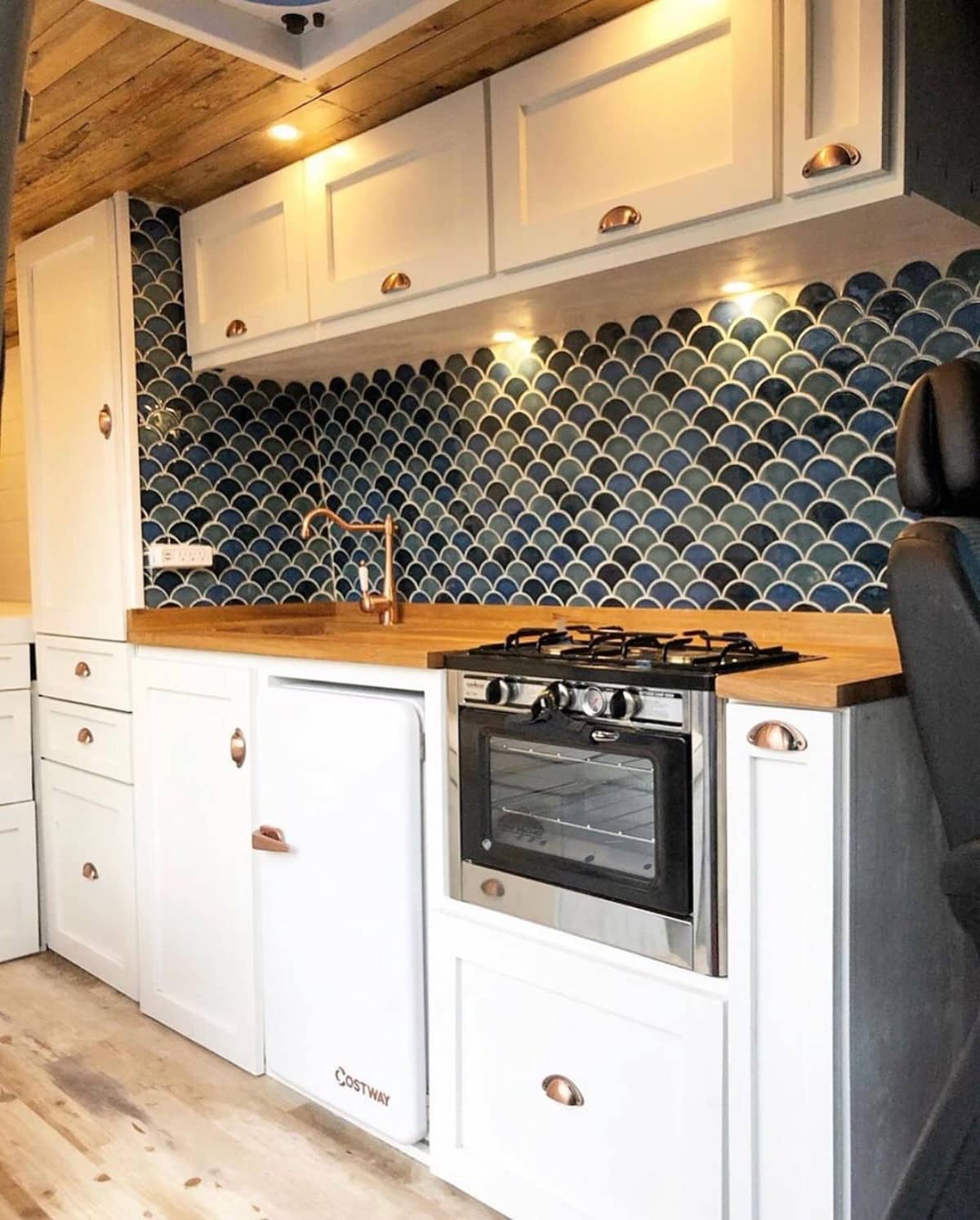 [Image: Light Travelers
Cooking is an art and a science, requiring precision if you want to do it correctly. Boost your visibility by installing overhead lights. Not only does it make tasks like measuring and weighing ingredients easier, but it also ensures your safety while chopping vegetables or trimming meat.
21. Curated Clutter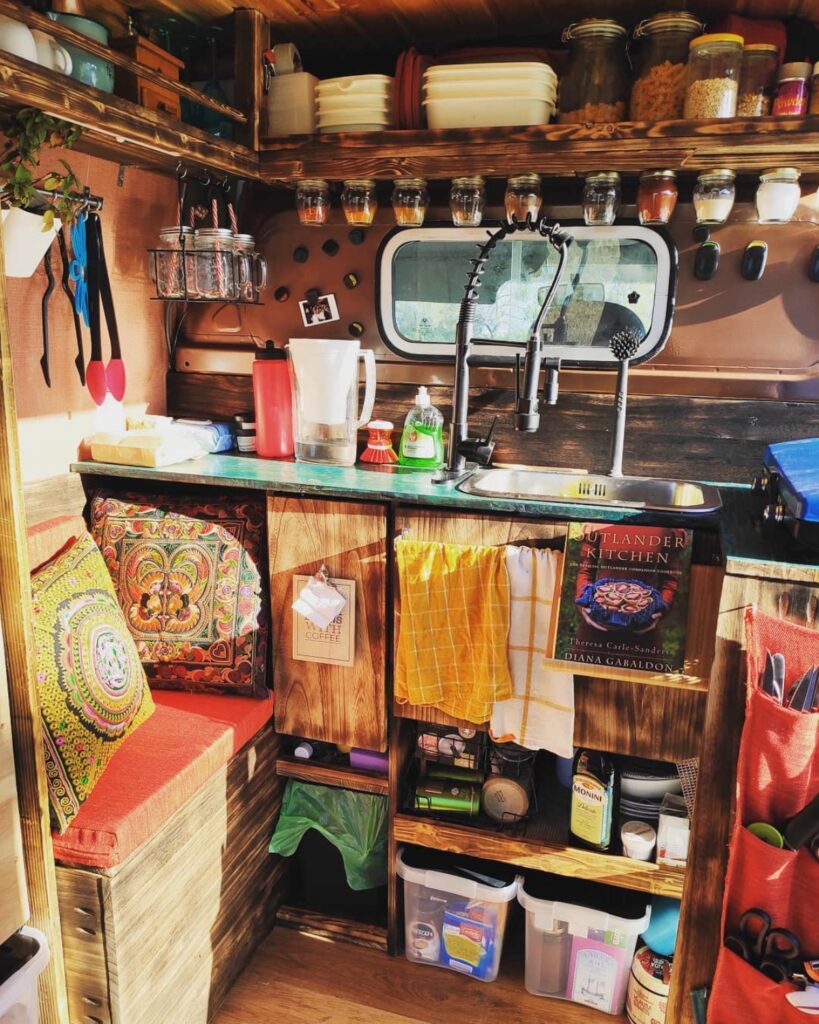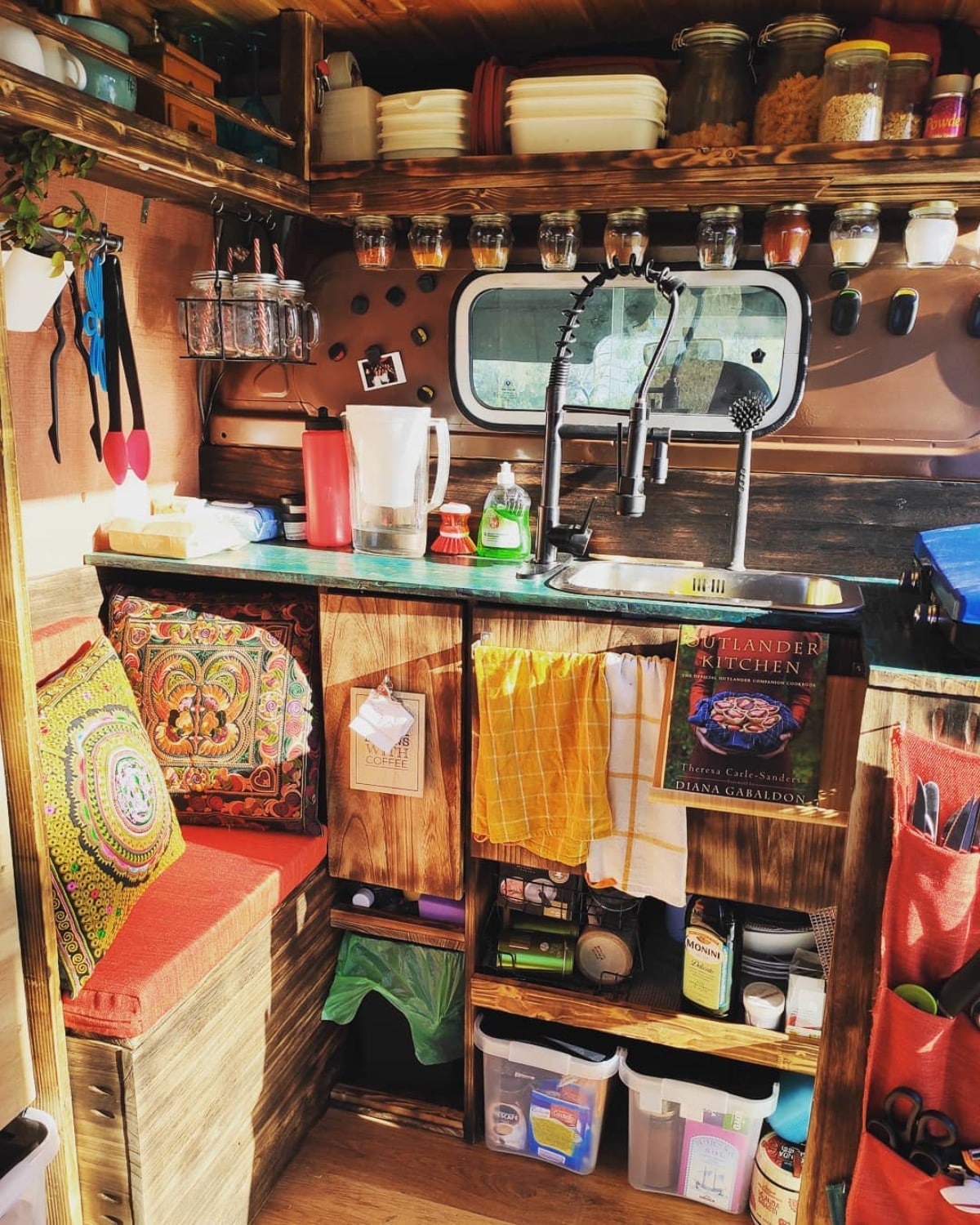 [Image: The Wise Fool/]
No rule says you can't embrace your love of knick-knacks, cookbooks, and textiles just because your home has a tiny footprint.
With the right collection of baskets, hanging storage, and shelf space, you can display all the things you love and still make the most of your limited square footage.
Final Thoughts
Hopefully, these kitchen van ideas were just what you needed to create the compact culinary space of your dreams.
Happy trails on all of your adventures!